I feel like I can't keep my days straight with Monday being a holiday and having both my boys home now that school is out! Summer came fast didn't it? Where did that snow go I was just in last weekend!!
This morning, amidst the craziness of getting ready for swim lessons, I felt like baking something snappy. So, I pulled out my extra cookie dough from the Massive Cookies that I had left over and felt like combining them with my handy brownie mix and ta da, out came these adorable and tasty brownie cups.
This is a no brainer, can't mess up recipe and great for a quick summer treat.Use your favorite cookie dough recipe to put in the center of the brownies.I think I'll try peanut butter cookie dough next time.Frost them with your favorite frosting or sprinkle with a little powdered sugar and enjoy.I have a feeling my summer recipes are going to be all about kid friendly and QUICK with us on the go so much, should be fun.
Have a great rest of the week, I'll be cooking up some more easy recipes soon. I've got a 60 second lunch that is so tasty! Stay tuned.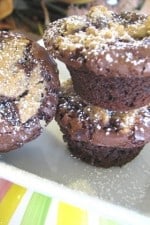 Chocolate Chip Cookie Dough Brownie Cups
Quick and easy brownies stuffed with your favorite cookie dough and topped with powdered sugar or your choice of frosting.
Print
Pin
Ingredients
1

box brownie mix 9 x 13 size

1

batch of your favorite cookie dough

Powdered sugar or frosting
Instructions
Preheat the oven to 350 degrees F. Prepare brownies according to package directions. Pour batter into mini cupcake tins (about 36-40) that have been sprayed generously with cooking spray. Spoon 1 Tablespoon of cookie dough into the center of each filled cupcake tin, gently pressing down into the batter. Bake for 15-18 minutes, or until cooked through. Let cool for 10 minutes before removing brownies from tins. Sprinkle with powdered sugar or frost. Enjoy!
Keywords:
brookies, brownie cookies, cookie cups