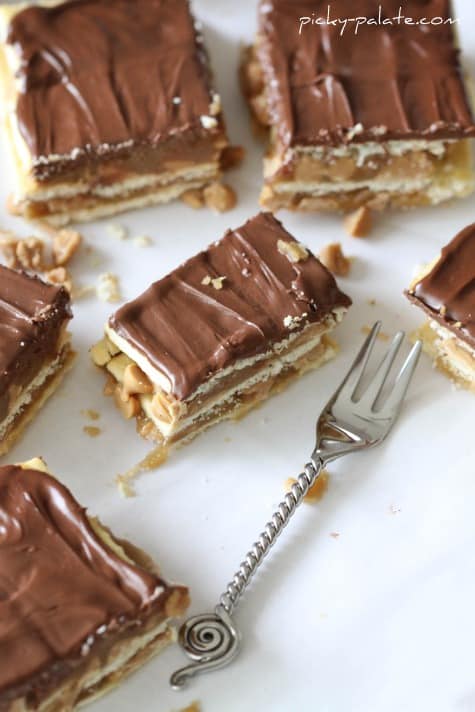 Say it with me….These are rich and fabulous! Yes, friends this dessert will send your sweet tastebuds through the roof, but wow what a treat. These are great for any party and have that awesome sweet and salty combination going on.
One tip to remember: You must use unsalted butter for this recipe, if you don't they will be too salty 🙂
I am off to Des Moins, IA for the Better Homes and Garden Cook-Off this week. Should be a fun little trip. You know I'll take lots of pictures to share, hope you enjoy today's sweet post! Oh and there's only 5 ingredients, woohoo!!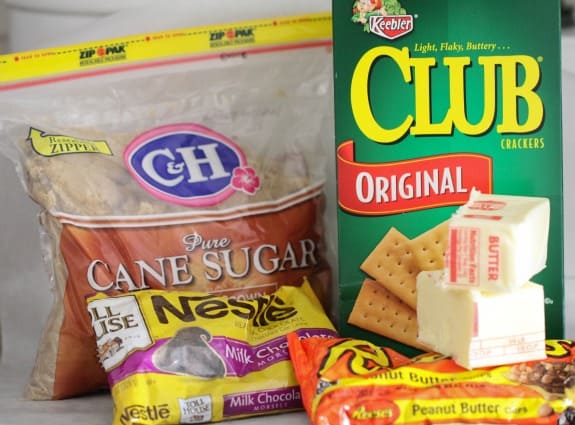 Line-up!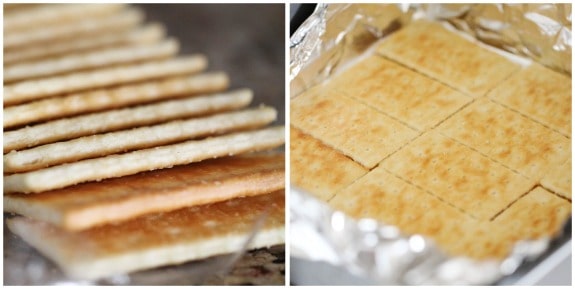 Here are your club crackers. Line them up in 3 rows of 5 in the bottom of an 8×8 inch pan.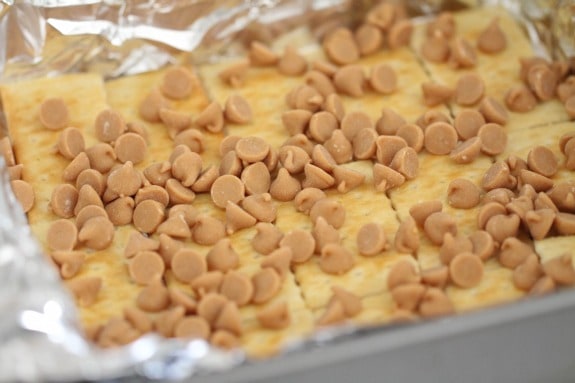 Sprinkle peanut butter chips over crackers.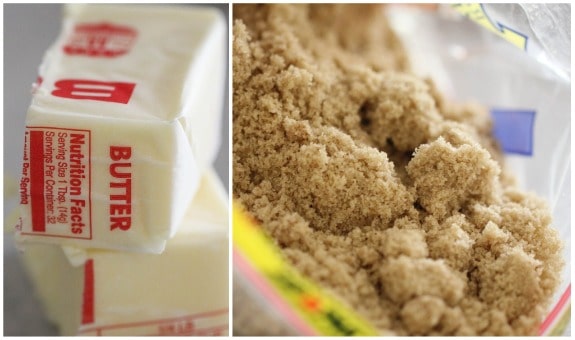 Time to make the caramel, really simple here.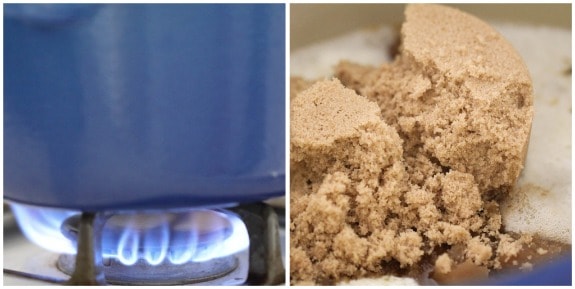 Melt your butter and brown sugar for 4 minutes stirring constantly until you get a bubbly smooth and creamy caramel.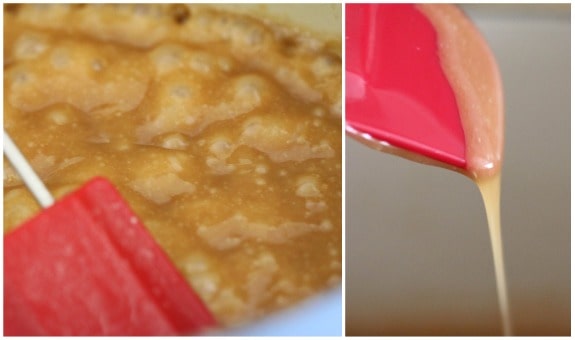 Like this 🙂
….and drizzle hot caramel over top. Do this step 1 more time…crackers, pb chips and caramel.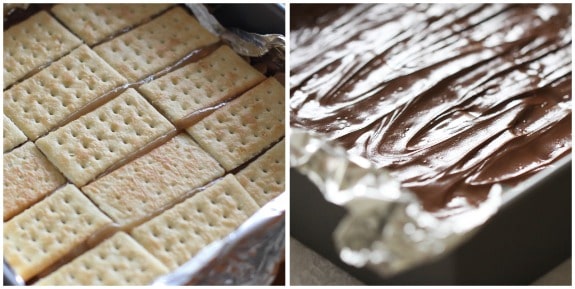 Top layer should be crackers on top then spread with melted chocolate chips! Let cool and….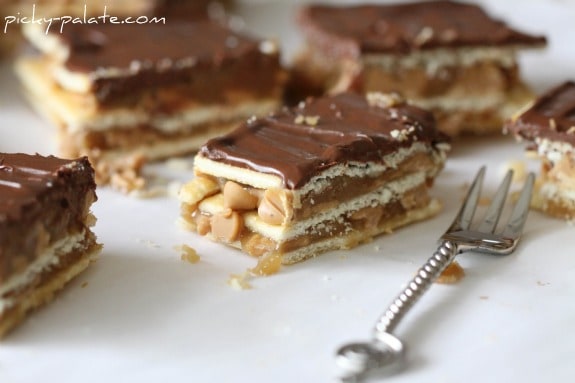 These bad boys will be waiting for you! Enjoy 🙂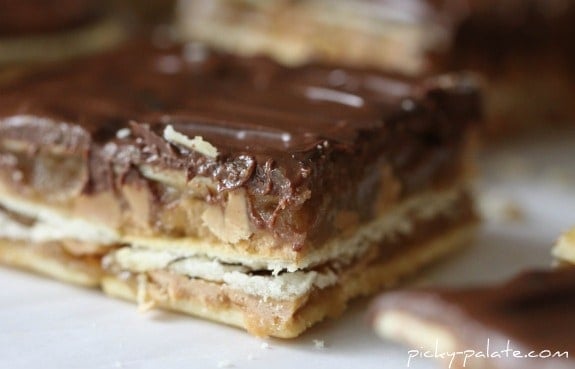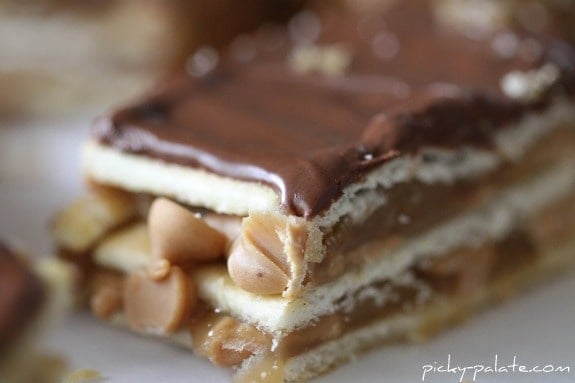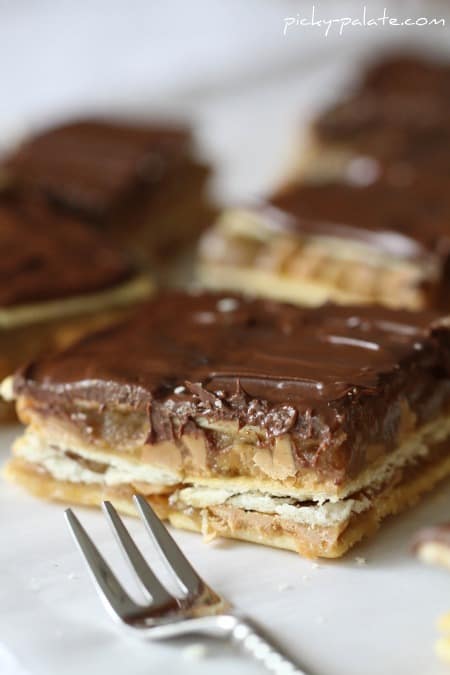 [ziplist]
Chocolate, Peanut Butter and Caramel Club Bars
45 Club Crackers
2 sticks butter
1 Cup packed light brown sugar
1 Cup peanut butter chips
1 1/2 Cups chocolate chips, melted either on double broiler or in microwave
1. Place 15 club crackers in the bottom of an 8×8 inch square baking pan that's been lined with foil and sprayed with cooking spray. Sprinkle 1/2 Cup peanut butter chips on crackers.
2. Melt butter and brown sugar in a medium saucepan over medium high heat stirring constantly for 4 minutes, until bubbly, smooth and creamy caramel forms. Pour 1/2 Cup or so of caramel over peanut butter chips then add another layer of crackers, peanut butter chips and caramel. Top with one final layer of crackers then spread with melted chocolate.
15 bars
_________________________________
Have a great new week, see you soon!