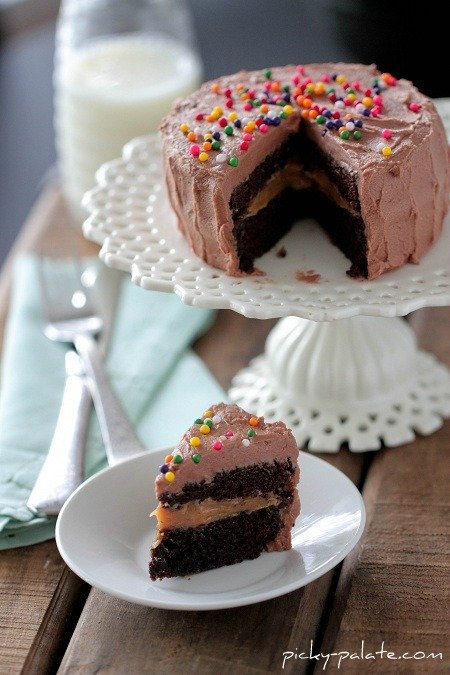 Thank you for all of your sweet congrats, I must say I am a bit embarrassed, I was so sure I had been blogging for 5 years that I never bothered to really check. I did go back and check and have been blogging for 4 years, not 5. Thanks!!
Someone is turning 4 years old this month….can you guess who? Picky Palate, yay!
Boy, does time fly. I remember the very first night I started Picky Palate on blogspot not having the foggiest idea what I was doing or what the future would hold for me. If someone would have told me I would have a cookbook in the works 4 years ago, I would have never believed it.
It's funny how life takes you in unexpected directions. I am so grateful to be able to write this website for all of you, it is truly my dream job.
Ok, enough of the sappy stuff, can we talk about this fun little cake…for one? I love individual servings and this tiny cake is peanut buttery chocolatey delicious 🙂 Let's take a look.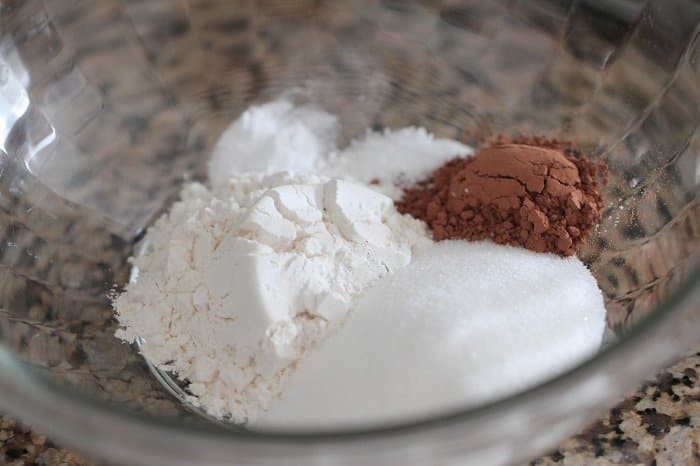 Start with the dry ingredients. Flour, sugar, cocoa powder, baking soda and salt.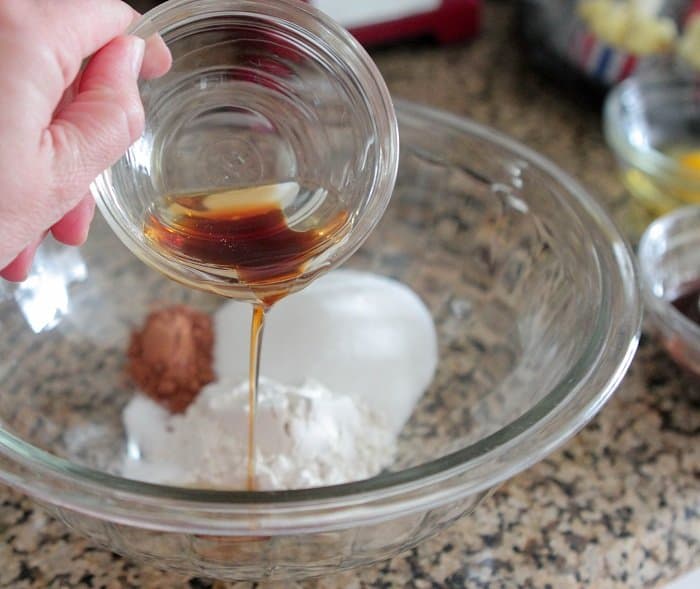 Add your oil, vanilla….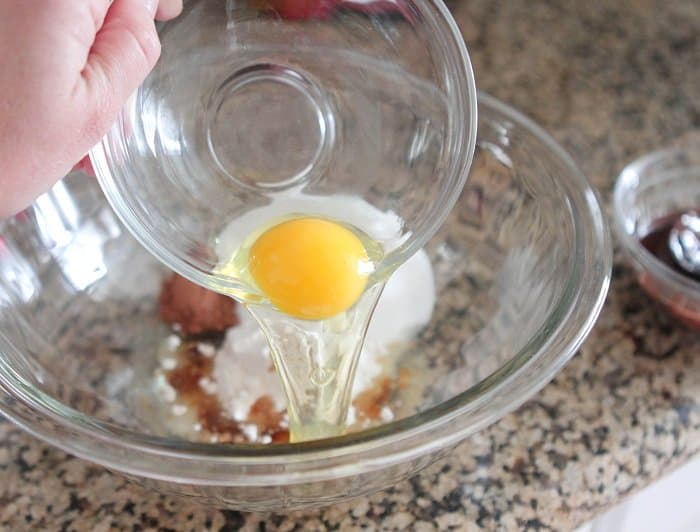 …egg and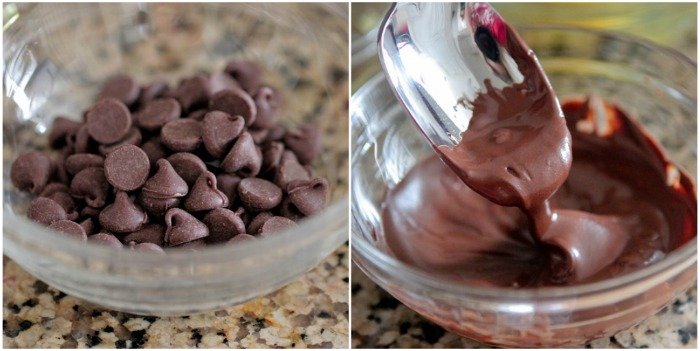 melt your chocolate chips and…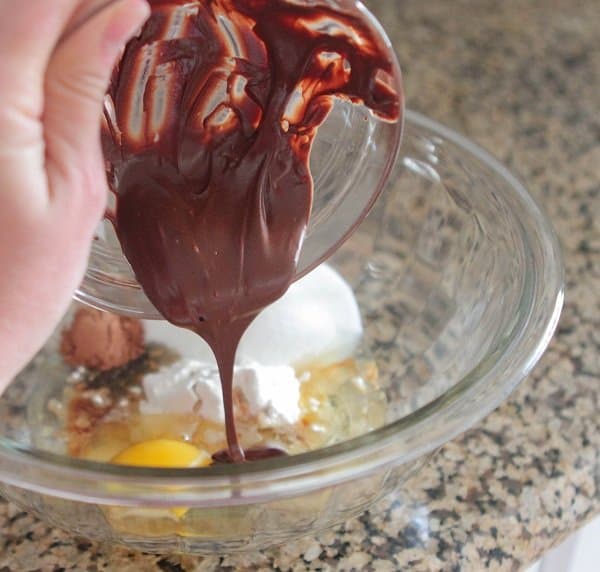 add to the bowl.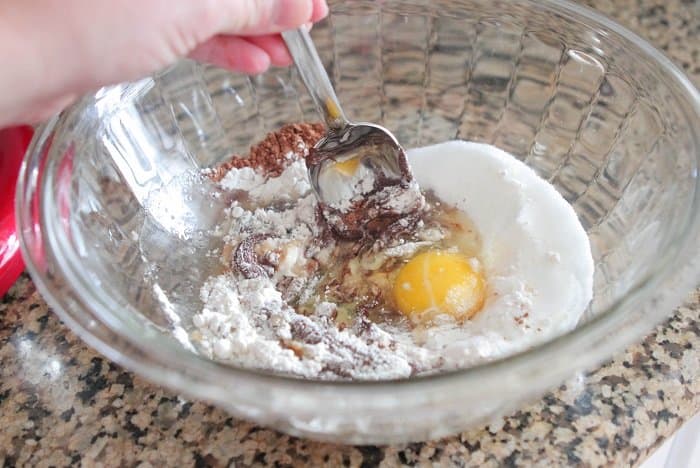 Give it all a good mix.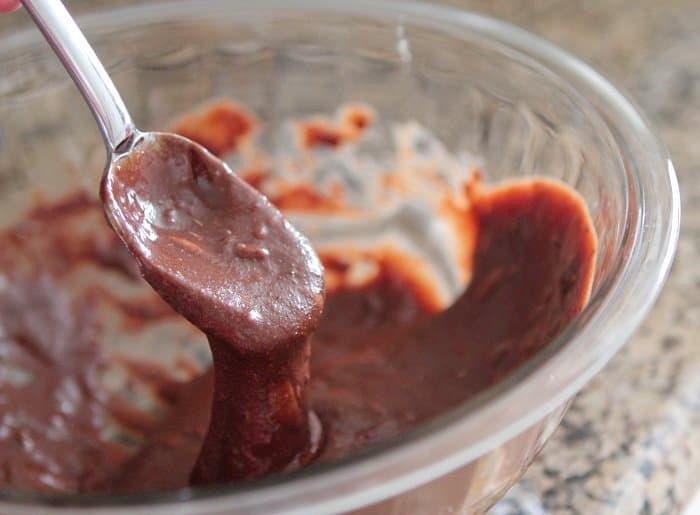 Ahhh, perfect!
To bake the little cake, I used an empty 12.5 ounce can of Chunk Chicken Breast from Costco. Remove the paper wrapper, wash and dry.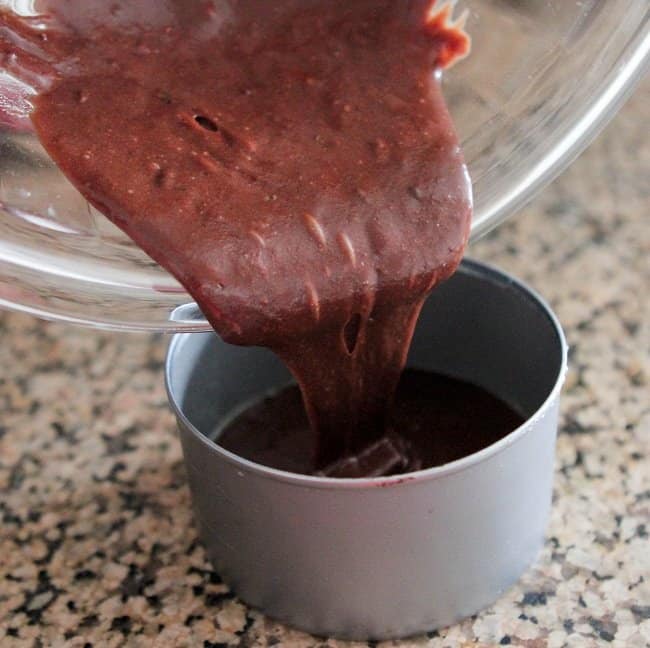 Pour the cake batter into your prepared can, and bake at 350 for 25-30 minutes.
Loosen edges with a knife, let cool for 10 minutes then remove from can 🙂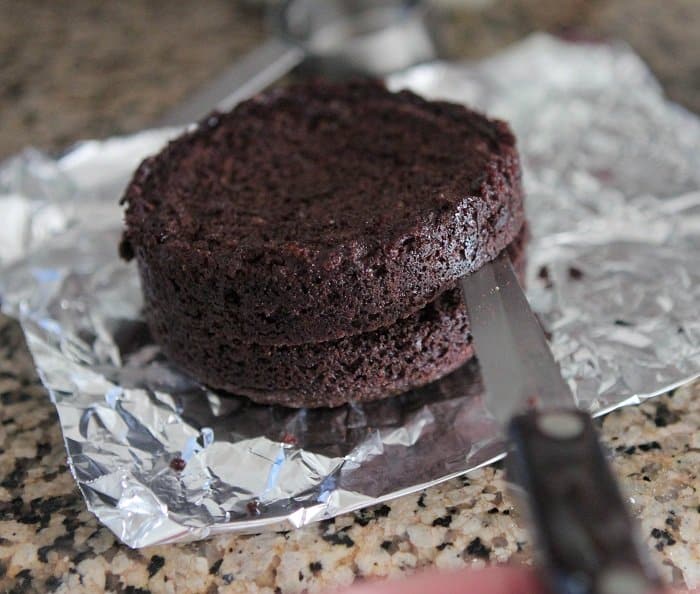 Once cooled cut cake in half lengthwise.

Time to whip up the peanut butter frosting layer. A little peanut butter, powdered sugar and splash of milk.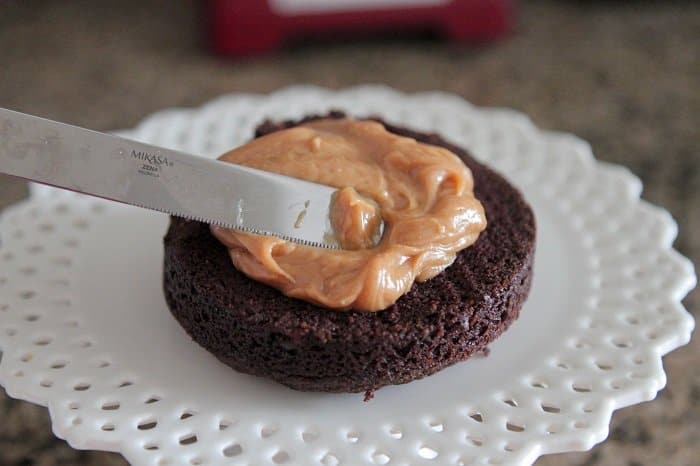 Spread peanut butter layer over bottom cake.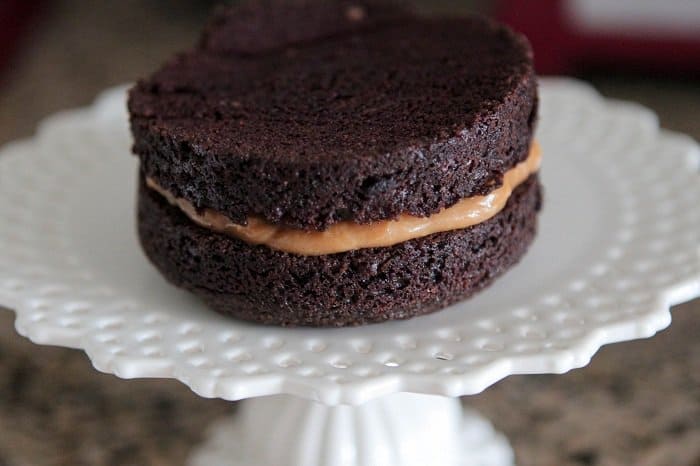 Place second cake on top. How cute!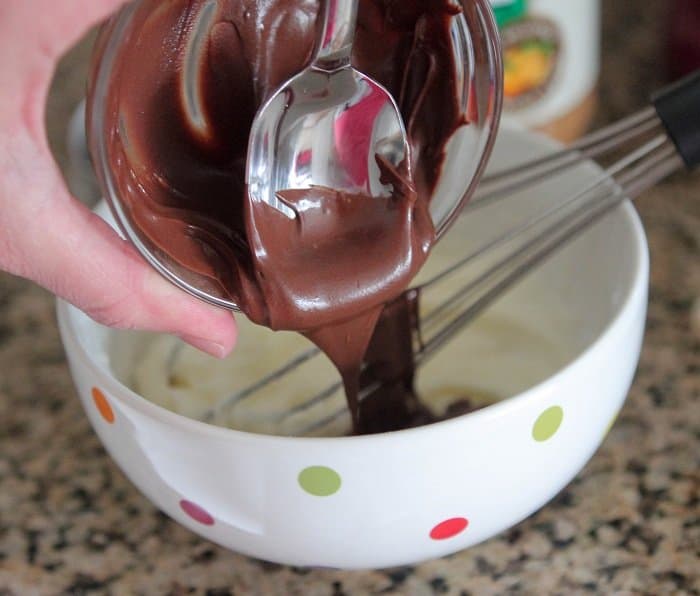 Whip up the chocolate buttercream. Butter, melted chocolate and powdered sugar….Yum!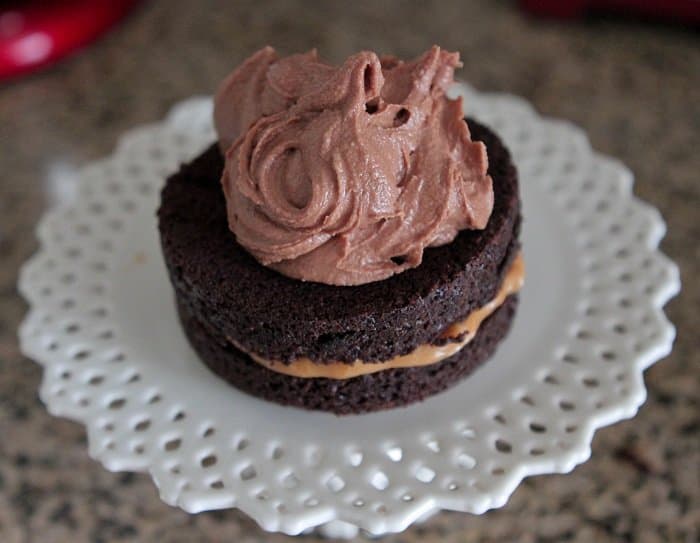 Place frosting on top and frost evenly. Top with your favorite sprinkles and….
Tada! Love this cute little cake. Happy Birthday Picky Palate!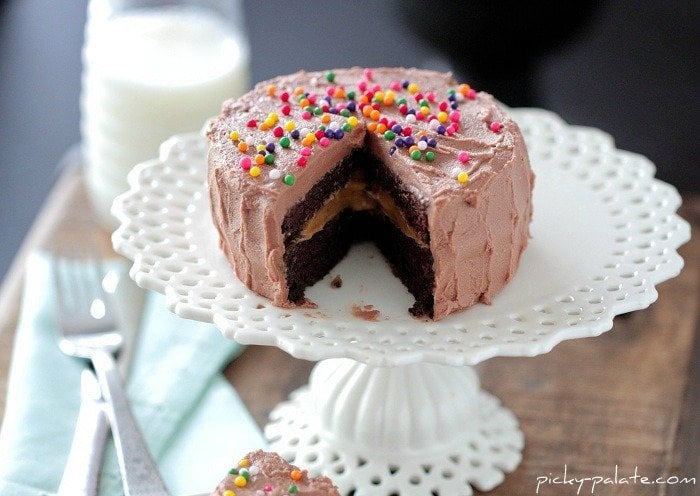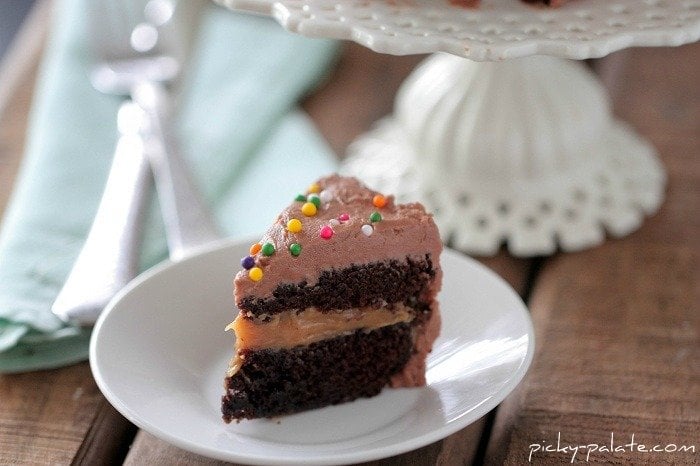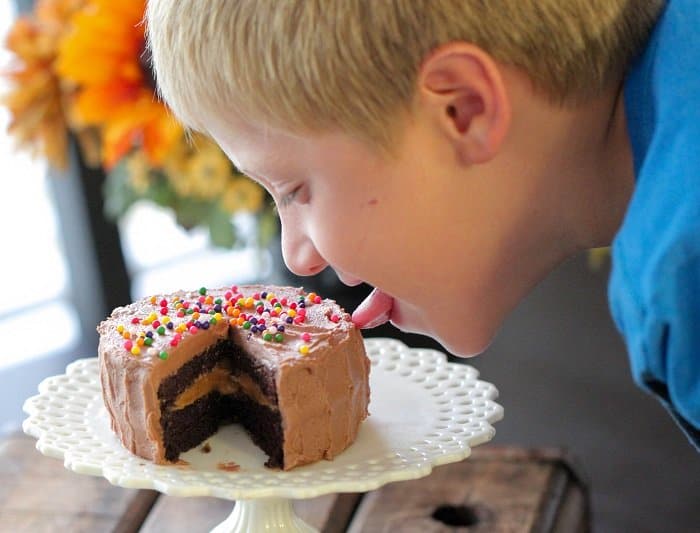 [ziplist]
Chocolate Peanut Butter Cake for One
1/4 cup all purpose flour
1 tablespoon cocoa powder
1/4 cup granulated sugar
1/4 teaspoon kosher salt
1/4 teaspoon baking soda
1 large egg
2 tablespoons canola or vegetable oil
1/4 teaspoon pure vanilla extract
1/4 cup semi sweet chocolate chips
1/4 cup creamy peanut butter
1/4 cup powdered sugar
1 teaspoon milk
1/4 cup semi sweet chocolate chips
4 tablespoons unsalted butter
1/2 cup powdered sugar
1. Preheat oven to 350 degrees F. and spry 12.5 ounce can with non stick cooking spray.
2. Place flour, cocoa, sugar, salt, baking soda, egg, oil and vanilla into a large mixing bowl. Melt chocolate chips in a microwave safe bowl in 30 second intervals until smooth. Pour into bowl and mix all ingredients until well combined.
3. Pour batter into prepared can and bake for 25-30 minutes or until baked through. Remove and loosen edges with a knife. Let cool for 10 minutes then remove from can by flipping over firmly. Let cool completely then cut in half lengthwise.
4. Place peanut butter, powdered sugar and milk into a small bowl and mix until smooth. Spread over bottom cake and place second cake on top.
5. Place chocolate chips in microwave safe bowl and melt in 30 second intervals until smooth. Place butter and powdered sugar in small bowl, mixing to combine and add melted chocolate, mixing until combined. Spread evenly over cake and top with sprinkles.
Makes 1 serving…unless you wanna share 🙂
_________________________
Have a great day! Come back soon!