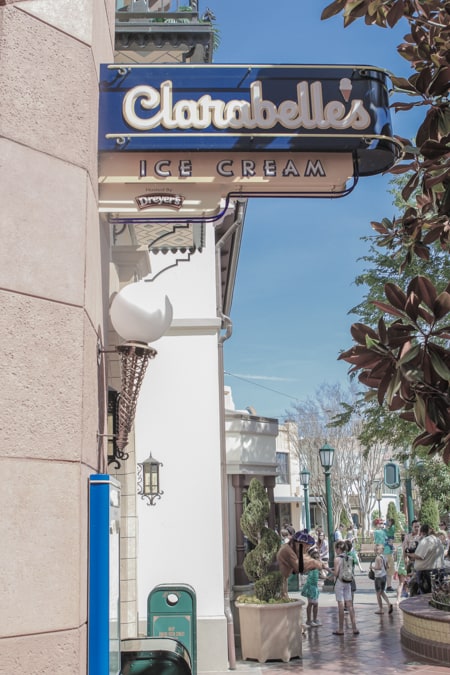 Clarabelle's: Located in Buena Vista Street
Disney dining has definitely improved from when I grew up in Arizona and was traveling to disneyland. Recently, we moved back to Arizona after enjoying 5 wonderful years in southern California. Reviewing all the food options in Disneyland has allowed us to find gems. It also has allowed us to look at disney food in a different light. It's not all "theme park grade food".

Clarabelle's is part of the remodeled Buena Vista Street area of Disney California Adventure. Buena Vista is modeled after Los Angeles in the 1920s about the time Walt Disney arrived there. Buena Vista Street opened June 2012 replacing the Sunshine Plaza. This change gave us ice cream from Dreyer's; labeled as Clarabelle's and provides creative ice cream treats.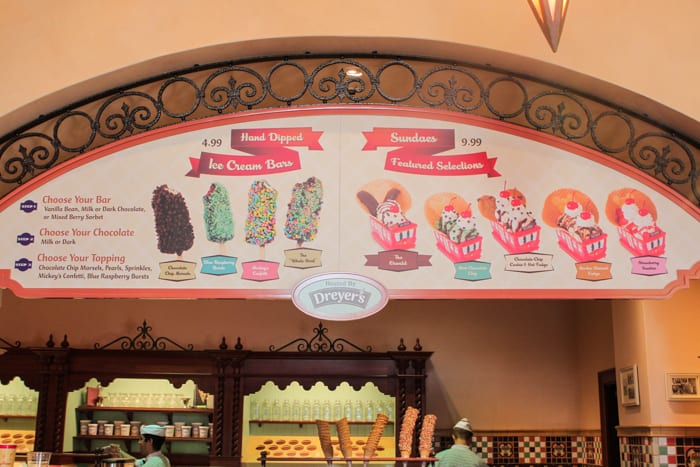 They specialize in ice cream bars and sundaes–and with so many options, "which to choose?" is the question. Also, the trolly sundae cups shown above are no longer offered.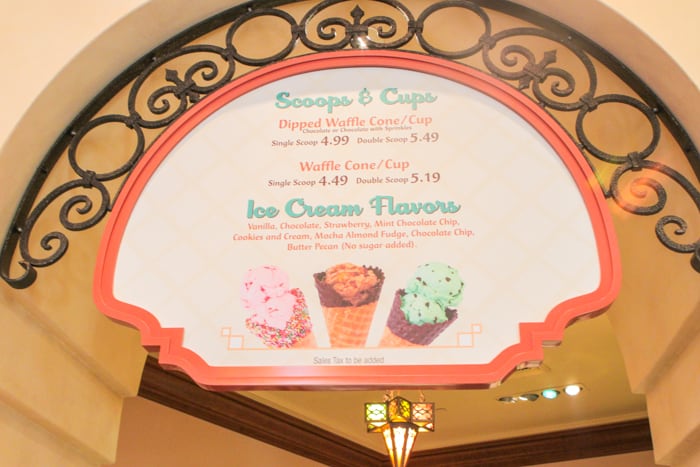 Dreyer's options and flavors at Clarabelle's are similar to Disneyland at Gibson Girl Ice Cream Parlor on Main Street. However, don't expect "cookie cutter" ice cream shops because they do have differences.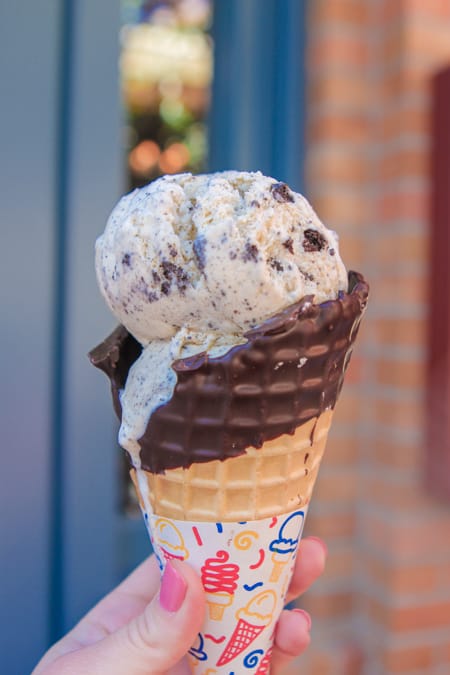 The classic double scoop cookies and cream in a chocolate dipped waffle cone.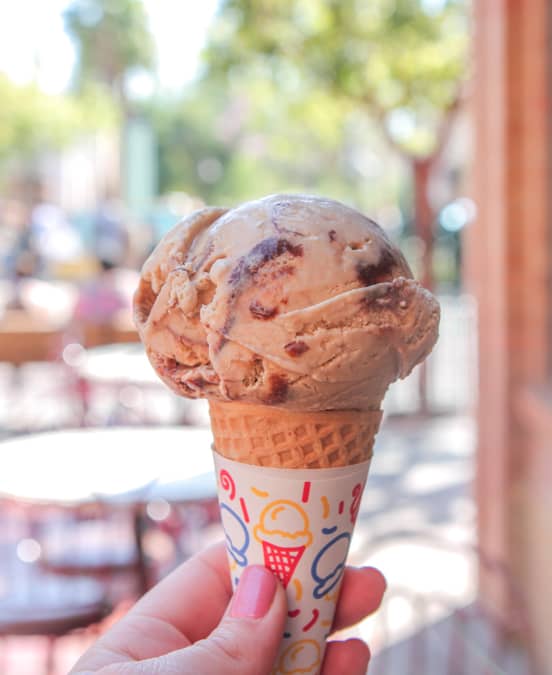 I'm sorry but I'm a coffee hater. Jenny on the other hand–although we're not coffee drinkers–loves the smell and loves coffee type ice cream. This is the Mocha Almond Fudge that unfortunately Jenny was not a fan of.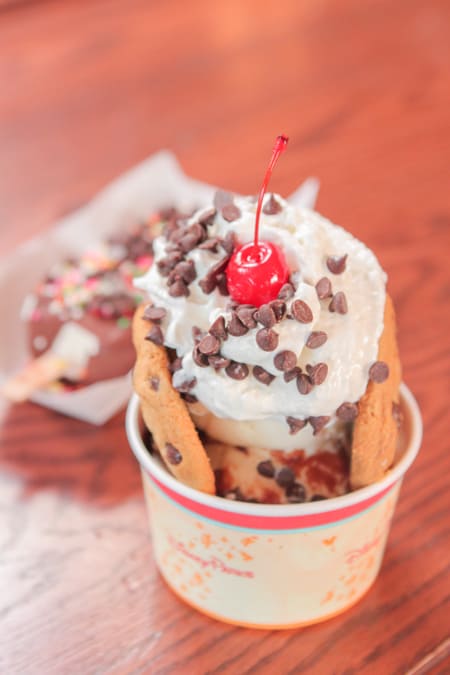 Chocolate Chip Cookie and Hot Fudge Sundae – a decent choice but not the best. But, who can resist hot fudge?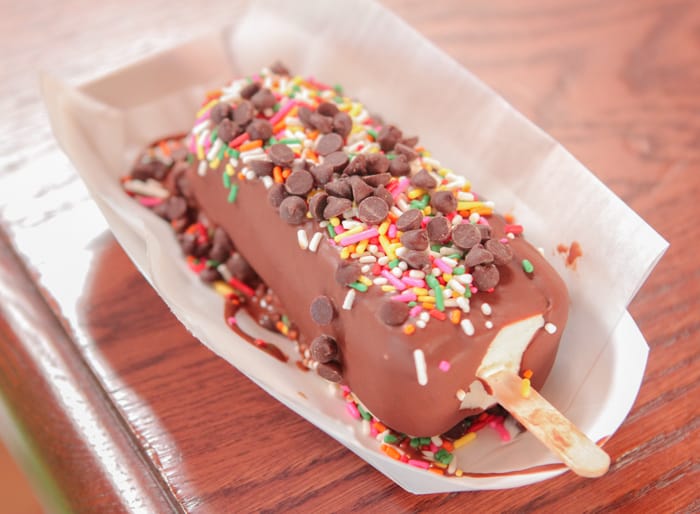 Their custom hand dipped bars are fun but I needed help on which options to choose from (more on that later). Mason chose this bar – Vanilla Bean, Milk Chocolate shell with Sprinkles & Chocolate Chips. I'll leave this option for the kids.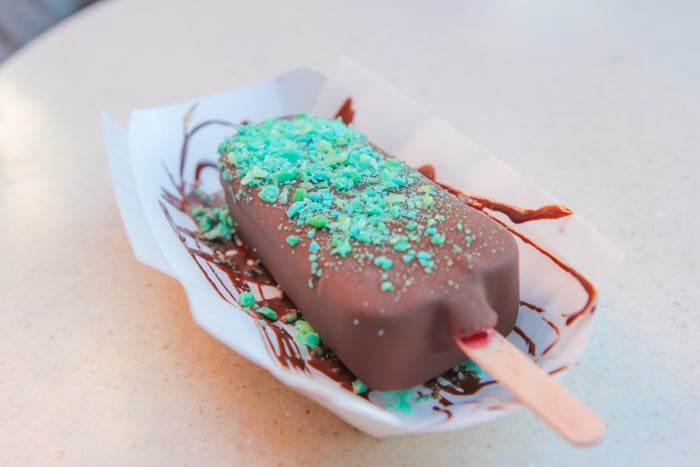 Now here it is!!! Mixed Berry Sorbet, Dark Chocolate shell with Raspberry Bursts. This diamond in the rough changed my outlook on Clarabelle's–at first, thinking this is just another normal ice cream joint. Big thanks to Christy from Ventura who spotted us reviewing Clarabelle's, stopped to say hi as she is a fan of Picky Palate. Her son had–this half in his mouth–and when Christy said the blue little rocks were POP ROCKS!! we couldn't resist. Without question, every time I come to Disney I will be ordering 2–one to eat immediately, and one for my pocket….it'll hold much better than tots!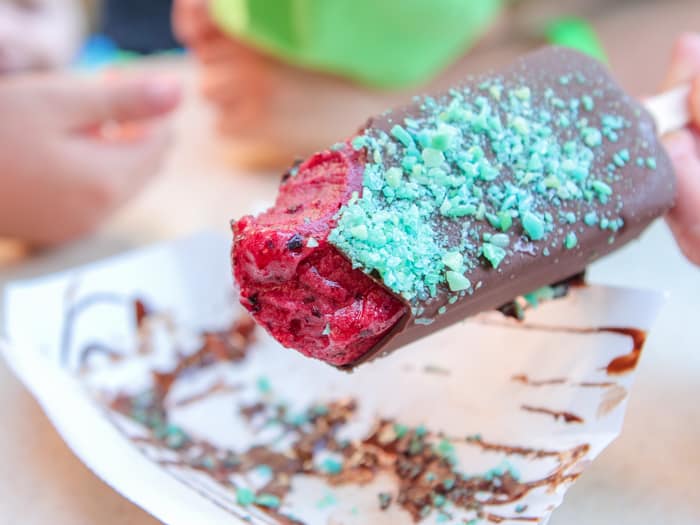 You may think this combination is quite odd but open your mind, order it and you'll be glad you did.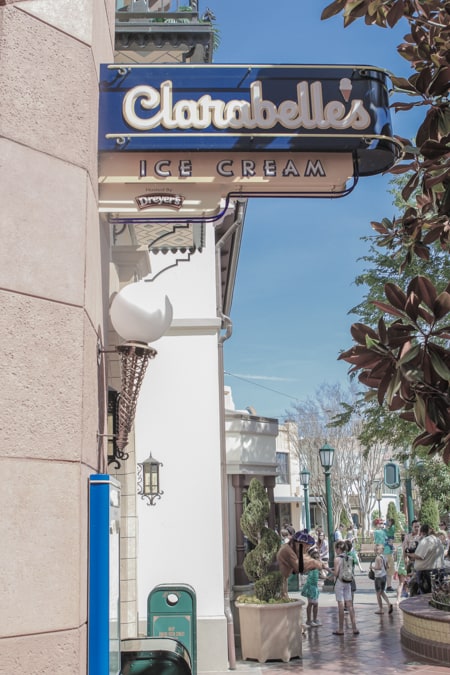 WHAT WORKED: Creative hand dipped bars, Ice Cream
WHAT DIDN'T WORK: crickets, crickets – just can't think of anything
We give Clarabelle's 4 STARS.
Be sure to check out our Disney home page HERE for other Disneyland California and California Adventure food ideas.
-Cullen