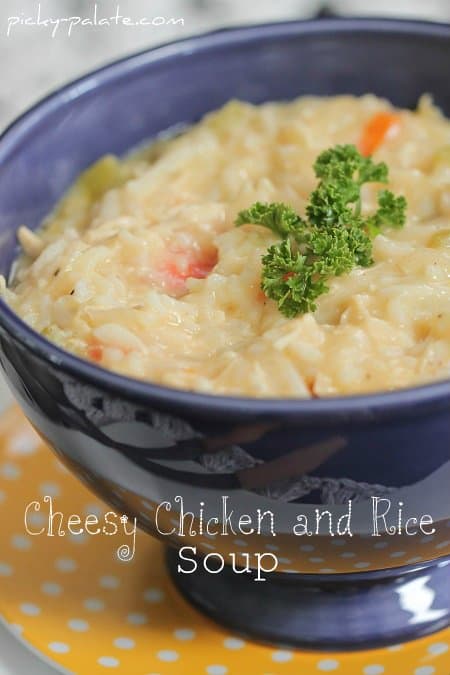 Remember that cheesy chicken and rice soup I posted on Instagram Sunday…..well, I wasn't planning on posting the recipe, but y'all were adamant about getting it 🙂
Never fear, I'm always willing to share my recipes!! You just won't see a whole bunch of step by step photos for this one ok?
These photos of the soup are from the next day, so it looks thicker than usual which I love! You can easily thin it out with little splashes of milk. We devoured this soup with no problem, can't wait for you to try it! It's homemade, full of veggies, chicken and rice. Yum!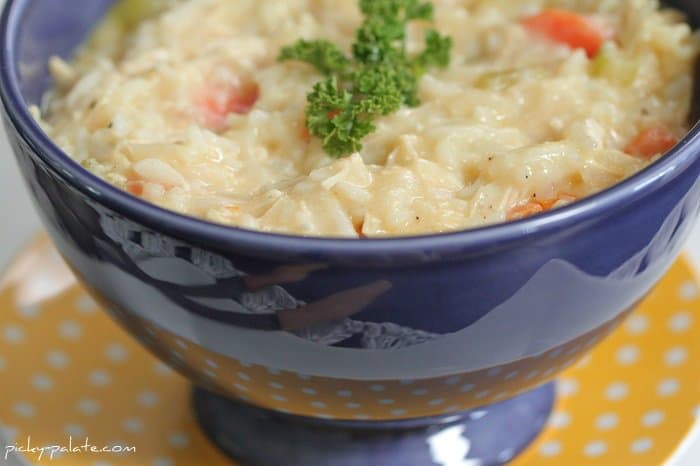 [ziplist]
Classic Cheesy Chicken and Rice Soup
3 tablespoons extra virgin olive oil
1 large onion, finely chopped
4 stalks of celery, chopped
3 large carrots, peeled and chopped
2 tablespoons minced garlic
1 stick (8 tablespoons) unsalted butter
1/2 cup all purpose flour
1/2 teaspoon kosher salt
1/2 teaspoon freshly ground black pepper
32 ounces plus 16 ounces reduced sodium chicken broth
2 cups shredded mild cheddar (I use Tillamook)
1 teaspoon hot sauce
3 cups cooked shredded chicken
3-4 cups cooked white rice
1/2 cup sour cream
Additional salt and pepper to taste
1. Place oil in large dutch oven over medium heat. When hot, add onion, celery and carrots, stirring and cooking for about 10 minutes. Stir in garlic and cook for about 1 minute. Once veggies are tender, reduce heat to low.
2. In a separate large saucepan melt the butter over medium heat. Slowly whisk in the flour, salt and pepper until thick and bubbly. Slowly whisk in 32 ounces chicken broth. Increase heat slightly and keep whisking until broth gets thick and creamy, about 3-5 minutes. Once thick, reduce heat to low and add cheese, stirring until smooth then add hot sauce. Add cheese sauce to veggies then add cooked chicken and rice. Add remaining 16 ounces of chicken broth and sour cream to soup, stirring to combine. According to your preference you may want to add more broth or milk for a thinner soup. Stir, taste and season with additional salt and pepper according to your liking. Reduce heat to low and serve!
Makes 8 servings
_______________________________
Have a great day! Come back soon 🙂