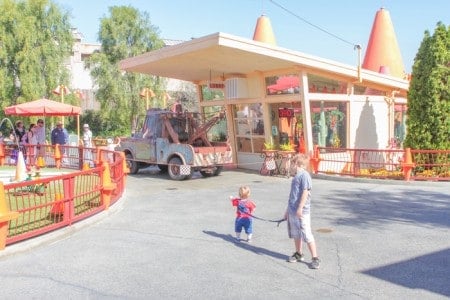 This Kid Keeper harness by Mommy's Helper that we bought off Amazon was much welcomed to keep Pax from cutting in line for a photo with Tow Mater.
Cozy Cone Motel: Located in Cars Land
Reviewing Disney restaurants that taste great is much more fulfilling and fun then reviewing the restaurants of yester-year that still taste like "amusement park food" of the 80's and 90's. Even though Disney still has some of these restaurants, they seem to be dwindling. But the Cozy Cone Motel is one of those fun food experiences for the future. They have soft serve ice cream that keeps you thinking about it throughout your stay, chili in a soft pretzel cone, spicy popcorn, specialty drinks, and churro bites. They even serve breakfast.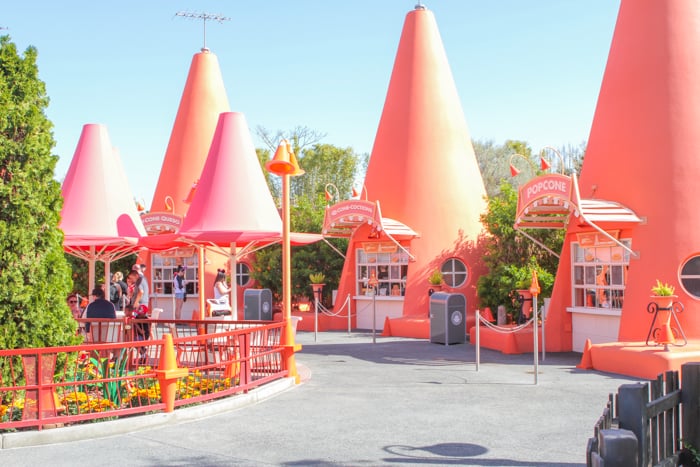 The Cozy Cone Motel has 5 cones you can order from. At certain times of the day one cone may be busier than the others. On hot days, you should expect a sizable line for the soft serve Cone #2. Also, there isn't much seating but most, if not all, of the food is conducive to walking and eating simultaneously.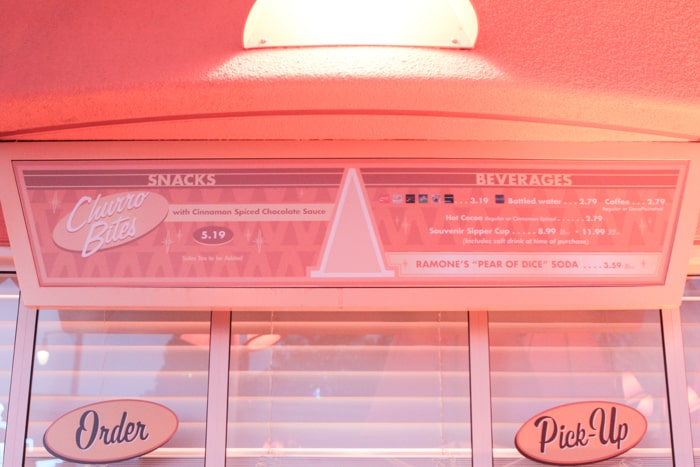 We would say that the prices at Cozy Cone Motel are reasonable. For $5.19 the churro bites go fast but you're paying for the chocolate sauce, thus the increased price.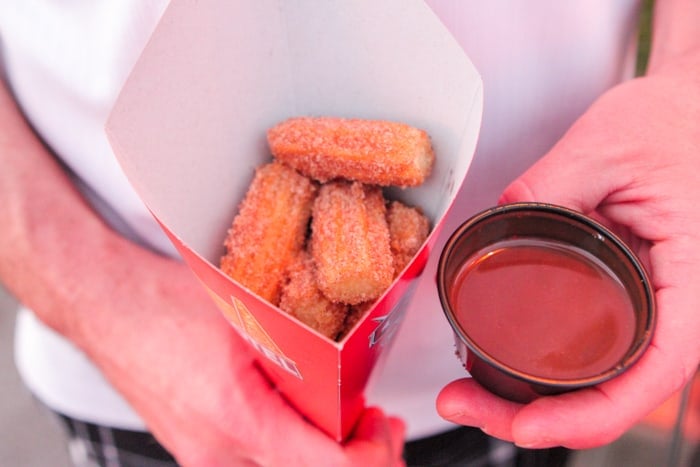 Here they are with chocolate sauce and all. Seems like the container could be filled more with the bites. If you're a chocolate lover you should love dipping the bites. Our only complaint is the bites go fast!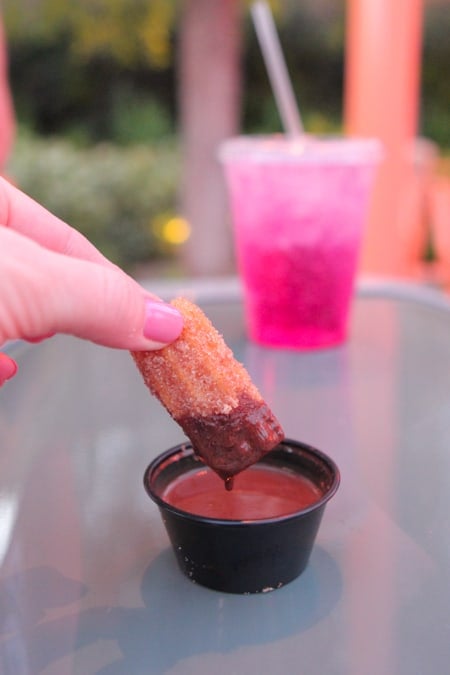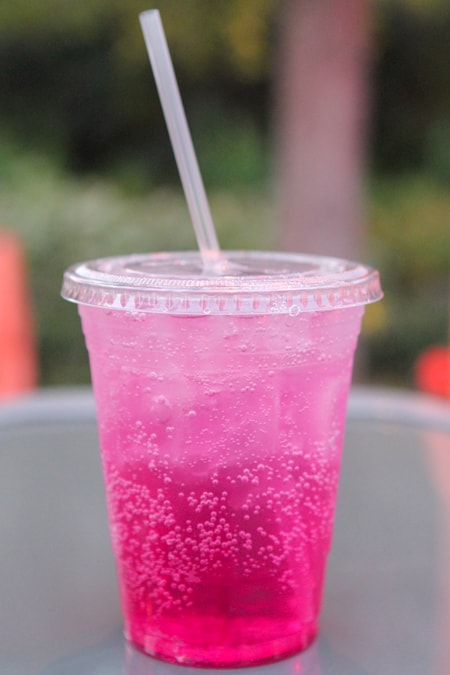 This soda was just OK in our book. We felt it was Mojito syrup overload.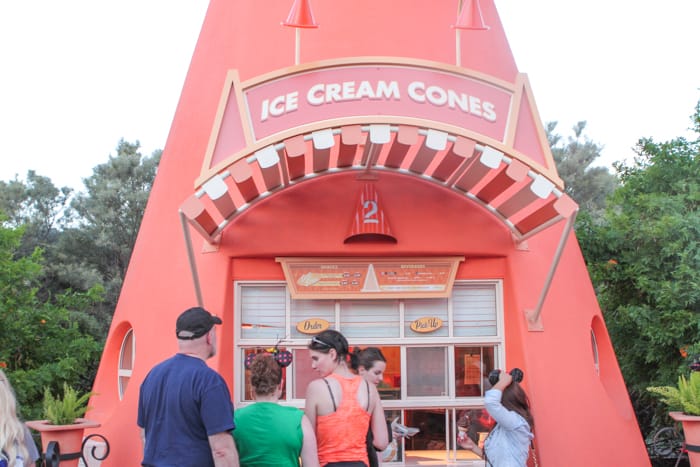 Awww….Cozy Cone #2. Probably our favorite cone of the bunch.
Expect to pay close to $5 for a large cone dipped in chocolate–the only way to go!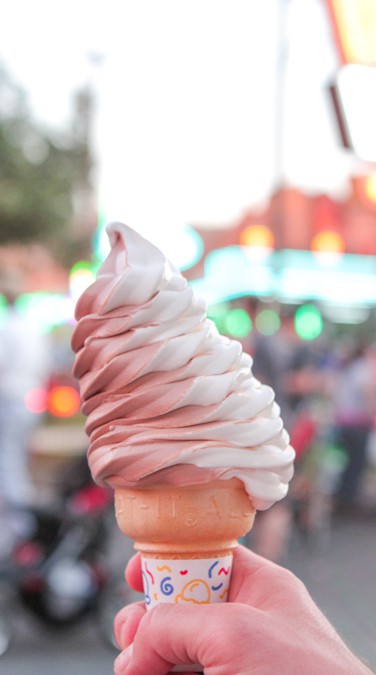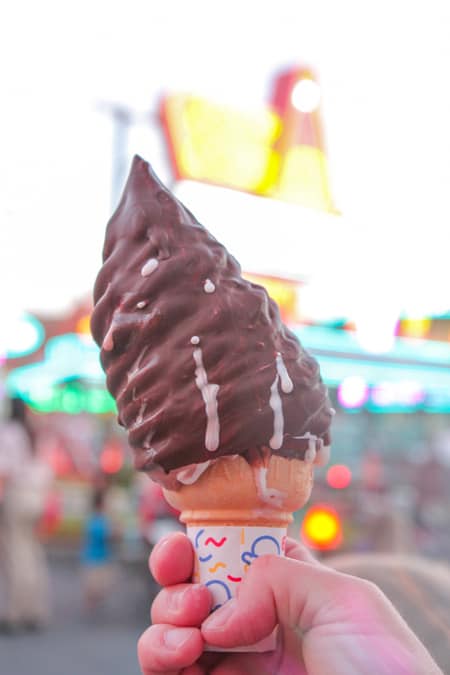 Unfortunately, we didn't tell our server to make us a beautiful cone for the photo shoot. And, yes, it's true–I had 2 large vanilla cones dipped in chocolate during our trip. I'll shoot for 3 next time. I'm thinking there has to be MSG in this thing. 🙂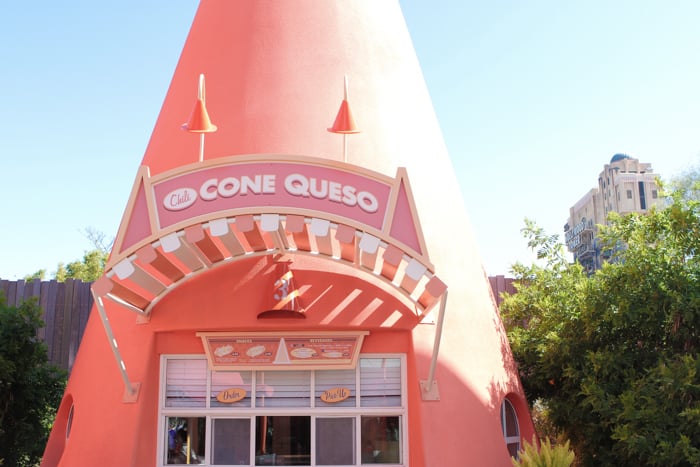 Chili Cone Queso Cone #3 was the expectation exceed-er for us.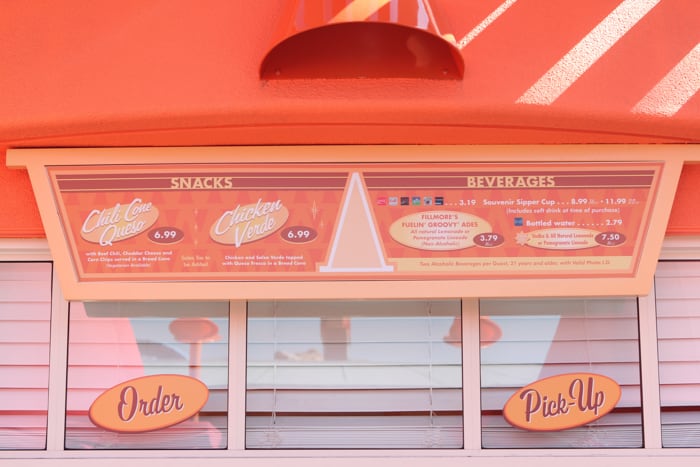 These snacks are light and recommended for a light lunch or dinner. They serve chili and chicken verde in soft pretzel cones. The chicken verde sauce is the same that is used in Flo's V8 Chicken Tamale Breakfast–one of our favorites at Flo's.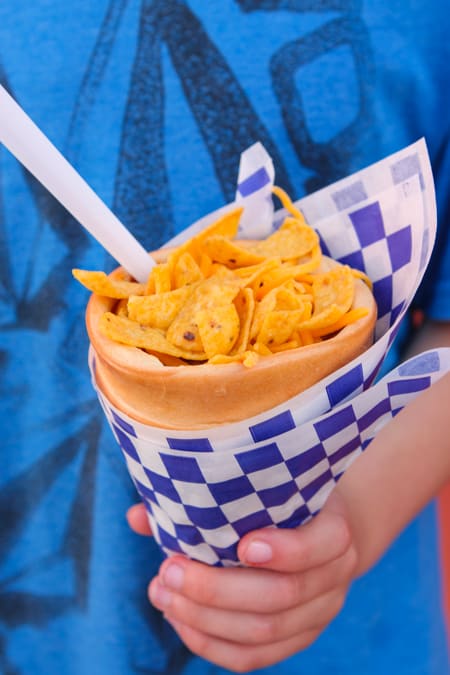 I promise there is chili under those Fritos. The kids loved these and so did the adults.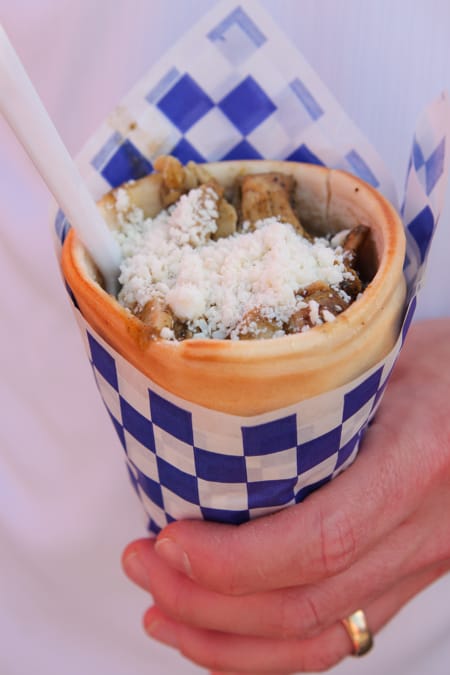 Jenny "from the block" couldn't decide on which was her favorite. I give the slight edge to the chicken verde.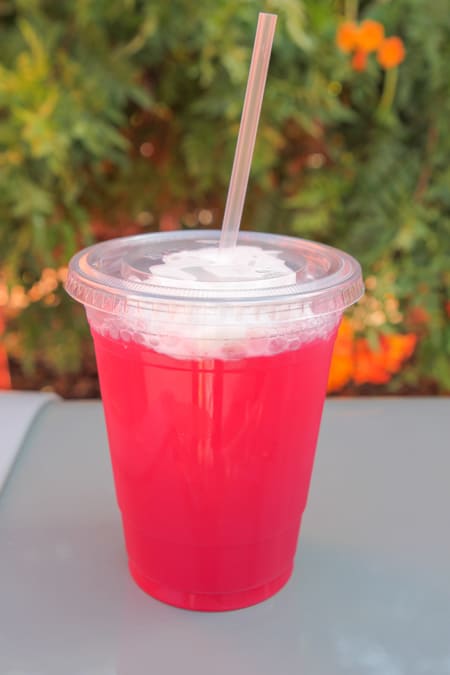 Jenny loved the tart and sweet pomegranate limeade.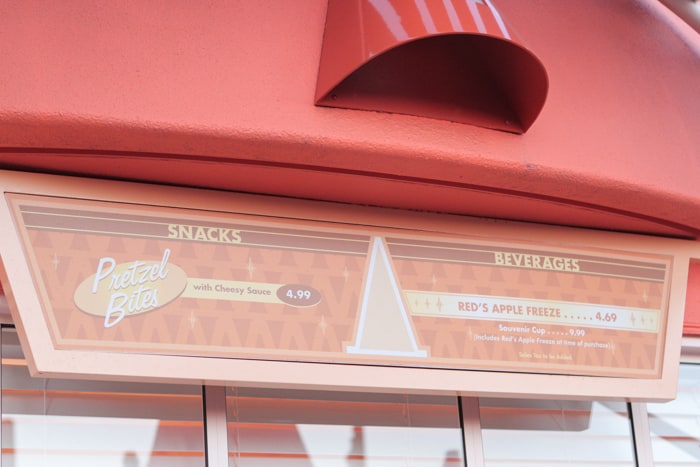 Cone-Coctions Cone #4. This cone came in 2nd in least busiest, next to the popcorn cone.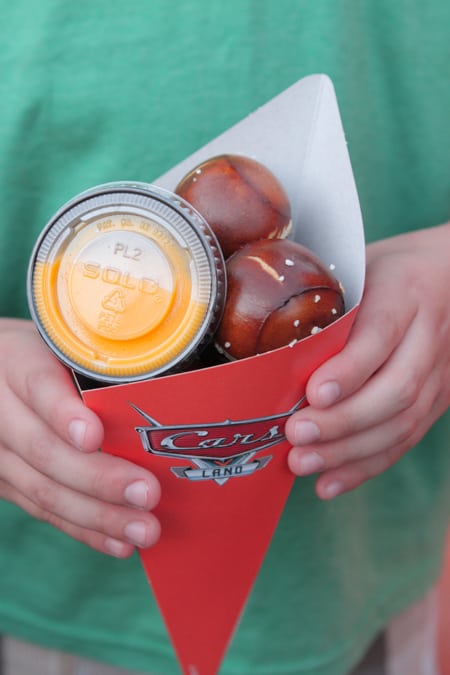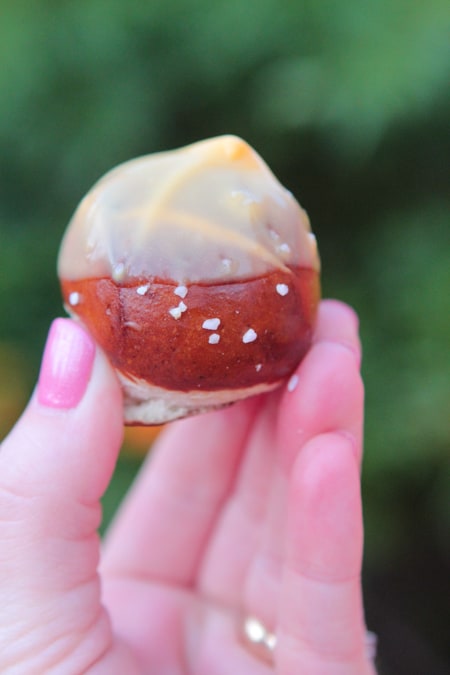 These pretzels were cooked perfectly.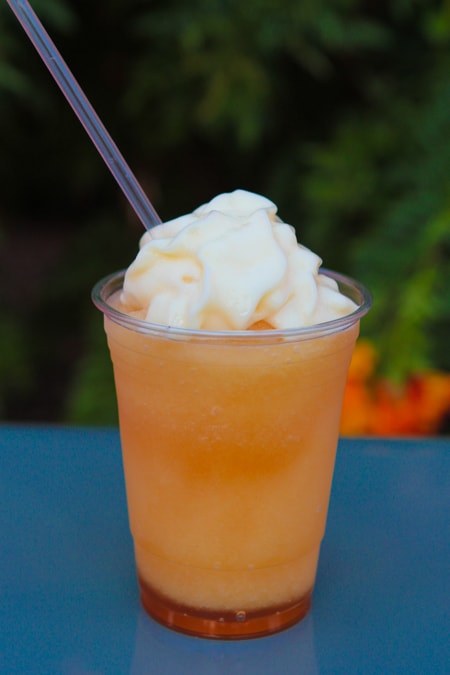 We did try the Apple Freeze, of which they add marshmallow syrup. It reminded us of Martinelli's.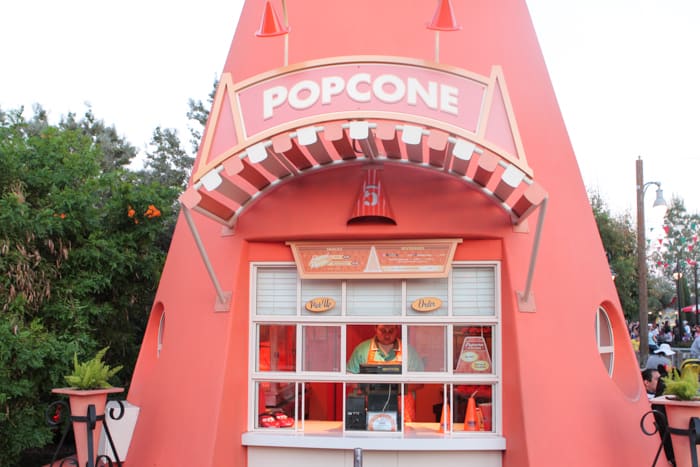 Sorry Popcone #5–we opted not to try the popcorn–tummies too full I guess. They always have butter popcorn, and they rotate four other flavors: bacon & cheddar, dill pickle, sweet & spicy, and cheese.
WHAT WORKED: Soft serve dipped in chocolate, Chili & chicken verde cone queso, Specialty drinks, Pretzel bites, Reasonable prices

WHAT DIDN'T WORK: Stingy on the churro bites, Ramone's "Pear of Dice" Soda syrup overload
We give Cozy Cone Motel 4 STARS for their selection, creativity, and soft serve.

Be sure to check out our Disney home page HERE for other Disneyland California and California Adventure food ideas.
-Cullen