Happy Tuesday everyone! What a crazy past few weeks it's been around here. Just back home last night from a week in sunny AZ and had a great time with my family and friends despite the wicked heat. It's funny how quickly the boys and I forgot how hot AZ gets in the summer. We've been so spoiled with the mid 70's around here in CA!
With summer as unpredictable as it is, I will occasionally be highlighting some of my past favorite recipes to keep up with everything going on. I've organized a couple of my very favorite summer treats to share with you all today since I haven't stepped foot in my kitchen for a while. Hope you all will enjoy a blast from the past! This little parfait and my raspberry blondies are the perfect way to perk up any summer! Enjoy!
__________________________________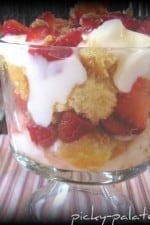 Honeyed Strawberry Shortcake Yogurt Parfaits
Sweet and creamy yogurt parfaits made with reduced-fat vanilla yogurt, fresh strawberries, and crunchy granola.
Print
Pin
Ingredients
4.5

oz

package shortcakes

4 count, cut into cubes

16

oz

reduced fat vanilla yogurt

1

cup

chopped fresh stawberries

8

teaspoons

honey

1

package Nature Valley Oats n' Honey Crunchy Granola Bars

2 in package, crushed
Instructions
Place an even layer of shortcake into 4 little parfait glasses. Top evenly with a couple spoonfuls of yogurt, then about ¼ Cup strawberries. Drizzle each cup with 1 teaspoon honey then top with a Tablespoon of crushed granola bar. Repeat this layering one more time and serve.
Keywords:
easy desserts, granola with yogurt, yogurt parfaits
____________________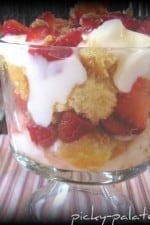 Raspberry White Chocolate Blondies
Chewy blondies packed with crunchy pecans, sweet white chocolate, and fresh raspberries.
Print
Pin
Ingredients
¼

cup

butter class

¾

cup

white chocolate chips

½

cup

sugar

¼

cup

brown sugar

1

cup

flour

½

teaspoon

baking powder

½

teaspoon

salt

½

cup

white chocolate chips

2

eggs

2

tablespoons

sour cream

1

cup

fresh or frozen raspberries

½

cup

finely chopped pecans

2

tablespoons

sanding sugar
Instructions
Preheat oven to 350 degrees F. Melt butter in microwave safe bowl. Stir in ¾ cup white chips until melted and smooth. In a large bowl add the sugar, brown sugar, flour, baking powder, salt and ½ Cup white chips. In a small bowl whisk the eggs and sour cream. Pour into the dry ingredient bowl along with the melted white chip mixture. Mix until just combined.

Pour into an 8x8 inch baking dish lined with foil that's been sprayed with cooking spray. Top evenly with 1 cup raspberries. Mix the chopped pecans and sanding sugar in a small bowl until combined then sprinkle over top of blondies. Bake for 30-35 minutes, or until toothpick comes clean from center.
Keywords:
blondie dessert, blondies, white chocolate blondies
__________________________
Some Summer Snapshots of the last couple weeks
Have a wonderful week, see ya'll soon!!