Sharing my reviews on the Disney California Adventure Food and Wine Festival 2019! Get your tastebuds ready, the food is amazing as always. There's something for everyone!
The 2019 Food and Wine Festival runs March 1 through April 23rd! It is such a great time for foodies, so many delicious small plates to sample. Make sure to grab your Tasting Passport at any of the Marketplaces that will help you map our your food choices!
The Food and Wine Festival Sip and Savor Pass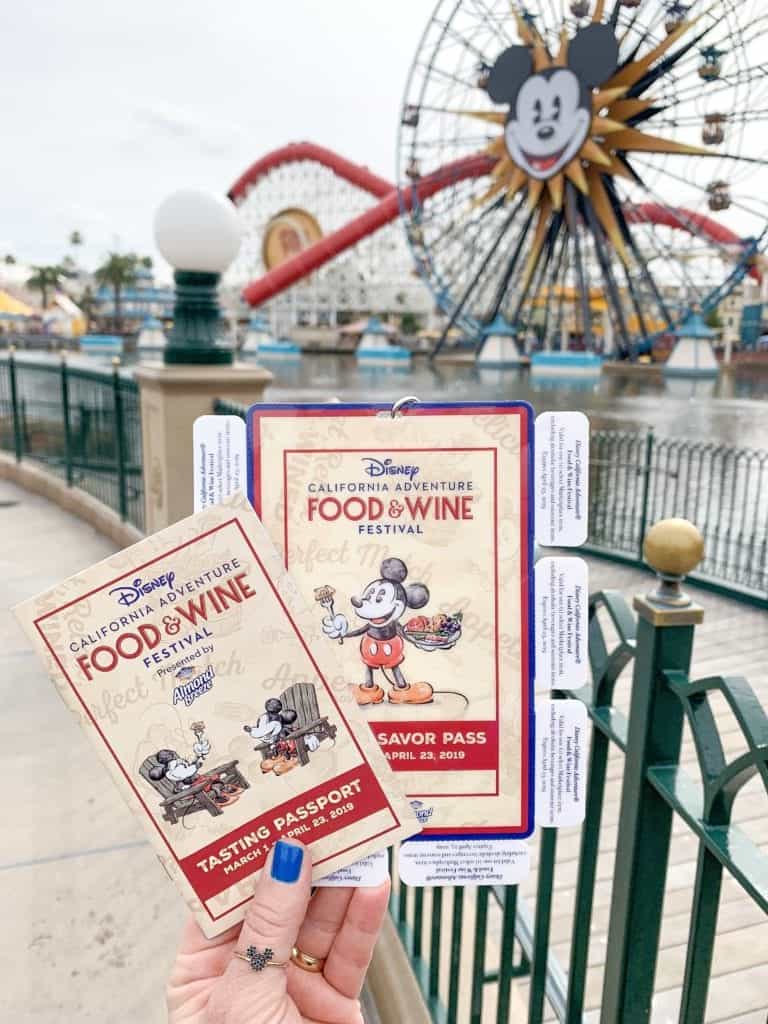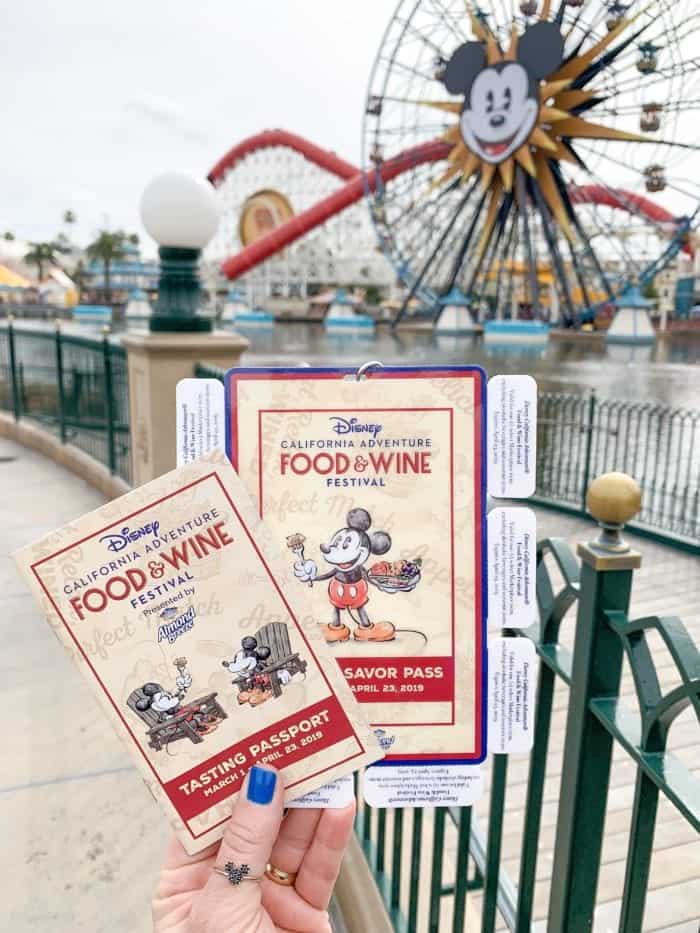 Sip and Savor Passes provide an opportunity to sample imaginative menu selections made with fresh California-grown delicacies and locally sourced produce. Guests can continue tasting their way around the Festival with an impressive array of craft beers, boutique wines and specialty cocktails designed to perfectly complement each delish dish.
Each Sip and Savor Pass is $54 (including tax) and consists of a commemorative credential plus 8 coupons redeemable for eligible food and beverage offerings (excluding alcohol and souvenir items). Be sure NOT to rip off your coupons until you get up to the register so the CM can see. They told us that at each Marketplace.
Sip and Savor Passes are available at the Festival Welcome Center, Festival Marketplaces, Festival Gifts and Artist Corner, Elias & Co., Seaside Souvenirs, Sip and Savor Cart, Trolley Treats and the Studio Store in Hollywood Land. For more information see HERE.
Nuts About Cheese Marketplace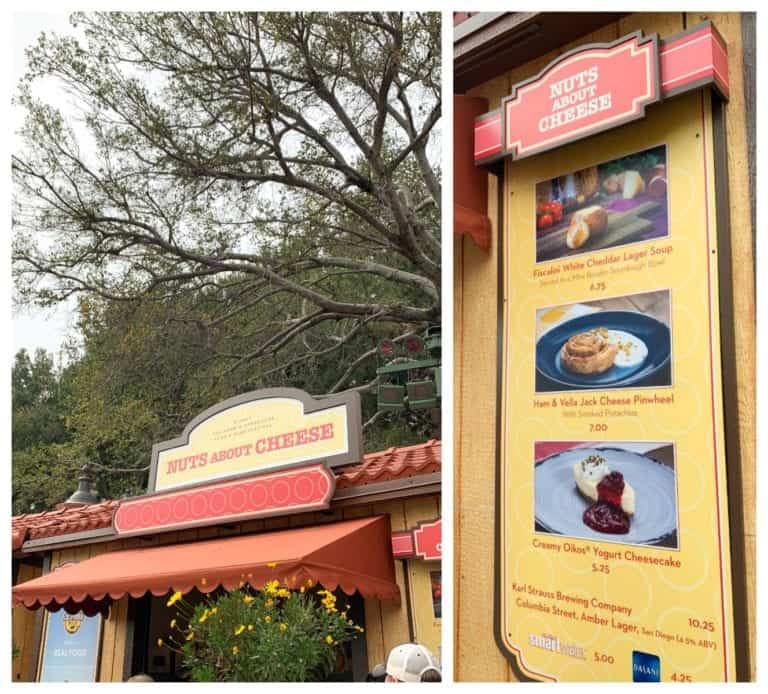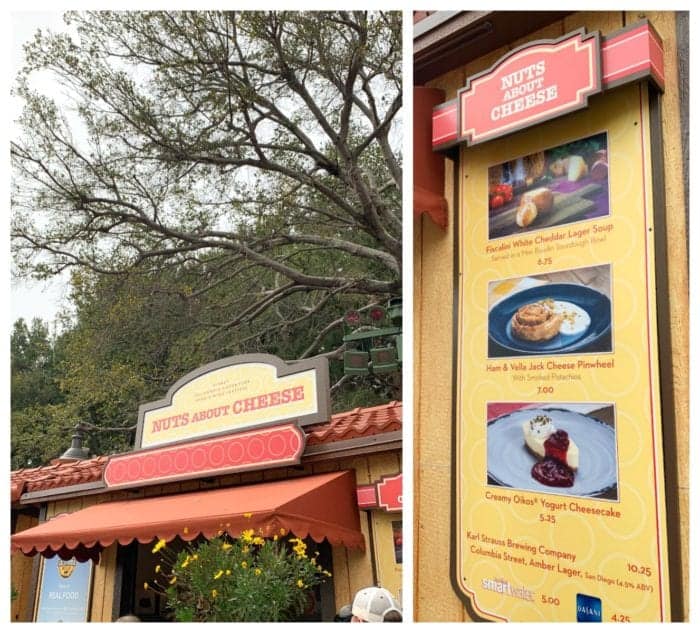 Nuts About Cheese – Let us introduce you to wine's best friends.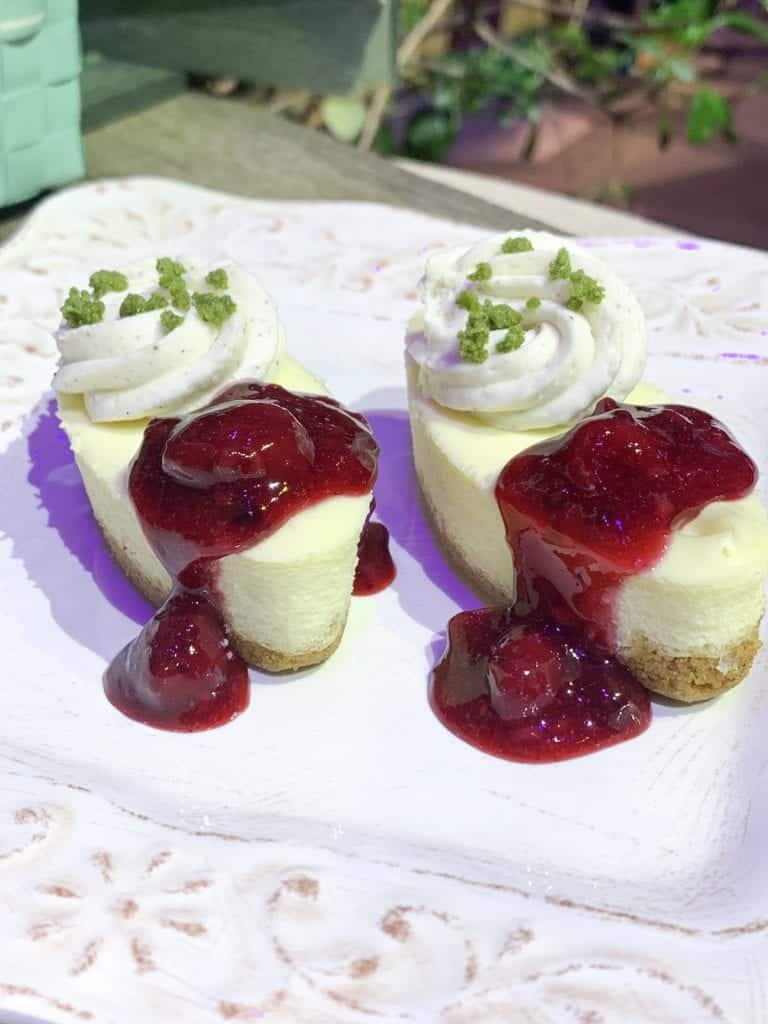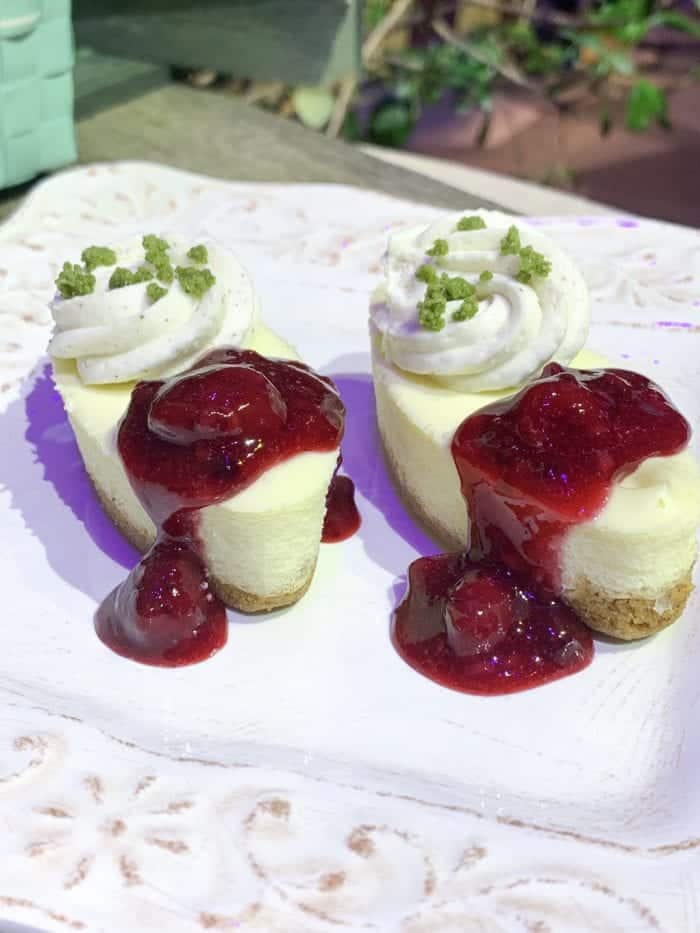 At the Nuts about Cheese Marketplace I got to sample the Creamy Oikos® Yogurt Cheesecake. It was delightful. I enjoyed every bite. It is $5.25
Uncork California Marketplace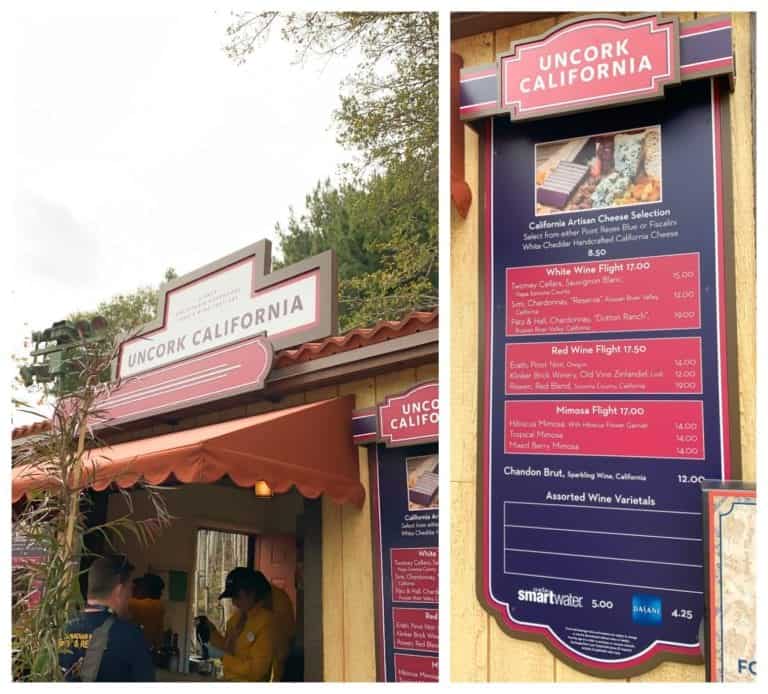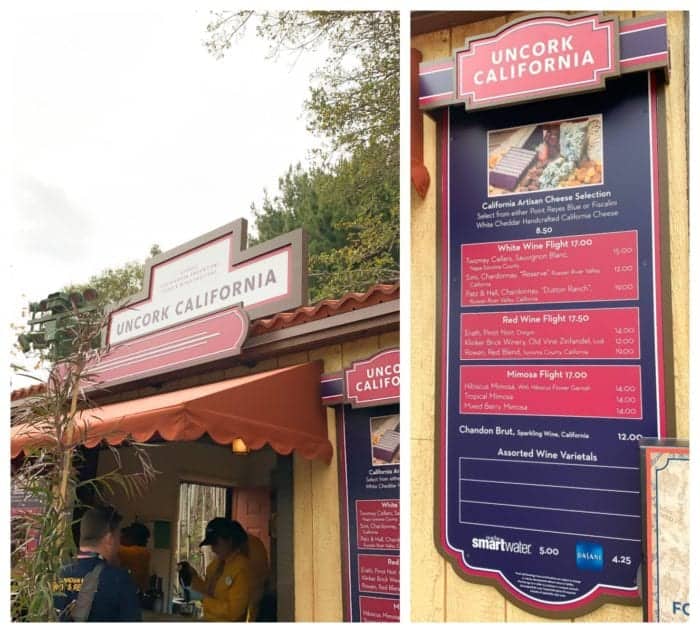 I did not sample at this Marketplace. I don't drink alcohol and did not get the cheese plate but it looked lovely.
Citrus Grove Marketplace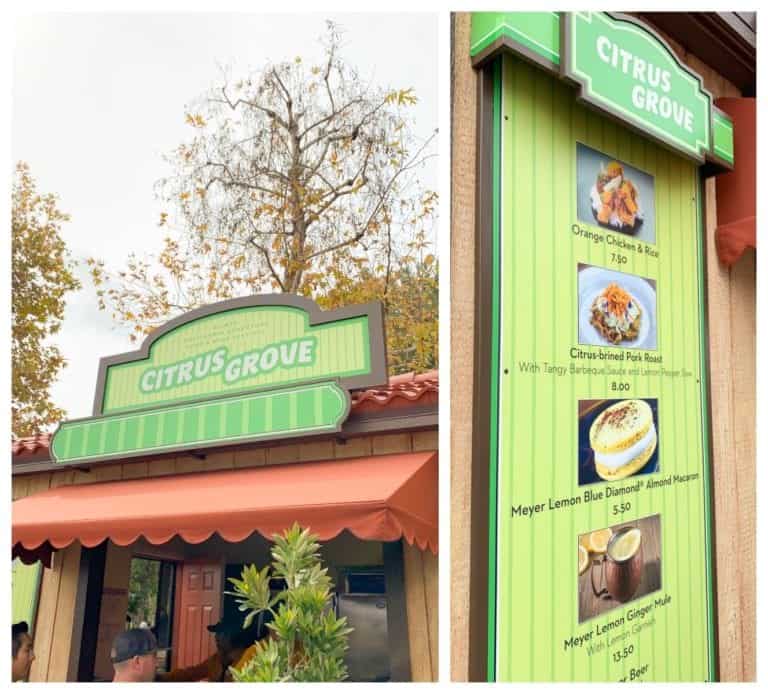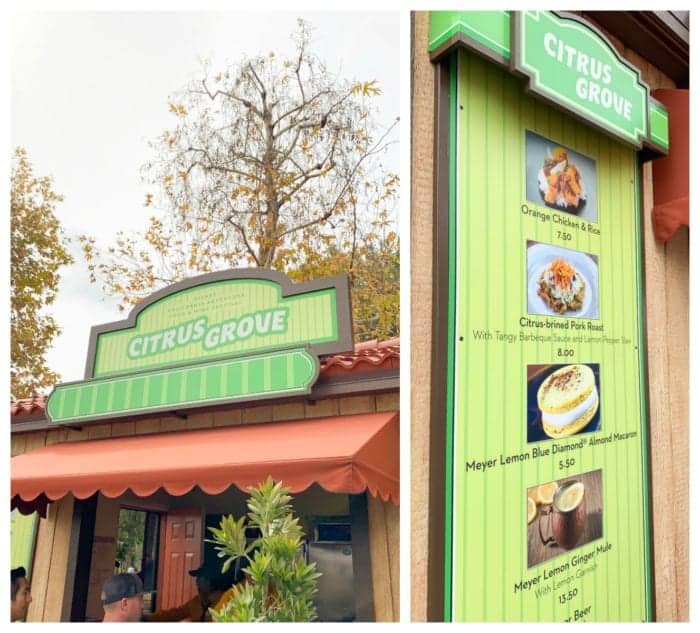 Citrus Grove – Zing it up with zesty refreshments!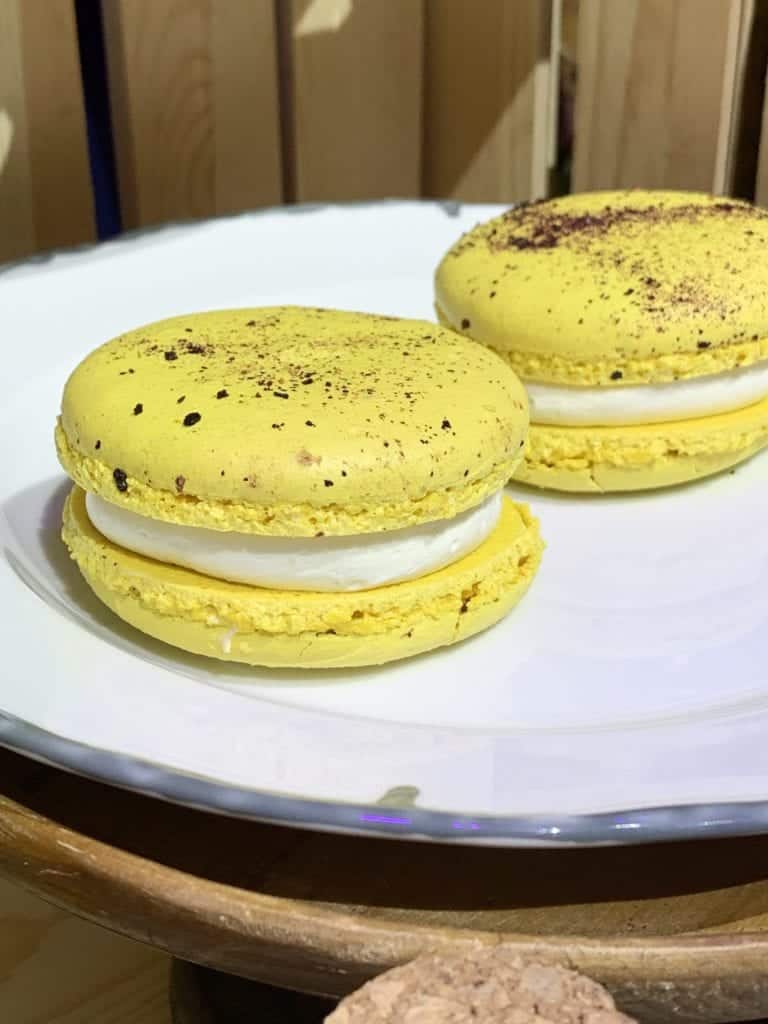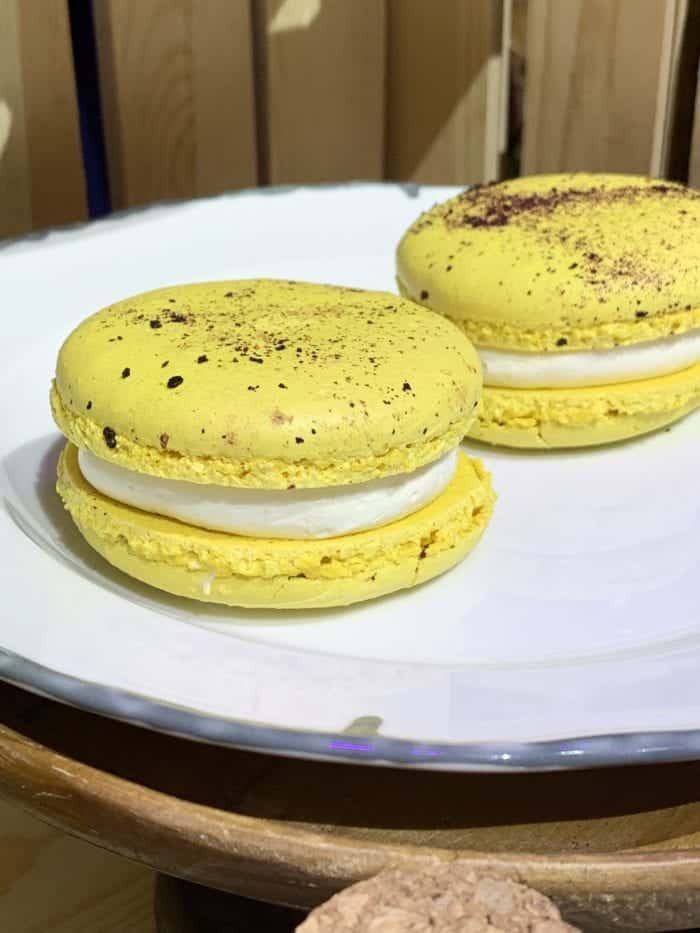 At the Citrus Grove Marketplace I tried the Meyer Lemon Blue Diamond® Almond Macaron. I had this one last year as well. It's perfectly sweet and tart. I'd recommend trying this one. $5.50
California Craft Brews Marketplace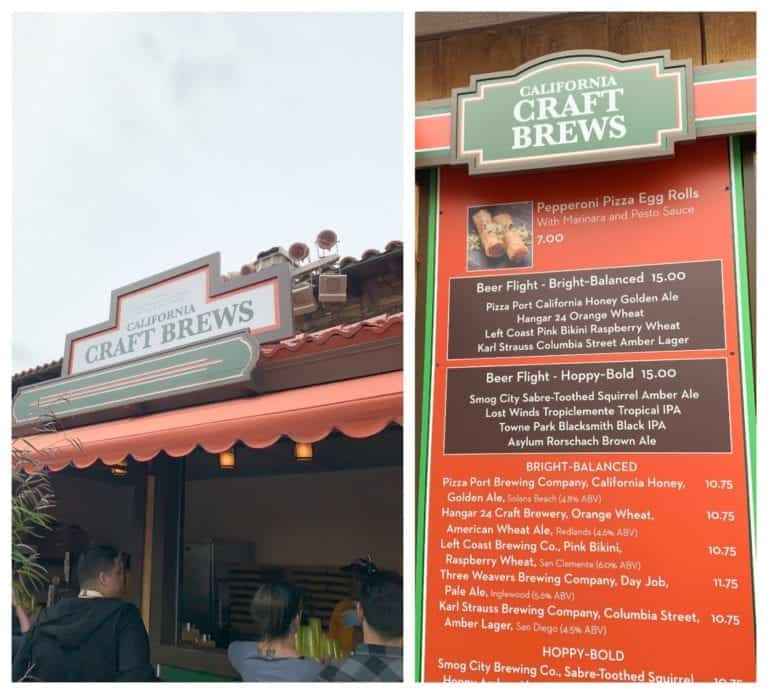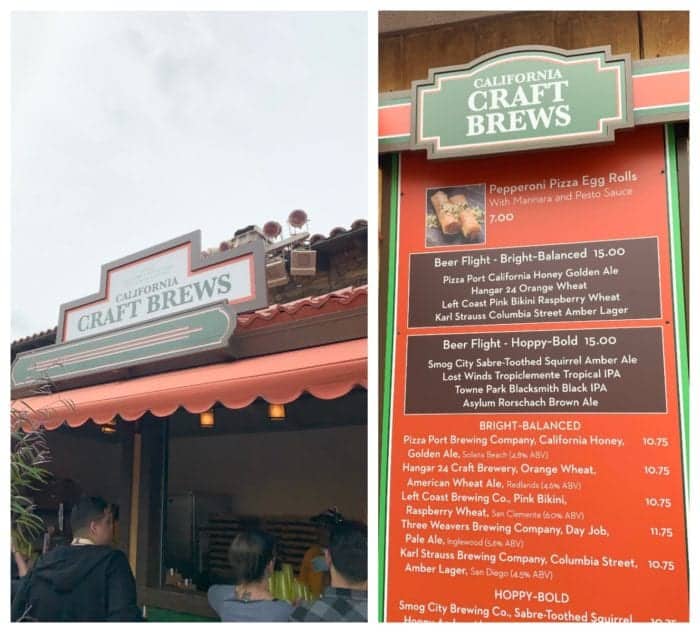 California Craft Brews – Cheers to a round from California's best local breweries.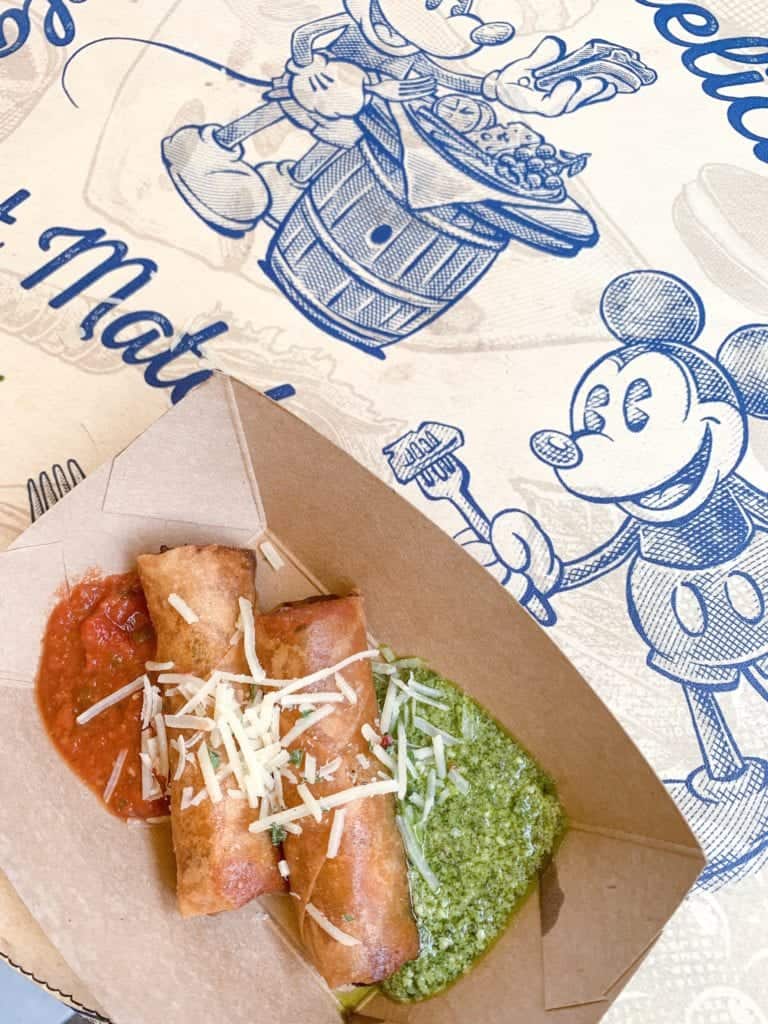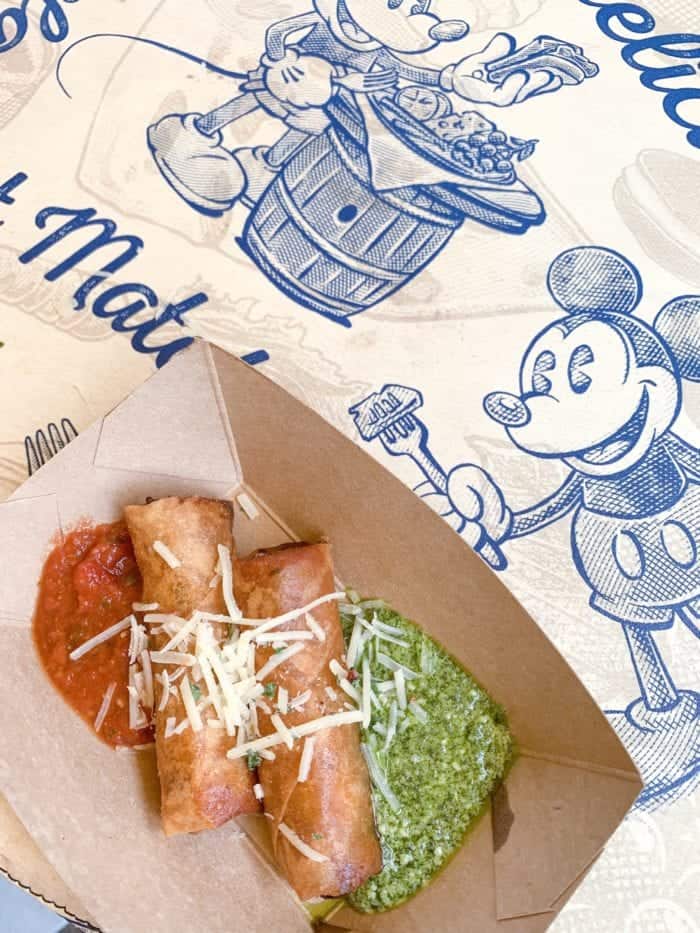 At the California Craft Brews Marketplace I sampled the Pepperoni Pizza Egg Rolls with Marinara and Pesto Sauce. These were really tasty. Would order them again. A little salty, but I enjoyed them! $7.00
Berry Patch Marketplace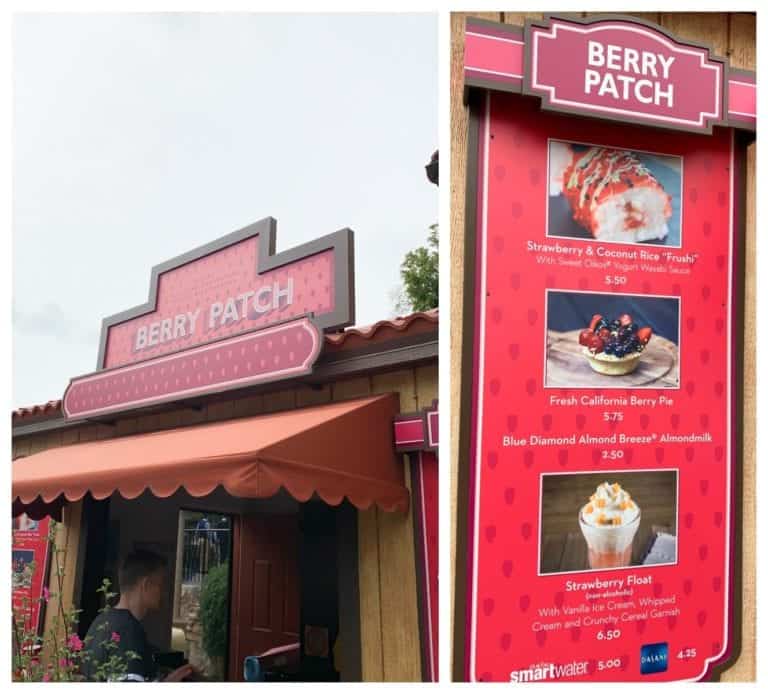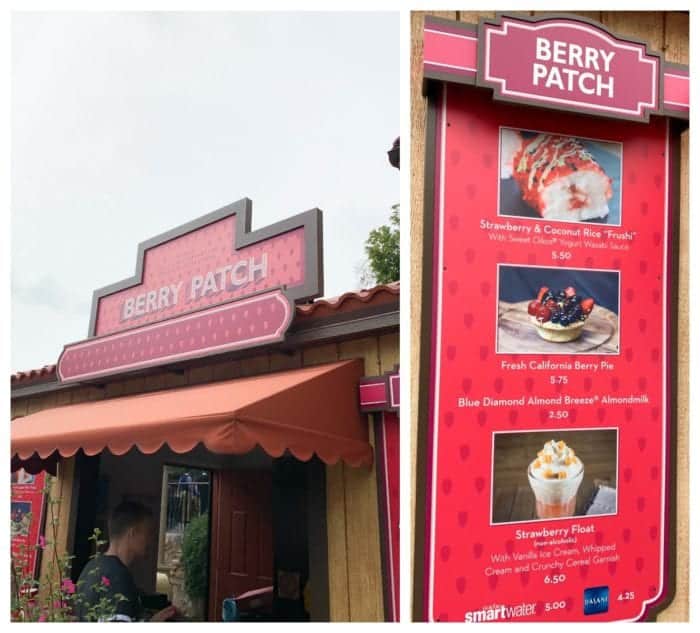 Berry Patch – Hail the big berry for top billing!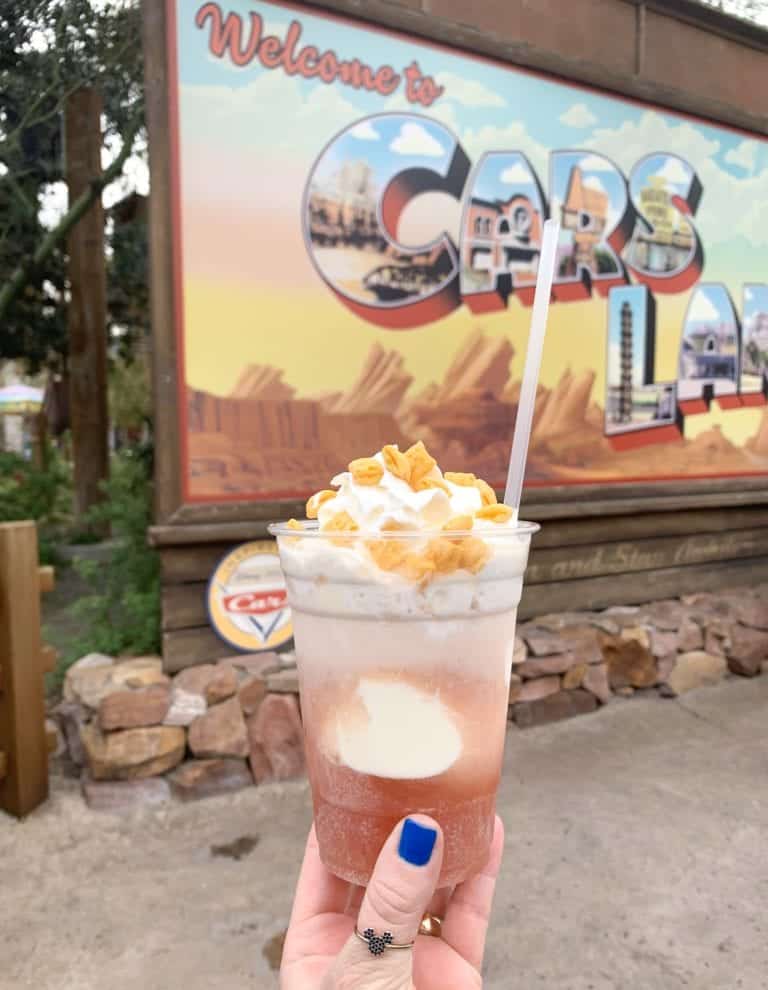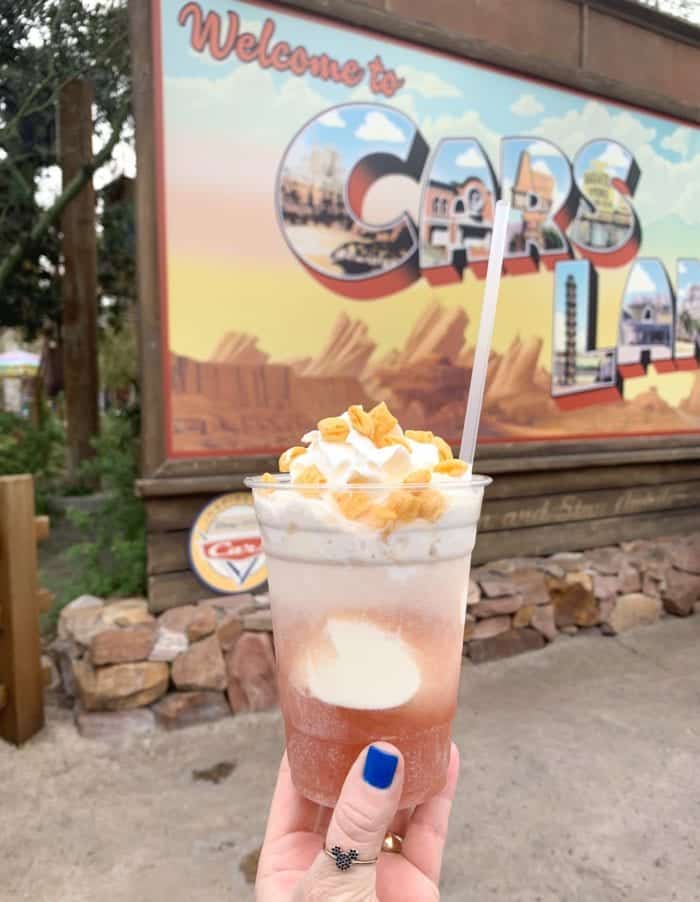 At The Berry Patch Marketplace I sampled this Strawberry Float – Non-Alcoholic with Vanilla Ice Cream, Whipped Cream and crunchy Cereal Garnish. It was sweet and delicious. This is a fun choice if you like sweet drinks. $6.50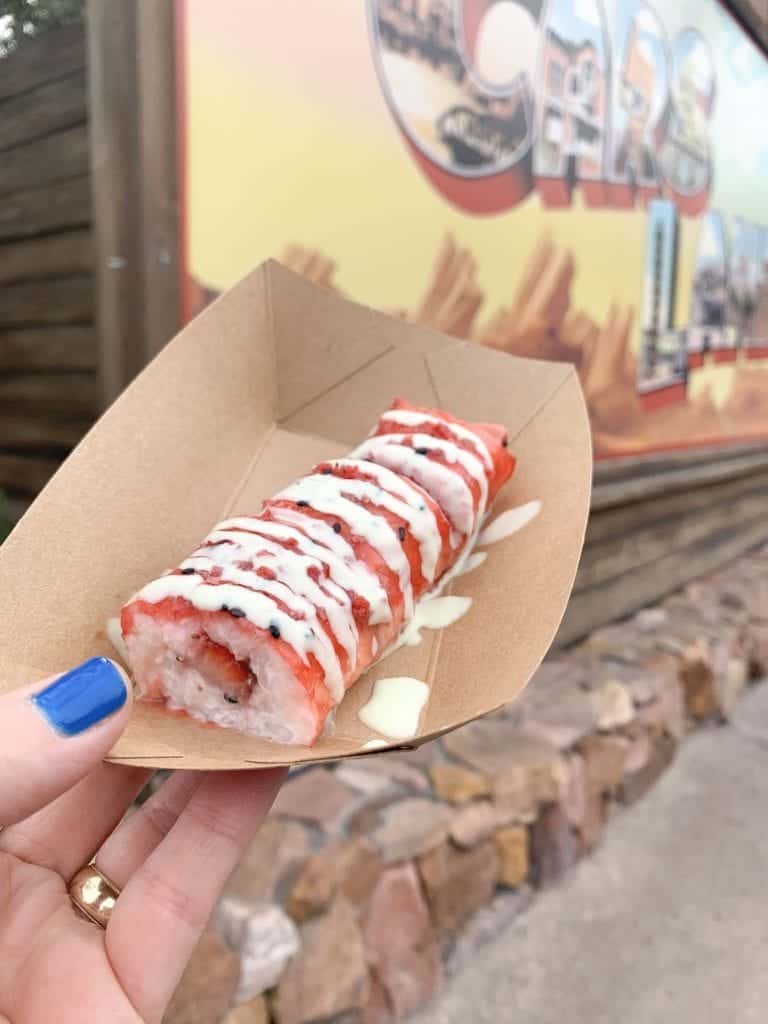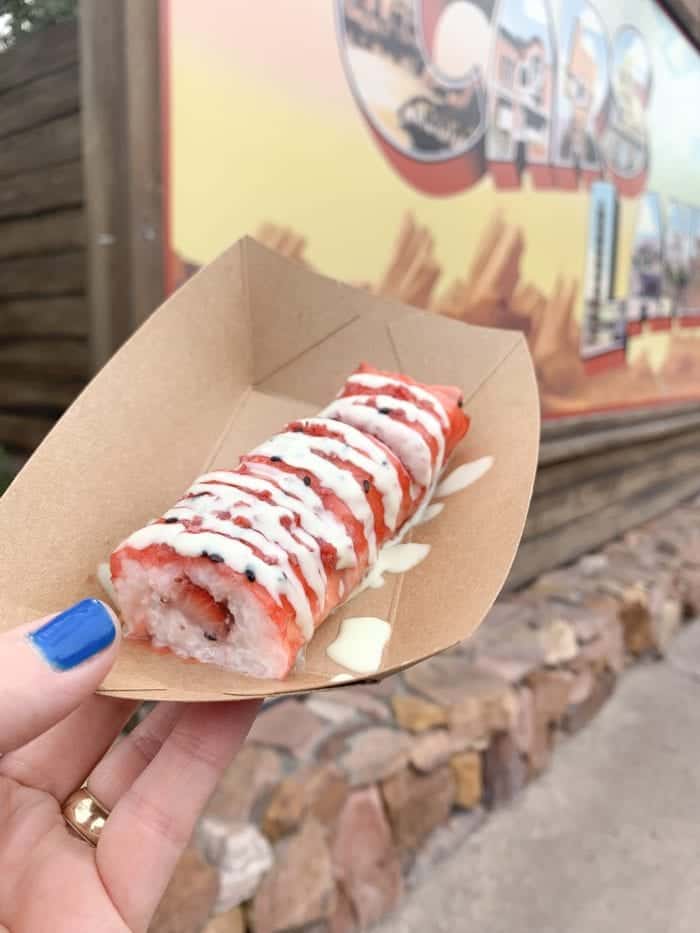 They brought back the Strawberry and Coconut Rice "Frushi" with sweet Oikos® Wasabi Sauce. I am a fan of this one. $5.50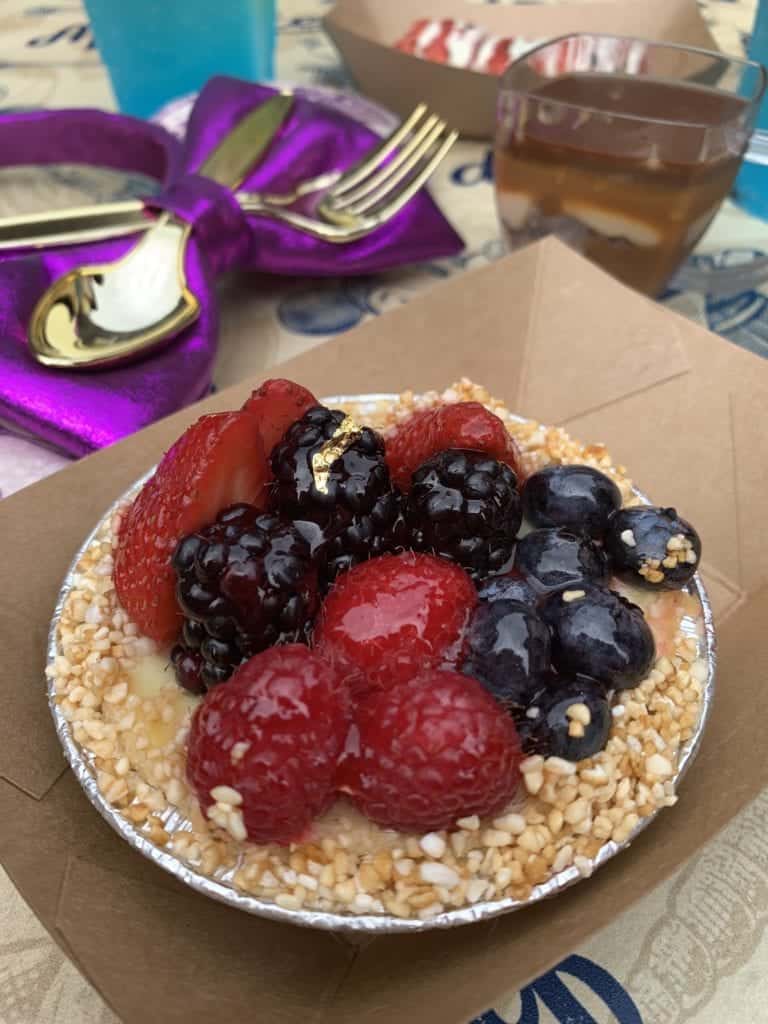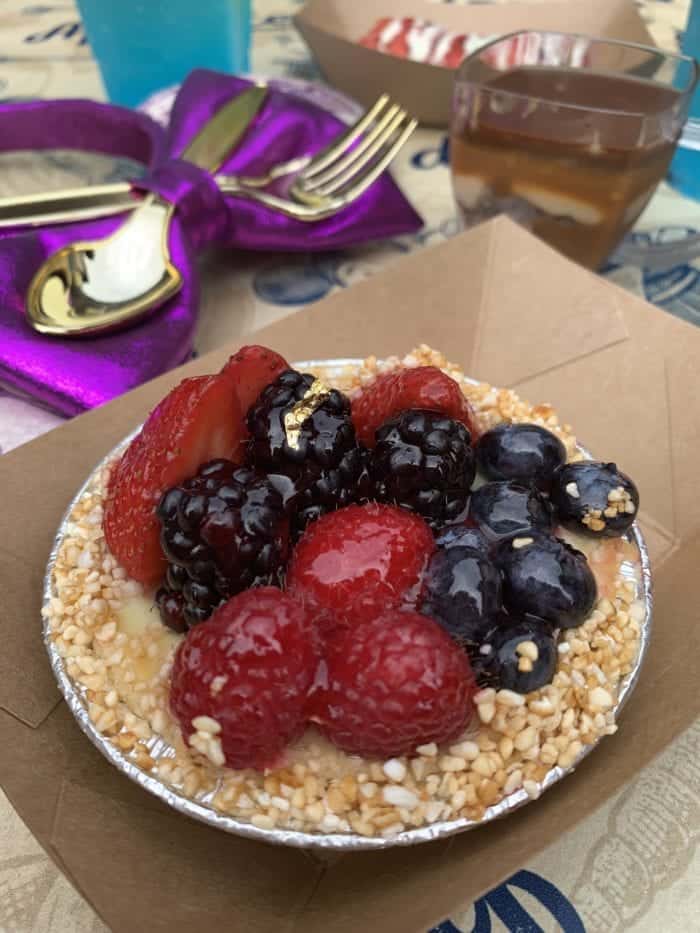 The Fresh California Berry Pie was my least favorite, but I did love the berries on top! $5.75 also from the Berry Patch Marketplace.
Peppers Cali-Ente Marketplace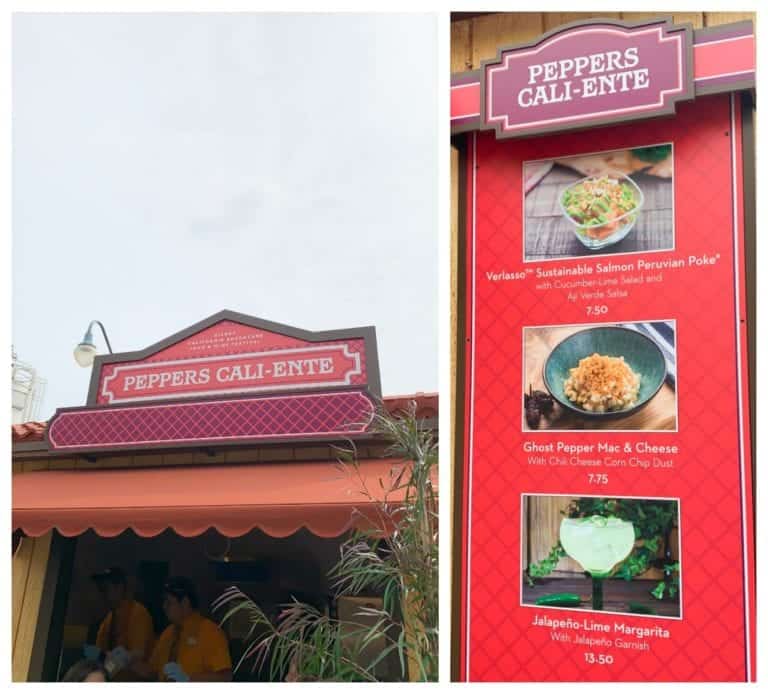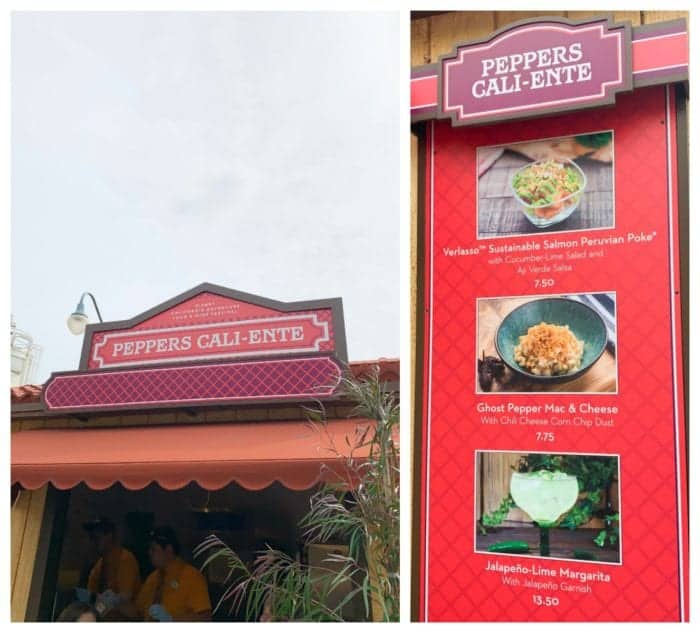 Peppers Cali-Ente – Snack on hot 'n' spicy fare with a Cali twist!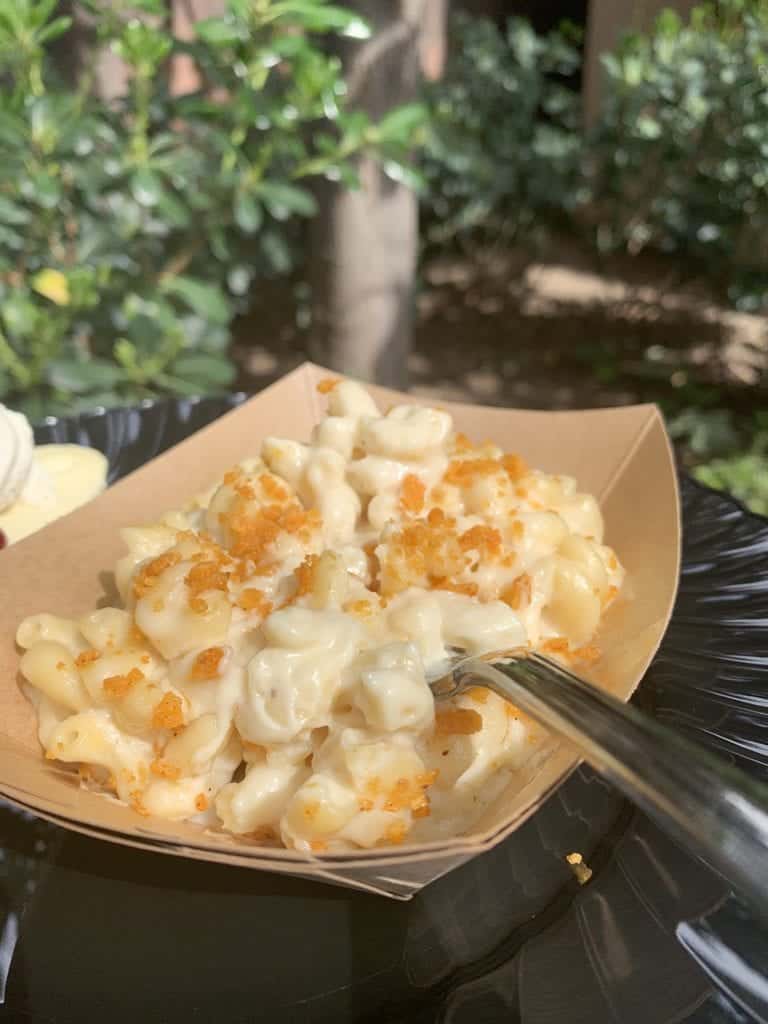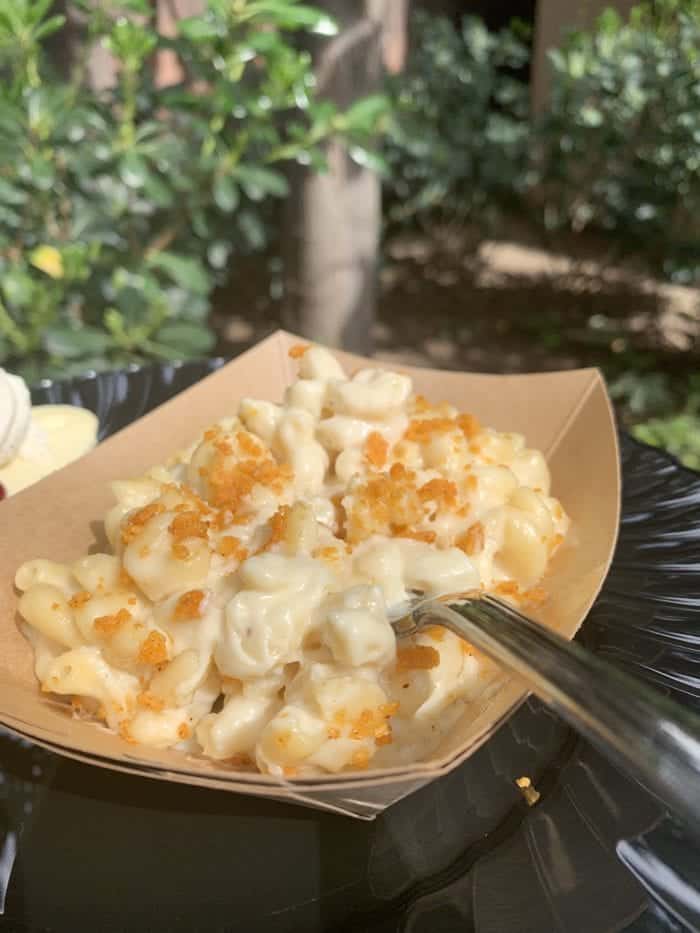 At the Peppers Cali-Ente Marketplace, I sampled the Ghost Pepper Mac and Cheese with Chili Cheese Corn Chip Dust. This is so flavorful delicious, but very spicy. I had a few bites and that was plenty. Really great flavor. $7.75
Veggie, Veggie, Fruit, Fruit Marketplace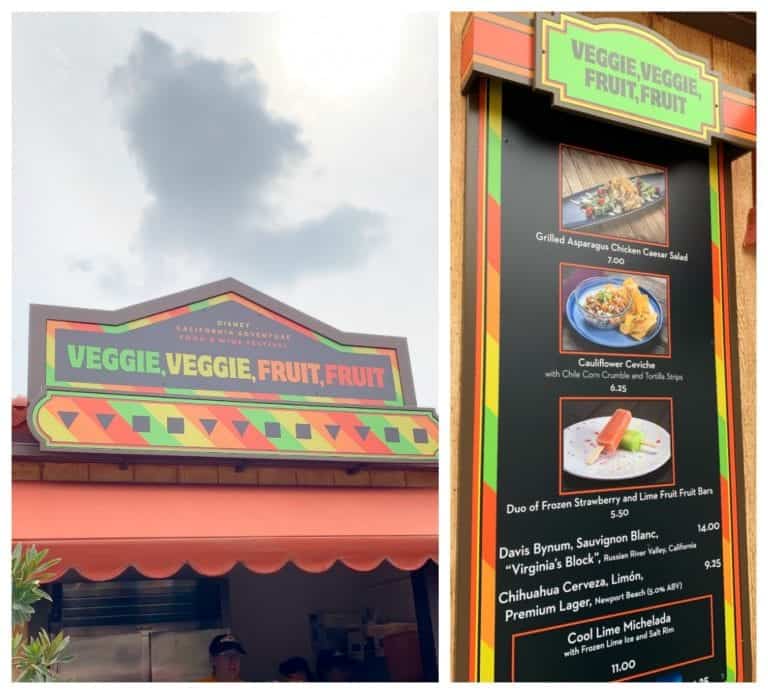 Veggie, Veggie, Fruit, Fruit – Dine on healthy fare paired with complementary libations.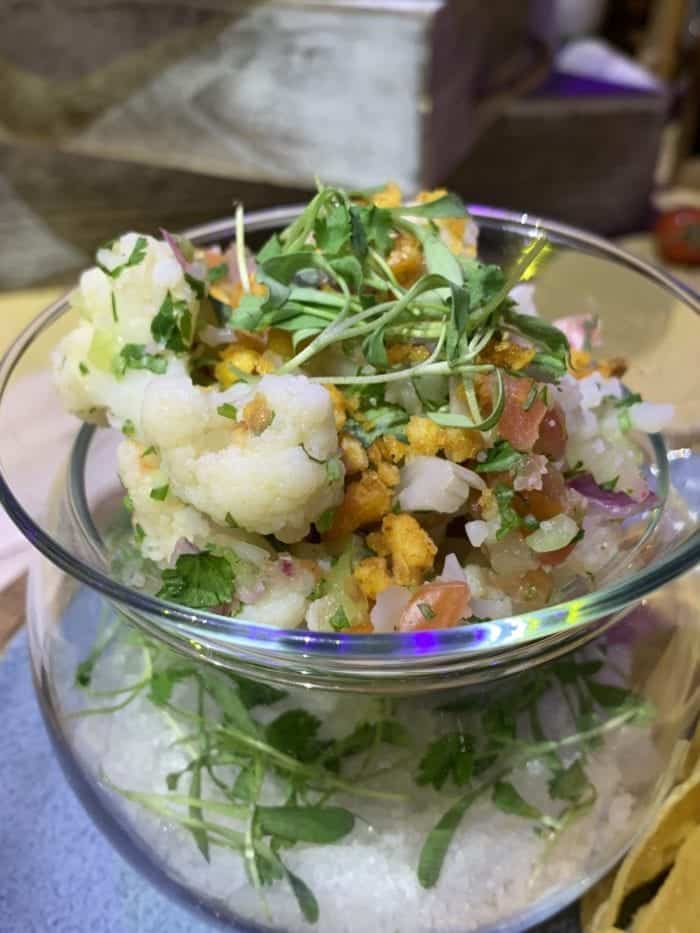 At the Veggie Veggie Fruit Fruit Marketplace I sampled the Cauliflower Ceviche with Chili Corn Crumble and Tortilla Strips. This was DELICIOUS! $6.25
Avocado Time Marketplace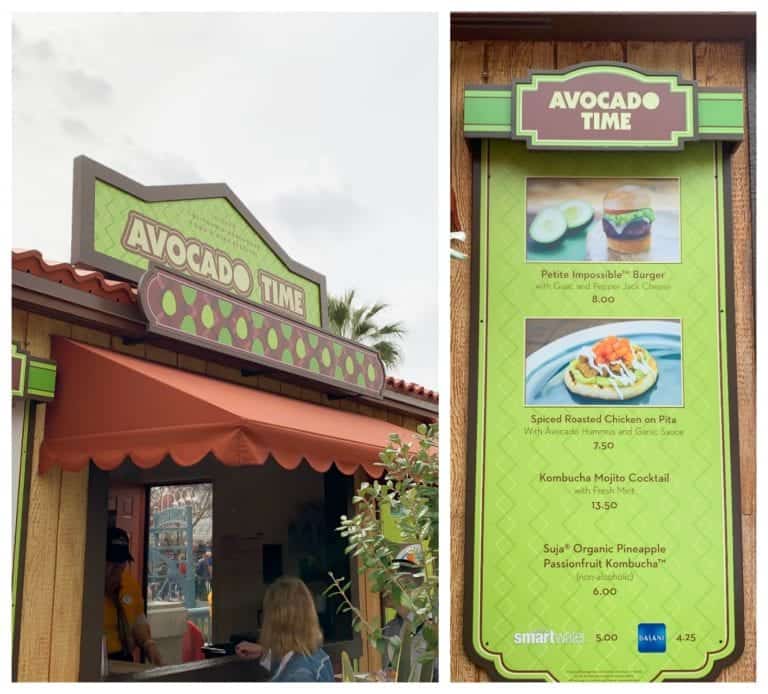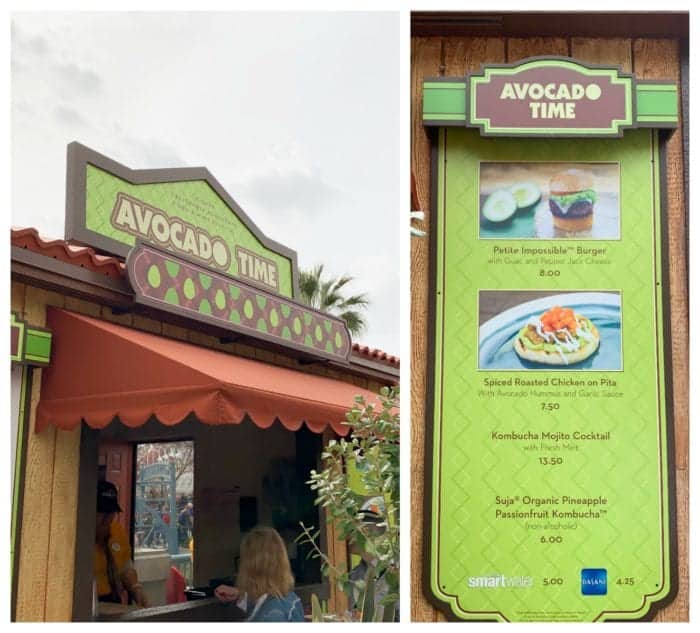 Avocado Time – Indulge in flavorful medleys that make your mouth sing.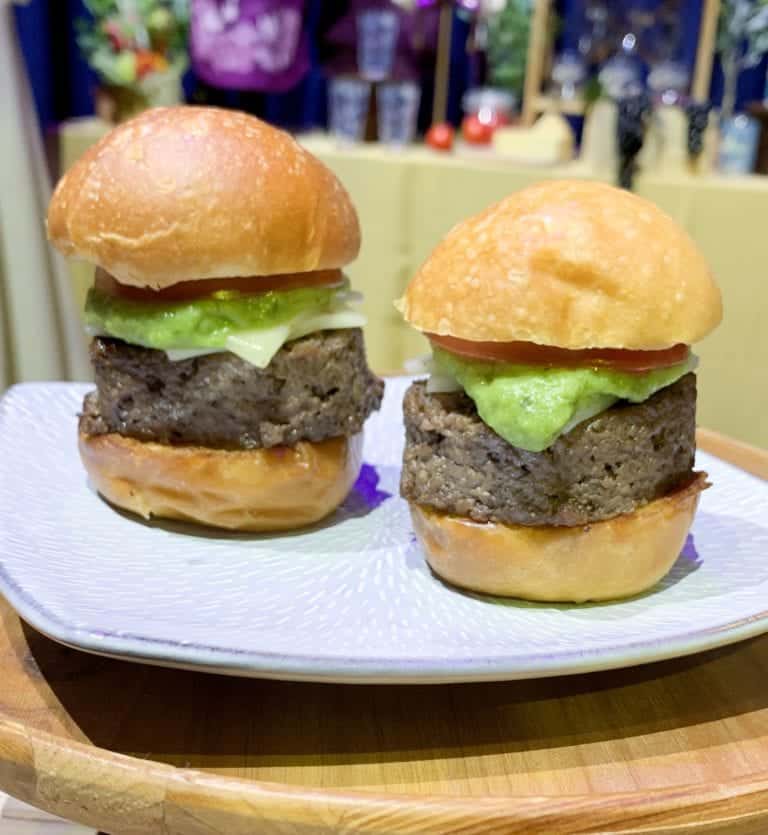 At the Avocado Time Marketplace I sampled the Petite Impossible™ Burger with Guac and Pepper Jack Cheese. $8.00 If you are looking for a vegetarian option, this is one is for you. Looks like a real burger right?
I Love Artichokes Marketplace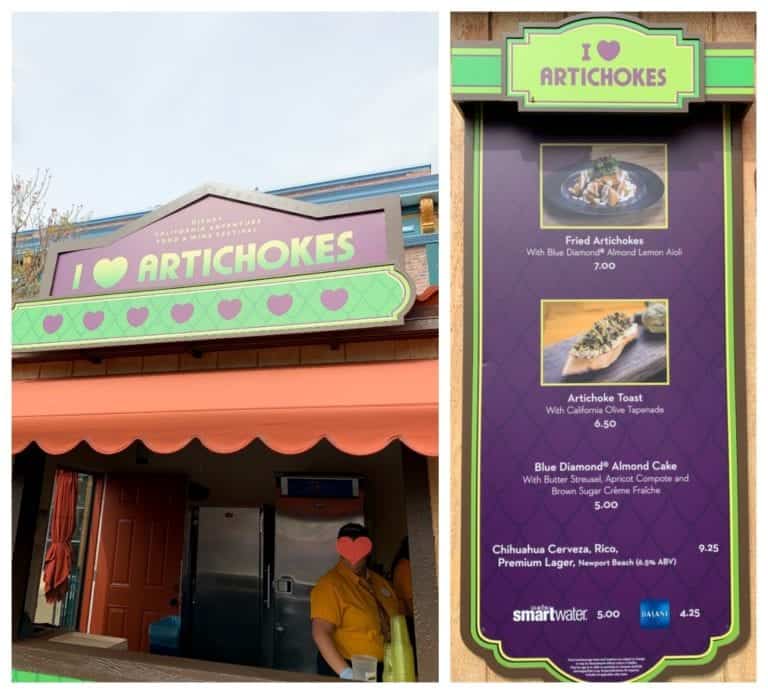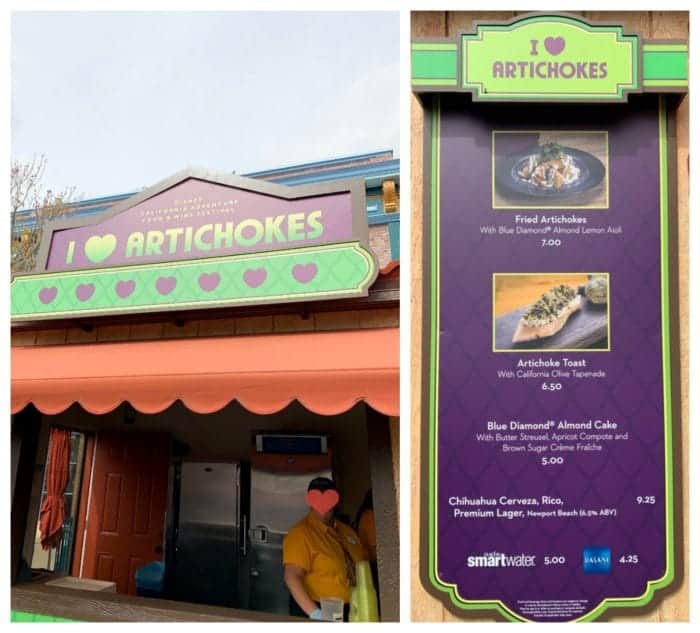 I Heart Artichokes – Partake in the thistle—prepared in 2 different ways!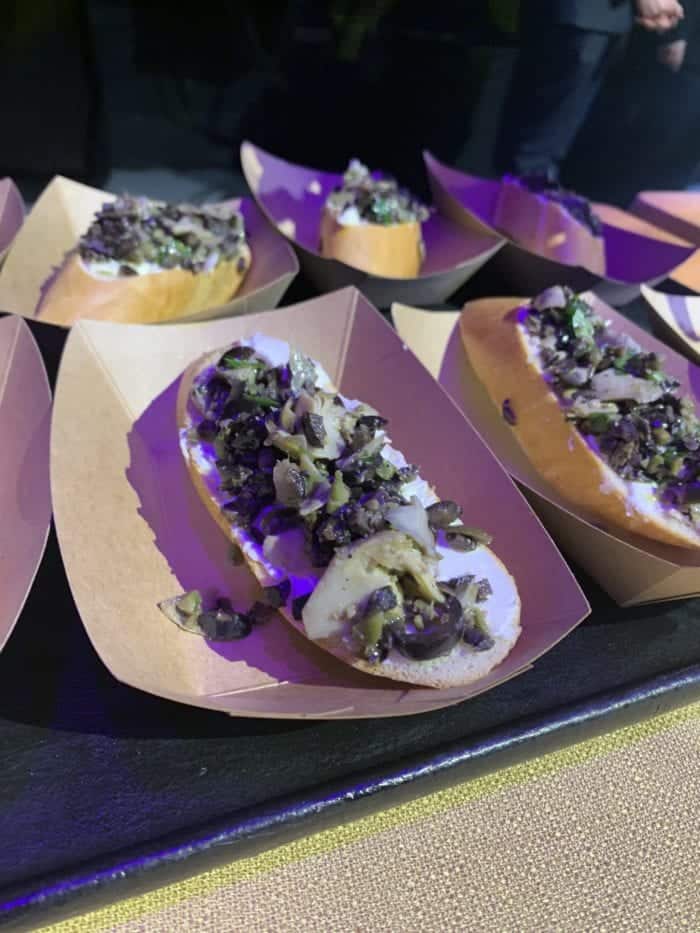 At the I Love Artichokes Marketplace I sampled the Artichoke Toast with California Olive Tapenade, $6.50 This one was fantastic. Perfect savory bites!!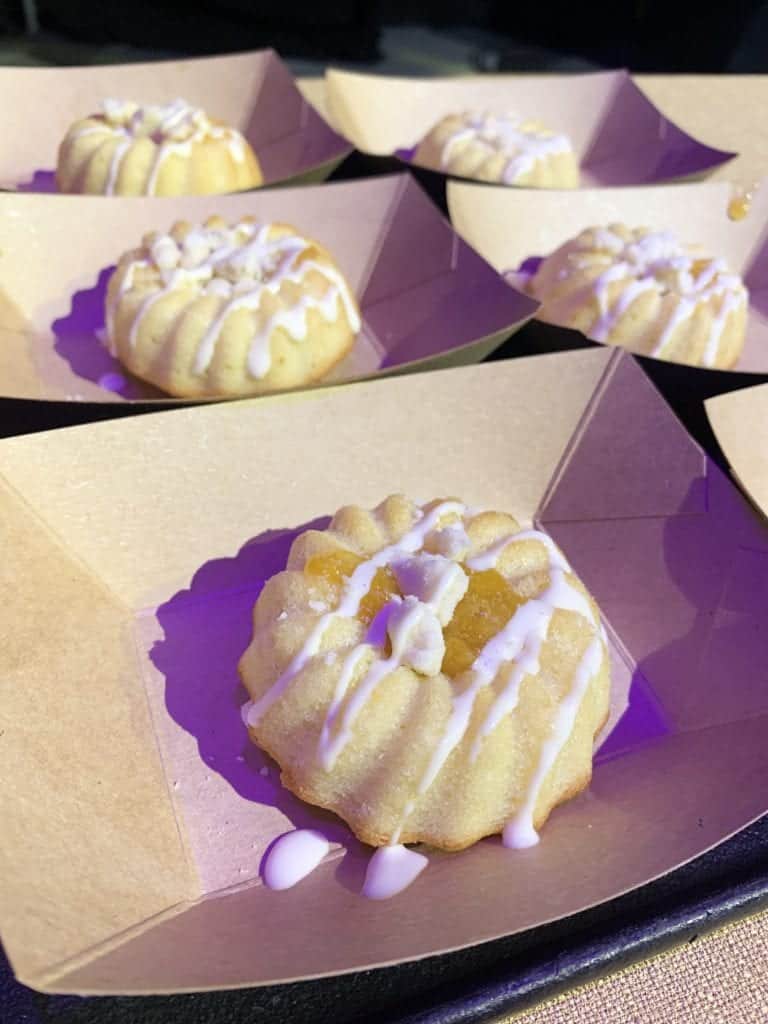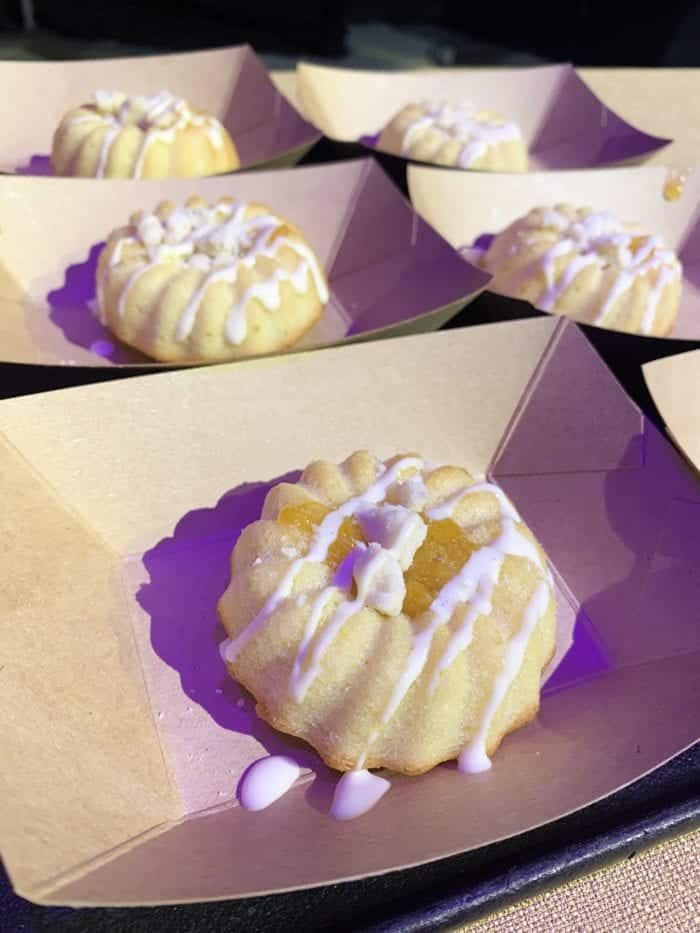 I also sampled the Blue Diamond® Almond Cake with Butter Streusel, Apricot Compote and Brown Sugar Crème Fraîche for $5.00 Not my favorite, but still good.
Cluck A Doodle Moo Marketplace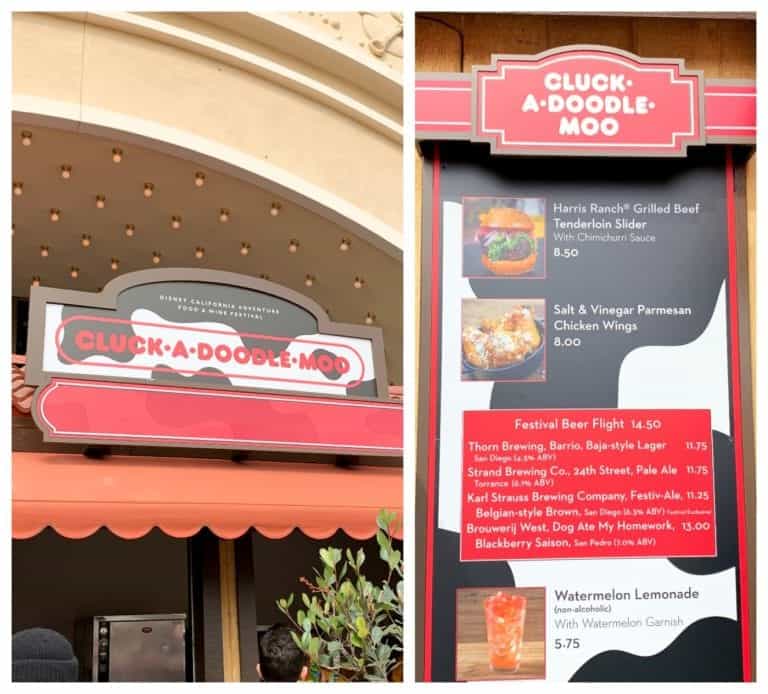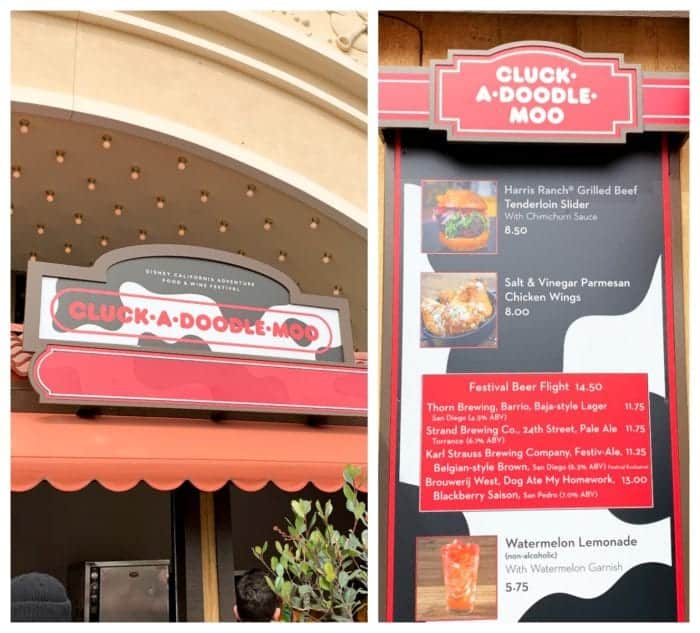 Cluck-a-Doodle-Moo – Rally for these sliders, wings 'n' beer—a sports fan's dream!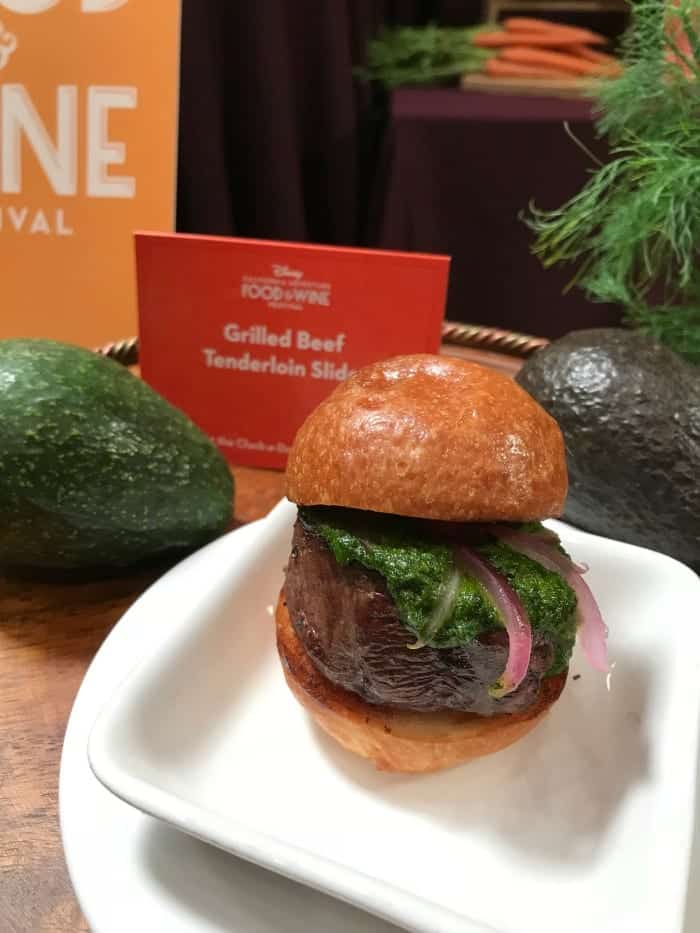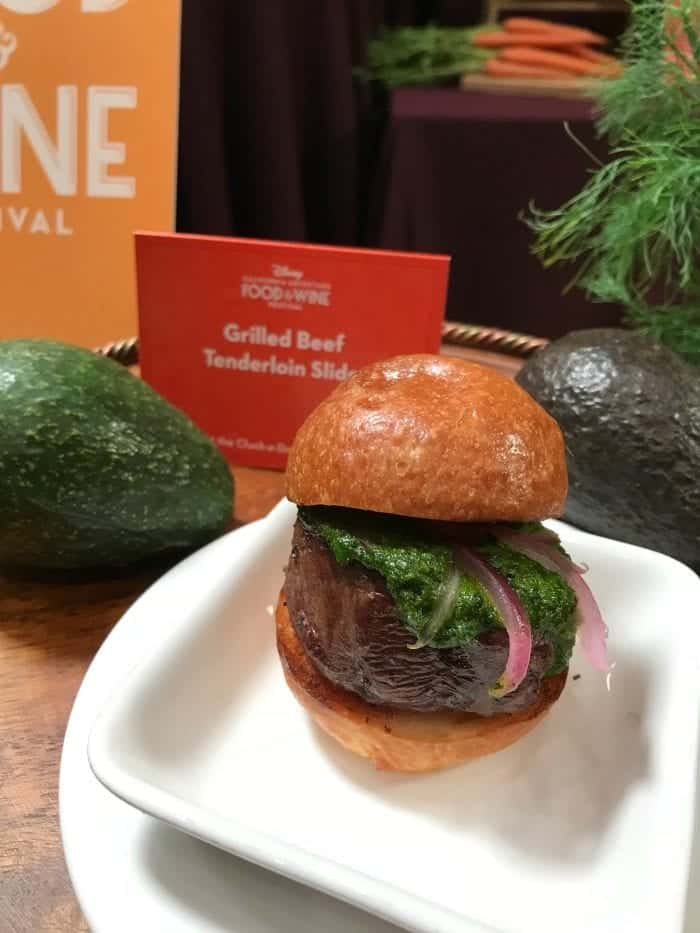 They kept the Harris® Ranch Grilled Beef Tenderloin Slider with Chimichurri Sauce this year! It was a hit last year and a hit this year. $8.50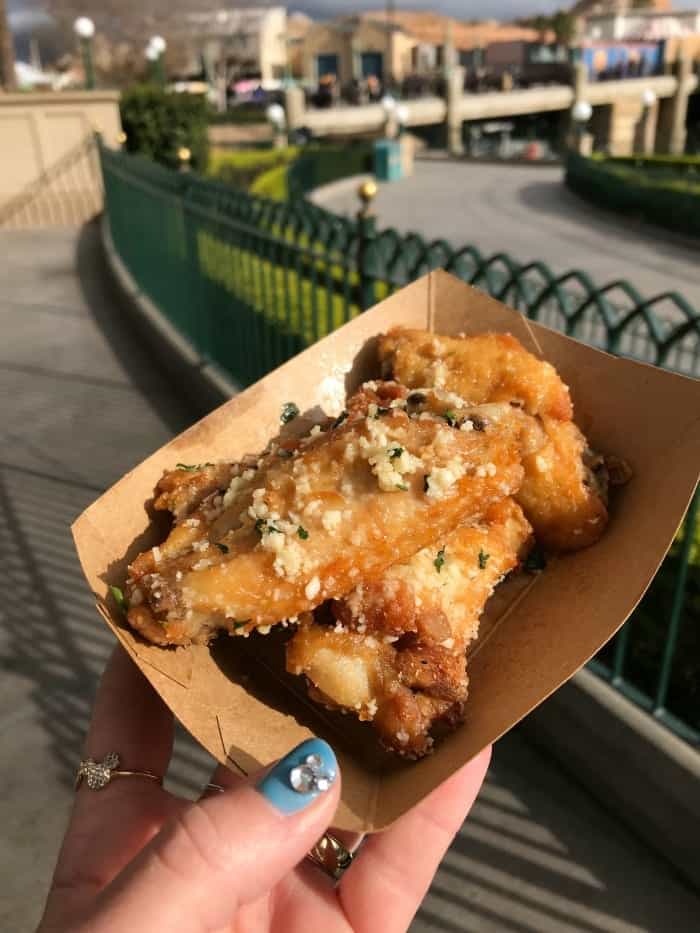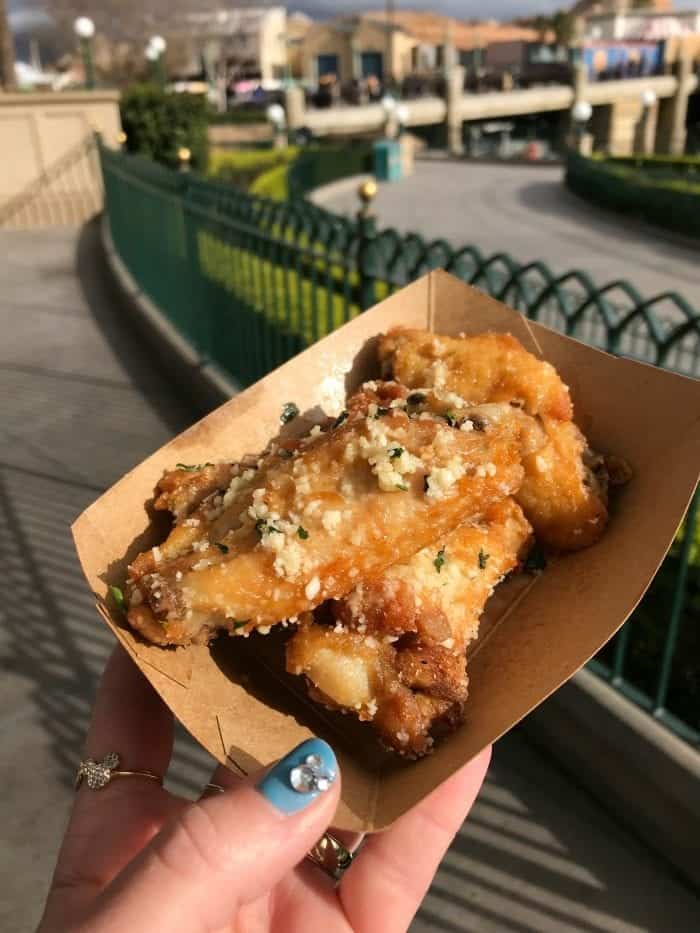 They also kept the Salt and Vinegar Parmesan Chicken Wings from last year. These are also fantastic. Messy to eat, but tasty!! $8.00
Garlic Kissed Marketplace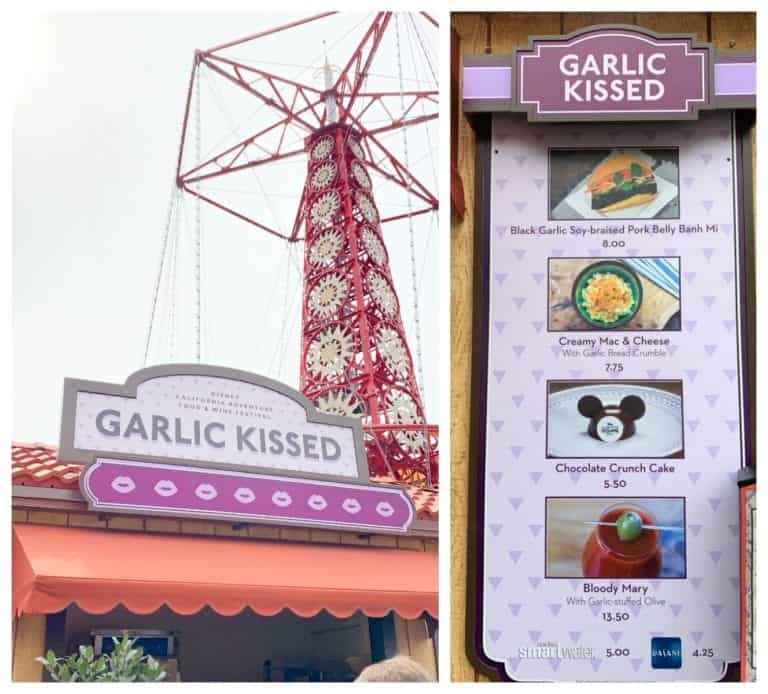 Garlic Kissed – Savor food and drinks featuring the stinking rose.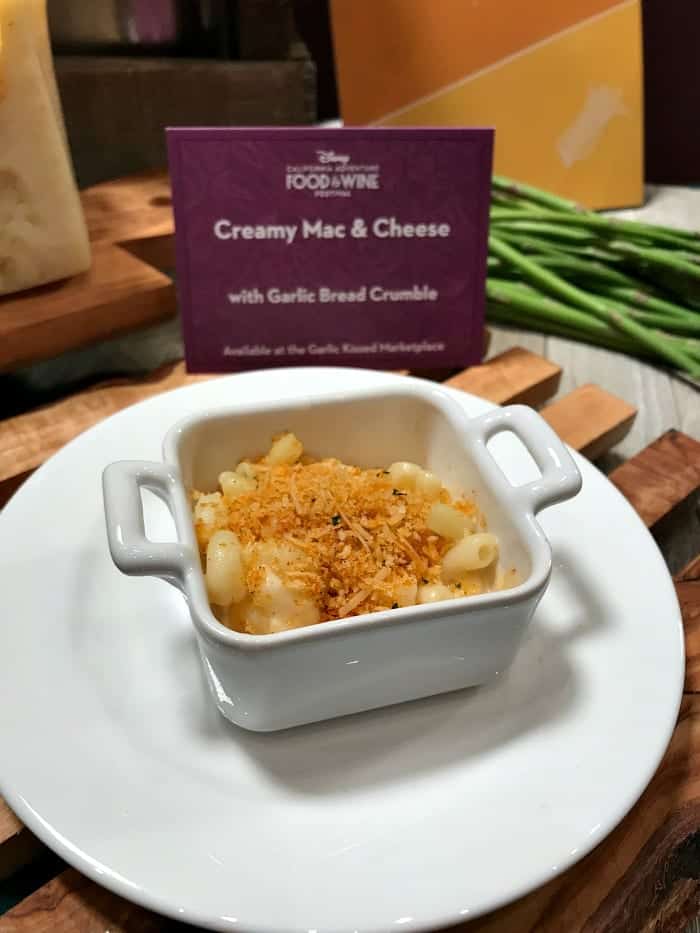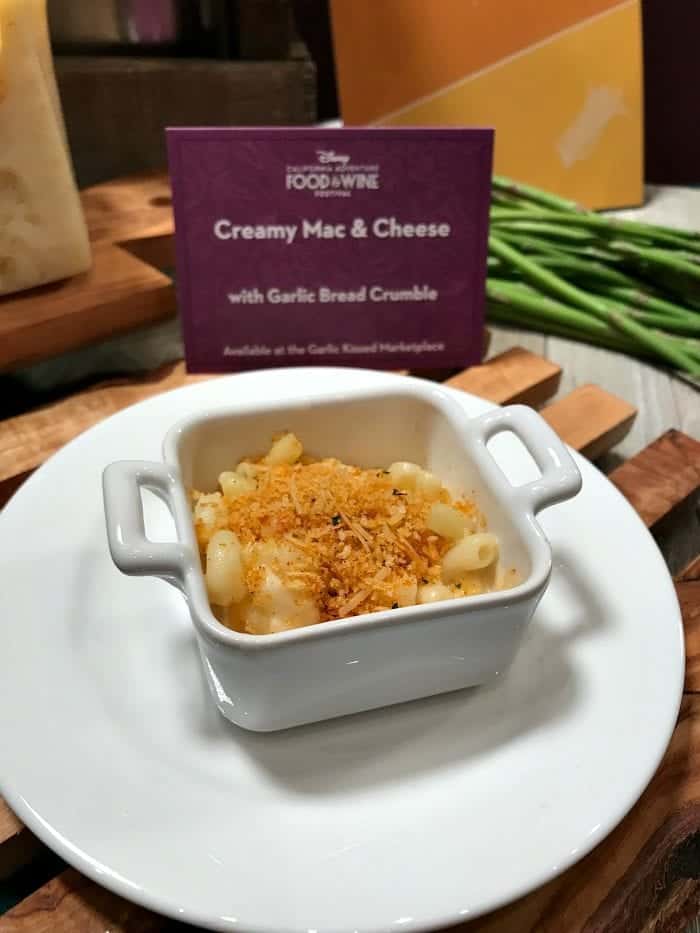 At the Garlic Kissed Marketplace you can find this Creamy Mac and Cheese. Yes. Always yes to mac and cheese. A good option for sure. $7.75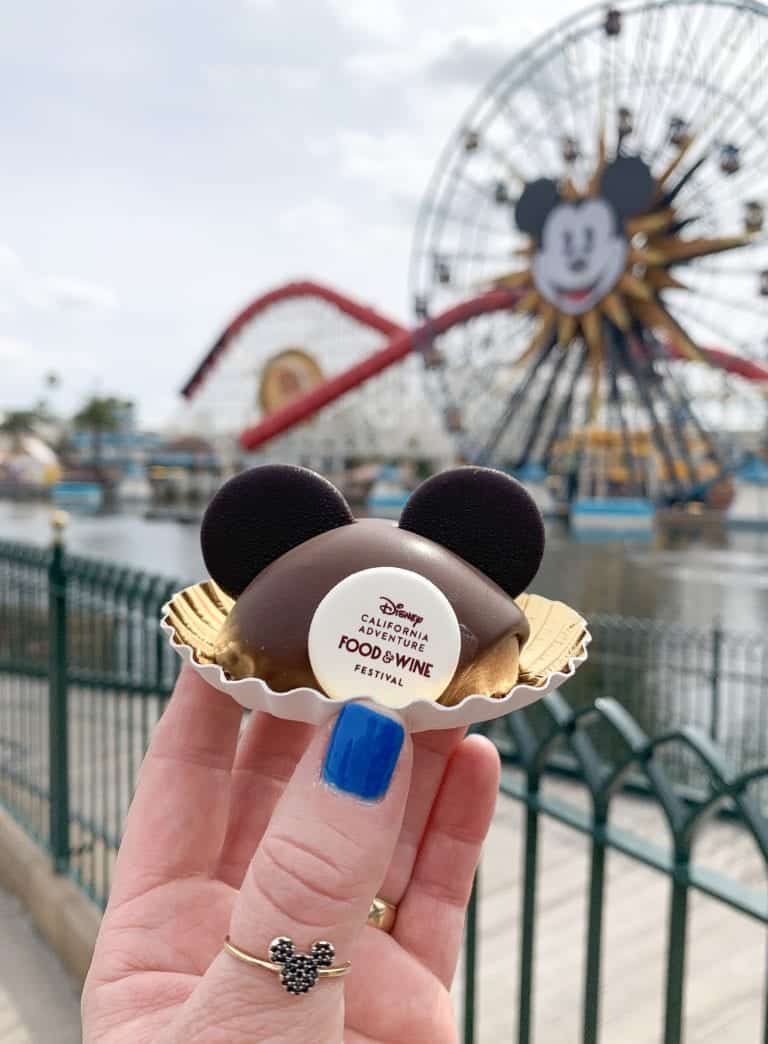 You can also get the Chocolate Crunch Cake! This was creamy, chocolate-y delicious. If you've had the Mickey Mouse Club Hat from Jolly Holiday, it's the same inside. $5.50
Off The Cob Marketplace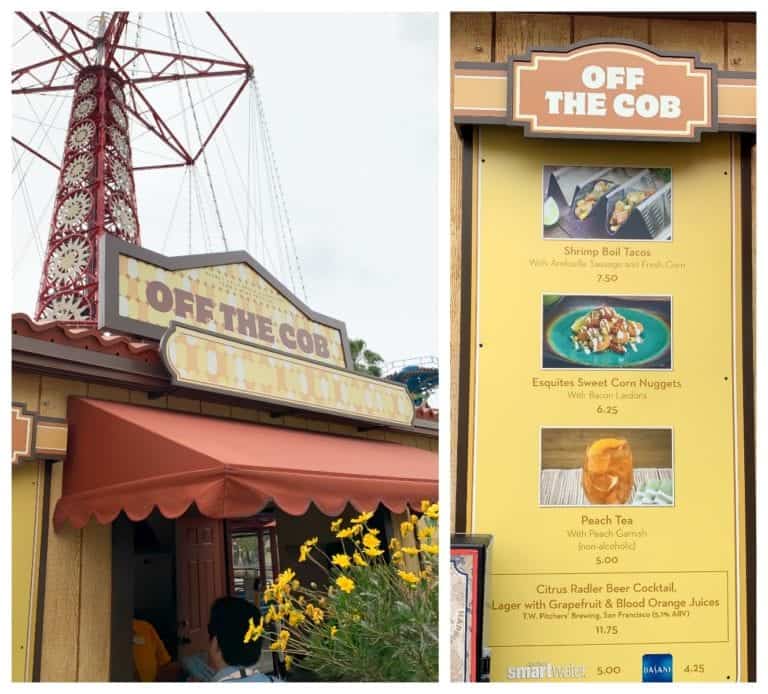 Off the Cob – Celebrate the essence of summer's sweetness.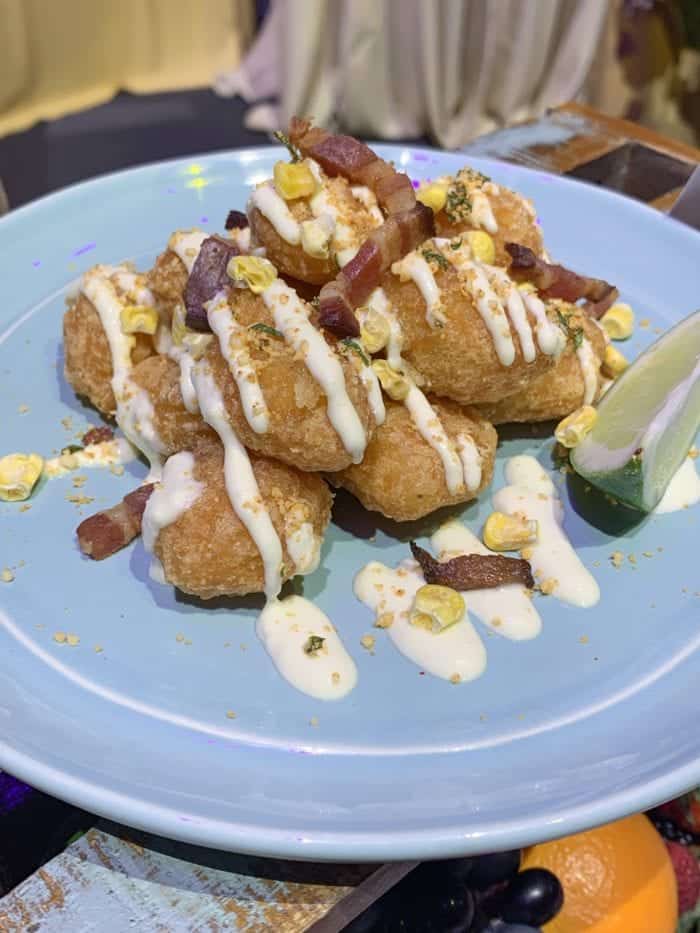 At Off the Cob Marketplace I got to sample the Esquites Sweet Corn Nuggets with Bacon Lardons. I mean, they are delicious. A crazy flavorful bite!! $6.25
Golden Dreams Marketplace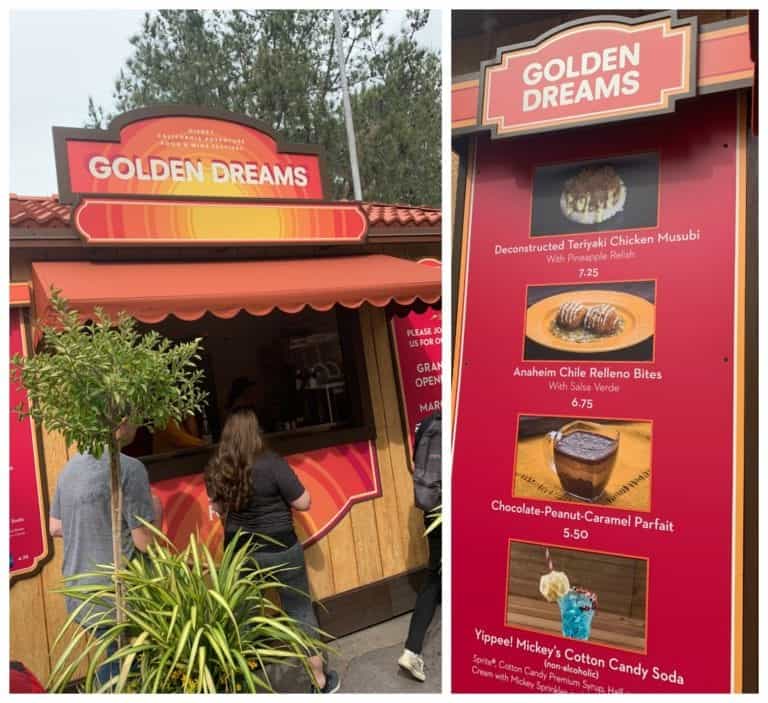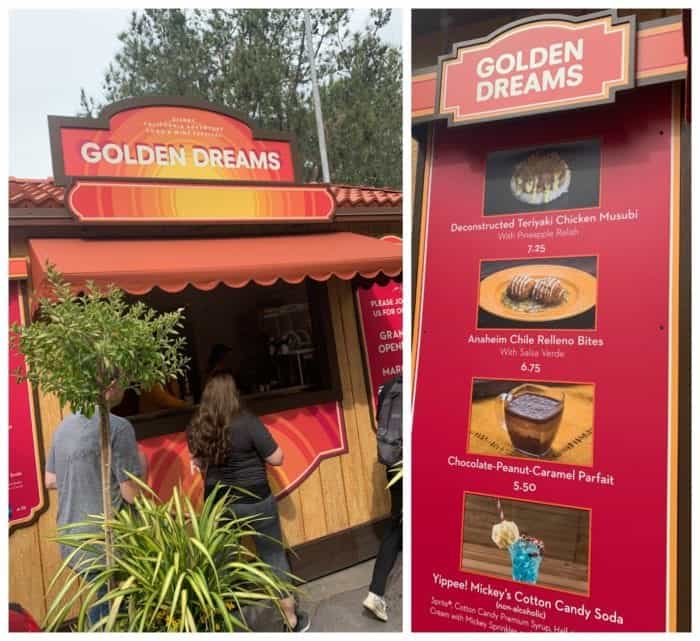 Golden Dreams – Tempt taste buds with well-seasoned eats and nectarous drinks.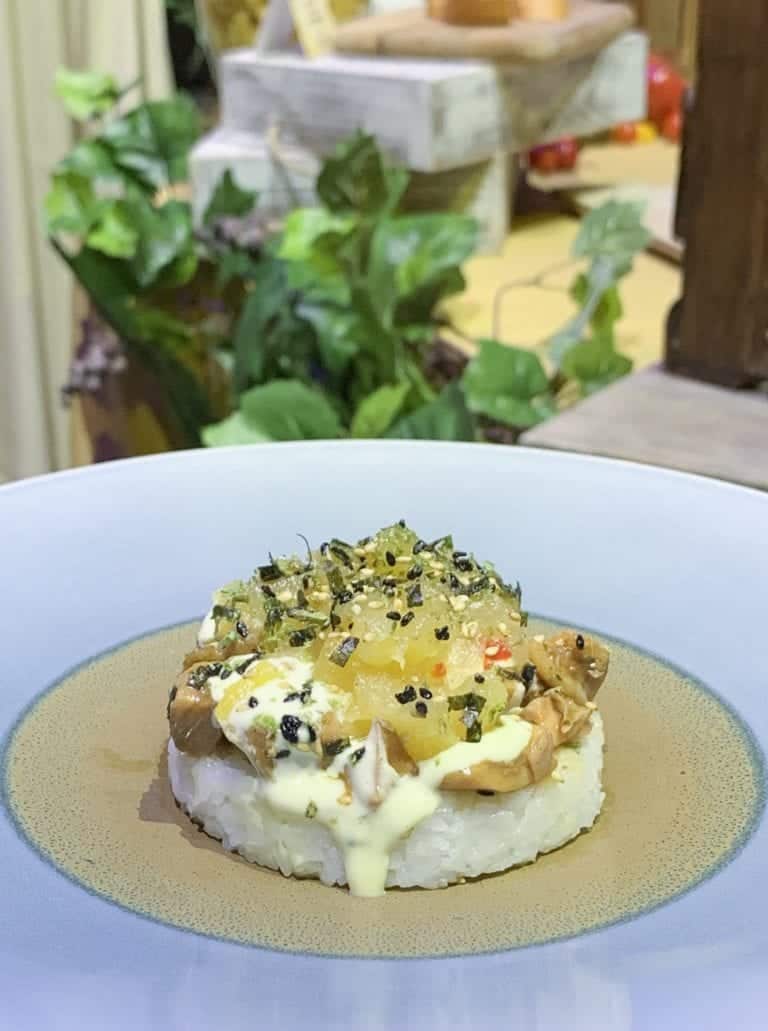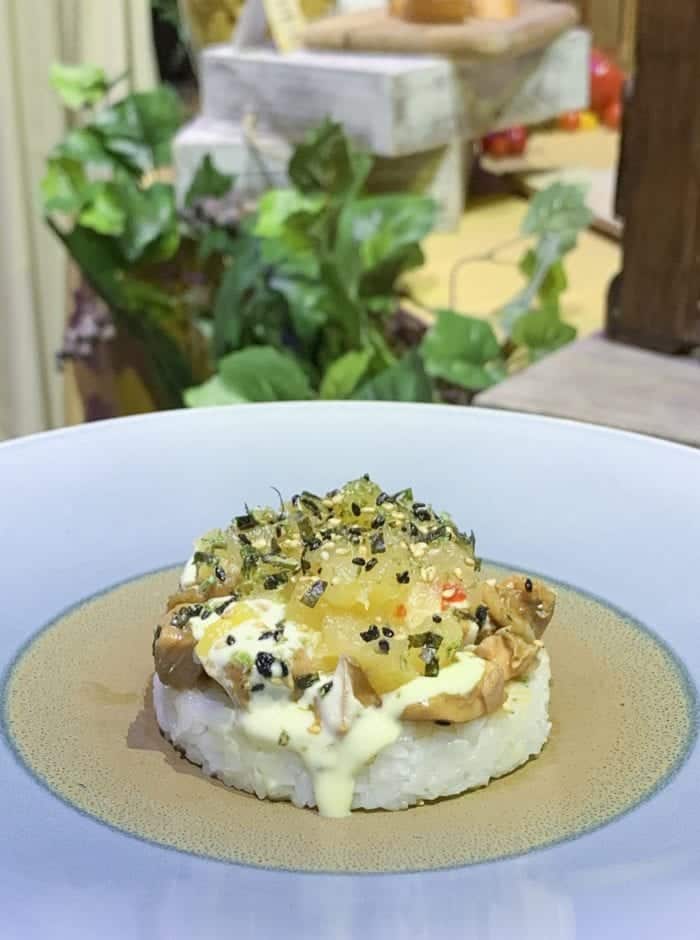 At the Golden Dreams Marketplace I got to sample the Deconstructed Teriyaki Chicken Musubi with Pineapple Relish, it runs for $7.25 This was one of my favorites of the festival! Loved all of the flavors. Good choice for sure.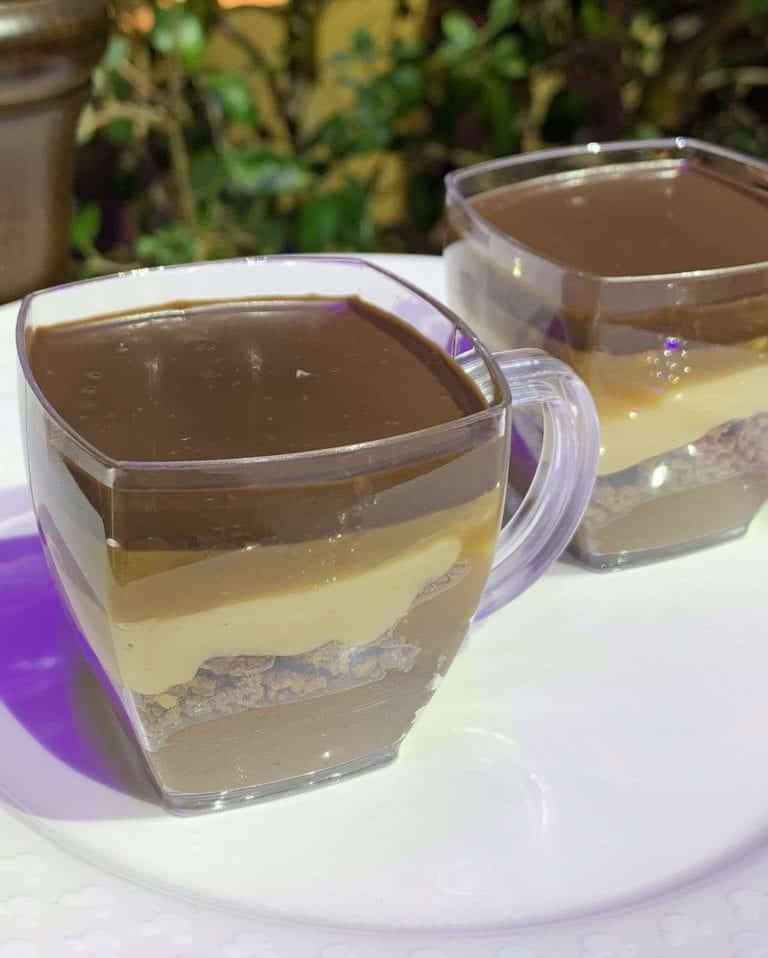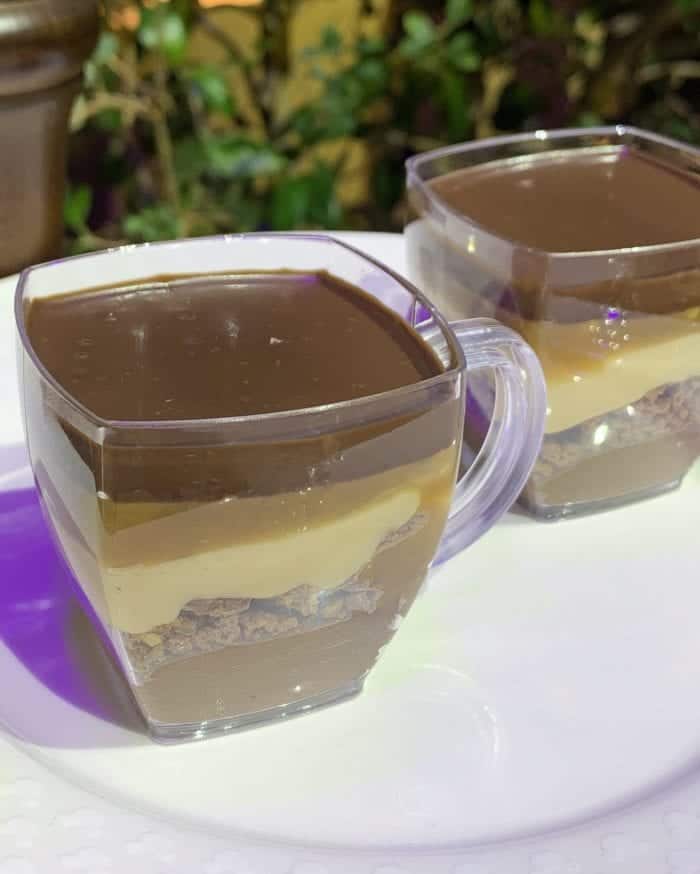 The Chocolate-Peanut-Caramel Parfait was my favorite dessert of the festival. It is hard to tell from my photo, but this was AMAZING! The flavors were spot on. Like a pudding style Snickers bar. Yes! $5.50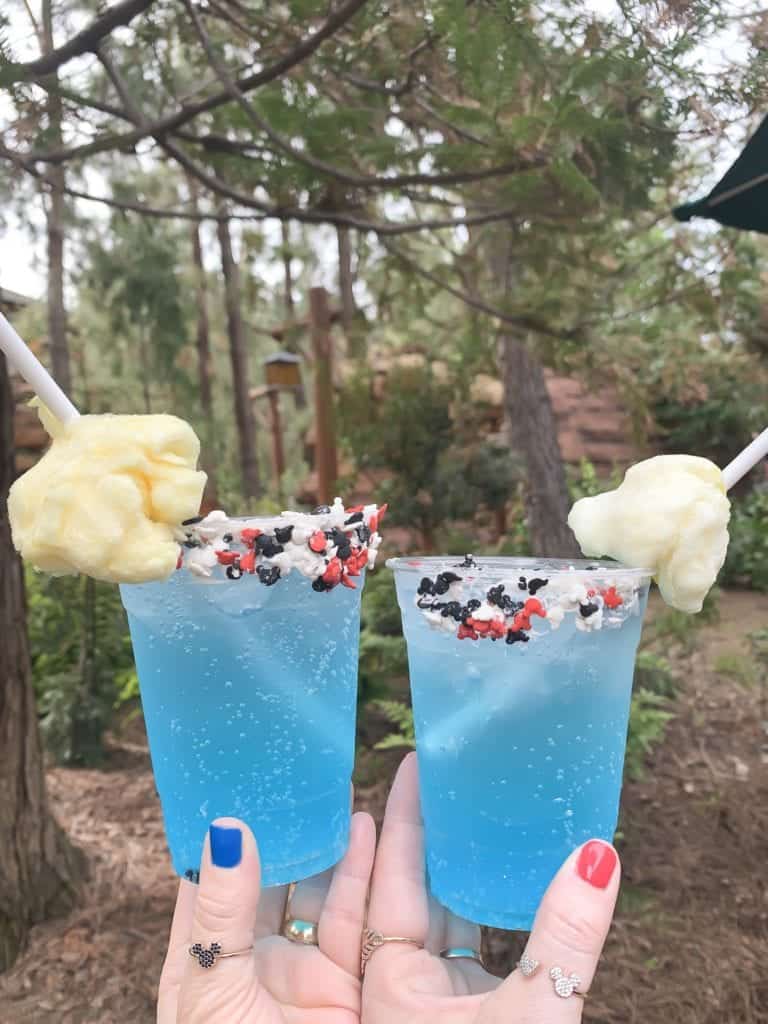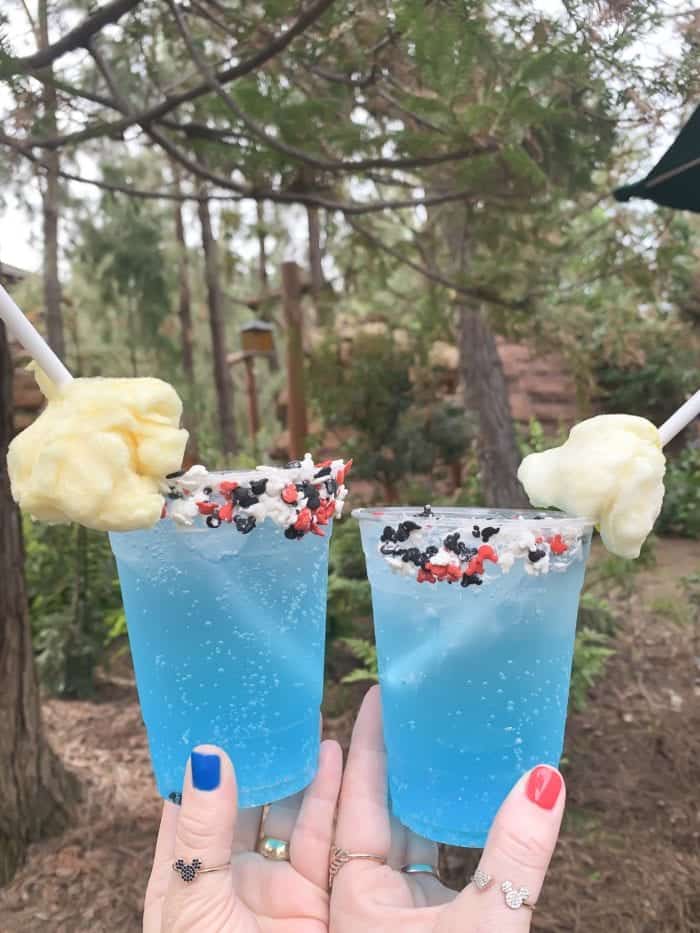 I also sampled the Yippee! Mickey's Cotton Candy Soda – Non-Alcoholic with Sprite®, Cotton Candy Premium Syrup, half-rimmed Butter Cream with Mickey Sprinkles and Pineapple Cotton Candy Garnish. This was not my favorite, but a super fun concept with the cotton candy. Really really sweet, but I probably wouldn't order again.
LAstyle Marketplace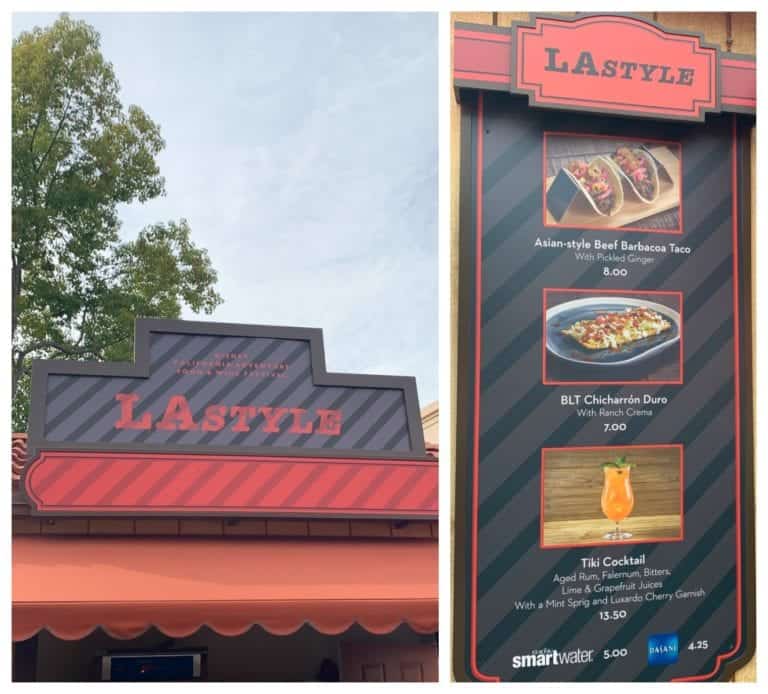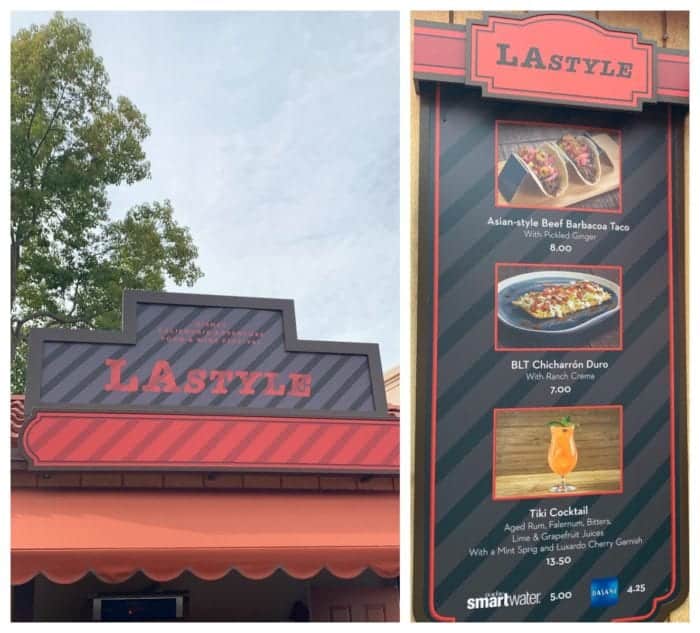 LAstyle – Feast on favorite southland food-truck flavors.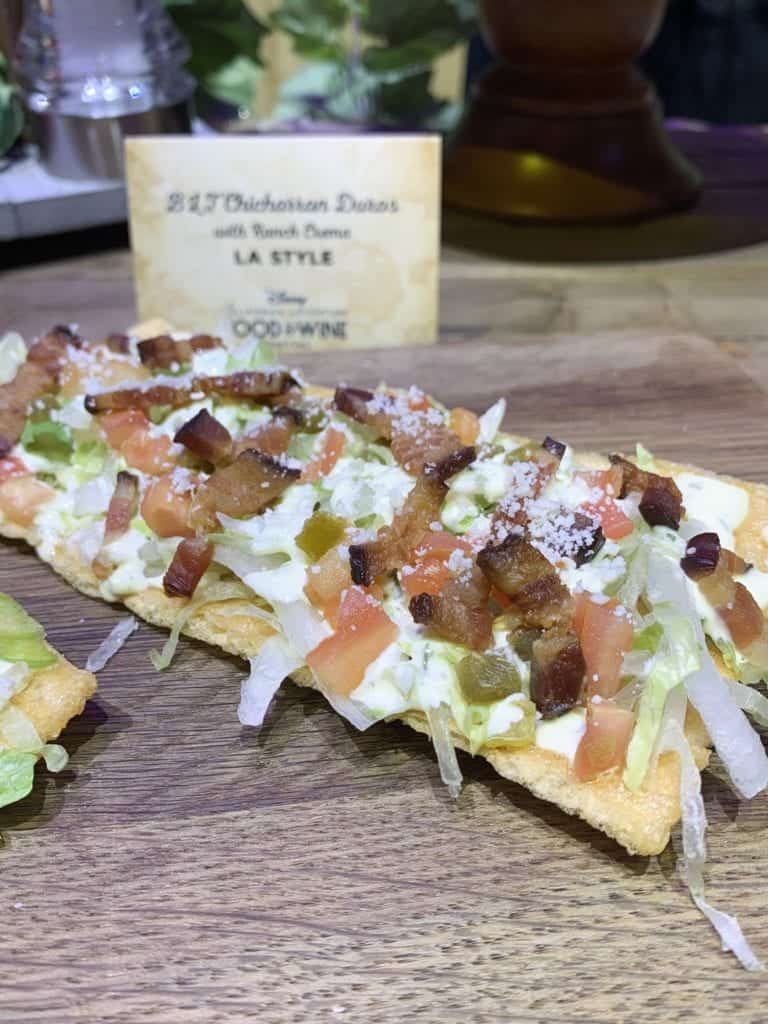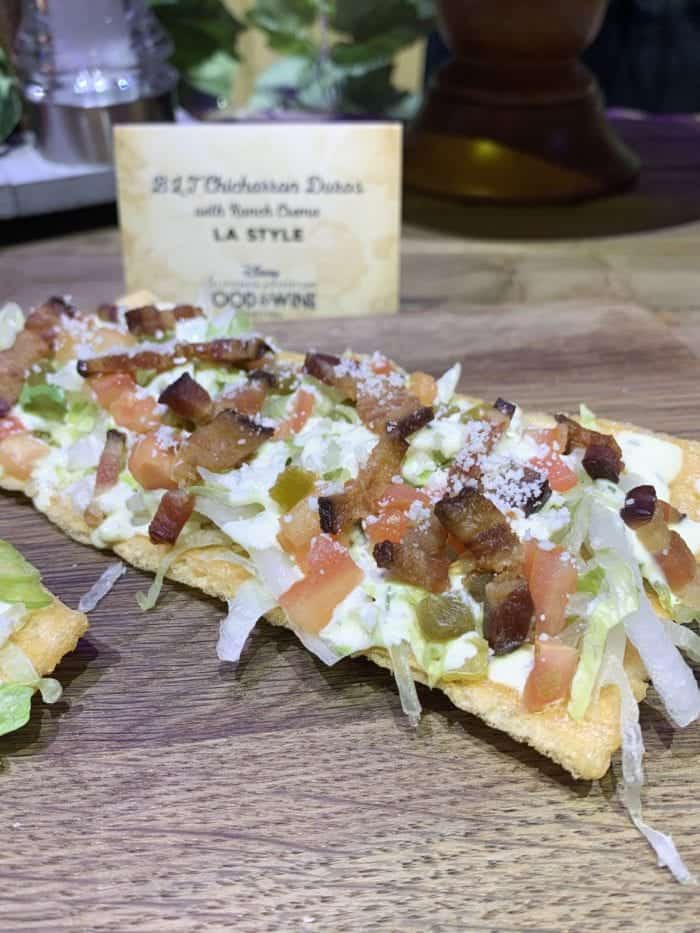 I sampled the BLT Chicharrón Duro with Ranch Crema at the LAstyle Marketplace. Love love love these flavors. Great choice. $7.00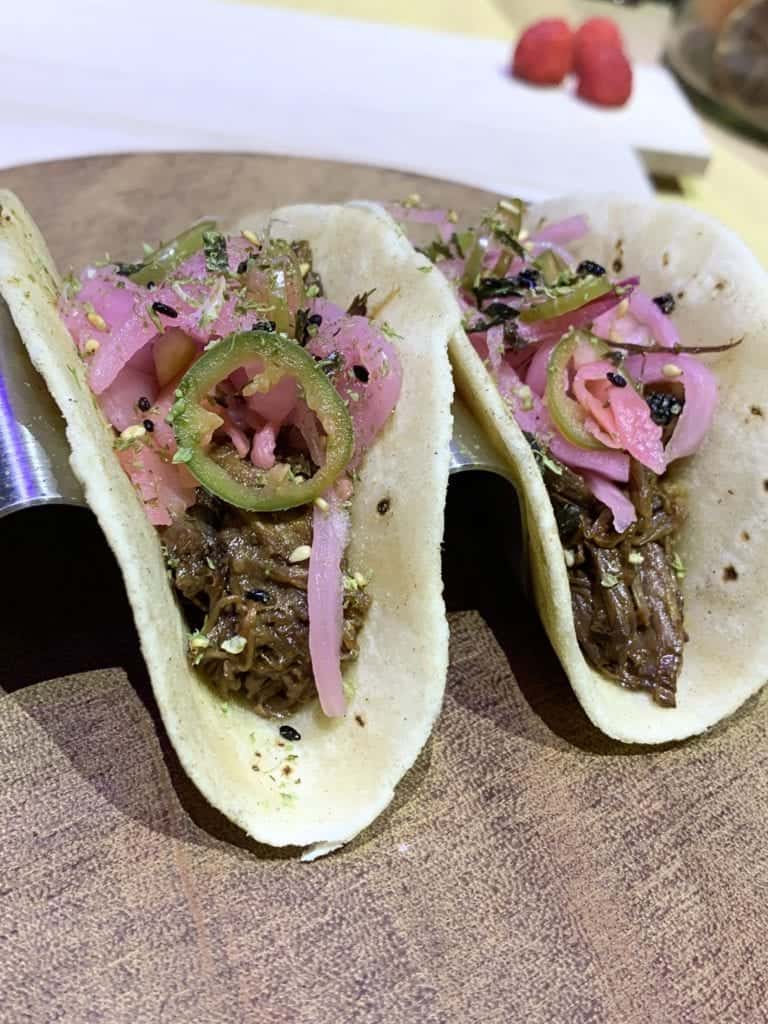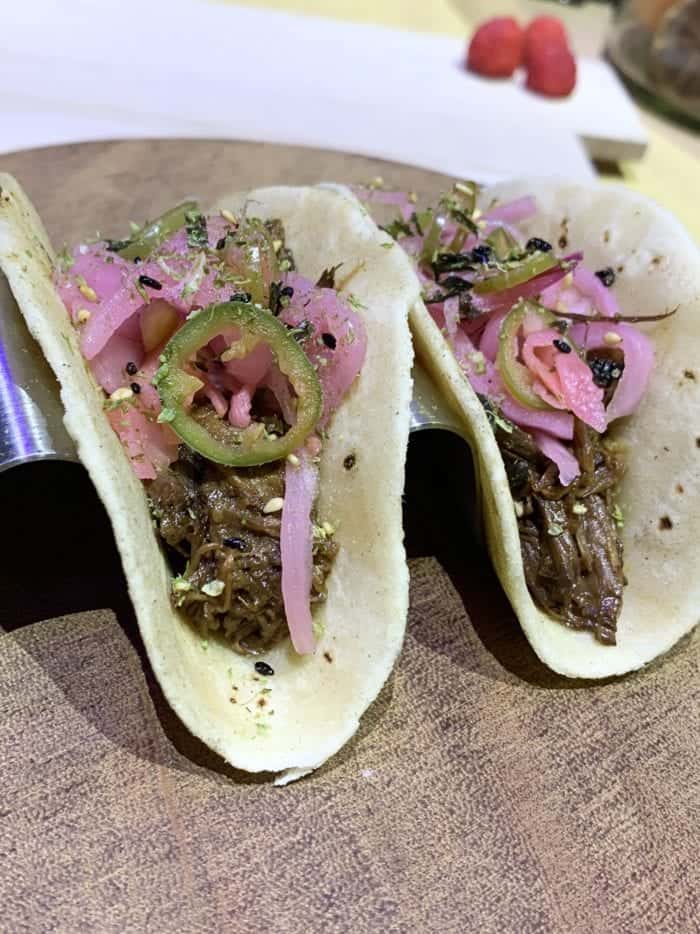 These are the Asian-style Beef Barbacoa Taco with Pickled Ginger. Another excellent choice also from the LA Style Marketplace. $8.00
Paradise Garden Grill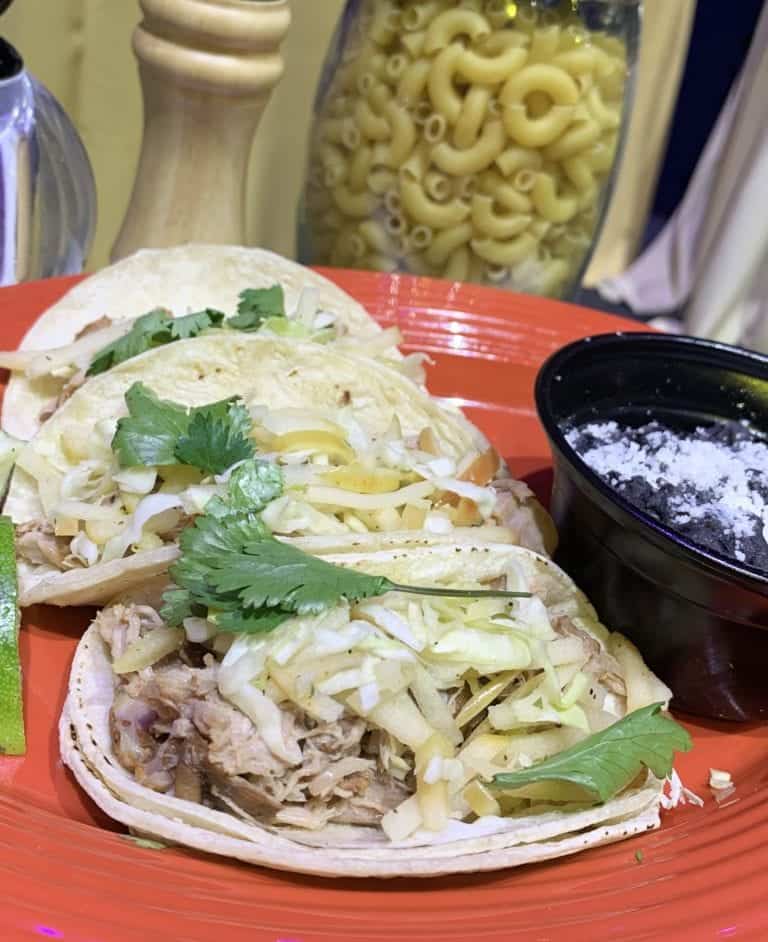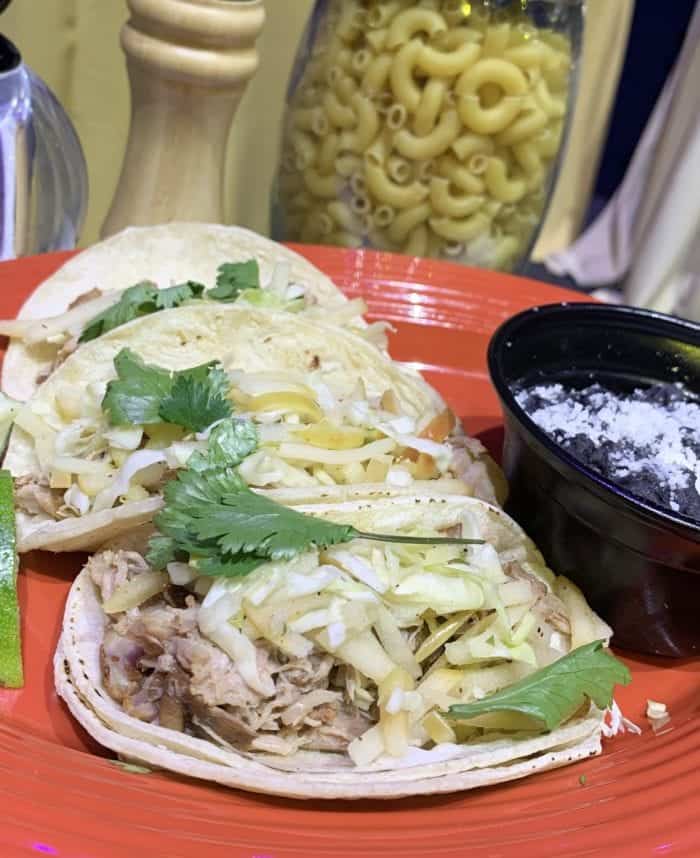 Over at Paradise Garden Grill area you can get all kinds of deliciousness including these Beer-braised Pork Tacos with Pickled Apple Slaw, Black Beans and Queso. $12.99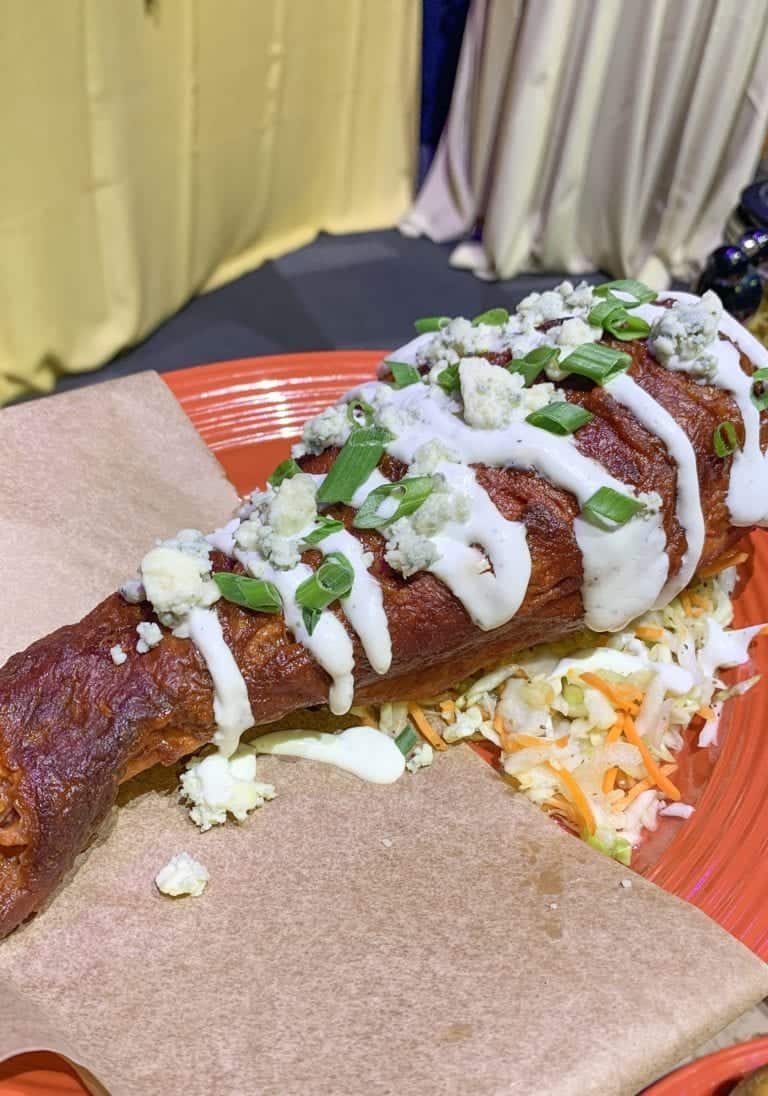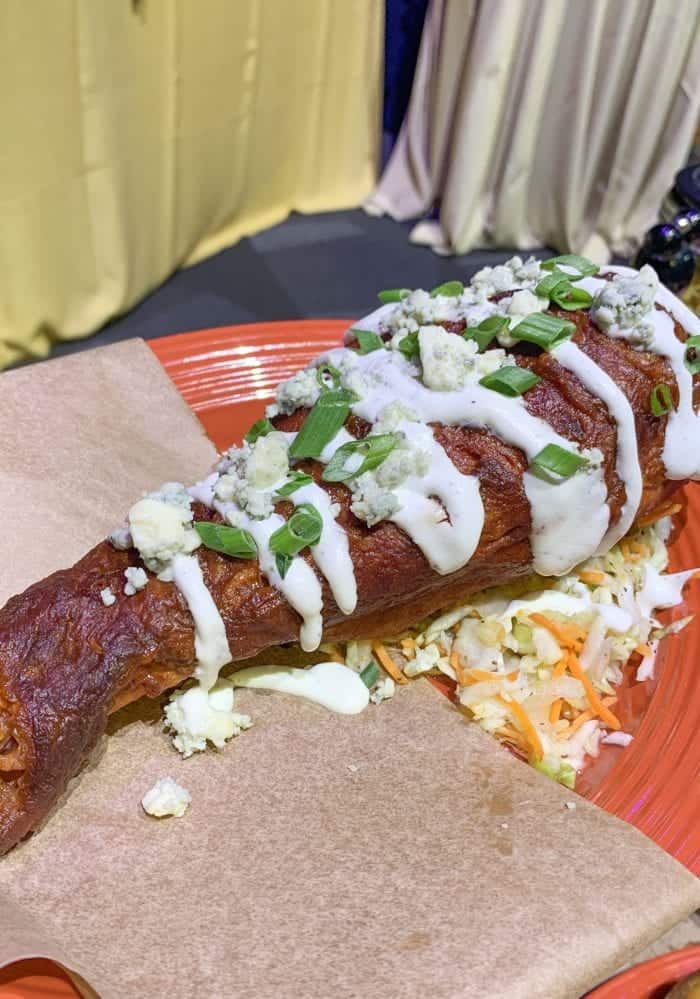 You can also get this giant Buffalo-style Roasted Turkey Leg with Celery Slaw and Crumbled Blue Cheese for $12.99.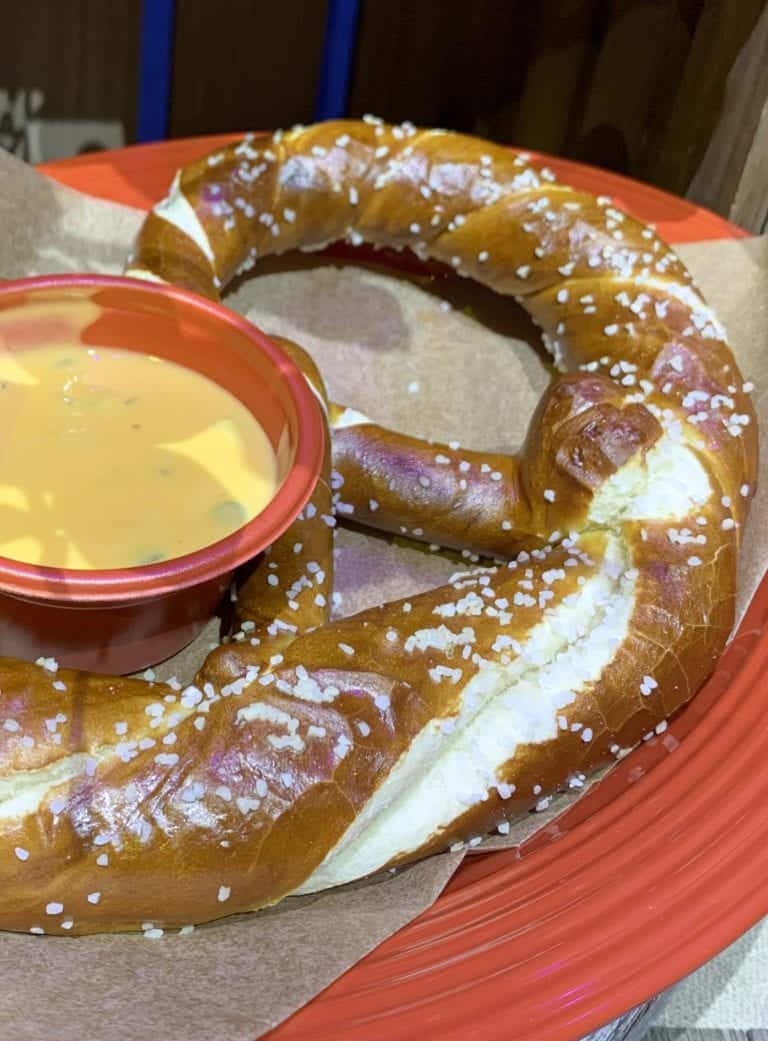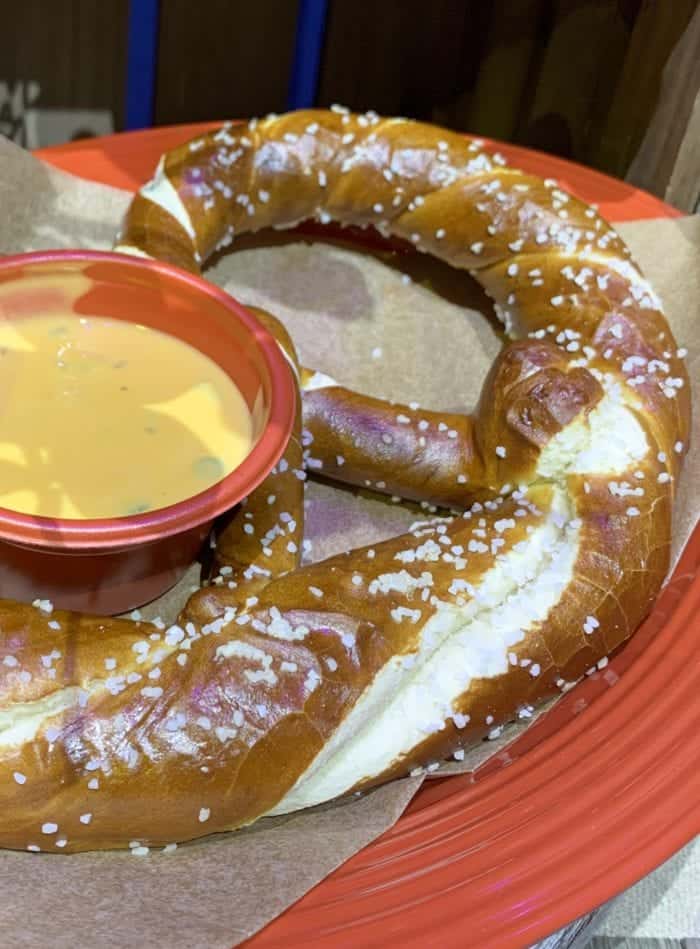 Also available is this Large Soft Pretzel with Beer-Cheese Dipping Sauce for $7.99.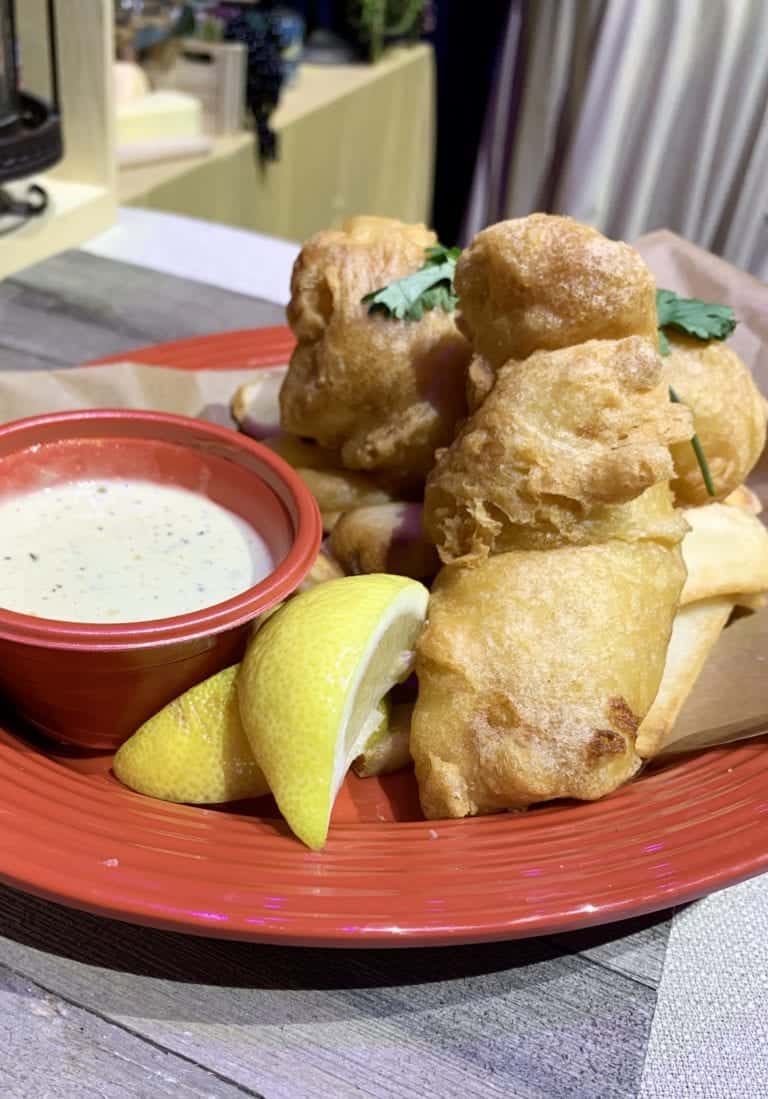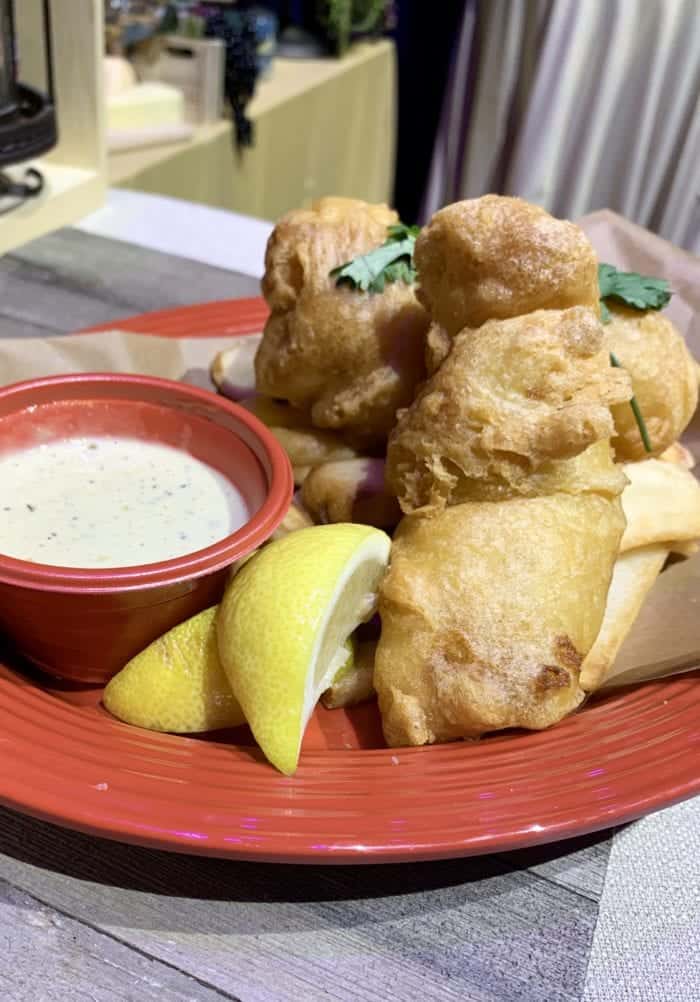 This is the Beer-battered Cod with Steak Fries and Spiced Rémoulade for $11.99.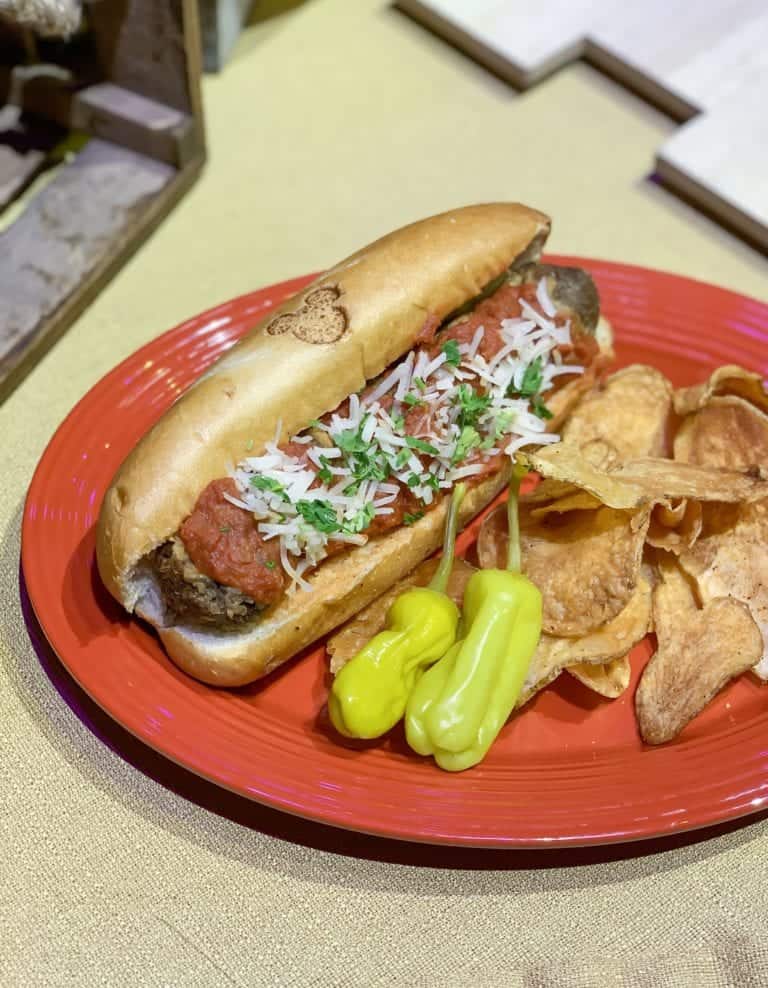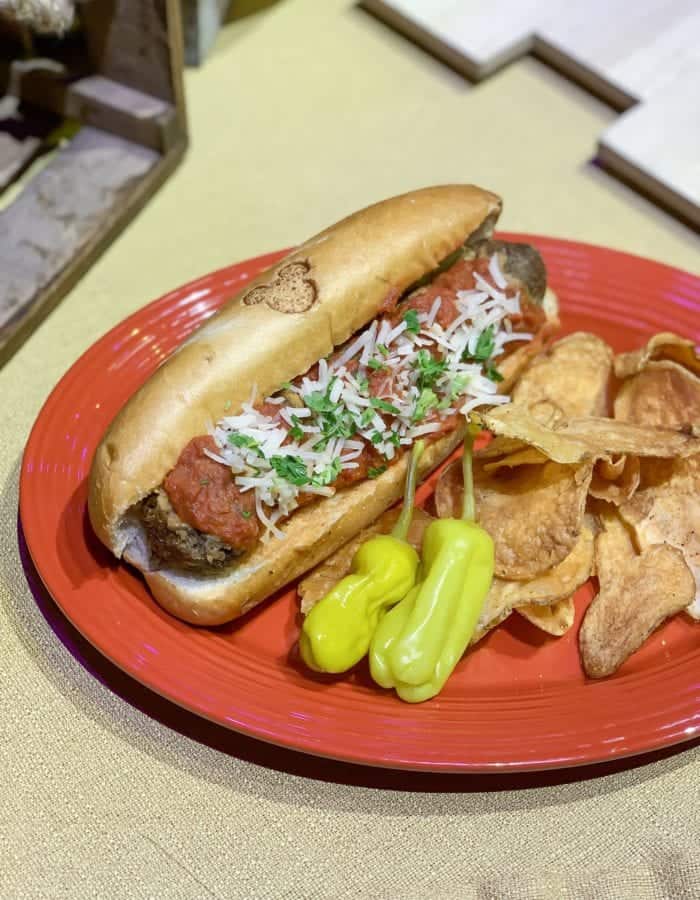 This is the Impossible™ No "Meat" Ball Submarine with Marinara Sauce topped with Soy Cheese and served with Kettle Chips. Looks like real meat but it isn't. A great option for vegetarians. $11.99.
Pin Disney California Adventure Food and Wine Festival 2019