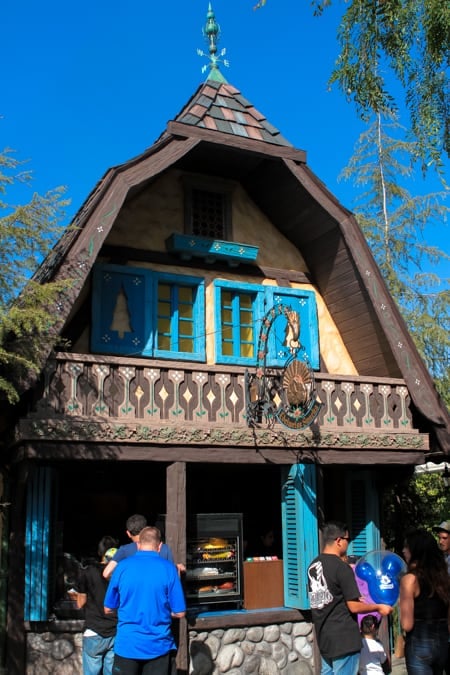 Edelweiss Snacks: Located in Fantasyland
Finally!! I tried one of those Jumbo Turkey Legs that you see other Disney goers chowing on like they just shot the turkey themselves. I've seen so many people eating them through the years of frequenting Disneyland–but a review on Picky Palate is what pushed me to try it.
The Switzerland themed Edelweiss Snacks is located just North of the Matterhorn ride and South of It's a Small World. They open at 11am–sometimes a few minutes early–so don't plan on turkey legs for breakfast.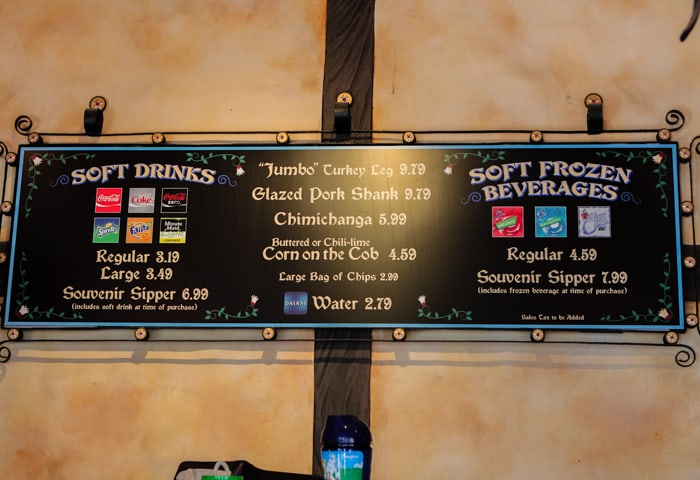 They have a short menu of items including slushy drinks and soda pop.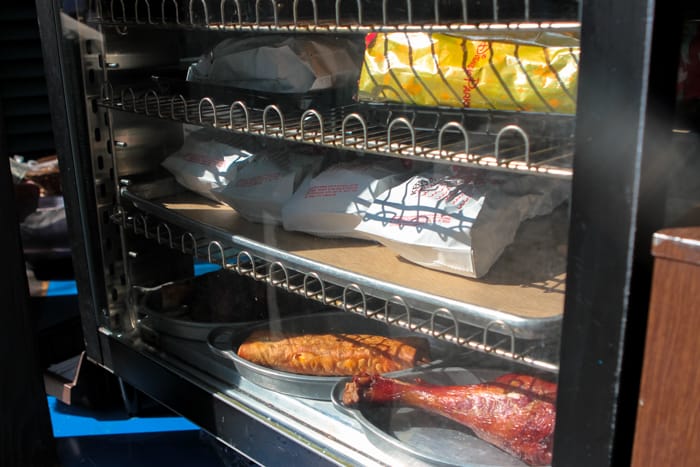 The kitchen is nearby where the goods are made, then transferred to Edelweiss.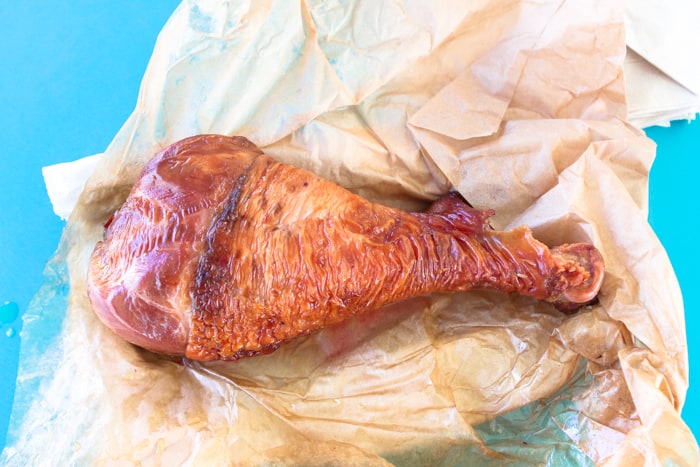 Here is one of the turkey legs you see stuck to people's hands as you walk thru Disneyland. It is flavorful, tender, and salty. It was slightly too salty to what I prefer but not enough for me to not eat it. Plus, one should expect salt in this prehistoric like meal. It's definitely worth a try.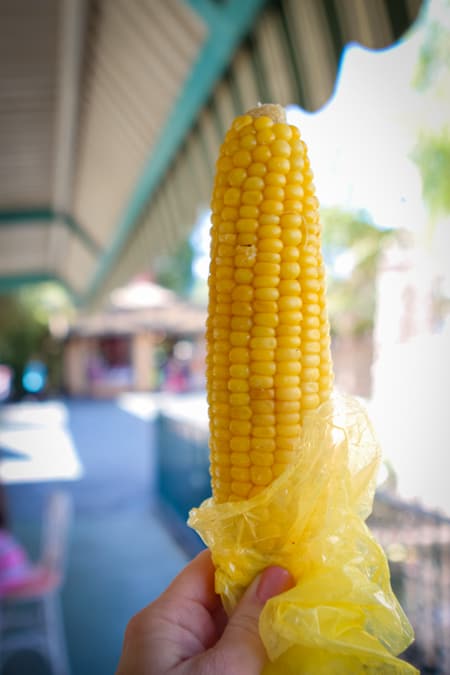 The buttered corn on the cob was crispy and buttery–just what you'd expect. Now, the spicier chili-lime cousin…….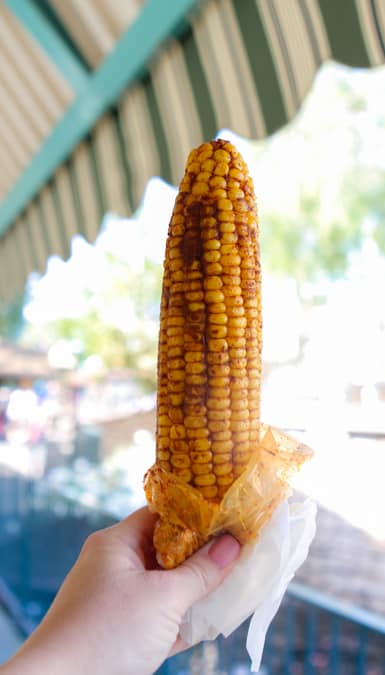 This is the corn that you should order. Don't leave the swiss alps with out this in hand. Even though I am a wuss when it comes to spice; this was awesome. I didn't mind the spicy lips at all. Without question, will be ordering on next visit.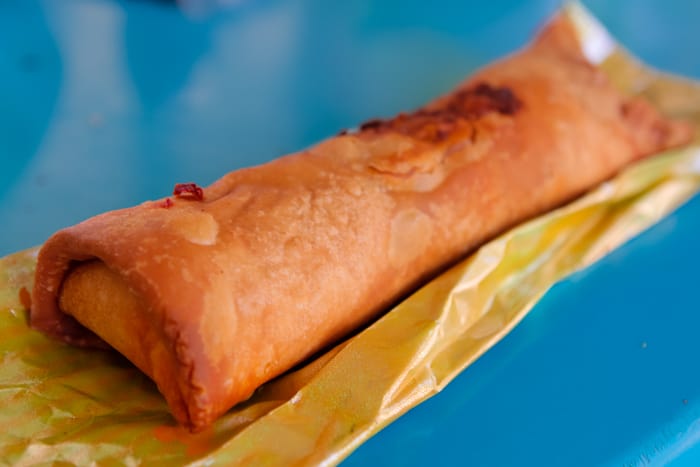 Who cares that this was deep fried!! I didn't. It was crispy on the outside and full of soft flavorful beans, meat, chorizo on the inside……actually, I'm not sure what's inside but it was pleasant.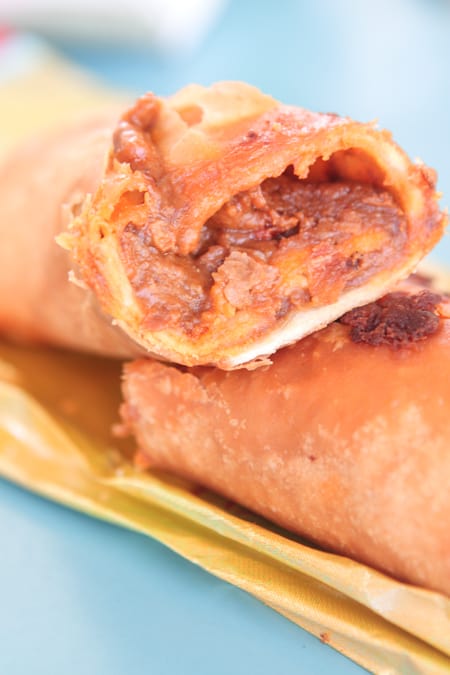 Call it goulash, meat filler, or packed with beans–it doesn't matter–it's good. No kidding, my mouth is watering looking at this photo.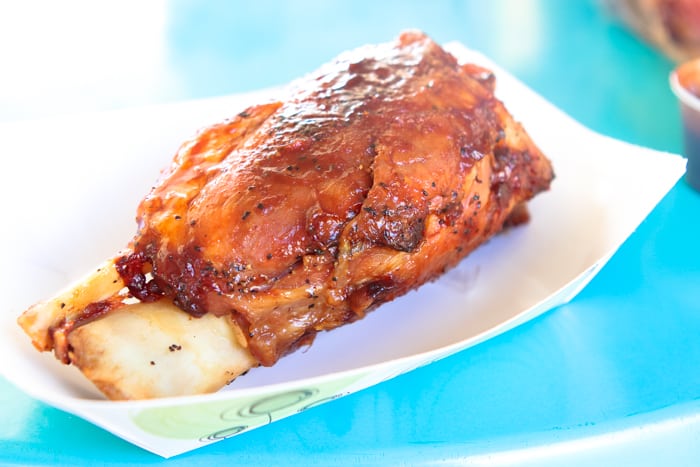 Awe the pork! It was well received with us. Easily falls off the bone. This is the ONLY location that you can currently buy this pork from. They started offering it in 2013, and you can say it's in the trial phase.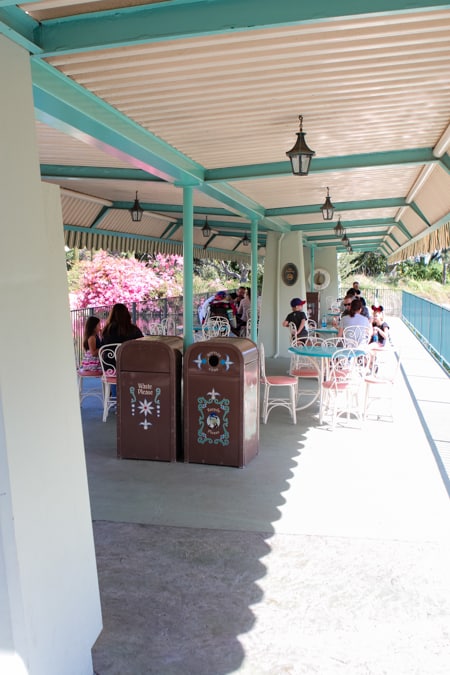 This is the small outdoor eating area behind Edelweiss Snacks. At first look, you don't realize it's here. It's bordered on each side with water, and if you're not careful you may drop your food in the lake like I saw someone do.
WHAT WORKED: Jumbo turkey leg, Chili-Lime Corn on the Cob, Chimichanga, Glazed Pork Shank,

WHAT DIDN'T WORK: I guess you can say the buttered corn but only because it wasn't the other items we ate.
We give Edelweiss Snacks 4 STARS for having awesome and unique food options (Cullen gives 5 stars, Jenny gives 4).
Be sure to check out our Disney home page HERE for other Disneyland California and California Adventure food ideas.
-Cullen