Good Monday night everyone! First of all, thanks for the great turn out for my giveaway, all of your favorite soups were right up my alley! Drumroll please…. Here are the winners of my giveaway: (my winners were chosen from random.org)
Prize #1: The Cookbooks go to Heather aka (Down Right Delish), who wrote…Gosh I love most soups so this is hard. Anything hearty. I love tomato and grilled cheese, a good potato soup, minestrone, black bean, taco soup! Hmmmmmm.
Prize #2: The Cherry Piecrust Cutters go to Steffie who wrote…I love butternut squash soup in the fall, but it's right up there w/ Pasta Fagoli!
Prize #3: The second set of Cherry Piecrust Cutters go to Sharon aka (Culinary Adventures of a New Wife) from my Classic Tuna Fish Post
Prize #4: The William Sonoma Wild West Ice Cream Molds go to Millers who wrote…Fun stuff, I love giveaways! 🙂 My favorite soup is hands down, Chicken Tortilla Soup. YUM YUM YUM
Even my 16 month loves it.
______________________________
Those of you who won, please email me so I can get your prizes shipped out! Now for the rest of you, maybe next time! Until then, feast your eyes on a not so photogenic but fabulous Shepherd's Pie that the whole family will love. Easy, cheesy and Delish with a capital D!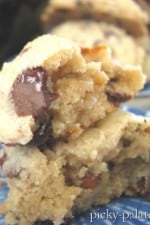 Family Pleasin' Shepherd's Pie
This comforting pie is made with creamy mashed potatoes, gooey cheddar cheese, juicy ground beef, and plenty of veggies!
Print
Pin
Ingredients
For the Mashed Potato Topping:
4

lbs

peeled cubed potatoes

½

cup

butter

1 stick

1

cup

shredded mozzarella cheese

¼

teaspoon

cumin

¾

cup

warm milk

1 ¼

teaspoon

salt

¾

teaspoon

garlic salt

Lawry's

½

teaspoon

fresh cracked black pepper
For the Meat and Vegetable Layer:
2

tablespoons

extra virgin olive oil

1

onion

finely chopped

1

lb

lean ground beef

½

teaspoon

kosher salt

¼

teaspoon

fresh cracked black pepper

¼

teaspoon

garlic salt

Lawry's

1 15

oz

can green beans

drained

1 15

oz

can mixed veggies

drained

26

oz

can Muir Glen Fire Roasted Tomatoes

pureed in food processor or blender

2

cups

shredded cheddar cheese
Instructions
Place potatoes in a large pot of water and boil for 10-12 minutes or until fork tender. Drain then place into a stand or electric mixer. Beat until well mashed then add remaining potato ingredients until well combined. Set aside.

Heat olive oil into a large skillet over medium heat. Saute onion until softened, about 5 minutes. Add ground beef, salt, pepper and garlic salt; cook until browned and crumbled. Stir in beans, vegetables and pureed tomatoes. Pour meat mixture into a 9x13 inch baking dish or individual size baking dishes. Top with mashed potatoes then sprinkle with cheddar cheese. Bake for 25-30 minutes or until cheese is melted. For crispy cheese topping bake uncovered, for oozing cheese, cover with foil after 15 minutes of baking. Enjoy!
Keywords:
best shepherds pie, how to make a shepherds pie, pie shepherd
Another Sweet Ending
________
These little cookies were such a treat Sunday night for an after dinner snack. The cinnamon chips bring that extra Mmmmm to each bite. Sorry for all of you AZ folks who can't buy them. I had a friend's sweet mother offer to pick us up a whole years supply of them from UT. They are a real treat. Enjoy!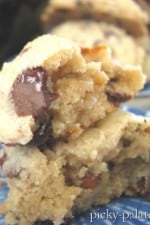 "Perfect For Fall" Chocolate and Cinnamon Chippers
Soft and buttery cookies loaded with rich chocolate chips and spicy cinnamon chips. The warm cinnamon flavor makes these easy treats great for fall!
Print
Pin
Ingredients
2

sticks butter

1

cup

brown sugar

½

cup

sugar

2

eggs

1

teaspoon

vanilla

3

cups

flour

1

teaspoon

baking soda

¾

teaspoon

salt

1

cup

cinnamon chips

1 ½

cup

chocolate chips
Instructions
Preheat oven to 350 degrees F. In a stand or electric mixer cream the butter and sugars until light and fluffy. Beat in eggs and vanilla slowly until well combined. In a large bowl combine the flour, baking soda and salt. Slowly add to wet mixture along with the chips until just combined. Scoop onto a parchment or silpat lined baking sheet and bake for 9-11 minutes or until cooked through to your liking. Cool on cooling rack and serve.
Keywords:
cinnamon cookies, cookies with cinnamon, fall cookies