Cream Cheese Stuffed Cinna-Bun Pull-Aparts

I had a nice morning yesterday with my 2 year old shopping at Trader Joes. I think he's warming up to the old ladies. A cute little lady offered him a cup of blueberries, he smiled grabbed them and gobbled them down. I was shocked!
After I got home, I was a cooking/baking fool. It was one day in a long time where I didn't have a zillion things I HAD to do. My boys had a friend over and I was able to play in the kitchen. I am excited to share some of the yummy recipes I made over the next few days.
Break out the Bundt pan, this recipe is incredibly rich and delicious. One pull-apart and you are good! These gooey rolls are baked in a butter/brown sugar mix, filled with sweet cream cheese and sprinkled with cinnamon sugar. I recommend eating them warm. This recipe was altered from an recipe I saw on a morning show, from a guy who calls himself Chef Dad. He used the Pillsbury rolls, so you could go for his quicker route if you'd like. I substituted Rhodes Rolls instead and I think it makes a big difference.
I used the Monkey Bread Mold from William Sonoma, it's great if you have it. If you use this mold, only use 15 rolls, the top 5 pop off the top. Hope you enjoy!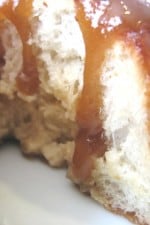 Cream Cheese Stuffed Cinna-Bun Pull-Aparts
Gooey cinnamon rolls with a sweet cream cheese filling. These buttery rolls make a great breakfast treat!
Print
Pin
Ingredients
20

Rhodes Bake and Serve Rolls

thawed

1

lb.

light brown sugar

4

Tbsp.

cinnamon sugar

found in your grocer's spice aisle, or just mix a little cinnamon and sugar to equal 4 Tbsp like I did

8

oz.

cream cheese

at room temperature
Instructions
In a bowl, combine cream cheese with 1/4 cup brown sugar and combine well with spatula. Cover and place in refrigerator.

Lightly coat bottom of bundt pan with cooking spray.

Melt butter, then add remaining brown sugar and stir well. Bring to a light boil to caramelize then pour 1/3 of the butter/brown sugar mix across bottom of bundt pan.

Remove cream cheese mix from refrigerator. Take one roll at a time into your hands and pull outward on sides to increase size slightly. Place approximately 1 Tbsp. of the cream cheese mixture into middle of roll. Fold dough around the mixture, pinch closed, then roll into a tight ball. Evenly place 8 balls across bottom of bundt pan. Sprinkle with 2 Tbsp. of sugar/cinnamon. Pour second 1/3 of the brown sugar/butter mixture over 8 buns. Repeat process with remaining 12 dough balls for second layer. First the dough balls, 2 Tbsp. sugar/cinnamon and finally the remaining butter/brown sugar mix.

Let rise for 30 minutes to 1 hour then bake for 45-60 minutes at 350 degrees F. You may need to lay a piece of foil over top of pan after 40-45 minutes if buns start looking well done.

Remove from oven then immediately turn over onto large plate. Remove bundt pan. Serve warm or room temperature.
Keywords:
cinnabons, homemade cinnamon rolls, rolls cinnamon