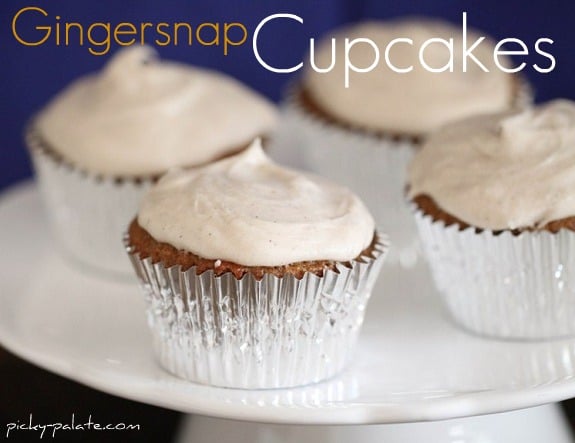 More festive baking coming your way 🙂 Christmas is right around the corner, can hardly believe it!!
Gingersnaps are one of my favorite cookies so I decided to incorporate them into a cupcake and….yowsa these turned out good. You top these bad boys with a few dollops of my Vanilla Bean Cinnamon Butter cream and find yourself licking your fingers clean. Enjoy friends 🙂
There's a step by step video of this festive cupcake at the bottom of this post that I worked on with Goodbite, take a peek 🙂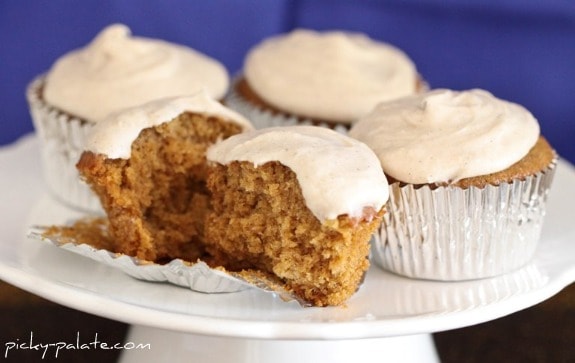 [ziplist]
Gingersnap Cupcakes with Simple Vanilla Bean Cinnamon Buttercream
1 stick softened butter
3/4 Cup granulated sugar
2 large eggs
3 Tablespoons molasses
1 Cup all purpose flour
1/2 Cup gingersnap cookies, ground very fine
1 1/2 teaspoons baking powder
1 teaspoon ground cinnamon
1/2 teaspoon salt
1/2 Cup milk
1 teaspoon vanilla
Frosting
1 stick unsalted butter, softened
2 1/2 Cups powdered/confectioners sugar
1/4 Cup milk
1 vanilla bean, split lengthwise and seeds removed
1/4 teaspoon ground cinnamon
Preheat oven to 350 degrees F. In stand mixer, beat butter and sugar until light and fluffy. Add in eggs and molasses until well combined.
In a large bowl combine the flour, ground gingersnap cookies, baking powder, cinnamon and salt. Add half to wet ingredients then half of milk and vanilla ending with remaining dry ingredients and milk/vanilla.
Scoop batter into 12 lined cupcake cups and bake for 20-25 minutes or until toothpick comes out clean from center. Remove and let cool completely.
To make frosting beat softened butter and powdered sugar in mixing bowl until smooth while slowly adding milk/vanilla and cinnamon in to get a smooth thick frosting. When cupcakes are cooled spread over tops and serve.
12 cupcakes
______________________________________