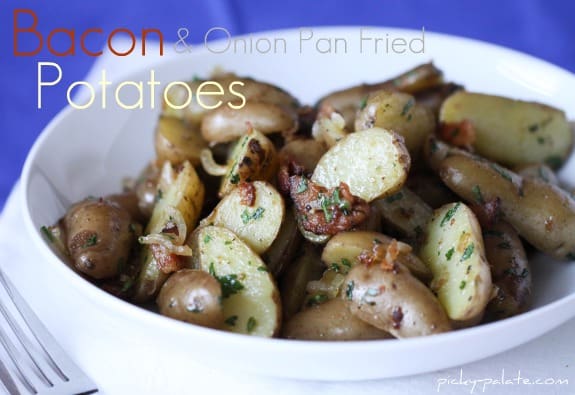 Anyone else counting down the days until Thanksgiving?!
Apparently I am so excited for Turkey Day that I made a partial Thanksgiving dinner last night. Talk about a perfect side dish for your Thanksgiving Dinner Table….my Bacon and Onion Pan Fried Potatoes. The flavors going on here are crazy good. In fact, I might just have to have a plate for breakfast today…with some scrambled eggs, mmm!
If you have been looking for the perfect side dish to complete your Thanksgiving dinner, look no further, I have found it for you 🙂 Enjoy…..then scroll down and see the recipe for a perfectly juicy Turkey with minimal prep work!
Oh and if you have the Cooking Channel, you can catch me on a new series called "From The Kitchens of" with Brigitte Ngyuen. My episodes are the Pillsbury ones. There are 2 shows, Everyday Recipes and Holiday Recipes airing the rest of November and most of December.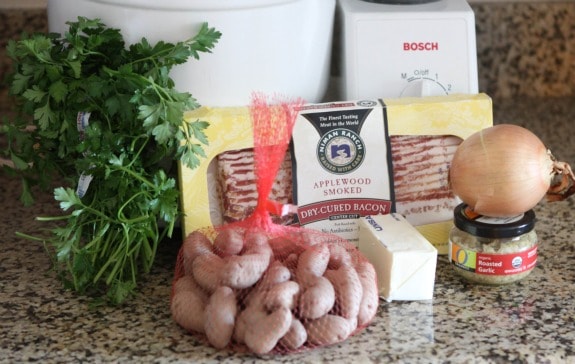 Just a few tasty ingredients for your line-up.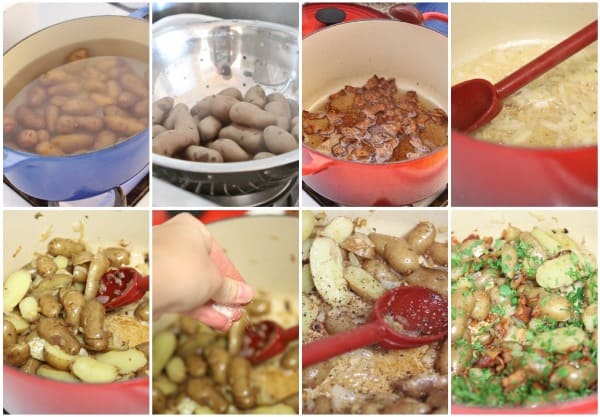 Really simple here….which makes this dish all the more fabulous!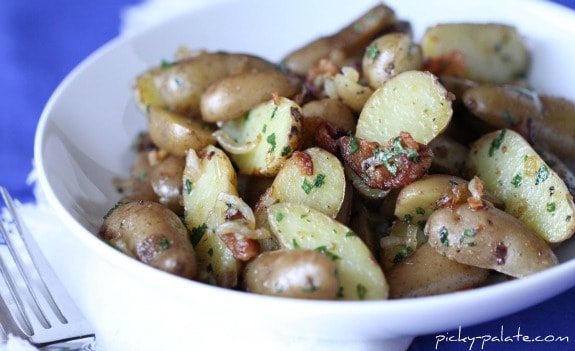 [ziplist]
Bacon and Onion Pan Fried Potatoes
1 lb fingerling potatoes
1/2 lb applewood smoked bacon, sliced into 1/2 inch pieces
1 Tablespoon butter
2 Tablespoons reserved bacon drippings
1/2 Cup fresh chopped onion
1 Tablespoon minced garlic
1/4 teaspoon kosher salt
1/4 teaspoon fresh cracked black pepper
1/4 Cup fresh chopped parsley
1. Boil potatoes for 10 minutes or until fork tender. Drain and slice lengthwise.
2. Render bacon in medium dutch oven or other appropriate pot/pan. When browned and crisped transfer to a paper towel lined plate. Discard all but 2 Tablespoons of bacon drippings. Place the 2 Tablespoons back into the pot along with the butter until melted over a medium heat. Add onions; saute until tender, about 5 minutes. Stir in garlic, cook for 1 minute then add sliced potatoes, cooked bacon, salt, pepper and parsley. Stir then reduce heat to low to keep warm. Ready to serve.
4 servings
_______________________________________
Picky Palate's Butter Herbed Juicy Turkey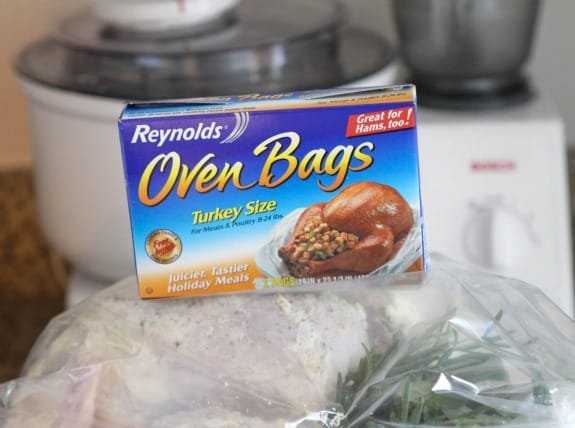 Have you ever cooked your turkey in a Turkey Bag? Well, if you haven't you might just want to check it out. My mom has used these bags for years and her turkey is always juicy and delicious. Because my mama taught me well, I too use the turkey bag 🙂
My recipe is simple, makes the house smell like a dream and provides you with a turkey that is equally juicy and full of Thanksgiving flavor!
I literally cooked up this gorgeous bird yesterday late afternoon when the sun was heading out…..hence my lack of photos (I've become a "natural light only" photo snob). Take my word on this one, this bird was DELISH 🙂 Can't wait for Thanksgiving next week, yippee!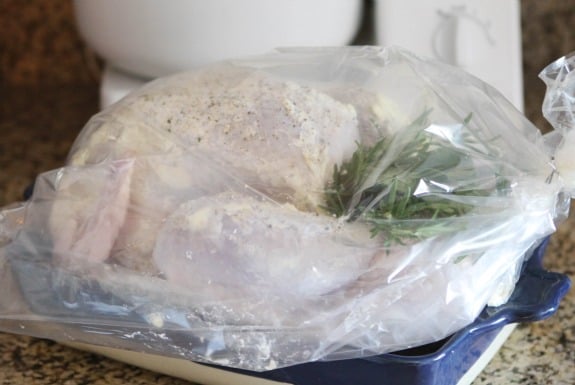 Here's my bird all buttered and herbed up, wrapped in his fun turkey bag 🙂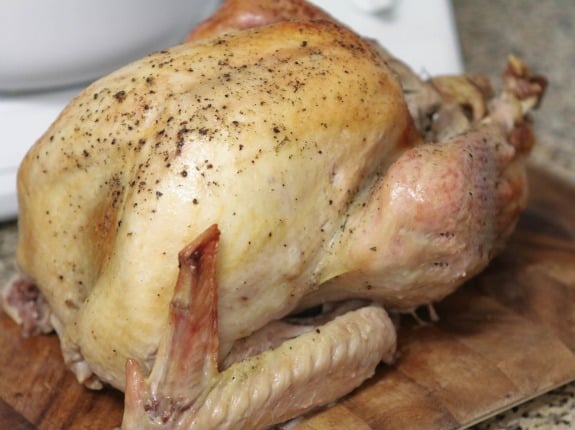 Ahhh, a few hours later, Mr Turkey looks like a dream 🙂
Carve your turkey and you are ready for action. See a video on how to easily carve your turkey HERE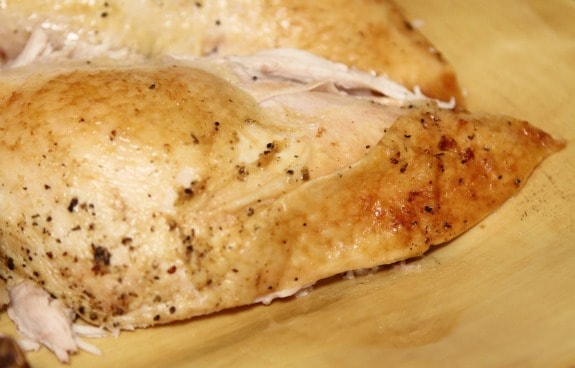 [ziplist]
Picky Palate's Butter Herbed Juicy Turkey
12 lb Turkey, thawed
1 stick butter, softened
1/2 teaspoon kosher salt
1/2 teaspoon fresh cracked black pepper
1 onion, peeled and quartered
3 sprigs fresh rosemary
2 sprigs sage leaves
1 Reynold's Turkey Bag
1. Preheat oven to 325 degrees F. Spread 1/2 butter all over outside of turkey then the remaining half on the inside. Season with salt and pepper then place onion quarters inside cavity of turkey. Place sprigs of rosemary and sage inside cavity with some sticking out. Place entire turkey in turkey bag, seal with a tie and snip a few slices to allow to steam. Bake for 3 hours or until thermometer reads 180 degrees F when inserted deep into meat without touching bone.
2. Remove and let rest for 20 minutes. Carve and serve.
Approx 6 servings
_______________________________________
I am having dessert withdrawls, you? No worries, Dessert is coming right up!