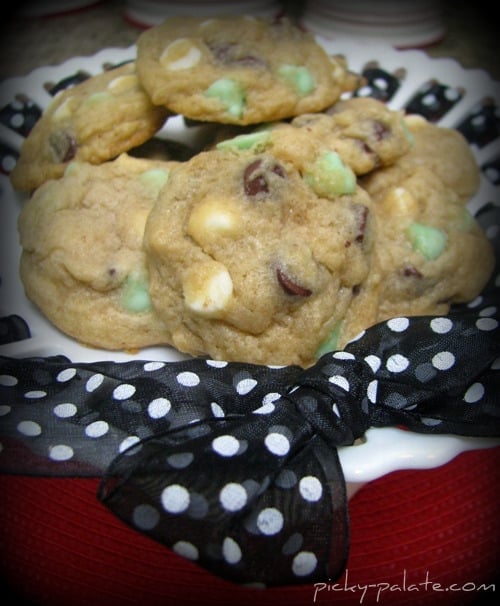 Yes, my husband named these cookies. I was cracking up and thought I'd give him one title to a recipe. When he ate them he said, "oh these make me feel so intimate" and the story evolved to the point that he named them Intimint cookies 🙂 Weirdo! but a Hot Weirdo!
So, I whipped up a couple batches of these cookies, wrapped them up and gave them to neighbors, my husband's co-workers and for myself of course. This was one recipe I couldn't completely get out of my house. Found these awesome Nestles "Limited Edition" Dark Chocolate and Mint Morsels at Target. Go quickly and pick up some bags, found them on sale right now for $1.78 in CA. They are ridiculously good and you must try them! If you absolutely cannot find them, you could use those Andes Mints in place of Limited Edition Chips. Hope you enjoy these "Intimint" cookies!!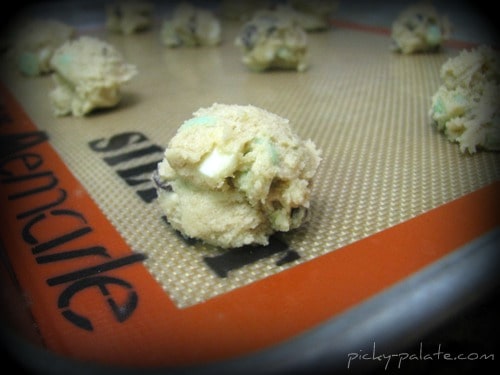 Try not to eat all the dough before baking…..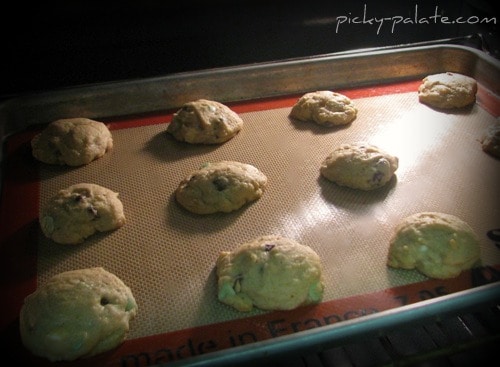 You'll definitely want to wait for these babies!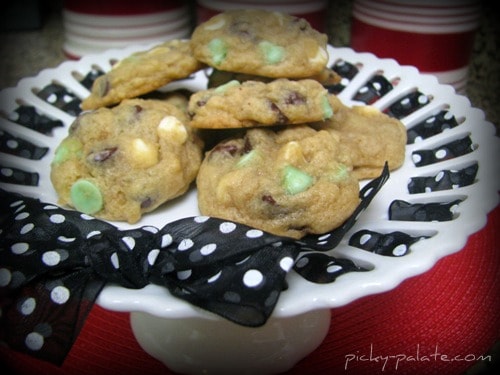 Ahhh, the fabulous finished product. I can't stop using my cute cake stand from TJ Maxx!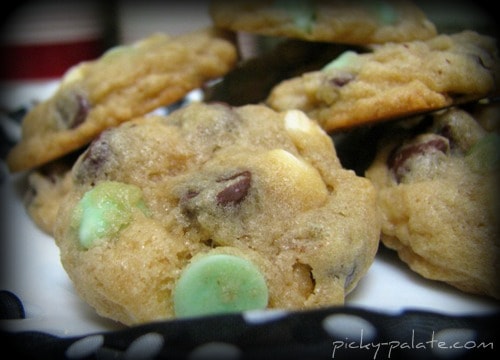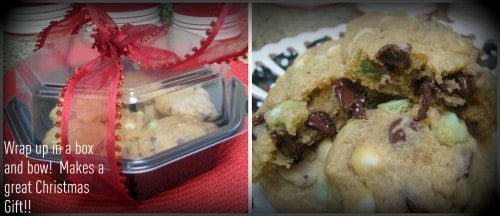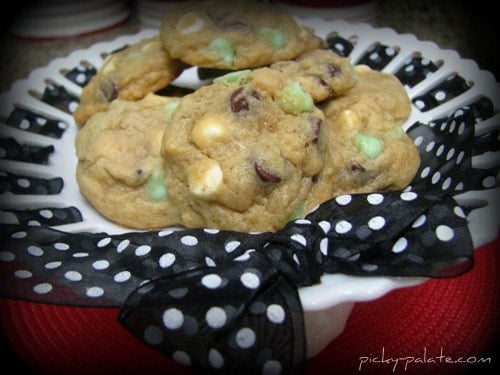 "Intimint" Chocolate Chip Cookies
1 Cup softened butter
1 Cup packed light brown sugar
1/2 Cup granulated sugar
2 large eggs
1 Tablespoon real vanilla extract
2 1/2 Cups all purpose flour
1 teaspoon baking soda
1/2 teaspoon salt
1 bag Nestles Limited EditionDark Chocolate and Mint Morsels
1 1/2 Cups white chocolate chips
1. Preheat oven to 350 degrees F. In a stand or electric mixer, beat the butter and sugars until light and fluffy. Beat in eggs and vanilla until well combined. In a large bowl, mix the flour, baking soda and salt. Add to wet ingredients along with the chips. Mix until just combined. With a medium cookie scoop, scoop dough onto a silpat or parchment lined baking sheet about 1 1/2 inches apart. Bake for 9-11 minutes or until slightly golden on outside edges. Let cool for 5 minutes on baking sheet then transfer to cooling rack to finish cooling.
3 dozen cookies
______________________________________
Have a wonderful new week, see you soon with more treats!