Lemon Poppyseed Ricotta Pancakes
Treat yourself to my perfect for Spring, Lemon Poppyseed Ricotta Pancakes today!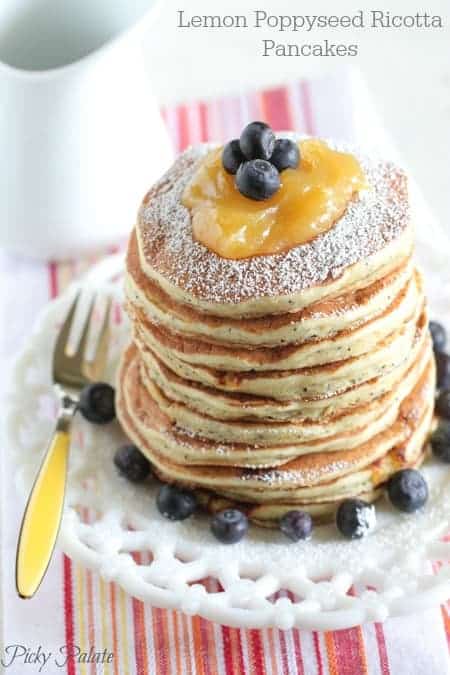 I wish I could paint the picture perfectly as we tried these pancakes in my house last week. My mom was over visiting and after the photo shoot, we sat down with one of my warm perfectly lemon soft pancakes, took one bite and about fell out of our chairs. Ok, not fell out of our chairs, but you get my point…..we were in hog heaven.
Last month when Amanda and I were in NYC, we went to a fun little restaurant called Laconda Verde for brunch and Amanda ordered Lemon Ricotta Pancakes. I guess I have been living under a rock, because I've never experienced a ricotta pancake. Just couldn't understand what the hype was about. Well, that was until I took a bite. Softest most delicious pancake I've had, not kidding. I knew that I had to go home and make my own version!!
I used my very favorite Buttermilk Pancakes recipe from my cookbook and turned them into the ones you see today. It could not have been more perfect and I can't wait for you guys to try these!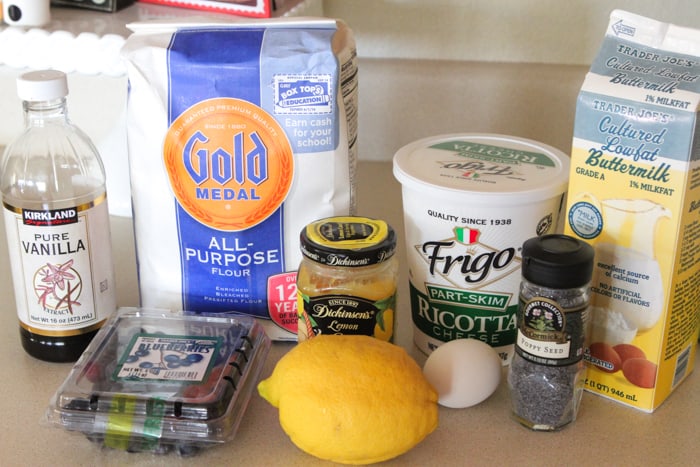 Here's your line up of ingredients. You should be able to find lemon curd in the jam section of your grocery store. For those of you with Trader Joe's, you can get it there too.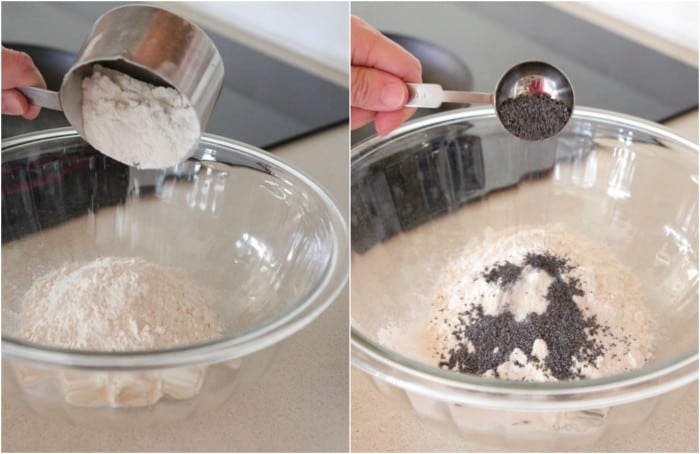 Start by adding your dry ingredients to your favorite large mixing bowl.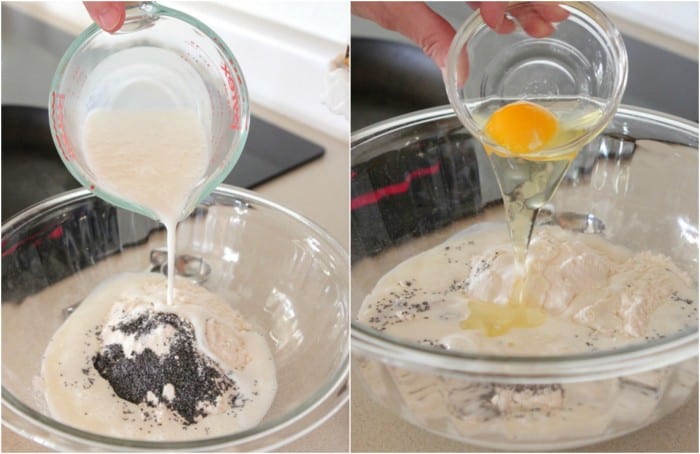 Buttermilk and egg up next!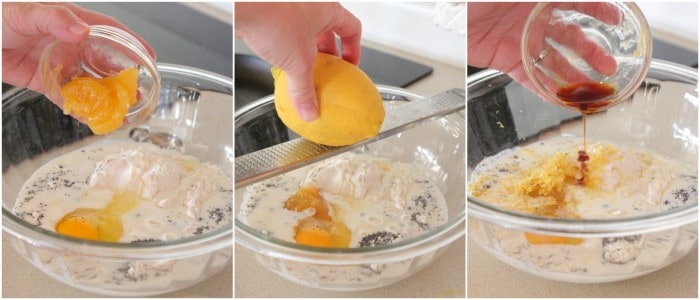 Lemon curd, lemon zest and vanilla please 🙂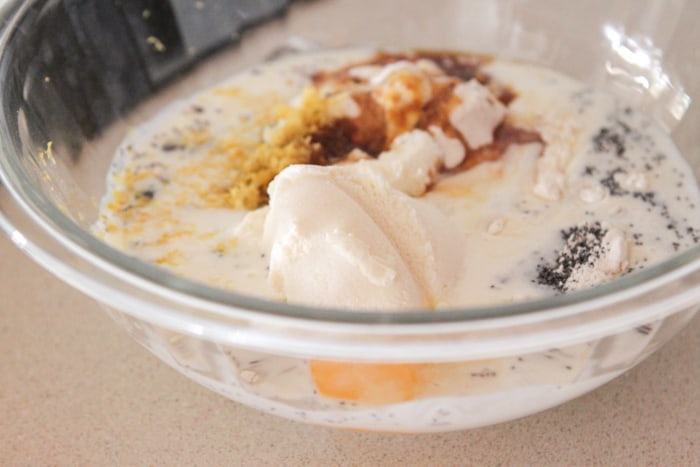 The magic ingredient….Ricotta cheese. Oh yah!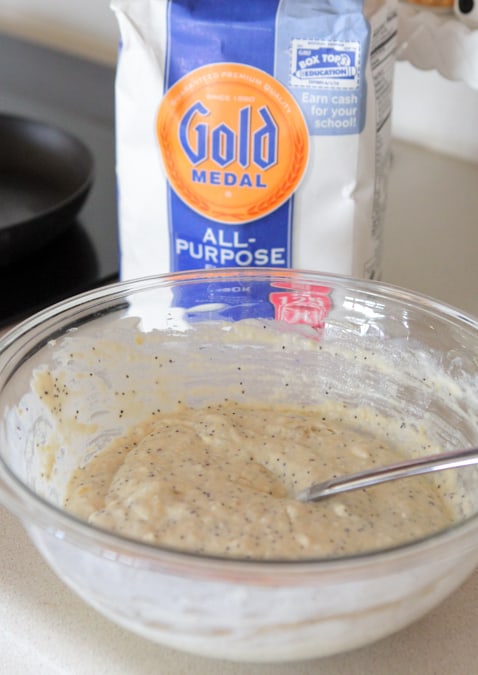 Give a nice mix and you are ready to start your pancakes.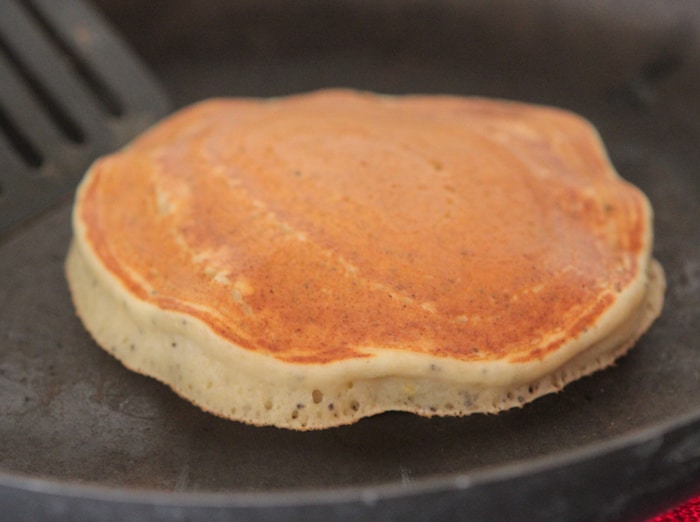 Spoon your batter into a nice hot skillet and cook both sides until golden and beautiful.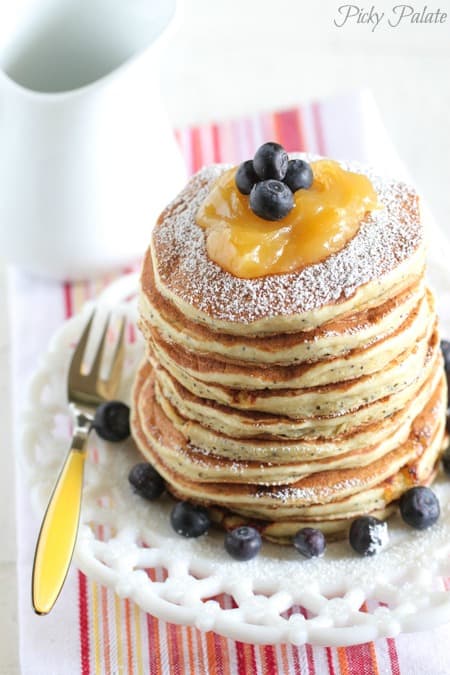 Stack em' up.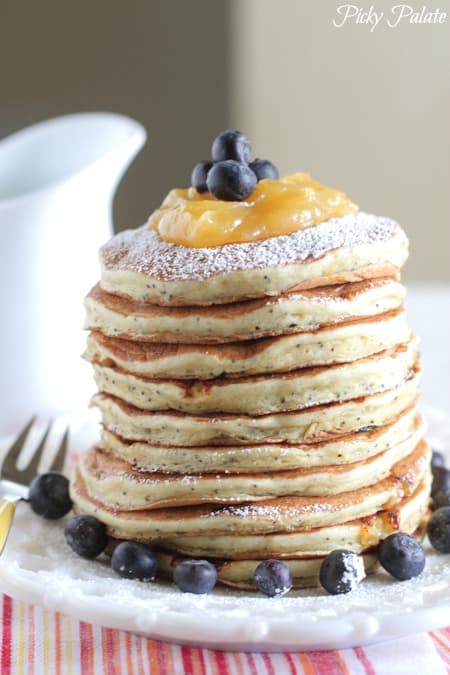 Dust with powdered sugar and top with additional lemon curd. I like to garnish with fresh blueberries too.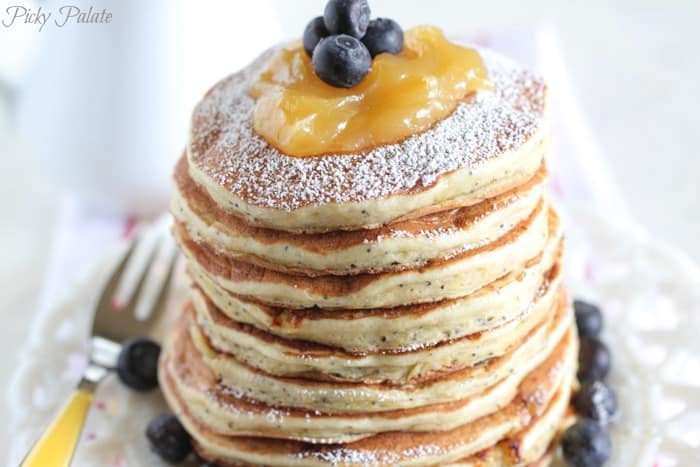 To serve, place individual pancakes on plates, spread with a thin layer of lemon curd and drizzle lightly with warm pure maple syrup. Nothing better! Enjoy 🙂
[ziplist]
Lemon Poppyseed Ricotta Pancakes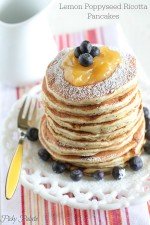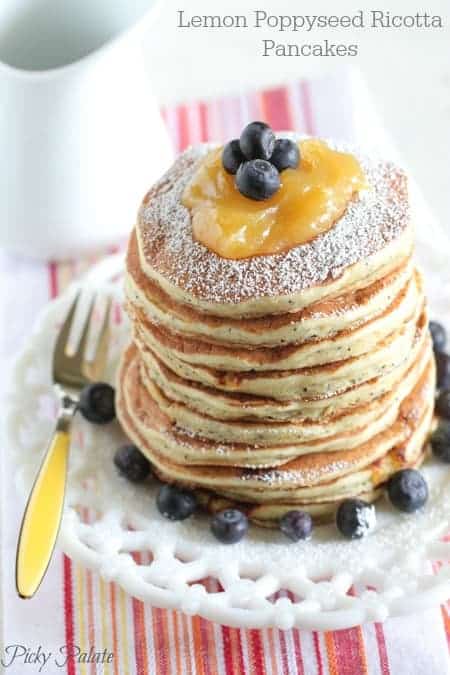 Prep time: 10 min | Cook time: 15 min | Total time: 25 min
Ingredients
1 cup

all-purpose Gold Medal Flour

1 teaspoon

baking soda

1/4 teaspoon

kosher salt

1 cup

buttermilk

1 large

egg

1/2 cup

ricotta cheese

2 tablespoons

lemon curd

1/2 teaspoon

pure vanilla extract

1 teaspoon

lemon zest

1 1/2 tablespoons

poppyseeds
TOPPINGS FOR PANCAKES:
2 tablespoons

powdered sugar

1/2 cup

lemon curd

1 cup

blueberries

1/2 cup

pure maple syrup
Directions
Place flour, baking soda, salt, buttermilk, egg, ricotta cheese, lemon curd, vanilla, lemon zest and poppyseeds into a large mixing bowl. Mix to combine.
Heat a large skillet over medium heat. When hot, spoon about 1/4 cup batter into center of pan. With spoon, form round pancake quickly. Let cook for 60 seconds or until batter starts to bubble. With spatula, flip and cook an additional minute or until cooked through and browned. Continue until all batter is used.
Top each pancake with additional dusted powdered sugar, lemon curd and blueberries. Drizzle very lightly with pure maple syrup and enjoy.
Makes 8 Servings
FOLLOW PICKY PALATE ON INSTAGRAM! Show me what recipes you're making from Picky Palate by using #pickypalate.
Other recipes you may enjoy...
Comments