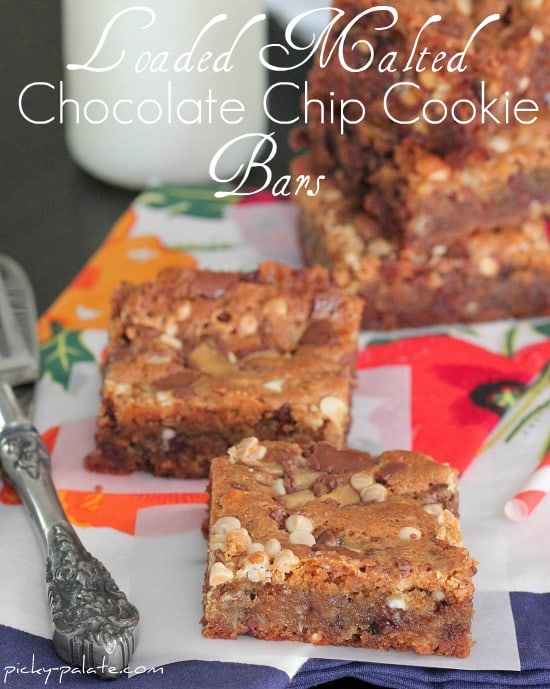 I always have so much fun creating new desserts, this bar was no exception. I LOVE malt flavor in my desserts so I knew this bar would be a huge hit. I used my Malt powder AND some crushed chocolate malt balls. Wait until you take your first bite, between the marshmallow bits and the malt balls, the texture is chewy and perfect.
Hope you enjoy!!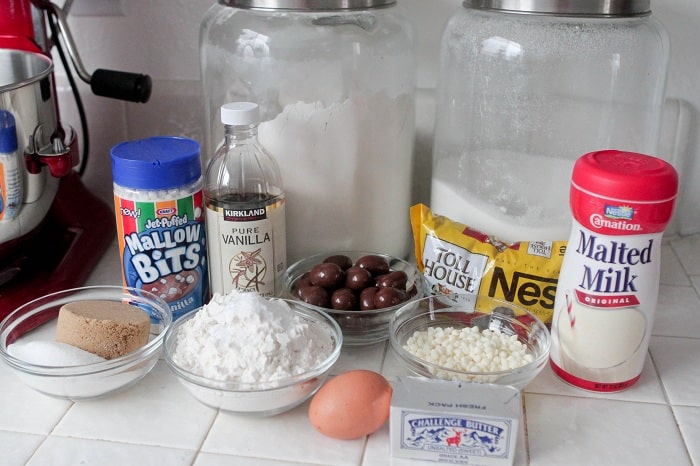 Here's your line up!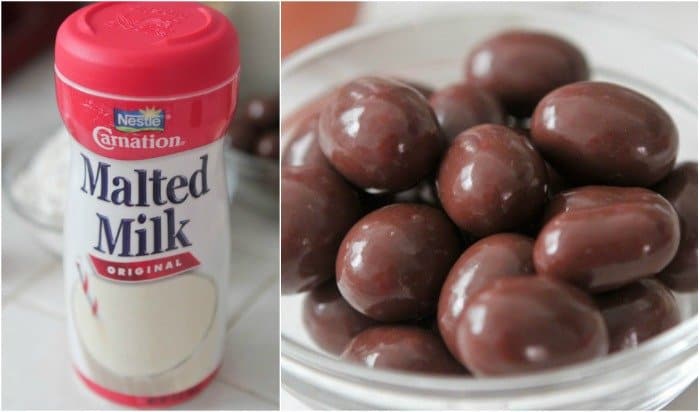 The stars of the show here! I had some Harry and David malt balls which are my favorite, but if you have just the good ol' box of Whoppers, those will work too.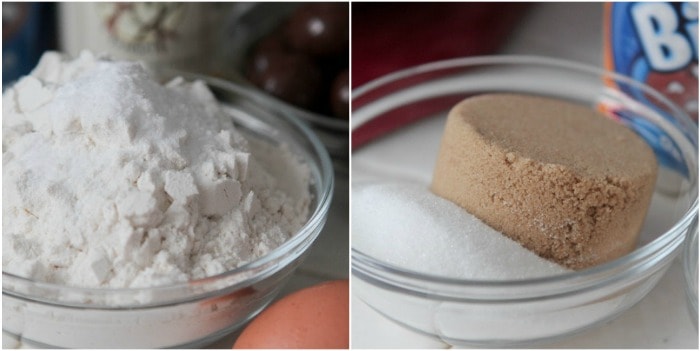 Break out your basic cookie ingredients.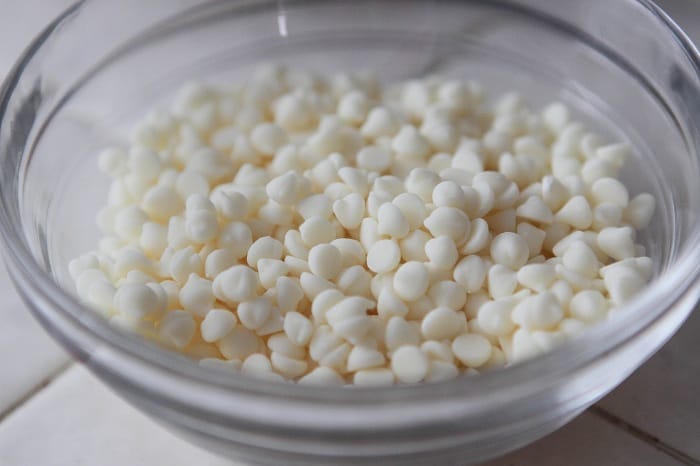 I used some mini white chips, but regular white chips will work too!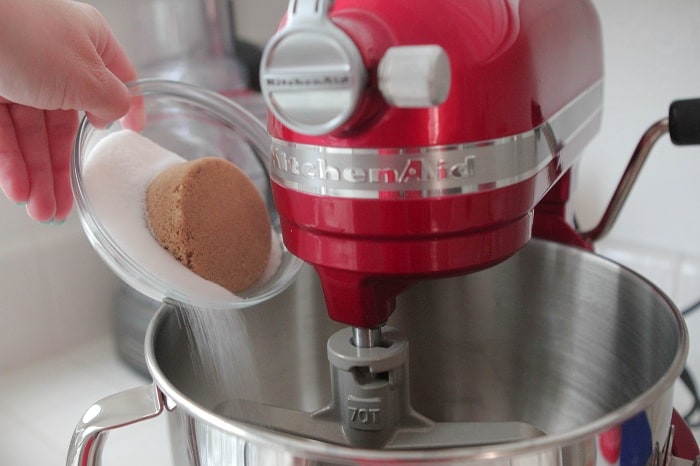 Let's cream the butter and sugars.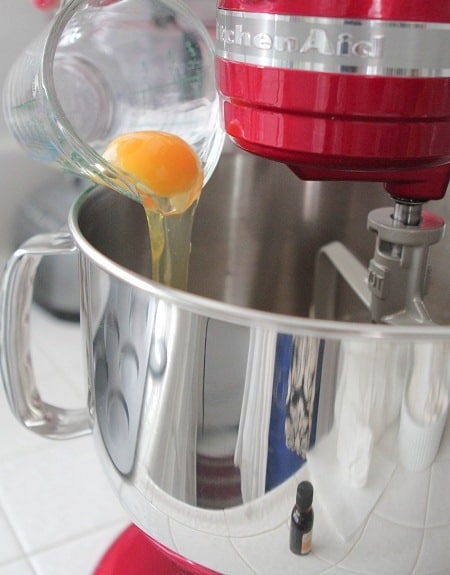 Add your egg.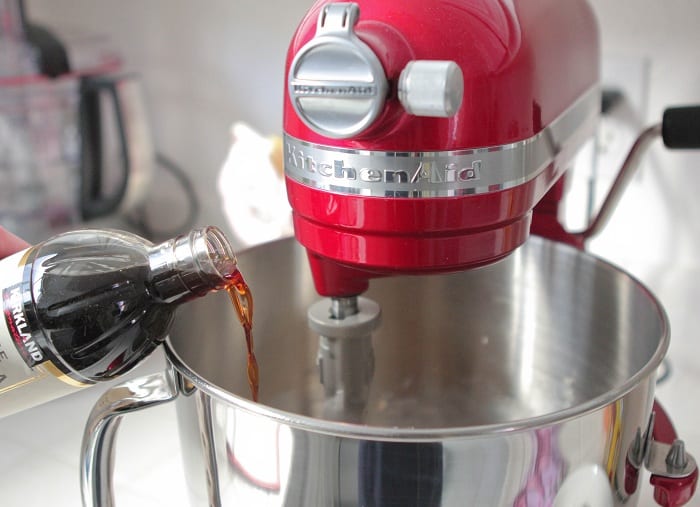 …and some vanilla.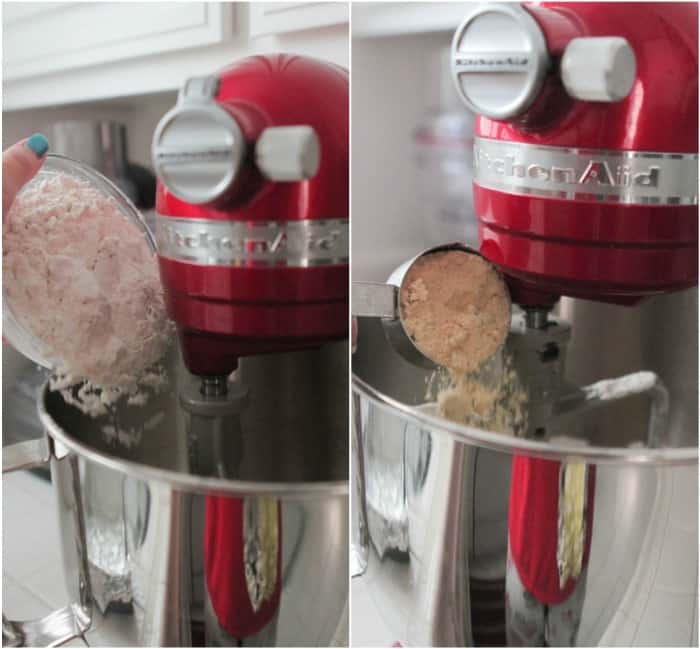 Slowly add your dry ingredients.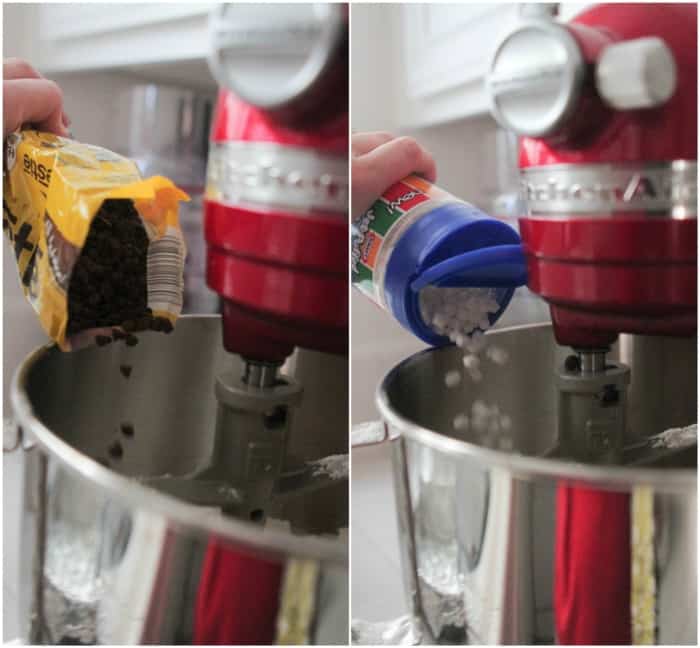 Add your chips and marshmallow bits!
Add some white chips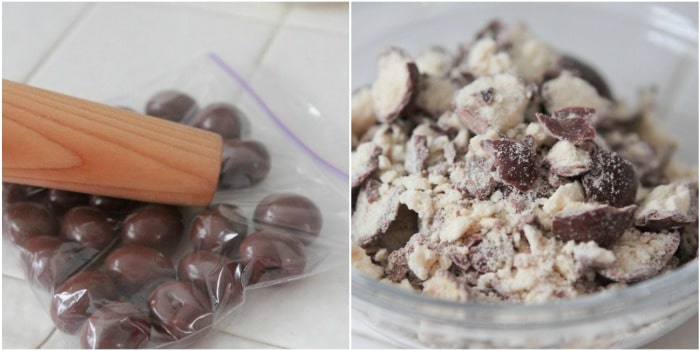 Crush your malt balls with a rolling pin, makes it nice and easy.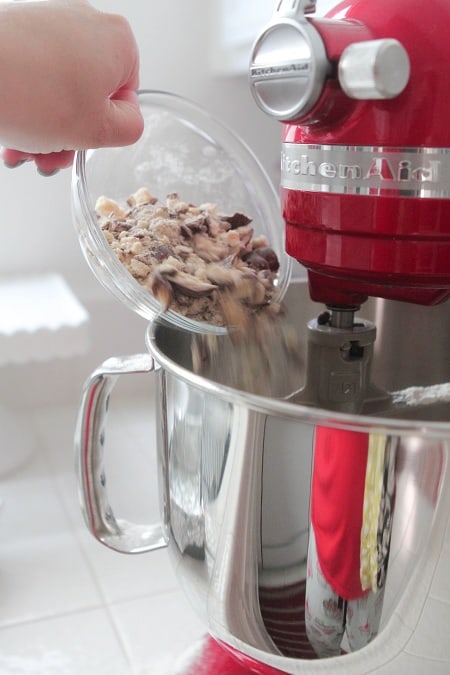 Add them right to the mix.
Time to mix!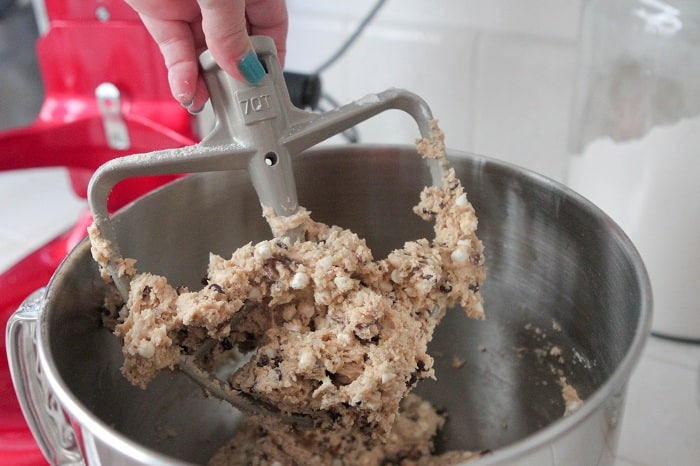 Perfect-o!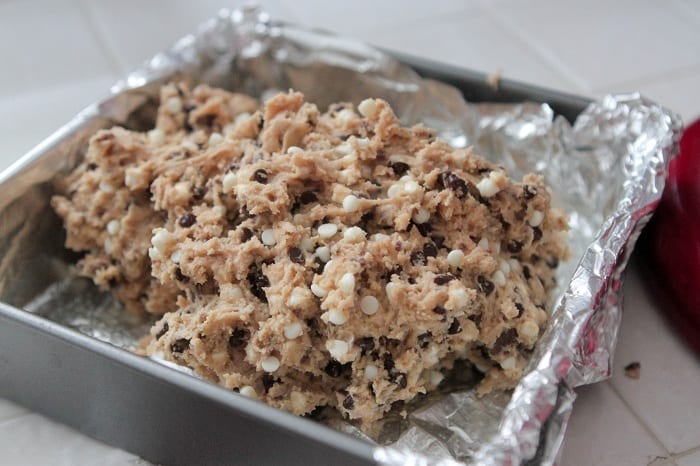 Transfer to your baking dish.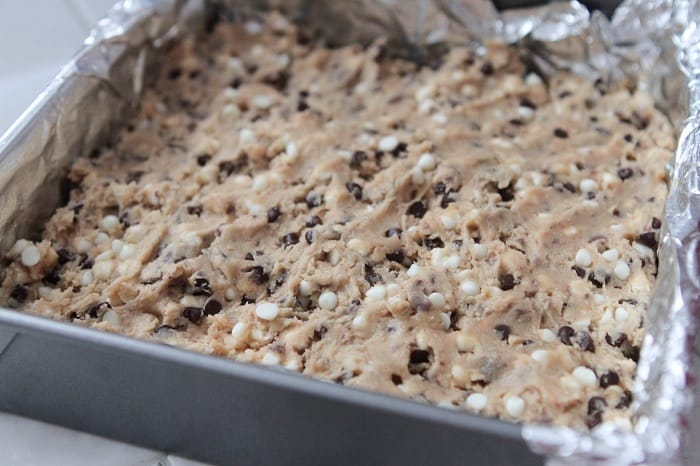 Press nice and even.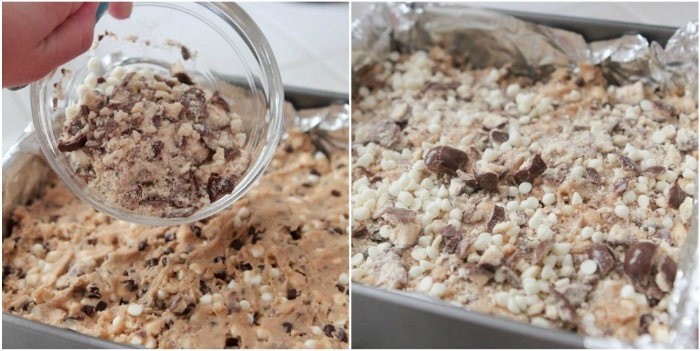 Top with crushed malt balls and white chips.
Bake until deep golden brown and baked through.
Let cool, cut into squares and eat!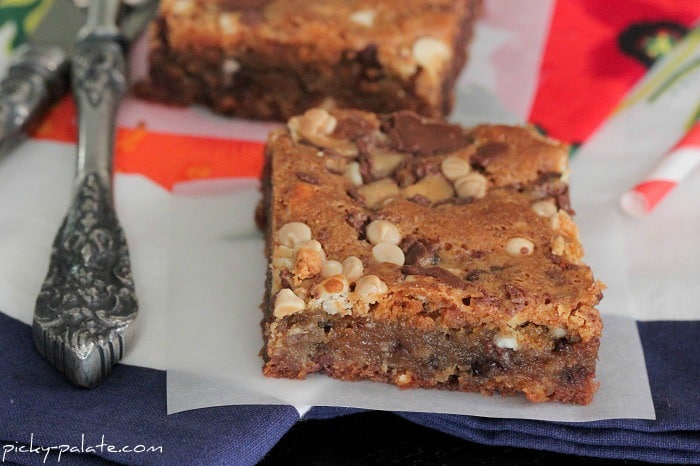 [ziplist]
Loaded Malted Chocolate Chip Cookie Bars
1 stick unsalted butter, softened
1/2 cup granulated sugar
1/2 cup packed light brown sugar
1 large egg
1 teaspoon pure vanilla extract
1 1/2 cups all purpose flour
1/2 teaspoon baking soda
1/2 teaspoon kosher salt
1/2 cup malted milk powder
1 1/2 cups crushed malt balls
1 cup white chips
1 cup chocolate chips
1/2 cup mini marshmallow bits
1. Preheat oven to 350 degrees F. and line an 8×8 inch baking dish with foil that's sprayed with non stick cooking spray.
2. Place butter and sugars into stand or electric mixer and cream until light and fluffy, at least 2 minutes. Add egg and vanilla beating until well combined.
3. Place flour, baking soda, salt and malted milk powder into a large bowl, mixing to combine. Slowly add to wet ingredients along with 1 cup crushed malt balls, 3/4 cup white chips, chocolate chips and marshmallow bits. Beat on low until just combined.
4. Press dough into prepared baking dish and top with remaining 1/2 cup crushed malt balls and 1/4 cup white chips. Bake for 35-40 minutes until deep golden brown and baked through. Let cool for 20 minutes before removing from baking dish. Let cool completely before cutting into bars. Once cool, cut off 1/4 inch of the edges, then cut into bars.
Makes 9 bars
________________________________
Have a great day, come back soon!