Today I'm sharing How To Make a Perfect Charcuterie Board! I've got step-by-step photos and tips so you can make your own beautiful cheese board!
By now, you've seen charcuterie boards all over Instagram, they're AMAZING, but can also be a little daunting. That's how I felt for a long time. I want to break down exactly what you'll need to be on your way to create your own impressive cheese board! The perfect appetizer for any party! Be sure to follow Picky Palate on Instagram for daily recipe inspiration.
How is Charcuterie Pronounced? (Charcuterie Pronunciation)
If you are wondering how to pronounce charcuterie, you are not alone on this, lots of people want to know how to properly "say" charcuterie? It's pronounced "shahr-kyu-tuh-ree."
What is Charcuterie?
Charcuterie is the art of preparing and assembling cured meats and other meat products. But, many people use the term charcuterie to refer to an assortment of meats that are paired with different accompaniments, such as toast, fruit, cheese, and sauces. If you want to offer charcuterie on your menu, there are a handful of basics to understand first, from identifying some of the most popular types of charcuterie, to what makes a really impressive completed board.
Is Charcuterie French or Italian?
The word originated in France, and it translates to "pork-butcher shop." While the original French translation refers to pork, modern charcuterie boards can include other types of food, such as duck, goose, chicken, cheese, toast, fruit, or other options.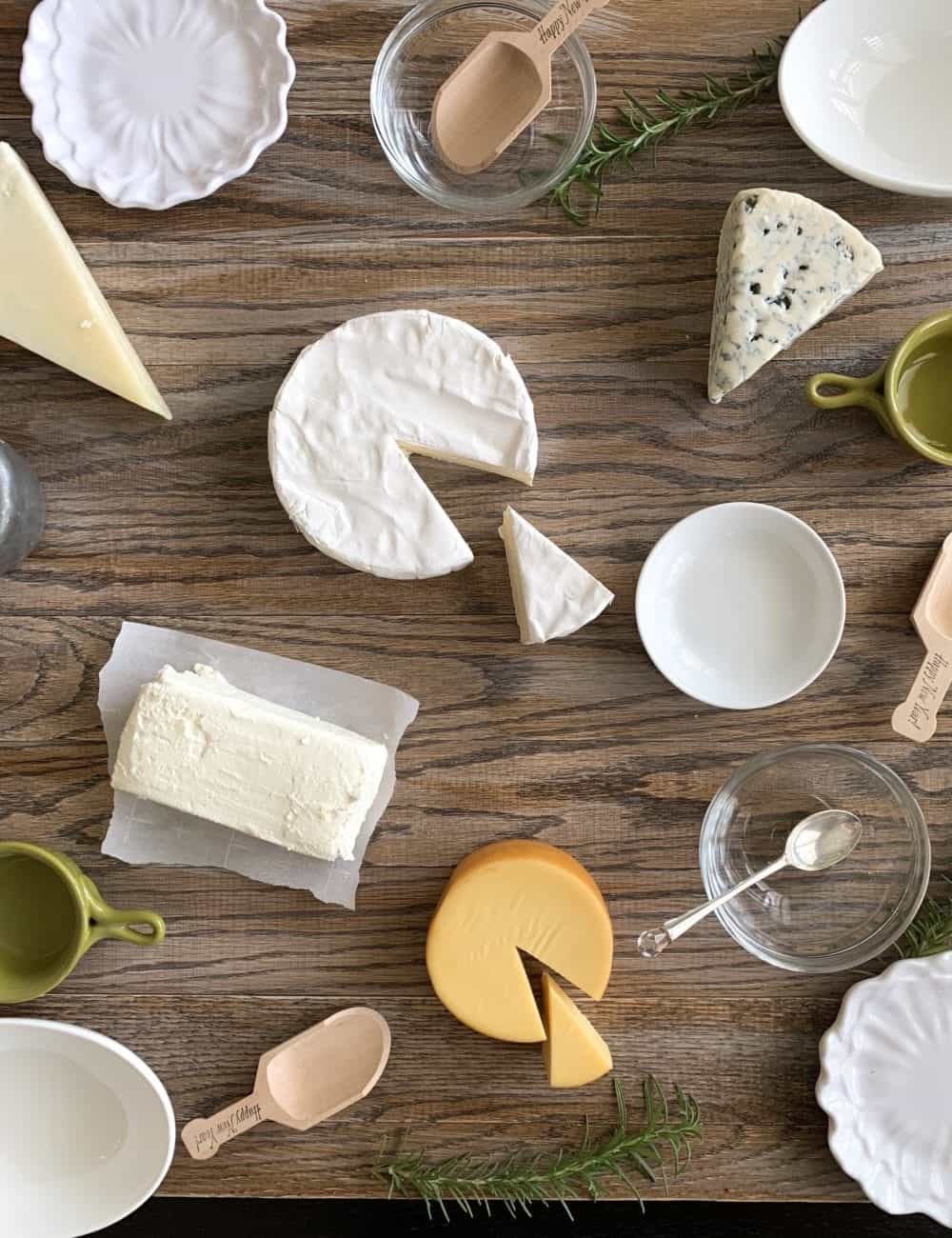 How Do I Make a Charcuterie Board?
Alright, before we start, let's talk about the actual board itself. For mine today, I used a massive piece of square board I had in the garage, 24×24-inches. Here's the thing. You can use whatever size/shape you want! It's your board so seriously anything goes.
I've seen lovely charcuterie boards on round lazy suzan type boards, large rounds with handles. Get creative. My favorite places to shop for boards are TJ Maxx Home Goods and antique/second hand shops. OR….Home depot will literally cut you a piece any size you'd like. You can even make your own.
In addition to the board itself, you'll need some small dishes for plating and serving. Antique shops are a great place to get unique little spoons, plates and serving pieces from. My suggestion would be to keep it simple. Stick to white or clear dishes, maybe add little pops of color, but nothing too busy. For my board used today, I pulled out some little spoons I had and little scoops that were given as a gift. I added some white plates and bowls. Start arranging the plates/bowls on your board as a guide map of where things will go.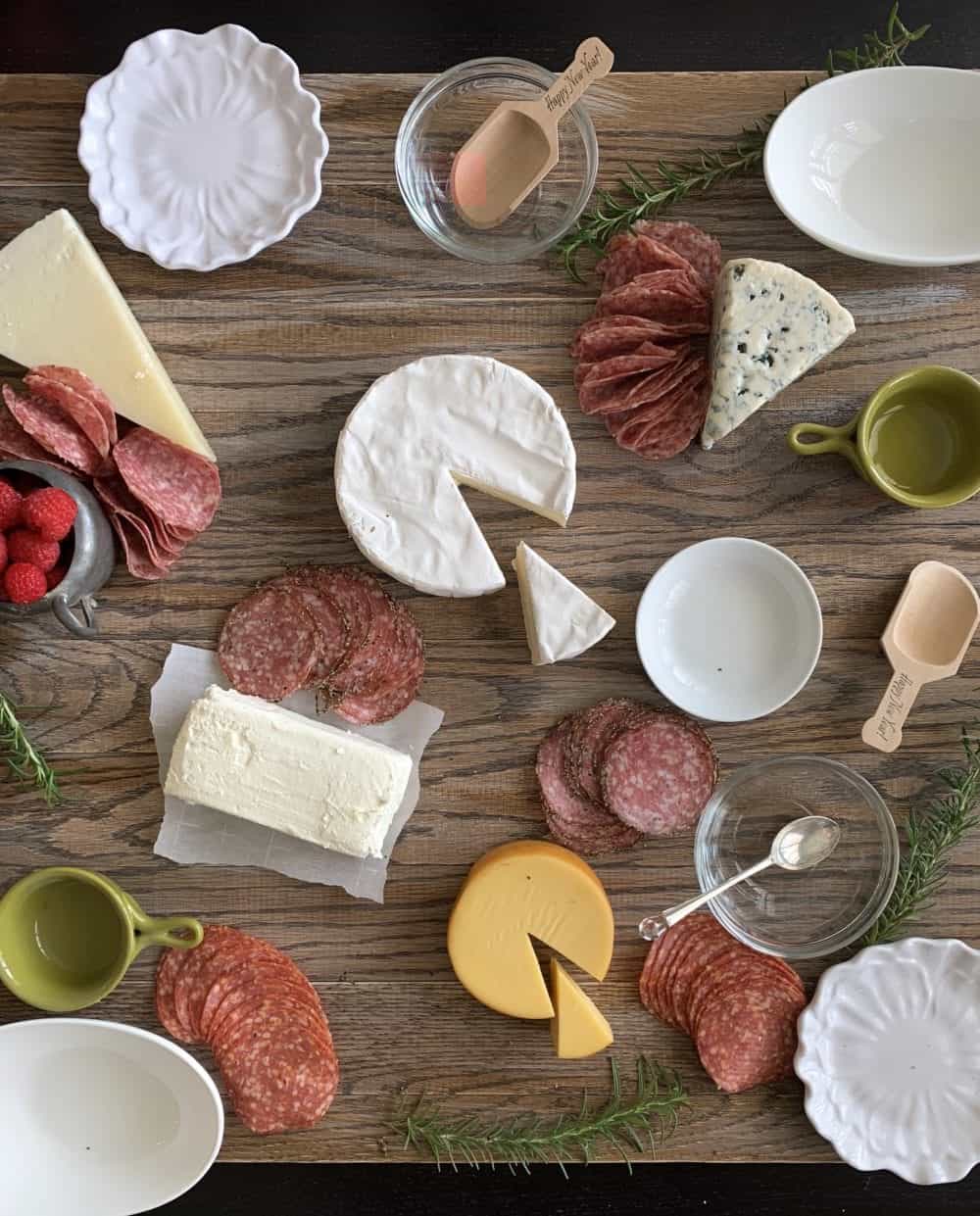 What is typically on a charcuterie plate?
You can customize your charcuterie board however you like, however typically it will include the following:
Cured meats
Various cheeses – Nice cheeses and meats are generally on the pricier side. With that said, it feeds A LOT of people.
Olives and Nuts
Fruit
Dried Fruits
Crackers or small slices of bread
Jelly or Jam
Do I make a fancy board on a regular basis? No. For special occasions and holidays, you bet. Go in with a few family members to cut costs, that can help. Shop in your pantry before you go shopping at the grocery store. Chances are, you'll have a handful of items you can use for your board right in your own pantry.
The Best Cheeses to Use
Let's talk cheeses and little plates and dishes you can use. Before I start anything else I like to choose first my board, because that will give me an idea how much I need for my board, second my cheeses and third, little dishes to include.
Like I said above, this is your board so choose your favorite varieties of cheese. I'd suggest have at least 3 different cheeses in different shapes and sizes. See my photo above for reference. Keep in mind my board was very large, but I chose 4 cheeses- brie, smoked gouda, blue cheese, Pecorino Romano and a bloc of cream cheese that I added spicy jelly on top.
Fresh Herbs
Fresh Rosemary and thyme looks great as some added greenery to your board. It smells good too. You'll see I added some Rosemary springs around my board.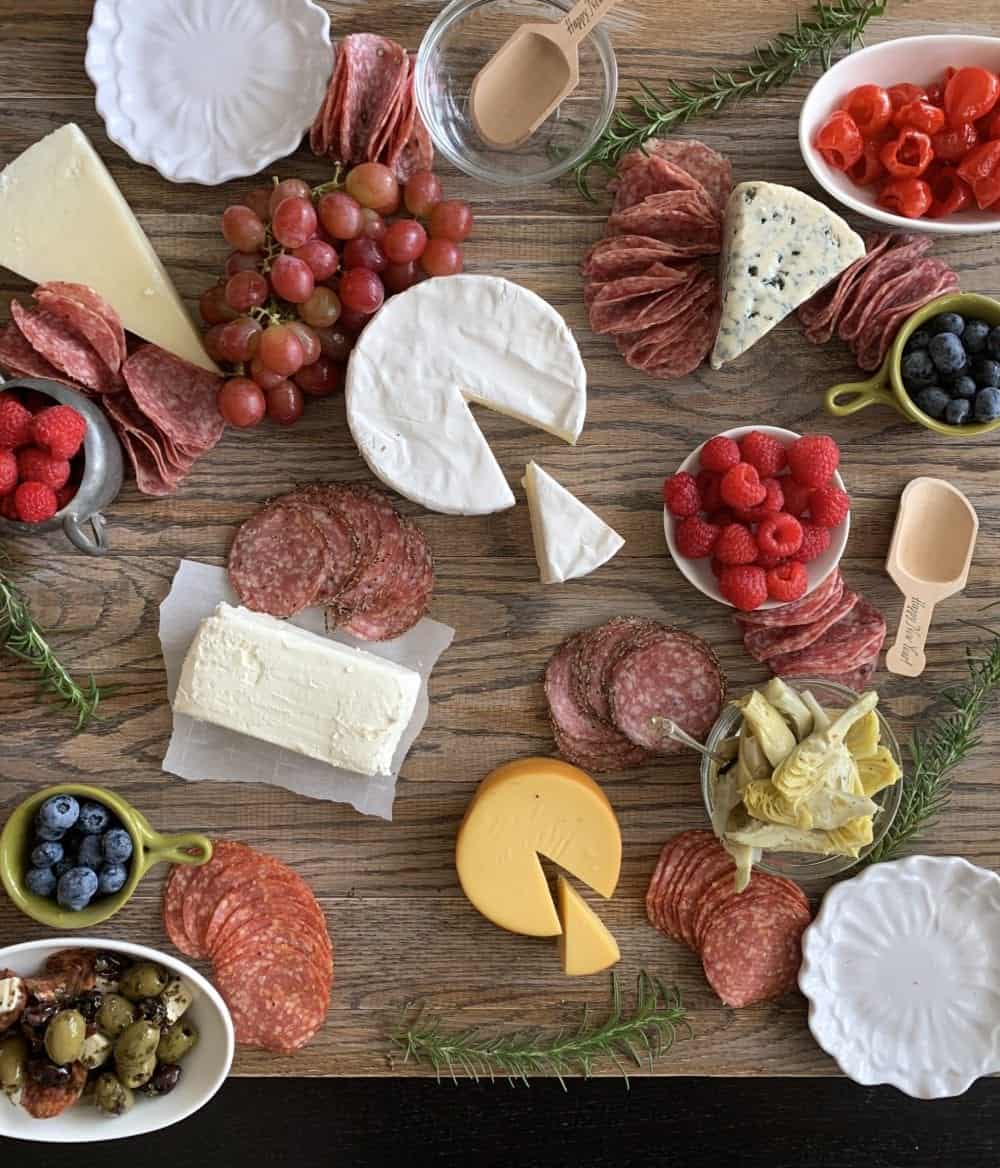 What Kind of Meats to Use
Just like the cheeses, you can choose whatever meats you like! I went with some good quality pepperoni, varieties of salami, and sausage that I had partially sliced. Again, check out your deli section and find what will work best for your guests.
I also like to add prosciutto, not in my photos today. The trick with adding meats to your board, is keep them in groups. See my photo above and below. Some of the salami near the blue cheese, I folded lightly in half for fun. The pepperoni and other salami pieces are nicely fanned out, laying flat on the board.
Add Fruit
Now that some of the meats are arranged, I added some raspberries, blueberries and grapes to my board. I also added some marinated olives and cheeses in the bottom left bowl, sweet peppers top right and marinated artichoke hearts bottom right. All my favorite things to snack on. Found all of those in the deli section of my grocery store in the olive bar area.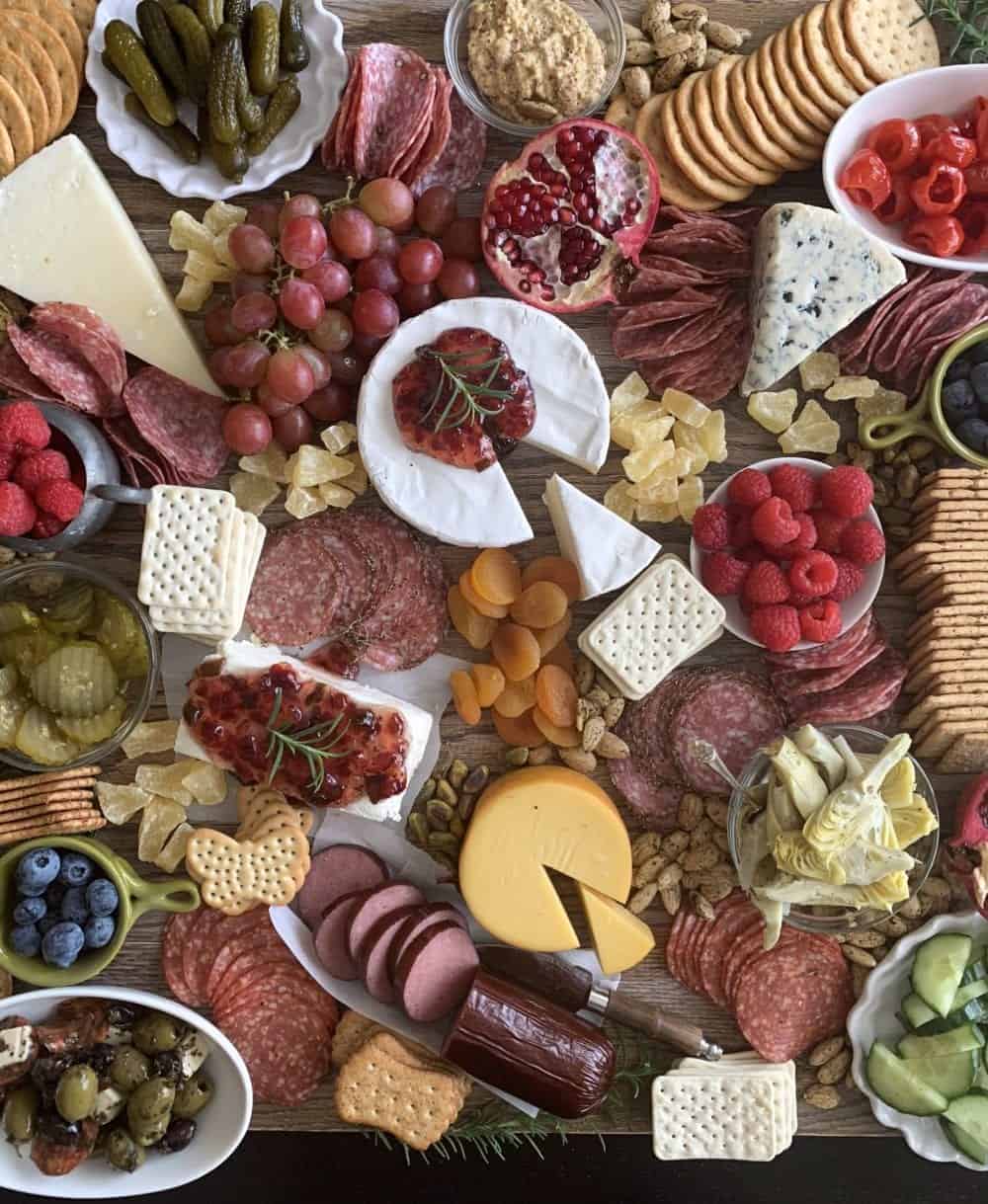 Fill In Spaces With Dried Fruit, Nuts and Jams
At this point, your board is coming together so nicely! You'll see in this photo above, I've added some dried pineapple and apricots. I added some sweet and spicy sliced pickles middle left and added a sweet and spicy jam to the top of my cream cheese and brie cheeses. Find the spicy jelly usually near the nicer cheese section of your grocery store. They're the perfect addition! I added a halved pomegranate, top middle for color and variety. I added the summer sausage at the bottom that I sliced partially. Add some cheese knives to the board as well. I like to order cheese knives online. Amazon is my best friend 🙂
What Nuts Should I Add To My Board?
Again, this is personal preference, use your favorites! I used some herbed almonds and salted pistachios for my board today, both found at our local grocery store. Use your favorites. I save these for the end, because they fill in spaces perfectly. See board photo below.
What Crackers Should I Use?
I like to choose a number of different crackers for my charcuterie board. I get different shapes, flavors and colors. Check in the deli section and cracker isle of your grocery store. I find some in each area. Look for rounds, rectangles, wheat, white….you get the picture. Notice how they're stacked. Some arranged on their side, some flat and fanned. Get creative and have fun arranging! Again, I save the crackers and nuts for the end to fill in spaces.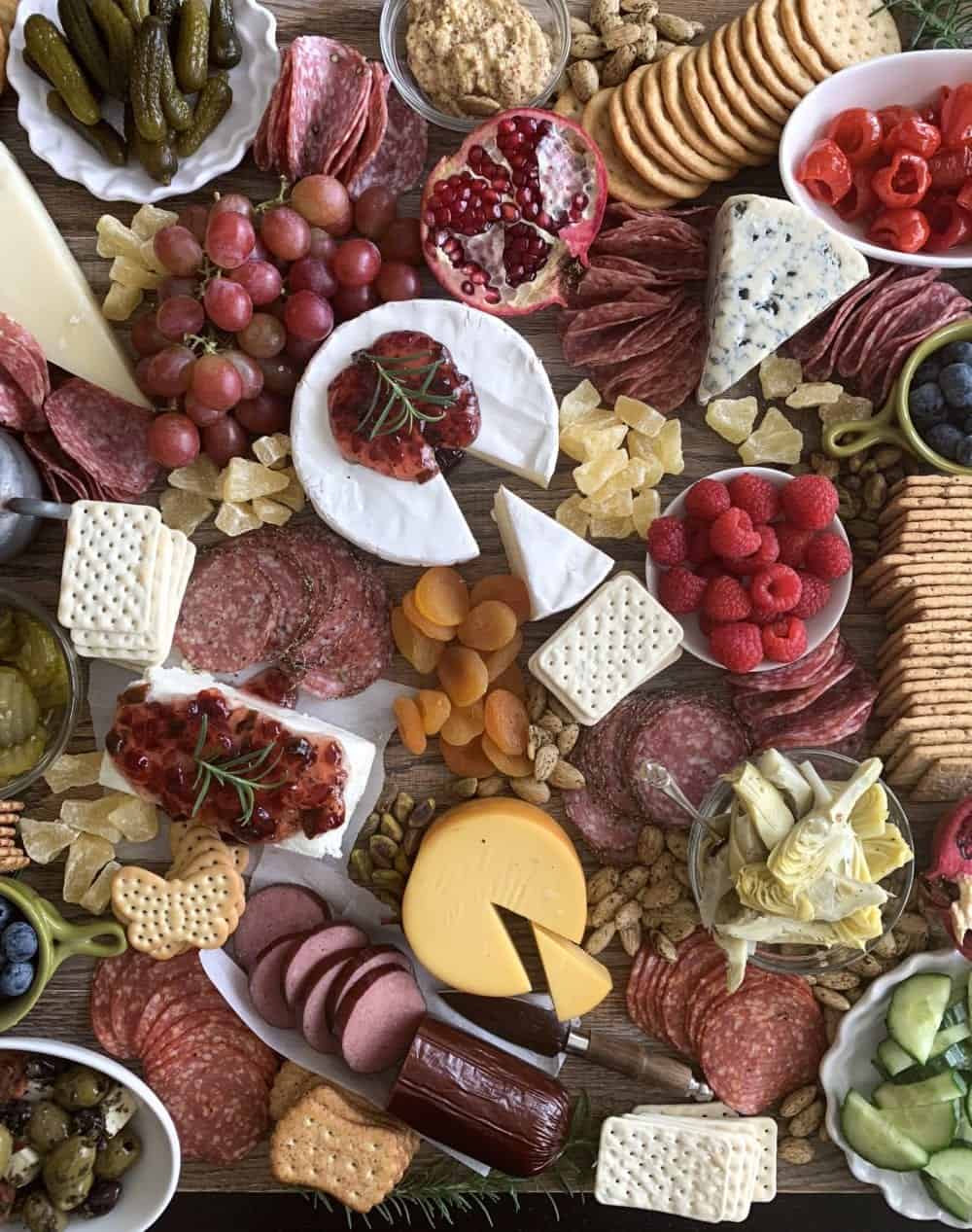 The one thing I didn't add that I wanted to, was a little bowl of honey with honey dipper. The honey dipper looks so cute on the board and pairs perfectly with the cheeses and crackers.
Just like that, you have your own gorgeous charcuterie board! If you take it step by step, it doesn't have to be scary. You'll be ready to rock your next party! Enjoy!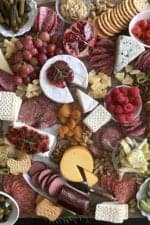 How To Make the Perfect Charcuterie Board
How To Make the Perfect Charcuterie Board! I've got step-by-step photos and tips so you can make your own beautiful cheese board!
Print
Pin
Rate
Ingredients
Sprigs of fresh Rosemary and Thyme

Brie Cheese Round

Smoked Gouda round

Pecorino Romano

Wedge of Blue Cheese

Block of Cream Cheese

Slices

of good quality pepperoni

Slices

of Salami

Summer Sausage

partially sliced

1

pint

fresh raspberries

1

pint

fresh blueberries

1

bunch firm red grapes

1

cup

marinated olives

got mine in olive bar from grocery store

1

cup

marinated artichoke hearts

1

cup

sweet peppers

also found in olive bar from grocery store

Dried Apricots

Dried Pineapple chunks

1

Pomegranate

halved

Sweet and Spicy deli style sliced pickles

Mini dill pickles

quartered cucumbers

Herbed almonds

Salted Pistachios

Deli Style Mustard

Honey with Honey Dipper

Variety of crackers

different shapes, sizes and flavors.
Instructions
To start, select your board size. This will give you a better idea of how much to purchase for your charcuterie board. Once you've decided on your board place your cheeses around the board with a couple cheese knives.

Garnish edges with fresh rosemary and thyme if desired. Place some little plates and bowls around the board that you'll use as a guide to help arrange your board. I space out my plates and bowls as in photos. Once your cheeses and dishes are set on board, start arranging your meats. Fold some of the meat for variety and fan out others flat on the board. See photos above for ideas.

Add some of your fresh berries to the bowls/plates on your board. Add marinated olives, artichoke hearts and sweet peppers next. Start filling in spaces with dried fruit and nuts. If you've still got room, add sliced pickles, dill pickles and cucumbers. Fill in more spaces with nuts. Add mustard and honey then fill in with crackers arranging around the board. My ingredients above are just suggestions, enjoy all of your favorites! Hope you enjoy.
Notes
My 24 x 24" Board in photos above Serves 20+
Nutrition
Calories:
48
kcal
|
Carbohydrates:
8
g
|
Fat:
1
g
|
Sodium:
115
mg
|
Potassium:
84
mg
|
Fiber:
2
g
|
Sugar:
4
g
|
Vitamin A:
305
IU
|
Vitamin C:
17.2
mg
|
Calcium:
12
mg
|
Iron:
0.3
mg
Keywords:
charcuterie board, cheese plate, christmas appetizer
Pin To Your Favorite Recipe Board