This recipe for Korean BBQ Wings is extremely flavorful with the perfect kick! This tasty chicken wings recipe will leave you licking your fingers!
Korean Barbeque Chicken Wings Recipe
I always love working with McCormick. I have teamed up again to share their 2012 Flavor Forecast. Check it out…
For the Flavor Forecast 2012, this global exploration process revealed a surprising finding: food lovers around the world have more in common than we ever imagined. The forces driving food choices are strikingly similar from region to region—even though the specific flavors and ingredients we enjoy remain uniquely rooted in our local cultures. In the spirit of showcasing similarities while celebrating differences, the Flavor Forecast 2012 highlights six globally relevant themes brought to life through 12 regional flavor combinations.
Check out the trends for this year…
1. Honoring Roots
Celebrating the root of a cuisine—be it an ingredient combination, signature dish or cooking method—is a renewed global priority. As cultures evolve, preserving the integrity of regional flavors is crucial to honoring their heritage, even as lifestyles continue to change. Chefs inspired by foundational flavors and cooking styles are applying a fresh perspective that balances modern tastes and cultural authenticity.
2. Quest For The Ultimate
For flavor fanatics, what satisfied yesterday will not do for tomorrow. Those searching for the pinnacle of fulfillment in food are on an endless quest to achieve ever-greater sensory heights. For some, the "ultimate" might equal superlative quality; for others, it is about a patchwork of textures, colors and layers of enjoyment. Culinary explorers are seeking out combinations that create powerful, harmonic bursts of elemental flavors—be it zesty, refreshing, umami or pungent—for the ultimate taste experience.
3. Veggies in Vogue
Veggies have long been saddled with second-class citizen status, suffering from overcooking, oversaucing and lack of inspiration. Those days are finally over, thanks to the enthusiasm of chefs, the quality of seasonal produce and the unstoppable growth of fresh markets. Showcased through new cooking techniques and inventive bursts of flavor, it's finally the vegetable's time to shine.
4. Simplicity Shines
The most memorable food is often the simplest. As cooks focus on highlighting quality ingredients with simple preparations, they have moved away from the clutter of complex presentations and flashy innovations. Their creativity is mindfully balanced with a dose of restraint. Clear, unpretentious flavors are an approachable celebration of the basics – and remind us what real food tastes like.
5. Flavorful Swaps
In the quest for personal well-being, small changes add up to big results. Simple, healthy swaps can help us make consistently better choices for the mind, body and soul – without sacrificing enjoyment. Balancing an appetite for bold flavor with a hunger for good health is key to achieving wellness goals, one delicious taste at a time. Swapping spices and herbs for salt and fat results in flavors that are vibrant enough to stand on their own.
6. No Boundaries
Culinary trailblazers are cooking outside the lines by discovering, reinventing and even playing with food. We now have the freedom to explore and enjoy whatever foods we want, whenever we want. Blending inspirations and shedding the confines of traditional "rules" equals a renewed permission to have fun. From mixing up dayparts to packing the flavor of a whole dish into a single bite, we are guided by a single, simple mantra: anything goes.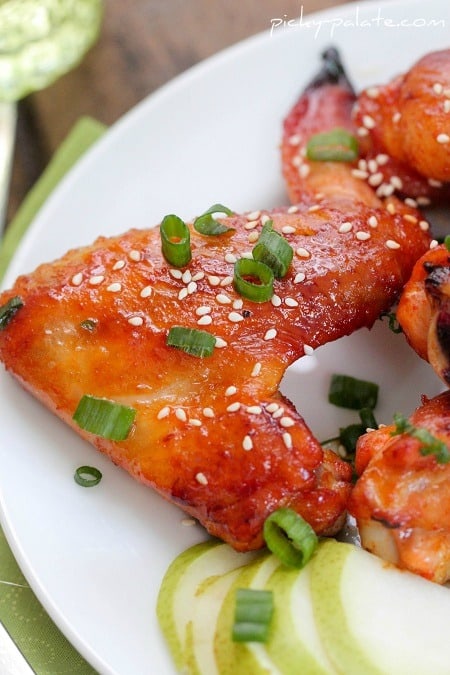 After looking at all of the delicious McCormick recipes I chose to try the Korean BBQ Wings. The glaze is sweet, spicy and perfect. Let's take a look at the process.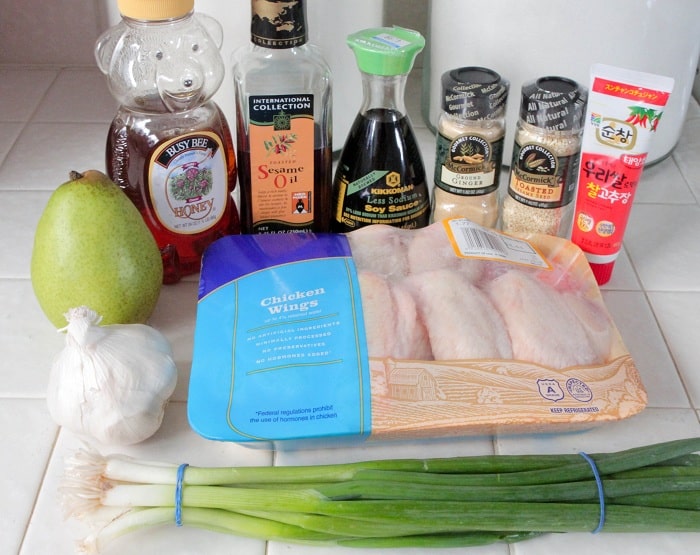 How to Make The Best BBQ Wings
Here is your line-up of ingredients. Nice and simple.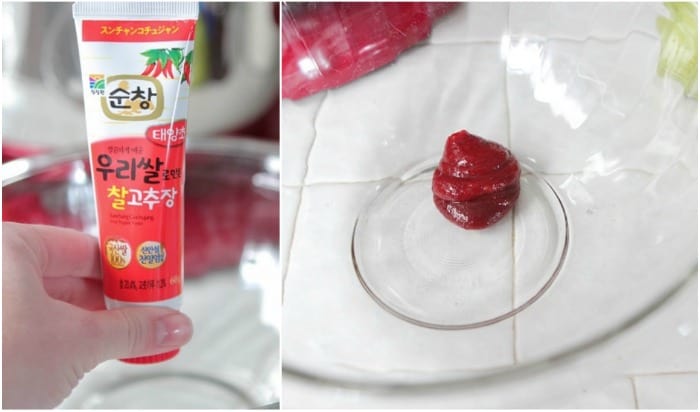 The Korean paste gives the chicken wings a nice kick. You can find this product in the Asian section of your grocery store.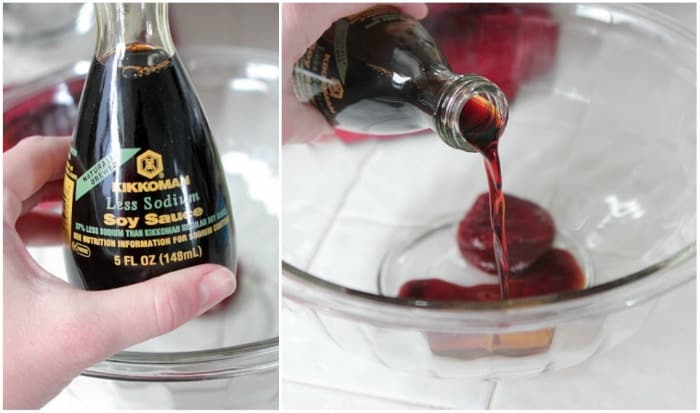 A little soy sauce.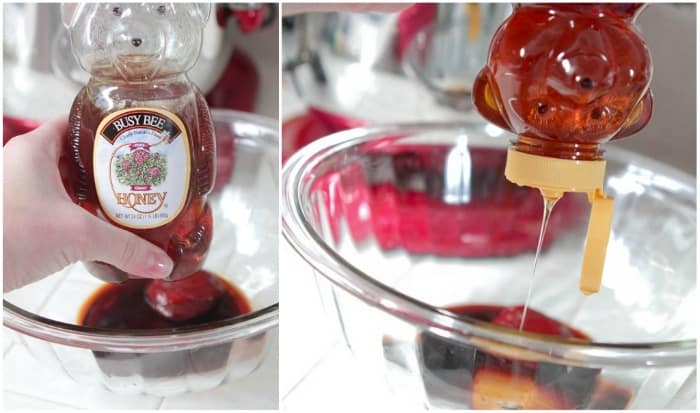 Little bit of honey.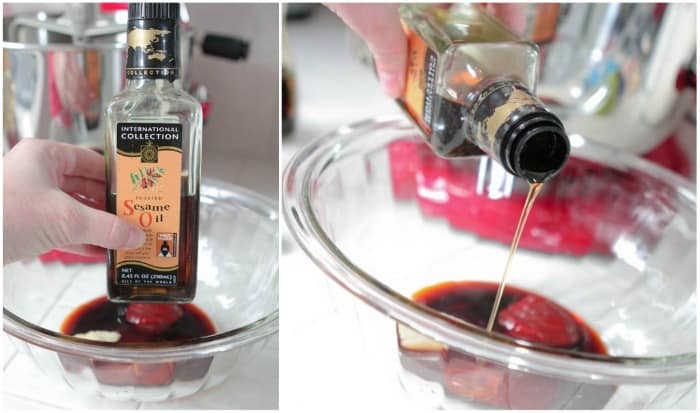 A touch of sesame oil.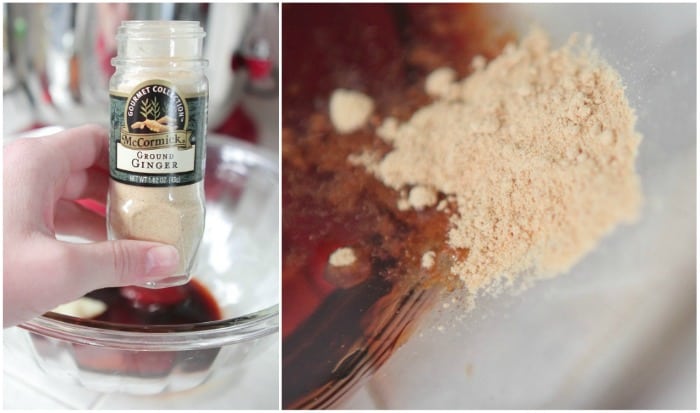 McCormick's ground ginger.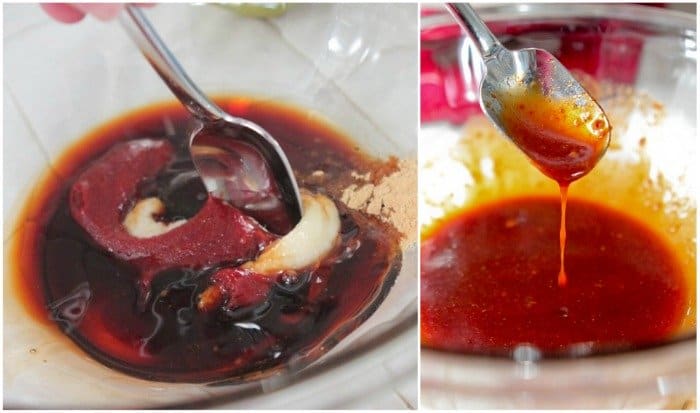 Add your minced garlic and Mix mix mix 🙂

Place your chicken wings inside a large ziploc and pour the marinade over, mixing bag to combine.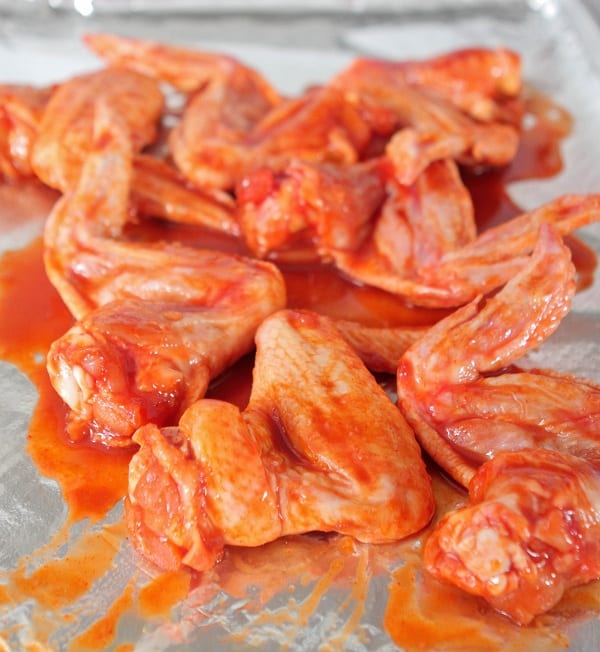 Time to bake these bad boys 🙂 Note: McCormick's recipe grills the wings and pear right at the end, so do as you like. I just baked mine completely.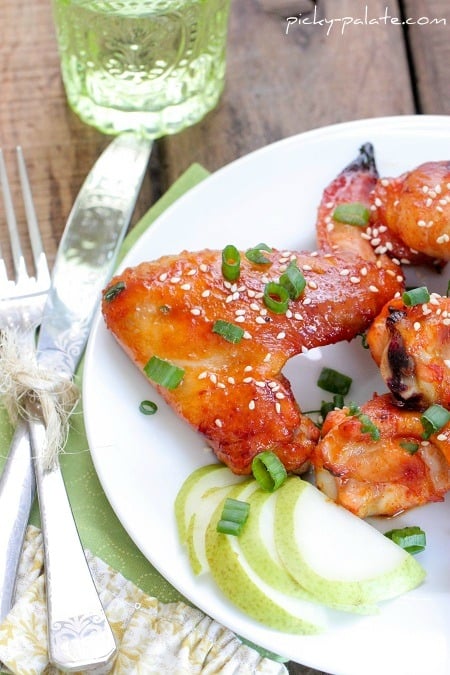 Garnish with green onions and pear….and dig in 🙂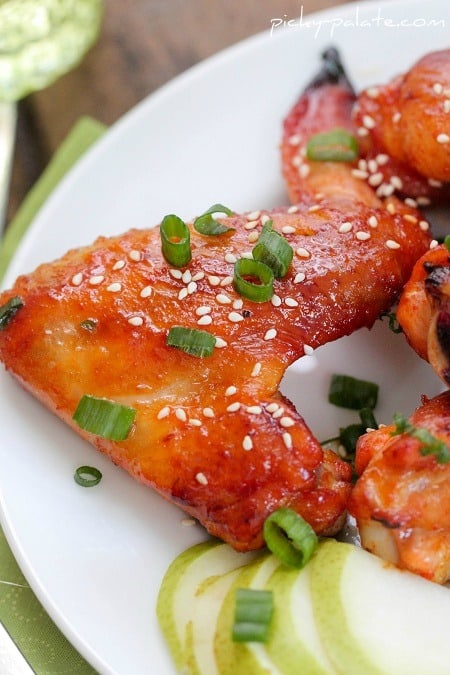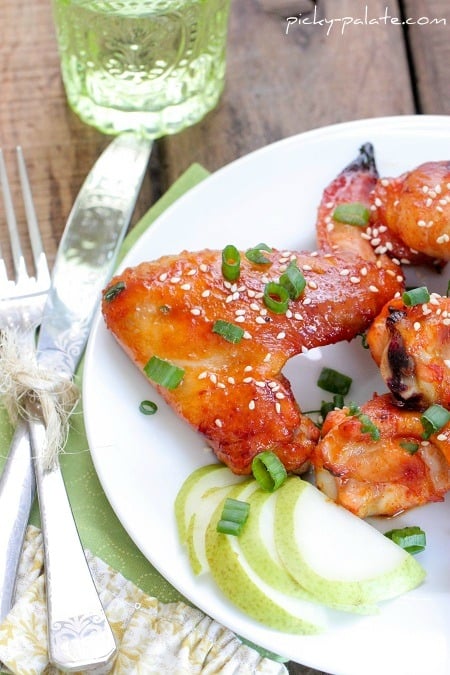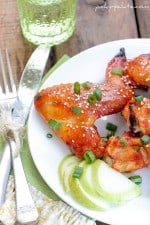 McCormick's Korean BBQ Wings
This recipe for Korean BBQ Wings is extremely flavorful with the perfect kick! This tasty chicken wings recipe will leave you licking your fingers!
Print
Pin
Ingredients
1/2

cup

Korean pepper paste

1/2

cup

soy sauce

1/4

cup

honey

2

tbsp

minced garlic

2

tbsp

sesame oil

1

tsp

Mccormick ground ginger

2

lbs

chicken wing pieces

1

asian pear

2

green onions

thinly sliced

1

tbsp

McCormick sesame seeds
Instructions
Mix hot pepper paste, soy sauce, honey, garlic, sesame oil and ginger in medium bowl until well blended. Place chicken in large resealable plastic bag or glass dish.

Add 1/2 cup (120 mL) of the marinade; toss to coat well. Refrigerate 30 minutes. Reserve remaining marinade.

Remove chicken from marinade. Discard any remaining marinade. Place chicken on shallow foil-lined large baking pan.

Bake in preheated 375°F (190°C, Gas Mark 5) oven 30 minutes, turning chicken halfway through cooking.

Meanwhile, quarter and core the Asian pear. Cut each quarter into 3 pieces. Place pear slices in large bowl. Add cooked chicken and 1/2 of the reserved marinade; toss to coat well.

Grill chicken and pear slices over medium-high heat 5 minutes or until grill marks appear, turning occasionally. Toss chicken and pear slices with remaining reserved marinade in large bowl. Sprinkle with green onions and sesame seed.
Nutrition
Calories:
168
kcal
|
Carbohydrates:
13
g
|
Protein:
9
g
|
Fat:
9
g
|
Saturated Fat:
2
g
|
Cholesterol:
31
mg
|
Sodium:
573
mg
|
Potassium:
166
mg
|
Fiber:
1
g
|
Sugar:
9
g
|
Vitamin A:
103
IU
|
Vitamin C:
4
mg
|
Calcium:
23
mg
|
Iron:
1
mg
Keywords:
barbeque wings, barbeque wings recipe, bbq chicken wings, bbq wings, bbq wings recipe, best wings, best wings recipe, korean chicken wings, korean wings
Test Kitchen Tips:
Gochujang or Korean pepper paste is made from chile powder, glutinous rice powder, fermented soybeans and salt. It is used to flavor stews, soups and marinades, and as a condiment at the table. It is available in Asian markets and online specialty stores.
Disclosure: This is a compensated post by McCormick but all of the thoughts are my own.
___________________
Have a great day! Come back soon!