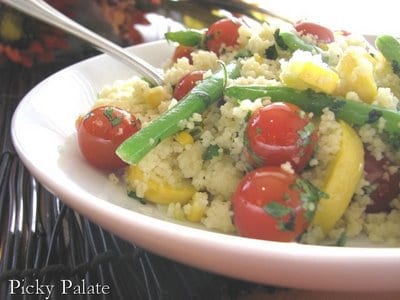 Oh, the fun things my children say….
While I was preparing this dinner a couple nights ago, my boys were sitting on the counter watching as I chopped up the veggies to go with the vegetable couscous. My oldest son took one look at the yellow squash, got a weird look on his face and asked, "Mommy, is that a poisonous monster?" I think that was my first sign that this dinner wasn't going to go over so well with my boys!
Fresh, healthy and full of flavor were my thoughts, however, to my boys it was, "I don't like those yellow things", "I hate tomatoes" and "Are you trying to poison me with this monster?" They both had a few bites, but my favorite line of the night was, "Mommy, this looks like something only YOU will eat!" My boys are so funny, I'm just hoping the new veggis will grow on them someday!
This was another farmer's market dish that cost pennies to make. My husband and I loved it and I had the rest for lunch the next day. Head out to your local farmer's market and make yourself a big bowl of fresh garden vegetable couscous, in hopes your kids will not think you're trying to poison them with the creepy squash monster!!
Garden Vegetable Couscous with Simple Dijon Dressing
2 boxes Near East Couscous, Plain
3 Tablespoons extra virgin olive oil
2 yellow squash, quartered
½ Cup diced leeks or onion
1 Cup fresh trimmed green beans
1 ear yellow corn, kernels removed
1 pint cherry tomatoes
3 cloves fresh garlic, minced
Pinch of salt, garlic salt with parsley
½ Cup chopped fresh cilantro
3 Tablespoons extra virgin olive oil
2 Tablespoons Grey Poupon or spicy brown mustard
Pinch of salt and pepper
1.Prepare couscous according to package directions.Set aside. Place olive oil into a large sauté pan over medium heat.Saute squash, leeks, green beans, corn and tomatoes for 3-5 minutes or until softened.Stir in garlic for 60 seconds then season with desired salt pepper and garlic salt.Stir in cilantro leaves and cooked couscous.
2. In a small bowl whisk together the olive oil, mustard, salt and pepper. Pour over couscous and stir to combine. Serve warm.
Ditalini Pasta In Beef and Fennel Ragu
There were no complaints from the little guys with this dinner. The boys loved the fun pasta shape and had no idea I snuck some veggis in the sauce. Quick, easy and on the table in about 20 minutes. I've become a huge fennel fan these days. Give it a try, I don't know what I was afraid of, it gives such a great flavor to so many dishes! Hope you'll enjoy!
Ditalini Pasta In Beef and Fennel Ragu
8 oz Ditalini Barilla Pasta
2 Tablespoons extra virgin olive oil
1 medium onion, finely chopped
1 bulb of fennel, thinly sliced
Pinch of salt
1 lb lean ground beef
Pinch of salt, pepper, garlic seasoning
26 oz favorite homemade or store bought pasta sauce
8 fresh basil leaves, chopped into chiffonade, thin ribbons
1.Prepare pasta according to package directions.Drain and set aside.Heat the oil in a large sauté pan over medium heat.Saute onion, fennel and salt for 3-5 minutes or until softened.Stir in beef , salt, pepper and garlic seasoning; cook until browned.Stir in pasta sauce, basil leaves and cooked pasta.Season to taste.Simmer on low until ready to serve.
8 servings
_________________________
Huge thanks to Lisa over at Living Easy for the Brilliante Weblog Award! She has a wonderful, smart eco friendly blog, do check it out. Thanks Lisa!!
Coming up is a fancy turkey club sandwich that tastes like a million bucks and more ways to jazz up those veggis! Enjoy the rest of the week!