I love this picture of my mom and I. I feel like the luckiest girl in the world to have the mom that I do. She is the sweetest, most giving little lady you'll ever meet and my best friend. She makes the best sandwiches you will ever eat and hands down makes the best carrot cake on the face of the planet. ….and yes she always gets asked if we are sisters 🙂
I hate not being in Arizona with her, but we talk on the phone every day, thank goodness, and squeeze in as many trips as we can. Love you cutie pie!
For this Mother's Day weekend I put together a delicious menu that would make any Mom very happy!
Have a beautiful Mother's Day Weekend!! Let's start with Breakfast….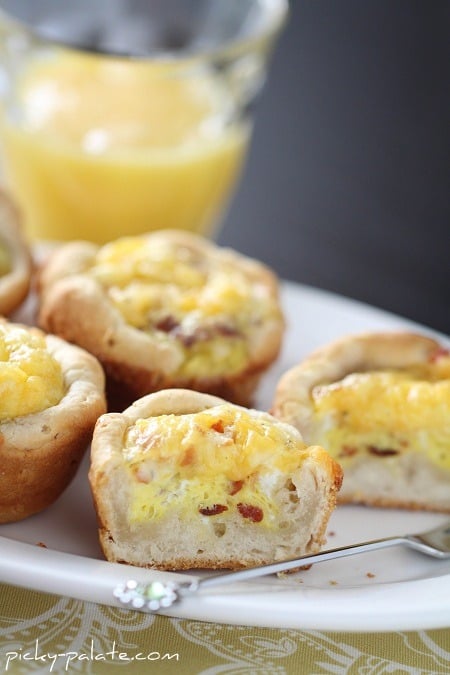 [ziplist]
Double Cheese and Bacon Egg Biscuits
4 large eggs
2 tablespoons milk
1/4 teaspoon kosher salt
1/4 teaspoon freshly ground black pepper
1/4 cup crumbled feta cheese
1 can refrigerated biscuits, 10 count
6 strips cooked bacon, crumbled
1/4 cup shredded cheddar cheese
1. Preheat oven to 350 degrees F. Place eggs into mixing bowl and add milk, salt and pepper. Whisk to combine then stir in feta cheese. Press each biscuit round into 10 regular size muffin cups that have been sprayed with cooking spray. Bake for 6 minutes, remove from oven and with the end of a wooden spoon press centers of dough to make room for egg mixture. Pour in egg mixture into each partially baked biscuit, top evenly with crumbled bacon and shredded cheese. Bake for 12 to 15 minutes or until eggs are set. Remove and enjoy.
10 individual servings
___________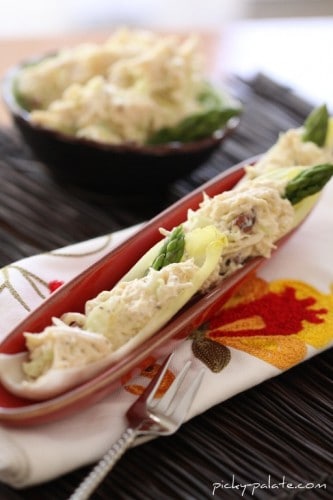 [ziplist]
Citrus Fennel Chicken Salad Boats
2 boneless skinless chicken breasts, cooked and shredded
1 teaspoon kosher salt
1/4 teaspoon fresh cracked black pepper
1/4 teaspoon Lawry's Garlic Salt with Parsley
1/4 teaspoon dry thyme
1 Cup mayonnaise
1 1/2 Tablespoon Dijon Mustard
3 Tablespoons fresh squeezed orange juice (about 1/2 an orange)
1/4 Cup fresh chopped fennel
1/4 Cup chopped pecans
2 heads Belgian endive, leaves separated
1/2 Cup crumbled Goat Cheese
1/2 Cup asparagus tops, steamed until fork tender and trimmed
1. Place chicken, salt, pepper, garlic salt, thyme, mayonnaise, dijon, orange juice, fennel and pecans into a large bowl. Mix until well combined.
2. Place endive leaves onto a serving plate. Place crumbled goat cheese inside each of the leaves then top with chicken salad. Place asparagus tips onto each endive boat. Serve immediately or chill until ready to serve.
12 servings
___________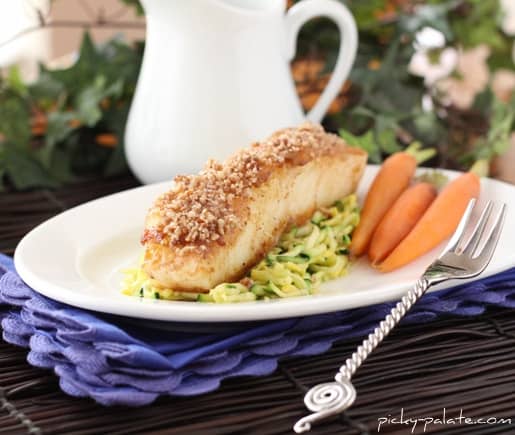 [ziplist]
Pecan and Dijon Crusted Sea Bass
Four 6 oz Chilean Sea Bass filets, skin removed
Pinches of Kosher Salt and fresh cracked black pepper
3 Tablespoons extra virgin olive oil
1/4 Cup Dijon Mustard
1 Cup finely chopped pecans
1 green zucchini, shredded and squeezed dry with paper towel
1 yellow squash, shredded and squeezed dry with paper towel
1 Tablespoon extra virgin olive oil
1 Cup heavy cream
2 Tablespoons dijon mustard
Pinch of kosher salt and fresh cracked pepper
Steamed baby carrots on the side, if desired
1. Preheat oven to 350 degrees F. Place sea bass onto a baking sheet that's been sprayed with cooking spray. Sprinkle both sides with pinches of kosher salt and pepper. Heat oil into a large skillet over medium heat. When oil is very hot, carefully place sea bass into oil. Let cook for 4 minutes on first side, until golden brown then flip and cook for an additional 4 minutes, until golden brown on second side. Transfer fish back to same baking sheet and brush tops with dijon mustard then press with finely chopped pecans. Bake for 7 minutes and remove from oven.
2. While fish is baking, heat oil into a medium skillet over medium heat. Stir in zuchhini and squash just to warm, about 2 minutes, season with a pinch of salt and pepper. Remove from heat and transfer to large serving plate. Cover to keep warm. Place cream, dijon, salt and pepper into a separate rimmed skillet or small saucepan over medium heat. Whisk until warmed, slightly thickened and season to taste. Reduce heat to low and let simmer.
3. Place sea bass over bed of zucchini then drizzle cream sauce over top. Serve immediately. Serve with a side of steamed baby carrots if desired.
4 servings
___________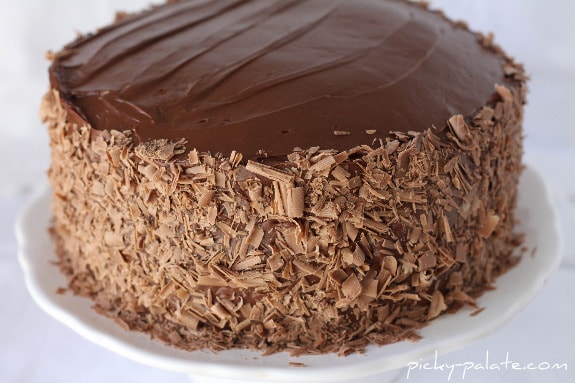 [ziplist]
Ice Cream Sundae 4 Layer Chocolate Cake
1 box Devils Food Cake Mix
1 small box instant chocolate pudding mix
4 eggs
1/2 Cup water
1/2 Cup canola or vegetable oil
1 heaping Cup of Vanilla Ice Cream (or whatever ice cream flavor you choose)
1/4 Cup Hot Fudge Sauce
Chocolate Frosting of Choice
1. Preheat oven to 350 degrees F. Place cake mix, pudding, eggs, water oil, ice cream and hot fudge sauce into stand or electric mixer. Beat on low then medium for about 1 minute 30 seconds or until well combined and thick. Divide evenly into 4 (9 inch) cake pans that have been generously sprayed with cooking spray. Bake for 15-20 minutes or until toothpick comes mostly clean from center. Let cool completely, loosen sides with a plastic knife then remove from pans. Place bottom layer onto a cake stand, spread with your favorite chocolate frosting….repeat until 3 layers are frosted leaving 4th layer on top. Frost remaining top and sides of cake with frosting.
2. Take a vegetable peeler and peel chocolate bloc to get curls, about 2 cups worth. Press curls onto sides of cake and serve room temperature or refrigerate to chill.
12 servings