Mother's Day Recipes….Main Course…Part 2
Pecan and Dijon Crusted Chilean Sea Bass Over Zucchini Slaw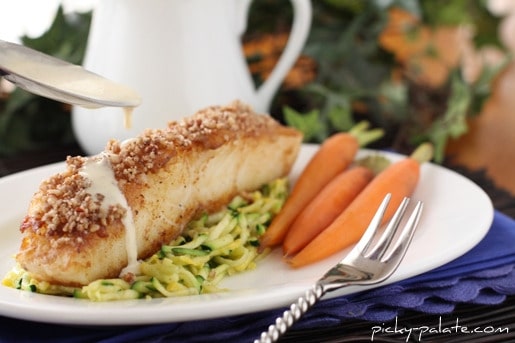 Hi everyone! Here is our Mother's Day Celebration Main Course! Now, I must admit I don't cook seafood very often, but oh baby is this an incredible recipe!!
I remember strolling through Whole Foods last week thinking…..I've got to do a seafood dish, something easy and really delicious! You will absolutely have no trouble cooking this up in your kitchen, fish is surprisingly so easy to make and cooks up really fast. The dijon and pecan crust here is…um….finger licking good, so prepare yourself 🙂
Hope you all enjoy our Mother's Day Main Course. If you've never cooked fish, this is a great one to try. Not fishy tasting at all and it has great texture. My hubby went nuts for this, think I caught him licking his plate clean!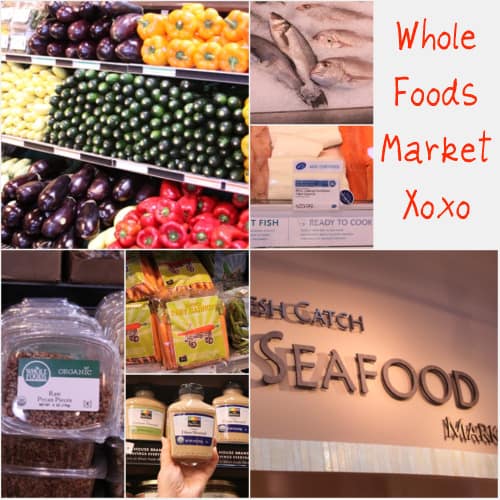 Some snapshots of the ingredients in this recipe during my trip to Whole Foods 🙂

A basic sprinkle of kosher salt and fresh cracked black pepper to season!
Let the little fishy get nice and golden brown, YUM!

Brush tops with dijon mustard and press with pecans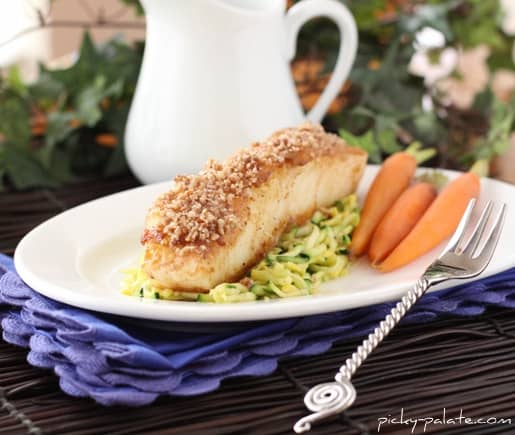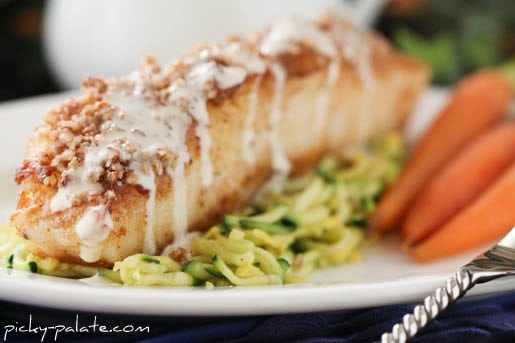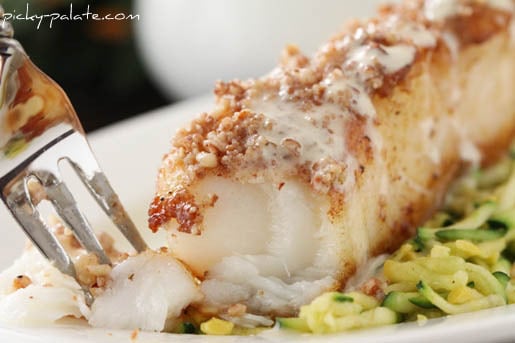 Pecan and Dijon Crusted Chilean Sea Bass Over Zucchini Slaw
4 6 oz Chilean Sea Bass filets, skin removed
Pinches of Kosher Salt and fresh cracked black pepper
3 Tablespoons extra virgin olive oil
1/4 Cup Dijon Mustard
1 Cup finely chopped pecans
______
1 green zucchini, shredded and squeezed dry with paper towel
1 yellow squash, shredded and squeezed dry with paper towel
1 Tablespoon extra virgin olive oil
______
1 Cup heavy cream
2 Tablespoons dijon mustard
Pinch of kosher salt and fresh cracked pepper
______
Steamed baby carrots on the side, if desired
1. Preheat oven to 350 degrees F. Place sea bass onto a baking sheet that's been sprayed with cooking spray. Sprinkle both sides with pinches of kosher salt and pepper. Heat oil into a large skillet over medium heat. When oil is very hot, carefully place sea bass into oil. Let cook for 4 minutes on first side, until golden brown then flip and cook for an additional 4 minutes, until golden brown on second side. Transfer fish back to same baking sheet and brush tops with dijon mustard then press with finely chopped pecans. Bake for 7 minutes and remove from oven.
2. While fish is baking, heat oil into a medium skillet over medium heat. Stir in zuchhini and squash just to warm, about 2 minutes, season with a pinch of salt and pepper. Remove from heat and transfer to large serving plate. Cover to keep warm. Place cream, dijon, salt and pepper into a separate rimmed skillet or small saucepan over medium heat. Whisk until warmed, slightly thickened and season to taste. Reduce heat to low and let simmer.
3. Place sea bass over bed of zucchini then drizzle cream sauce over top. Serve immediately. Serve with a side of steamed baby carrots if desired.
FOLLOW PICKY PALATE ON INSTAGRAM! Show me what recipes you're making from Picky Palate by using #pickypalate.
Other recipes you may enjoy...
Comments