Talking about the new Disneyland Churros for the Holidays 2018! So many delicious new churros to try, take notes!
Holiday Churros at Disneyland Park
The Holiday churros are amazing this year. The new Chocolate Churro with Pretzels and Peppermint (candy cane bits) was first on my list. It was just as good as I thought it would be. It tied for first out of all of the new churros. The actual churro was a soft chocolate flavor, which I have never had at Disneyland before. It was FANTASTIC. I'd say this was the messiest churro out of all of the new ones, so grab a couple of extra napkins. It's so soft and the perfect cocoa flavor. 100% don't miss this one. Find this at the Frontierland Churro Cart near The Golden Horseshoe quick service restaurant.
Don't miss my post about the Best Eats at Disneyland Resort Holidays 2018 too!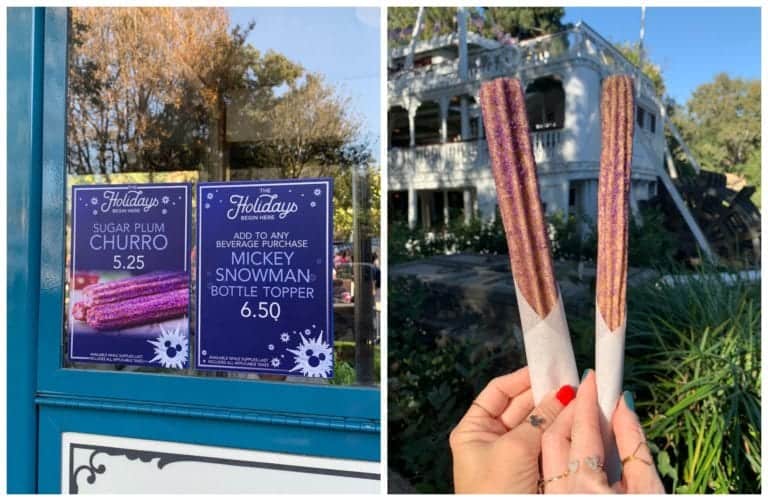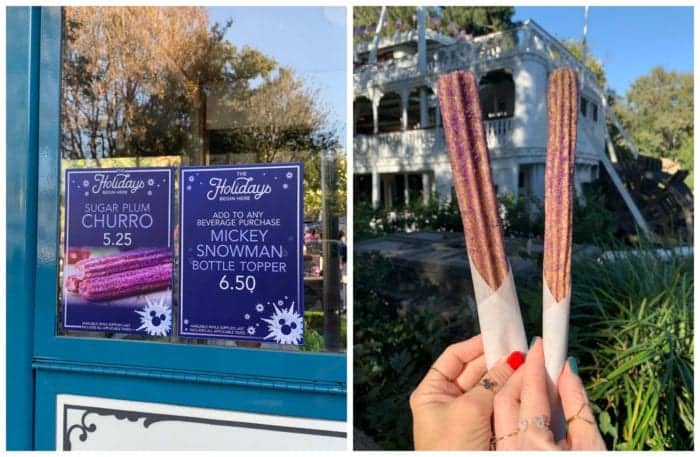 The Churro Cart in New Orleans Square, near Haunted Mansion has the Sugar Plum Churro. First bite is tart, then I got sweet. It's that perfect sweet/tart treat. I really enjoyed this one. Mine could have used quite a bit more of the purple sugar, but it was still great as is. I'd recommend this one for sure.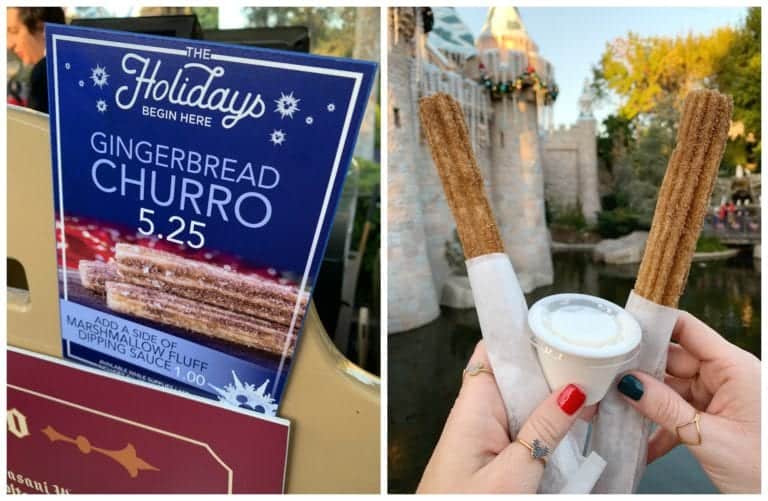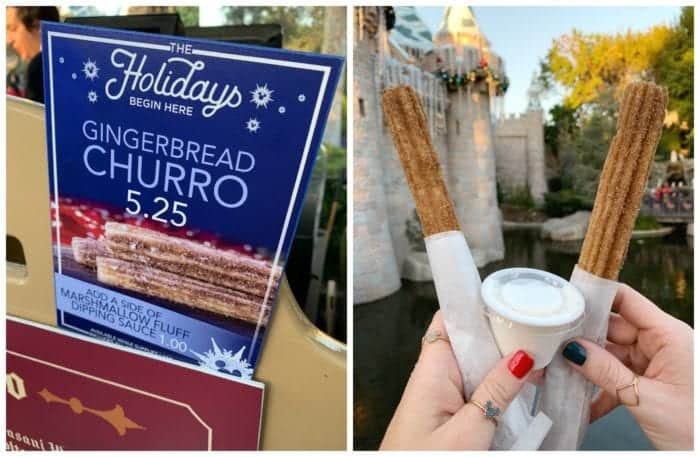 The Churro Cart right in front of Sleeping Beauty Castle has the new Gingerbread Churro with Marshmallow Fluff dipping sauce. This one was good, but I feel like the others were better. If you do get this one, I didn't feel like it needed the dip at all. This churro is not a bad choice, but if you're only trying a few new churros, I'd try the others before this one 🙂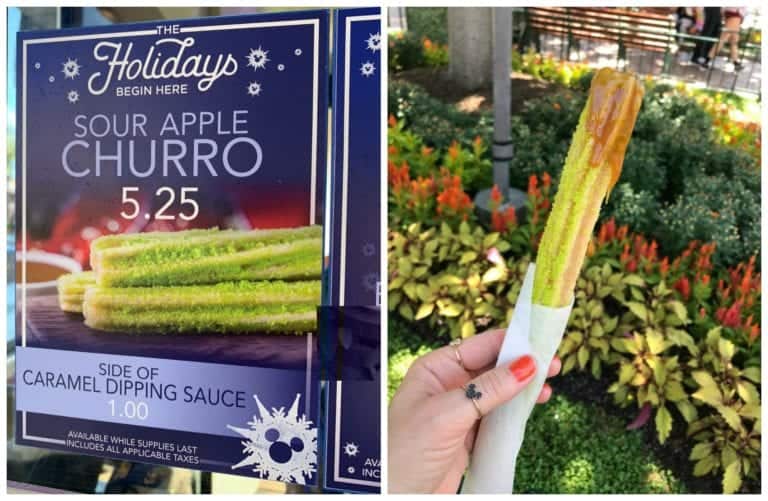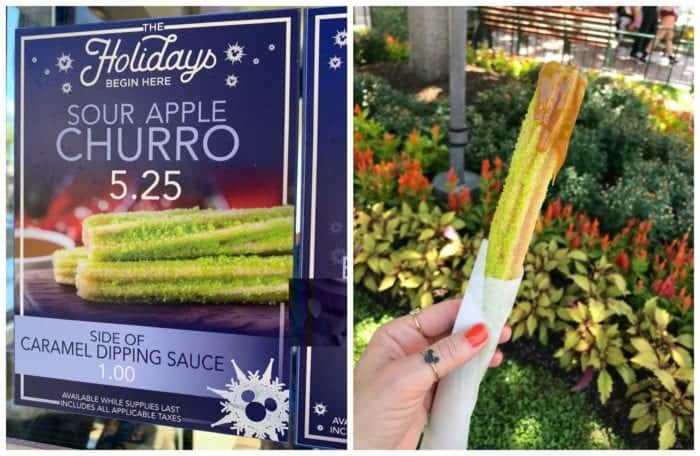 The Churro Cart in Tomorrowland kept the Sour Apple Churro with Caramel Dipping Sauce that made it's debut during Halloween Time. It was my very favorite of the Halloween Churros. It's sweet and tart, even more so than the Sugarplum Churro. I didn't get the Sour Apple Churro again since I had so many churros to sample, but it's still a delicious option, especially if you missed it over Halloween. Try it and don't miss the caramel sauce!
Churro Sundaes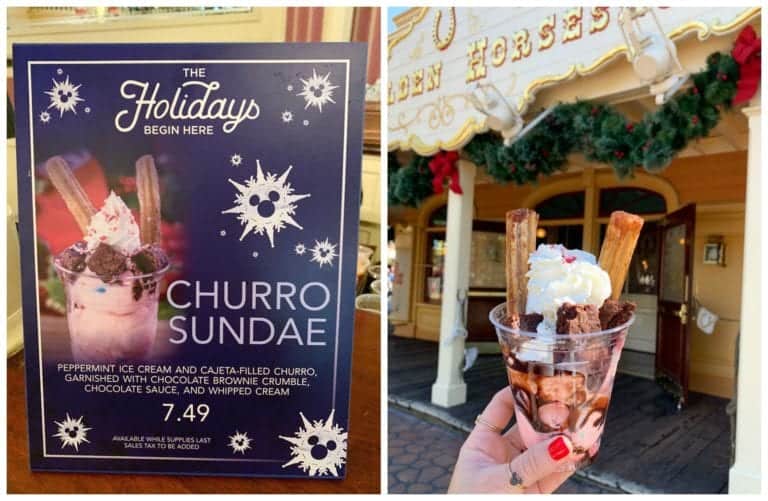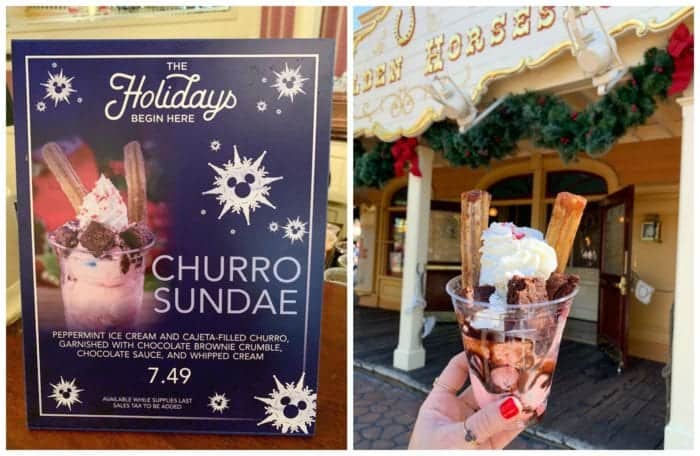 Frontierland's Holiday Churro Sundae found at The Golden Horseshoe is festive and a must try this season. It comes with Cajeta filled (Mexican caramel sauce made from goat's milk) churros on top with brownie cubes on top of peppermint ice cream. It's large so share with 2-3 people depending on how hungry you are. This is definitely one you want to add to your list.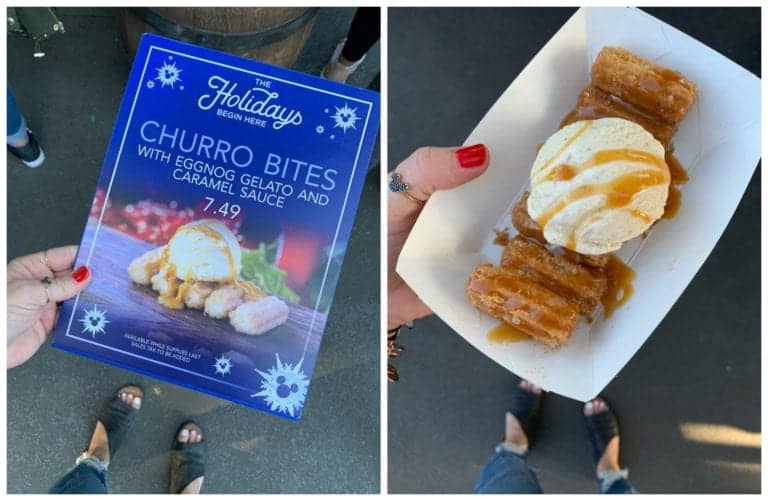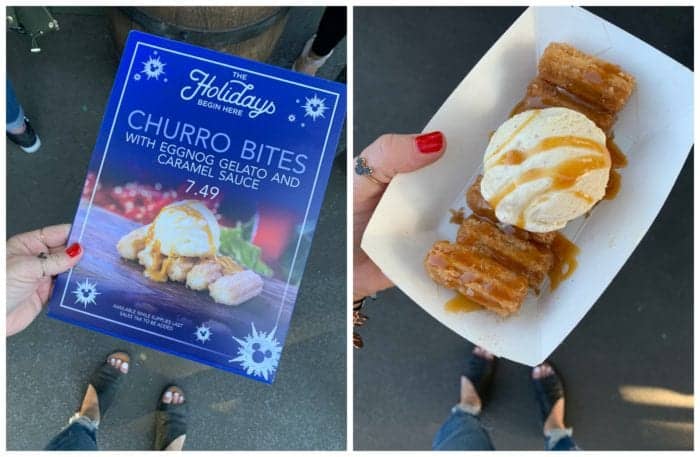 Critter Country's Hungry Bear Restaurant has the Holiday Churro Bites Sundae with Eggnog Gelato and Caramel Sauce. Hands down one of my favorites of all of the Holiday food this season. The gelato was not too egg nog-y and the caramel….perfection. Loved it. I feel like the small churro bites are perfectly fried, crisp/soft in the center. Spot on. Don't miss this sundae.
Holiday Churros at Disney California Adventure Park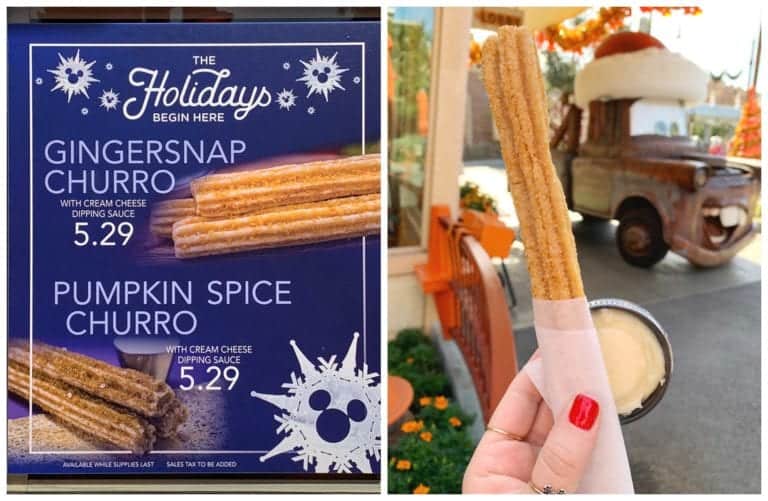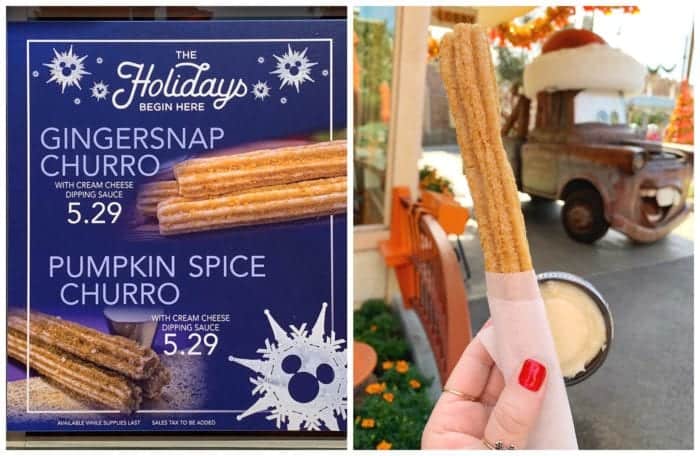 Over in Cars Land, head on over to Cozy Cone Motel to get the Gingersnap Churro. This one tied for first place along with the chocolate peppermint/pretzel churro from Frontierland. The cream cheese dip/frosting along with the gingersnap flavors…..the best. Don't miss this one.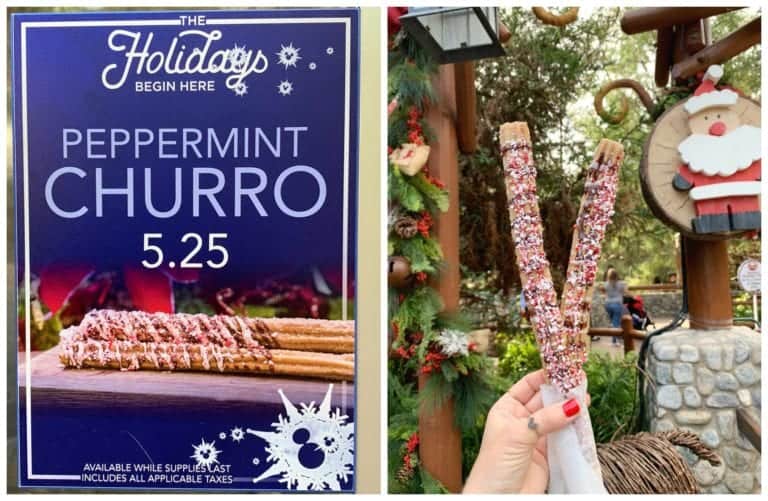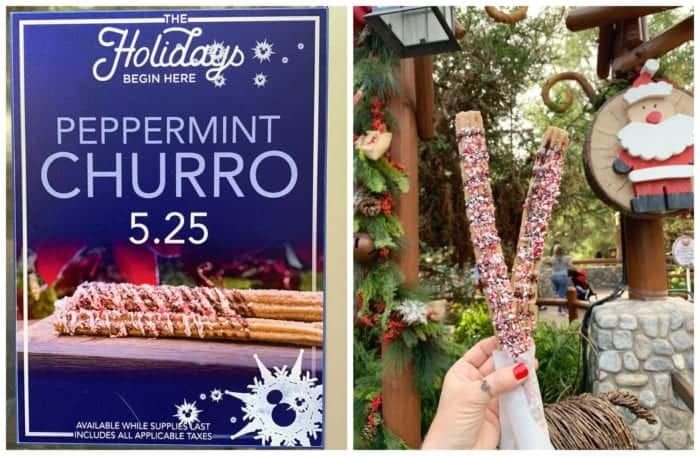 The Churro Cart over in Grizzly Peak, near Grizzly River Run offers the Peppermint Churro. This one is great. I did like the chocolate version with pretzels in Disneyland's Frontierland better.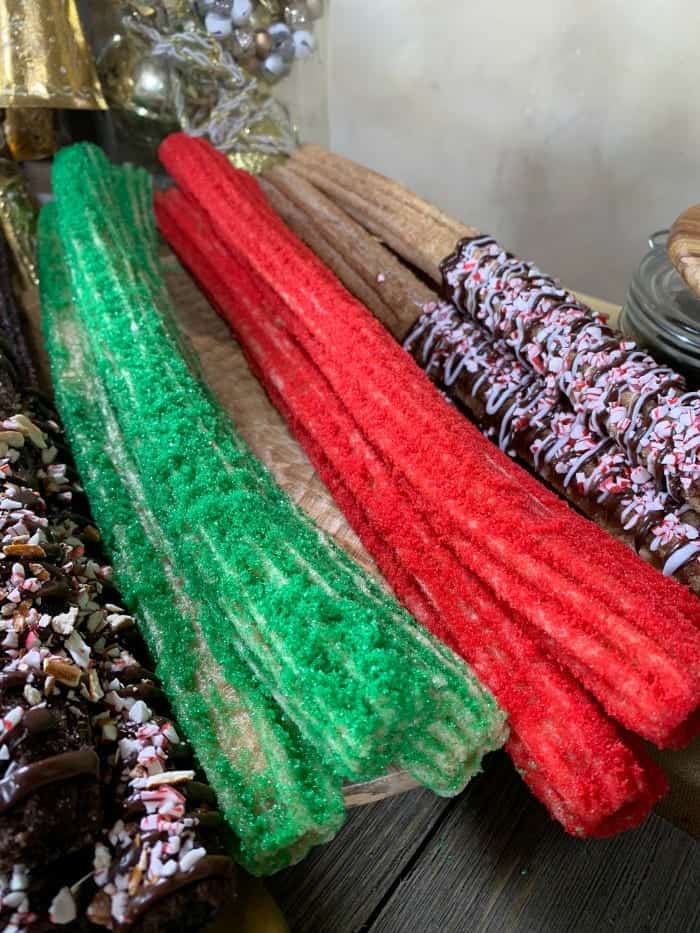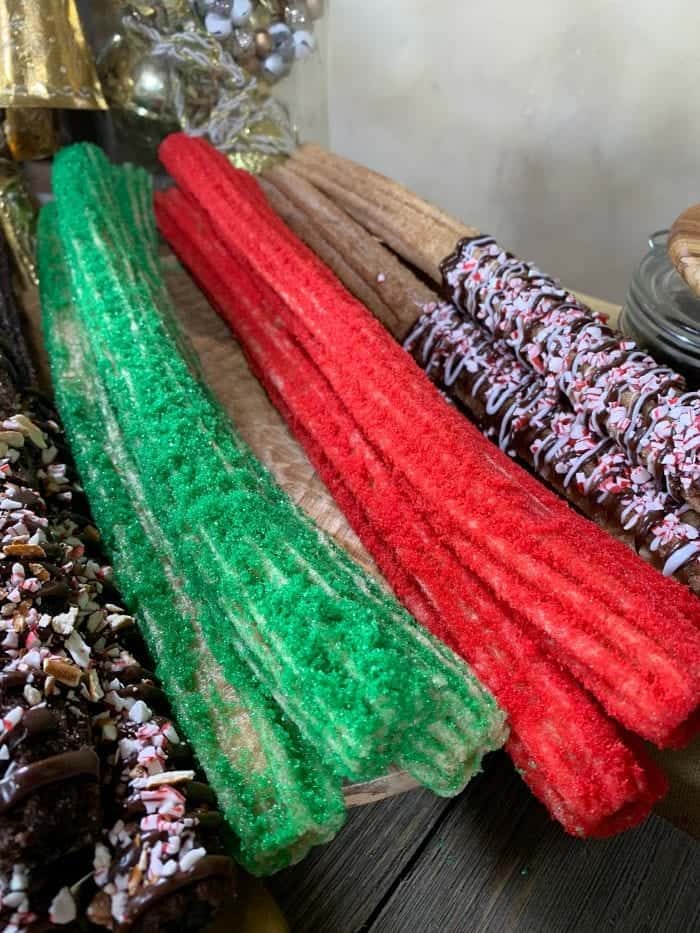 Over at Pixar Pier area, Goofy's Sky School has festive Red and Green Churros available. These are not flavored, just Christmas colors.
Pin New Disneyland Churros Holidays 2018