Sharing my favorite beet salad today! My favorite way to eat beets….Orange Beet Salad. Could eat these all day! Still working on the boys, in the meantime I'll be eating these all to myself!
Beet Salad
Have you had beet salad?! When we lived in Newport Beach, CA there was an adorable little cafe right on Pacific Coast Highway that I walked to on a regular basis called Zinc Cafe. They had the most beautiful salads, healthy menu options and baked goods around. My favorite salad to order from them was their Orange Beet Salad. I will be the first to admit, I have not always liked beets. In fact, I just barely started eating them within the last year. I kind of thought they tasted like dirt. Soil. Too earthy. Not these! They are marinated in fresh orange juice, a little grated onion, vinegar and orange zest. Give it 24 hours to marry together and you've got the best healthy snack ever. Not kidding. You've got to try these for yourself. We just eat them right out of the bowl, but you can plate them over some lovely micro greens, goat cheese and pecans if you'd like.
Try my Quinoa Party Salad too! Follow Picky Palate on Instagram for daily recipe inspiration.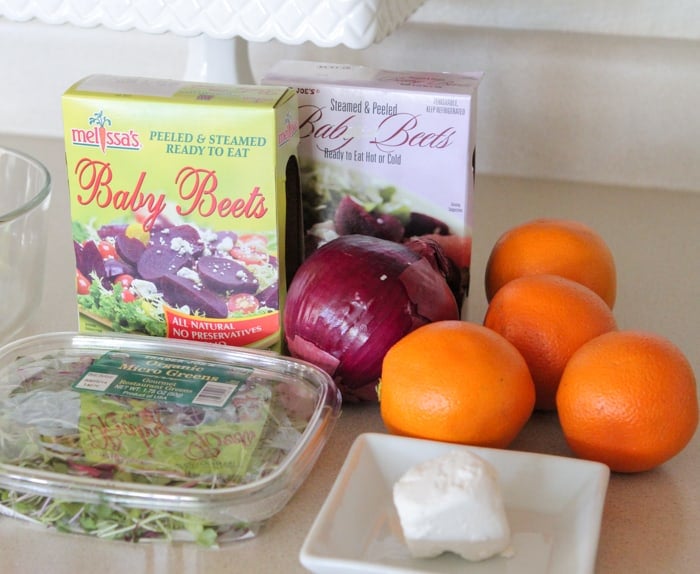 Keep your eye out for these little boxes of refrigerated steamed, peeled beets in the produce section of your grocery store. Trader Joe's sells them for a great price. I can also get them at my Fry's Marketplace here in Mesa, AZ. You'll also need 4 oranges, a small slice of red onion to grate, vinegar (not in picture), micro greens, goat cheese and pecans if you'd like to plate it as a salad.
What Do Beets Taste Like?
Beets tend to have an earthy taste. This taste is caused by microbes in the soil, providing the beets with a compound known as geosmin. Many people believe this is what gives the beet a dirt-like flavor.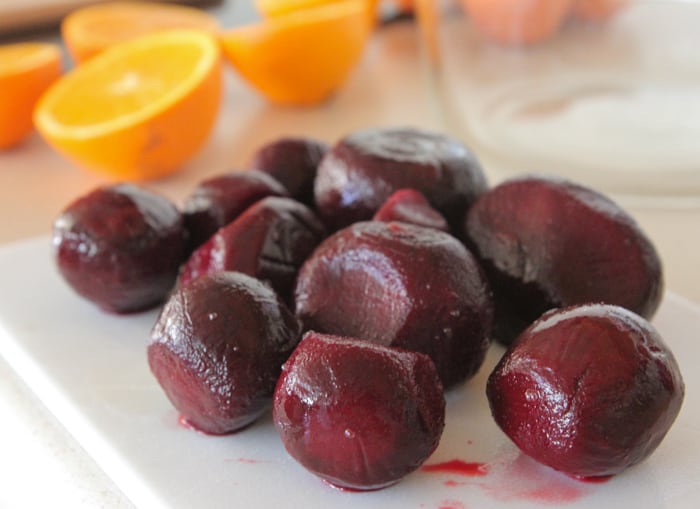 Here's the beets when you take them out of the package. Beware, the red liquid stains everything. Be careful 🙂
What Are Beets?
Beets are known to be edible tap root plants that originated from North America. Its leaves were mostly used throughout the world but the root was just discovered by French chefs to have more medicinal and nutritious value.
This vegetable is commonly used in a salad but some people use it in pasta and noodles, tart, lemonade and cakes. You will discover that this vegetable is versatile and its flavor is appropriate for many recipes.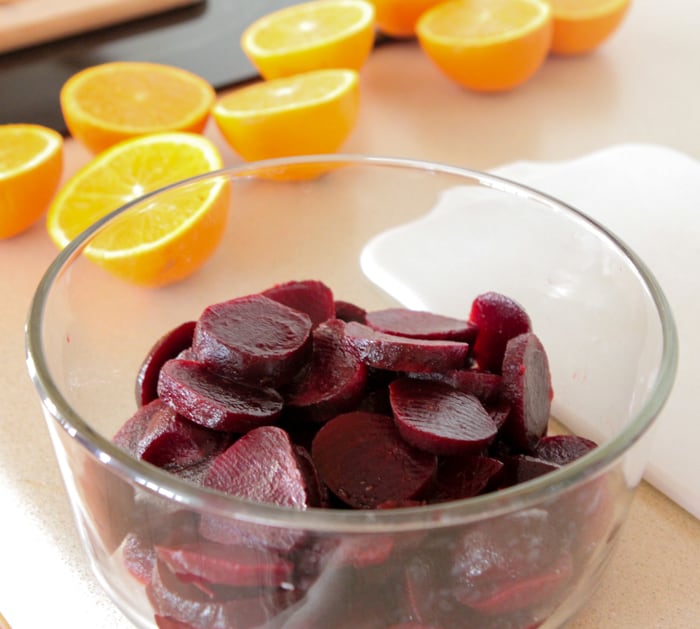 Slice your beets into thin slices and place into a large mixing bowl.
How Do You Cook Beets?
Roasting- It gives the beets some extra concentrated flavour while removing the earthy flavour and adding the sweet taste. In addition, if you like the potato texture then this is for you.
Boiling- This is the quickest yet easiest method to use which leaves you an ideal subdued flavour making it ideal for use in the meat dishes. In addition, boiling will soften the beets making it easy to mash and use in smoothies, soups, purees and making cookie or cake dough.
Steaming- This is the fastest method to cook beets with the best food steamer being mechanical steamer for the best results although, you can make use of other available steamers in your kitchen to achieve the desired results.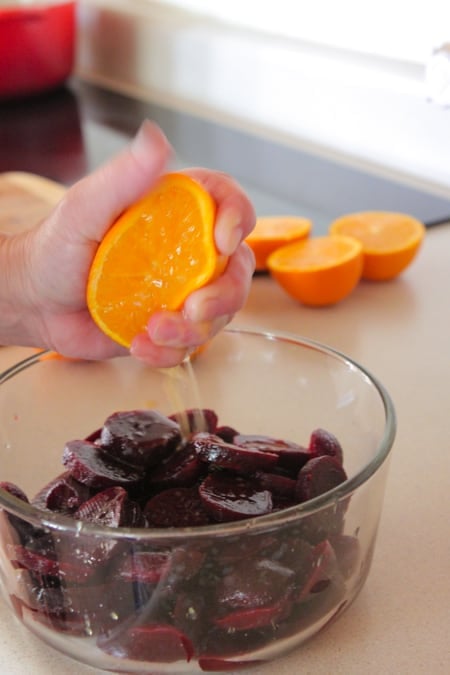 Squeeze the juice of all 4 oranges into your bowl of beets.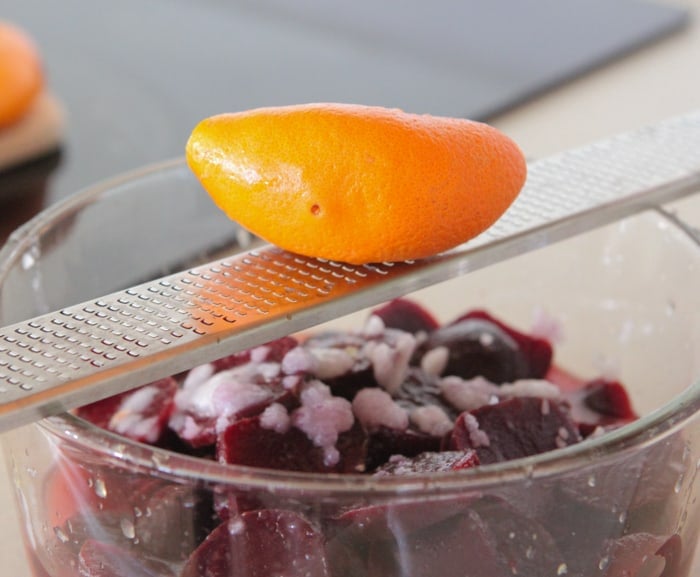 Add some orange zest and grated red onion to your bowl.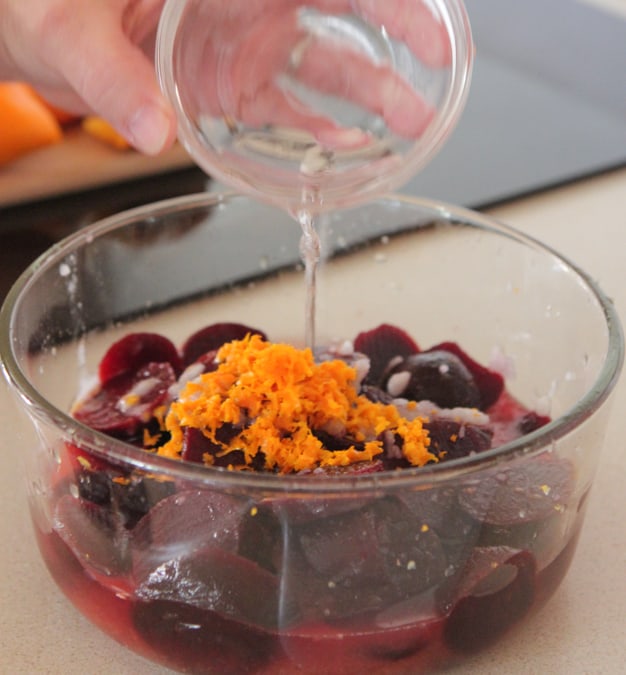 Just a touch of vinegar, then stir, cover and refrigerate for about 24 hours to marinate! We just eat them right from the bowl once marinated but they are great over a green salad too!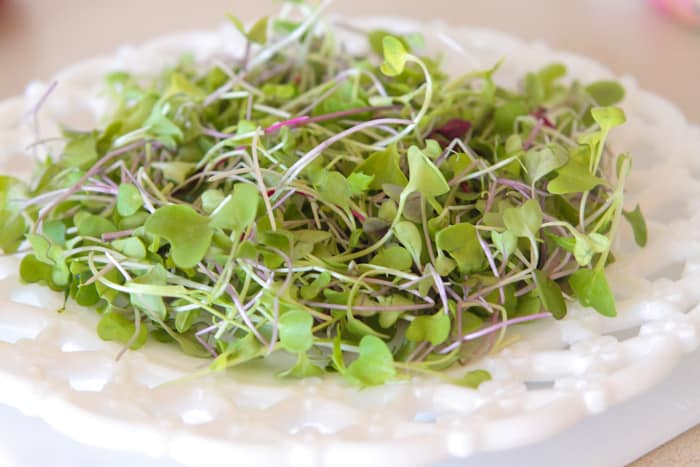 Try micro greens with your beets. Soooo good!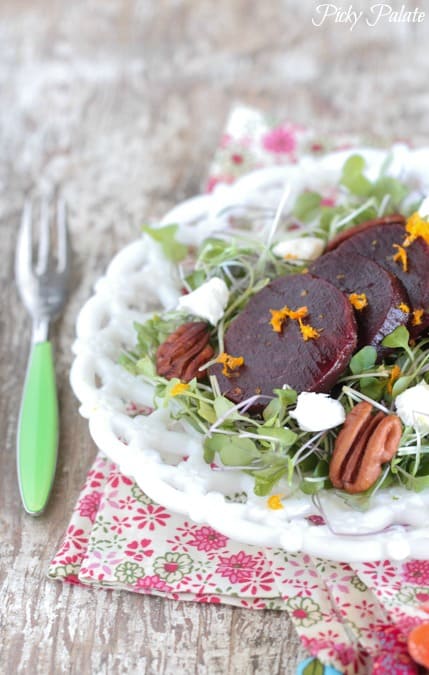 I also added pinches of goat cheese and pecans. Enjoy!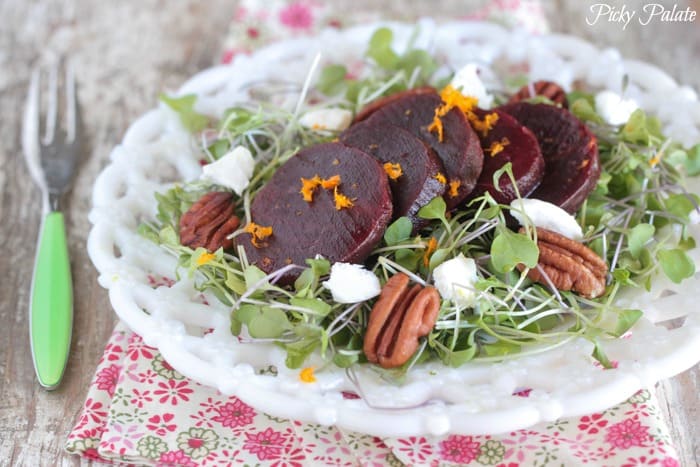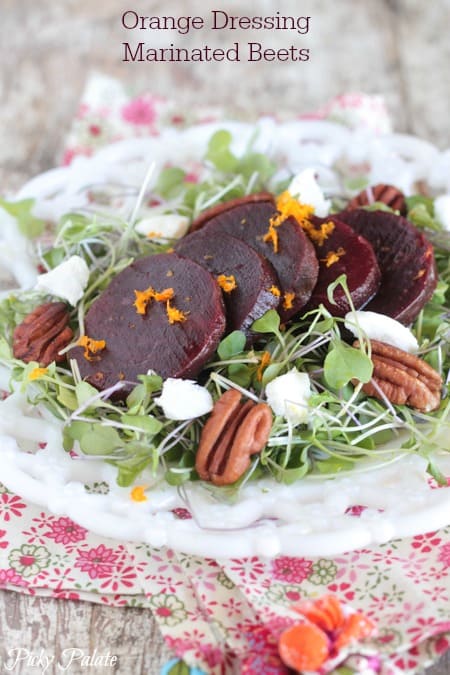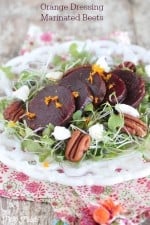 Orange Beet Salad
This Orange Beet Salad is going to be your favorite new way to eat beets! It's healthy and packed with flavor.
Print
Pin
Ingredients
Marinated Beets
10-12

baby beats

steamed and peeled (I get mine in the produce section of my grocery store. Trader Joe's has them too)

4

medium-large oranges

1

tablespoon

grated red onion

2

tablespoon

vinegar

3

tablespoons

orange zest
Salad
6

cups

micro greens or other greens of choice

1/4

cup

goat cheese

cut into small pieces

1/4

cup

pecans
Instructions
Slice baby beets into 1/4 inch slices and place into a large mixing bowl. Add juice of oranges, red onion, vinegar and orange zest. Stir, cover and refrigerate for 24 hours.

To serve, eat right out of the bowl (what we dor enjoy with micro greens, goat cheese and pecans.
Nutrition
Calories:
136
kcal
|
Carbohydrates:
19
g
|
Protein:
5
g
|
Fat:
5
g
|
Saturated Fat:
2
g
|
Cholesterol:
4
mg
|
Sodium:
90
mg
|
Potassium:
430
mg
|
Fiber:
5
g
|
Sugar:
13
g
|
Vitamin A:
381
IU
|
Vitamin C:
57
mg
|
Calcium:
77
mg
|
Iron:
1
mg
Keywords:
beet salad, beet salad recipe, orange beets
Pin To Your Favorite Recipe Board