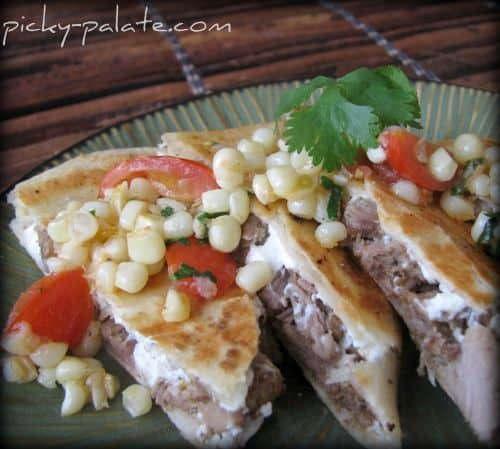 Good Thursday! Welcome to my new friends, it's great to have you! Getting so excited to have my Mom/Dad and little bro over this weekend for a surprise visit. My boys have no idea they are coming, so I can't wait for their reaction!
Boy do I have a great Labor Day recipe for you, this colorful quesadilla makes a great appetizer or dinner. I enjoyed one for lunch and dinner a couple days ago and was a very happy girl. This is a simple meal with very few ingredients that produces huge flavor. It's a win win recipe if you ask me! A huge thanks to the folks at Il De France Cheese for sending me the beautiful goat cheese.
I am a huge goat cheese fan, but if you are not, do not fret just replace it with some good Tillamook shredded Cheddar and you'll be loving this! That's what I did with the boys quesadillas, for they are not quite at the goat cheese phase. Someday! Hope you all enjoy.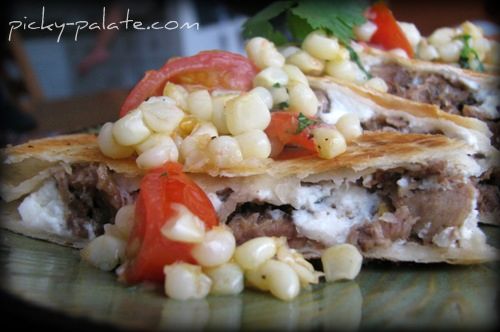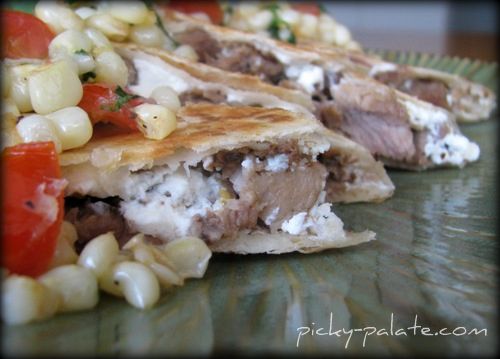 Steak and Goat Cheese Quesadillas With Corn and Tomato Relish
4 Steak cuts of choice, grilled or cooked in crockpot (I cooked all 4 in crockpot on low for about 6 hours, it was really good)
1/2 teaspoon salt
1/4 teaspoon fresh cracked black pepper
1/4 teaspoon Lawry's Garlic Salt with Parsley
Corn Relish
1 Tablespoon extra virgin olive oil
4 ears fresh corn, kernels removed
1 Cup grape tomatoes, quartered
1/4 Cup fresh cilantro leaves, finely chopped
1/4 teaspoon kosher salt
1/4 teaspoon fresh cracked black pepper
____________________
8 inch flour tortillas
2-3 Tablespoons softened butter
1/2 Cup Goat Cheese, crumbled
1. Grill steak to your liking or try cooking them in the crockpot on low for 6 hours. Season with salt, pepper and garlic seasoning. After cooked, cut the steak into bite size pieces. Keep warm.
2. To make corn relish, heat olive oil into a large skillet over medium heat. Add corn kernels, tomatoes, cilantro, salt and pepper. Cook for 5 minutes, until warm and fragrant.
3. Spread butter onto one side of a tortilla. Place butter side down onto a large skillet over medium heat. Spinkle one side of tortilla with goat cheese, then a couple spoonfuls of chopped steak. With a spatula, fold tortilla over filling and cook each side until browned and crisp. Transfer to a plate and top with spoonfuls of Corn Tomato Relish. Continue process until desired. Enjoy!
8-10 quesadillas
_________________________________________
Have a wonderful rest of the week and weekend! Come back soon for a sweet treat!