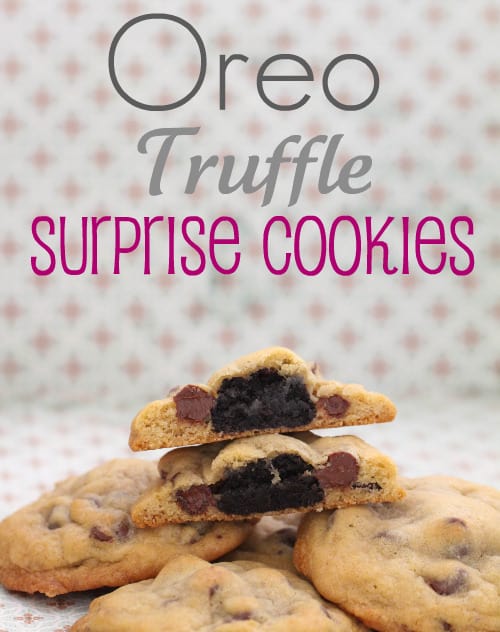 These Oreo truffle hidden cookies were such a hit last week. What a treat to bite into a soft cookies and cream center. Wait until you get your hands on these. Buttery edged chocolate chip cookies just got a whole lot better 🙂
Last week I was in NYC taping 2 episodes of a new cooking show called "From The Test Kitchens of…." for the Cooking Channel with Pillsbury. The show was filmed inside of Food Network Studios and the set was in an adorable little kitchen. I was there with a host (who is adorable) and we demonstrated about 8 different Pillsbury recipes for the 2 shows. What a cool experience to see how much work goes into filming a half hour show and how many people! It really was incredible to see. The new show airs on the Cooking Channel later this year, probably sometime in November, I'll keep you posted 🙂
For now, enjoy my latest fabulous cookie! Oh and give me a vote for the BH&G Cook-Off would you? You can vote once a day! Thanks a million 🙂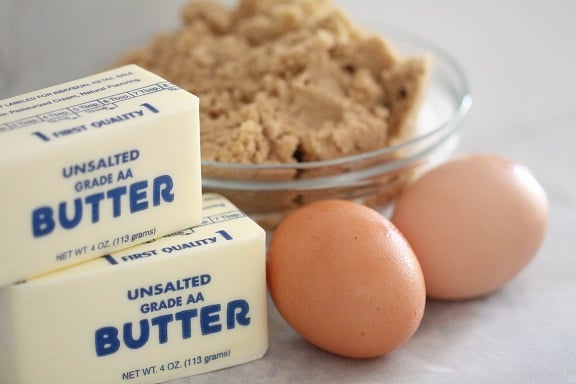 You know the drill…cream your butter and sugars then add you eggs 🙂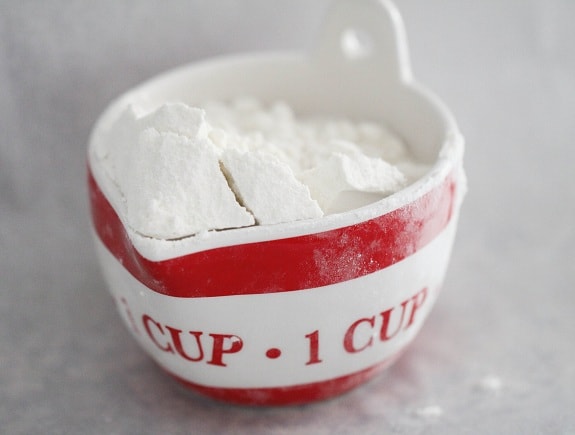 Dry ingredients next…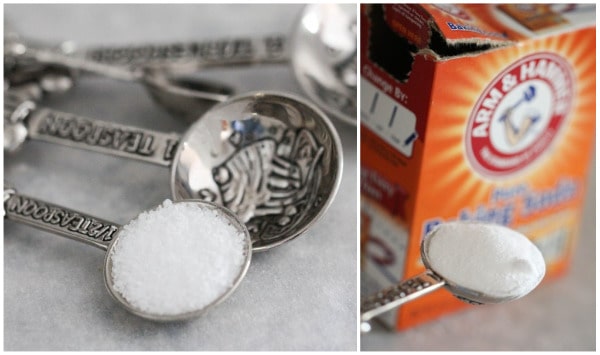 Salt and baking soda!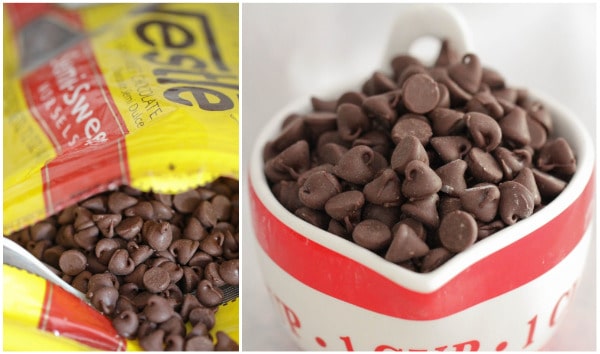 Add your favorite chocolate chips.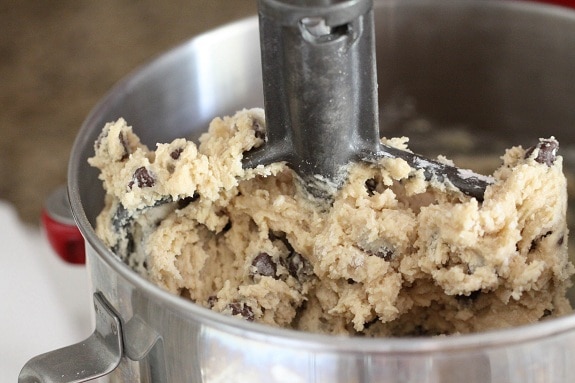 Cookie dough! Grab a little taste….my favorite part 🙂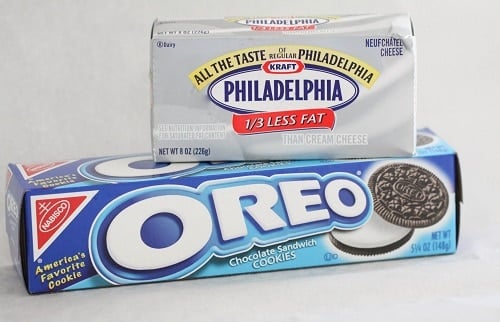 Next, whip up your Oreo Truffle centers. 2 yummy ingredients 🙂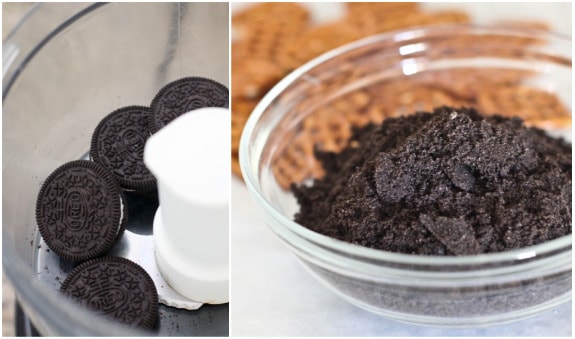 Place Oreos in food processor to get the crumbs.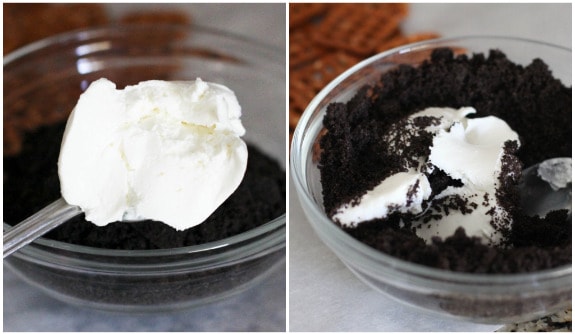 Now add your cream cheese and mix until dough forms. Don't mind the pretzels in the background 🙂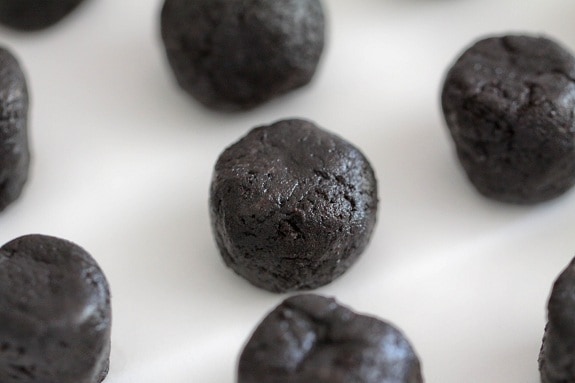 Form dough into little balls!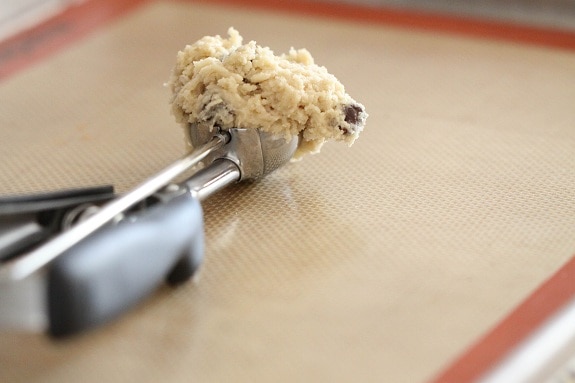 Scoop a nice big scoop of cookie dough to get ready for the filling.
Now stuff those Oreo Truffles in center of cookie dough, mmmm!

I pressed a hole into center of dough, placed Oreo truffle in center, then covered truffle with dough. Nice and easy.
Get a load of these!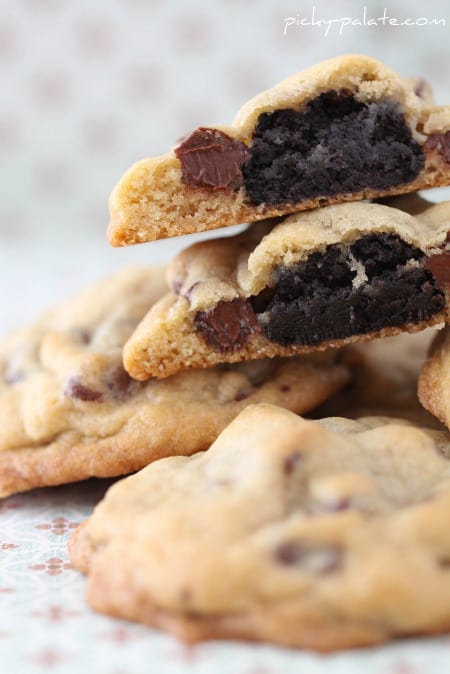 [ziplist]
Oreo Truffle Surprise Cookies
2 sticks softened butter
3/4 Cup granulated sugar
3/4 Cup packed brown sugar
2 large eggs
1 Tablespoon pure vanilla
3 1/2 Cups all purpose flour
1/2 teaspoon kosher salt
1 teaspoon baking soda
2 Cups chocolate chips
21 Oreos
3 oz softened cream cheese
1. Preheat oven to 350 degrees F. In a stand or electric mixer beat butter and sugars until well combined. Add eggs and vanilla; beat until combined.
2. Place flour, salt and baking soda into a large bowl; mix. Add to wet ingredients along with chocolate chips. Mix until just combined.
3. Place Oreos into a food processor or blender, mix until finely ground. Place into a bowl and mix with cream cheese until dough forms. Take 1 Tablespoon of dough and roll into a ball. Continue until all dough has been rolled, you should get 36 balls, enough for all of the cookie dough.
4. With a large cookie scoop, scoop dough onto a silpat or parchment lined baking sheet. Press a little hole into center of dough and put Oreo Truffle inside, cover cookie dough around Oreo Truffle so it's hidden in the middle. Bake for 13-15 minutes or until edges of cookies just begin to turn golden brown. Remove and let cool on baking sheet for 5 minutes before transferring to cooling rack. Now…..eat up 🙂
36 large cookies
_____________________________________
Have a great new week! See you soon 🙂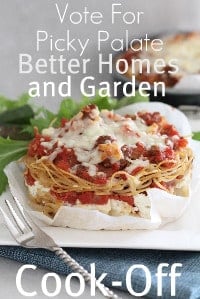 Click HERE to vote 🙂