Sharing our favorite gnocchi recipe today! My Pancetta Brown Butter Gnocchi recipe is the perfect indulgence for your family and friends.
Gnocchi Recipe
Have you ever had gnocchi? Oh my goodness it's fantastic! So soft and pillowy. You have to try it! I love that you can purchase it pre-made in the pasta section of your grocery store. Simple to prepare and oh so delicious.
Try my BLT Whole Wheat Pasta too! Follow Picky Palate on Instagram for daily recipe inspiration.
What Is Gnocchi
gnocchi is a small dumpling. In fact, the word in Italian means "lump". This dumpling is most often made with potatoes, though it can also be made from flour, squash, cheese or even polenta. Gnocchi is served much in the same manner as pasta, with sauce or some butter and sage or parmesan cheese.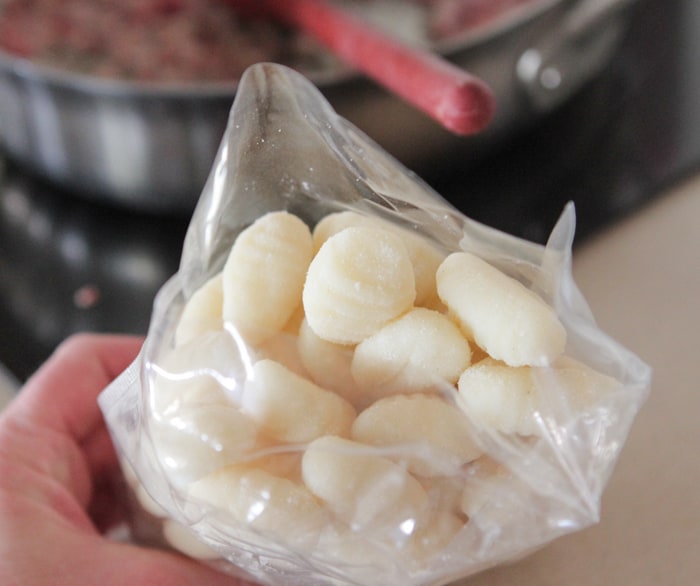 If you've never had gnocchi before you are in for such a treat. It's a soft pillowy potato pasta dumpling….not even kidding like the best thing ever. You can find it by all of the other pasta in your grocery store. Delallo sells my favorite gnocchi. It literally cooks in boiling water for 3 minutes and DONE. How sweet is that?
How To Make Gnocchi
The dough is rolled out into long cylindrical pieces which are cut into bite sized morsels. The morsels are rolled from a fork, giving them the ridged pattern gnocchi are famous for. A special "gnocchi board" may also be used for this. The dumplings should be added to boiling water immediately after cutting. For best results, they should be cooked fresh since they do not store well.
How To Cook Gnocchi
To cook the gnocchi, drop the dumplings gently into rapidly boiling water. When the dumplings float to the top of the water, they are ready. This process should only take a few minutes; any longer than two or three minutes and the dumplings will start to break up in the water.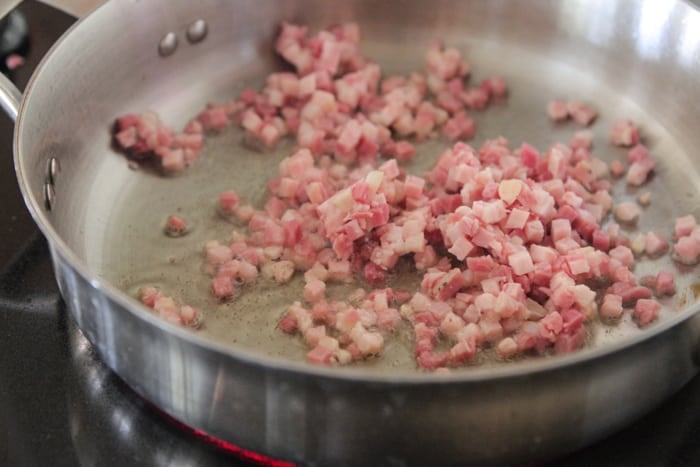 Cook your diced pancetta in a little olive oil to get started.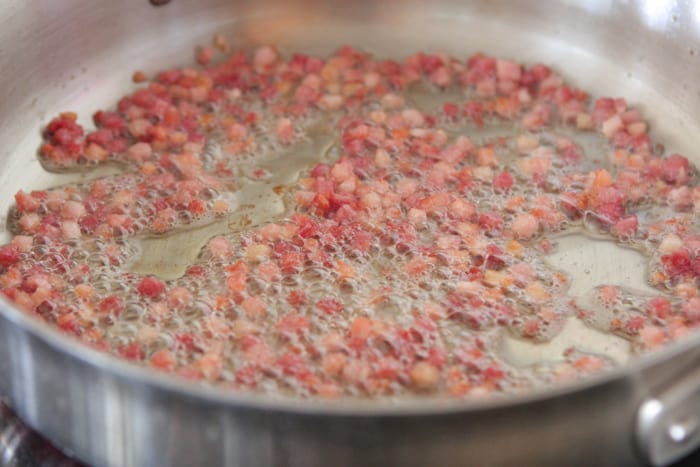 Cook until nice and browned. Perfect!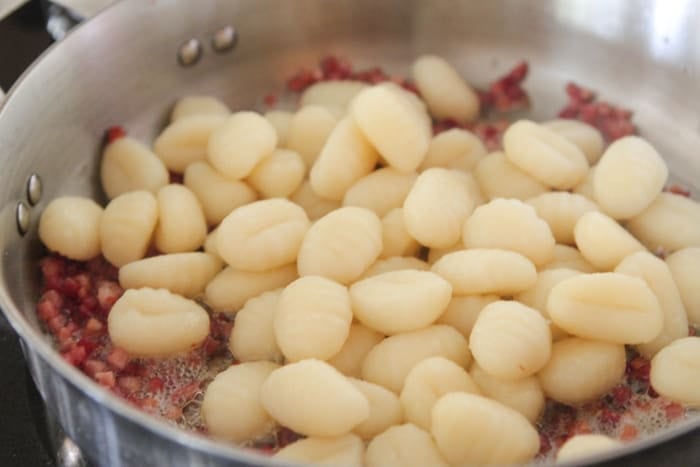 Add your cooked gnocchi right to the skillet.
How To Pronounce Gnocchi
The way you pronounce it may have a lot to do from where you're from, which is why the proper pronunciation is often debated. You can hear an Italian say nyohk-kee or nyuh-kee, and an American say noh-kee or nyawk-kee.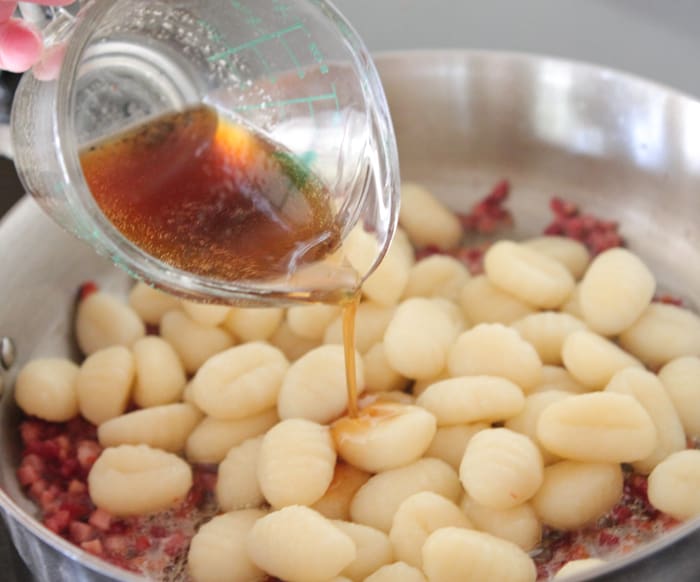 Drizzle in your browned butter. I know!!
Toss in some sweet peas, give a stir and you are ready to eat!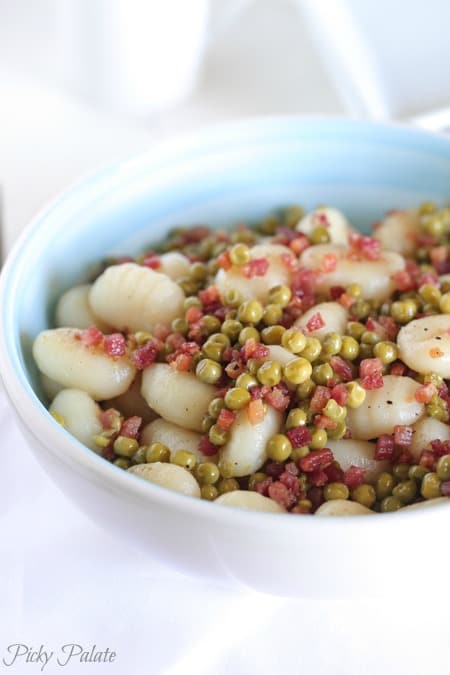 Not even kidding I could eat this everyday if calories were not an issue, lol!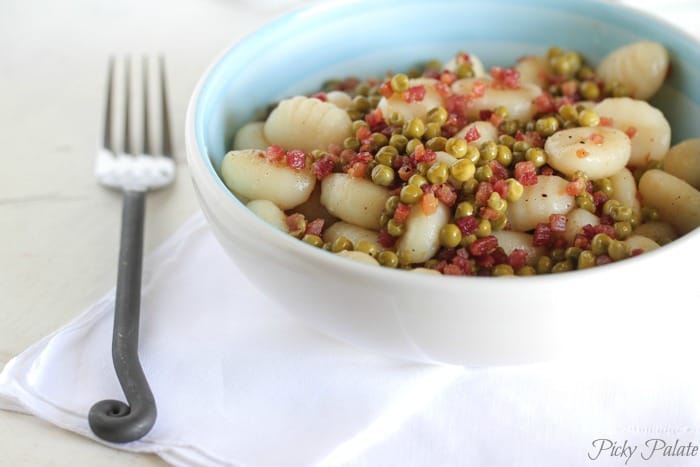 Treat your friends to this simple and fabulous pasta dish next time you are entertaining….or treat yourself! Enjoy!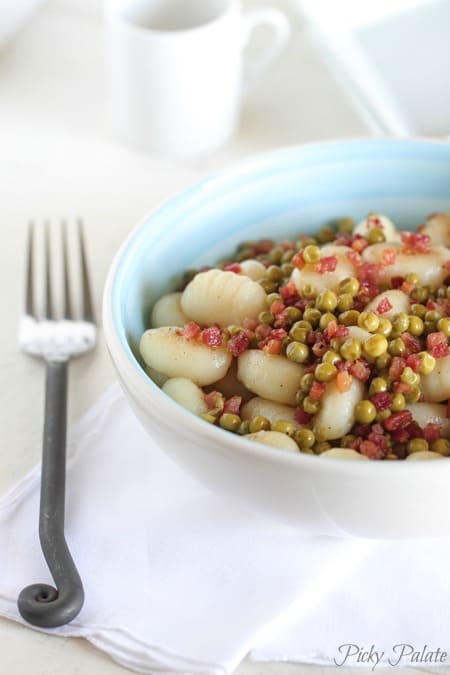 How Do You Serve Gnocchi?
Gnocchi can be served many different ways. One way is to sauté some garlic in a little butter and pour it over the gnocchi. Tomato, pesto and alfredo sauces also work well with this dish. Gnocchi is also tasty with vegetables such as eggplant, asparagus or artichokes.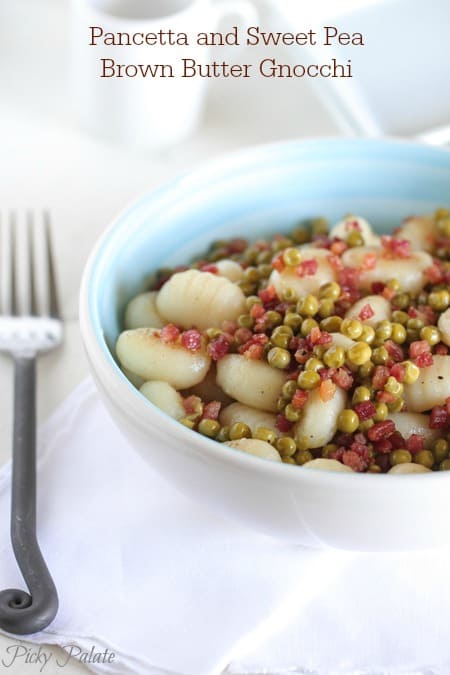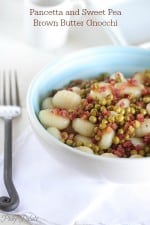 Pancetta Brown Butter Gnocchi Recipe
Brown butter and pancetta add so much flavor to this simple gnocchi dinner recipe.
Print
Pin
Ingredients
4

tablespoons

unsalted butter

16

ounces

gnocchi

I used Delallo

1

tablespoon

extra virgin olive oil

4

ounces

diced pancetta

1/2

cup

sweet peas

I used canned and drained

1/4

teaspoon

kosher salt

1/4

teaspoon

freshly ground black pepper
Instructions
Melt butter in small saucepan until bubbly and browned. Takes about 5-10 minutes.

Cook gnocchi according to package directions. Generally only takes 3-4 minutes in boiling water. Drain and set aside.

Add oil to large saucepan over medium heat. When hot, add diced pancetta. Cook and stir for about 5 minutes, until browned. Add cooked gnocchi, browned butter, sweet peas, salt and pepper. Stir and cook for 5 minutes then serve.
Nutrition
Calories:
449
kcal
|
Carbohydrates:
43
g
|
Protein:
9
g
|
Fat:
27
g
|
Saturated Fat:
12
g
|
Cholesterol:
49
mg
|
Sodium:
720
mg
|
Potassium:
100
mg
|
Fiber:
4
g
|
Sugar:
1
g
|
Vitamin A:
489
IU
|
Vitamin C:
7
mg
|
Calcium:
31
mg
|
Iron:
4
mg
Keywords:
brown butter gnocchi, easy dinner ideas, pan-fried gnocchi