Chances are you have not heard of the Paradise Garden Grill in Disney California Adventure. This place is tucked behind green landscape and a grand area for outdoor eating. It's secretly hiding next to Goofy's Sky School. This is the place where the Greek hang out. Well, maybe. I'm no Greek food expert. I enjoy it occasionally but that's it. So, if we enjoy this restaurant but you in the back corner–the Greek-food-pro-critic–thinks this is sub par Greek food, then you'll just have to excuse the amateur hour here.
Big thanks to my brother Derek Flake and his wife Kacie and their two kids for helping us eat all this food. With 4 adults, 3 kids, and 2 infants our total cash outflow came to $71.70 after our $11.72 (15%) annual pass discount. That equates to $7.96 per stomach ($10.24 not counting infants).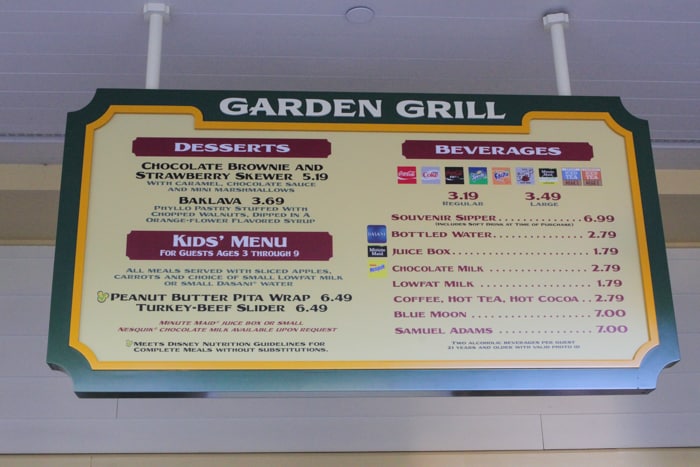 What pops out to me on this photo is "BAKLAVA". More on that later.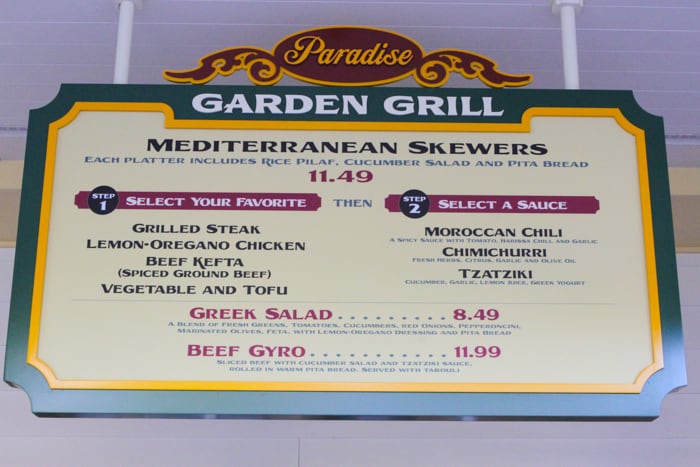 The menu is quite simple. Skewers, salad, or Gyro are your choices. The skewers come with three (3) different types of sauce. If you're unsure like us, ask for all three, and they'll gladly pony up for no additional charge. Also, each skewer plate is not limited to only one skewer. Just ask for another and they'll gladly charge you, but at a smaller price than the whole plate.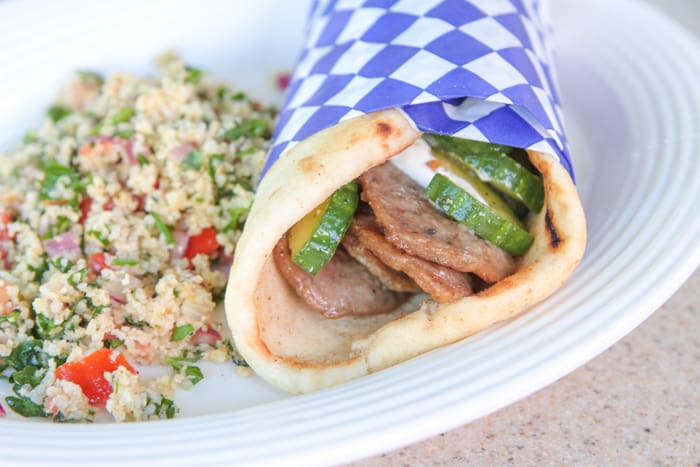 Our favorite was the Beef Gyro. It filled us up and tasted dandy. The tabouli was great also.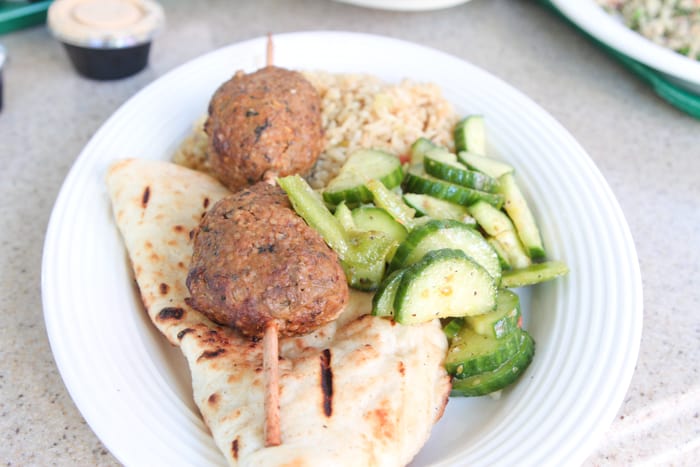 We recommend the ground beef. A lot of flavor were in these "spicy" meat balls.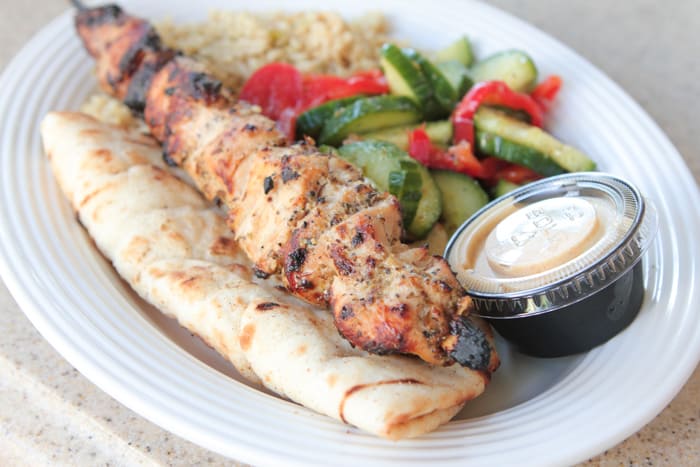 Our second choice for the skewers was the chicken. Also, we all enjoyed the rice pilaf that comes with the skewer plates.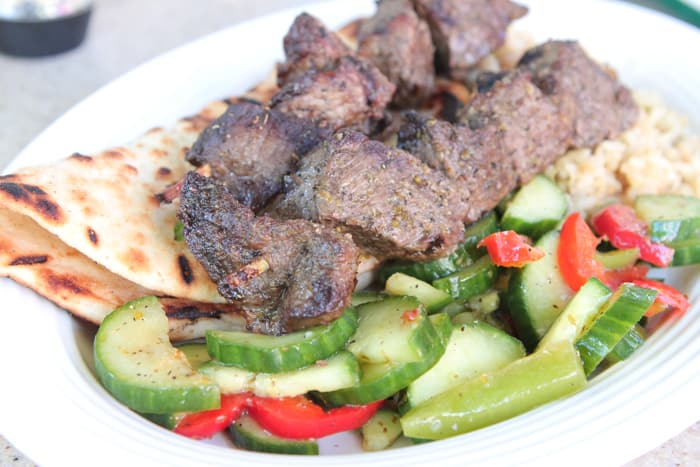 We found the steak skewer to be too chewy for our liking.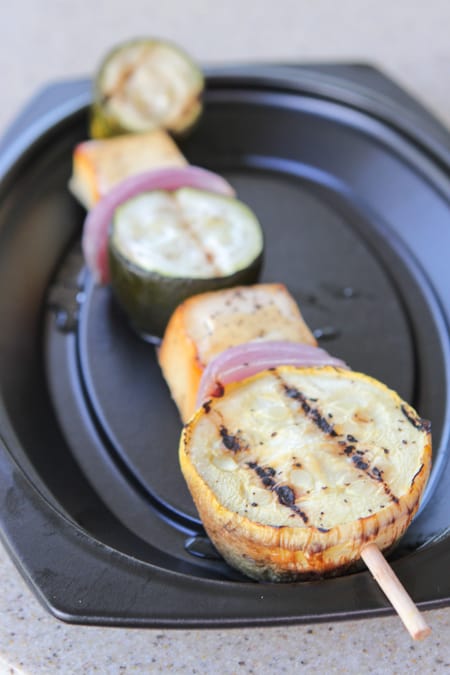 Roasted veggies were somewhat flavorful.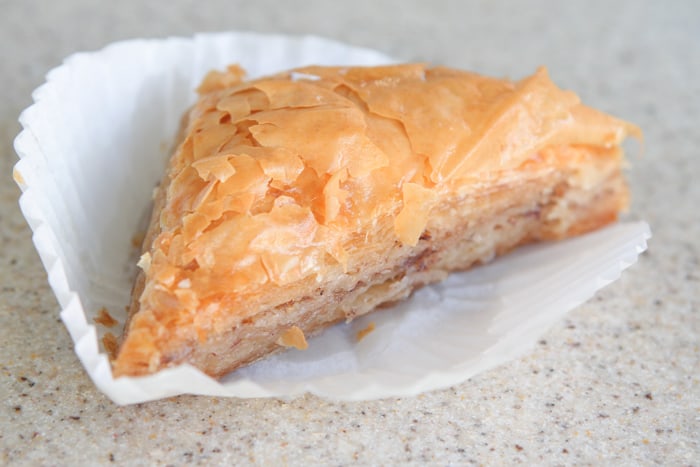 I promise you that when I get back to California Adventure–which is happening soon–I'll pick up one, two, or three of these. This is the first time I've had Baklava. The light flaky, walnutty, raw honey syrup treat left me wanting!! The health-nut in me will excuse the syrup as I just didn't care that raw honey was missing. UPDATE: 3/2014 – on our recent trip to Paradise Grill we ordered a baklava and was disappointed in it. Upon asking the workers, we found out they recently changed the recipe. Now, there's a thick pavement like layer of walnuts that ruins this once desired treat. NO LONGER RECOMMENDED!!! Go HERE to see a new item we recommend.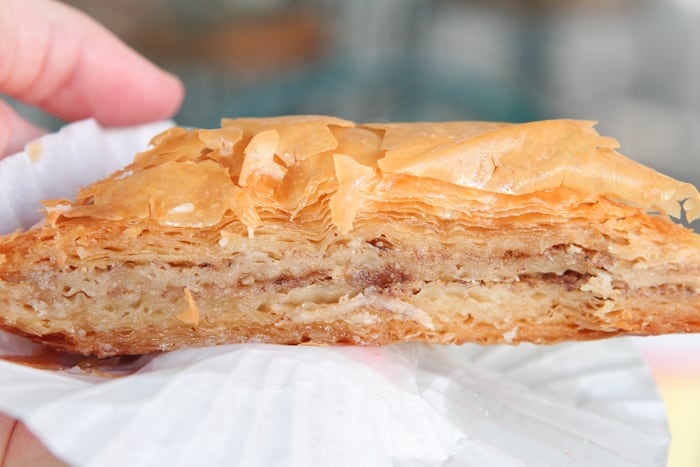 I really can't wait to have this again. With the recipe change I can't wait to never try this again.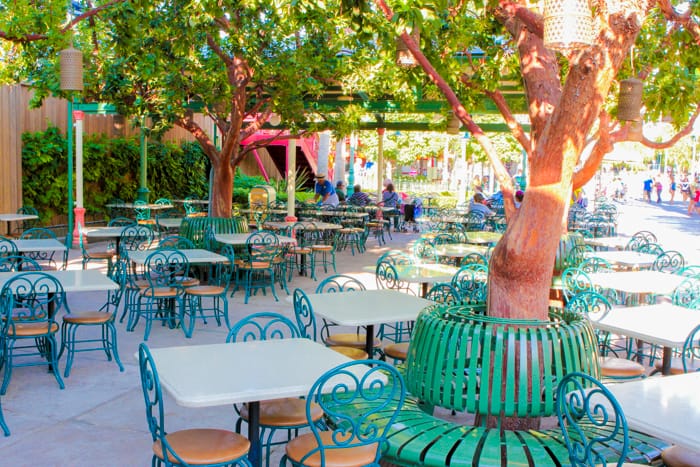 Plenty of shade and open tables will surely be awaiting your visit.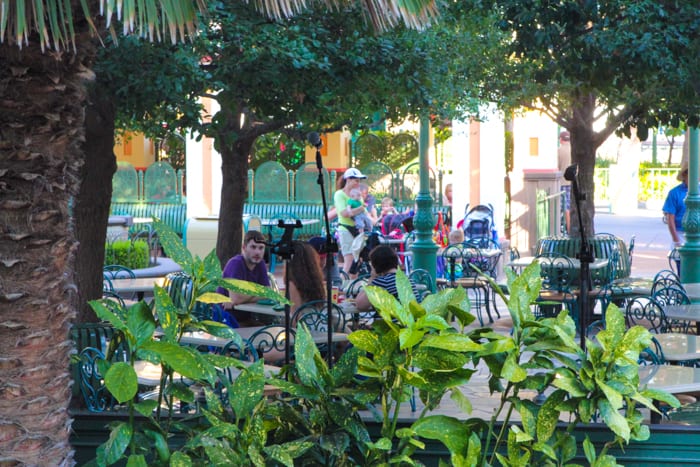 Plenty of green for everyone to enjoy.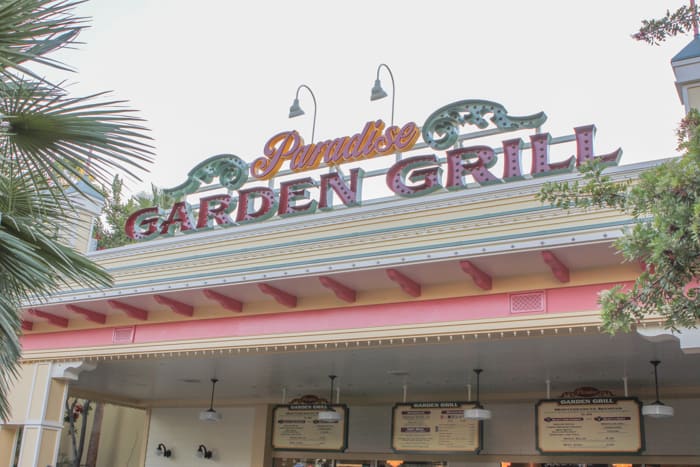 WHAT WORKED: Beef Gyro and tabouli, Beef Kefta, BAKLAVA!!!, Chicken, Rice pilaf, Short lines, Plenty of shaded seating, Well kept bathrooms, Affordable price
WHAT DIDN'T WORK: Chewy steak
We give Paradise Garden Grill 4 STARS.
Be sure to check out our Disney home page HERE for other Disneyland California and California Adventure food ideas.