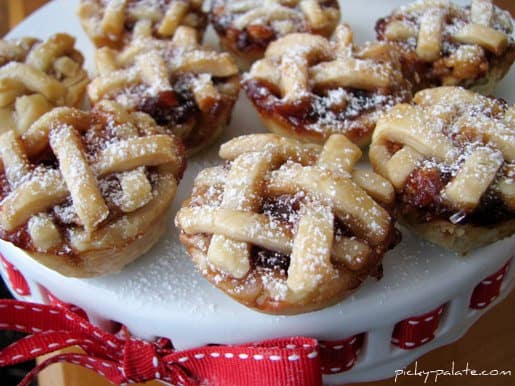 Good Tuesday to you!
I had so much fun making these baby pies! For some reason party food seems more fun when it's miniature right? I don't know what it is, but I just love it.
So, these are totally doable, they look detailed, but seriously are really easy. I snapped photos while I was preparing them to show how easy they are. I'm talking only 3 main ingredients, love recipes like this!
Peanut Butter and Jelly is one of those combinations that I could do in almost any dessert. I knew this duo would be irresistible as little pies. The kids will love these as will the adults because they are so darn cute, make some PB & J baby pies for game day and wow your guests! Enjoy.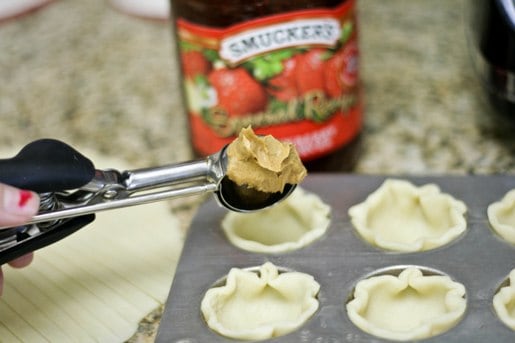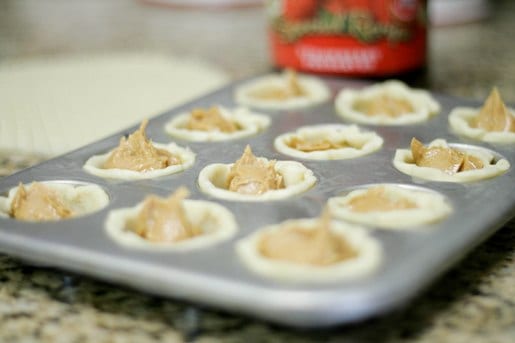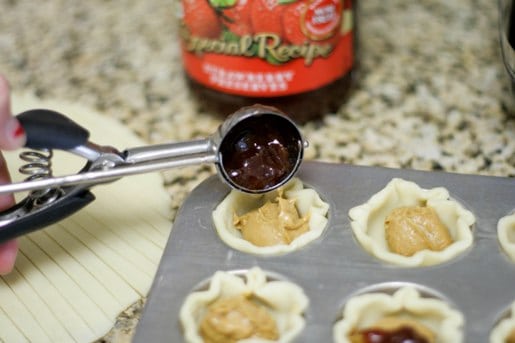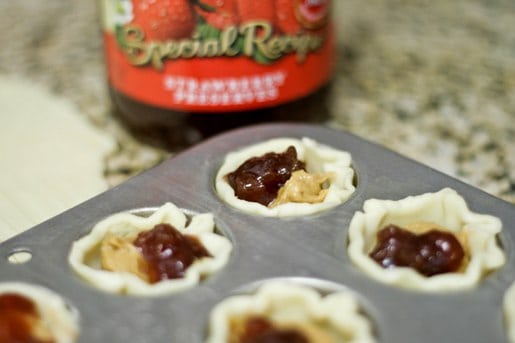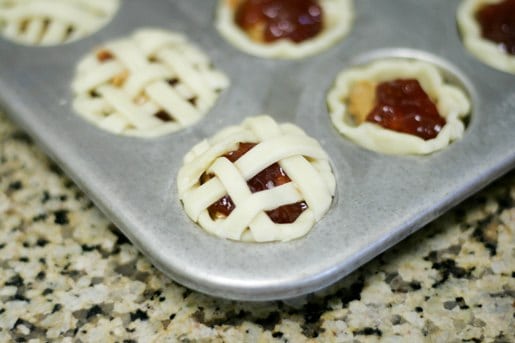 Time to create the lattice top…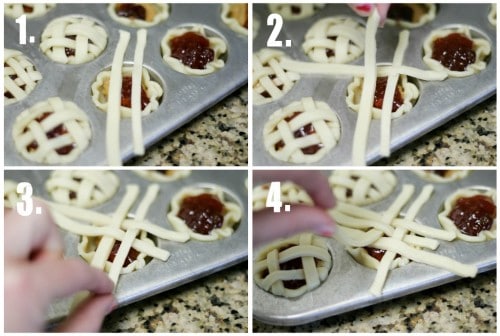 My strips were a little long, but you get the idea. It's the over under effect! Once you are done, use a knife to cut off the excess dough and it will look like the next picture 🙂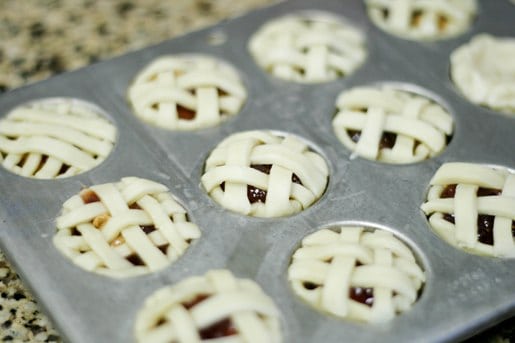 Brush lightly with egg wash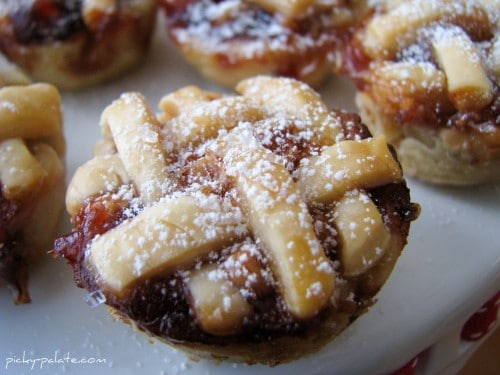 Here you have the lovely little PB&J pies. I am in love with these!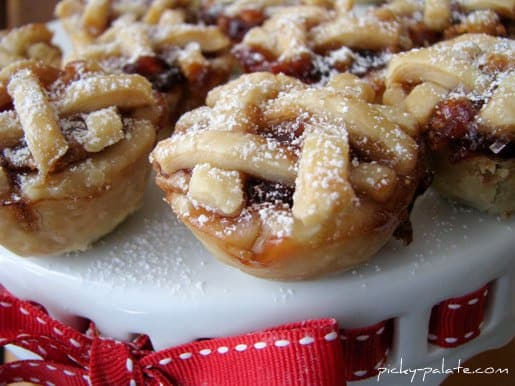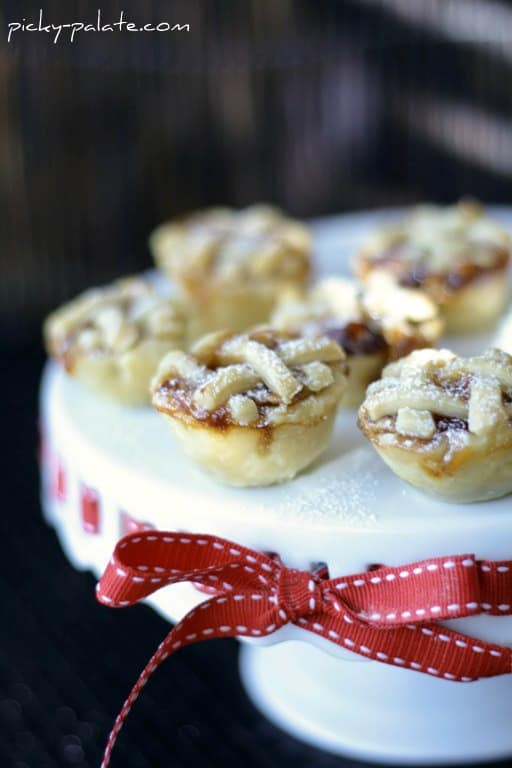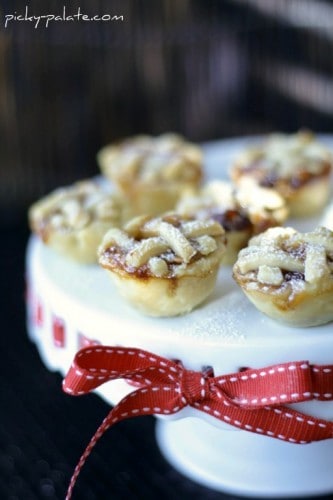 Peanut Butter and Jelly Baby Lattice Pies
1 roll Pillsbury pie dough
1/2 Cup creamy peanut butter
1 Tablespoon sugar
1/2 Cup Smucker's Strawberry Preserves
1 egg white whisked with 1 teaspoon water for egg wash
Sugar Crystals for sprinkling on top if desired
2 Tablespoons powdered sugar
1. Preheat oven to 350 degrees F. Unroll pie crust onto a lightly floured surface. Use a 2 1/2 inch round cutter to cut out circles in dough (I used a random little cup that worked great). Lightly press dough rounds into greased mini muffin tin. Roll remaining scraps of dough to an even thickness then use a sharp knife to cut thin 1/8 inch strips to create the lattice topping. Set aside.
2. Mix peanut butter and sugar until combined. With a small cookie scoop or teaspoon, drop a heaping teaspoon into each of the pie crusts. Do the same with the jam. Using the pie strips, form the lattice top. See pictures above for help. Cut excess dough from edges and brush tops lightly with the egg wash, sprinkle with sugar crystals (optional) and bake for 25-30 minutes or until nice and golden brown.
3. Remove and with the tip of a knife, loosen edges where jam has oozed out. Carefully remove from pan after 5 minutes with the help of the knife and let cool. Dust with powdered sugar and serve with milk!
12 mini pies…..let's see what the judges think…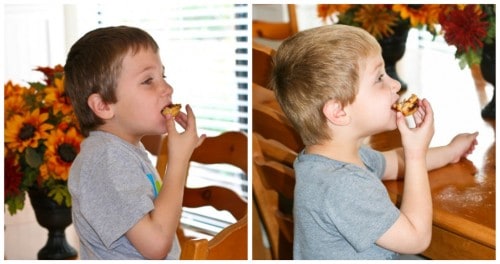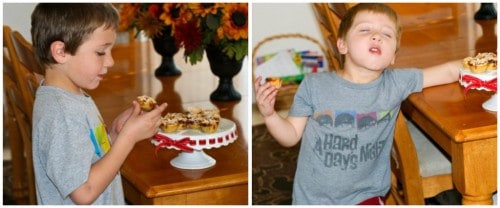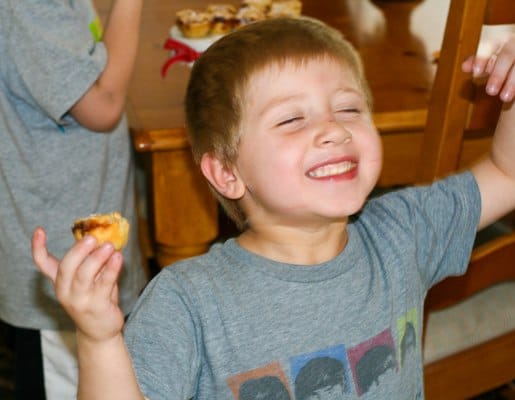 Think we've got some happy taste testers! Come back soon for more game day recipes!!