A Special Peanut Butter Pie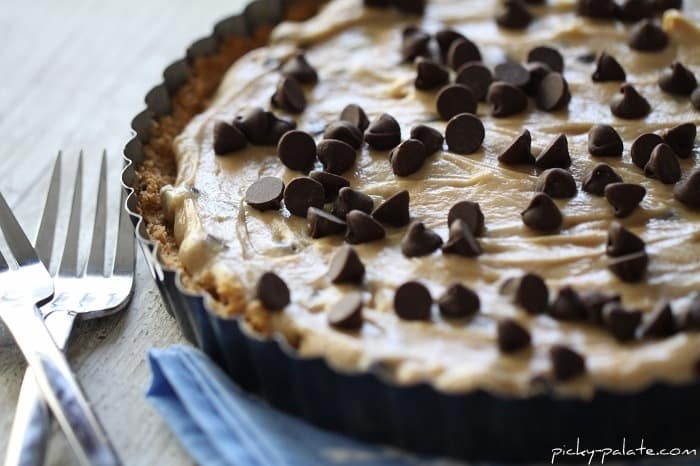 You'll see peanut butter pies all around the blogosphere today that are very special. They come as a request from a food blogger named Jennifer Perillo who lost her husband Mikey last week unexpectedly due to a massive heart attack. I have never met Jennie in person but have followed her blog and twitter feed for some time now.
See her blog post HERE. It made me cry. She reminds us all to spend quality time with our loved ones and give hugs often. She requested to make a peanut butter pie for someone you love today in remembrance of her sweet husband who loved peanut butter pie.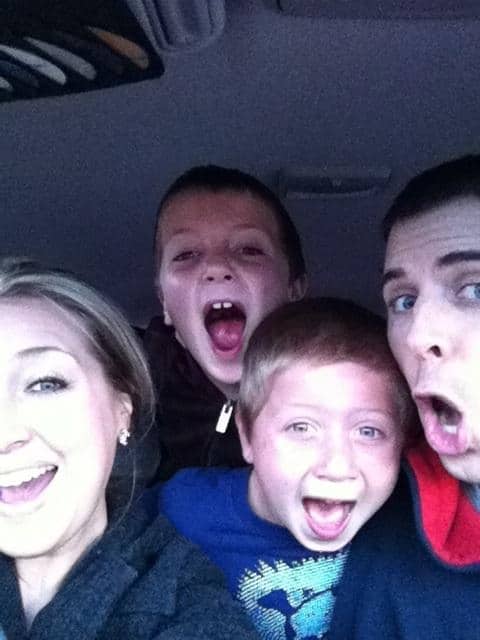 My peanut butter pie, which we make often here, goes out to my little family today. It's so easy to get caught up in the craziness of everyday life. When it comes down to it these 3 people are my everything. Today, I am hugging each of them tight and giving thanks for my blessings. Heaven help the goofiness of my family, lol.
Peanut Butter Pie 🙂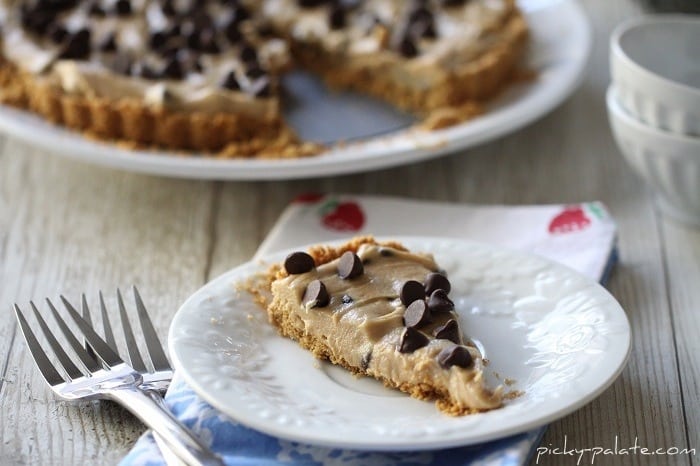 [ziplist]
Creamy Peanut Butter Chocolate Chip Pie
9 whole graham crackers, finely ground
3 tablespoons granulated sugar
4 tablespoons melted butter
8 ounces softened Philadelphia Cream Cheese
1/2 cup packed light brown sugar
1/2 cup creamy peanut butter
1/4 cup heavy cream
1 cup chocolate chips
1. Preheat oven to 350 degrees F. and spray a 9-inch removable bottomed tart pan with non-stick cooking spray.
2. Place graham crackers, sugar and melted butter into a large bowl, mixing to combine. Press into bottom and up sides of prepared tart pan. Bake for 10 minutes, remove and cool for 10 minutes before filling.
3. Place cream cheese, brown sugar, peanut butter and heavy cream into work bowl of stand or electric mixer beating until well combined. Add 1/2 cup chocolate chips, mixing to combine. Pour into cooked crust, add remaining chocolate chips to top and refrigerate for at least 20 minutes before cutting into wedges. If you are in a hurry, you can stick it in the freezer for 10 minutes before serving.
Makes 8 servings
___________________________________
Other bloggers sharing peanut butter pie today 🙂
Peanut Butter Pie and Love by I am Baker (see Amanda's blog for updated complete list of bloggers)
Peanut Butter Pie by Tidymom
Peanut Butter Pie For Mikey and Jennie by Panini Happy
Peanut Butter Pie Friday by Omnivore100Project
Chocolate Peanut Butter Pie by CookiePie
Peanut Butter Pretzel Tart by Cake Duchess
Sharing Mikey's Peanut Butter Pie by Tastes Better With Friends
With Love and Rememberance by Vanilla Bean Baker
Peanut Butter Banana Pie Shots by Smith Bites
Peanut Butter Pie Gluten Free by gluten-free girl and the chef
Peanut Butter Milkshake by In Katrina's Kitchen
A Sandwich and Cocktail and Moment to Remember by Verses From My Kitchen
Love, Life, and Peanut Butter Pie by eat.drink.smile
For Mikey and Jennifer by Marche Dimanche
In Honor: Creamy Peanut Butter Pie Friday by Confessions of a Recipe Junkie
For Mikey: Jennies Creamy Peanut Butter Pie by Asian in America
Peanut Butter Pie by One Apron
Creamy Peanut Butter Pie by Chocolate & Carrots
A Peanut Butter Pie in Memory of Mikey by eatocracy
A Peanut Butter Pie for Mikey, Jennifer, and John by My Baking Heart
not nearly enough eanut butter pie by Running with Tweezers
Peanut Butter Pie Bites by Dessert For Two
Chocolate Covered Peanut Butter Pie by Food Network
Creamy Dreamy Peanut Butter Pie for Mikey by browniegirl
Creamy Peanut Butter Pie for Mikey by 52 Sweet Treats
pie is love by userealbutter
Milk Chocolate Peanut Butter Pie for Mikey by Zoe Bakes
a pie for mikey by Healthy Green Kitchen
Baking for Others: Peanut Butter Pie by big girls small kitchen
Creamy Peanut Butter Pie for Mikey by Dula Notes
Peanut Butter Pie for Mikey by Expresse and Cream
My Pie for Mikey by Adryon's Kitchen
Frozen Chocolate Peanut Butter Pie Recipe by Kitchen Parade
FOLLOW PICKY PALATE ON INSTAGRAM! Show me what recipes you're making from Picky Palate by using #pickypalate.
Other recipes you may enjoy...
Comments