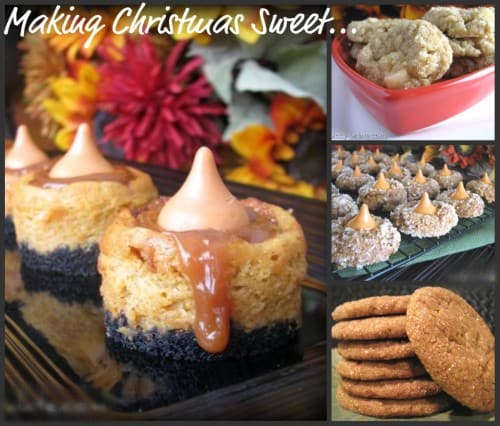 Since Christmas is right around the corner and we are knee deep in school festivities, last minute shopping and getting packed for our trip to AZ, I thought I'd share some of my favorite past recipes that would be perfect for Christmas plates, parties and family get-to-gethers! Stay tuned for more of my favorites over the next few days…
Hope everyone is enjoying this time with family and friends, only one more day before the kids are out of school!!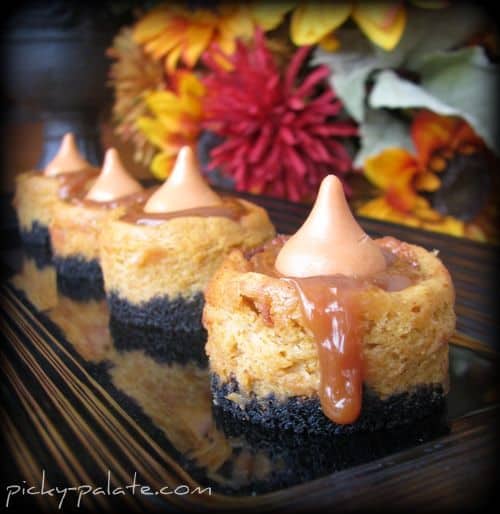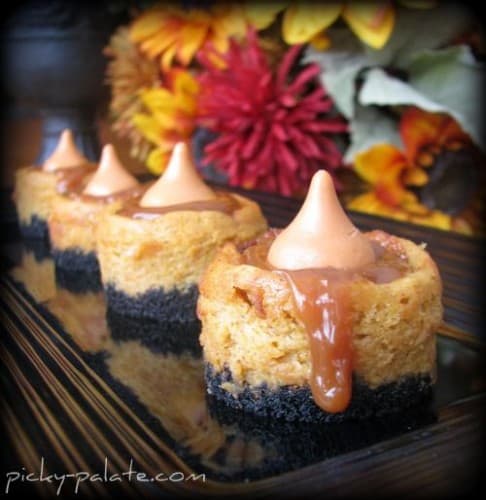 Black Bottomed Mini Caramel Pumpkin Cheesecake Bites
8 whole Oreos, finely ground in food processor
1 1/2 Tablespoons melted butter
8 oz softened cream cheese
1/2 Cup granulated sugar
1/2 Cup pumpkin puree (I used Libby's)
1 large egg
1 teaspoon vanilla
1/2 teaspoon cinnamon
1/4 teaspoon fresh ground nutmeg
3 Litehouse Lowfat caramel dip (comes in a package of 6 20z little cups), or caramel ice cream topping
12 Pumpkin Spice Hershey Kisses, unwrapped (if you can't find those pesky pumpkin kisses, the original chocolate ones are great too)
1. Preheat oven to 350 degrees F. Combine ground Oreos and melted butter into a bowl until well combined. Spoon into 12 mini cheesecake cups that have been sprayed with cooking spray. Press into the bottom of each cup so the crust is flat. Partially bake for 10 minutes then remove from oven.
2. In a stand or electric mixer beat the cream cheese, sugar and pumpkin until smooth. Beat in egg, vanilla, cinnamon and nutmeg until combined. Pour evenly into the 12 cups filling about 3/4 way full. Spoon about a teaspoon of caramel into the tops of each filled cup and swirl with a toothpick gently. Bake for 25-28 minutes or until cheesecake is cooked through. Let cool completely.
3. Remove cheesecakes from pan and top each with a spoonful of remaining caramel and a Pumpkin Spice Hershey Kiss. Refrigerate until ready to serve.
12 mini cheesecakes
_______________________________________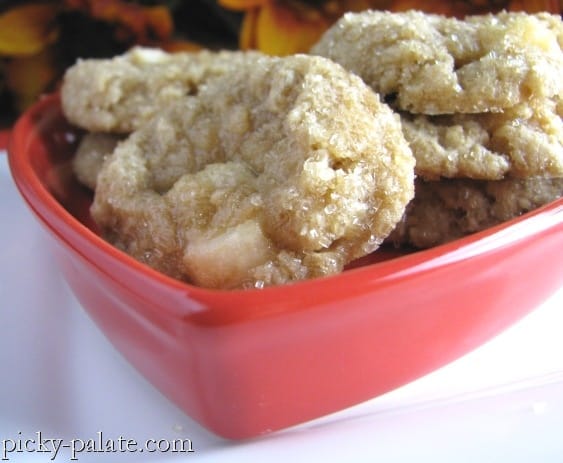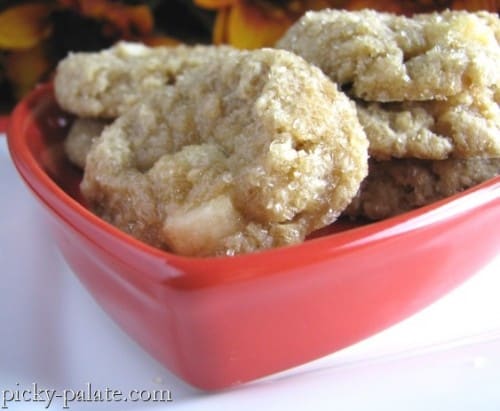 Apple Dippin' Peanut Butter Cookies
1 stick softened butter
1/2 cup granulated sugar
1/4 Cup packed light brown sugar
1/2 Cup creamy peanut butter
1 egg
1 teaspoon vanilla
1 1/2 Cups all purpose flour
3/4 Cup vanilla flavored granola clusters
1/2 teaspoon baking soda
1/2 teaspoon salt
1 Cup diced apples, about 1/4 inch, I used fuji
1/2 Cup turbinado sugar, or other sugar of choice to roll cookies in
1. Preheat oven to 350 degrees F. In a stand or electric mixer, cream butter and sugars until light mixed well. Beat in peanut butter until combined then add the egg and vanilla until well combined.
2. In a large bowl mix together the flour, granola, baking soda and salt. Slowly mix into the wet ingredients following the apples until just combined. With a medium cookie scoop, scoop dough, roll into sugar then place onto a silpat or parchment lined baking sheet. With tines of a fork, press down slightly making an X on top of each cookie. Bake for 8-9 minutes, cookies should look somewhat soft inside when you take them out. Let cool/finish baking out of oven for 5 minutes then transfer to a cooling rack.
3. Grab some milk and dig in!
3 dozen cookies
___________________________________________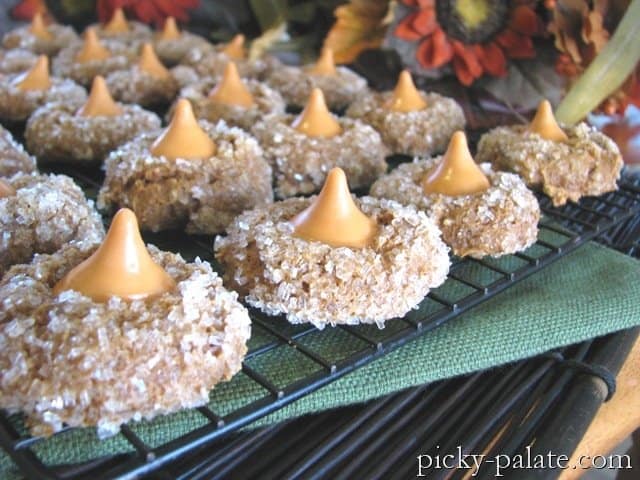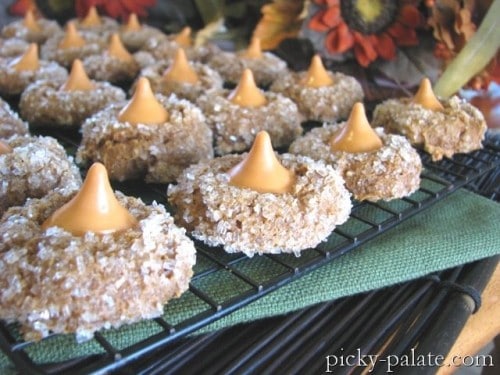 Pumpkin Spice Blossoms
1 Spice Cake Mix 18.25 oz
14 oz can Libby's Pumkin
½ Cup sanding sugar
1 bag Hershey's Pumpkin Spice Kisses (chocolate ones work great too)
1. Preheat oven to 350 degrees F. In a stand or electric mixer beat the cake mix and pumpkin until well combined, about 45 seconds. With a cookie scoop, scoop dough and roll top half in sanding sugar (dough is sticky) then place onto a parchment or silpat lined baking sheet. Bake for 11-13 minutes, or until cooked through. Quickly transfer to a cooling rack and immediately press kisses into the center of each cookie. I immediately place cooling rack into the fridge for 15 minutes so the kisses don't melt. I tried both ways and it melts down if just left at room temperature. Enjoy!
About 36 cookies
_______________________________________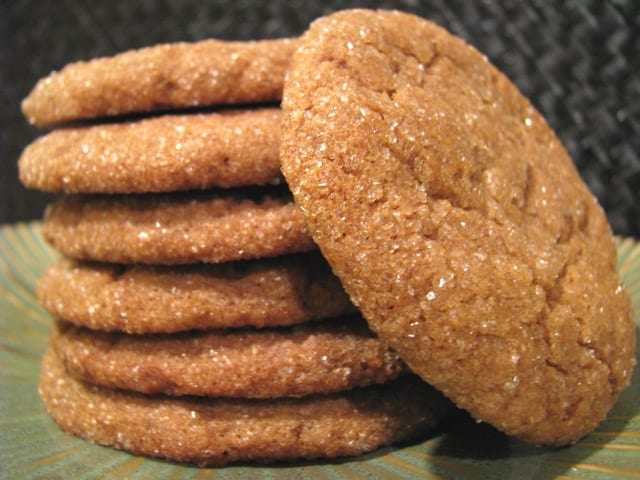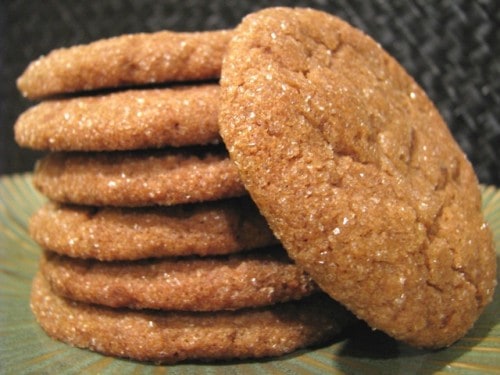 Recipe by Marjorie Johnson
3/4 cup shortening
1 cup packed light brown sugar
1/4 cup molasses
1 large egg
2 cups all-purpose flour
2 teaspoons baking soda
1/4 teaspoon salt
1 teaspoon ground cinnamon
1 teaspoon ground cloves1 teaspoon ground ginger
1/2 cup sugar (for dipping)
1. Preheat oven to 375 degrees.
2. Cream shortening, brown sugar, molasses and egg in large bowl. In a separate bowl sift flour, baking soda, salt and spices. Gradually add the dry ingredients to the creamed mixture, blending until mixed. Dough can be chilled for easy handling.
3. Shape the dough into balls the size of whole walnuts. Roll balls in sugar, place on baking sheet. Bake 8-9 minutes at 375 degrees. Cool on sheet one minute before transferring to rack.
Makes 3-4 dozen
________________________________________
Have a wonderful weekend!! Come back soon for more Christmas goodies 🙂
PLEASE continue to send an e-card to help feed the needy!!