Fruity Pebbles Pretzel Rods
Sharing my Fruity Pebbles Pretzel Rods inspired by Disneyland Resort's Bing Bong's Sweet Stuff! Pretzel rods covered in caramel, white chocolate and Fruity Pebbles…doesn't get much better than this!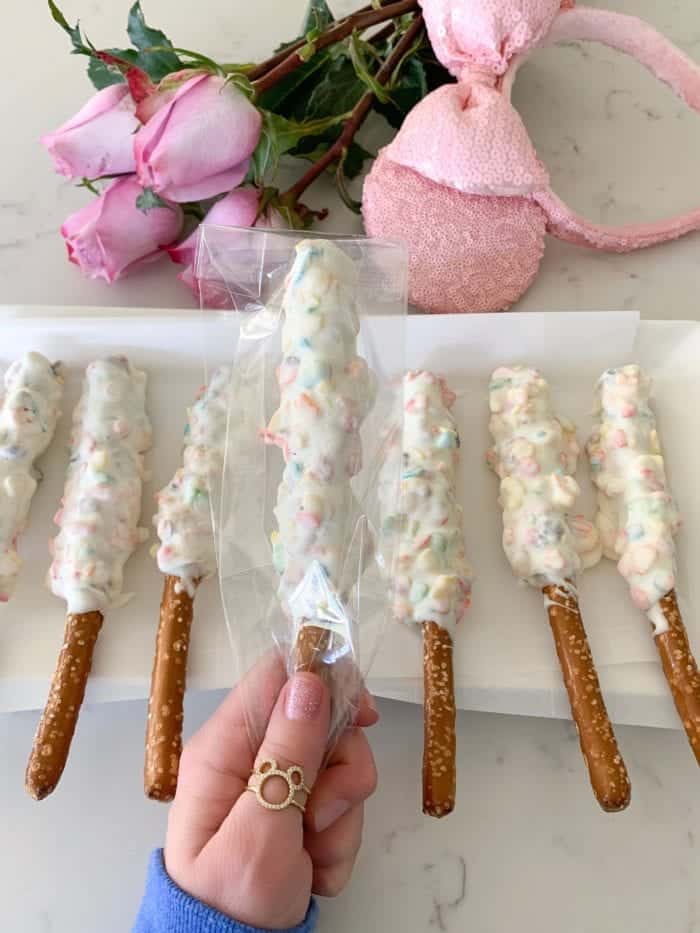 Not only is Fruity Pebbles a great cereal, it makes the best treats! How fun are these pretzel rods? Let me show you how simple they are to prepare! Check out my Churro Toffee Recipe, another favorite Disneyland Copycat recipe!
Be sure to follow Disney Hungry on Instagram for the Best food at Disneyland!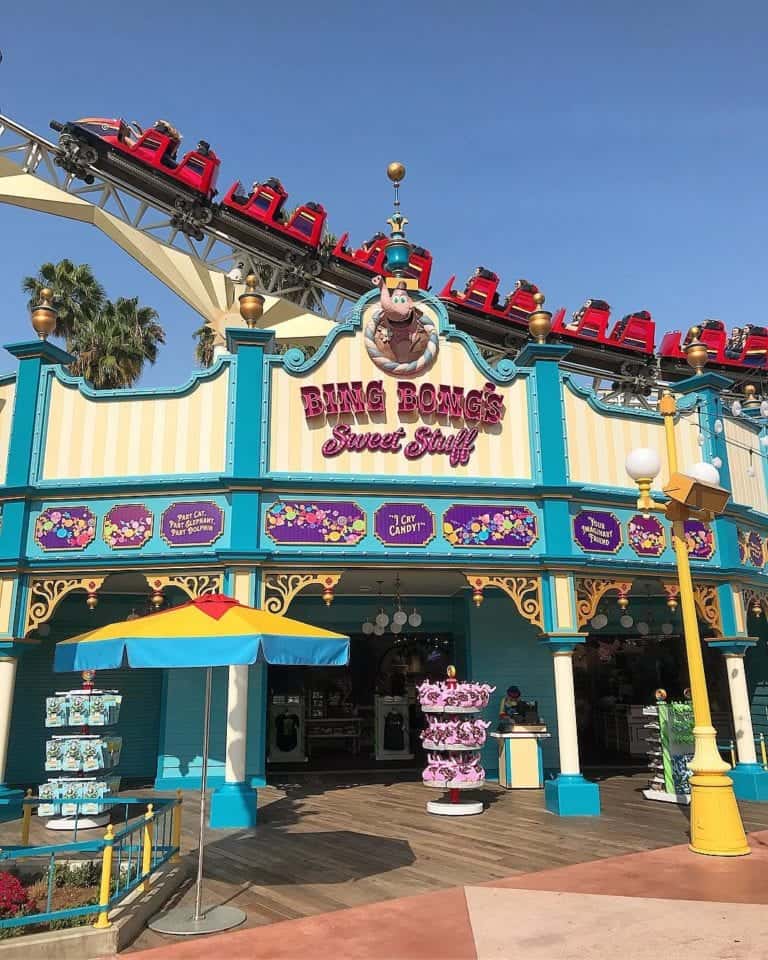 Disneyland food is so much fun and when I got this super fun Fruity Pebbles Pretzel treat from Bing Bong's Sweet Stuff at Disney California Adventure's Pixar Pier, I knew I had to make a version at home!
Disneyland Copycat Recipe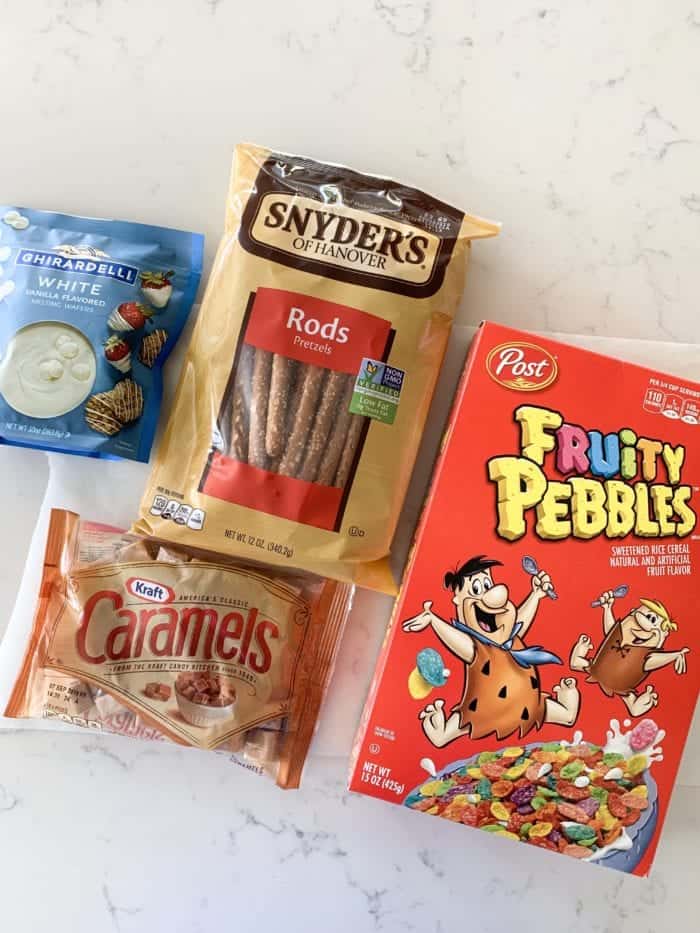 To make this simple Disneyland copycat recipe, you'll need just need a few ingredients shown in the photo above. I use the Ghirardelli White Melts, Pretzel Rods, Kraft Caramels or the Bits and some Fruity Pebbles.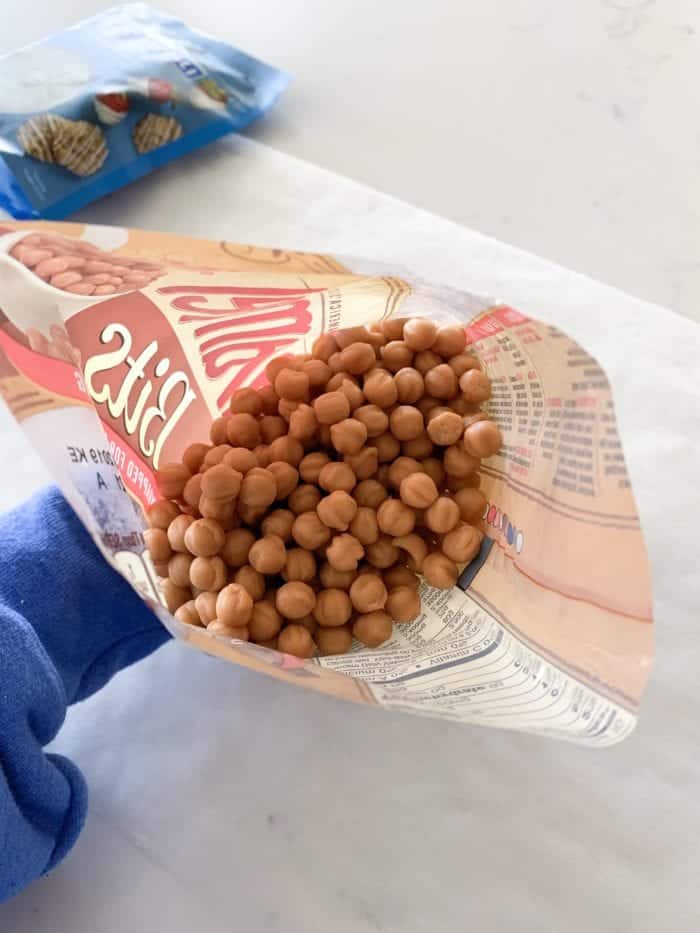 You can use either the traditional Kraft Caramels and unwrap each one, or if you can find these "Bits" they're even more simple!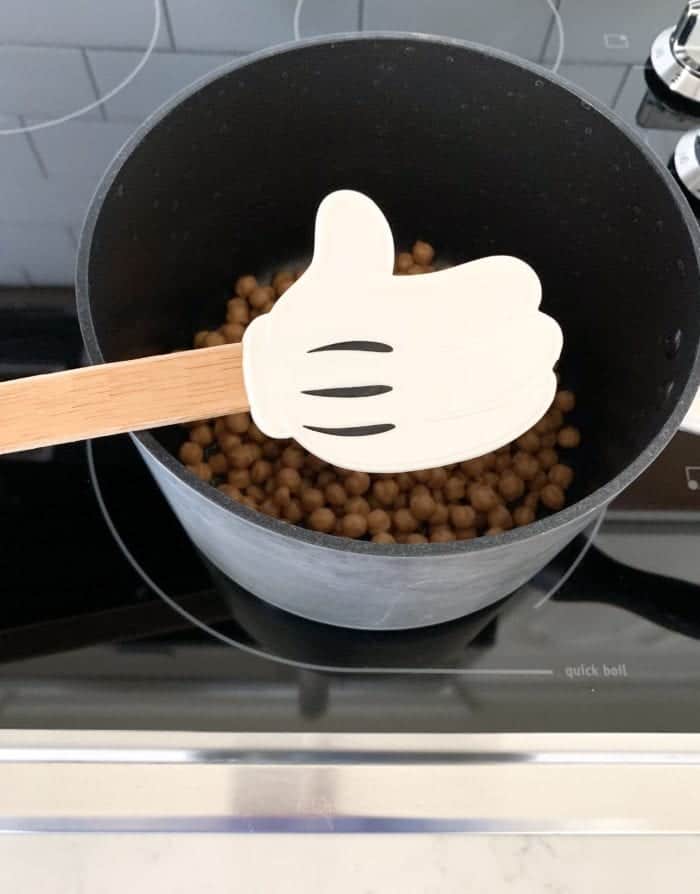 Place your caramels and water into a medium saucepan over medium heat. Stir until melted.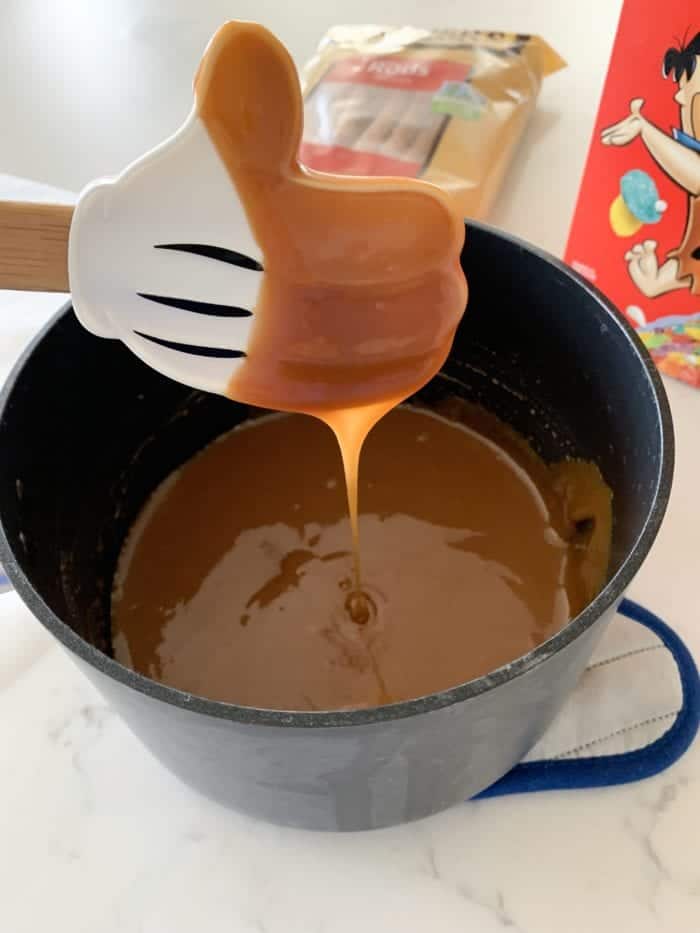 Just takes a few minutes, remove from heat and let cool/set up for 5 minutes or so. Works better when the caramel has thickened slightly.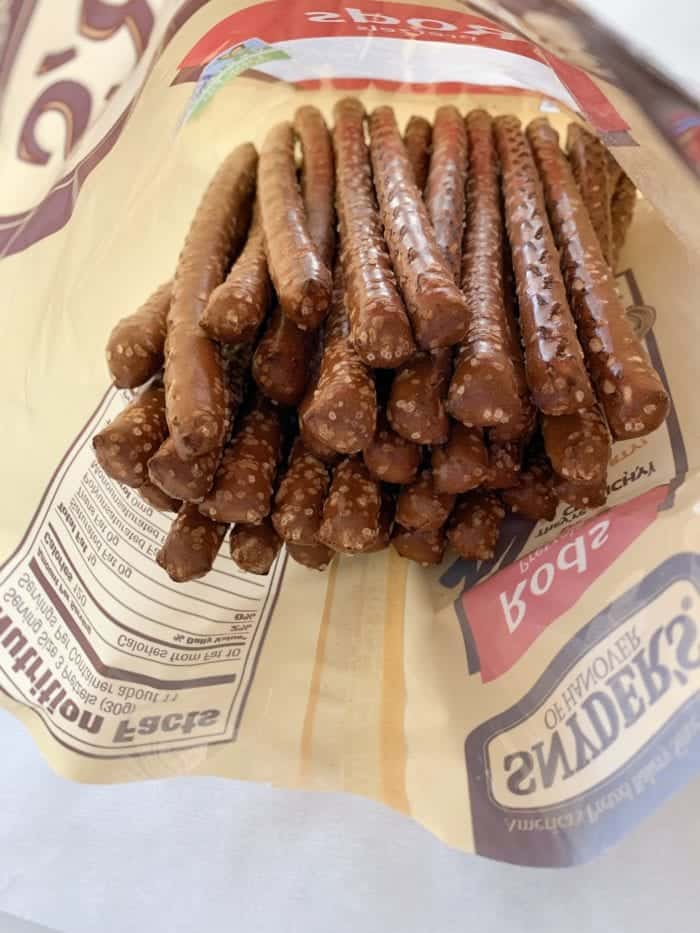 I used 8-12 Pretzel Rods for this recipe. Feel free to double recipe if needed.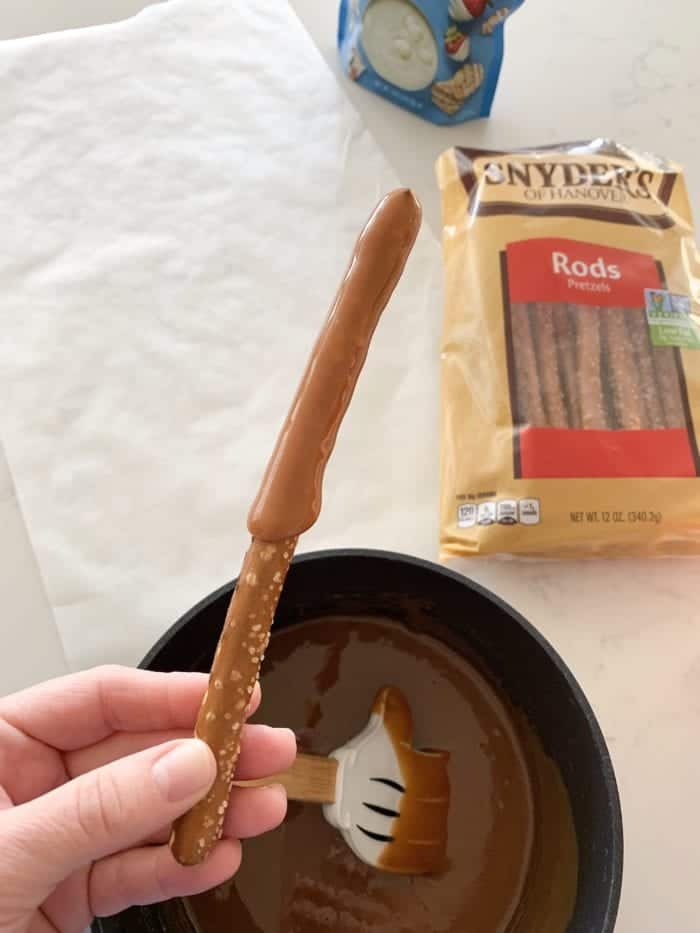 One your melted caramel has thickened a bit, dip and spoon caramel onto 3/4 of the pretzel rod. Place onto parchment paper.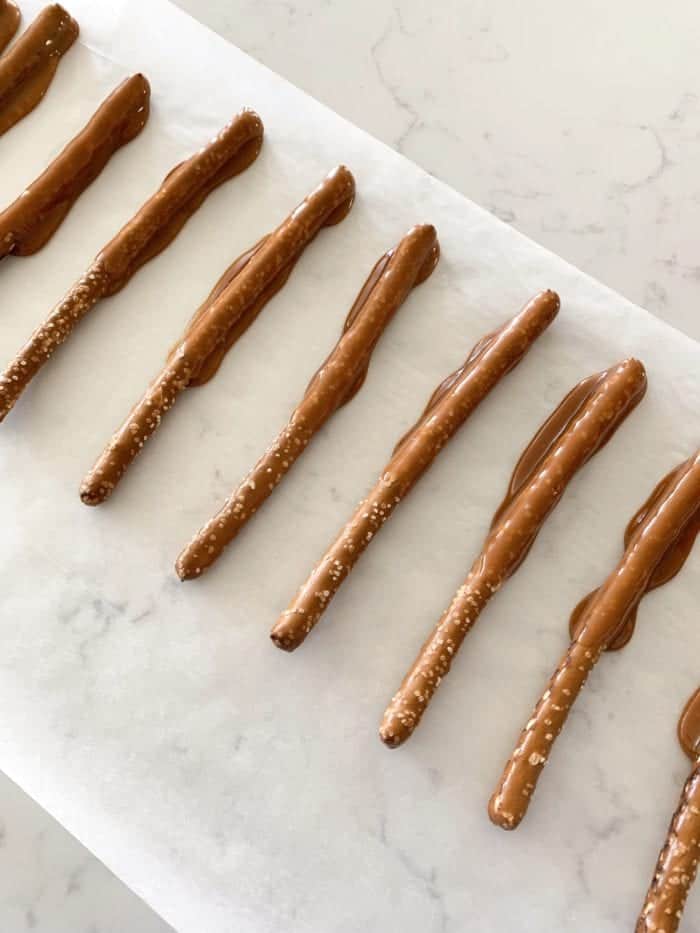 I let these set up for about 15 minutes before moving to the white chocolate.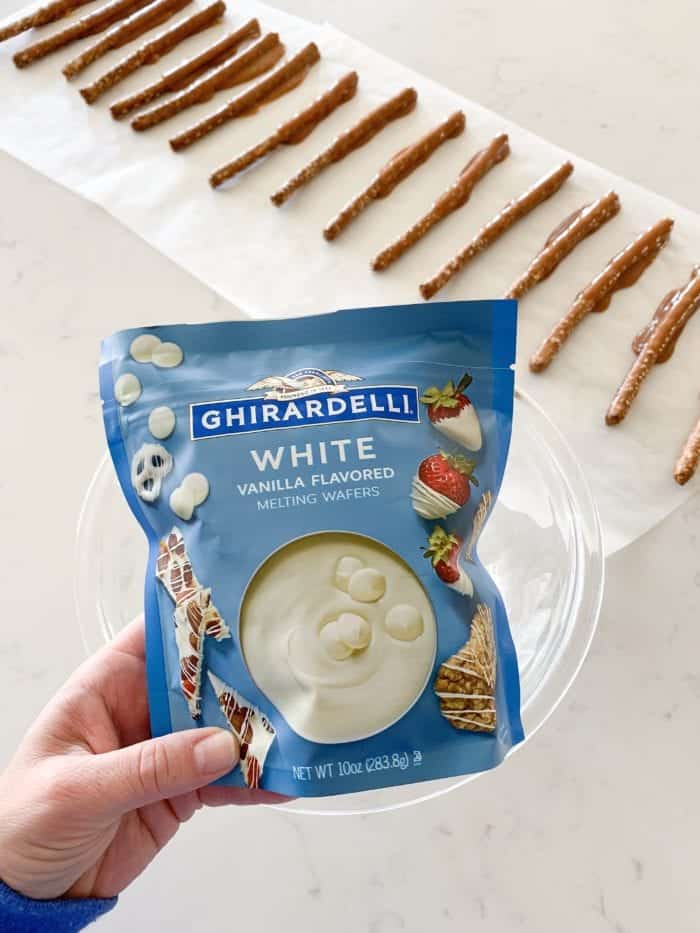 These are my favorite melts to use. I've tried other brands and this one works best. Love Ghirardelli.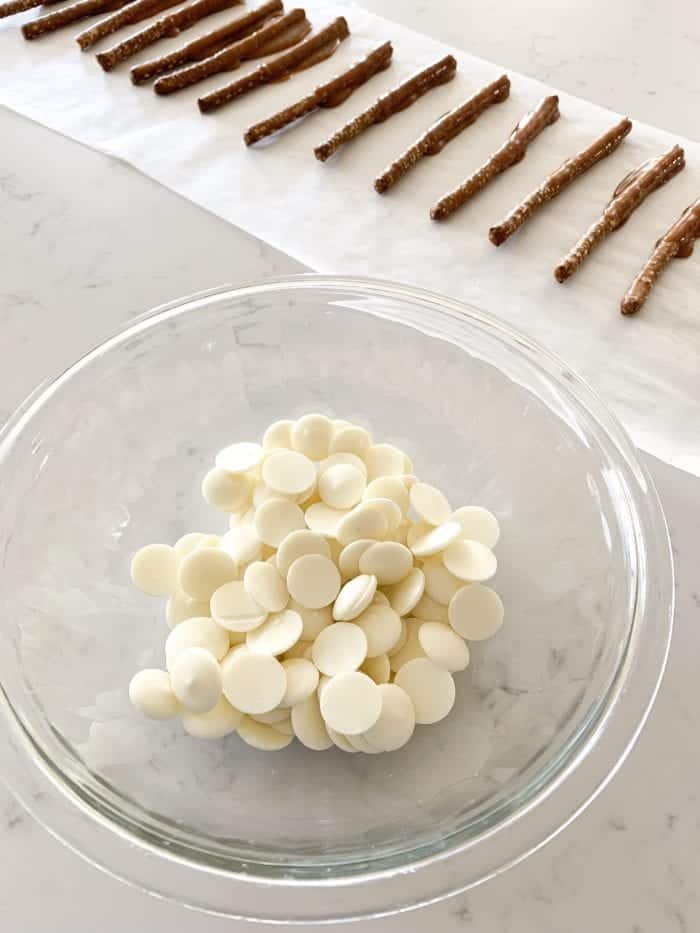 Place the entire bag of melts into a heat proof bowl and microwave in increments of 30-45 seconds, until melted. Takes close to 2 minutes depending on your microwave.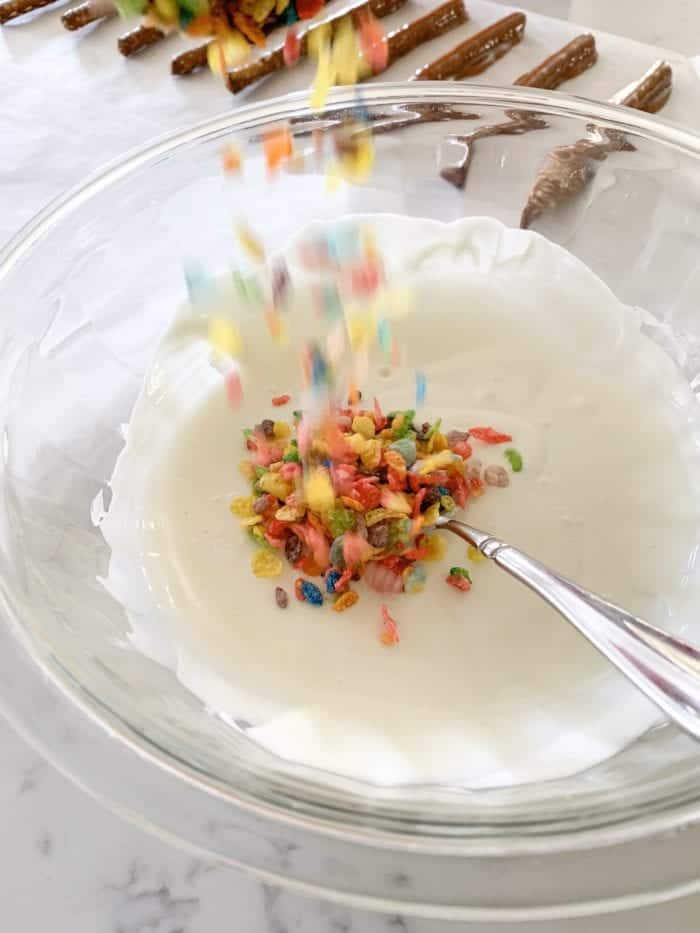 Once your chocolate is melted, add the Fruity Pebbles.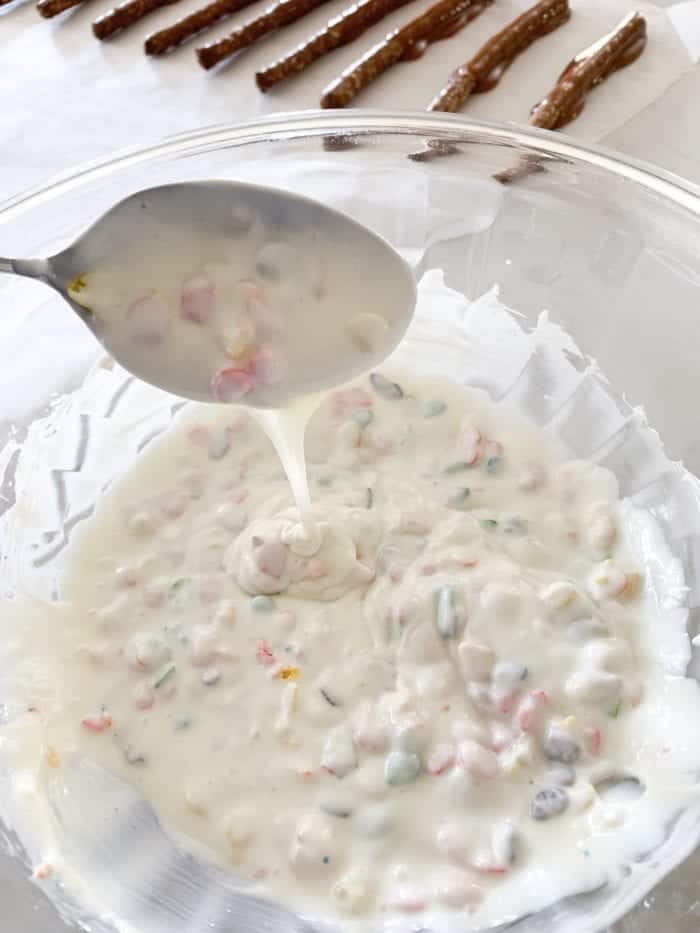 Give a nice stir and get ready to spoon this over your caramel covered pretzel rods.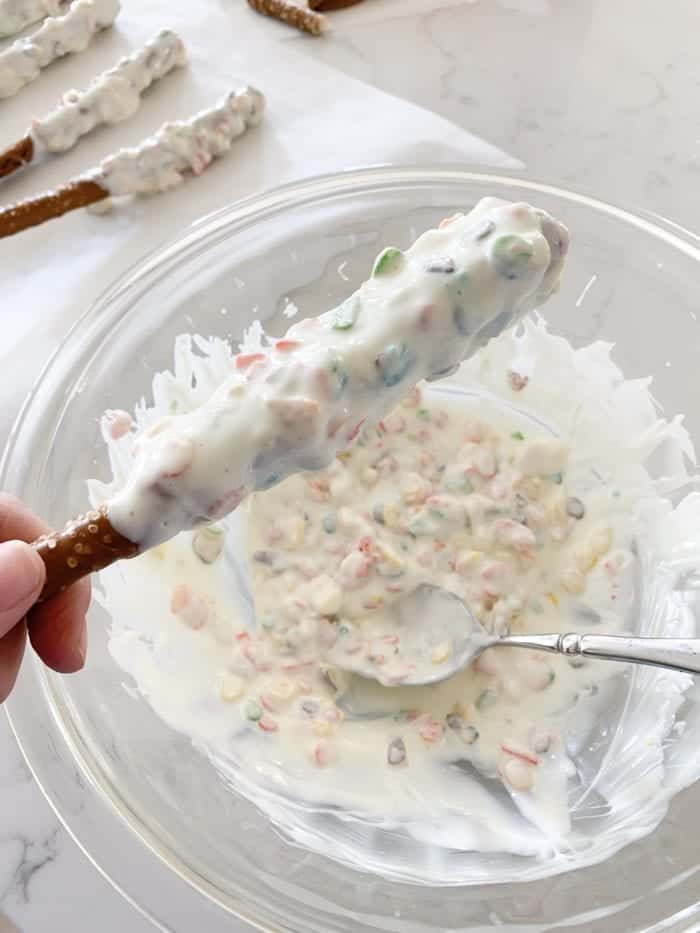 Important NOTE:  Be very careful removing your caramel coated pretzel rods from Parchment paper. I found that putting pressure on the parchment above the top of the pretzel then slowly pulling the pretzel down worked best to prevent breaking the pretzel. If you try to pull up….the pretzel breaks. Slide/pull down slowly to remove from parchment.
Use a spoon to coat the pretzel with white chocolate/cereal and set back on parchment. Wait about 5 minutes and spoon more chocolate for a second coat. Don't skip this step.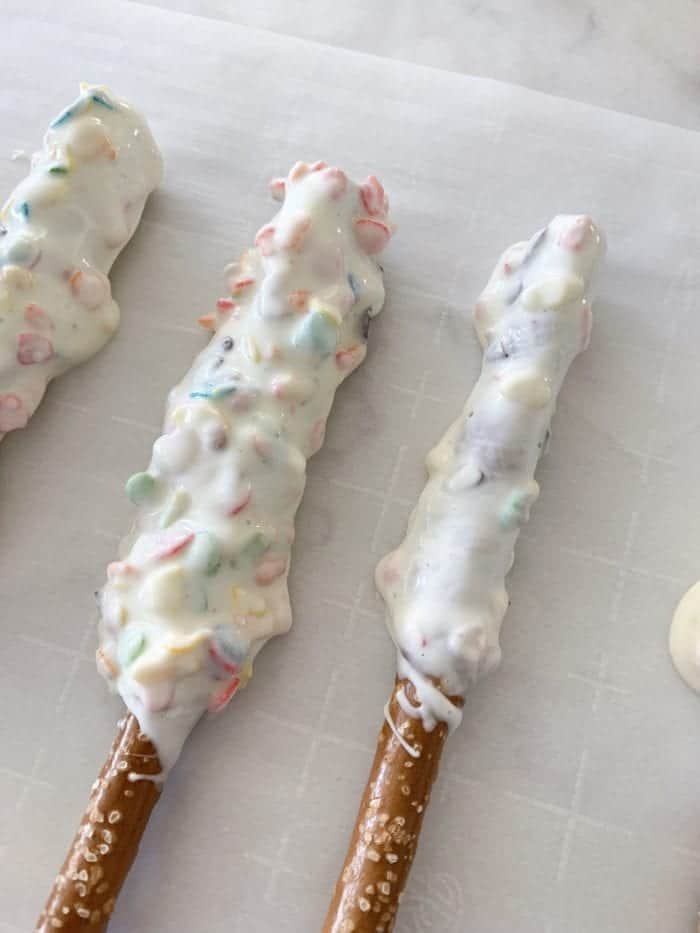 Here's an example of a double dipped pretzel rod and the one on the right that was just dipped in the chocolate one time. Be sure to coat it once, let set up for 5 minutes, then coat it a second time for best results 🙂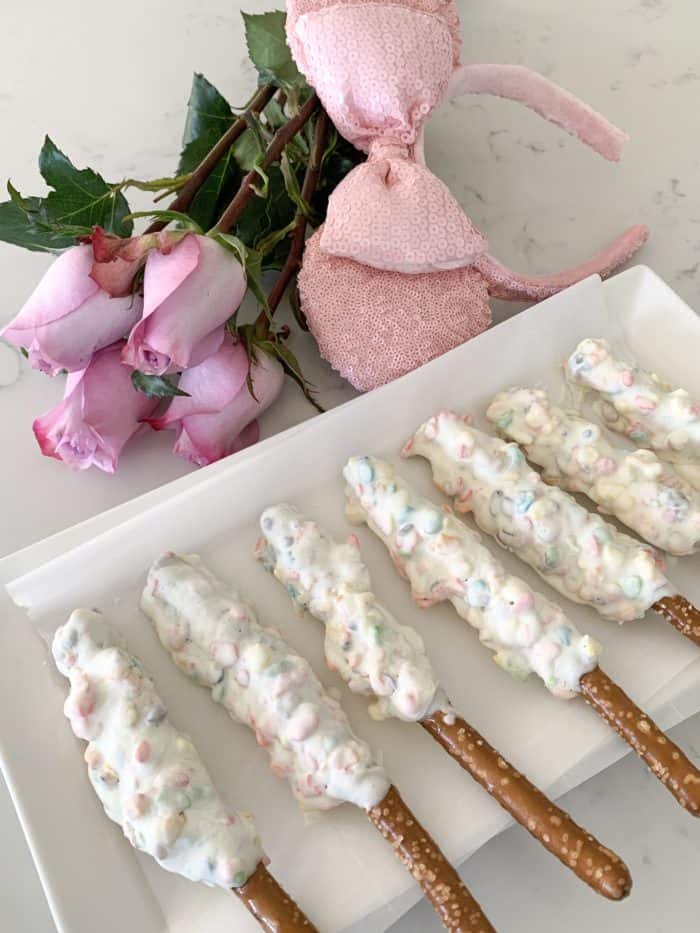 I let them set up completely another 10 minutes and they were ready! So cute and perfect for parties! Love the colors.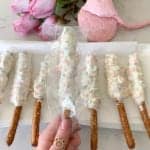 Fruity Pebbles Pretzel Rods Disneyland Copycat Recipe
Keyword:
best food at disneyland, Disneyland, disneyland copycat recipe, disneyland food, disneyland recipe, disneyland recipes, fruity pebbles, fruity pebbles dessert, party food
Ingredients
8-10

pretzel rods

1

bag Kraft Caramels

unwrapped

10

ounce

bag Ghirardelli White Melts

3/4

cup

Fruity Pebbles Cereal
Instructions
Place pretzel rods onto a large sheet of parchment paper. Place unwrapped caramels or bits into a medium saucepan over medium heat. Add water according to package directions and stir until melted and smooth. Remove from heat and let cool for 5 minutes so caramel thickens slightly.

Dip each pretzel rod into melted caramel. I used a spoon to help spoon caramel on the bottom half of the pretzel. Place coated pretzel rods onto parchment paper. Let set up for 15 minutes.

Place Ghirardelli melts into a heat proof bowl and microwave in 30-45 second increments until melted and smooth. Takes up to 2 minutes according to your microwave. When melted and smooth stir in Fruity Pebbles until combined.

CAREFULLY pull caramel coated pretzel rods downward from parchment. Do not try to pull straight up or pretzel rod WILL break. Trust me, I tried, lol! Just pull down nice and slow and it comes off of the parchment paper.

Use a spoon to help coat pretzel rods with the white chocolate/cereal mixture. Place back onto parchment for about 5 minutes to slightly set up. Take each pretzel rod and dip/coat for a second time. don't skip this step. Looks much better when dipped in white chocolate/cereal 2 times. Let double dipped pretzels set up for another 15 minutes, or until set. Transfer to a serving tray. Use a cellophane bag if desired to get the full effect of how they serve it at Bing Bong's Sweet Stuff. Enjoy!
Nutrition Facts
Fruity Pebbles Pretzel Rods Disneyland Copycat Recipe
Amount Per Serving
Calories 171
Calories from Fat 81
% Daily Value*
Fat 9g14%
Cholesterol 6mg2%
Sodium 56mg2%
Potassium 81mg2%
Carbohydrates 20g7%
Protein 1g2%
Vitamin A 85IU2%
Vitamin C 0.7mg1%
Calcium 58mg6%
Iron 0.3mg2%
* Percent Daily Values are based on a 2000 calorie diet.
Pin Fruity Pebbles Pretzel Rods
FOLLOW PICKY PALATE ON INSTAGRAM! Show me what recipes you're making from Picky Palate by using #pickypalate.
Other recipes you may enjoy...
Comments