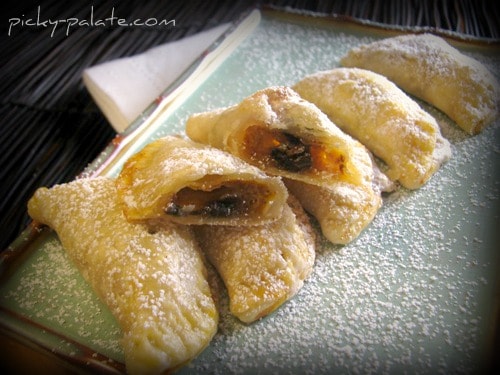 Good Monday to you!
I am so excited for Thanksgiving this week, I can hardly stand it!! We've got 2 parties at the boys school this week. One this morning and one Tuesday. As if I'm not going to eat enough Thursday!
Here is another version of the mini pies I made a couple months ago. I added a pumpkin pie filling along with some marshmallows and chocolate chips. The marshmallows leave a gooey sweetness I love in these pies. If you are a pumpkin pie fan, these little pies will not disappoint! Take a peek!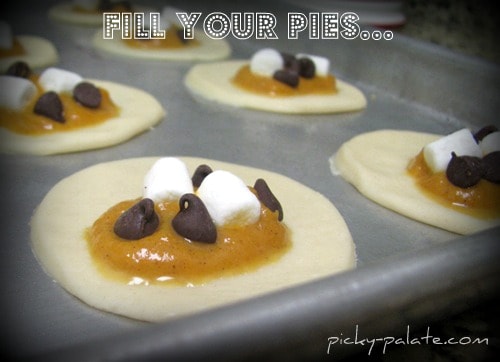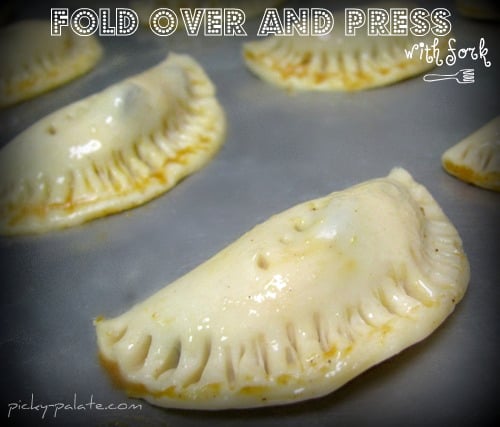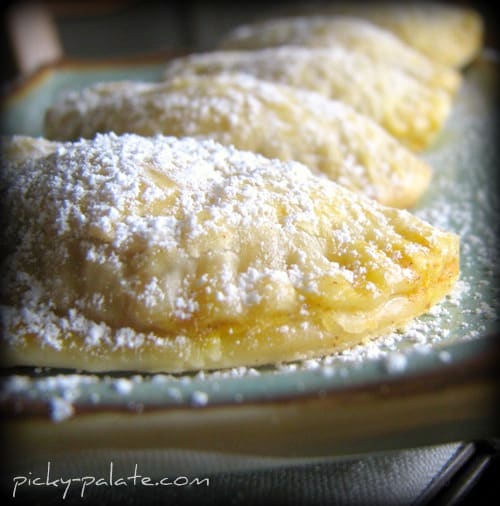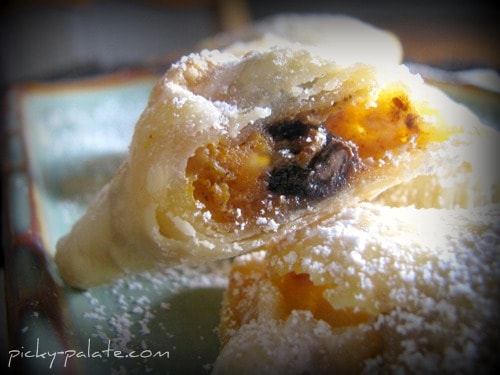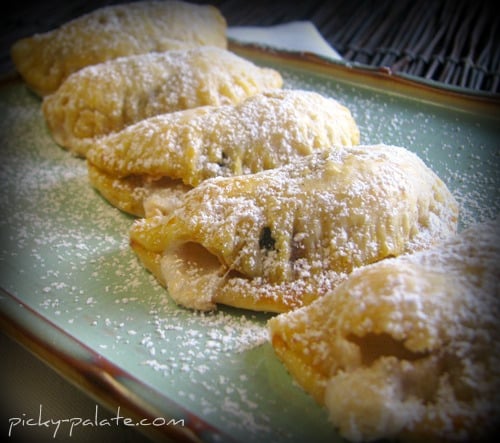 Mini Chocolate Chip Pumpkin Pies

1 Cup canned pumpkin, I used Libby's
1/4 Cup granulated sugar
1/4 Cup evaporative milk
1/2 teaspoon cinnamon
1/4 teaspoon fresh grated nutmeg
1 egg, beaten
2 rolls Pillsbury pie crust, thawed (1 package has 2 rolls)
1/4 Cup chocolate chips
1/4 Cup mini marshmallows
1 egg, 1 teaspoon water; beaten for egg wash
1/4 Cup powdered sugar
1. Preheat oven to 350 degrees F. In a bowl, mix together the pumpkin, sugar, milk, cinnamon, nutmeg and egg until well combined.
2. Roll out each pie crust. Use a 3 inch round cookie cutter or glass and cut out circles from pie crust. Be sure to re-roll extra dough. Place round pie crusts onto a cookie sheet that's been sprayed with cooking spray. Place 1 teaspoon of pumpkin pie filling into center of each pie crust round. Top with 2 marshmallows and 4 chocolate chips each. Brush edges with egg wash then fold crust over filling and press edges with tines of a fork to seal. Poke top of each crust with fork for steam to escape. Clean any oozing pumpkin filling with a paper towl. Brush tops with egg wash and bake for 20-22 minutes or until golden brown.
2. Let cool for 5 minutes, dust with powdered sugar and serve warm.
about 26 little pies
____________________________________
Have a wonderful Thanksgiving Week! See you soon 🙂