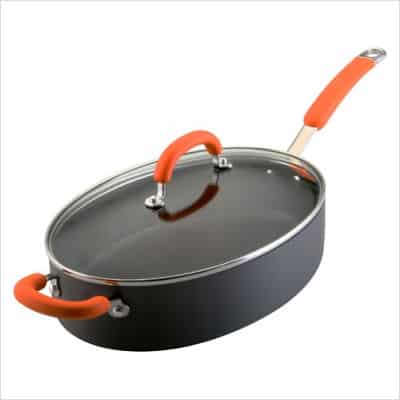 Hi everyone, I am reviewing a product today for you guys and it is the Rachael Ray 5 quart Sauce Pan. I am in love with this pan, in fact I use it numerous times every single day. I'm talking I cook my eggs and french toast, and even saute veggies, cook up soups and chili's. It is so versatile that it is well worth the money. So, next time you are in the market for a new 5 Quart pan give this one a try, I LOVE it! Check out some of the features…
Features:
Helper handle for easy lifting when full of food
Professional hard-anodized material provides even heating throughout the pan
Exceptional strength and durable construction
Comfortable contemporary silicone handles
Durable nonstick interior releases food effortlessly and is easy to clean
Glass Lid allows you to monitor foods
Specifications:
Material: Hard-anodized
Color: Orange
Overall Dimensions: 6.7″ H x 26.1″ W x 11.1″ D
Cooking Dimensions: 3.25″H x 13″W x 9″D
Capacity: 5-Quart
Cleaning and Care: Recommend washing by hand
Oven safe to 400°F
Lifetime limited warranty
Thank you to the folks at CSN stores for providing me with this beautiful pan to review. CSN has more than 200 online stores that sell everything from cookware to barstools! Next time you are in need of online shopping give CSN stores a try!
__________________________________
So, what is your favorite cookware? Would love to hear about it 🙂