Sharing one of our favorite salad recipes today! This Roasted Broccoli Mandarin Sesame Ginger Salad is perfect for lunch or dinner and takes no time to prepare! Use your favorite vegetables that need used up in your salad.
Salad Recipes
I love preparing salad recipes in the summer! It's so nice having a fresh colorful salad. Cool and refreshing is the way to go!
Try my Quinoa Party Salad too! Follow Picky Palate on Instagram for daily recipe inspiration.

Easy Salad Recipes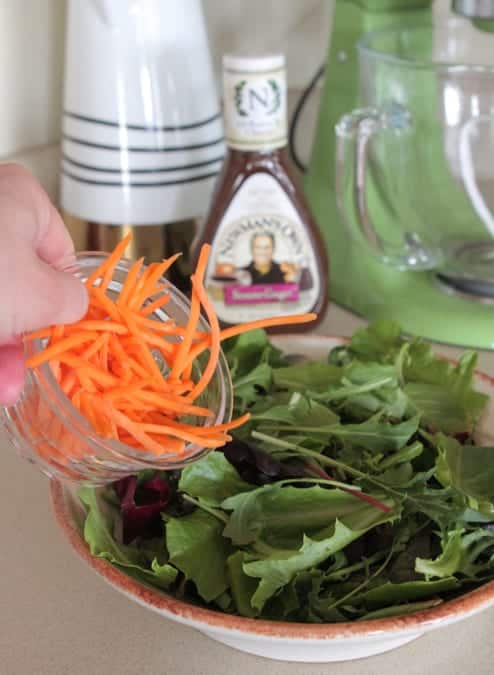 Start with your favorite salad greens and add some grated carrots.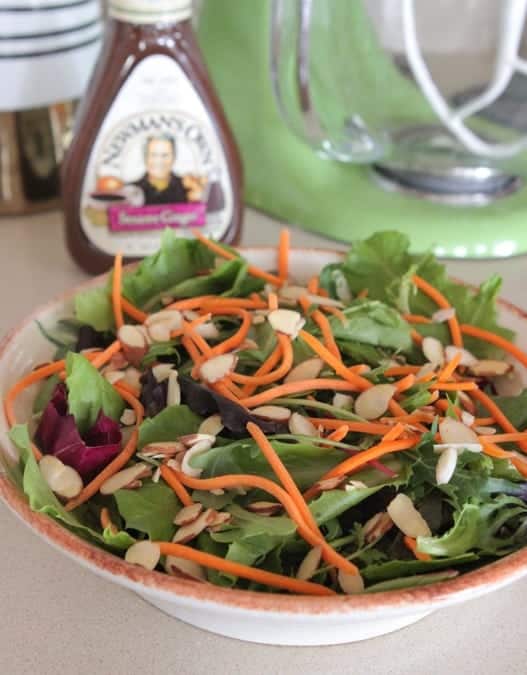 Add your sliced almonds next.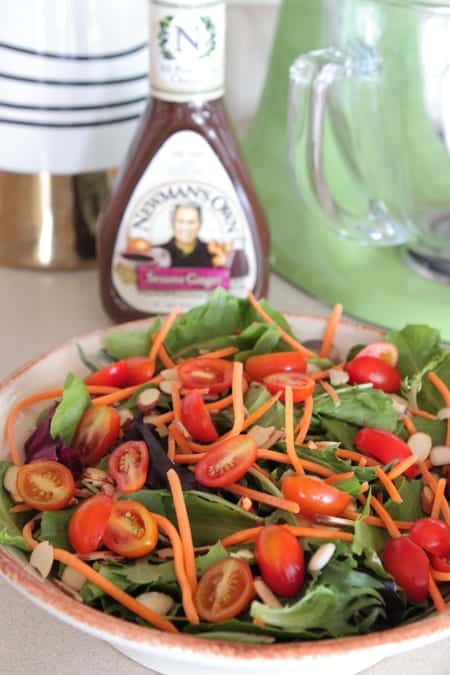 Sliced cherry tomatoes up next.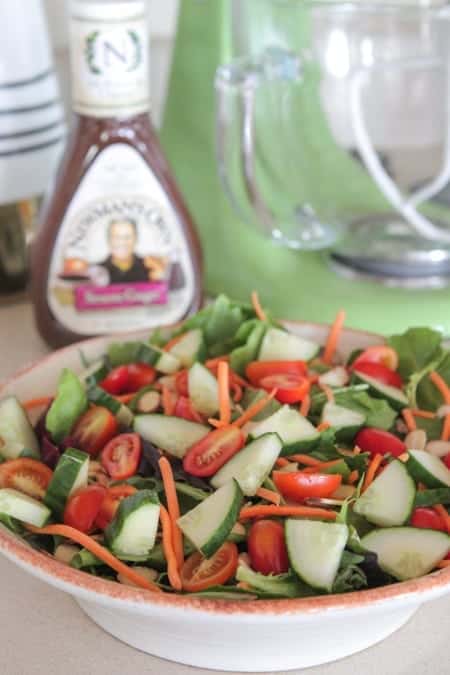 Add some quartered English cucumbers.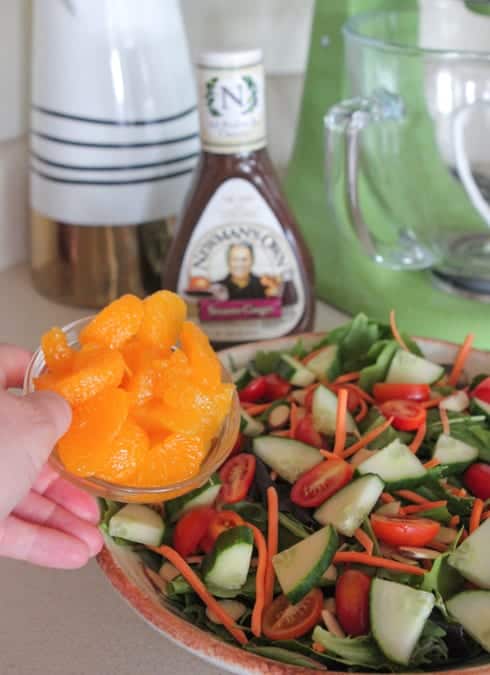 Some beautiful mandarin oranges.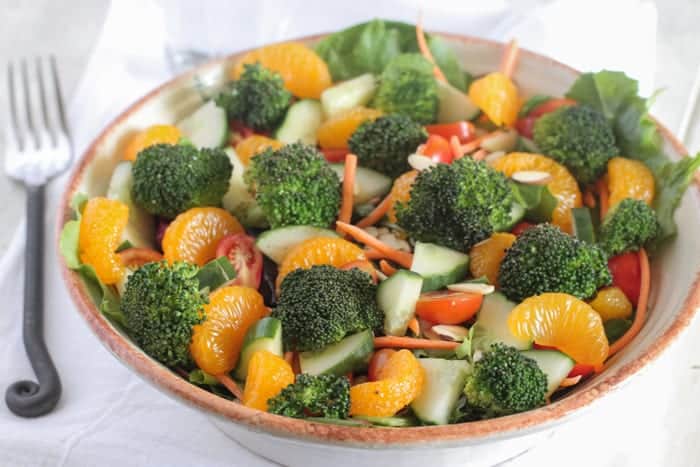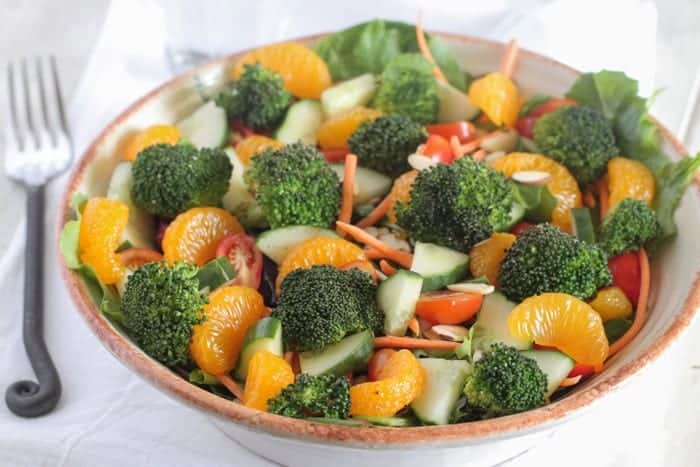 Top with your roasted broccoli.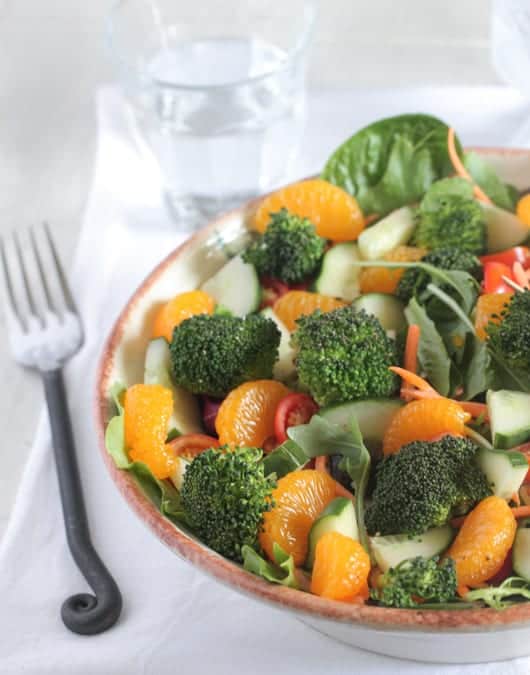 Beautiful, colorful and hearty salad!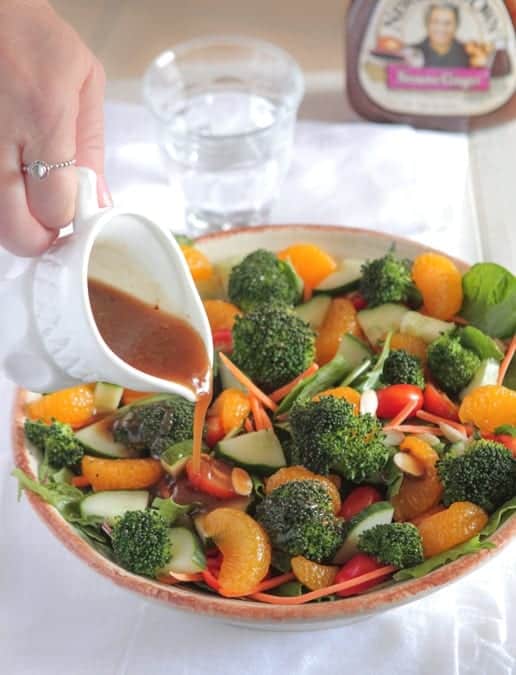 Tips For Making Great Salad!
Start with fresh ingredients. While a vegetable not at its peak freshness can be somewhat salvaged in a curry, it will drastically bring down the quality of a salad. Ingredients in a salad have nowhere to hide, so use the best you have.
Cleaning and prepping salad leaves – Use the sink or buy one of those large sized plastic tubs to wash lettuce. Fill it with tap water, swish the lettuce and other salad greens in the water and all the sand / soil will get collected at the bottom. Discard this water and repeat the process 2 more times or until the water runs clean. You can use a salad spinner to dry the leaves. No salad spinner? Then use the totally fun pillow-case trick! In a large cotton pillow case, place the washed leaves, twist the end closed and spin/swing it around for a bit. The cotton case will absorb all the water, giving you nice and dry leaves. Water on the salad leaves dilutes the dressing and the flavour. Wet ingredients do not allow the dressing to stick. So this is one of the most important salad making tips.
Dressings are all about the perfect balance. Ensure you have the something sour, spicy, sweet (optional) and salty, all in the right quantities to make that perfect tasting dressing. Taste as you go and adjust the various components. To 'taste' a dressing, use a salad leaf dipped in the dressing instead of dipping your finger or using a spoon as it will not give you the best idea of the taste.
Leftover jam – To add a sweet, fruity tinge to dressings, use any leftover jam or marmalade. Place the jam jar (assuming its glass) with leftover jam, without the lid in the microwave for 10-20 seconds until the marmalade / jam is runny. Add the oil, vinegar, salt, pepper and any other ingredients you've lined up for your dressing into this jam jar and whisk / shake it all together. Voila, ready to dress up your salad!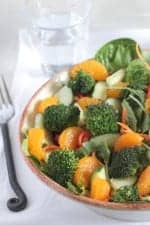 Roasted Broccoli Mandarin Sesame Ginger Salad
If you like your salads packed with flavor, this Roasted Broccoli Mandarin Sesame Ginger Salad is for you!
Print
Pin
Ingredients
4

cups

fresh broccoli florets

8

cups

mixed greens

1

cup

fresh grated carrots

1/2

cup

sliced almonds

2

cups

sliced cherry tomatoes

2

cups

quartered English cucumber

2

cups

mandarin oranges

1/2

cup

Newman's Own Sesame Ginger Dressing
Instructions
Preheat oven to 350 degrees and line a baking sheet with parchment paper or tin foil. Place broccoli florets onto baking sheet and roast for 10 minutes. Remove and let cool for 5 minutes.

Divide mixed greens between 4 salad bowls. Top evenly with carrots, almonds, tomatoes, cucumbers, mandarin oranges and roasted broccoli.

Drizzle with dressing, toss and serve.
Nutrition
Calories:
355
kcal
|
Carbohydrates:
40
g
|
Protein:
10
g
|
Fat:
20
g
|
Saturated Fat:
2
g
|
Cholesterol:
8
mg
|
Sodium:
302
mg
|
Potassium:
1082
mg
|
Fiber:
9
g
|
Sugar:
23
g
|
Vitamin A:
8175
IU
|
Vitamin C:
140
mg
|
Calcium:
168
mg
|
Iron:
2.5
mg
Keywords:
asian salad recipe, easy salad recipes, healthy salad recipes