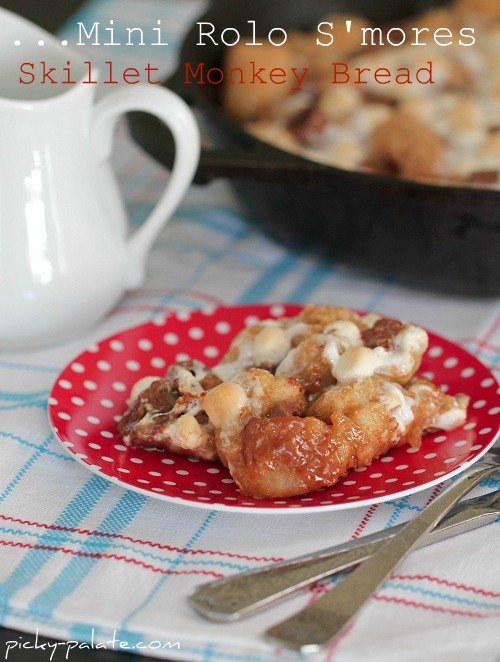 I fully admit that I have sampled my fair share of desserts of all kinds. It's one of my favorite parts of being a food blogger. With as many desserts that I have tried, this recipe creation blew my mind! This ooey gooey s'mores style monkey bread will go down in history in our house and I will be making it time and time again.
So excited for you to try it! Please come back and let me know how that first bite was 🙂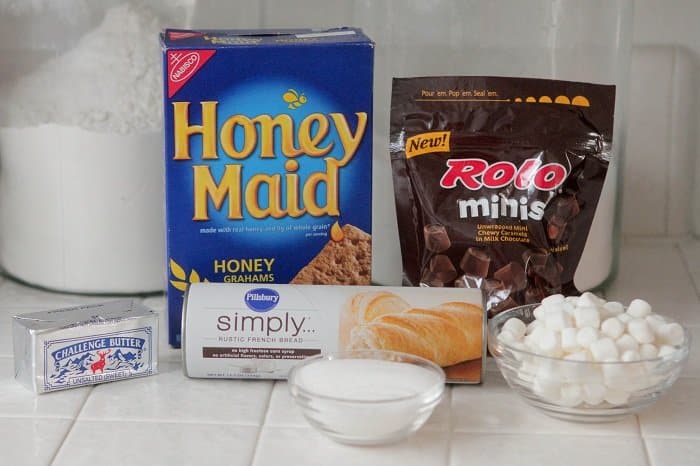 Here's your line up. I used Pillsbury's Simply French Bread dough. It worked fabulously here. Also, don't fret if you can't find these mini rolos. Regular sized ones work just fine cut in half.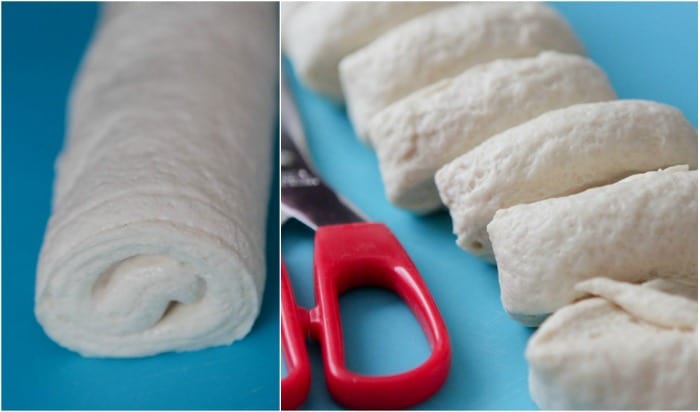 Start by cutting that beautiful dough into about 8-10 slices.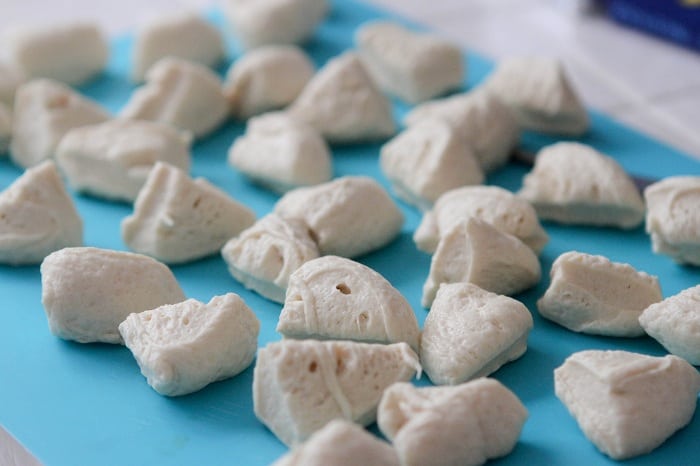 Cut each round into 4 pieces.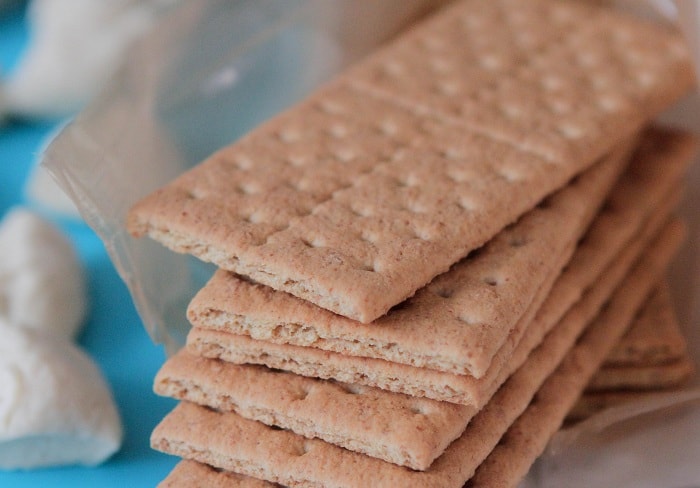 Break out your grahams!
Crush them nice and fine. You can use your food processor or crush them with a rolling pin with the grahams placed inside a Ziploc.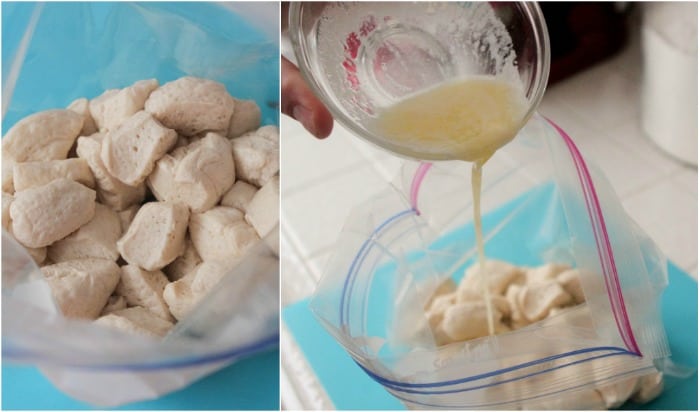 Place all of your dough pieces into a large Ziploc then pour in the melted butter. Mix around to coat.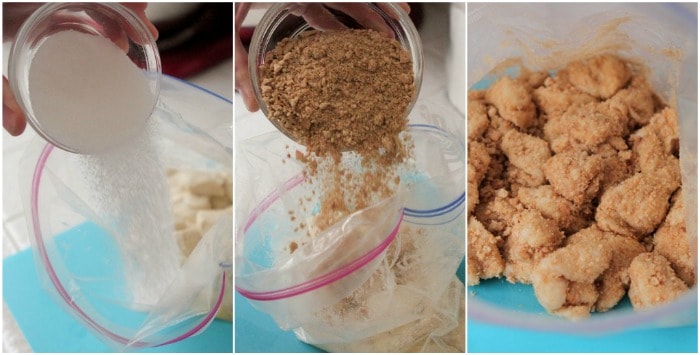 Pour in your sugar and crushed graham crackers, mixing around to coat.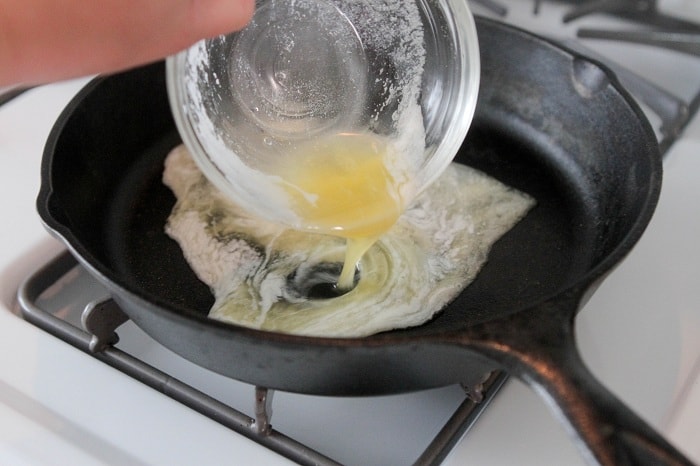 5 more tablespoons of butter into your cast iron skillet.
Place your coated bread pieces into your buttered skillet. Looks kinda like chicken nuggets huh? Lol!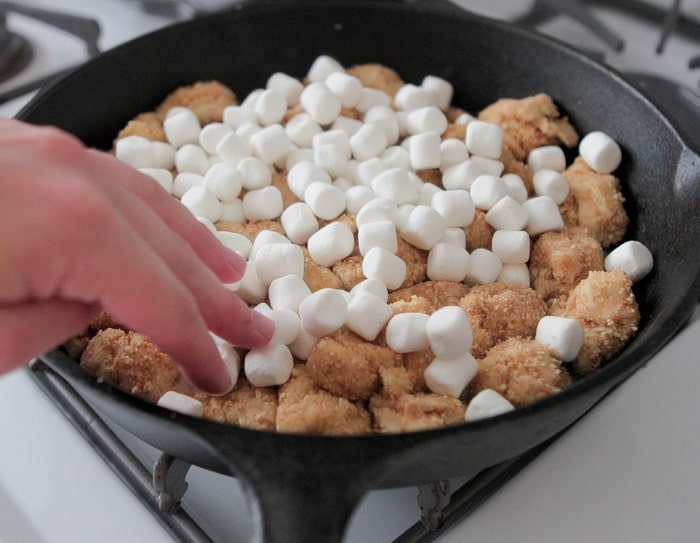 Top with some mini marshmallows. Press them down into the bread slightly.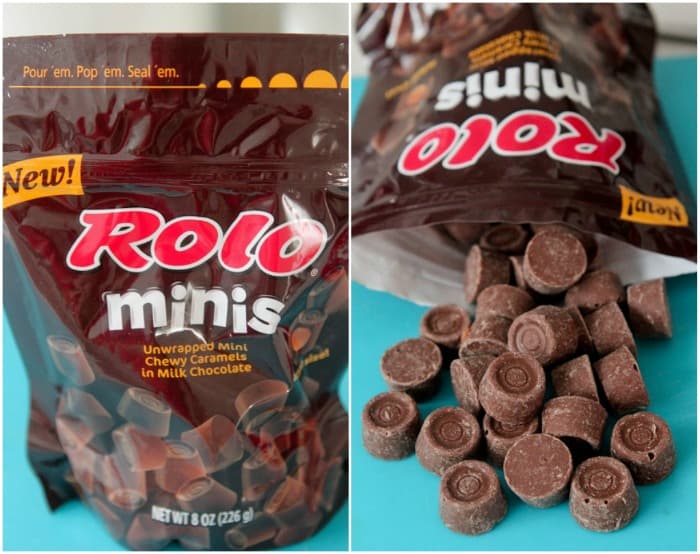 Here's that cute bag of minis! Love them, found them at Target.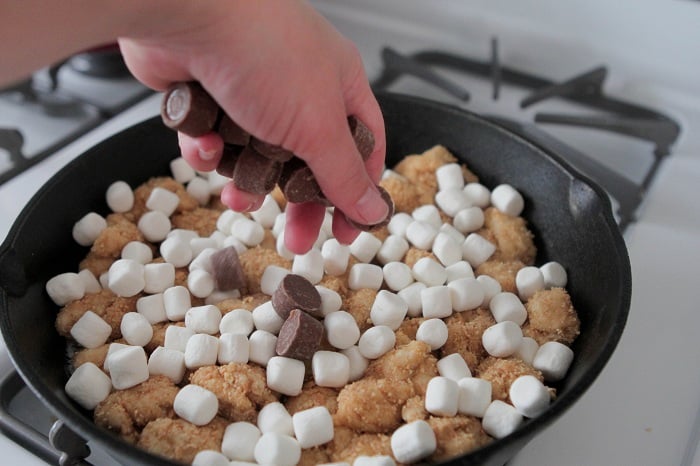 Top with those minis.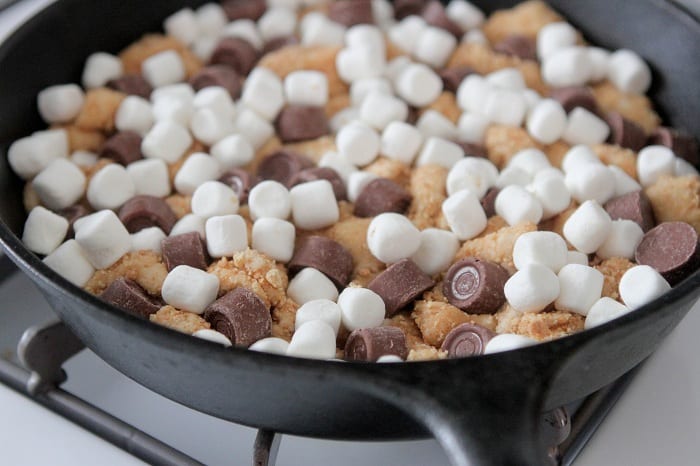 Press down slightly then time to bake!!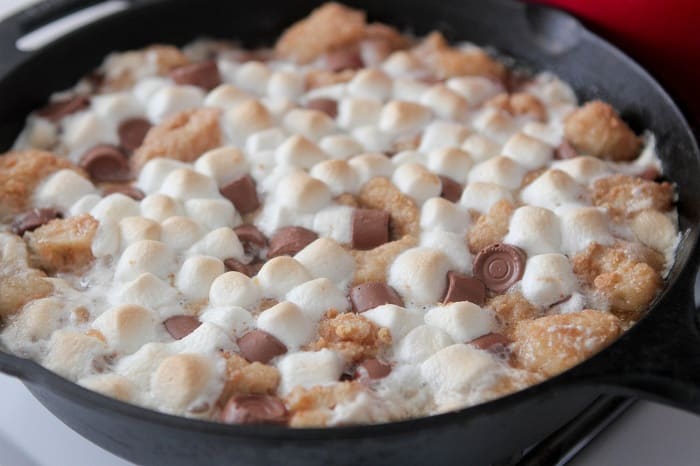 Look how beautiful!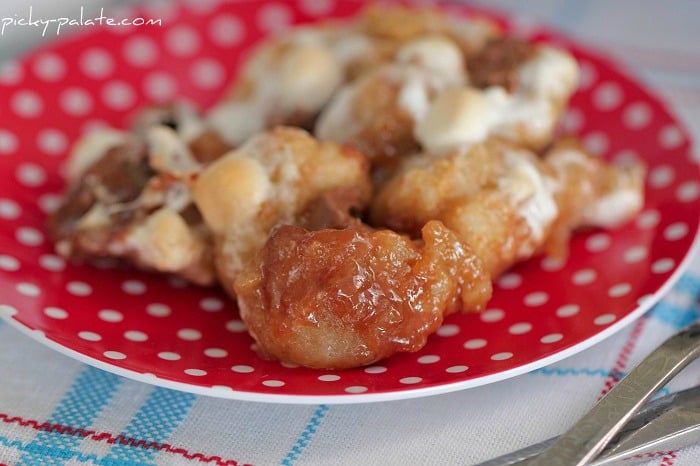 Spoon warm monkey bread onto your favorite little plate and be prepared to swoon! Warm buttery s'mores bread pieces! Heaven!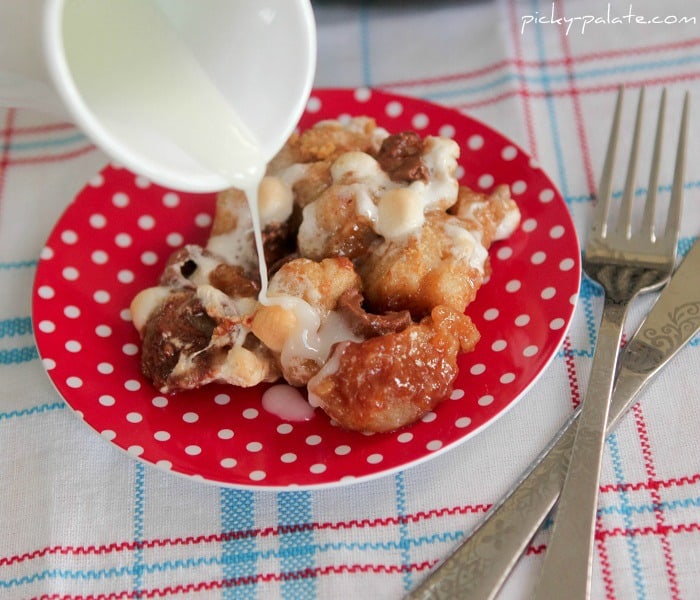 If you are crazy like me, drizzle with a simple sweet glaze. Totally worth it!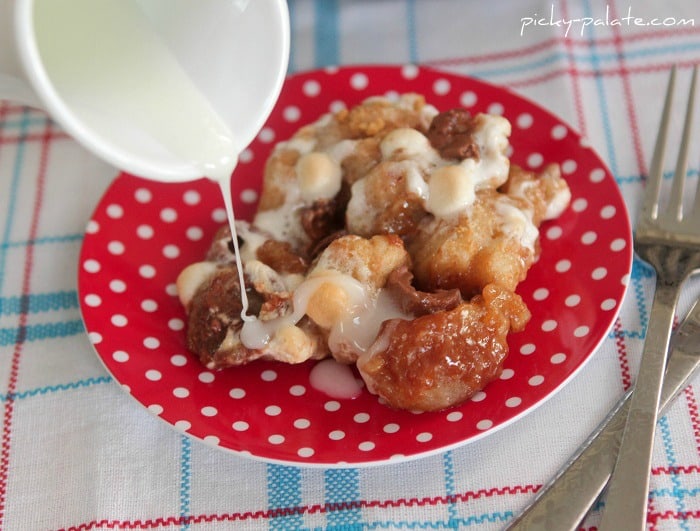 [ziplist]
Rolo S'mores Skillet Monkey Bread
1 Roll Simply French Bread Loaf (dough)
3 tablespoons melted butter
3 tablespoons granulated sugar
1/2 cup finely crushed graham crackers
5 tablespoons melted butter
1 1/2 cups mini marshmallows
1 1/2 cups mini Rolos (or regular Rolos, cut in half)
Glaze
1 cup powdered sugar
2-3 tablespoons heavy cream
1. Preheat oven to 350 degrees F.
2. Cut loaf of bread dough into about 8-10 pieces. Cut each round into 4 pieces. Put cut pieces into a large zip top bag. Pour in 3 tablespoons melted butter and swoosh around. Don't worry if bread pieces stick together. Pour in sugar and graham crackers. Zip bag closed and swoosh around bag, massaging bread into sugar and graham crackers. Pieces will stick together a little.
3. Pour 5 tablespoons melted butter into a 9 inch cast iron skillet swirling around to coat bottom of pan evenly. Break apart coated bread pieces with your fingers and place evenly in buttered skillet. Top with marshmallows and mini Rolos pressing into the bread. Bake for 22-25 minutes, until baked through. Let cool for 5 minutes in pan before serving.
4. If desired whisk powdered sugar and cream until smooth and creamy then drizzle over monkey bread.
Makes 6 servings
______________________________
Have a great day, come back soon!