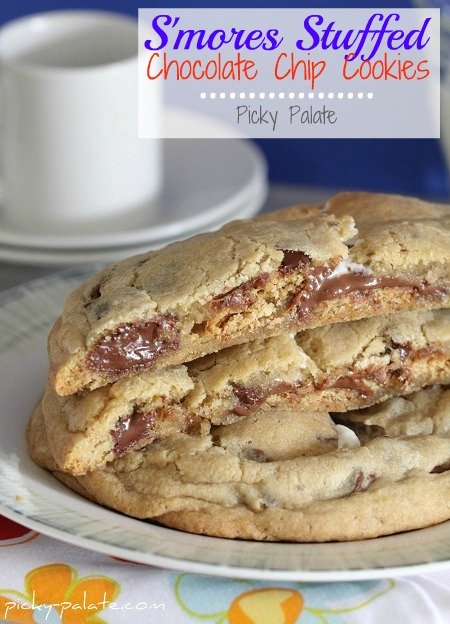 I know, I know, enough stuffed cookies already, lol! Please allow me to get just a couple more out of my system and I will put these bad boys to rest 🙂
This version however, is one of my very favorites, it's an inside out gooey s'mores wrapped in butter crisp chocolate chip cookie dough. If that doesn't sound to die for, I don't know what does. Hope you'll enjoy taking a peek at my "S'mores Stuffed Chocolate Chip Cookies!"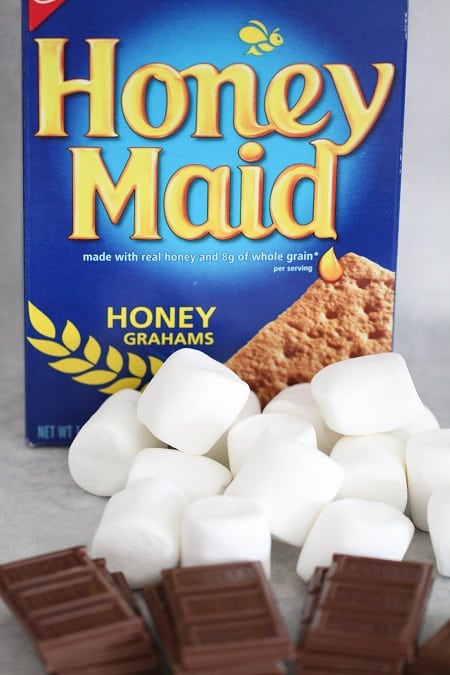 Graham crackers, marshmallows and Hershey's Chocolate bars, mmm.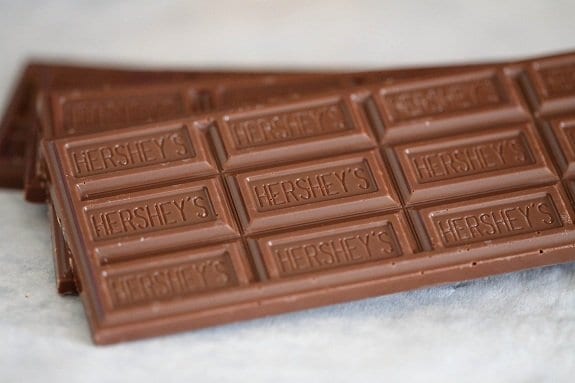 Couldn't help it 🙂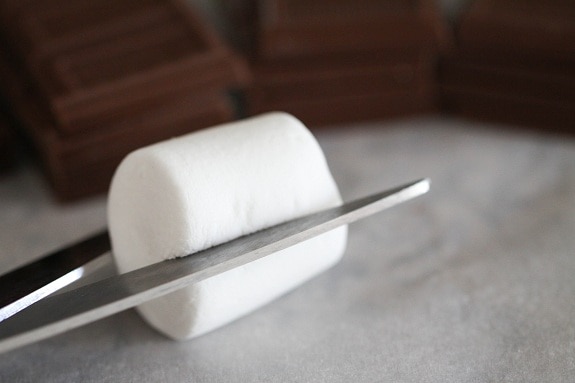 I cut my marshmallows in half to stay on the graham crackers better.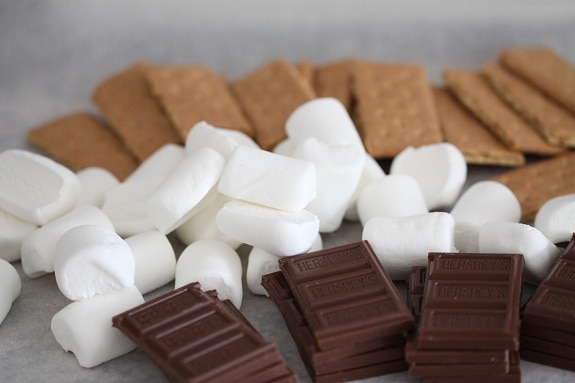 Like so 🙂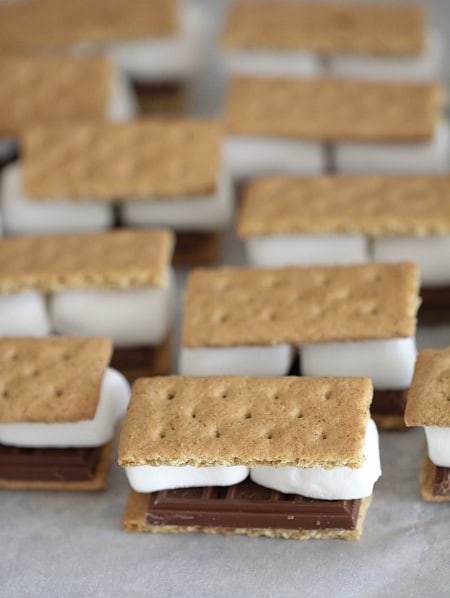 Instead of full size s'mores, I separated the graham crackers into fourths to fit inside the cookies. Trust me, they are still massive, lol!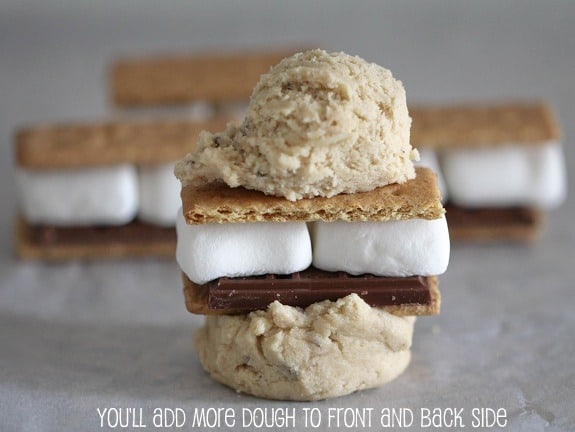 If I had 8 more hands I could have shown you this step. Now, note this gets a little finicky. Your graham crackers want to move around, but just place it and the dough in your hands to enclose it the best you can. Trust me, they do NOT have to perfectly stuffed. Once you get the 2 scoops of dough on top and bottom, you'll need more on the front and back, do this while holding it in your hands.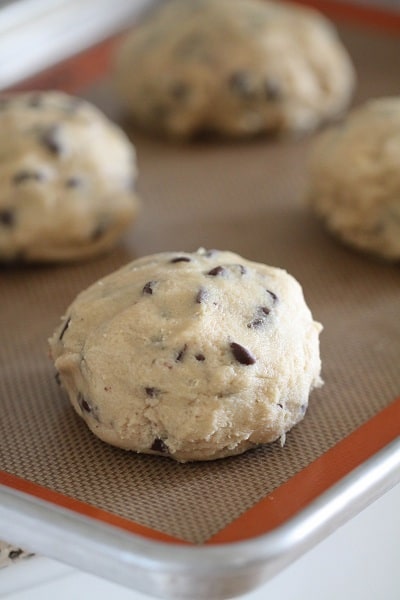 Now that is a cookie! Time to bake.
This is quite the sight to see, they are so gorgeous!
Let them cool for at least 10 minutes before transferring to a cooling rack or serving plate.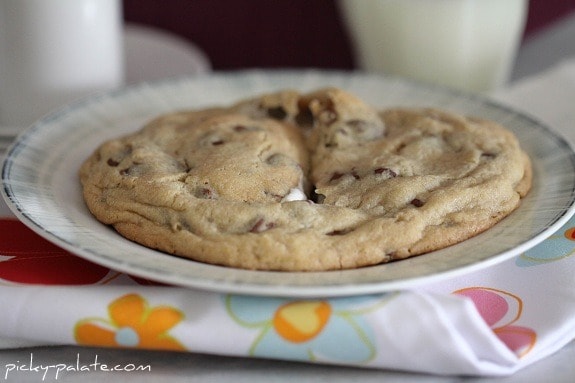 How gorgeous is this? The marshmallow melts and puffs right inside the cookie for a gooey texture.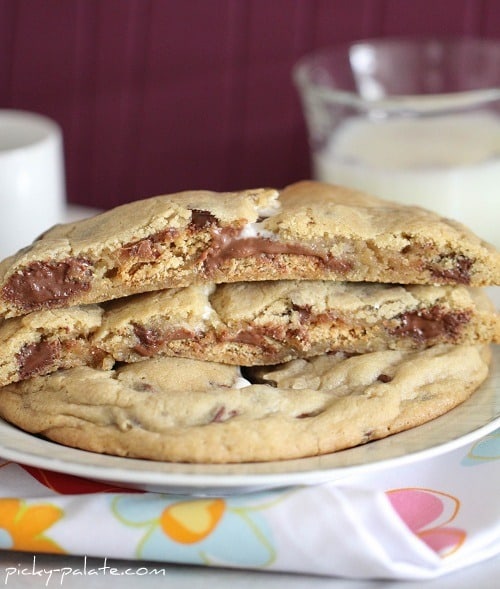 Yes, they are as good as they look folks 🙂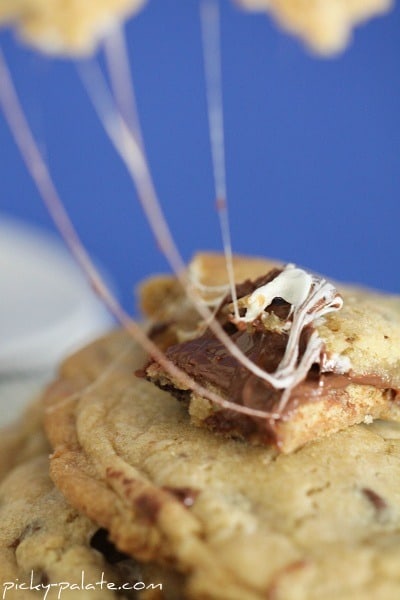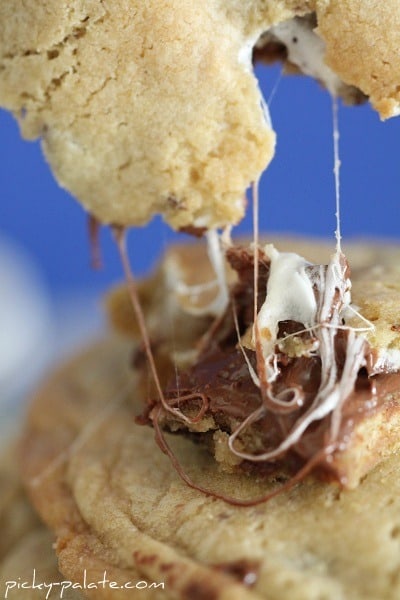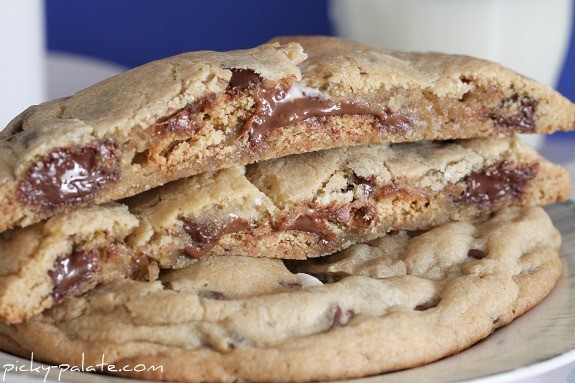 [ziplist]
S'mores Stuffed Chocolate Chip Cookies
2 sticks softened butter
1 Cup granulated sugar
3/4 Cup packed light brown sugar
2 eggs
1 Tablespoon vanilla
3 1/2 Cup all purpose flour
1 teaspoon kosher salt
1 teaspoon baking soda
2 Cups semi sweet chocolate chips
24 graham cracker quarters or 12 full sheets separated at perforations
3 Hershey Bars, broken into rows of 3 bars
12 large marshmallows cut in half lengthwise
1. Preheat oven to 350 degrees F. and line a large baking sheet with parchment or a silpat liner.
2. In a stand or electric mixer, beat the butter and sugars until light and fluffy. Add eggs and vanilla, continue to beat until well combined.
3. Place flour, salt and baking soda into a bowl; mix to combine then add slowly to wet ingredients along with the chocolate chips.
4. Layer a graham cracker quarter with 3 Hershey chocolate squares and 2 marshmallow halves. Close with another graham cracker. Top s'more with a large scoop of cookie dough. Place in hands and place another large scoop on bottom then front and back sides as needed. Form dough around s'mores. Will get messy, but stick with it, it does not have to be perfect. S'mores will move around but it's no big deal. Place large cookies onto prepared baking sheet and bake for 15-17 minutes or until edges are golden and centers are cooked through. Let cool for 10 minutes before transferring to cooling rack or serving plate.
Makes 12 large stuffed cookies.