Skinny Greek Yogurt Chicken Salad

You'll never know this is a Skinny Greek Yogurt Chicken Salad! Tastes just like the real deal lathered in mayonnaise 🙂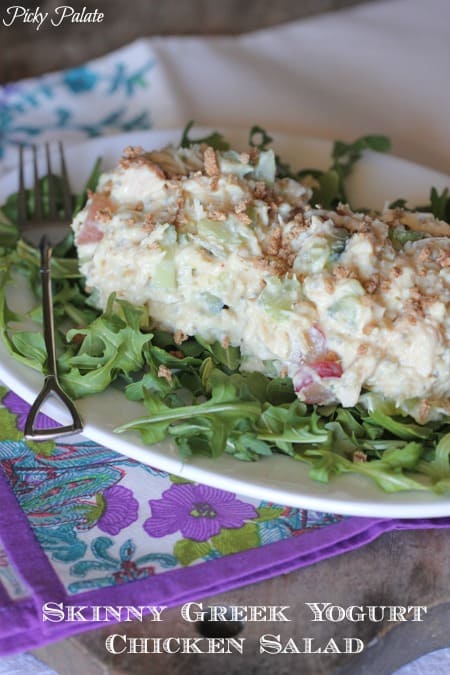 So excited to share some "healthier" recipes with you this month. My husband and I teamed up and developed this creamy dreamy chicken salad packed with all kinds of goodness. I'm not going on any crazy diets for my New Years resolutions, but healthier lunch options coupled with gym attendance produces better results 🙂

Let's take a look at our chicken salad…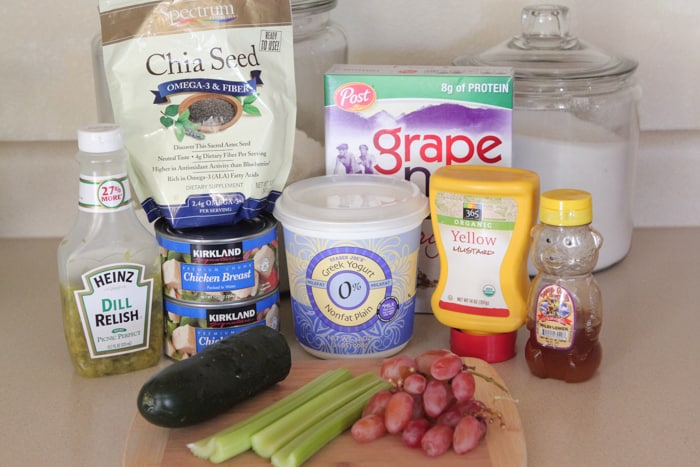 Here's your ingredient line up. The chia seed and grape nuts are optional, but we LOVE them in our salad! Chia adds fiber, Omega-3, protein, and is an antioxidant. If you don't have chia seed, flaxseed will work also. Grape nuts add a nice crunch to the sandwich, but sprinkle during sandwich creation. At first, we stirred in the nuts into the salad but the crunch was only present if we ate it immediately. The next time we reached for the chicken salad, the crunch was gone as the nuts became soggy.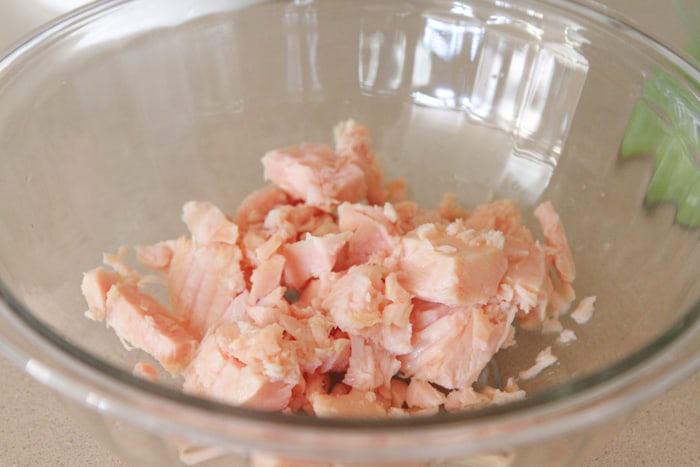 We used the canned chicken that you get from Costco or any grocery store. Feel free to use your own chicken breast that you bake yourself.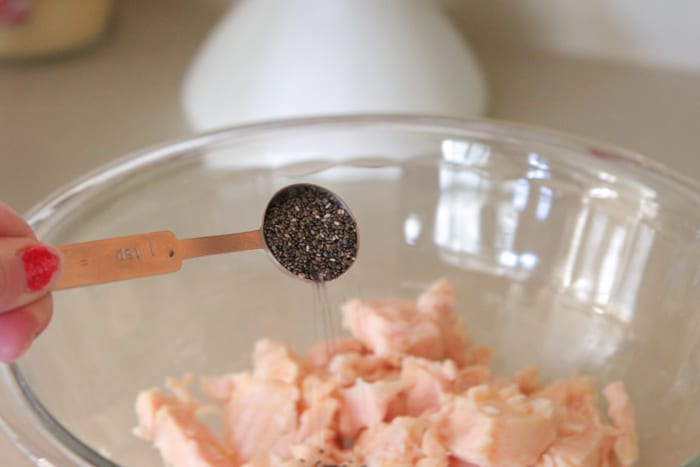 Sprinkle in some chia seeds. Check the research on them, sooooo good for you and you really can't taste them at all. Also, another way to get chia seed into your diet is adding them to your jug of water. But, only if you don't mind a jello consistency. 🙂
For the creamy base we used plain Greek Yogurt. Give it a try, you'll be surprised!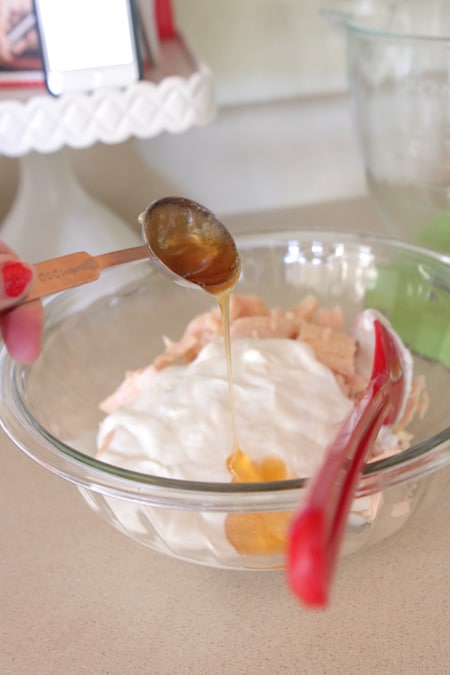 Drizzle in your honey!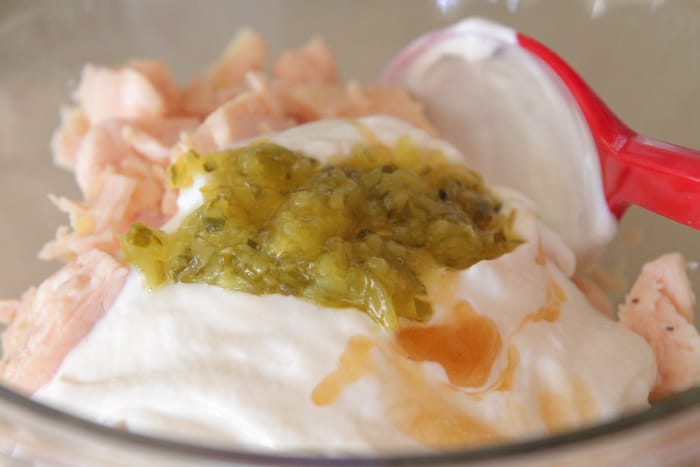 We added dill pickle relish and mustard at this stage. Mmmm!!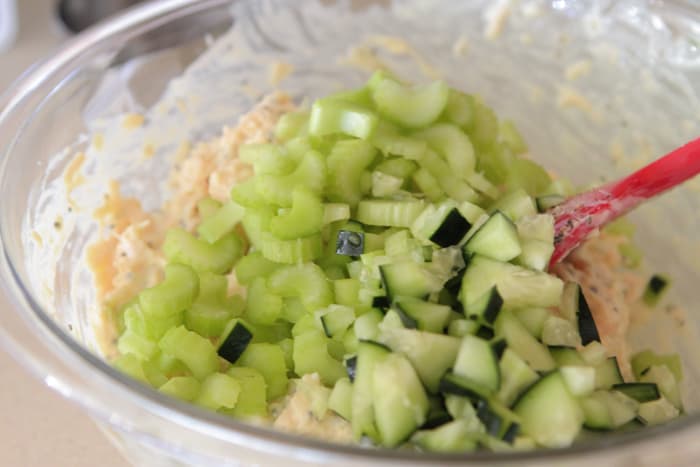 Celery and cucumber please!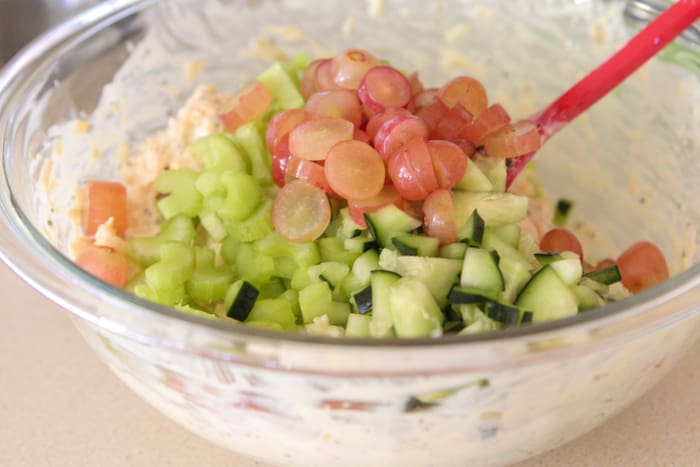 Sliced grapes! Give a good stir then squeeze lemon on top and pepper to taste. Plate over a nice bed of arugula or lettuce, or in a wrap or sandwich. Most of the time, we don't get to the sandwich phase, we ending up eating the salad with crackers.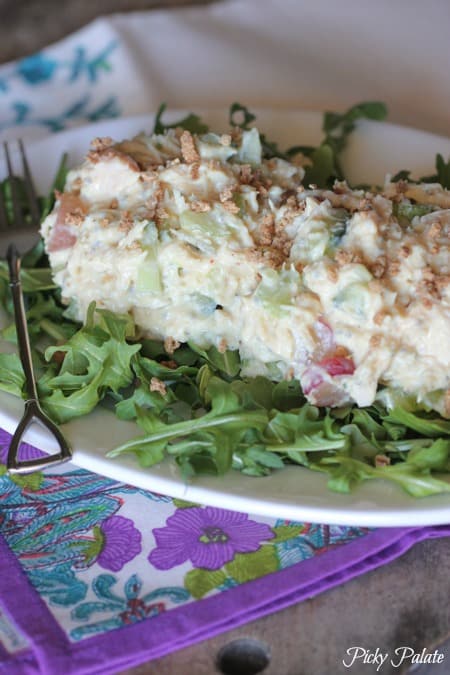 Sprinkle with Grape Nuts for a great crunch. Enjoy!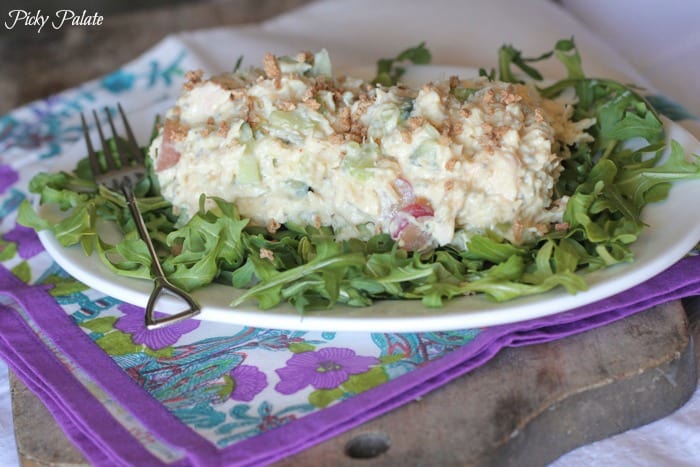 [ziplist]
SKINNY GREEK YOGURT CHICKEN SALAD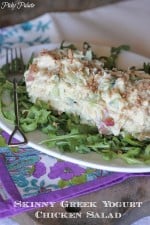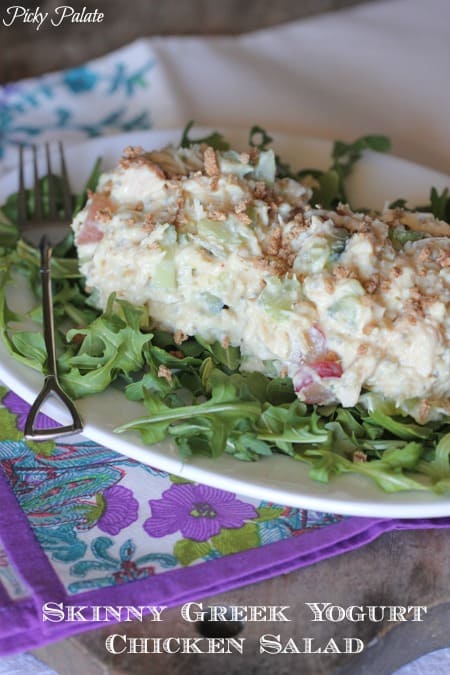 Prep time: 15 min | Cook time: 0 min | Total time: 20 min
Ingredients
Two 12.5 oz cans

chunk chicken breast

1 cup

nonfat or lowfat plain greek yogurt

2 tablespoons

raw honey

2 tablespoons

yellow mustard

4 tablespoons

dill pickle relish

1 cup (about 4 stalks)

chopped celery

1/2 cup

quartered, then chopped cucumber

1/2 cup

sliced grapes

1/8 teaspoon

garlic salt

1/4 medium

lemon, squeezed

1/8 teaspoon

kosher salt

1/4 teaspoon

freshly ground black pepper
OPTIONAL SECOND INGREDIENT LIST:
2 tablespoons

Chia or Flax Seed (we used Chia)

2 teaspoons

Cholula Hot Sauce (add more if you live a spicy life)

Sprinkle

of grape nuts (best applied at time of eating-HIGHLY RECOMMENDED)
Directions
Combine chicken, greek yogurt, honey, mustard, dill relish, and chia seed into large bowl. Mix together until chicken is shredded.
Add and mix in, chopped cucumber, celery, and grapes.
Add garlic salt to taste.
Squeeze lemon, add salt and pepper into chicken salad and combine.
When making a sandwich, salad, or wrap, sprinkle grape nuts over the top for a crunch.
Makes 8 Servings
FOLLOW PICKY PALATE ON INSTAGRAM! Show me what recipes you're making from Picky Palate by using #pickypalate.
Other recipes you may enjoy...
Comments