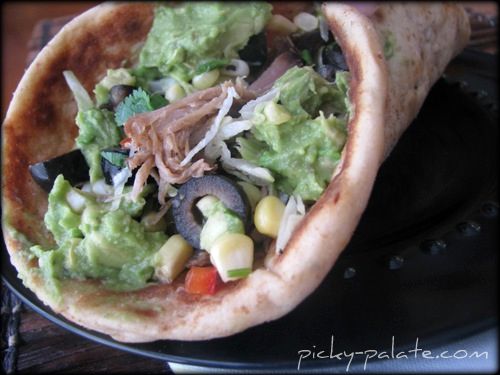 Good Monday! Hope everyone had a nice weekend.
Here's another great shredded pork taco recipe for you that is one of our favorites! I love using my crockpot on Sundays, so this is typically a Sunday dinner for us. No fuss, just good food ready in a flash.
I found another package of that soft tortilla bread I told you guys about a couple weeks ago. This time I found it at Sprouts. I know there are Sprouts in AZ too. This kind was Chipotle flavored and YUM it was fantastic. I highly recommend it if you can find it. I was told that Trader Joes carries this type of tortilla bread, hopefully this helps.
I've also added one of my favorite spanish rice recipes too. Makes a great side dish to these giant tacos. It is so simple to make and tastes like it's right out of a mexican restaurant. Hope you all will enjoy!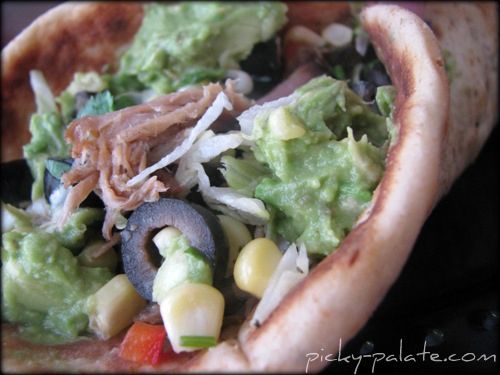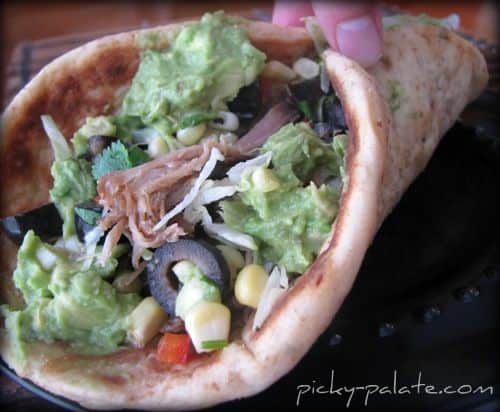 Slow Cooked Green Chili Pork Tacos With Fresh Corn and Olive Salsa
3-4 lb Pork Butt
2 Tablespoons Worchestershire sauce
1 Tablespoon kosher salt
1 teaspoon fresh cracked black pepper
1/2 teaspoon Lawry's Garlic Salt with Parsley
1 bottle Herdez Tomatillo Salsa (mild green salsa)
1. Place all but salsa into a crockpot on low heat for 6-8 hours. I usually cook overnight, so longer is just fine too. Remove pork from liquid, discard or save liquid for another use. Shred pork into small pieces, return back to crockpot and add salsa. Cook on low until ready to serve. Serve in soft tortilla bread or regular corn tortillas along with fresh corn and olive salsa below and avocado mash.
Fresh Corn and Olive Salsa
3 ears of corn, corn removed
1/2 Cup sliced black olives
1/4 Cup fresh chopped cilantro
1 large red bell pepper, diced
2 Tablespoons diced red onion
Pinch of Kosher Salt and Fresh Cracked Black Pepper
1. Place all into a large bowl; stir to combine. Serve with tacos.
Avocado Mash
2 ripe avocados
Pinch of salt and black pepper
1 Tablespoon fresh lime juice
1. Mix all ingredients into a bowl and mash with fork until well combined. Spoon over tacos.
Quick and Easy Homemade Spanish Rice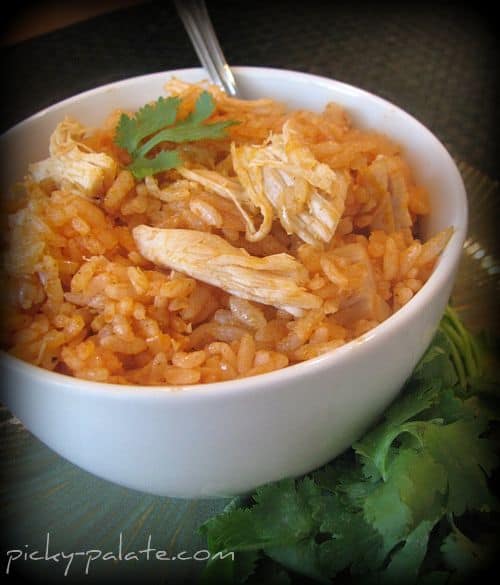 Quick and Easy Homemade Spanish Rice
3 Tablespoons vegetable oil
1 medium white onion, diced
4 Cloves fresh garlic, minced
2 Cups steamed white rice
1 small can of tomato sauce
1/2 teaspoon kosher salt
1/4 teaspoon fresh cracked black pepper
1 teaspoon ground cumin
1. Heat oil into a large skillet over medium heat. Saute onion until softened. Add garlic; cook for 1 minute then add steamed rice. Stir to combine flavors then add tomato sauce, salt, pepper and cumin. Stir to combine. Keep on warm until serving. Can mixed in cooked shredded chicken, corn, black olives and cilantro for a main dish as well.
______________________________
Have a great new week! See you soon with more cookin'!