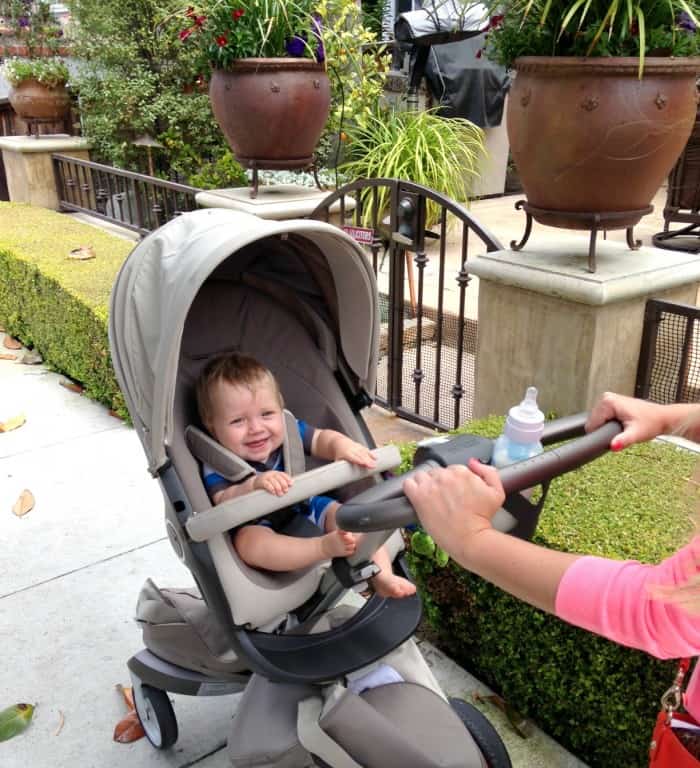 I remember when I was pregnant with Pax thinking WOW strollers sure have changed in the last 7 years! It had been 7 years since my last baby and the strollers are just gorgeous and so accommodating now.
I am beyond thrilled to share with you my dream stroller by Stokke. Let me introduce you to their Xplory Stroller. I am not kidding when I say not only do I love this stroller, but Pax loves this stroller. He loves to hold on to the lap bar and look around when we stroll through town. It's the cutest thing. I love that there are three different seat settings, so if your baby wants to lay back, there's an option for that and there's one in between too. The seat can also flip around so your baby can face out as well.

You can find Stokke on Facebook and Twitter.
Let's take a closer look at the Xplory.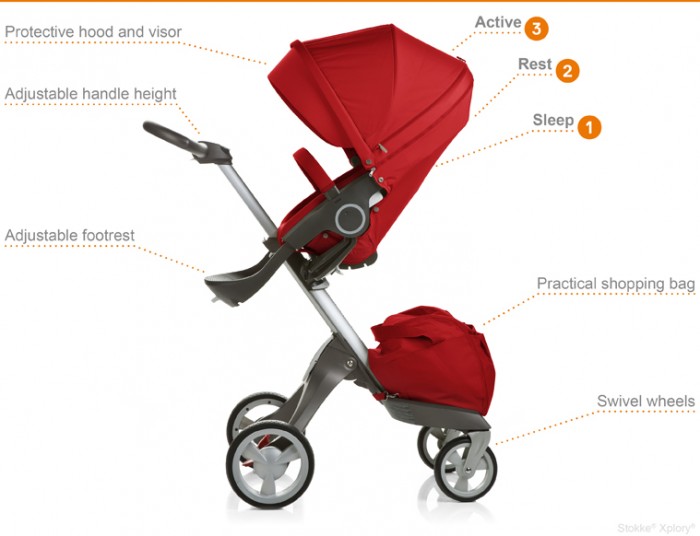 Here you have the main features. How great is this red color?! Speaking of colors, there are six colors to choose from. See all of the choices HERE. I am in love with the beige one that we have for Pax.
A few of my favorite features are the adjustable handle to start. My 8 year old absolutely loves pushing Pax in the stroller so I can lower the handle for him nice and easy. This stroller pushes so smooth, you hardly have to push which is so nice. The protective hood and visor comes in so handy. This is the first stroller I've owned where the visor that you can open and close as needed, actually covers the sun completely from the baby. It's great. The shopping bag holds more than it looks. I've fit 2 full grocery bags inside. You can also purchase an extra shopping bag that attaches to the other side where the larger wheels are. I like having the option of storing more "stuff" when I need. The footrest is adjustable so the stroller can easily grow with the baby.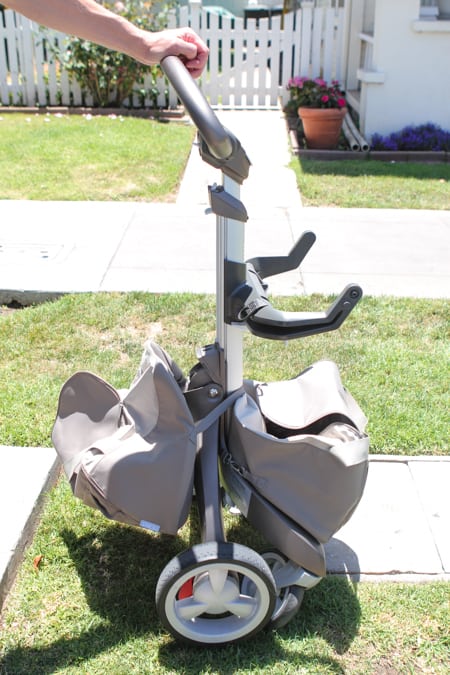 Let's talk folding the stroller up, shall we? This is a big deal with my husband and I because let's face it, we are in and out of the trunk all the time with the kids and strollers. You have to take the seat off before folding the stroller base, but I can tell you from my experience that the seat pulls off with minimal work. You literally press 2 buttons on the bottom of the seat and it pops right off. No tugging at all. There's a little lever on the handle that you pull that easily folds the stroller base to place in your trunk. We've had no problems at all and it's quite easy.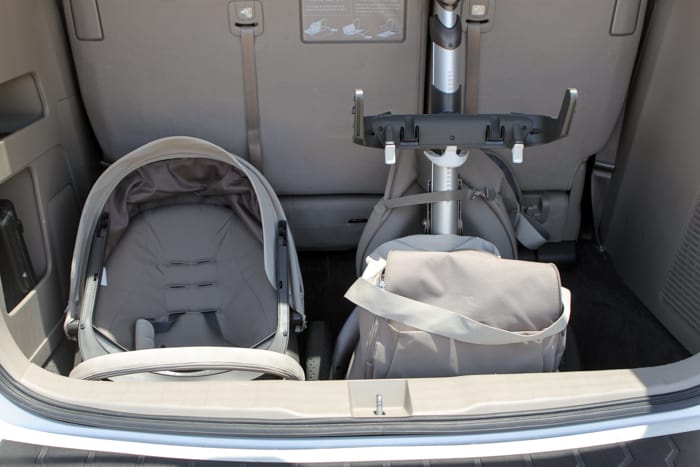 Here's a look at how the seat and folded stroller fits in the back of our trunk. This is the Honda Odyssey trunk.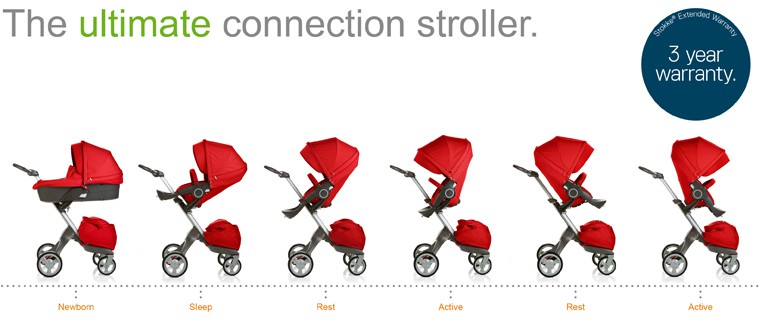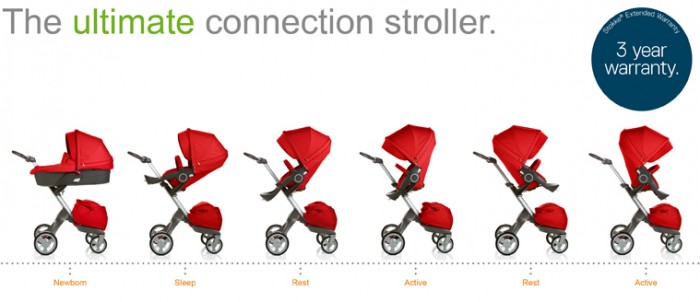 Here are all of the options the stroller offers. I love that it grows with your baby, from Newborn to toddler and can face towards you or out. I have used just about every option here.


Here's a better look at the visor open and closed as I was describing above. You wouldn't believe the difference it makes to have the visor open when its extra sunny outside. I really love this feature. It is pliable so it folds in and opens very easy. If you want a little extra ventilation in the hood, you can unzip a portion to let some airflow in.
A couple of things to note. If you're looking for a more compact stroller option, check out the Stokke Scoot, which folds smaller than the Xplory. Also, we started to use the Xplory when Paxton was 8 months old. Even though he loved it–because he was able to sit upright and see the world–the seat belt straps would not fit tight enough for him. Regardless, we still put him inside and buckled him and we never felt unsafe. If you are of the analytical type, check out Jodi Kendall's in-depth review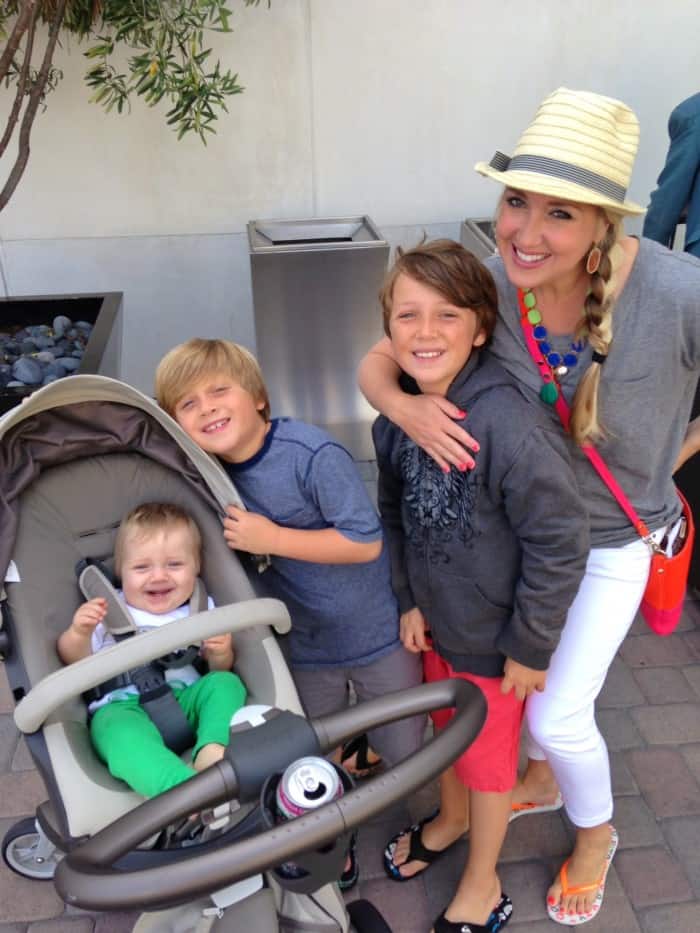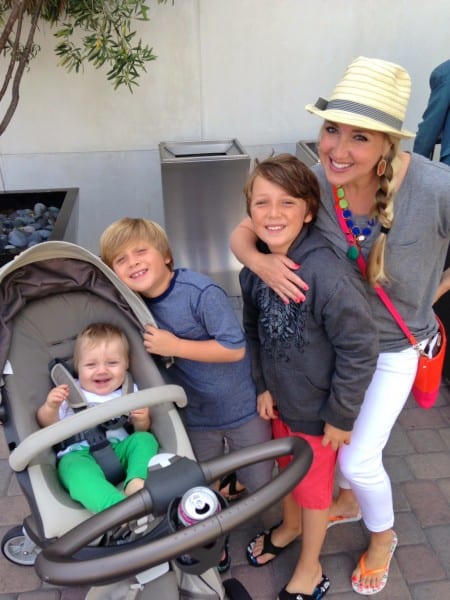 We used the stroller in San Diego all weekend and I could not have been happier. You can tell by the look on Pax's face that he's a happy boy in his stroller too. A huge thanks to Stokke for allowing us to enjoy their gorgeous stroller . We enjoy telling everyone about it!
Disclosure: I was given the Stokke Xplory Stroller for review. All thoughts and opinions are 100% my own.