Sharing my experience at Summer of Heroes Disney California Adventure!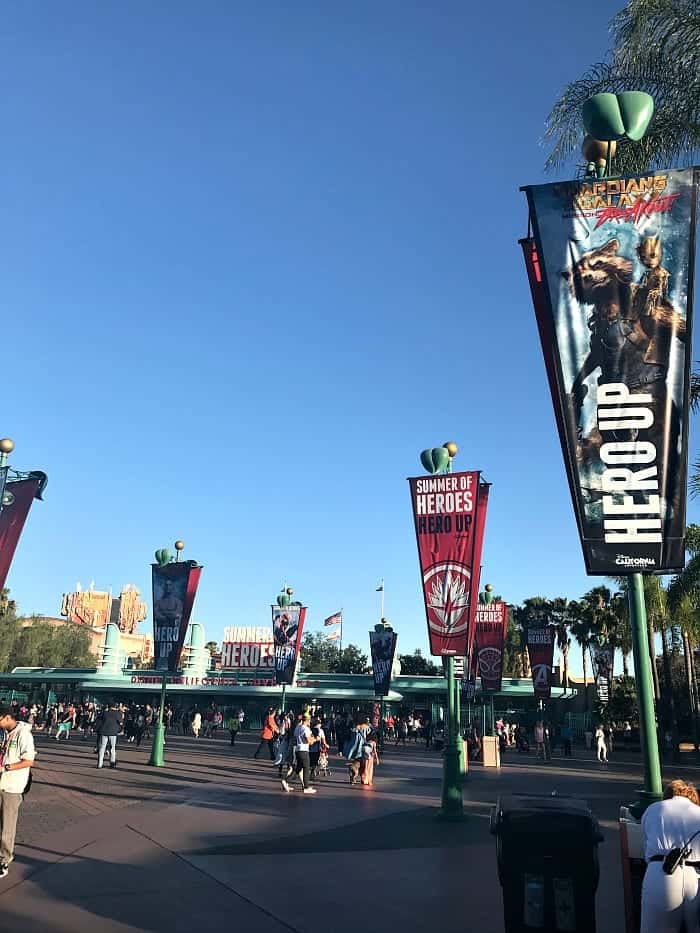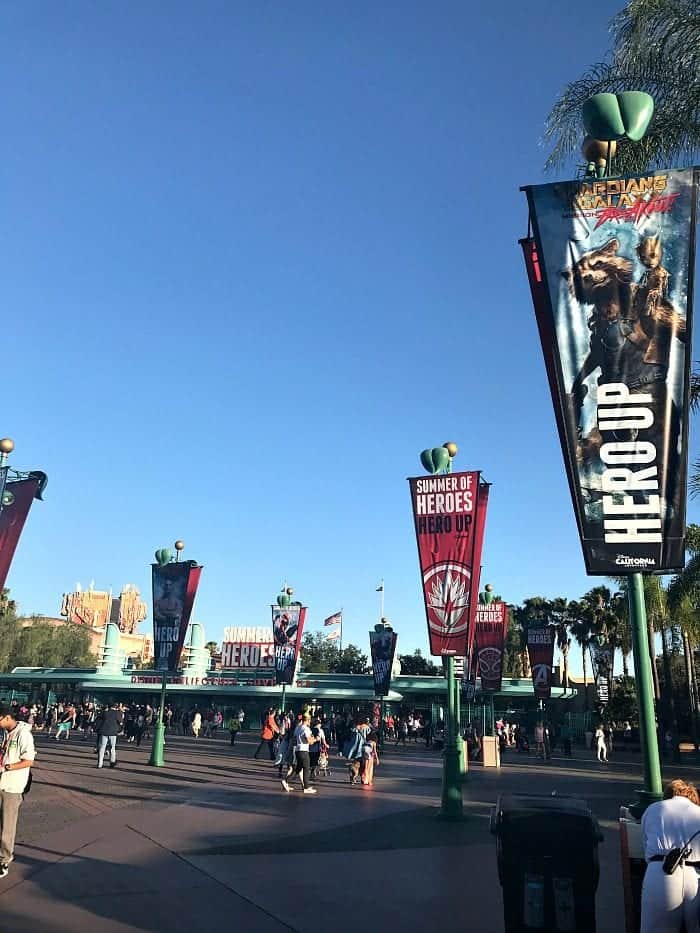 If you are visiting the parks between May 27th and September 10th 2017 you are in for such a treat at Disney California Adventure. There is so much going on so let's get to it!

I made a quick video that shows my time at Disney California Adventure for Summer of Heroes, hope you enjoy!!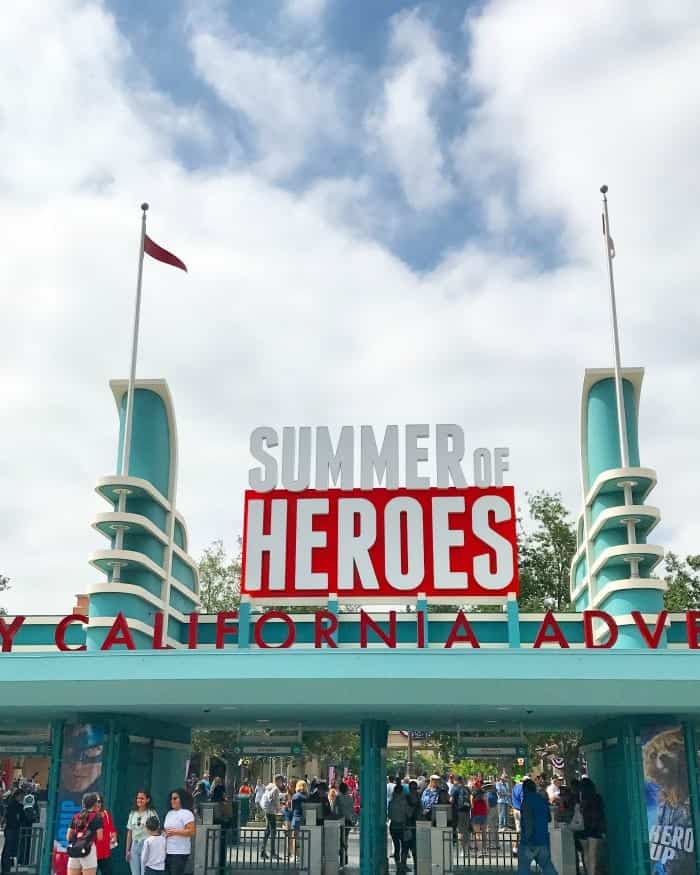 You'll notice the new Summer of Heroes sign above the entrance of Disney California Adventure.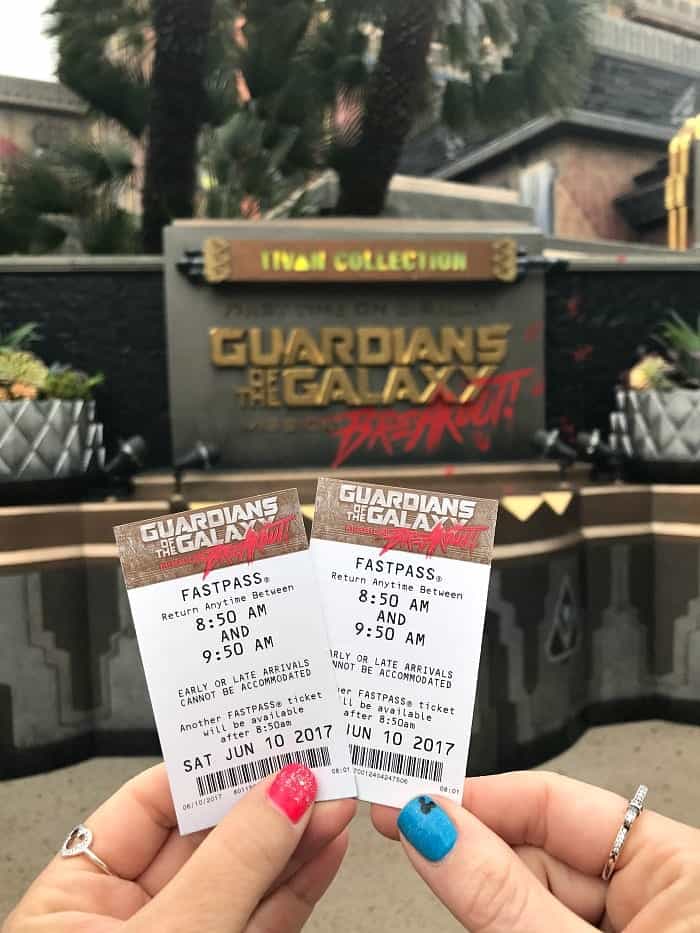 If you are looking to ride the new Guardians of the Galaxy: Mission – BREAKOUT ride, be sure to get your FASTPASS first thing in the morning. They go quick!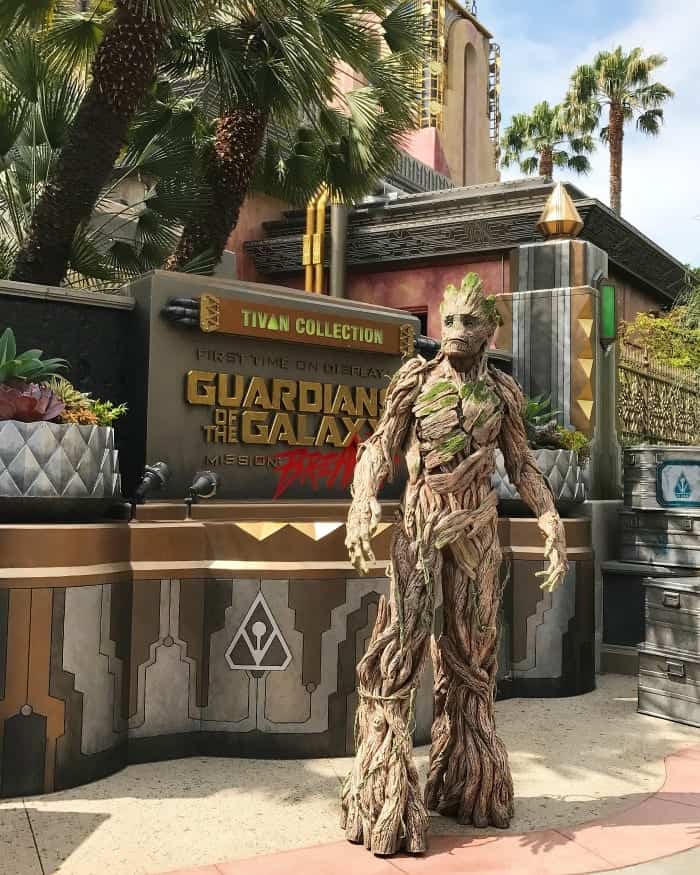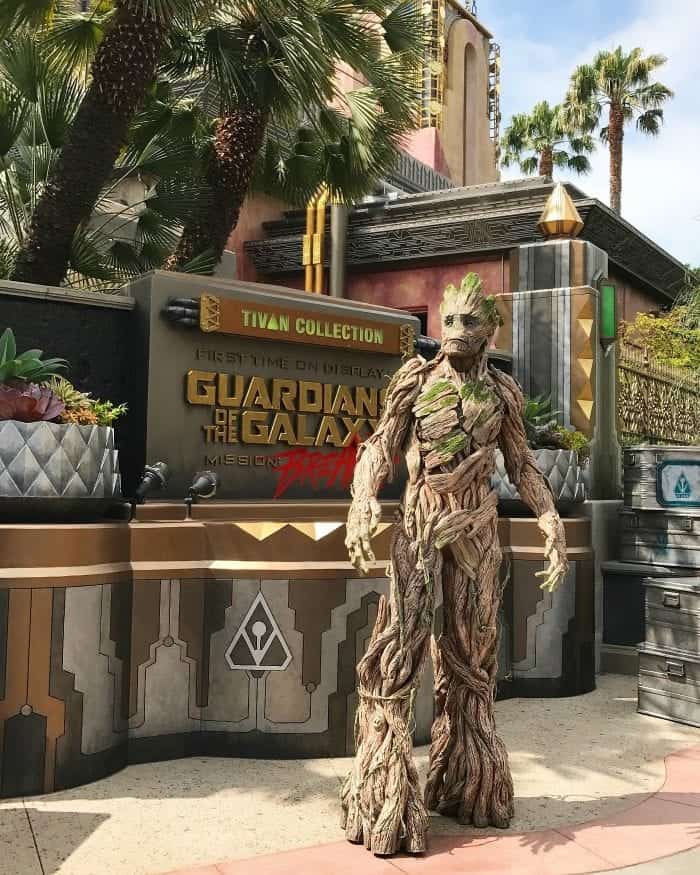 You can get your picture with Groot and even watch a fun street show with Star Lord, Gamora and Groot. They even have a little dance party and call guests up with them. Super cute.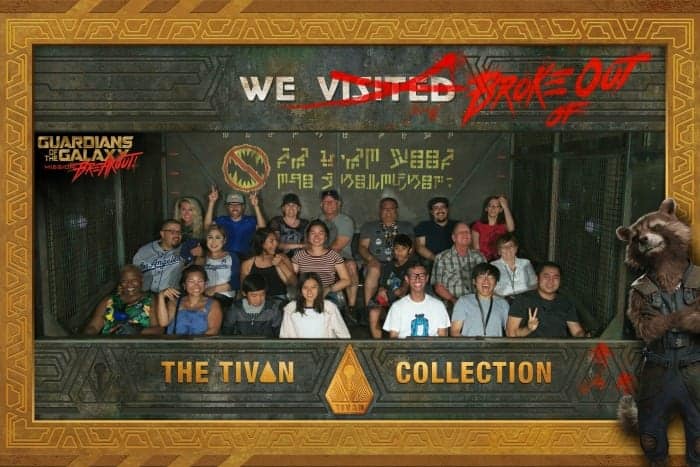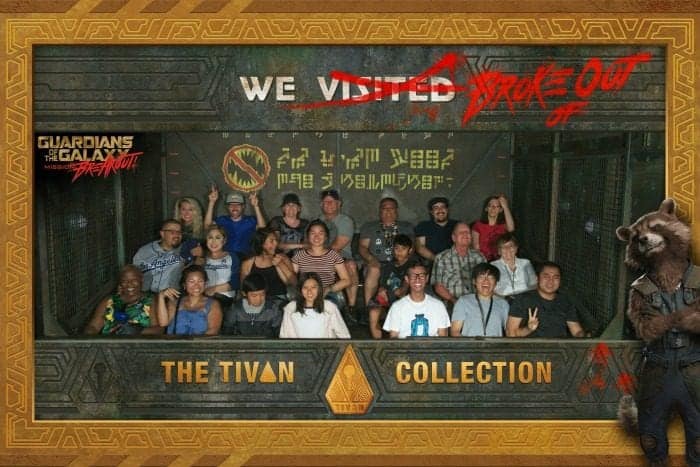 First of all, the ride is amazing. Like, my new favorite ride ever. Here's my husband and I top left. Can't wait to go on again!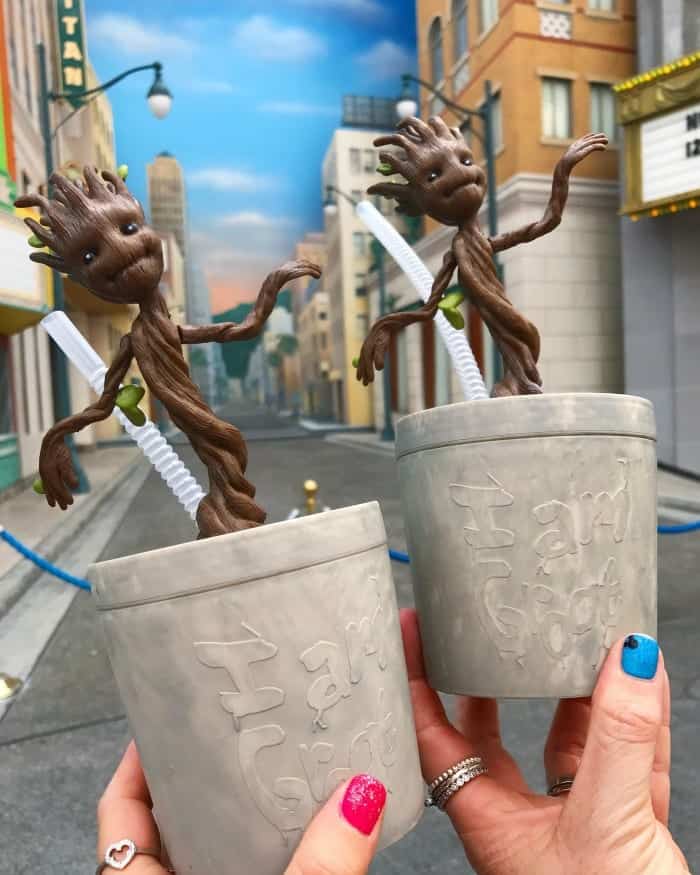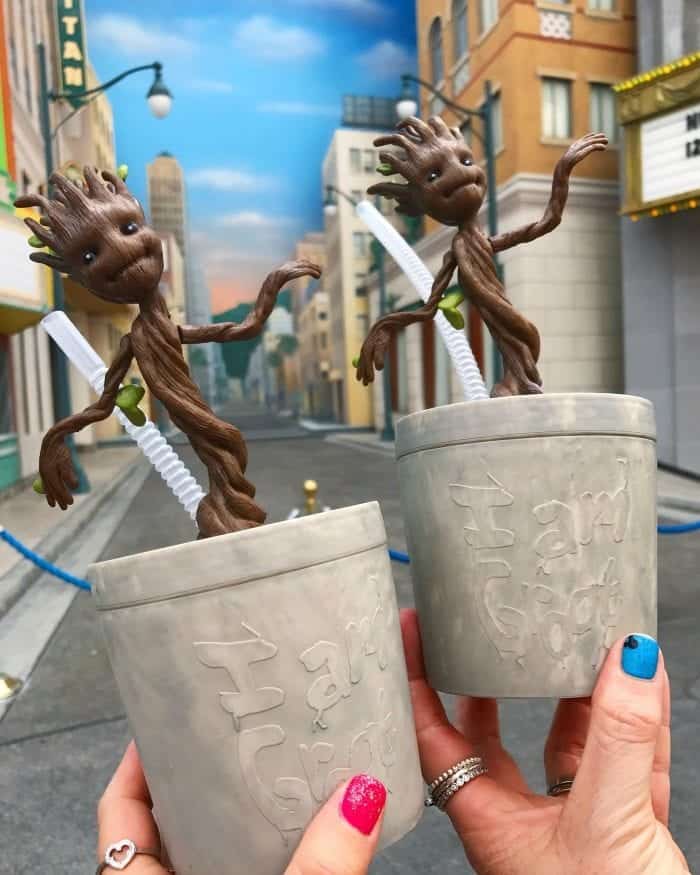 One of my favorite souvenirs to bring home to the kids is this adorable Groot Sipper. Find them available at Award Wieners, Studio Catering Co., Smokejumpers Grill and "a bug's land" cart.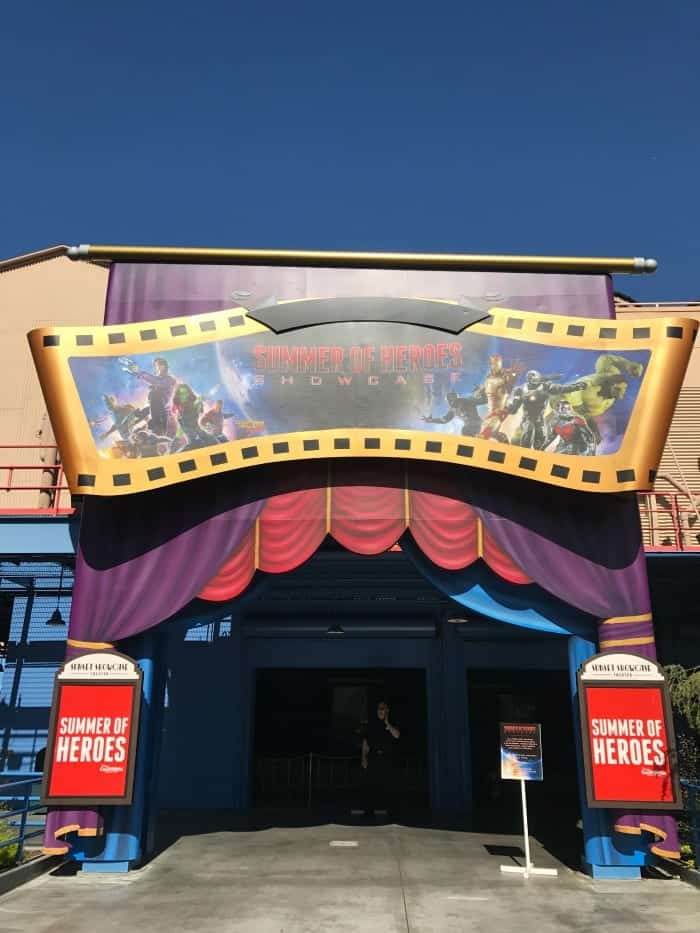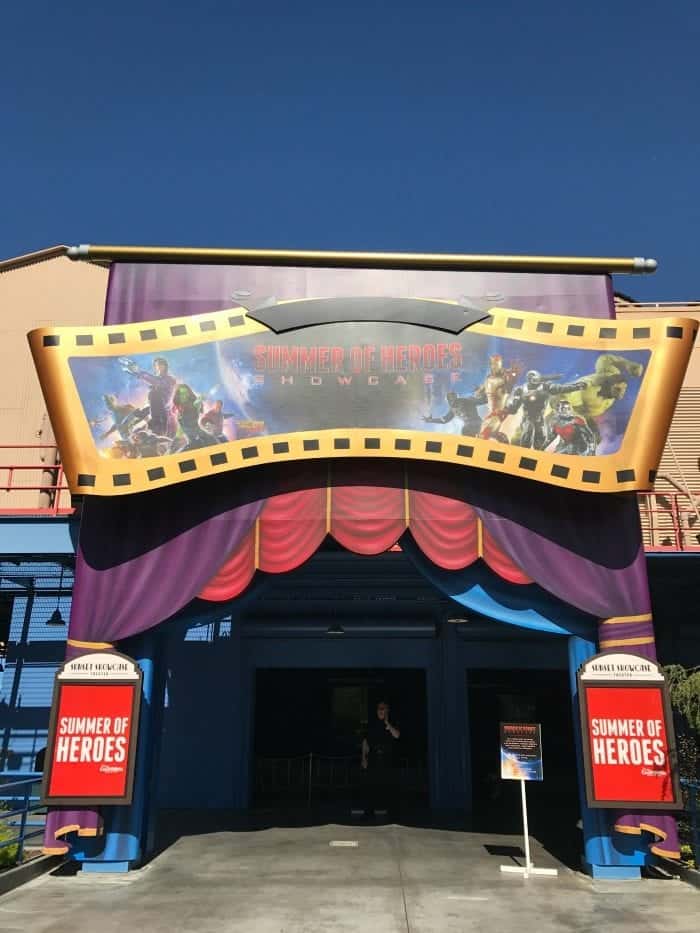 In Hollywood Land, before you get to Monster's Inc, you can find the Summer of Heroes Showcase at Sunset Showcase Theater. It's a 10 minute movie experience featuring clips from your favorite Marvel movies. We really enjoyed it, plus it's a perfect place to beat the heat for a few minutes and cool off.
The Food!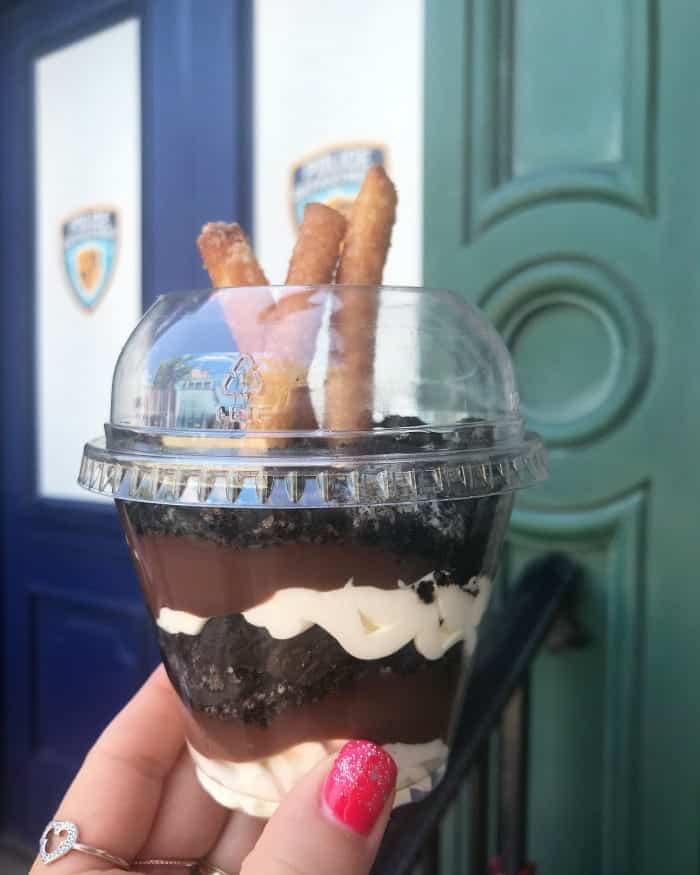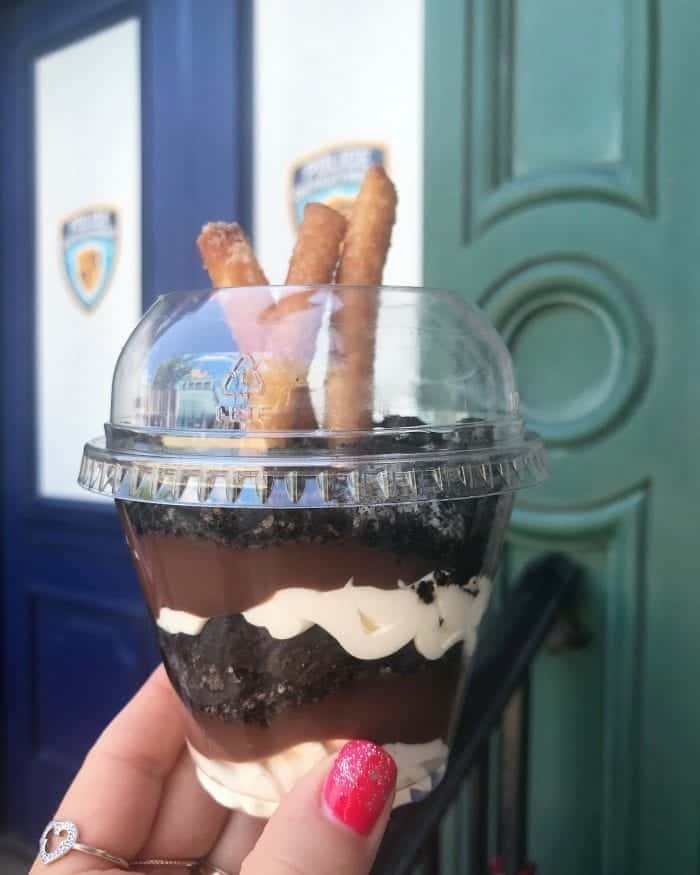 Award Wieners
This is the Angry Little Pudding Cup from Award Wieners in Hollywood Land. It's layers of chocolate pudding, chocolate sandwich cookies, whipped cream and topped with funnel cake fries. Be sure to eat the funnel cake fries first while they're still warm.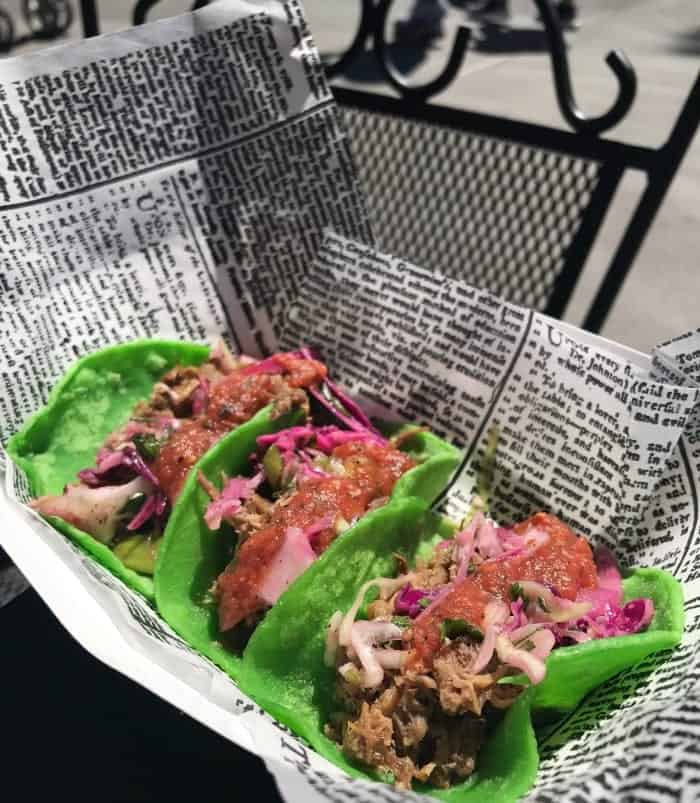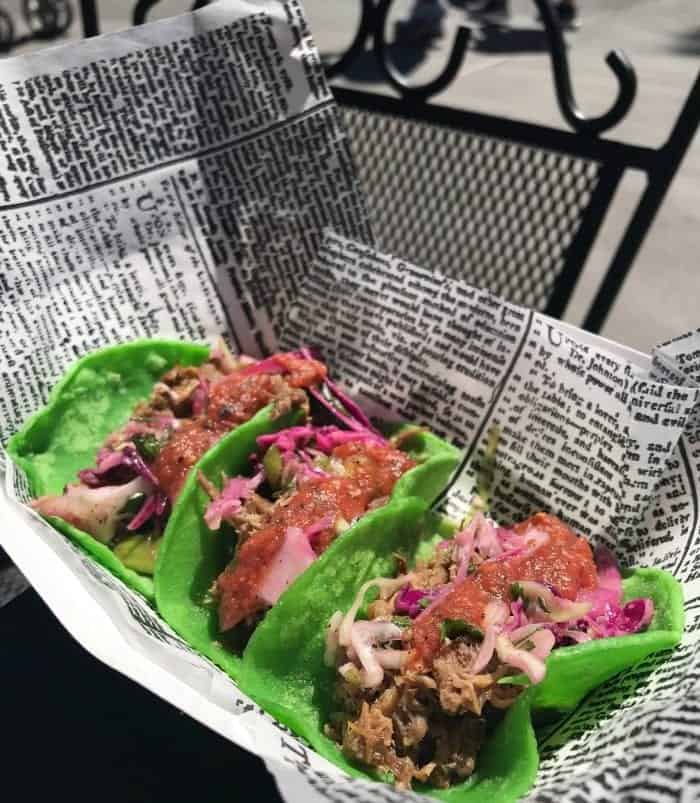 Knowhere Eats
Over at Knowhere Eats also in Hollywood Land, you can get these Most Dangerous Tacos in the Galaxy– Barbacoa beef tacos with green onion slaw, purple cabbage, pickled onions, habanero salsa and green tortillas. We really enjoyed sharing these.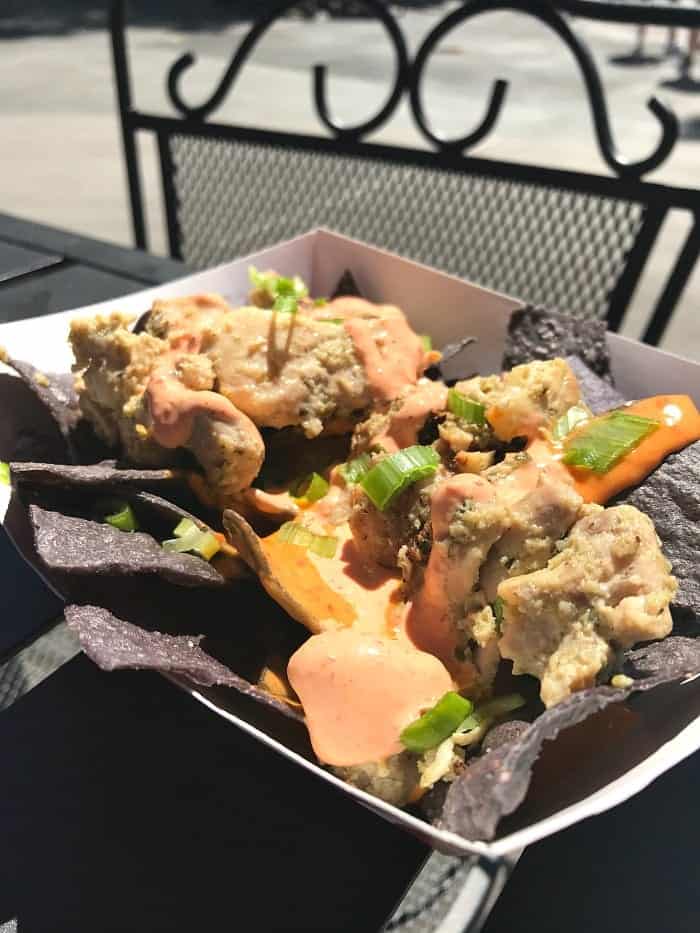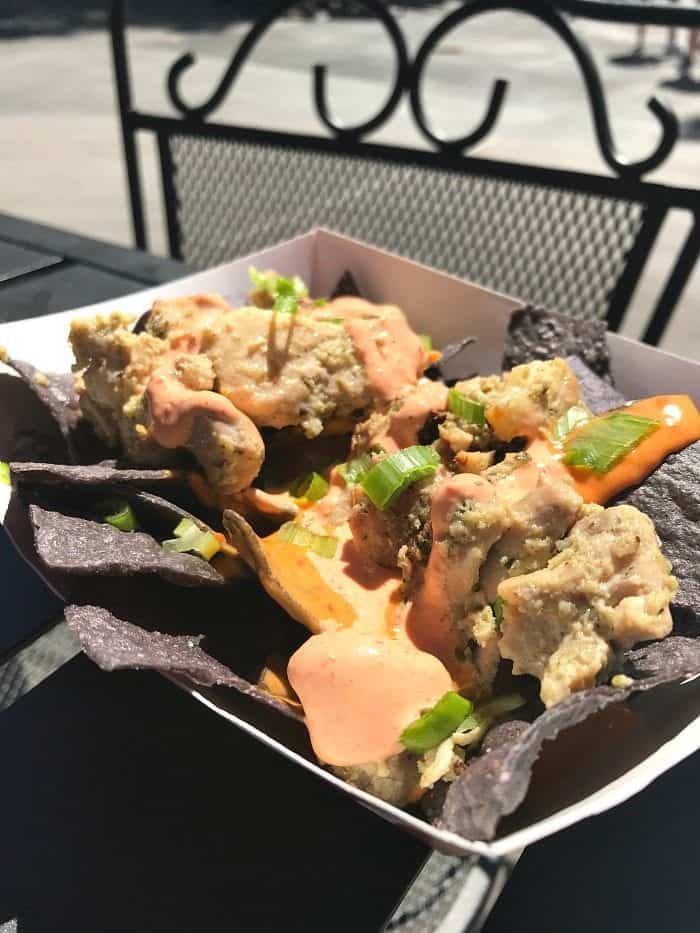 Also available at Knowhere Eats are these Obviously Nachos– Fried blue corn tortillas with red pepper cheese sauce, mojo-marinated chicken, chipotle crèma and green onions. These were fantastic!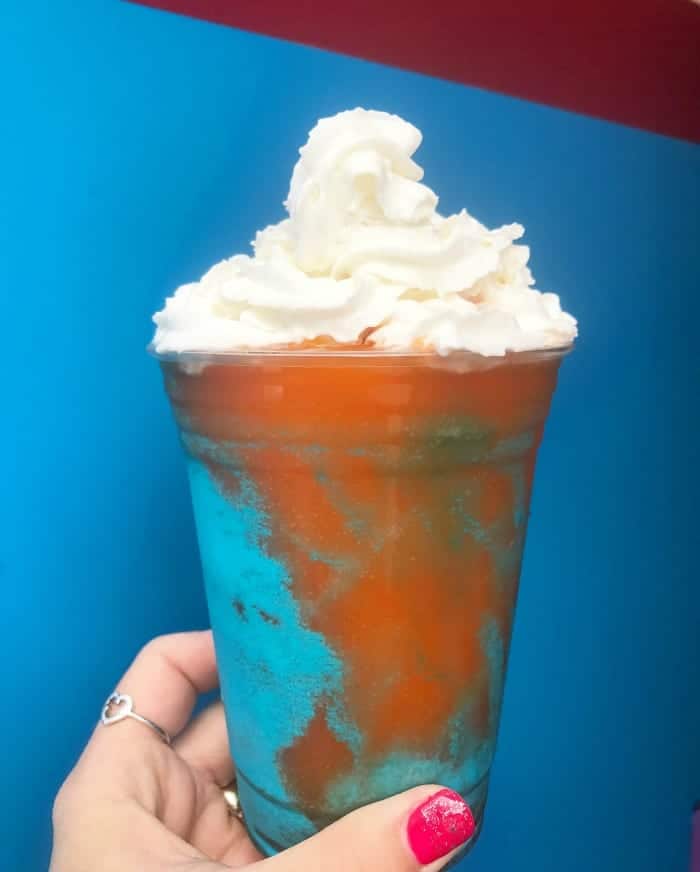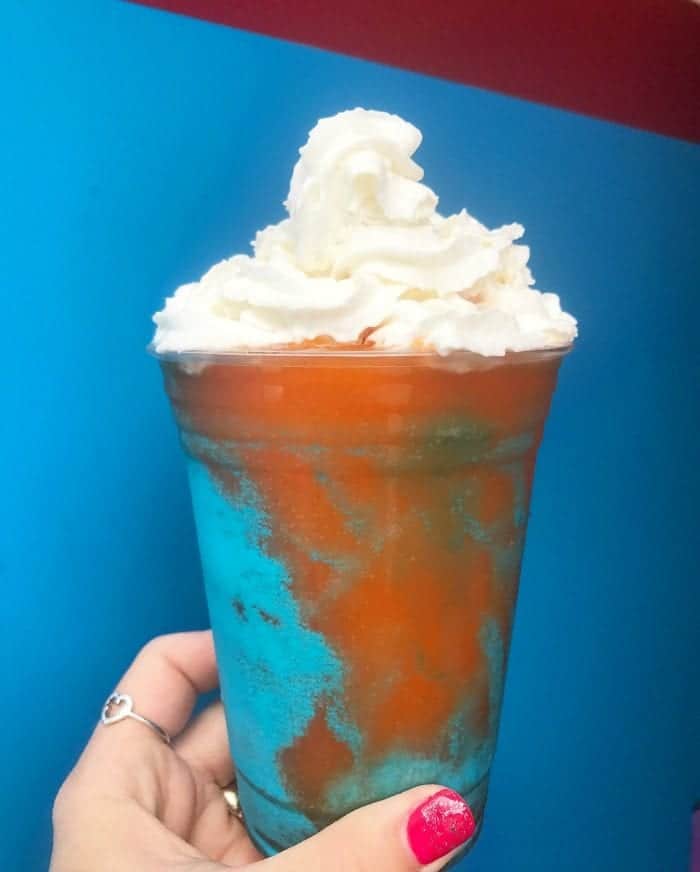 Studio Catering Co.
In the same area at Nowhere Eats, you can find the little red food truck, Studio Catering Co. that sells this Milano drink– Fanta® orange freeze with blue cream. It is sweet, sweet, sweet so I recommend sharing this one 🙂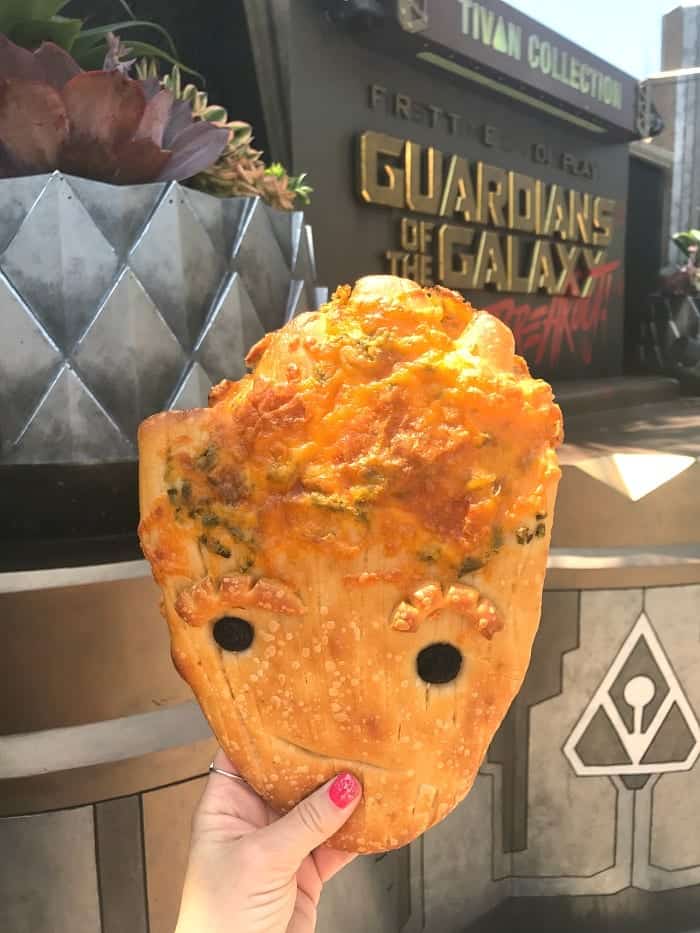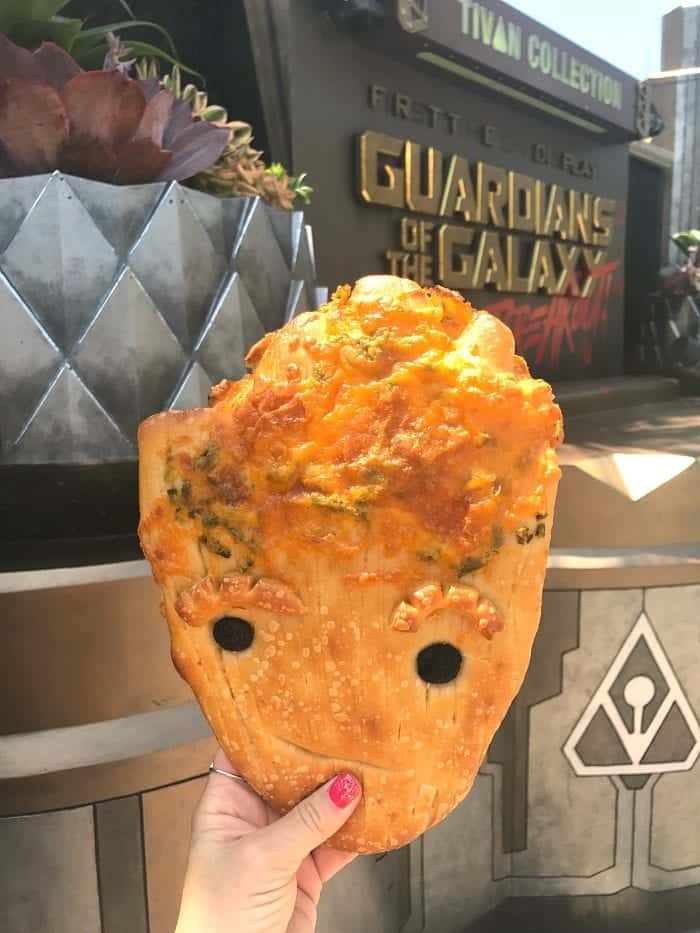 Cosmic Canteen
At Cosmic Canteen, you can purchase this adorable Jalapeño Cheese Groot Sourdough! Not only is it adorable, but it was really good. I took a couple home to enjoy later.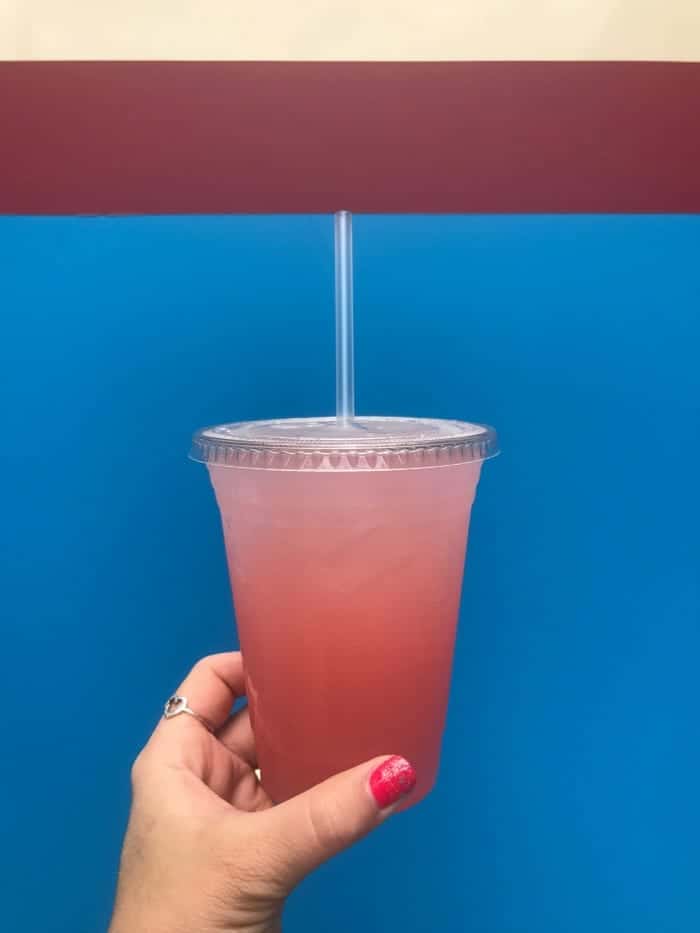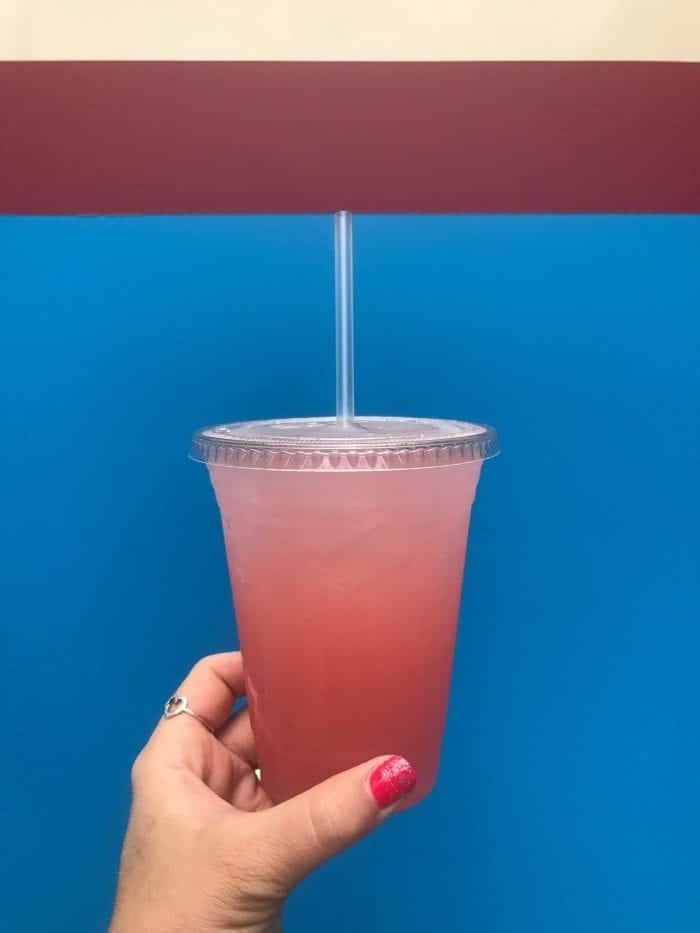 Also from Cosmic Canteen is this Watermelon Lemonade, non-alcoholic. We loved it. Super refreshing.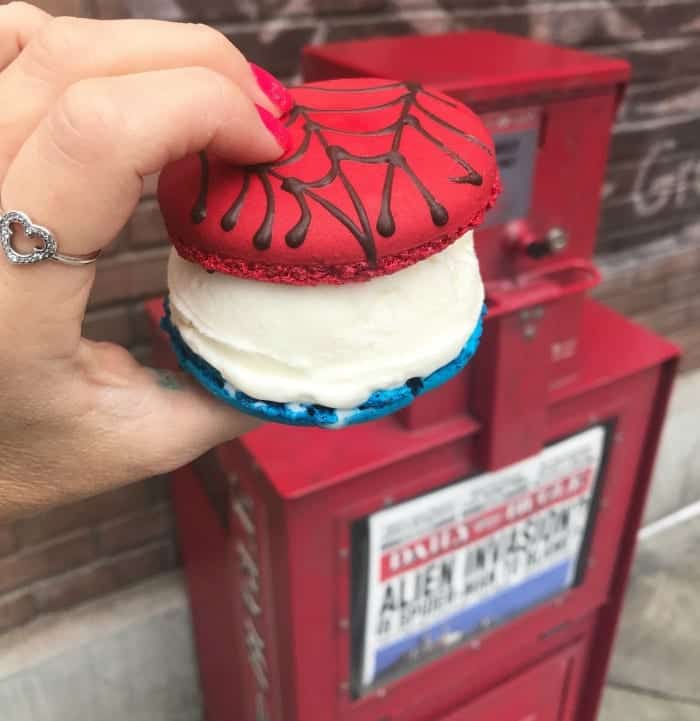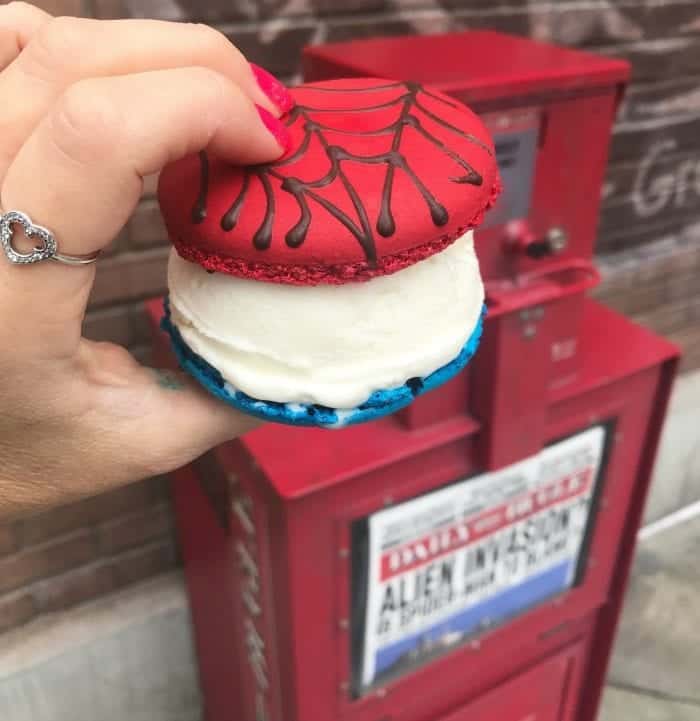 Schmoozies
Schmoozies has an awesome menu right now! This is the Friendly Neighborhood Macaron – A vanilla ice cream-filled macaron. It was fantastic!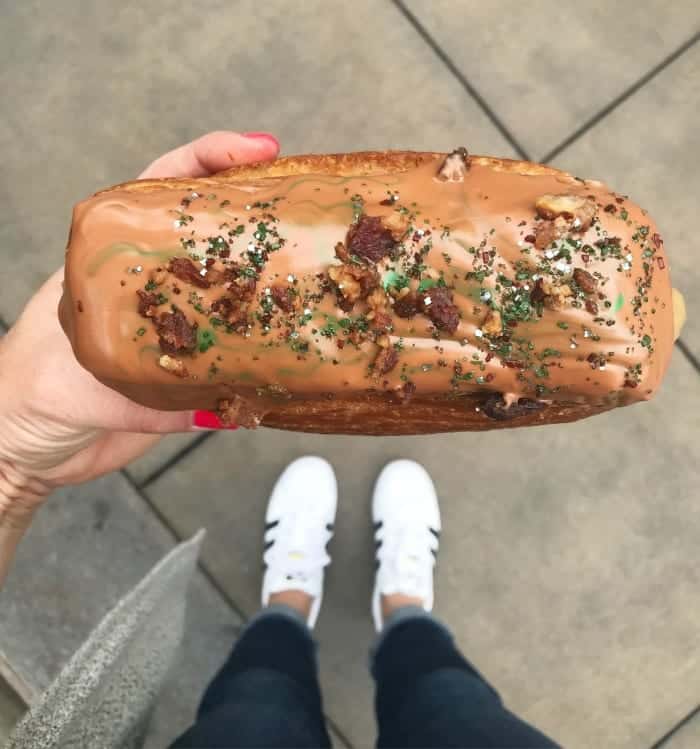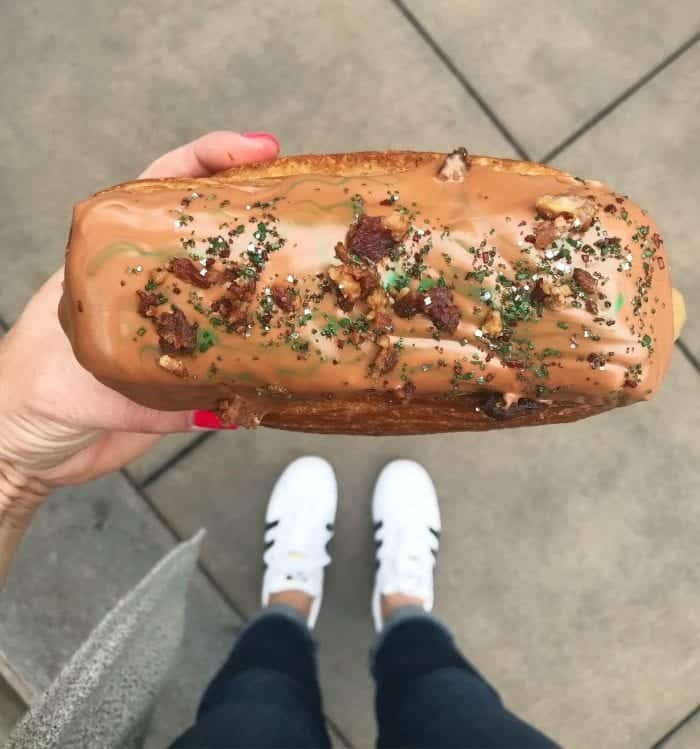 Also at Schmoozies is the Local Favorite – A maple-bacon filled doughnut with maple cream. LOVED this one too.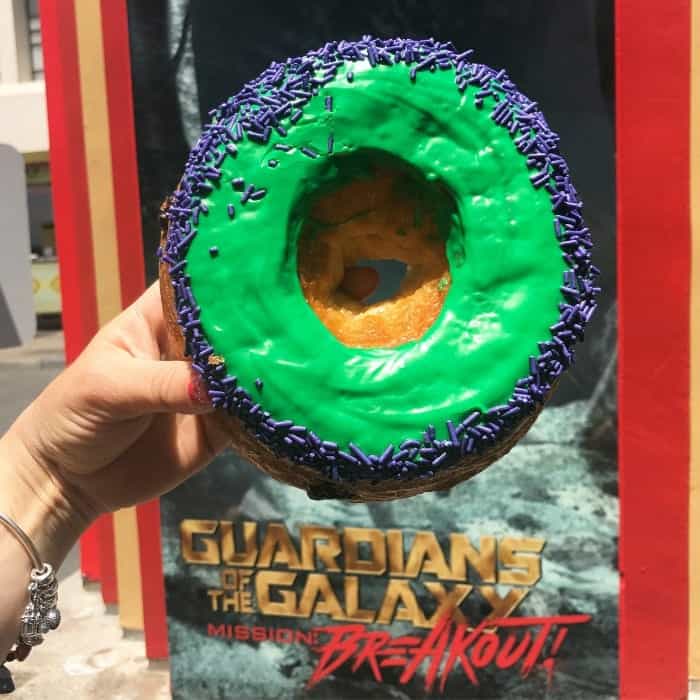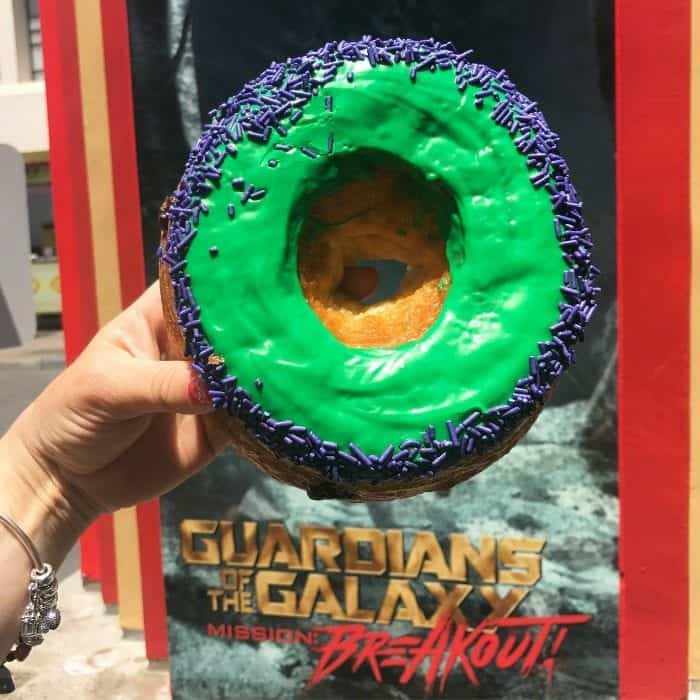 This is the Gamma-Sized Doughnut also from Schmoozies – Filled with blackberry and black currant. It's huge so be sure to share this one, like with 4 people, lol!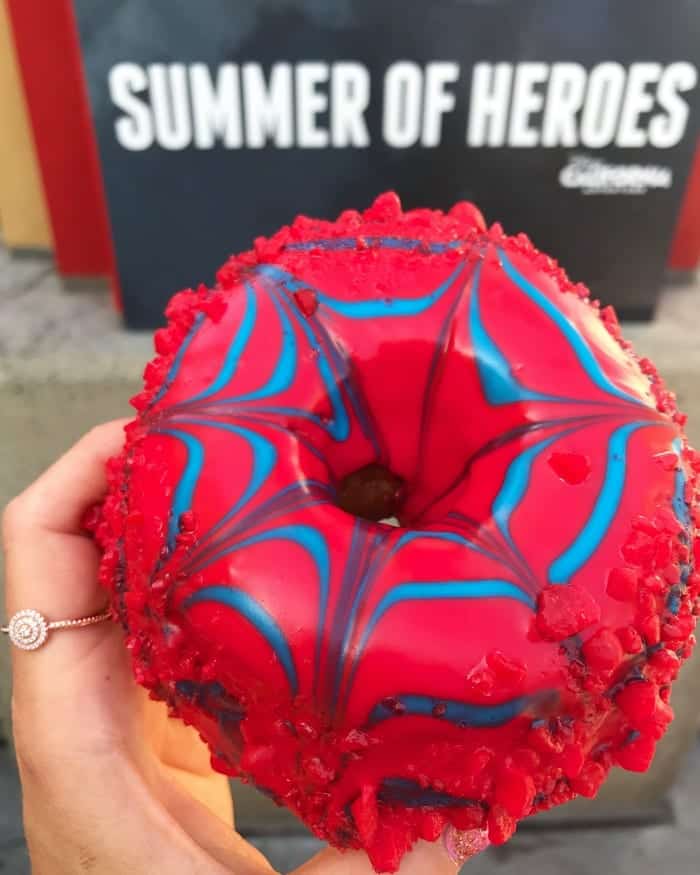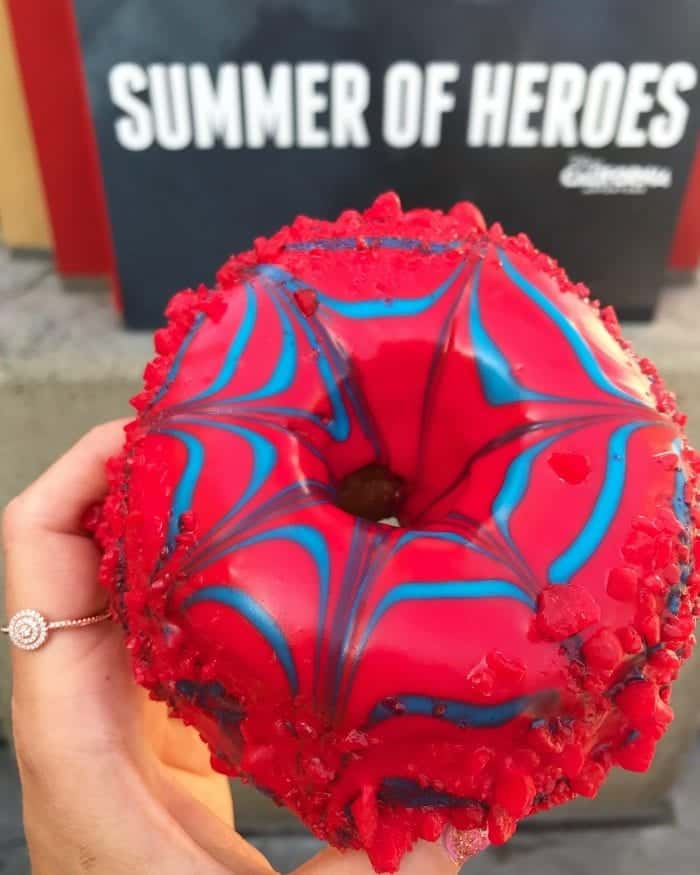 Here's the Spider Bite also from Schmoozies – A cinnamon-spiced doughnut. Another favorite from my weekend.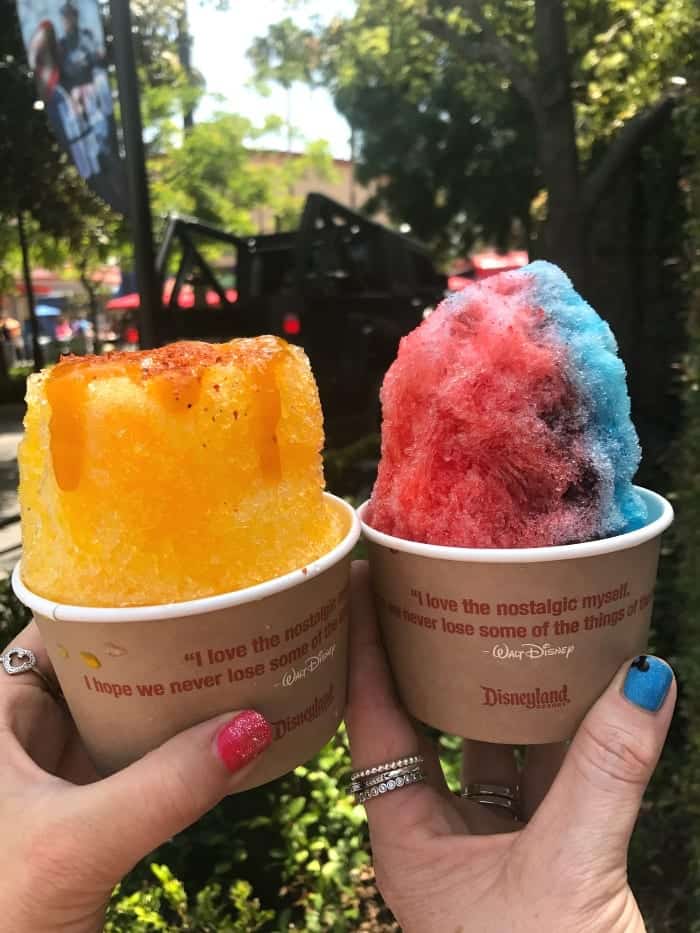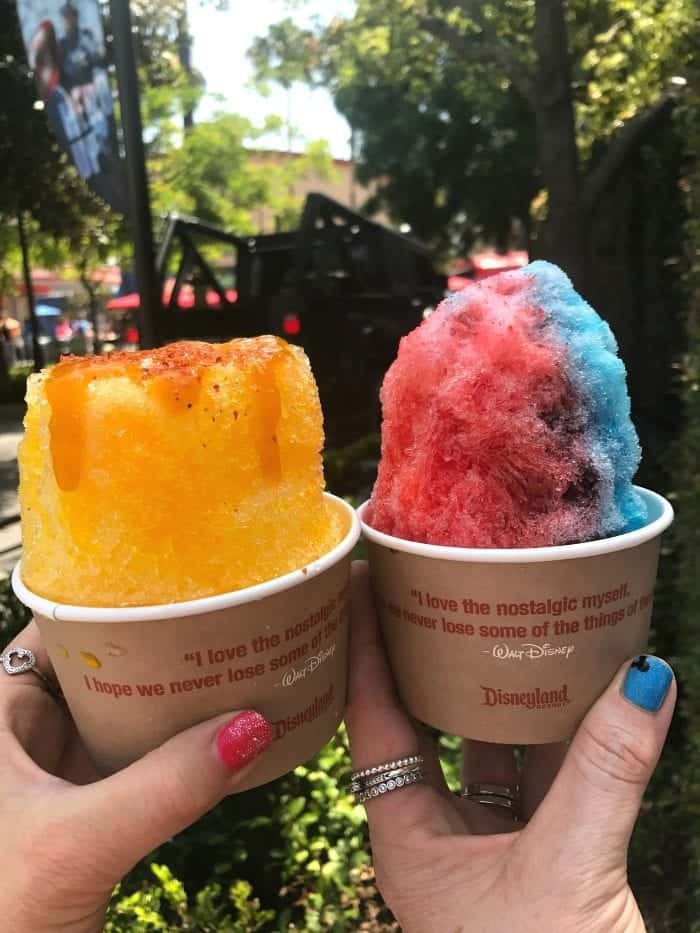 Biofrosties
Right across from Monster's Inc in Hollywood Land is Bifrosties where you can get a number of different Shaved Ice treats. This is the Spinal Fluid – Banana, mango coulis and chili-lime spice and Spider Venom – Blue raspberry and cherry with condensed milk. Both great.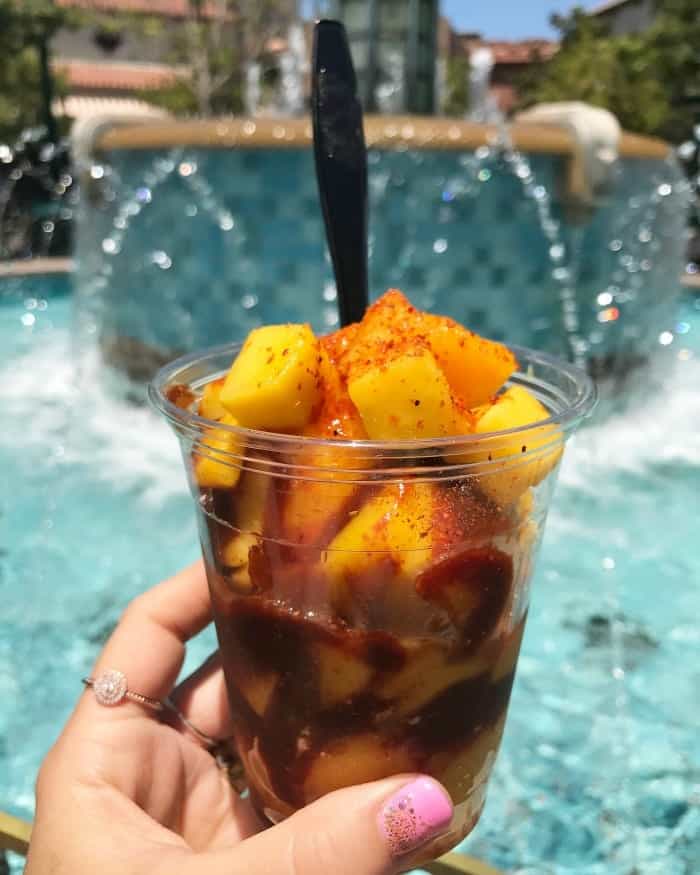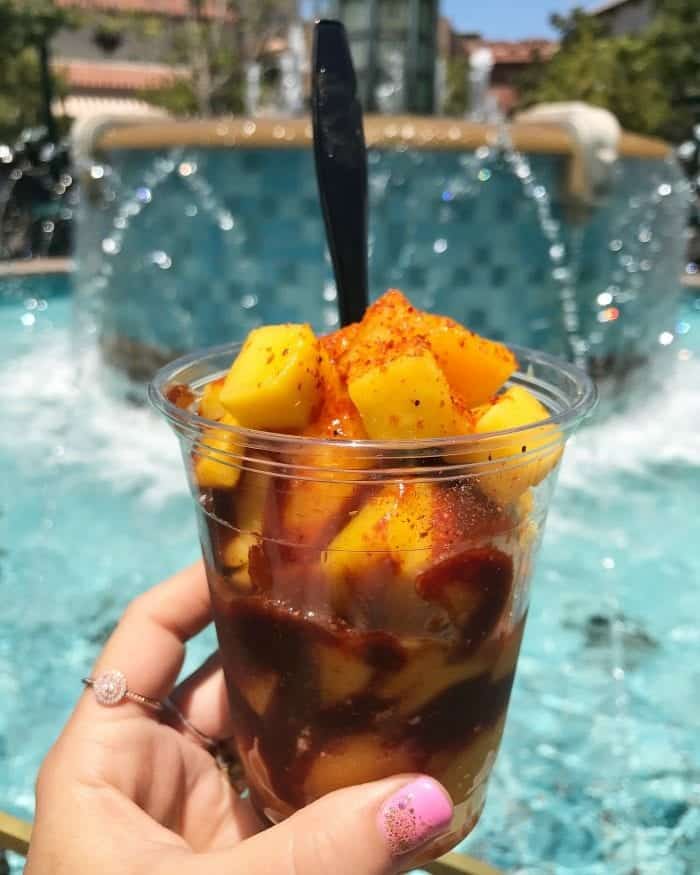 Clarabelle's
Over at Clarabelle's for a limited time this Summer you can order this Mangonada. It's got two scoops of Mango Sorbet layered with Chamoy Sauce, fresh Mango chunks, Tajin Seasoning and Lime Juice. LOVED this one.
Cars Land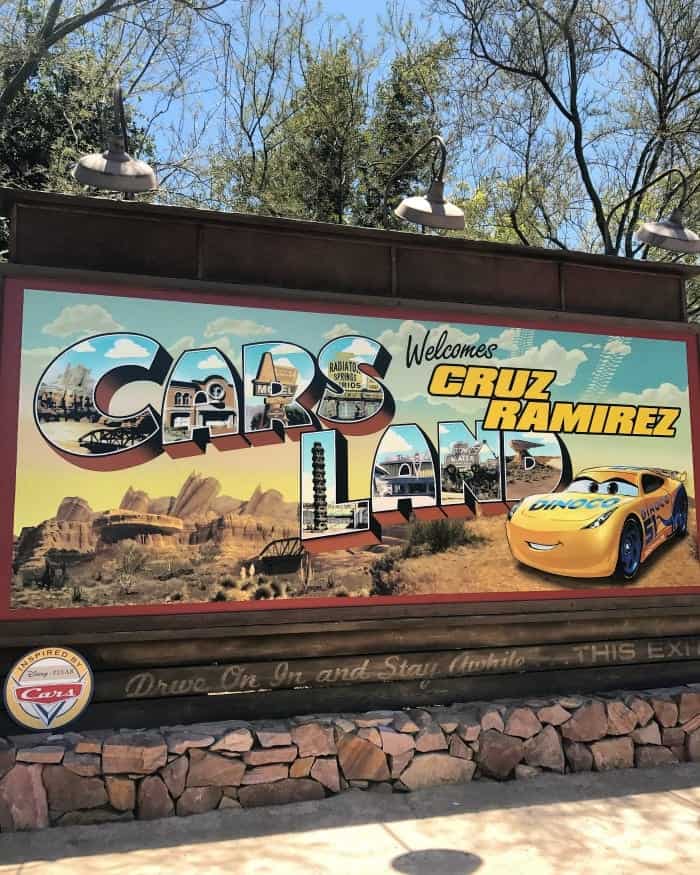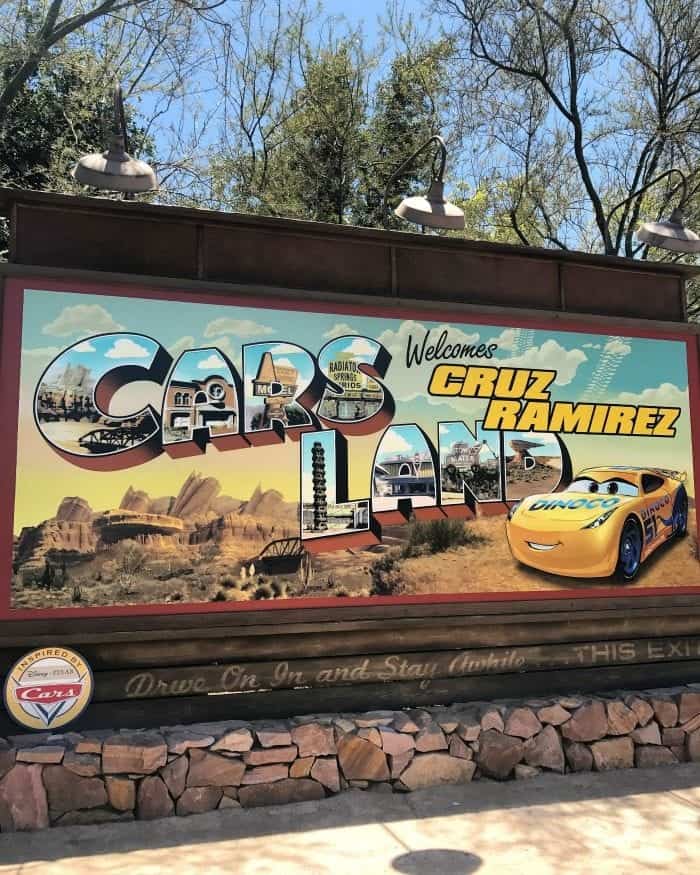 Lots of fun going on in Cars Land this summer like welcoming Cruz Ramierez to Cozy Cone Motel for photos!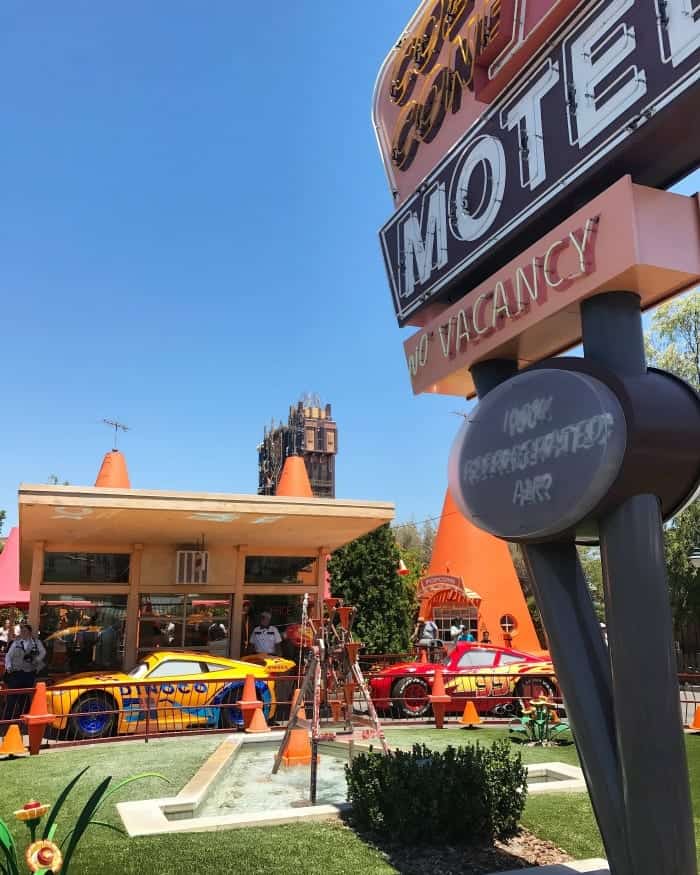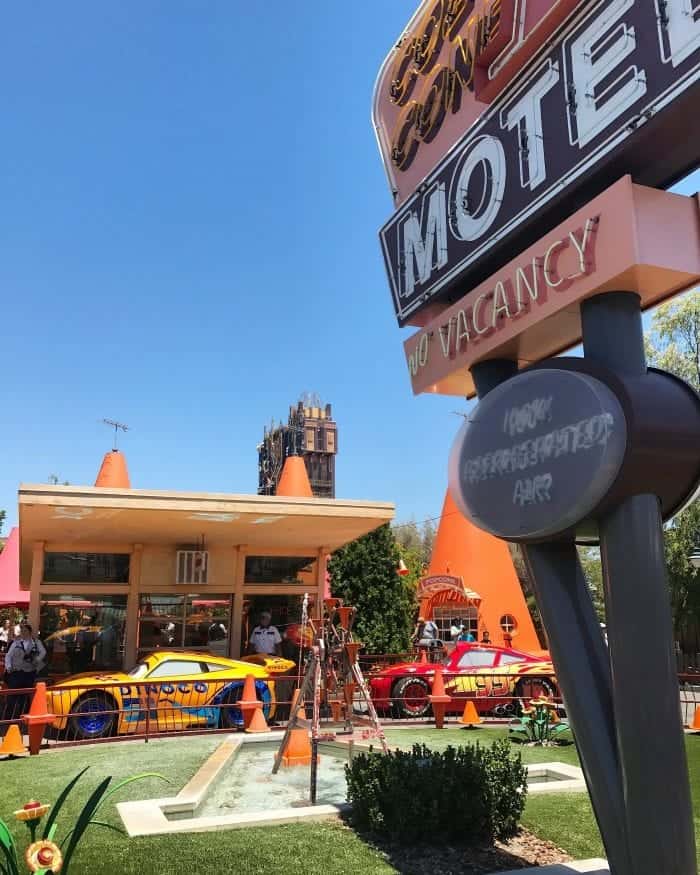 Here's Cruz and Lightening at Cozy Cone Motel getting ready to switch places for photos.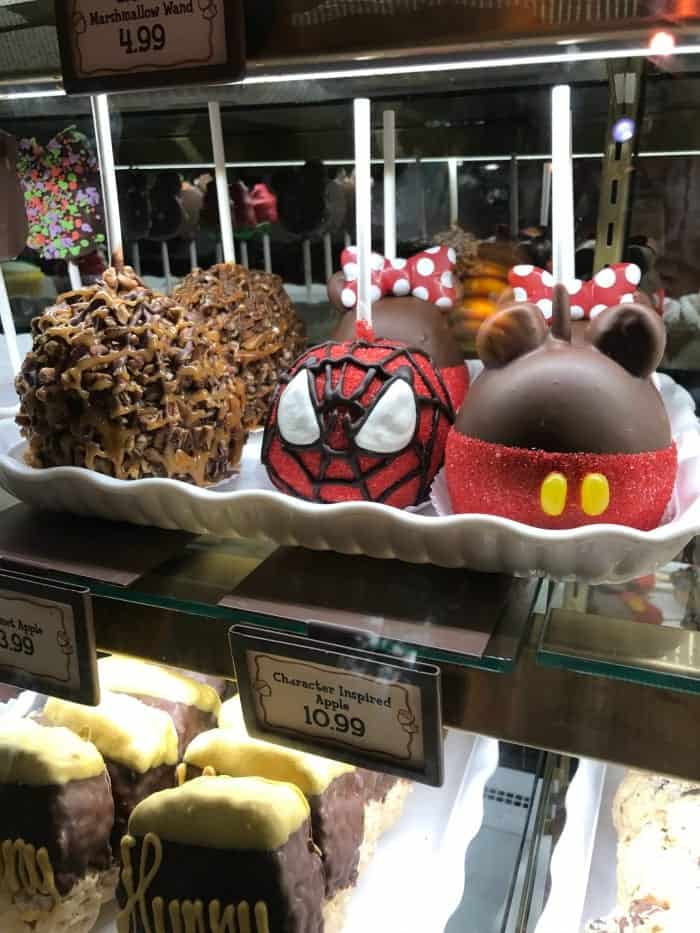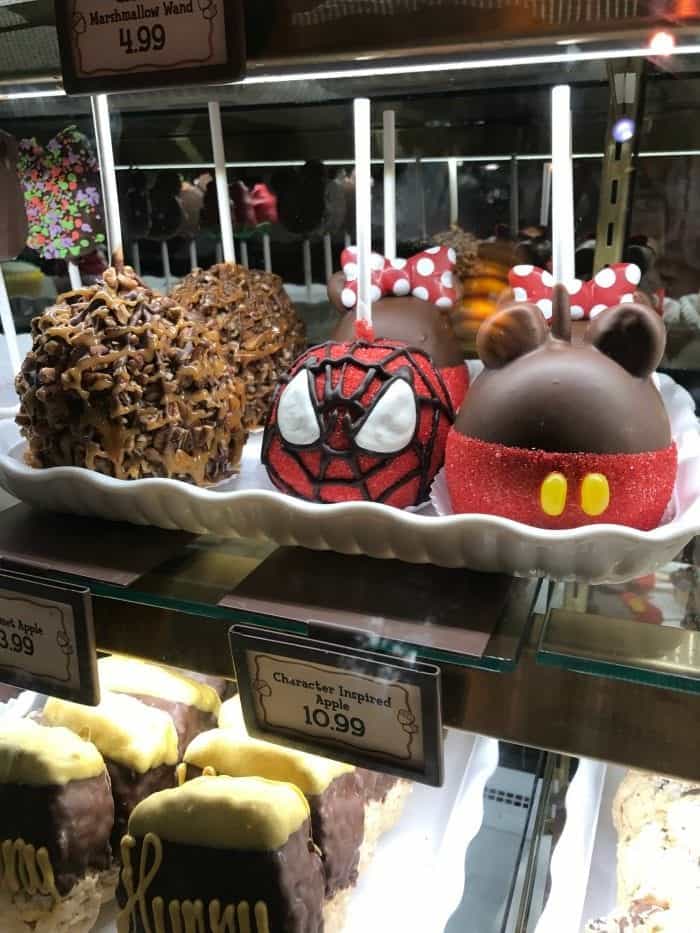 Love the new Spider Man Gourmet Apples at the Park bakeries.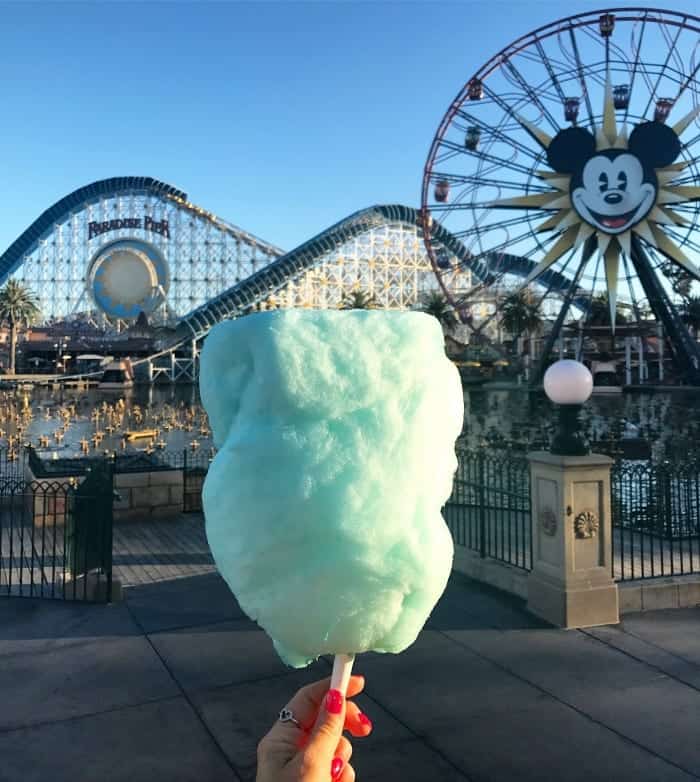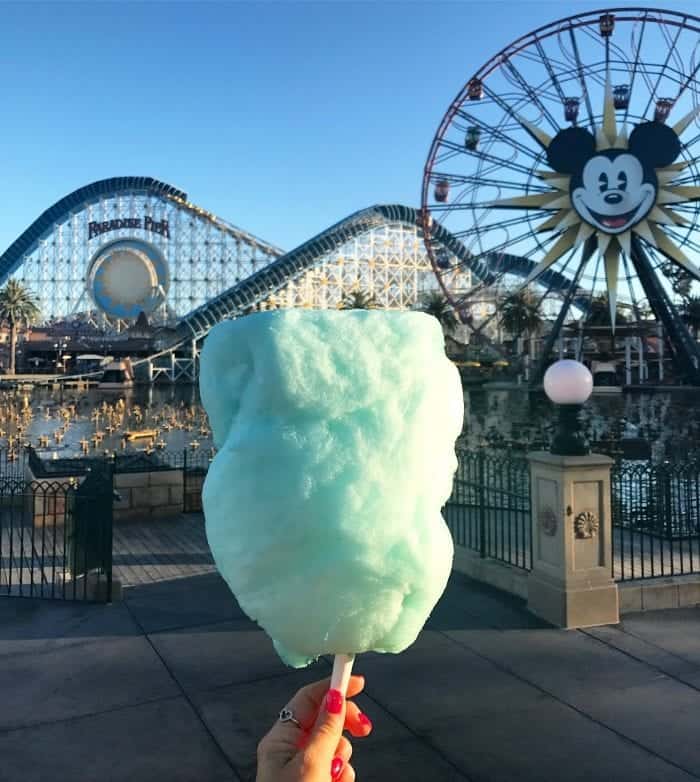 Watermelon flavored Cotton Candy is also new for Summer! Find it at various carts throughout the park.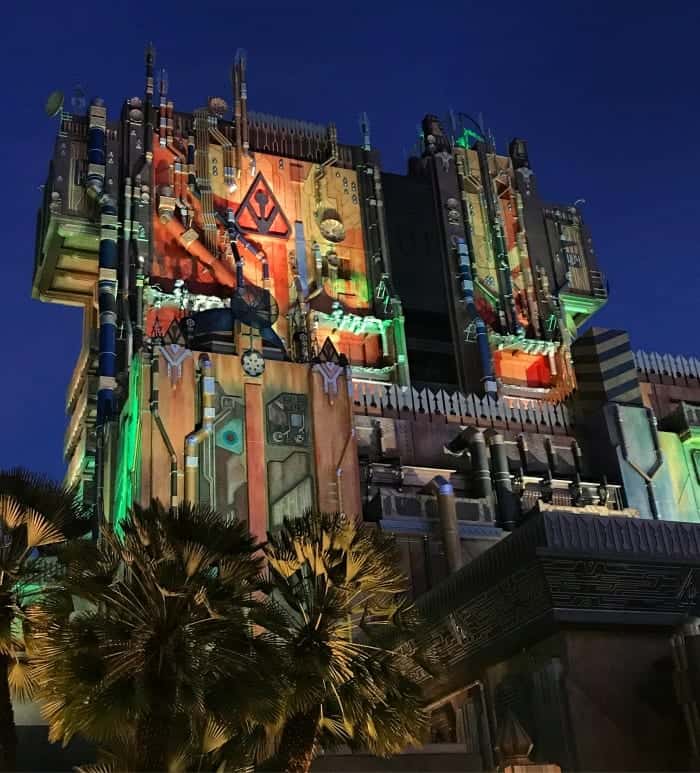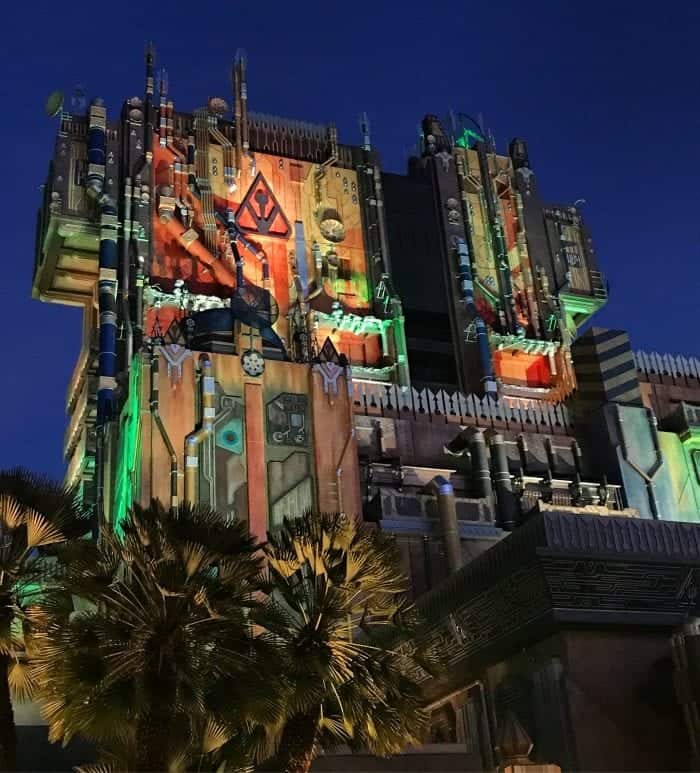 Hope you get to make it to Disney California Adventure this summer before September 10th! Lots of fun to be had, looking forward to getting back soon! Thanks for following along!
Be sure to follow Disney Hungry on Instagram and Facebook!
Pin to your favorite Disney Board!