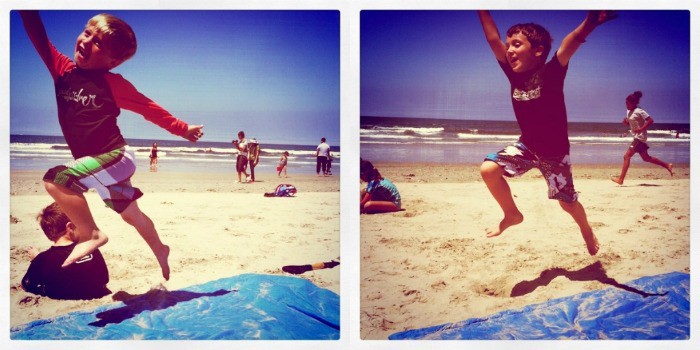 Well it's safe to say that summer has been kicked off with a bang around here. Our family from AZ has been visiting all week long and we've been hitting the beach…. often. These pictures of my boys make me smile, they are really living it up in the sunshine 🙂 Have I said how much I enjoy Instagram on the iPhone?! You must get it if you have an iPhone, such fun pictures.
To celebrate summer, I have highlighted some of my favorite summer salads, some older as you will be able to tell from the photos (however still delicious) and some newer. At any rate, they are perfect for any summer table to cool you off.
Enjoy!!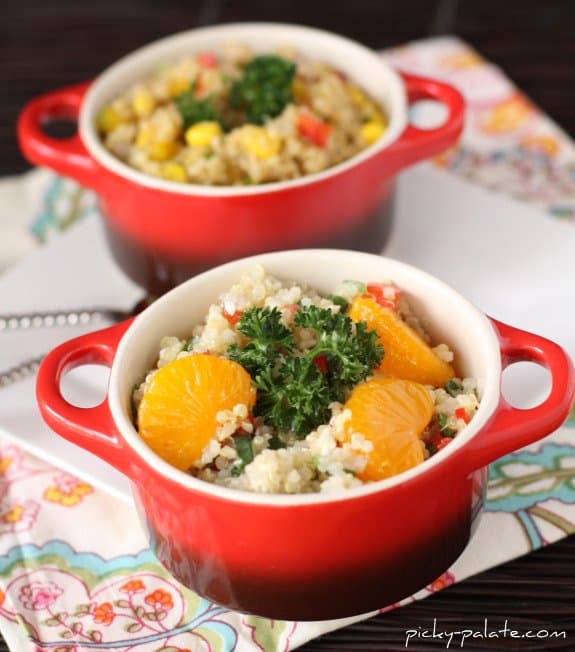 [ziplist]
Feta Mandarin Asian Quinoa Salad
1 Cup uncooked quinoa
1/4 Cup "Feast from the East" Sesame Dressing from Costco (this is such a great dressing)
1/4 Cup green onions, chopped (the green parts)
1/2 Cup crumbled feta cheese
1/2 Cup red bell pepper, chopped
1/4 Cup fresh chopped cilantro leaves
1. Prepare quinoa according to package directions. Transfer to a large bowl. Mix in dressing, onions, feta, peppers and cilantro. Cover and chill until serving.
8-10 servings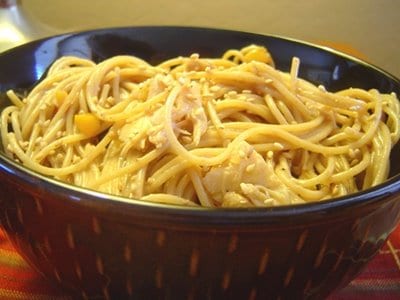 [ziplist]
Chicken Peanut Thai Noodles
1 lb whole wheat thin spaghetti noodles
2 Tablespoons sesame oil
1 garlic clove, peeled
1 (1 inch) piece of fresh ginger, peeled
1/2 Cup smooth peanut butter
1/4 Cup soy sauce
2 Tablespoons brown sugar
1 Tablespoon rice vinegar
1 teaspoon crushed red pepper flakes
1 Cup hot water
2 Tablespoons extra virgin olive oil
1/2 Cup finely chopped white onion
1/2 Cup finely chopped red or orange bell pepper
1 Cup cooked, shredded chicken breast
1/4 Cup finely chopped cilantro leaves (missing in picture, it's much better with cilantro)
1/2 teaspoon salt, or to taste
1/4 Cup dry roasted peanuts, chopped (optional)
2 Tablespoons sesame seeds (optional)
1. Cook noodles according to package. Drain, rinse with cold water, place in large pasta bowl and toss with sesame oil. Set aside.
2. Place garlic and ginger in food processor until well chopped. Add peanut butter, soy sauce, brown sugar, vinegar and red pepper flakes. Pulse until well combined and slowly add hot water. Set aside.
3. Place olive oil in hot skillet over medium heat. Saute onion and bell pepper for 5 minutes or until softened. Stir in chicken breast, cilantro and salt. Stir until heated through.
4. Add sauce and chicken mixture to noodles. Toss to coat and garnish with peanuts and sesame seeds if desired.
6 servings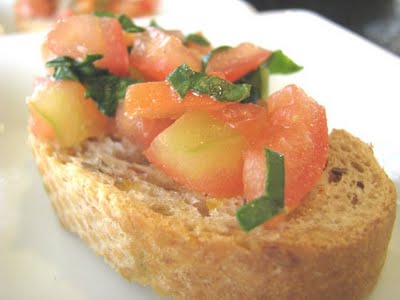 [ziplist]
Whole Grain Garlic Roasted Bruschetta
1 loaf whole grain baguette
4 large Roma tomatoes, seeded and diced
8 large fresh basil leaves, stacked, rolled then thinly sliced
3 cloves roasted garlic, smashed (Place bulb of garlic in lightly wrapped tin foil, bake in oven at 375 degrees F for 50-60 minutes, peel and ready to use)
2 pinches coarse salt
¼ teaspoon fresh ground black pepper
1-2 teaspoons extra virgin olive oil
1. Preheat oven to 400 degrees F. Slice baguette in ½ inch slices and place on baking sheet or tin foil. Brush lightly with good extra virgin olive oil. Bake for 5-6 minutes until lightly toasted.
2. Place tomatoes, basil leaves, garlic, salt, pepper and olive oil into a large bowl and mix well, making sure garlic is well incorporated.
3. Place heaping Tablespoonfuls of tomato mixture over each toasted baguette slice and serve!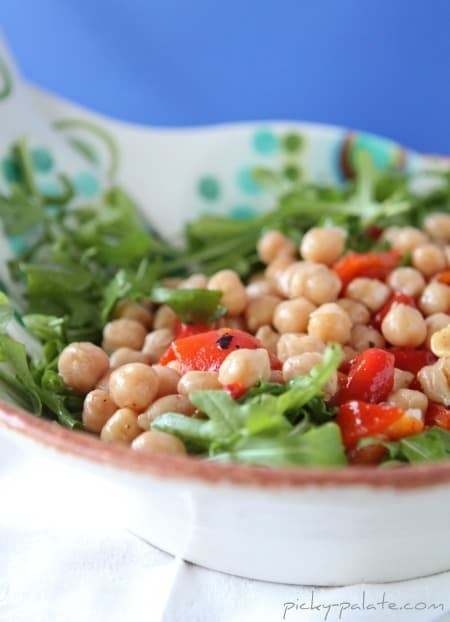 [ziplist]
Lemon Dressing Drizzled Chickpea and Sweet Pepper Arugula Salad
2 15 0z cans garbanzo beans, drained
1 Cup chopped roasted red pepper, drained
1/4 Cup extra virgin olive oil
1/2 fresh lemon squeezed
1/4 teaspoon kosher salt
1/4 teaspoon fresh cracked black pepper
1 bag of fresh arugula
1. Place garbanzo beans and peppers into a mixing bowl. Place olive oil, lemon juice, salt and pepper into a bowl and whisk to combine. Toss over garbanzo beans and toss to coat. Spoon over a bed of fresh arugula leaves and toss. Serve room temperature or chilled.
4 servings
[ziplist]
BBQ Chicken Salad with Cilantro Ranch Dressing
3 Cups thinly sliced Green Leaf Lettuce
1/4 Cup corn
1/4 Cup black beans
8 grape tomatoes, halved
1 cooked grilled chicken breast
1/4 Cup favorite BBQ Sauce
1/4 Cup shredded mozzarella cheese
1/4 Cup prepared ranch dressing
1 heaping Tablespoon fresh chopped cilantro leaves
1. Place lettuce into a salad bowl. Layer with corn, black beans and tomatoes. Dice cooked chicken breast and mix with BBQ sauce. Top over salad and sprinkle with mozzarella cheese.
2. Place ranch dressing and cilantro leaves into a small bowl to combine. Drizzle over salad and serve.
**This recipe is for 1 large serving, double accordingly**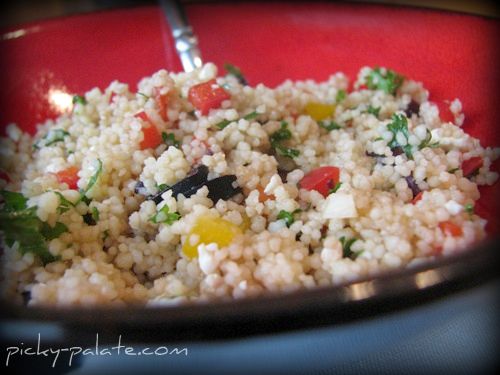 [ziplist]
Mediterranean Couscous Salad
1 box Near East couscous, cooked according to package
3/4 Cup red bell pepper, diced
1/2 Cup yellow bell pepper, diced
4 oz container crumbled Feta Cheese
3/4 Cup Kalamata Olives, sliced
1 Tablespoon fresh minced garlic
1/4 Cup extra virgin olive oil
1 1/2 Tablespoons balsamic vinegar
Pinch of salt and fresh black pepper
1/2 Cup fresh parsley, chopped
1. Place cooked couscous into a large bowl. Let cool (put in the fridge to speed up the process). Add the bell peppers, feta cheese, olives and garlic to the couscous. Mix to combine.
2. In a separate bowl whisk the olive oil, balsamic vinegar, salt and pepper until well combined. Pour over couscous and mix to combine. Stir in fresh parsley and serve! Refrigerate leftovers.
4 servings
_______________________________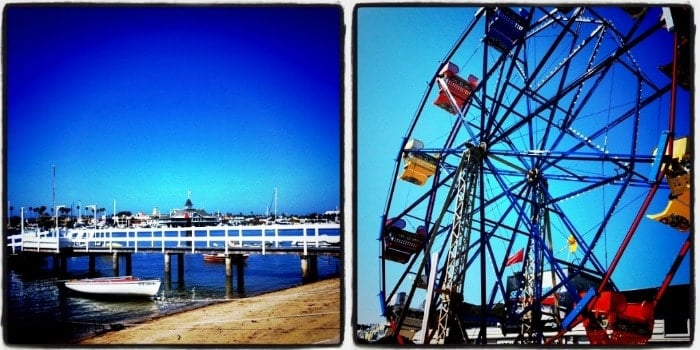 Had a blast at Balboa Island last week 🙂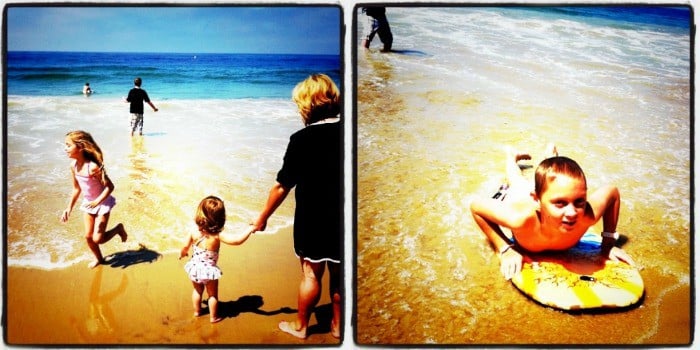 Hope everyone has a great rest of your week and weekend!
Be sure to stop by tomorrow for a Big and I mean BIG giveaway!