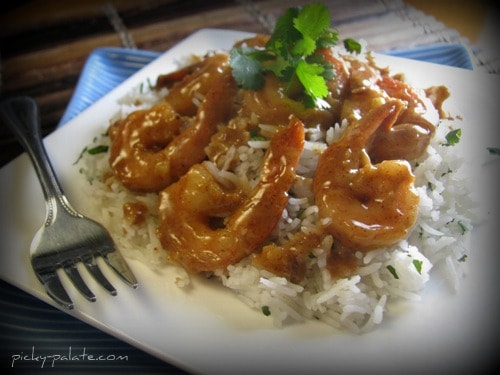 Good Tuesday!
After a very successful shopping trip yesterday, I walked away with a whole fridge full of fresh produce I can't wait to get my hands on this week. It's always nice to start eating healthy for the New Year. I am so sick of desserts, I thought I'd never say that! With that said, this doesn't mean my baking days are over 🙂 I'll be back baking a little later, but for now, I am thrilled to be cooking some healthier recipes.
First up is my Sweet and Spicy Almond Glazed Shrimp. Now, as a fair warning, my kids were not huge fans. This is more of a mommy and daddy type dinner. It is fabulous! I saved some shrimp for the boys without the sauce and they ate it plain. So, whatever works right?!
I picked up some honey almond butter at Whole Foods yesterday. I've also seen it available at Trader Joes. Simple ingredients, great flavor and light recipe. Hope you all enjoy!! Happy cooking 🙂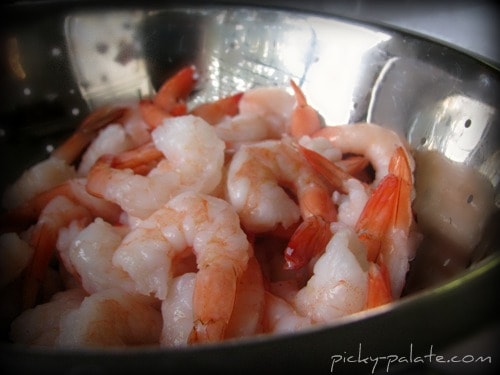 Wash and drain your shrimp. I cut off most of the tails before heating in the sauce. Left a few on just for pictures. Whatever you prefer 🙂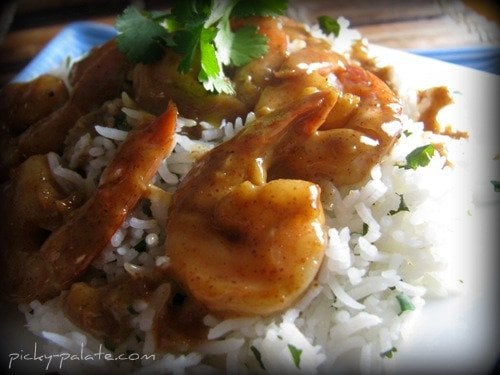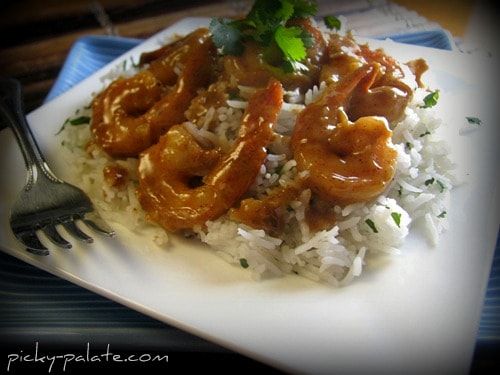 Sweet and Spicy Almond Glazed Shrimp Over Cilantro Basmati Rice
2 Tablespoons extra virgin olive oil
4 cloves fresh garlic, minced
1 lb cooked shrimp, deveined (remove tails before heating if desired)
1/4 teaspoon kosher salt
1/4 teaspoon fresh cracked black pepper
1/3 Cup creamy honey almond butter (found it at Whole Foods)
3 Tablespoons soy sauce
1 Tablespoon lemon juice
Pinch of cayenne pepper
3 Tablespoons water
2 Cups Basmati Rice, uncooked
1 Cup fresh cilantro, chopped
1. Heat oil in a large pan over medium heat. When hot saute garlic for 15 seconds then add in shrimp. Stir and heat for 2 minutes then add salt, pepper, almond butter, soy sauce, lemon juice and cayenne pepper. Stir to combine ingredients then add 3 Tablespoons water; mix to combine. Reduce heat to low.
2. Cook Basmati rice in rice cooker or according to package directions. When done, remove and mix with chopped cilantro. Season with salt and pepper to taste. Place rice onto serving plates then top with glazed shrimp. Garnish with a cilantro leaf and serve.
4-6 servings
_______________________________________
Have a great new week! Come back soon for more good healthy cooking!