This Bread Pudding Souffle with Whiskey Sauce is a recipe from one of my favorite restaurants in New Orleans! It's such a warm and delicious dessert that's perfect for special occasions!
Bread Pudding Souffle with Whiskey Sauce
One of the highlights of my time in New Orleans was going to Commander's Palace for Brunch Sunday morning. It's hard to explain the ambiance of the restaurant, it's nothing like you've ever seen before, or at least that I have ever seen. A long line of waiters lined the halls and greeted us as we walked through the door and balloons were centerpieces at every table. You also get a live band that plays at your own table. The food was…..unforgettable. Scroll down, you'll see what I mean.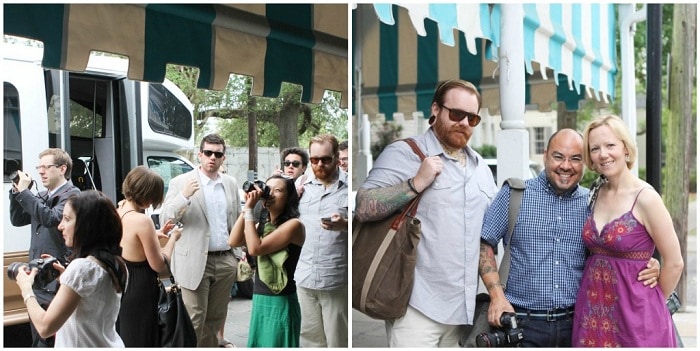 So, here we are just walking off the bus, snapping photos like crazy as we did at everything 🙂 To the right is Adam, Matt and Brooke looking great!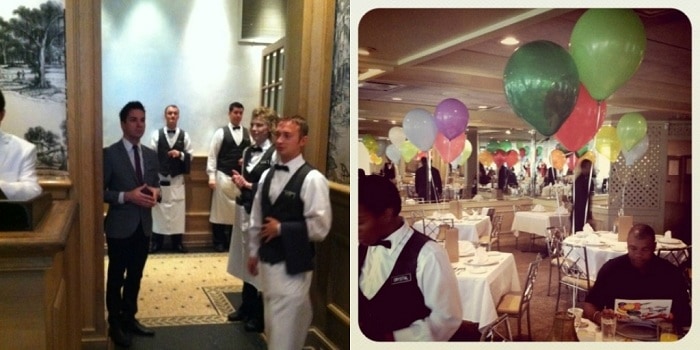 Here are those waiters that greeted us at the door and the balloons at each table. So fun and festive. It was also a treat to see some of the local women in their fancy Sunday hats as well. So different from what I am used to.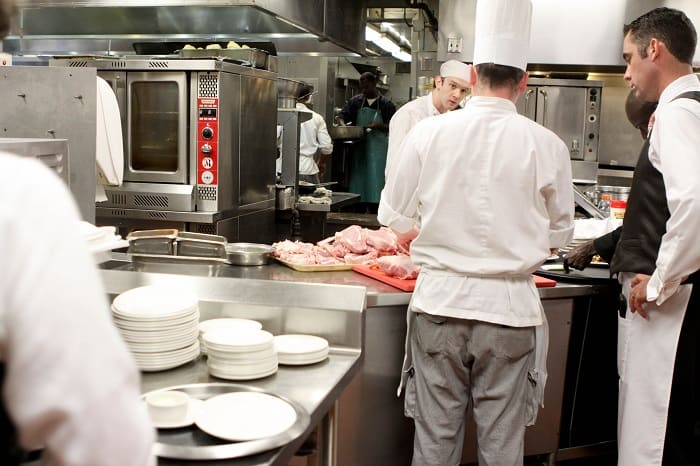 We got to walk through the giant kitchen to see all the kitchen staff hard at work.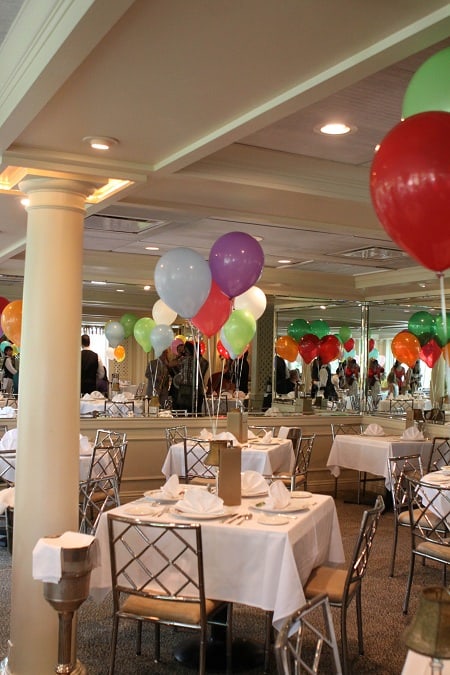 More table shots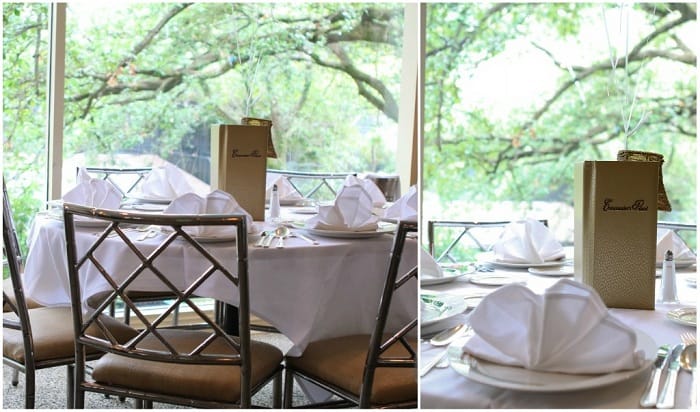 Tables were placed by big windows with gorgeous views of lush green trees.
What to Eat at Commander's Palace Restaurant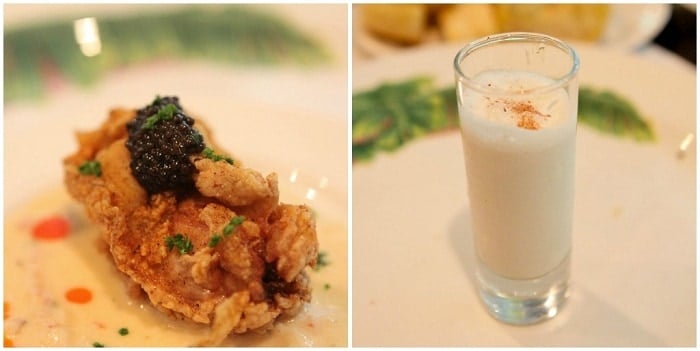 Alright onto the food we enjoyed at Commander's. We started with a single fried Oyster with Caviar and the Brandy Milk Punch (minus the Brandy) Both were a dream, especially that milk. It tasted like melted vanilla ice cream, yum!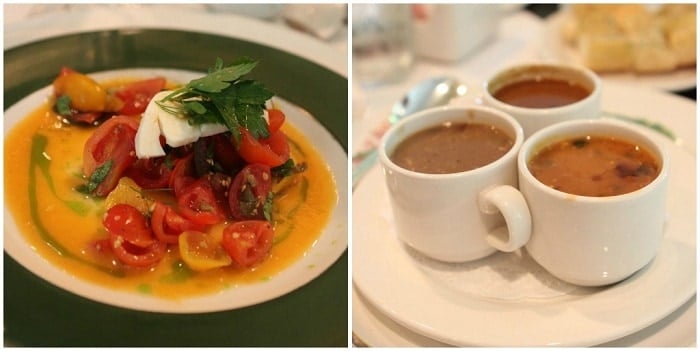 Marla had that gorgeous salad and I ordered trio of soups that included a turtle soup. That was another first for me 🙂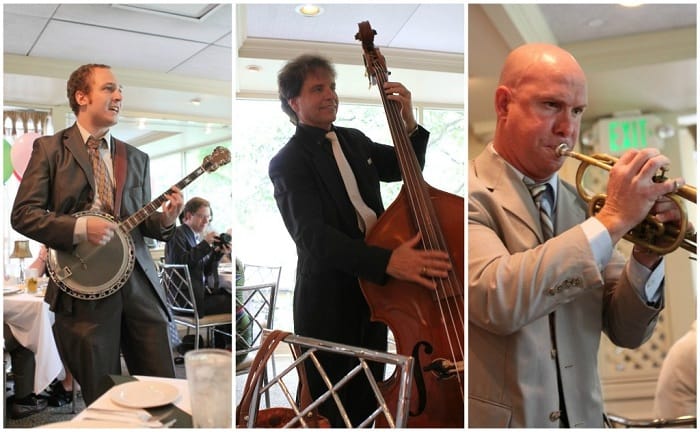 Here were the guys from the band. Loved them!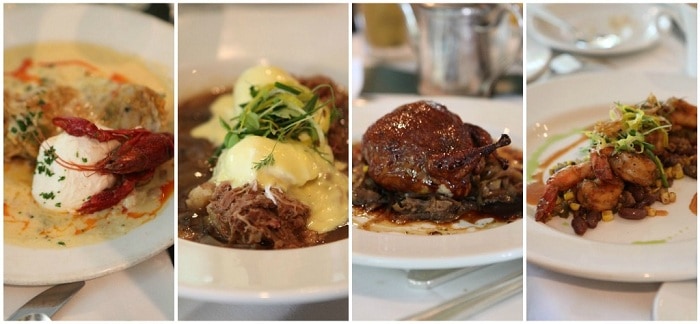 Here were some of the brunch entrees that came out. Aren't they gorgeous?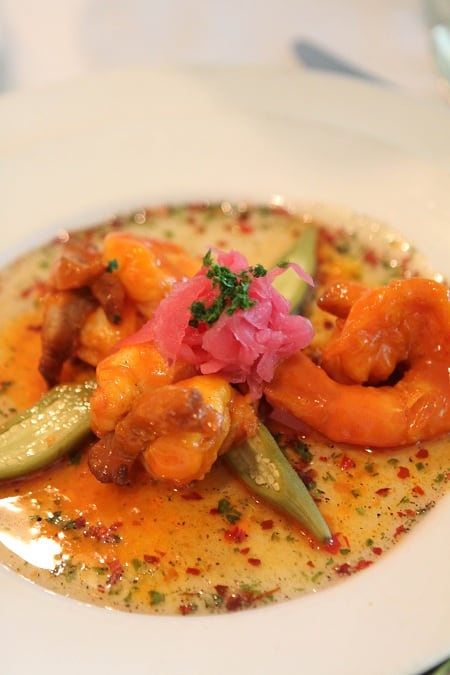 Amanda ordered this shrimp that was probably the best shrimp I have tasted. Want it again!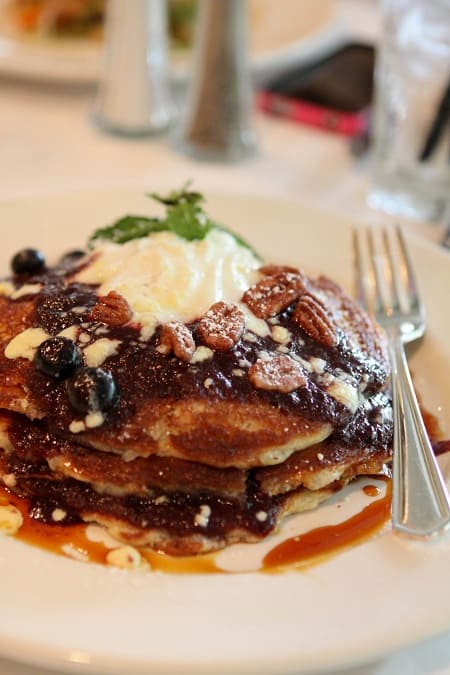 I ordered the White Chocolate Blueberry Pancakes…..they were as good as they look.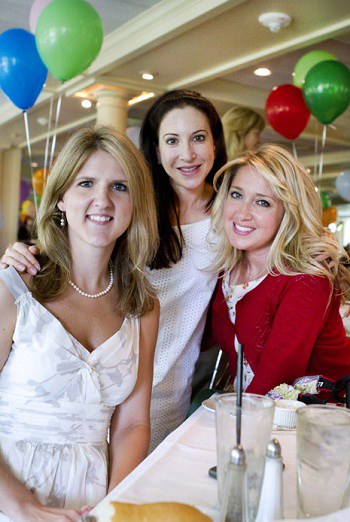 Photo via Marla Meridith
Amanda, Marla and me at our table, love these gals!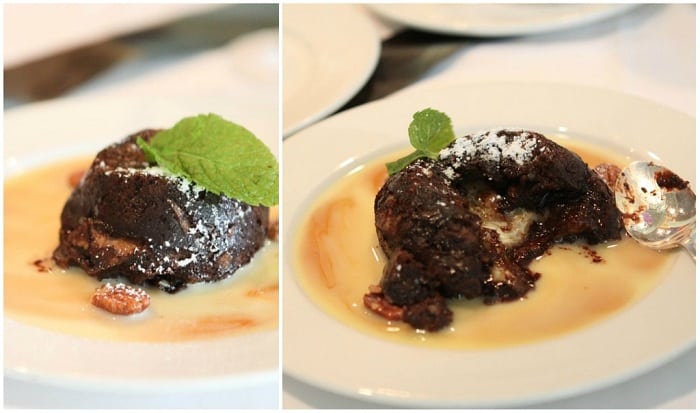 Dessert was a dream. Here is the Cookie Dough Bread Pudding.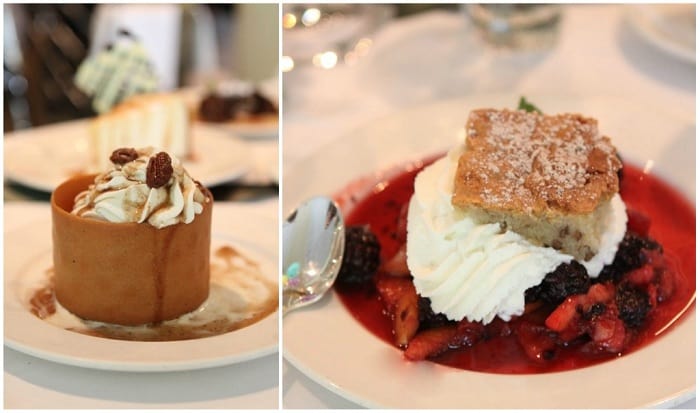 The Pralines dessert and the Strawberry Shortcake. Both delicious.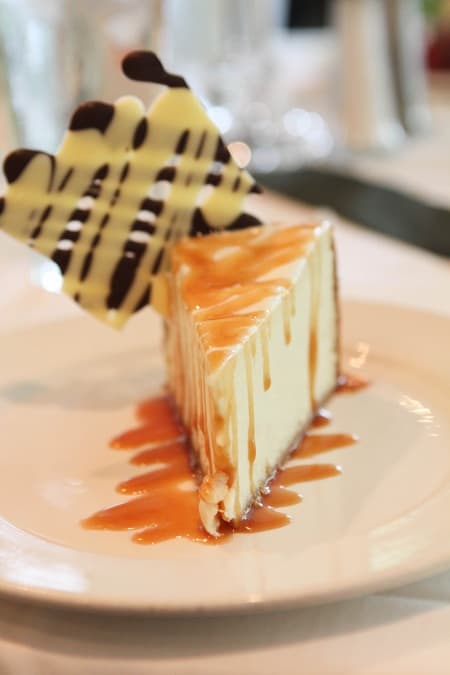 The cheesecake was so photogenic and tasted even better.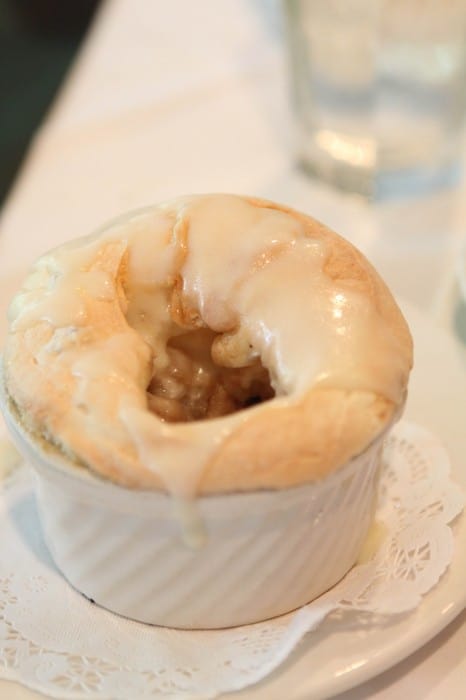 This Bread Pudding Souffle was my favorite and I have the recipe for you from the restaurant! Enjoy friends!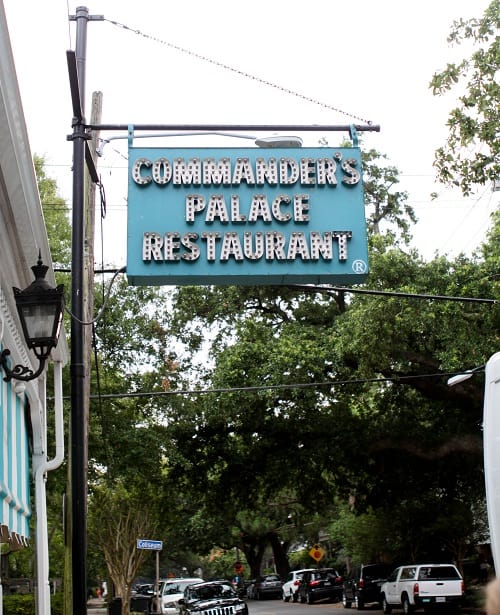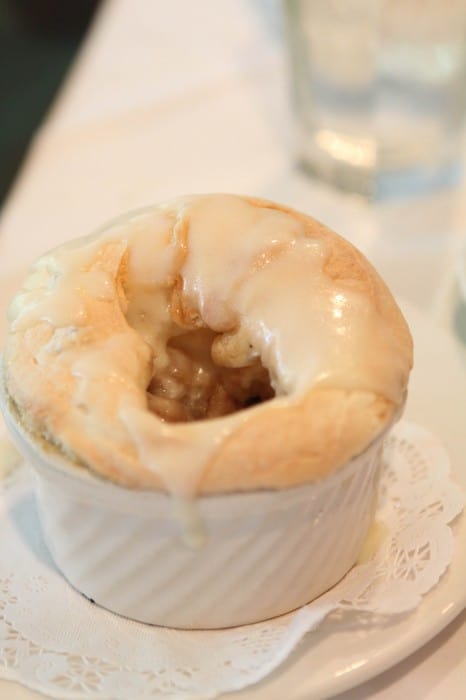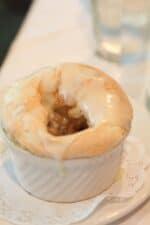 Bread Pudding Souffle with Whiskey Sauce
This Bread Pudding Souffle with Whiskey Sauce is a recipe from one of my favorite restaurants in New Orleans! It's such a warm and delicious dessert that's perfect for special occasions!
Print
Pin
Ingredients
Souffle
butter

for greasing pan & ramekins

3/4

cup

sugar

1

tsp

ground cinnamon

1

pinch

nutmeg

3

medium eggs

1

cup

heavy cream

1

tsp

vanilla extract

5

cups

New Orleans French Bread

cut into 1-inch cubes, see cook's note

1/3

cup

raisins
Whiskey Sauce
1

cup

heavy cream

1/2

tbsp

corn starch

1

tbsp

water

3

tbsp

sugar

1/4

cup

bourbon
Meringue
9

medium egg whites

room temperature

1/4

tsp

cream of tartar

3/4

cup

sugar
Instructions
Souffle
Grease an 8-inch square baking pan. Combine sugar, cinnamon, and nutmeg in a large bowl. Beat in the eggs until smooth, and then work in the heavy cream. Add the vanilla, stir to combine, and then the bread cubes. Let stand so that bread soaks up custard.

Place the raisins in the greased pan. Top with the bread mixture, which prevents the raisins from burning.

Bake for approximately 25 to 30 minutes or until the pudding has a golden brown color and is firm to the touch. If a toothpick inserted in the pudding comes out clean, it is done. The mixture should be moist, not runny or dry. Cool to room temperature.
Whiskey Sauce
Place cream in a small saucepan over medium heat, and bring to a boil. Whisk cornstarch and water together, and add to cream while whisking. Bring to a boil. Whisk and let for a few seconds, taking care not to burn the mixture on the bottom. Remove from heat.

Stir in the sugar and the bourbon. Taste to make sure the sauce has a thick consistency, a sufficiently sweet taste, and a good bourbon flavor. Cool to room temperature.
Meringue
Preheat oven to 350 degrees F. Butter 6 (6-ounce) ramekins and set aside.

Make certain that the bowl and whisk are completely clean. The egg whites should be completely free of yolk, and they will better if they are at room temperature. This dish needs a good, stiff meringue.

In the bowl of an electric mixer (or in a large bowl with a hand mixer), whip egg whites and cream of tartar until foamy. Add the sugar gradually, and continue whipping until shiny and thick. Test with a clean spoon. If the whites stand up stiff, like shaving cream when you pull out the spoon, the meringue is ready. Do not over-whip, or the whites will break down and the souffle will not work.
Assembling Your Souffle
In a large bowl, break half of the bread pudding into pieces using your hands or a spoon. Gently fold in 1/4 of the meringue, being careful not to lose the air in the whites. Add a portion of this base to each of the ramekins. 

Place the remaining bread pudding in the bowl, break into pieces, and carefully fold in the rest of the meringue. Top off the souffles with this lighter mixture. Smooth and shape tops with a spoon into a dome over the ramekin rim.

Bake immediately for approximately 20 minutes or until golden brown. Serve immediately. Using a spoon, at the table, poke a hole in the top of each souffle, and pour the room temperature whiskey sauce inside the souffle.
Notes
Recipe by Commander's Palace, New Orleans
*Cook's Note: New Orleans French bread is very light and tender. If another bread is used that is too dense, it will soak up all the custard and the recipe won't work.
Nutrition
Calories:
1753
kcal
|
Carbohydrates:
266
g
|
Protein:
49
g
|
Fat:
53
g
|
Saturated Fat:
30
g
|
Cholesterol:
286
mg
|
Sodium:
1726
mg
|
Potassium:
754
mg
|
Fiber:
8
g
|
Sugar:
92
g
|
Vitamin A:
1928
IU
|
Vitamin C:
2
mg
|
Calcium:
241
mg
|
Iron:
12
mg
_________________________________
Have a great day, I'll be dreaming of Commander's Palace 🙂