Talking about everything you need to know about the new churros at Pixar Fest!!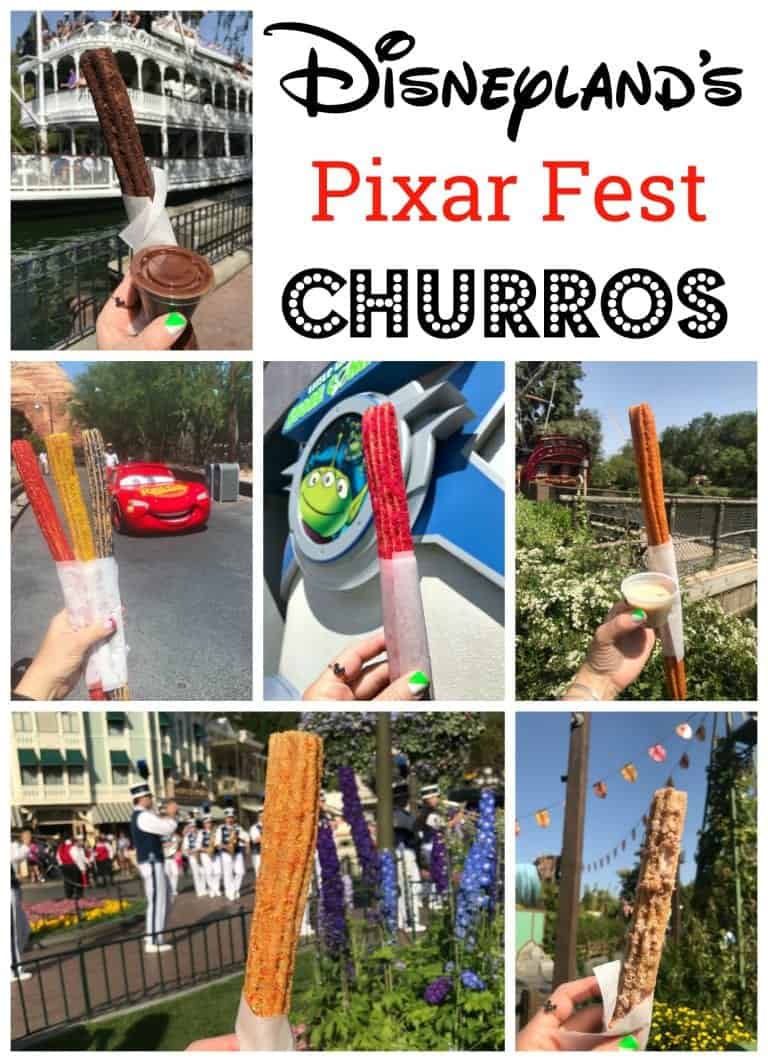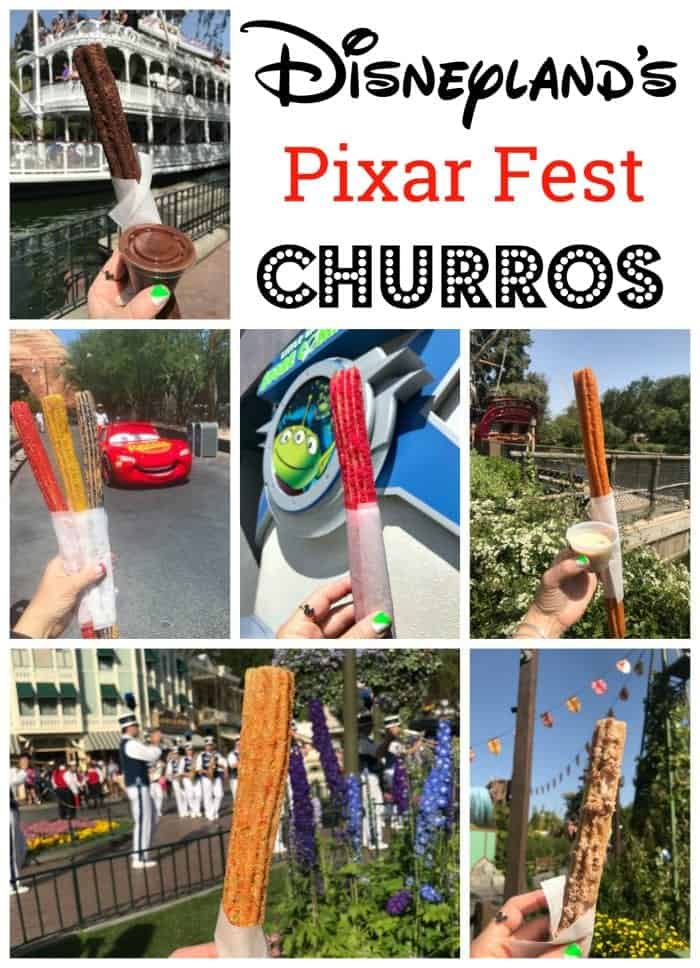 The new churros at Pixar Fest!!! I was so excited to eat my weight in churros last weekend. When I got word there were all of these specialty churros to try, I about lost my mind, lol! I'm going to take you through each churro and talk about the ones you don't want to miss and the ones you can pass on. To read my post about What NOT to Miss at Pixar Fest go HERE.

Ok let's go!!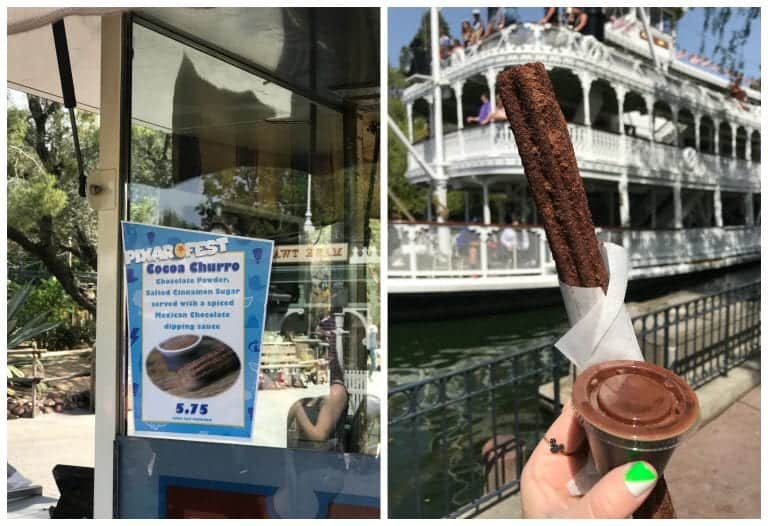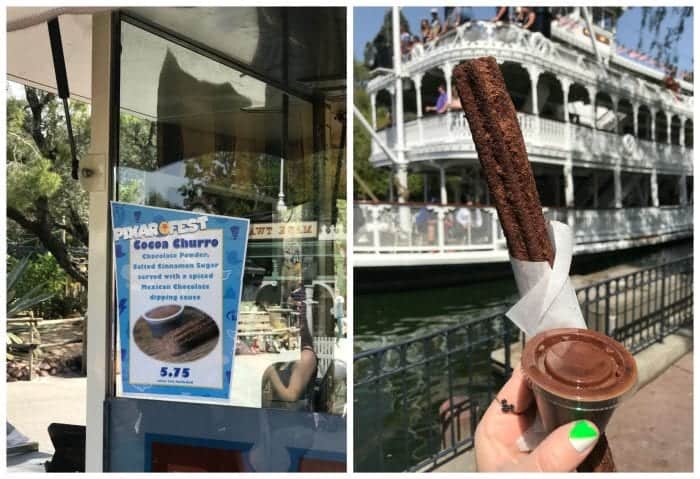 The Cocoa Churro!
My number one pick for new churros during Pixar Fest is this Cocoa Churro that you can find at the Frontierland Churro Cart. I'm telling you, it's chocolate-fantastic and has a spiced Mexican Chocolate dipping sauce. Funny, this is the churro I was least excited to try before I got to the Parks. In fact, I almost passed on it. Yikes I would have missed out!! Do NOT miss this one 🙂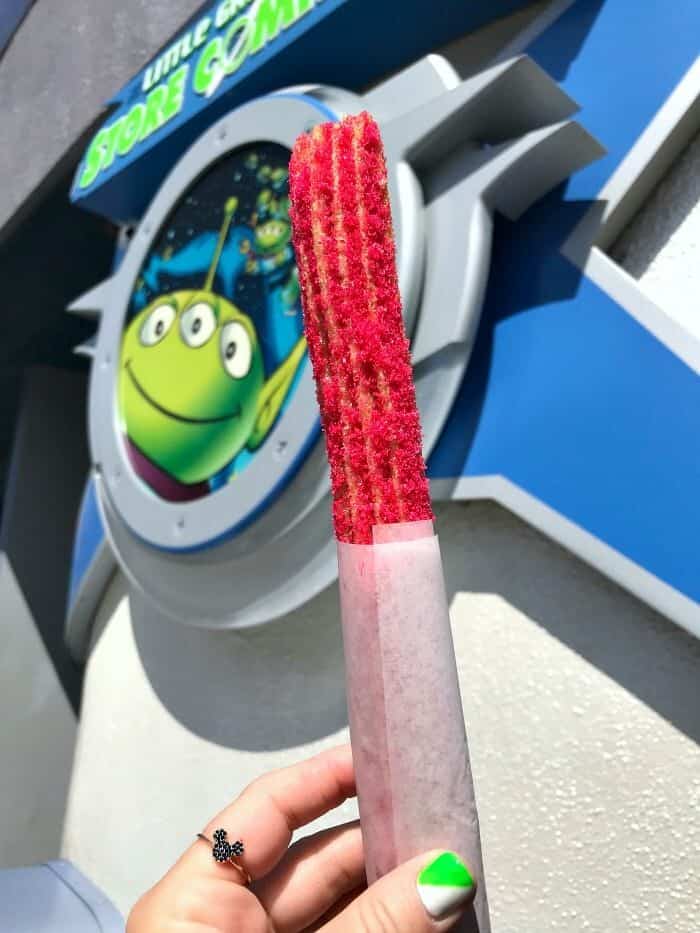 The Strawberry Churro!
Hello gorgeous Strawberry Churro!! Over at the Tomorrowland Churro Cart, you can find this pretty bright pink Strawberry Churro. As you walk through Tomorrowland, you'll be able to smell the strawberry. It's that artificial strawberry smell that reminds me of my childhood, lol! You'll just have to see what I'm talking about. This was my second favorite of the new specialty churros.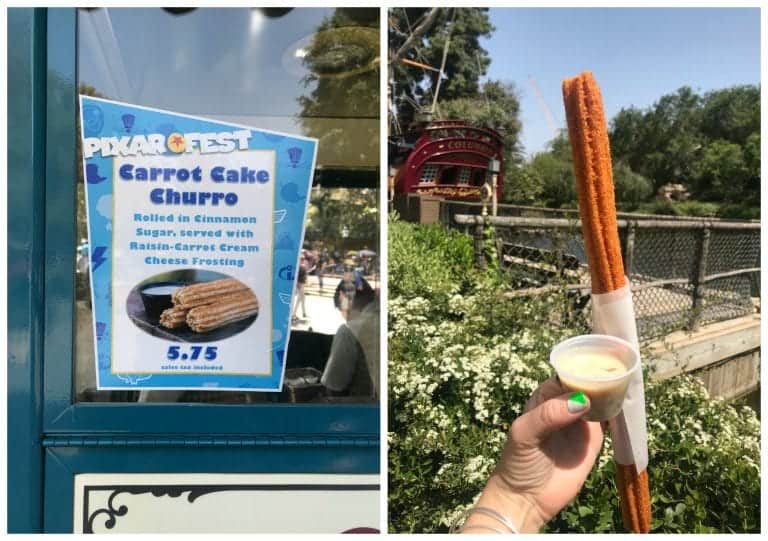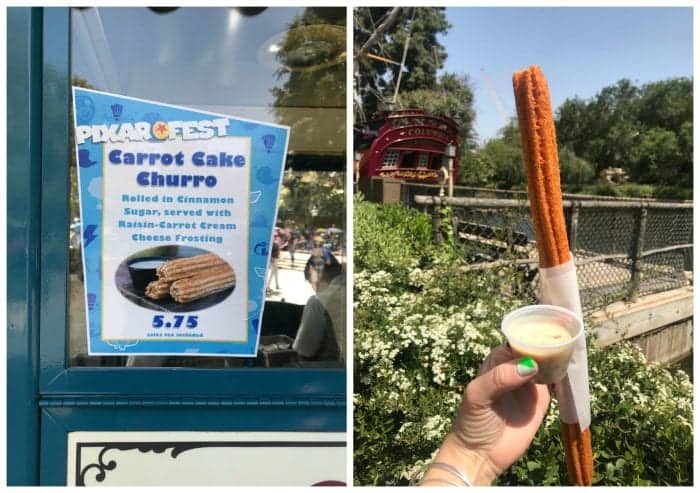 The Carrot Cake Churro!
Another favorite of mine is the new Carrot Cake Churro located at the New Orleans Square Churro Cart. Loved the flavor and the dip was a great addition. I was a bit worried about the "raisin-carrot cream cheese frosting" dip, but it complimented the churro perfectly. This was my third favorite churro of the new churros. Don't miss this one!!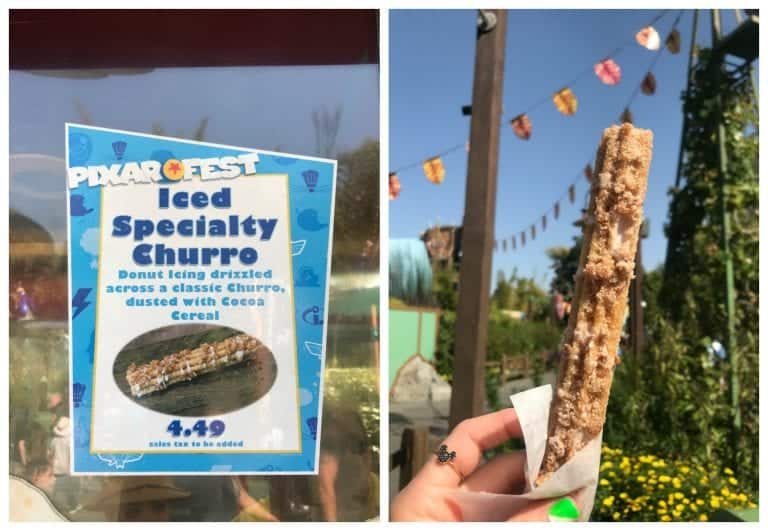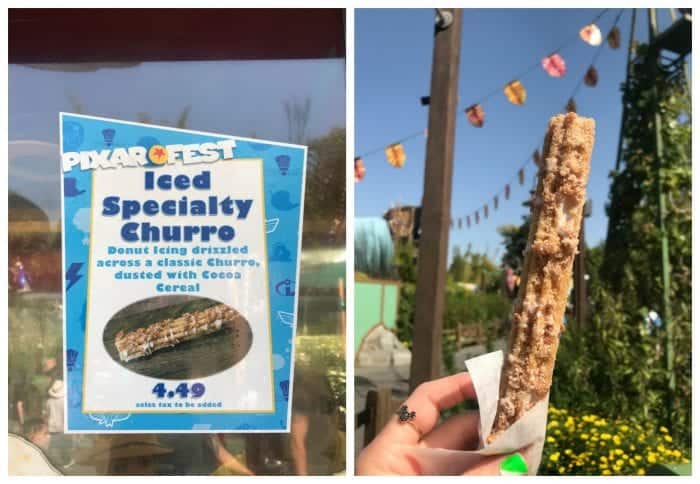 The Iced Churro!
Over at Disney California Adventure Park's Bugs Land, you can find this doughnut icing drizzled churro dusted with cocoa cereal. While this was a really fun idea and actually sounded amazing, I would pass on this one. Compared to the others, it was just OK for me.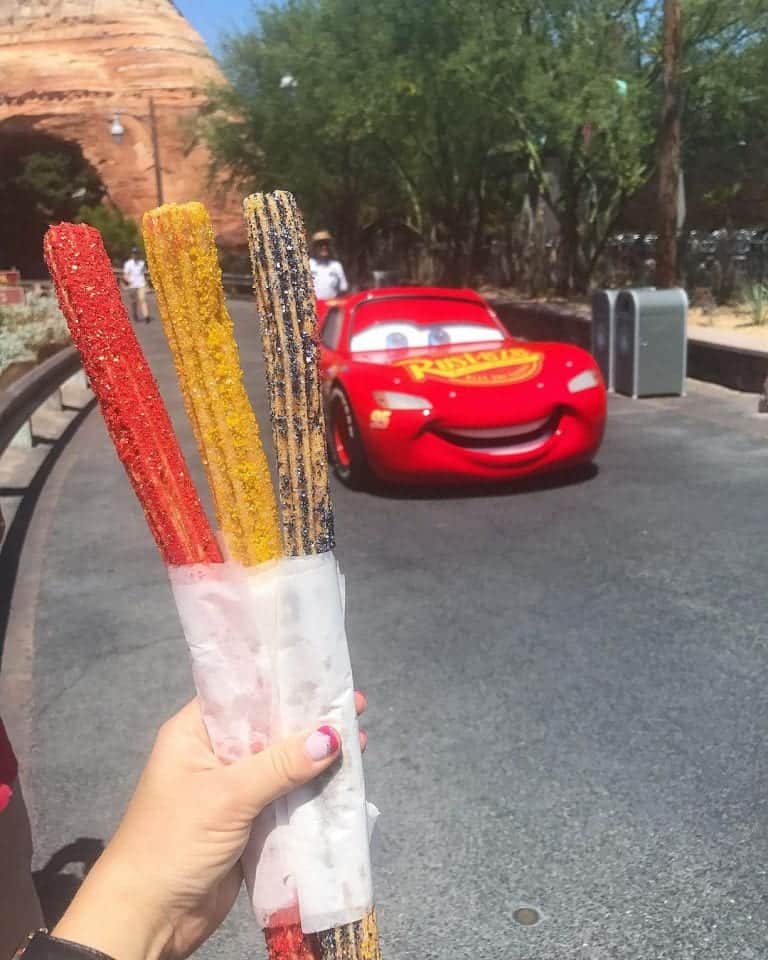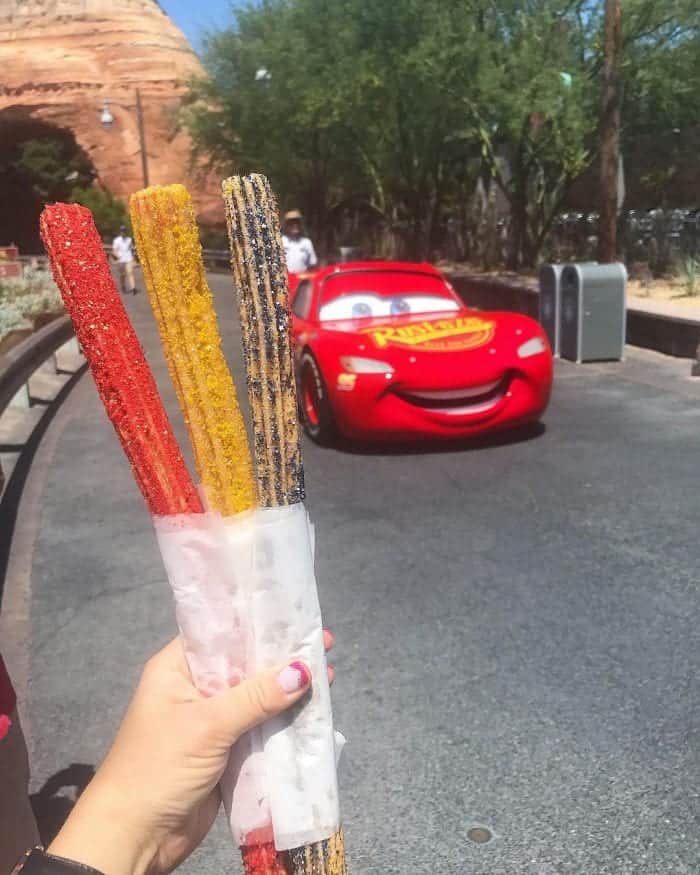 The Racer Churros!
Over at Disney California Adventure's Cars Land at Cozy Cone Motel Cone Number 1, you can get the "Racer Churros." While these make like the cutest picture ever, I would pass on these as well. No different flavors for each color, but hey they sure are cute!! Also, these churros are available for purchase separately, so if you want all three you are looking at close to $15 for the photo.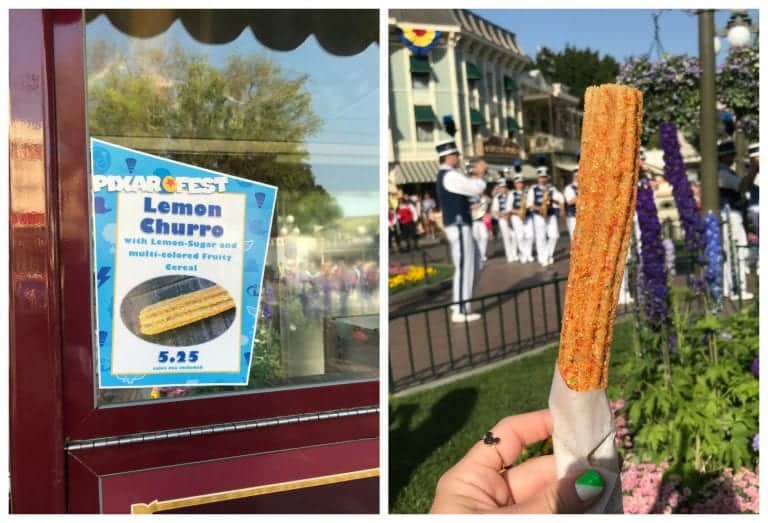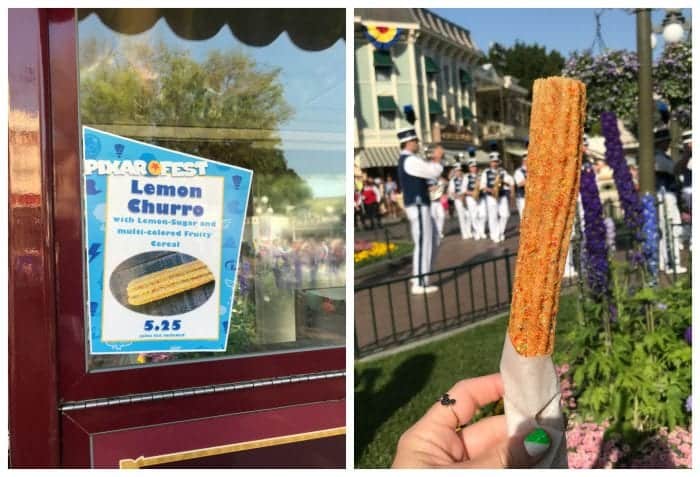 The Lemon Churro!
The Churro Cart right at the front of Main Street U.S.A. you can find this Lemon Churro aka Fruity Pebble Churro. Not my favorite of the new churros, but still good! I think if I would have eaten this right after they gave it to me, while it was still hot, crisp and soft it would have been great. As a blogger, I take pictures for a good 10 minutes, so that could have affected this one.
The BEST Churros at Pixar Fest
If you are making your way over to Pixar Fest, I am going to recommend you try these three Churros. They were all worth every calorie!
The Cocoa Churro
The Strawberry Churro
The Carrot Cake Churro
There you have it! Hope you've enjoyed my review. This was a delicious task. Thanks for following along 🙂
Pin to your favorite Disney Board!