Talking all about What NOT To Miss at Pixar Fest from Disneyland Resort!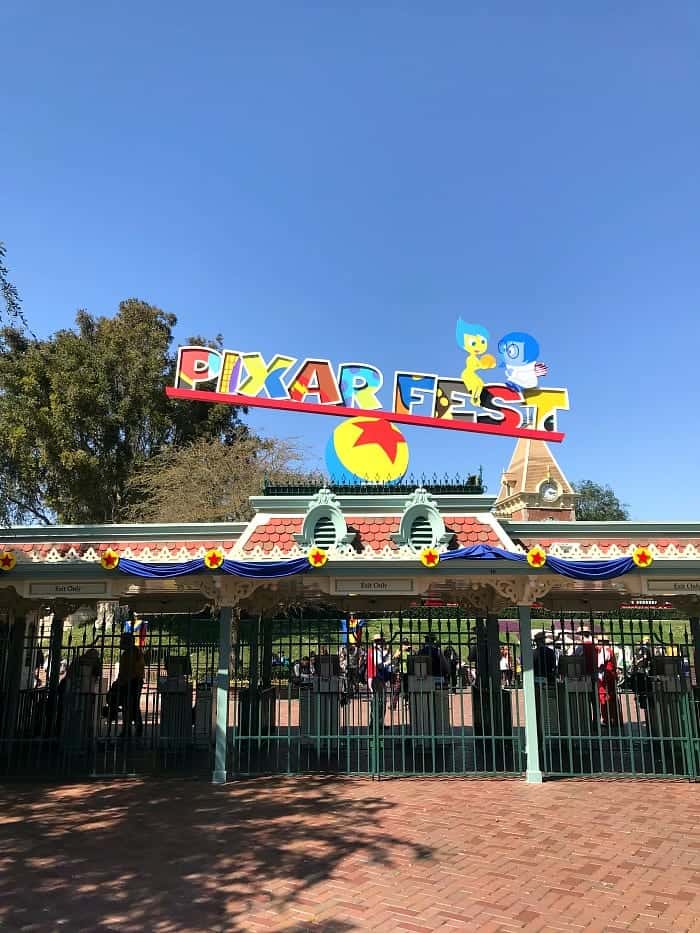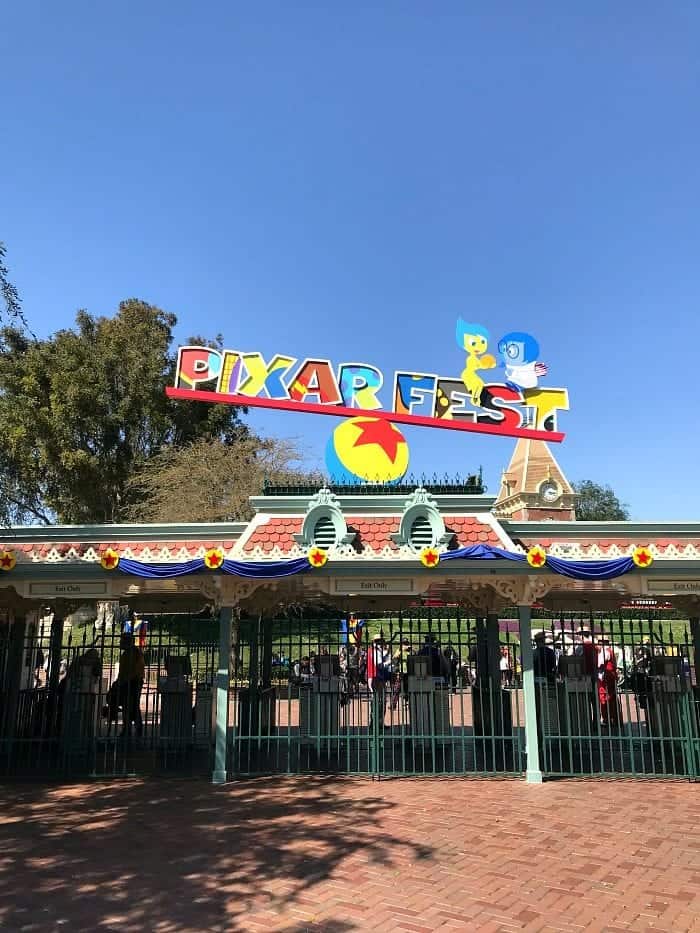 Pixar Fest
I had the opportunity to attend a Media Event for Pixar Fest last weekend to check out all of the new happenings, food and fun the Parks have to offer. Both Parks have adorable new Pixar Fest signs that welcome you as you enter. This is the Disneyland Park side 🙂
Be sure to check out Your Guide To Everything Pixar Pier! Follow Disney Hungry on Instagram for Disney tips and Best Eats!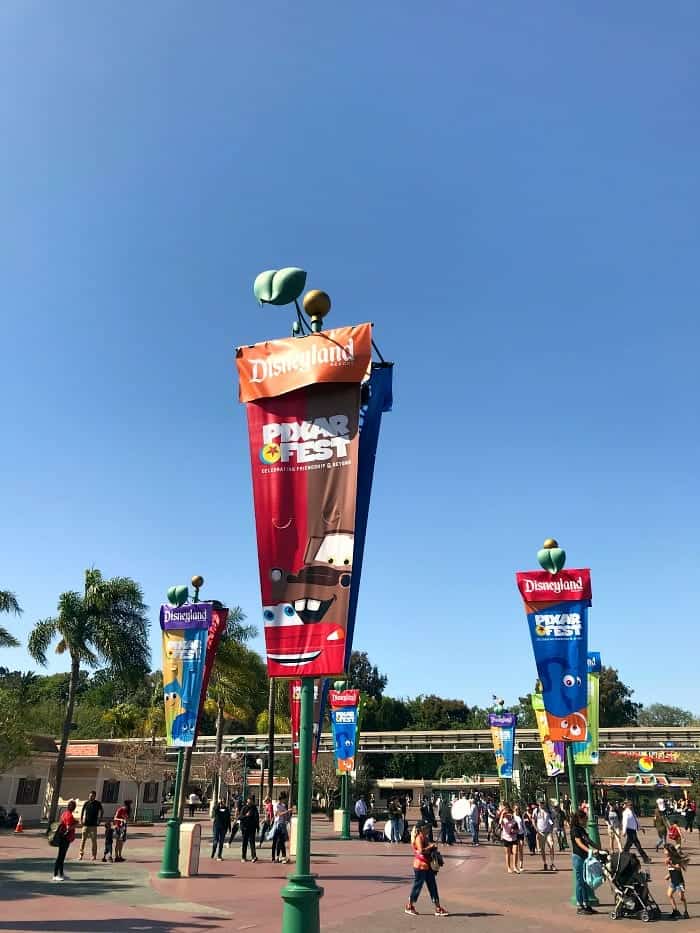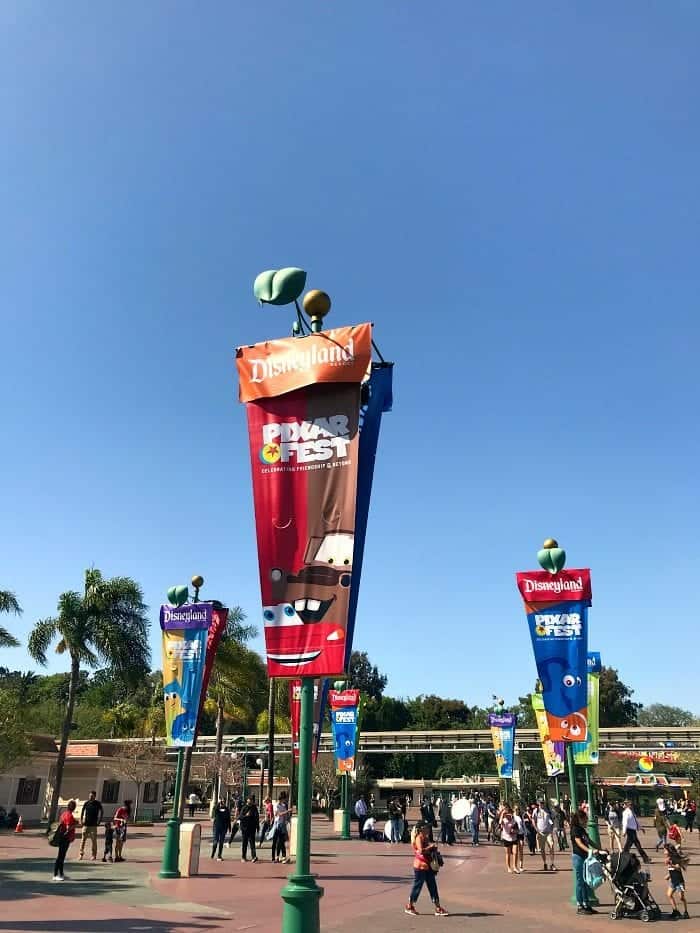 As you pass through from Park to Park, there are colorful banners with your favorite Pixar characters. Love these.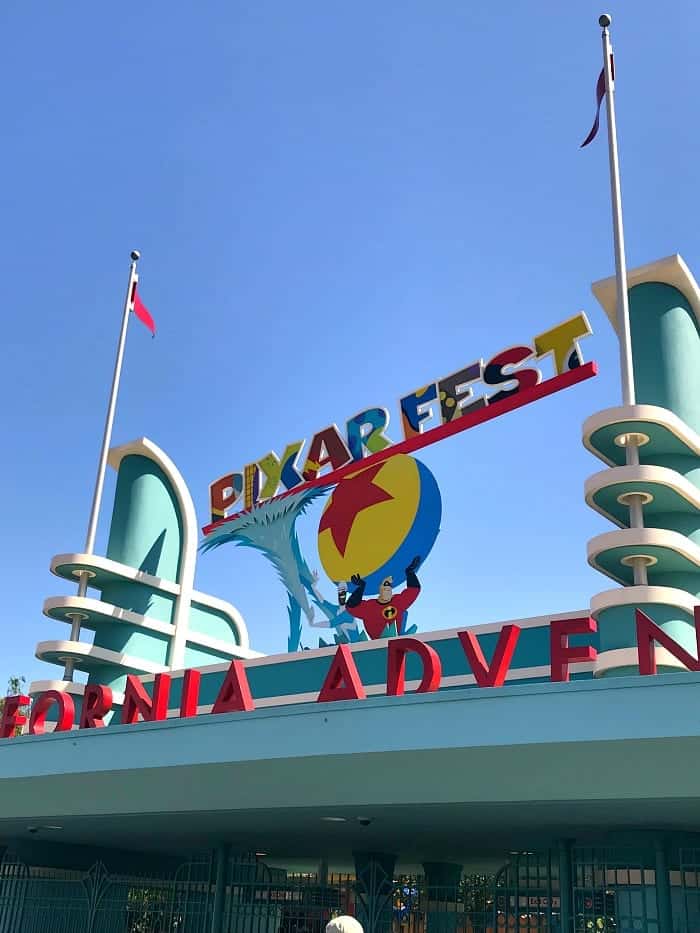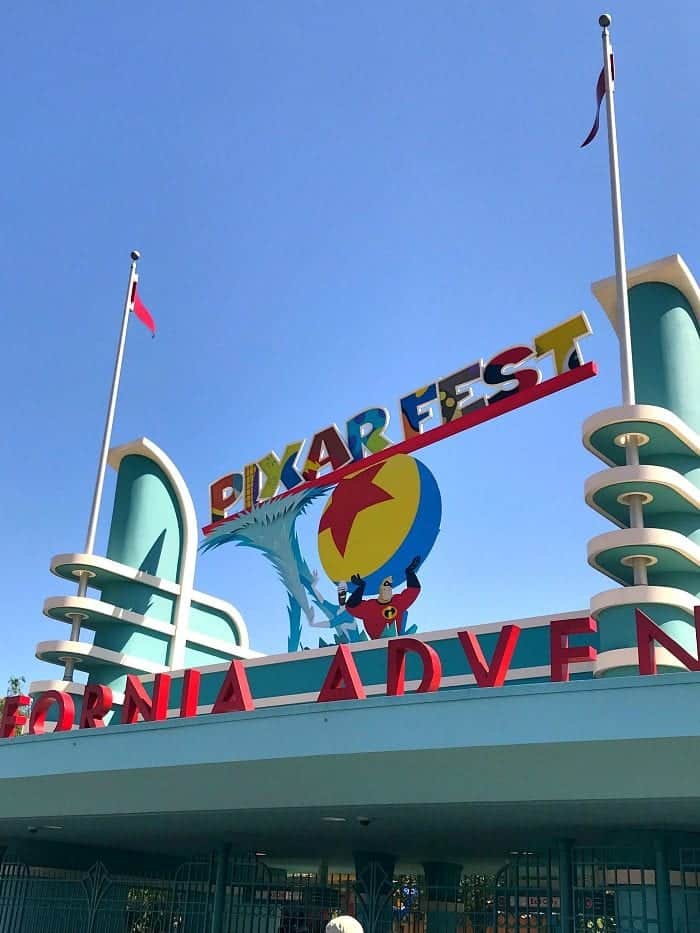 Mr. Incredible greets you over at the Disney California Adventure Park entrance. Really loving these additions.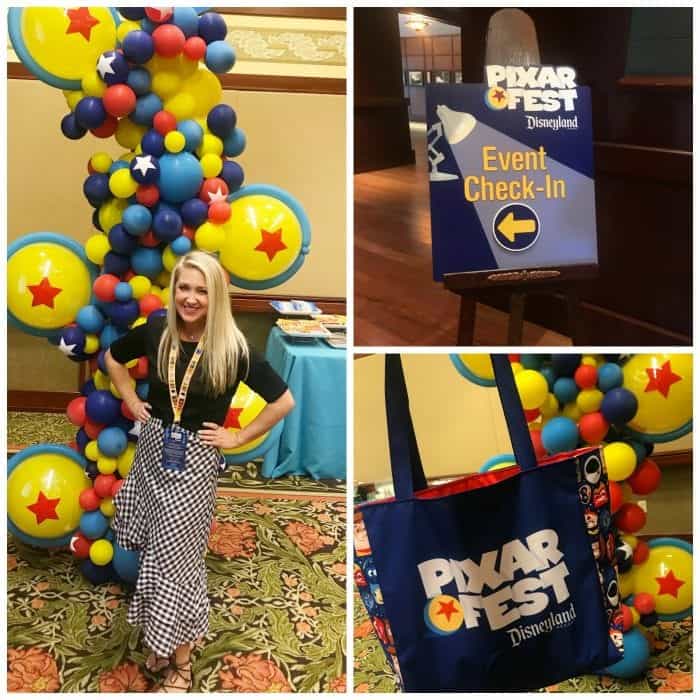 When I arrived Thursday evening, I checked in to the Media event to pick up our itinerary for the evening. Totally obsessed with the Pixar Fest Tote Bag.
Pixar Play Parade!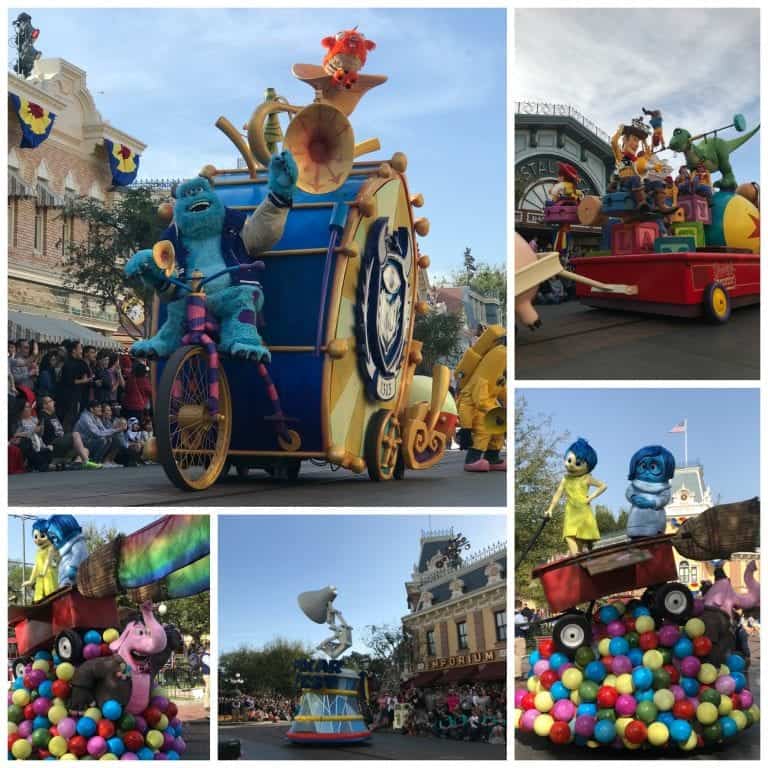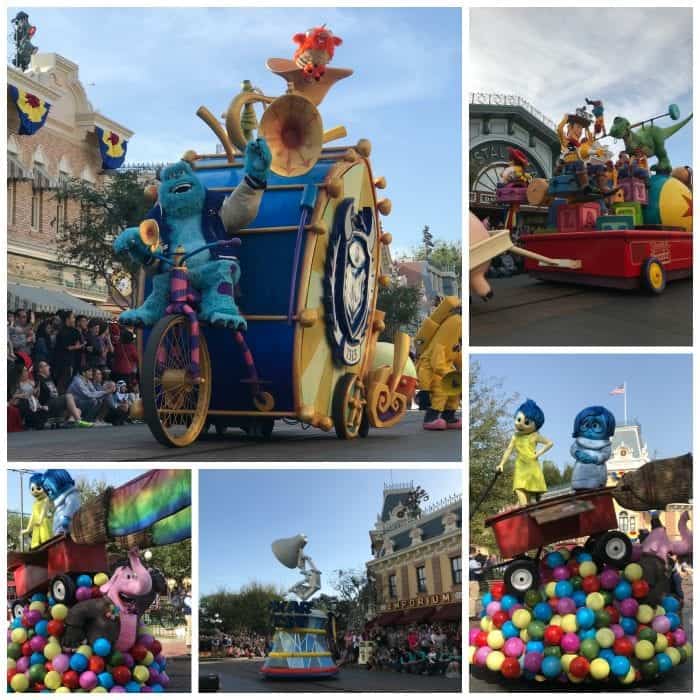 The first to NOT miss at Pixar Fest is the newly re-located Pixar Play Parade! If you recall, it used to entertain us over at Disney California Adventure Park. Not only is it now at Disneyland Park, it has even more Pixar Pals that are absolutely adorable! You won't want to miss this one!
From Disneyland:
Introducing…
The legendary hopping Pixar Lamp and Ball from Pixar's Luxo Jr. short lead the way, followed by Joy, Sadness and Bing Bong in Riley's "Rocket" Wagon from Inside Out.
Keep your eyes peeled—the Up float's lush jungle greenery means Carl, Russell, Dug, Kevin and her brood of baby birds have hit the parade route. And, of course, Carl's house isn't far behind!
Paint The Night Parade!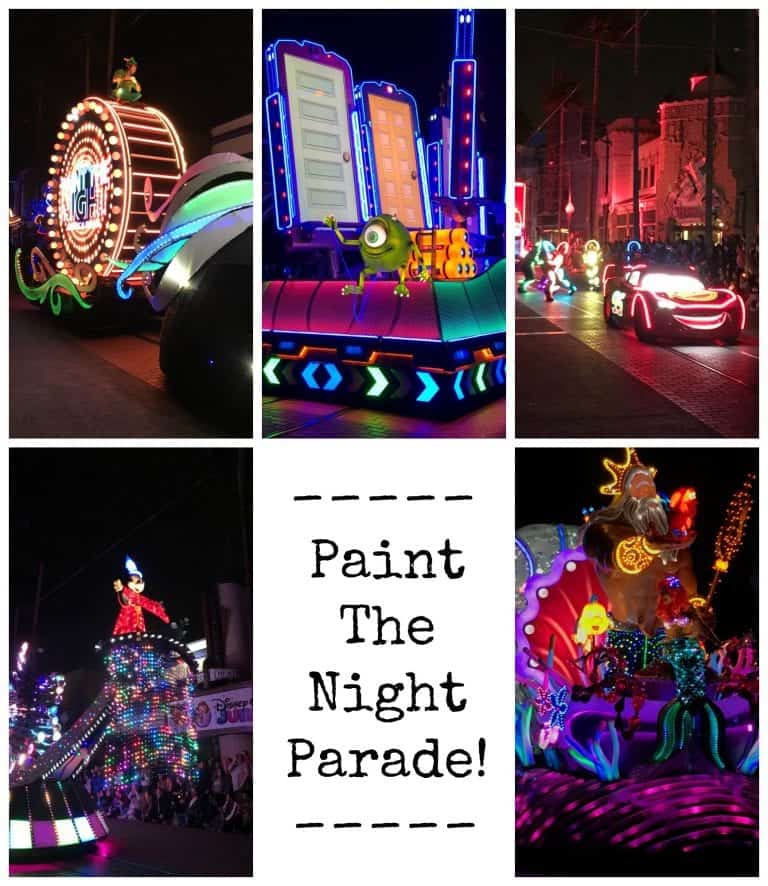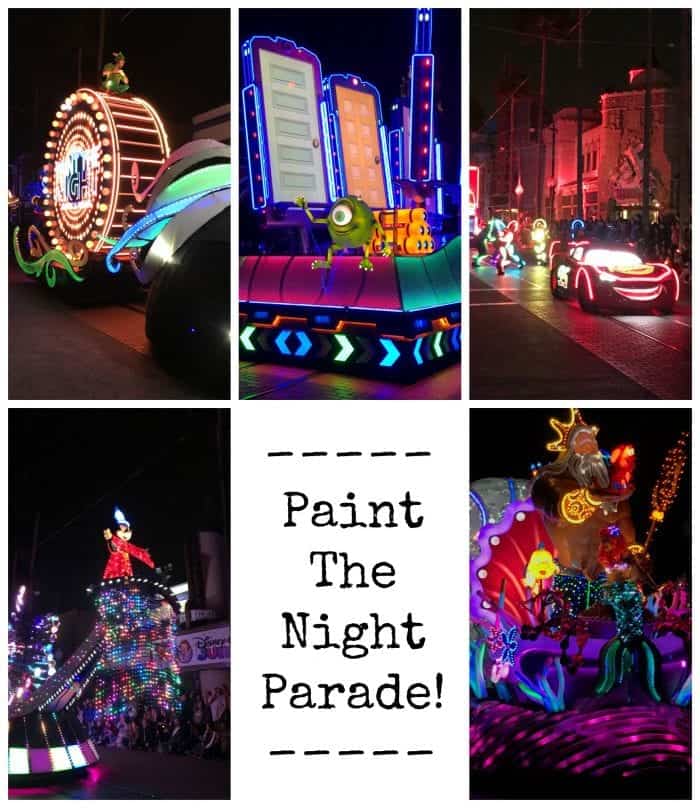 Paint The Night Parade, now at Disney California Adventure could not be more magical. The music, energy, lights….it just doesn't get much better than this! You don't want to miss this! Check your Disneyland app for parade times 🙂
Media Speakers and Dinner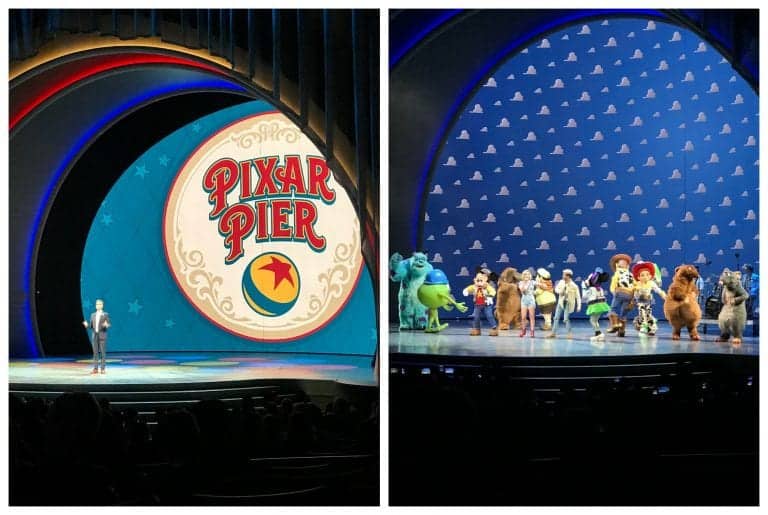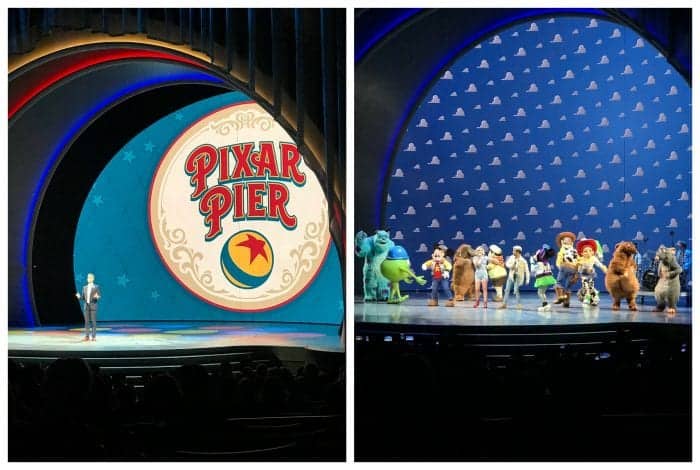 We met at the Hyperion Theater to hear from some amazing Disney speakers talking about the new additions to Pixar Fest and the upcoming Pixar Pier. Jordan Fisher and Olivia Holt sang a gorgeous rendition of You've Got A Friend In Me. It was so much fun and can't wait to see Paradise Pier turn into Pixar Pier this summer.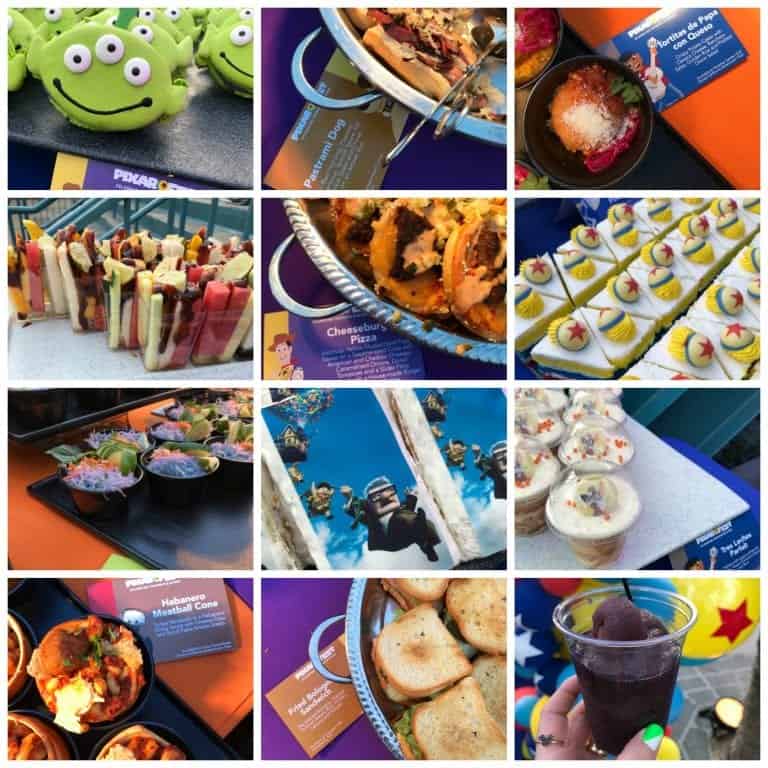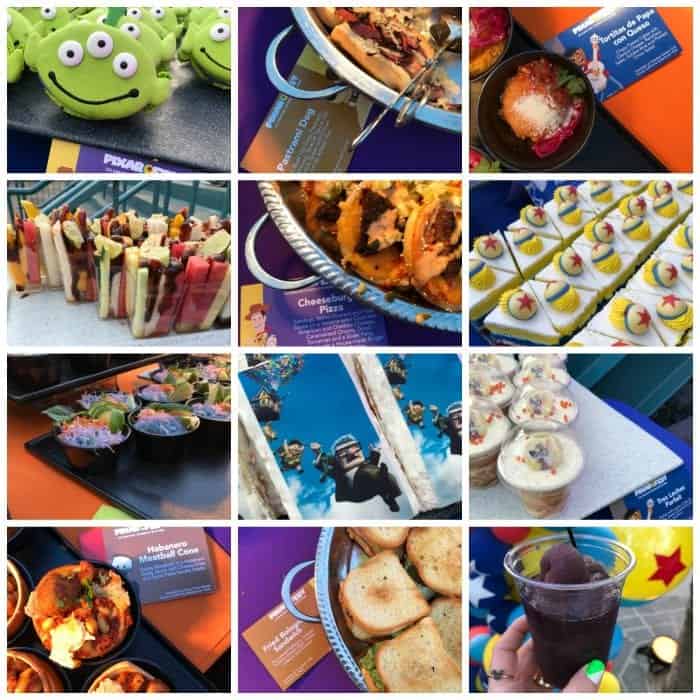 The Media Dinner was so great, because we were able to sample so many new menu items that are now available at the Parks for Pixar Fest. I put together this collage so you could see what we sampled, but will talk in more detail my favorites as you scroll down. From Pixar's Up to Coco to Toy Story, you'll find food and treats inspired by you favorite movies! For a complete list of the Pixar Fest Menu click HERE via Disney Parks Blog.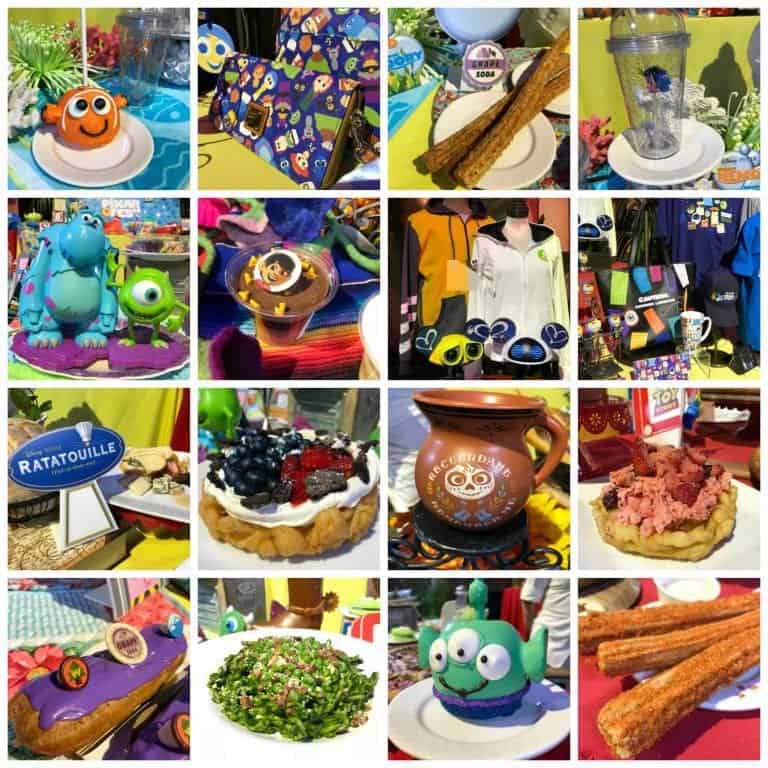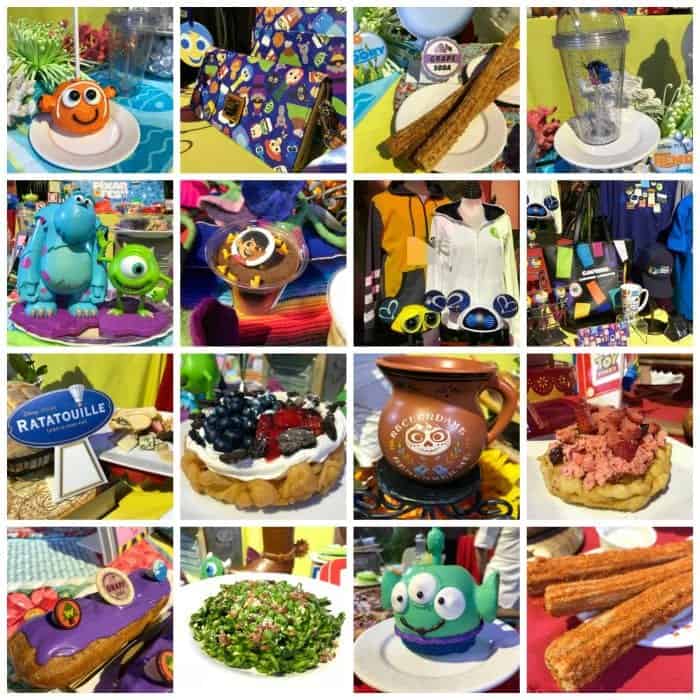 Inside the Media Studio set up for us, there was even more food and merchandise available to look at. New Churros, Gourmet Apples, Funnel Cakes, Popcorn Buckets, Tumblers, Jewelry, you name it, you are going to find something very special as you experience Pixar Fest.
NOT to miss Merchandise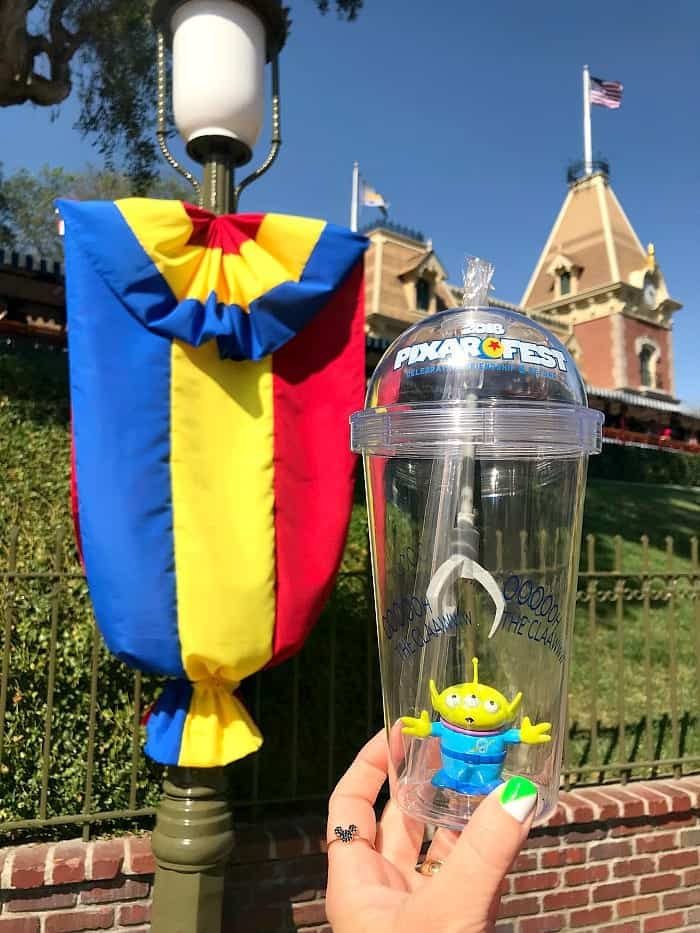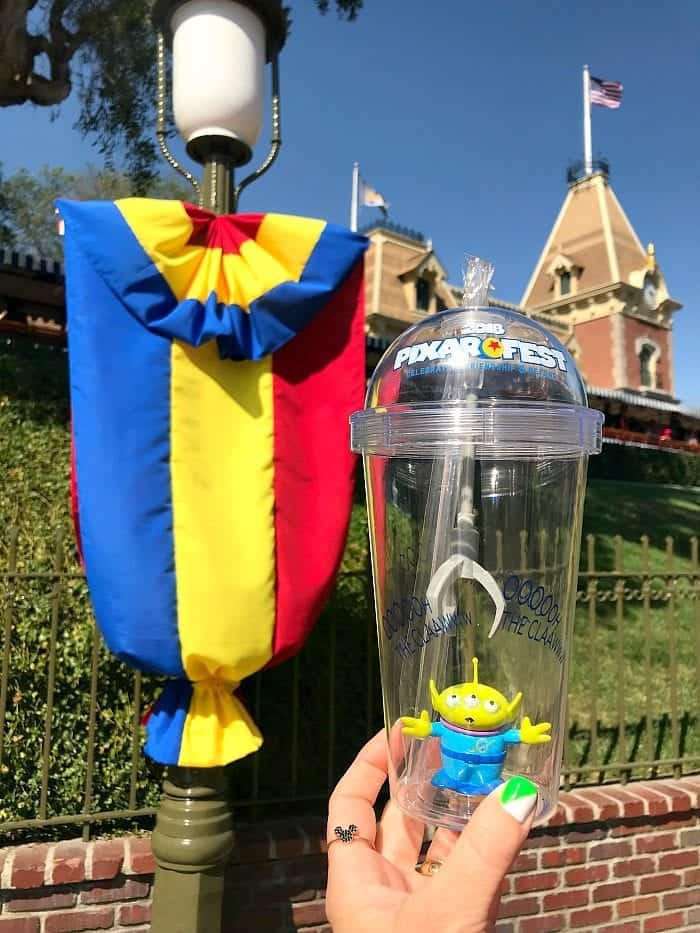 One of my favorite souvenirs from Pixar Fest is the Toy Story Alien "Claw" Tumbler. It doesn't get more adorable than this! You can find it at the many shops around both Parks and also World of Disney at Disney California Adventure.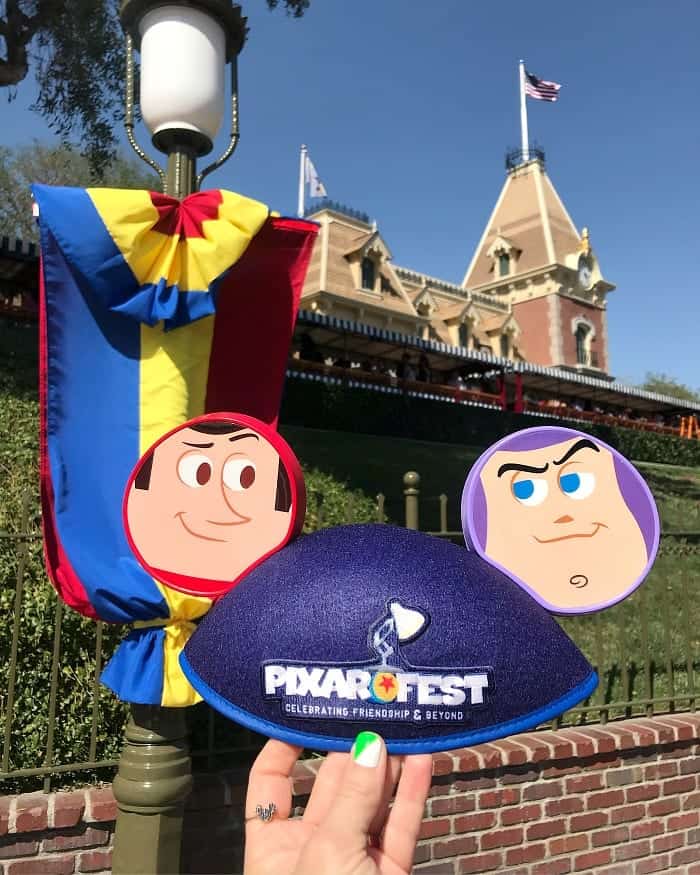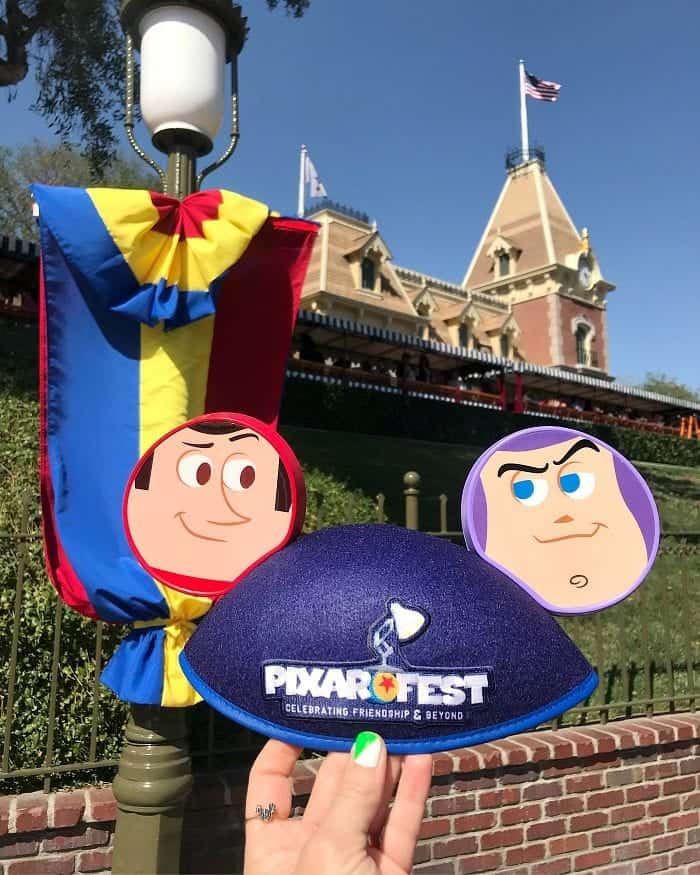 You don't want to miss the many new Pixar Fest Mickey Hats and Ears available throughout both Parks. Love my Buzz and Woody Mickey Hat 🙂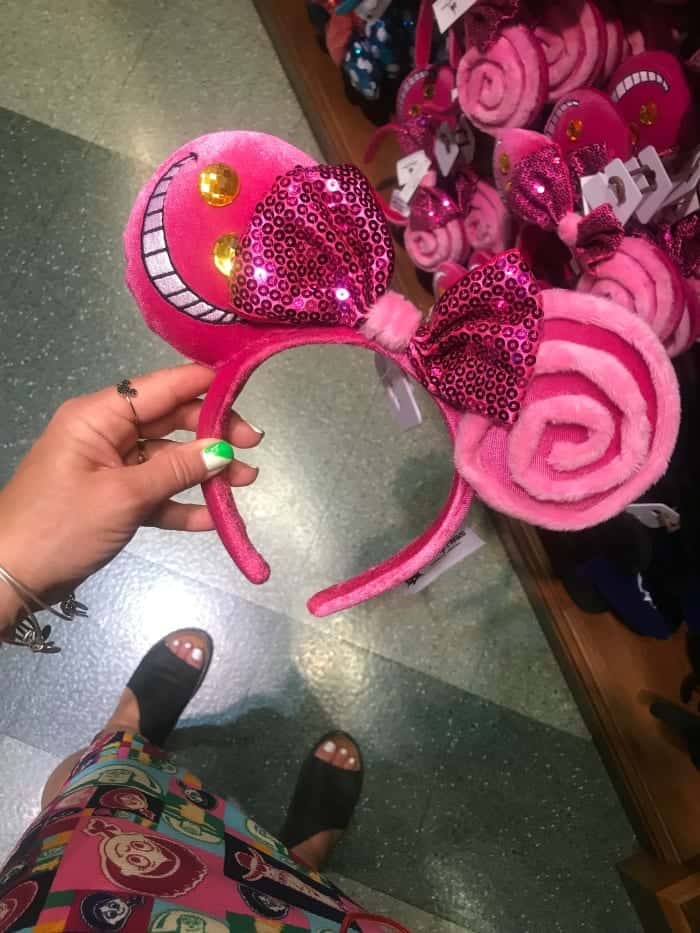 These new Cheshire Cat Ears showed up and had everyone talking. They are so much fun. Keep an eye out for these.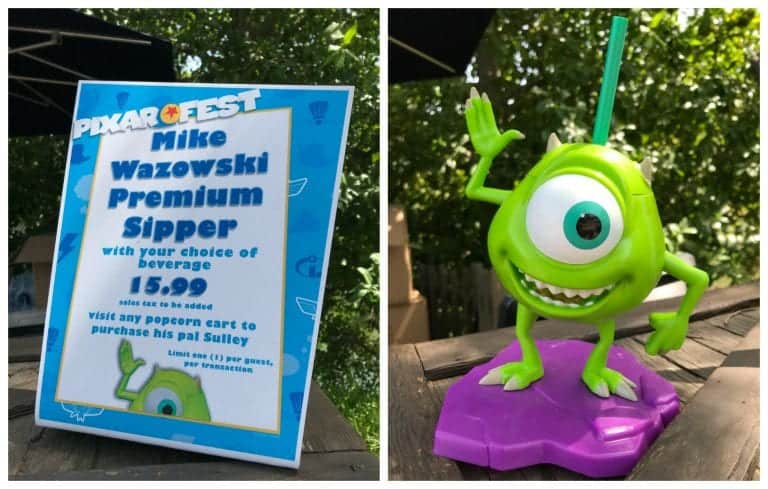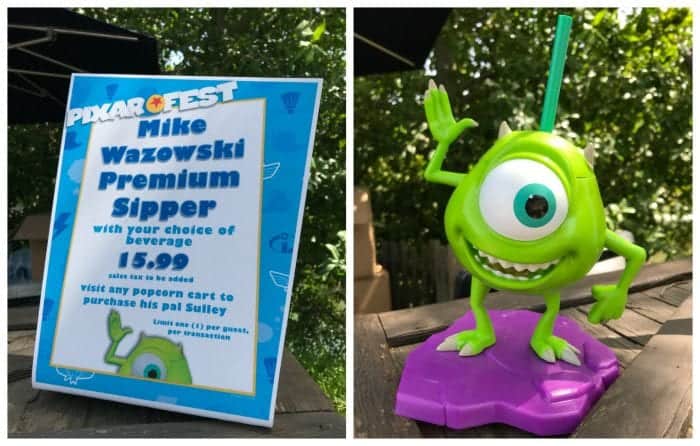 This cute Mike Wazowski Sipper was very popular. Guests were lining up in very long lines to get their own to take home. I can see why, he's precious 🙂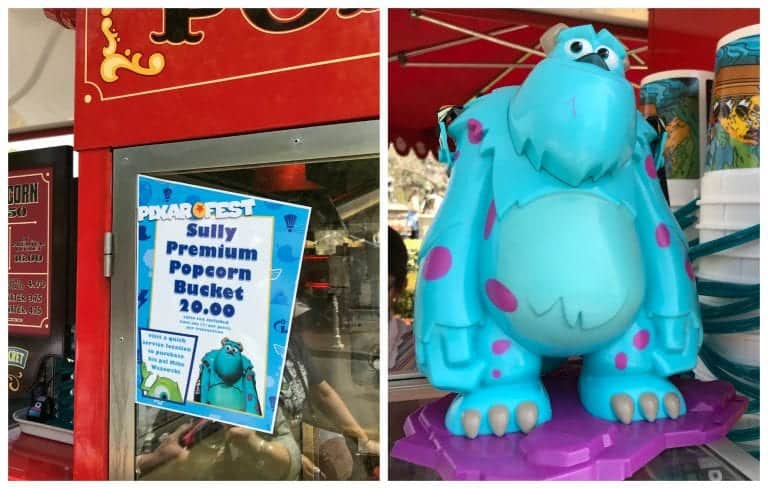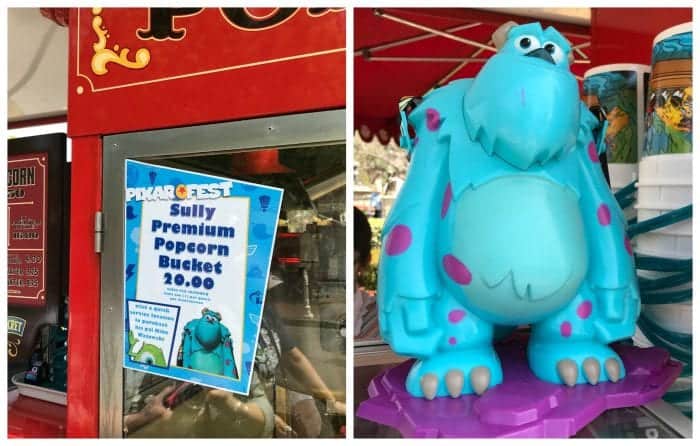 You can't go home with Mike and NOT cutie pie Sully Popcorn Bucket! When put side by side, their purple stands connect together. You don't wan to miss these 🙂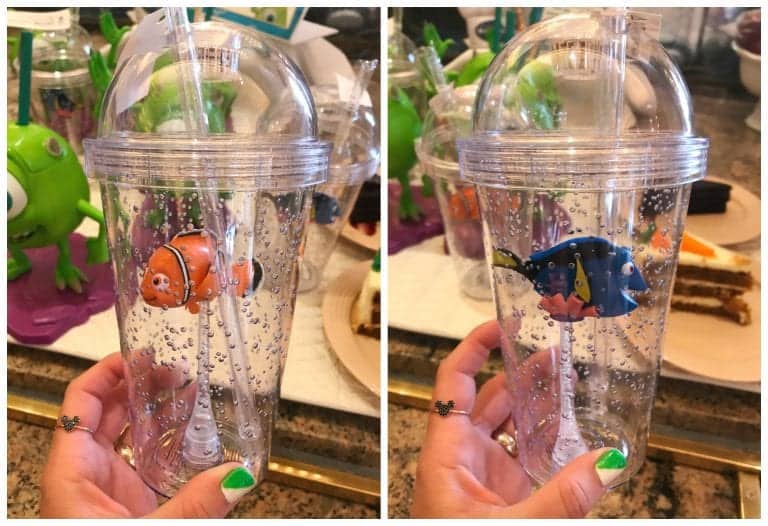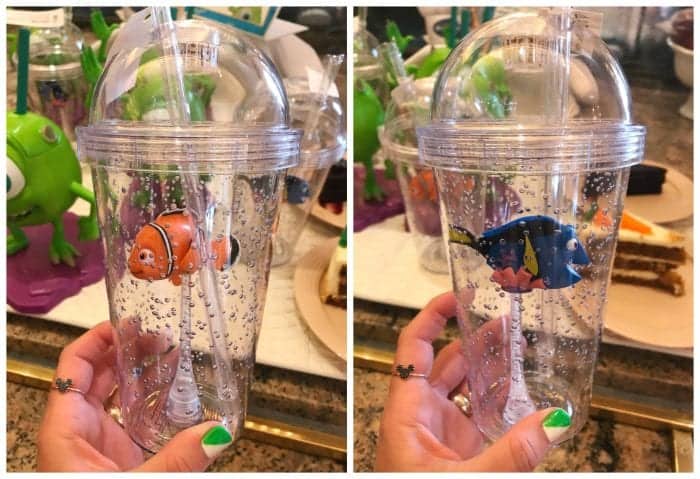 More adorable Tumblers you can purchase. Nemo and Dory!! Saw these while at Plaza Inn. They really are so much fun.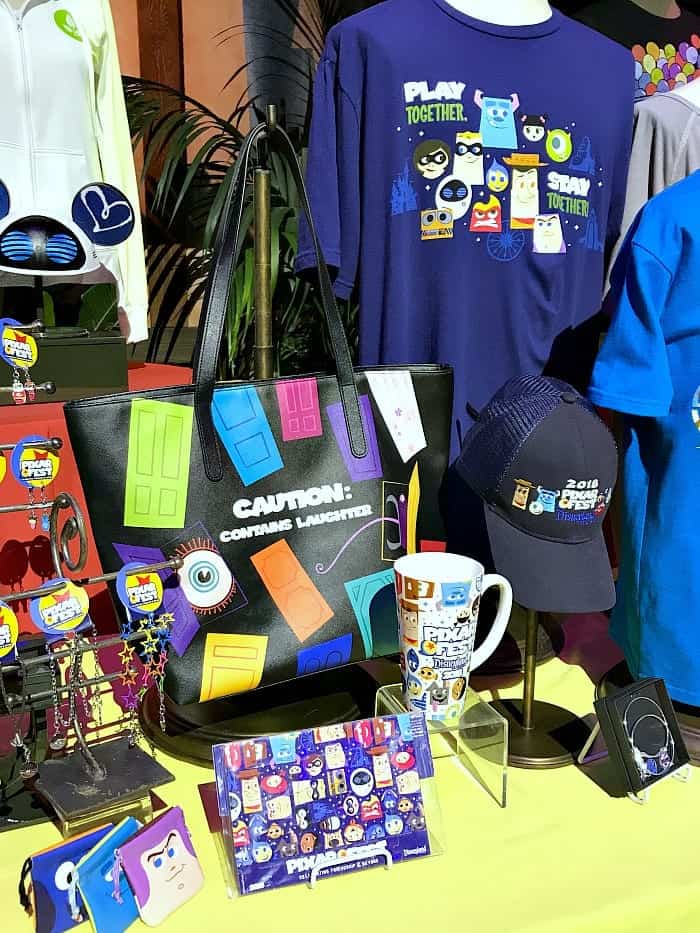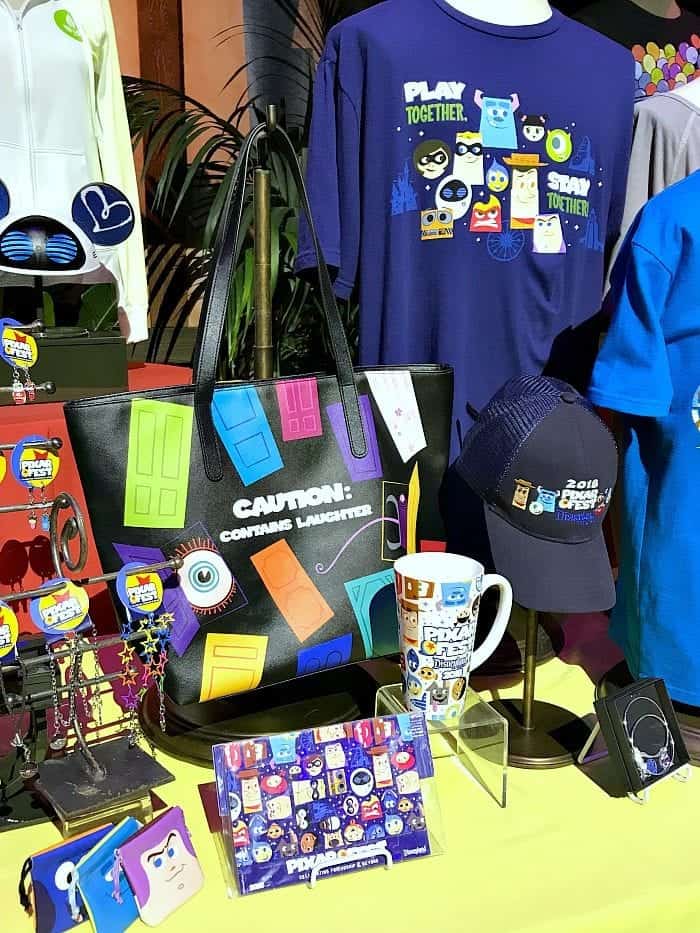 The Totes, hats, mugs, charm bracelets and T-Shirts are so good!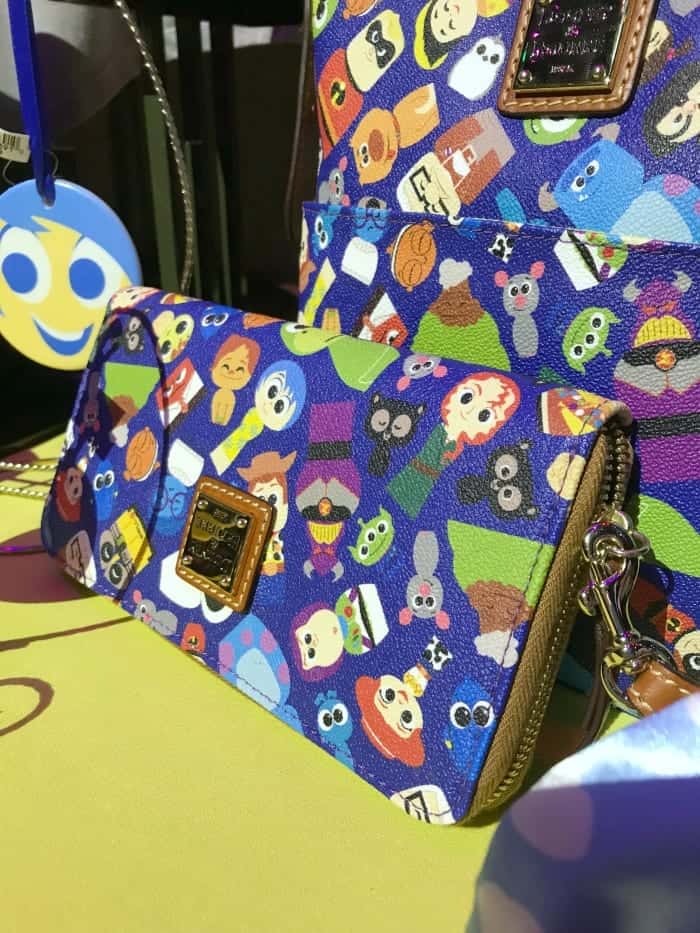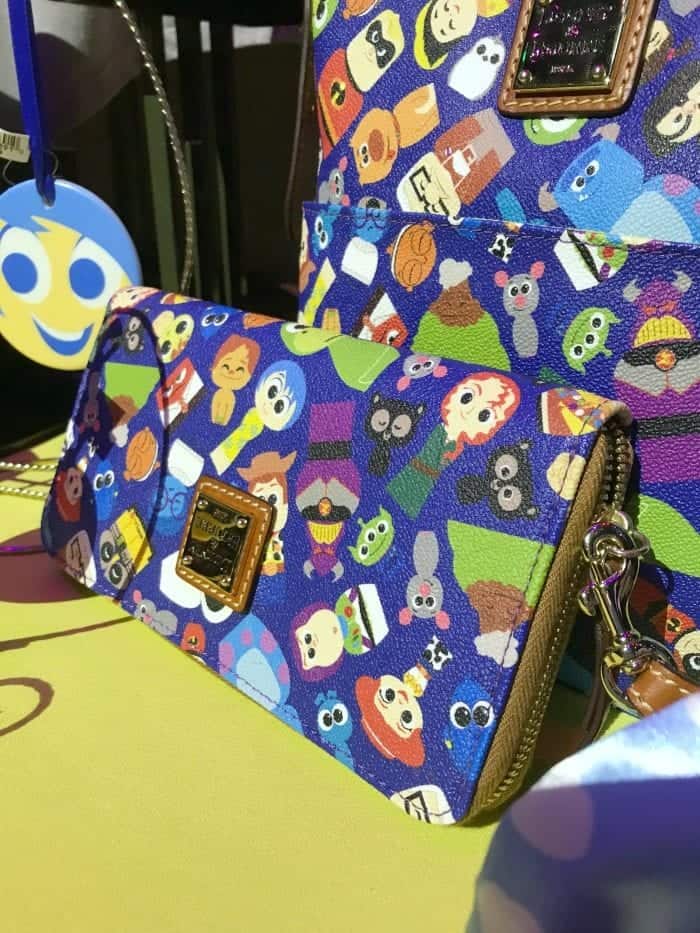 The new Pixar Dooney is colorful perfection. This wasn't available last weekend, but is coming soon!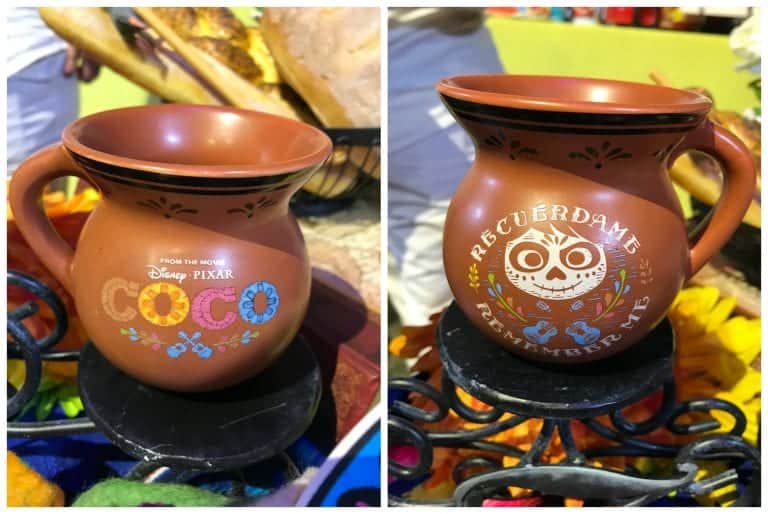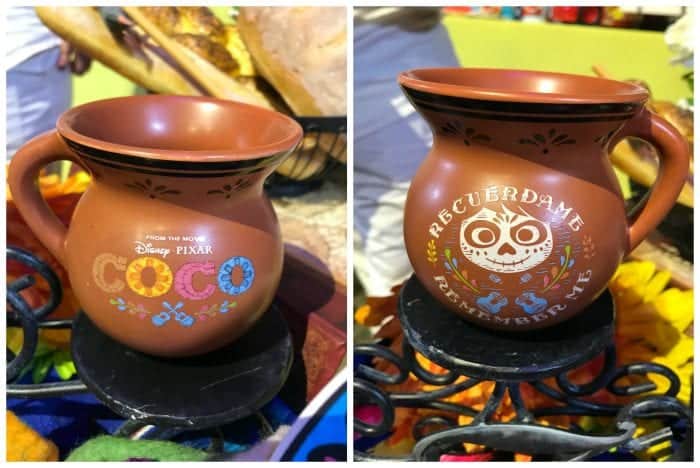 These Coco cups can be found at Disneyland Park's Rancho del Zocolo.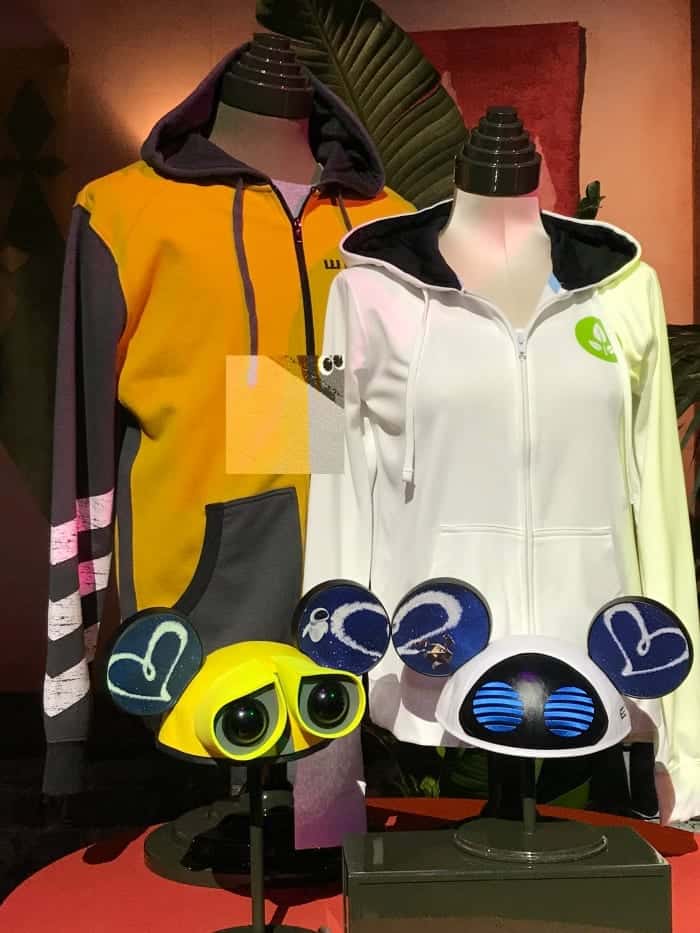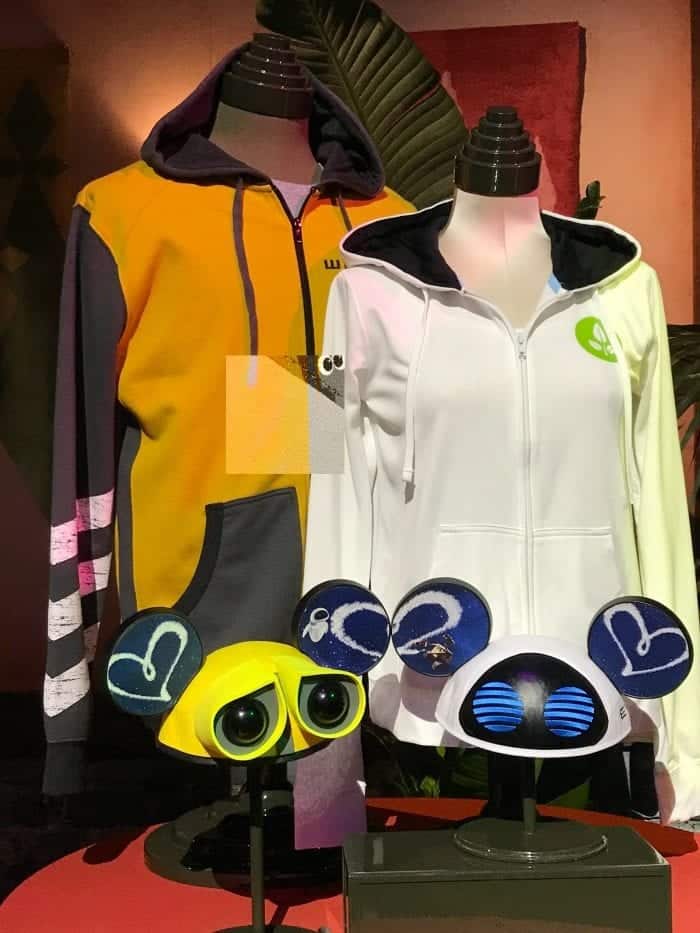 The new Wall-E Merchandise is so cute right?!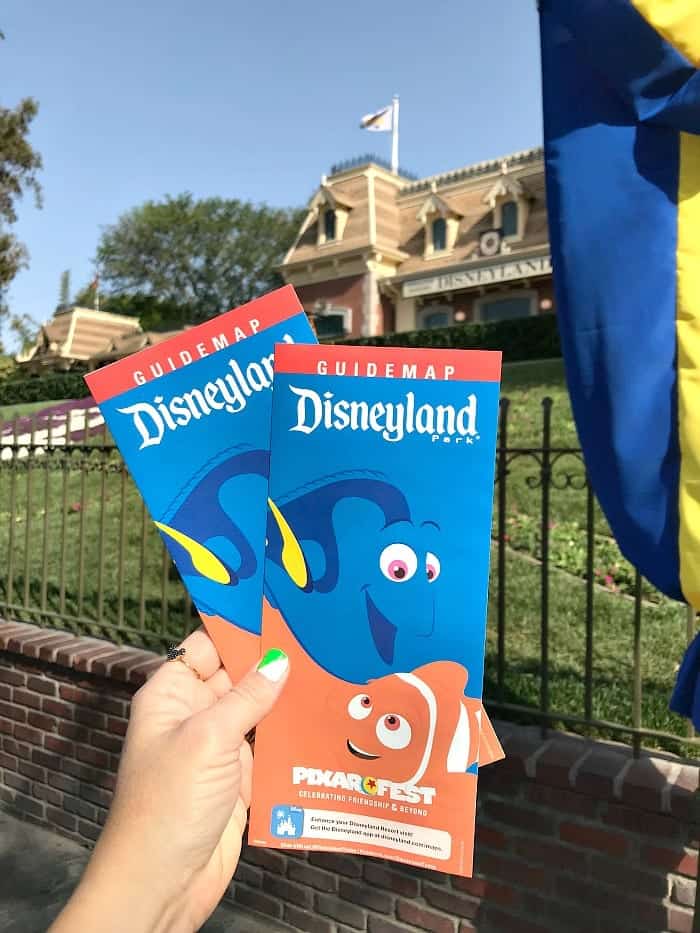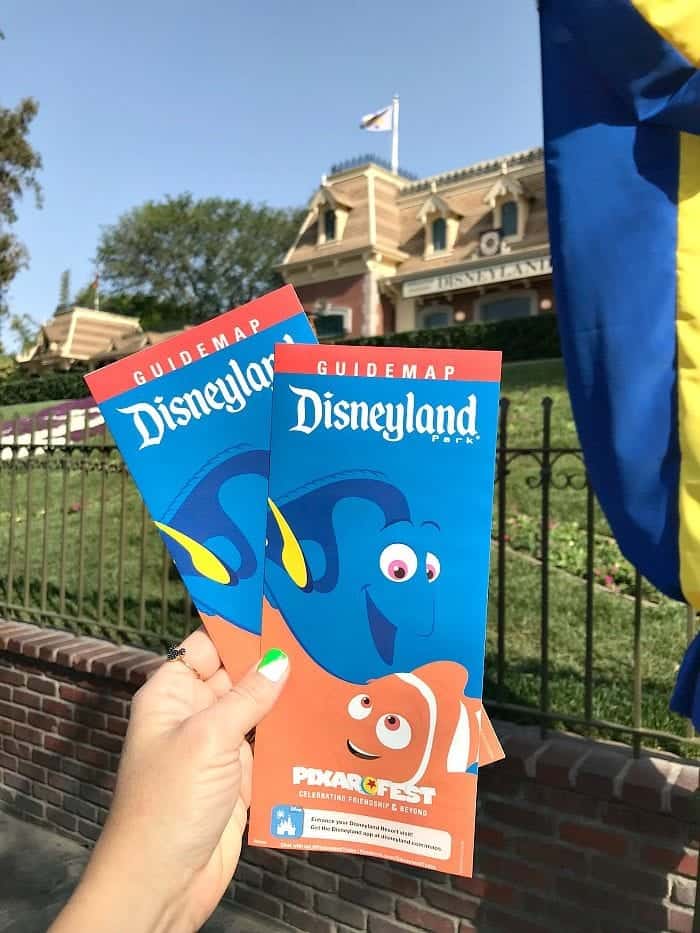 The new Park Maps are adorable.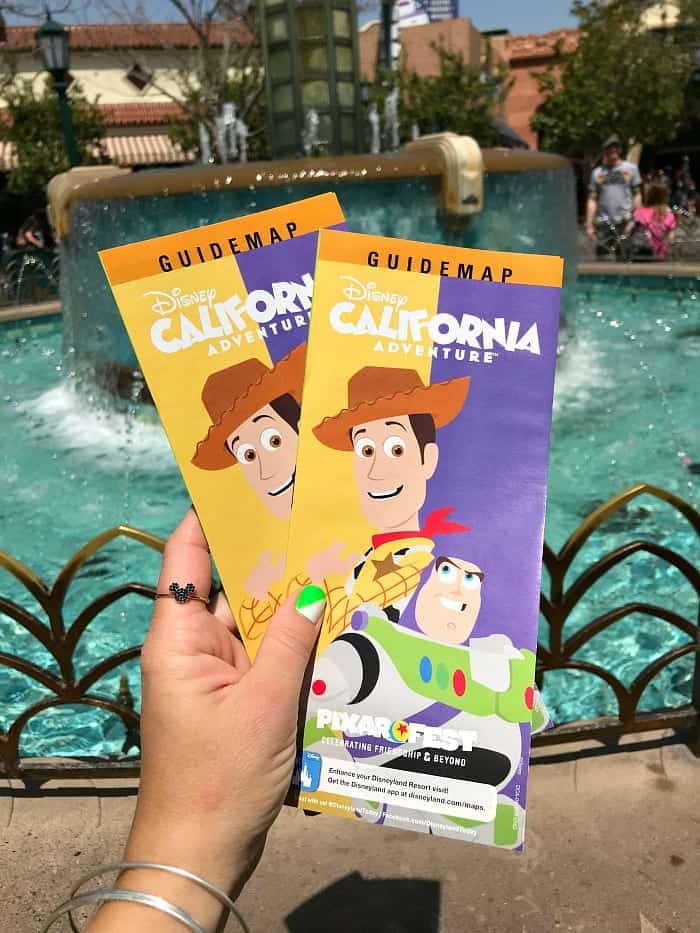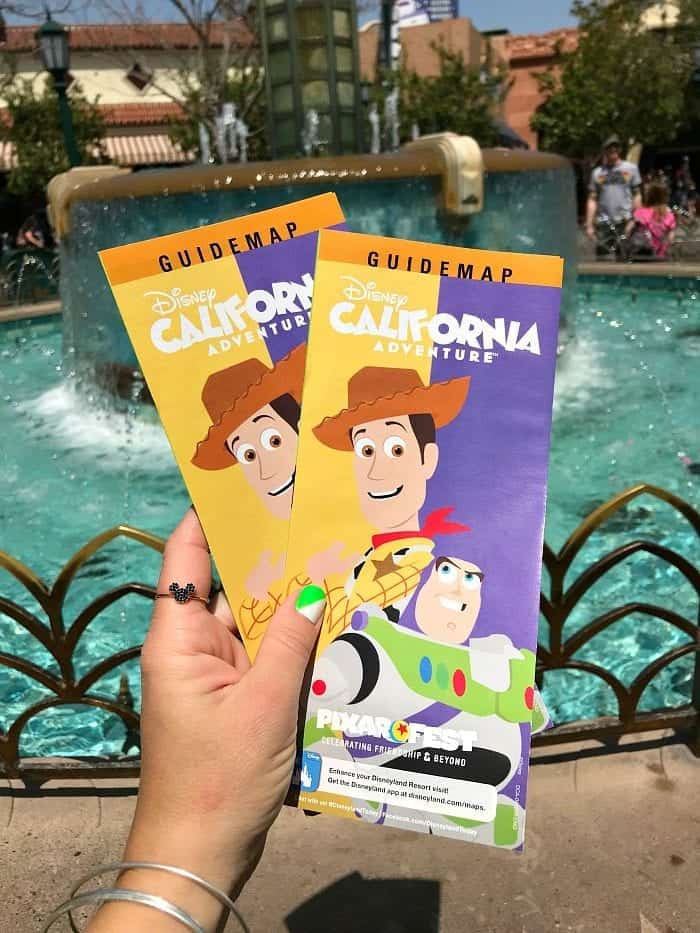 NOT to miss FOOD!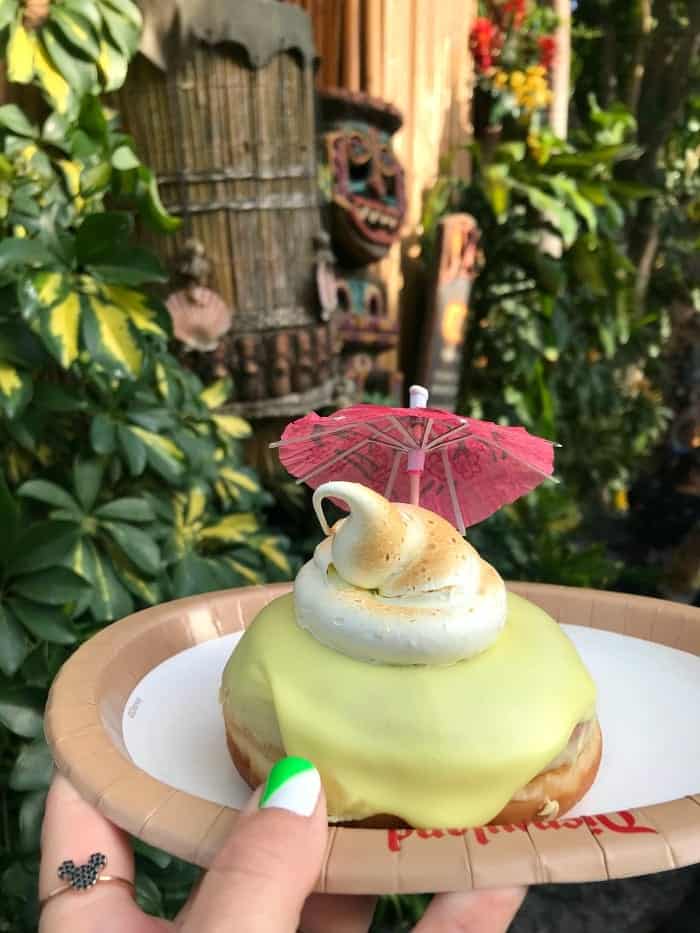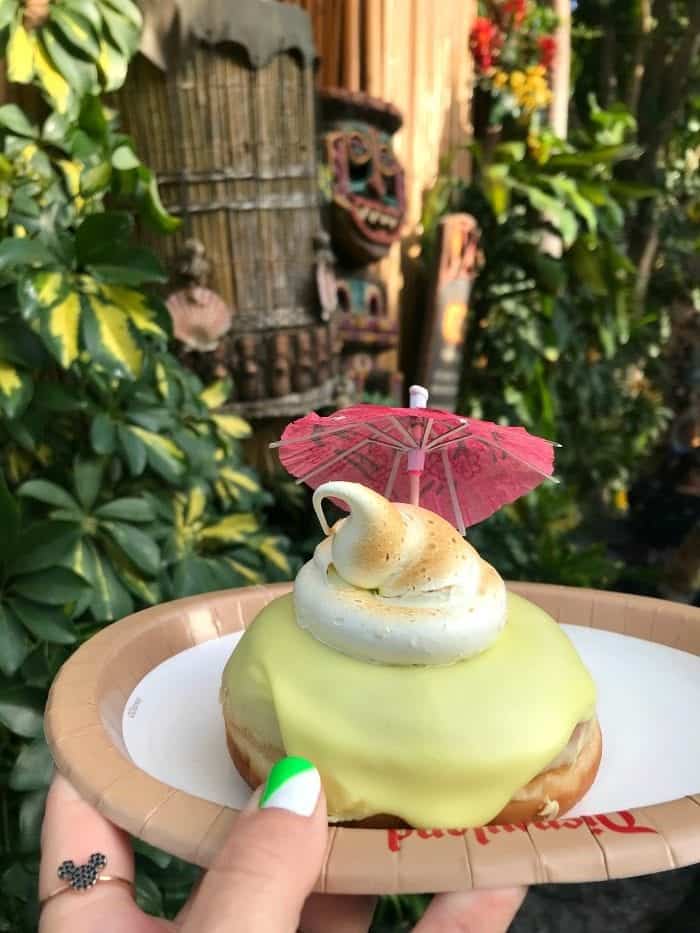 The new Pineapple "Dole Whip" Doughnut from the little Cappuccino Cart is so much fun! It's filled with a pineapple pie-like filling and topped with a pineapple glaze and merengue swirl! Don't miss this one!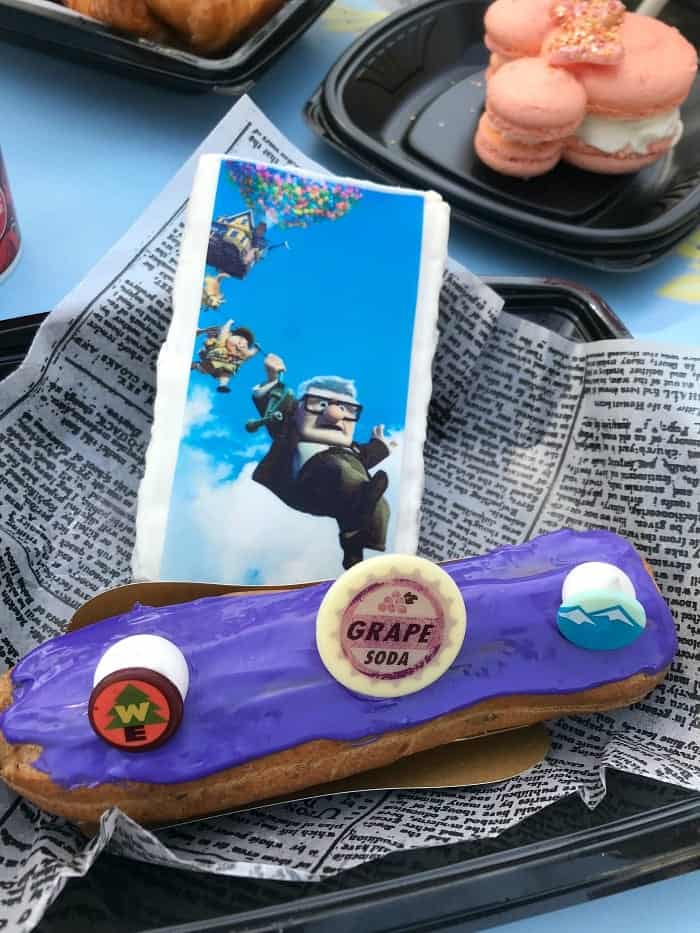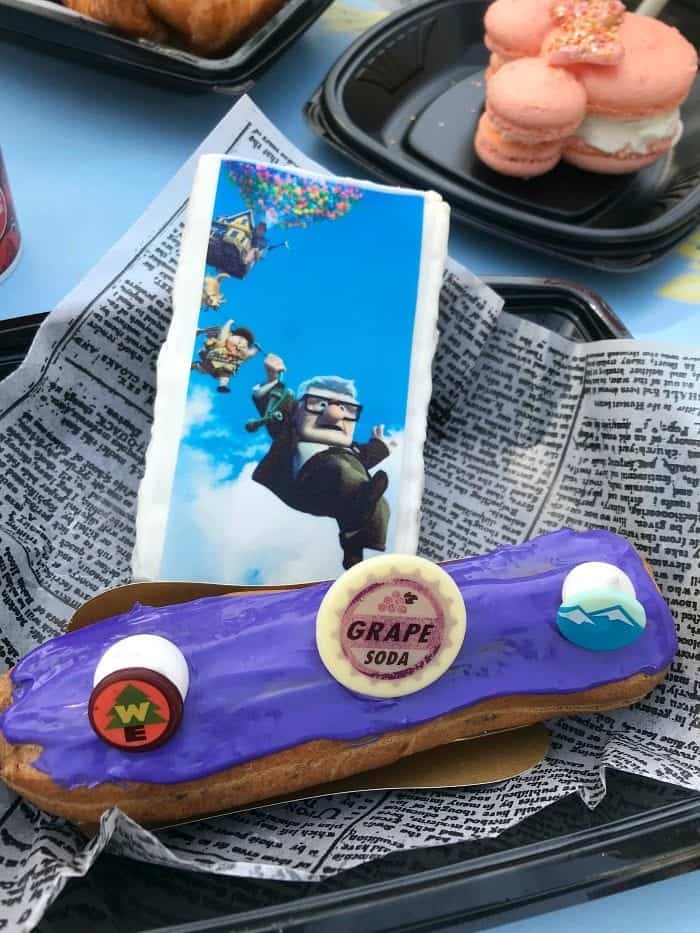 Jolly Holiday Bakery Cafe is serving "Up"-inspired Chocolate-Hazelnut Pastries and Specialty Éclairs with imagery featuring Carl Fredricksen and Russell's badges. The Eclair was filled with peanut butter and jelly!! The few bites I had were amazing. The winner is the chocolate hazelnut Up pastry. It was flaky and crazy good with that chocolate hazelnut filling. Would order both again.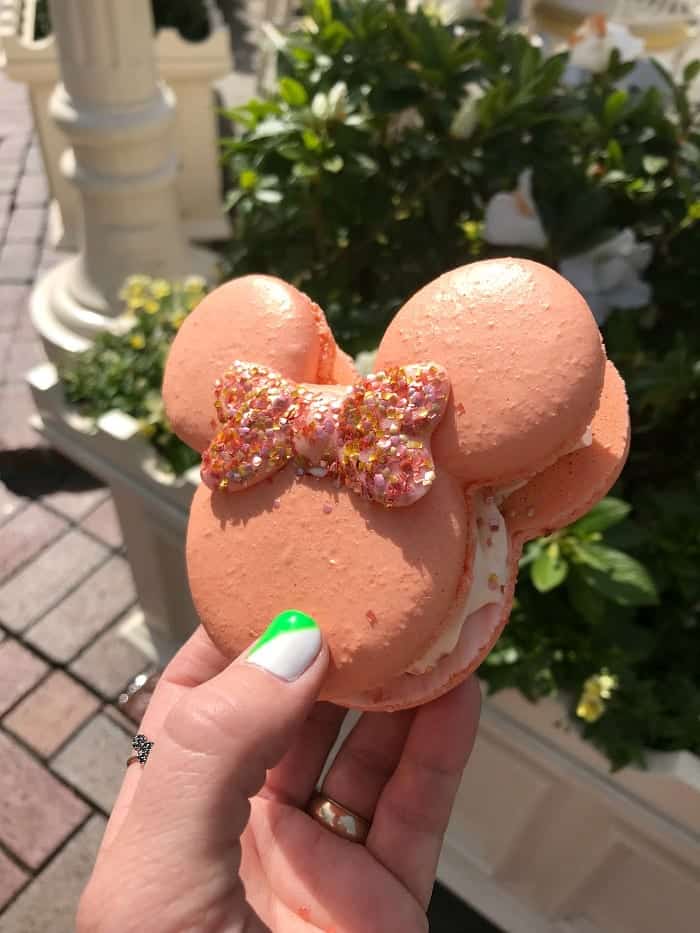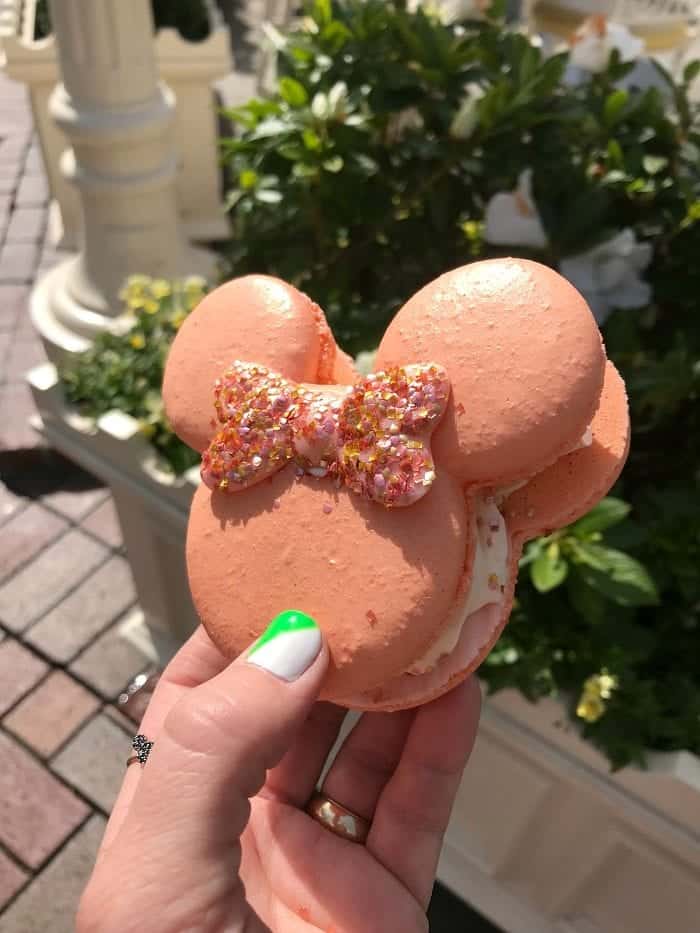 Also available at Jolly Holiday Bakery Cafe is the beautiful Rose Gold Macaron! Filled with a light lemon frosting and berry jam center. You absolutely do NOT want to miss this one.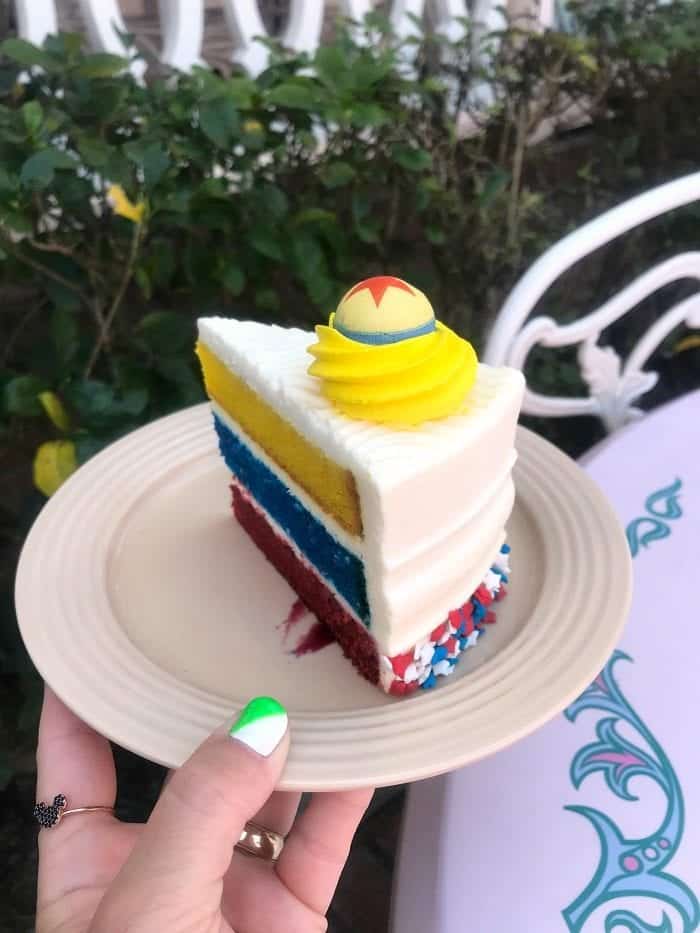 Over at Disneyland's Plaza Inn, you can find this beautifully layered Pixar Cake. This is my number one pick for treats/desserts for Pixar Fest! You can also find this cake in Disney California Adventure Park at Pacific Wharf Café and Paradise Garden Grill.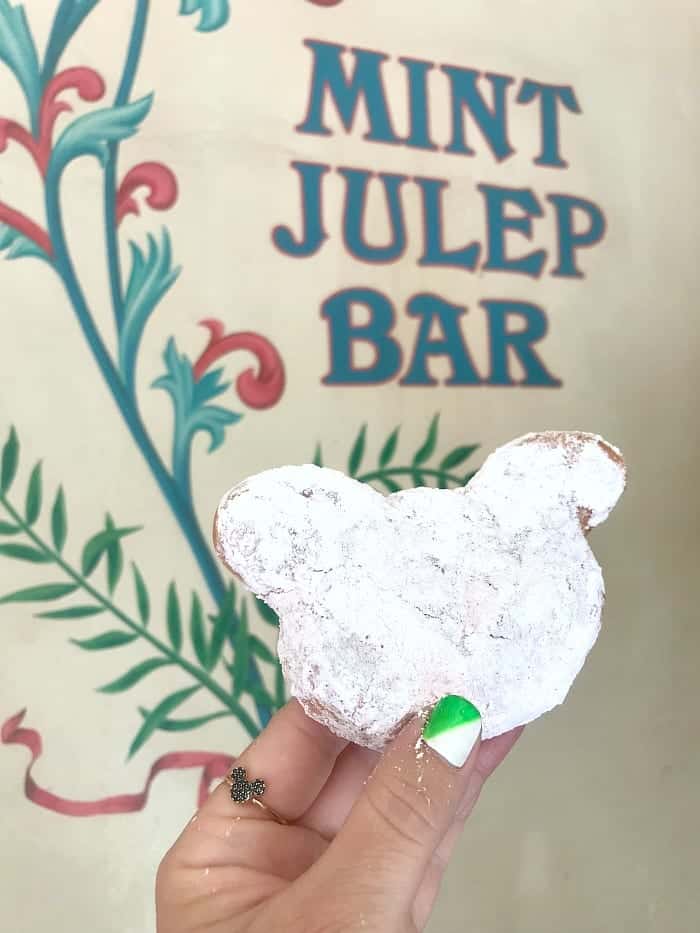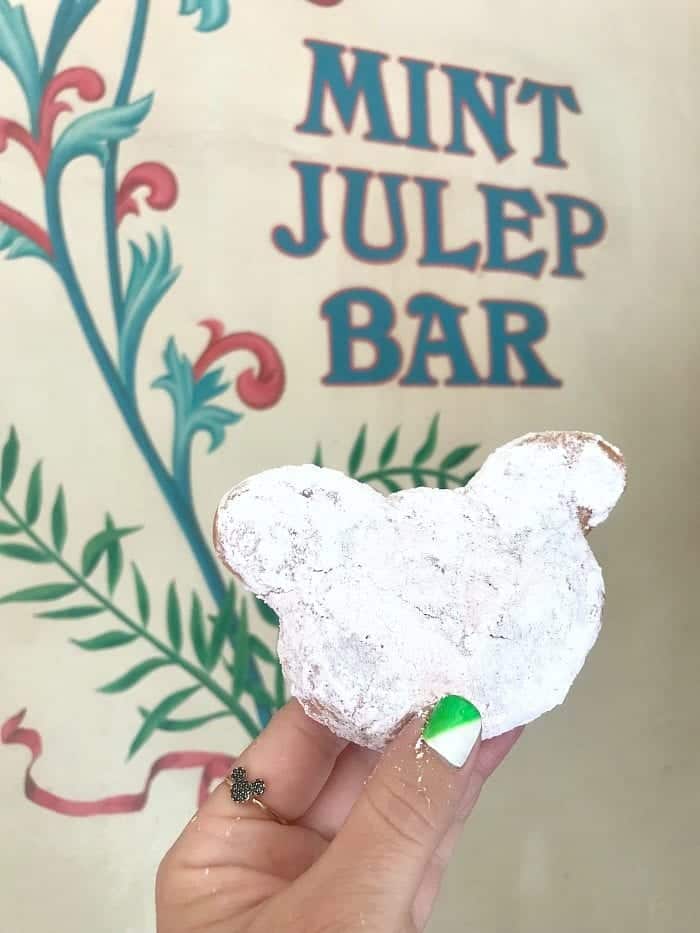 Disneyland's Mint Julep Bar has a new beignet! It's the ever so slight Strawberry Beignet. It's a faint pink and has just a touch of strawberry flavor. I really liked it actually. I mean, there's really no such thing as a bad beignet in my book 🙂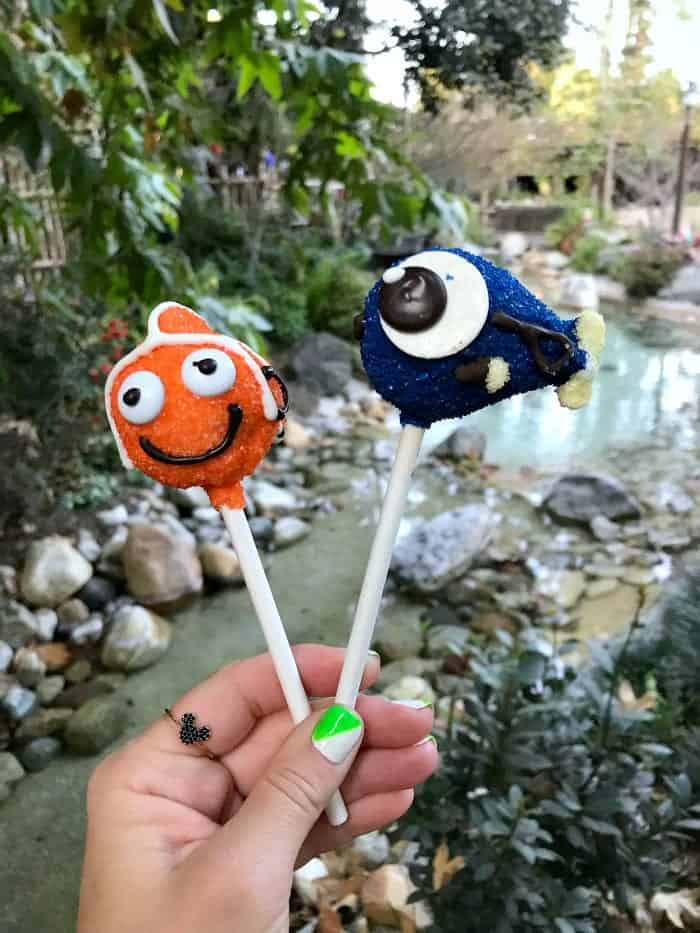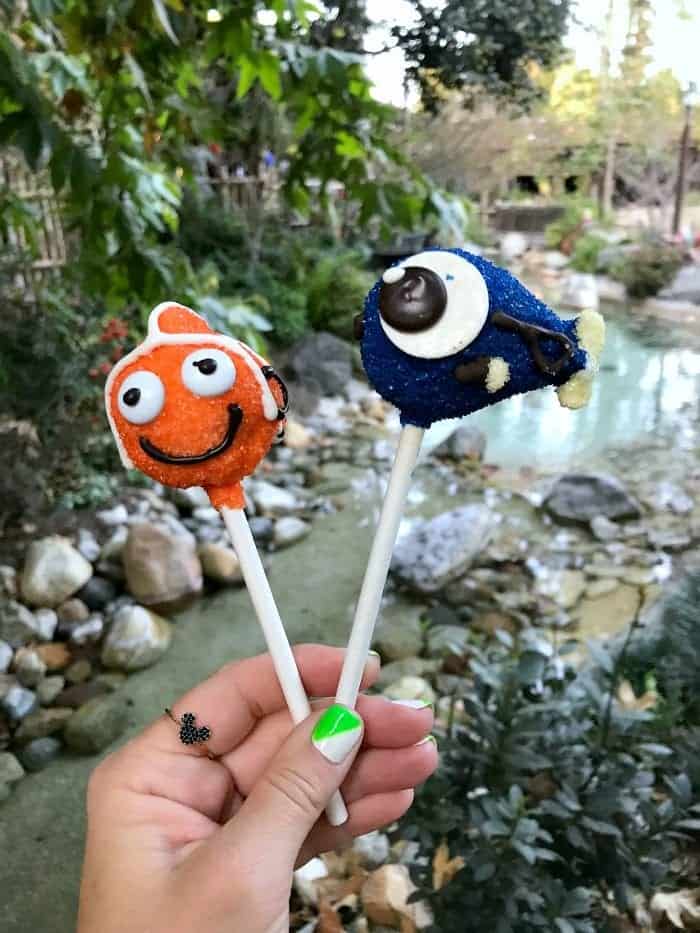 I found Nemo and Dory Cake Pops over at Pooh Corner in Disneyland's Critter Country. Just adorable!
Brand New Churros!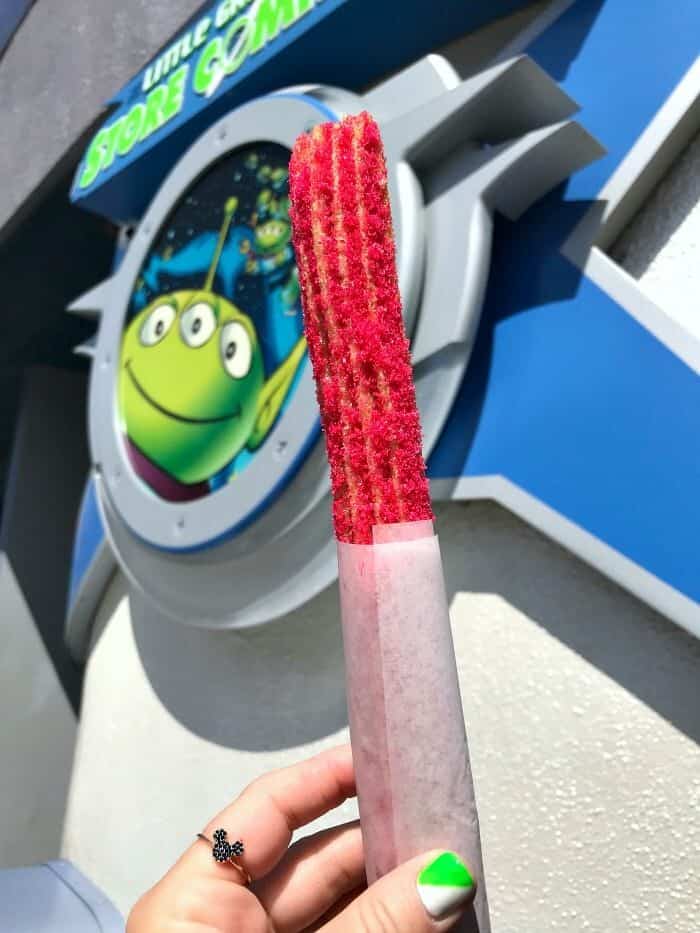 Over at the Tomorrowland Churro Cart, you can find this gorgeous Strawberry Churro. It is bright pink and smells absolutely amazing. This was my second favorite of the new specialty churros.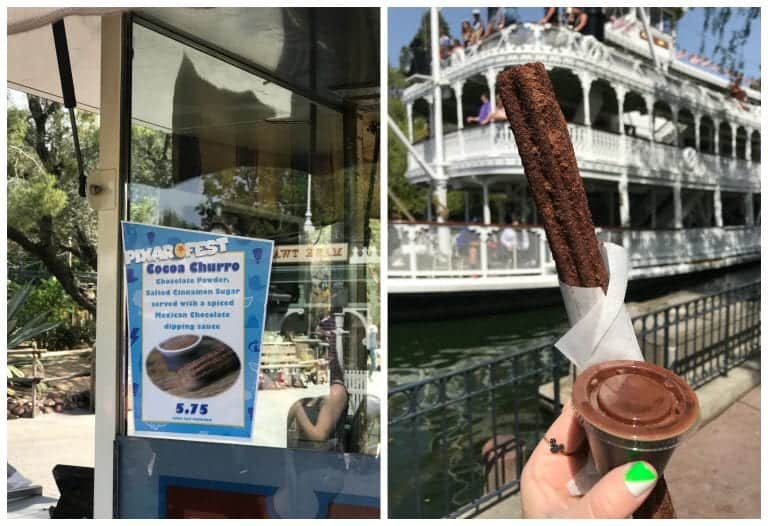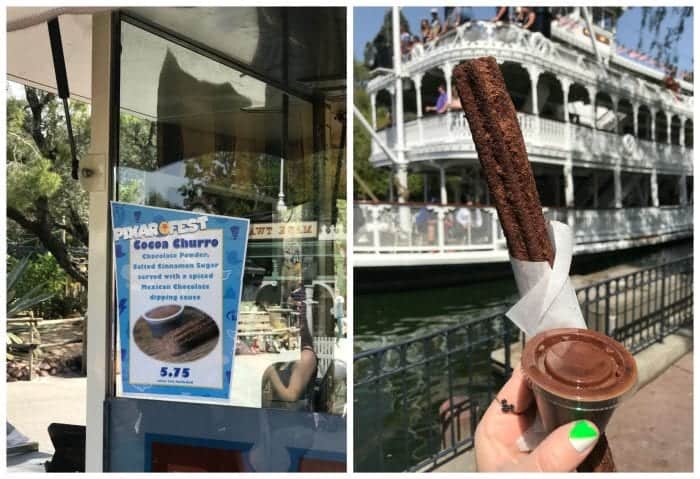 My number one pick for new churros during Pixar Fest is this Cocoa Churro that you can find at the Frontierland Churro Cart. I'm telling you, it's chocolate-fantastic and has a spiced Mexican Chocolate dipping sauce. Do NOT miss this one 🙂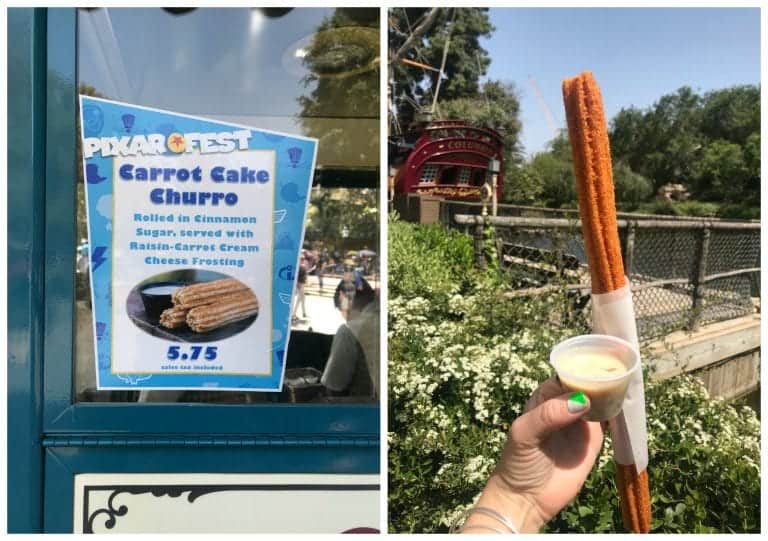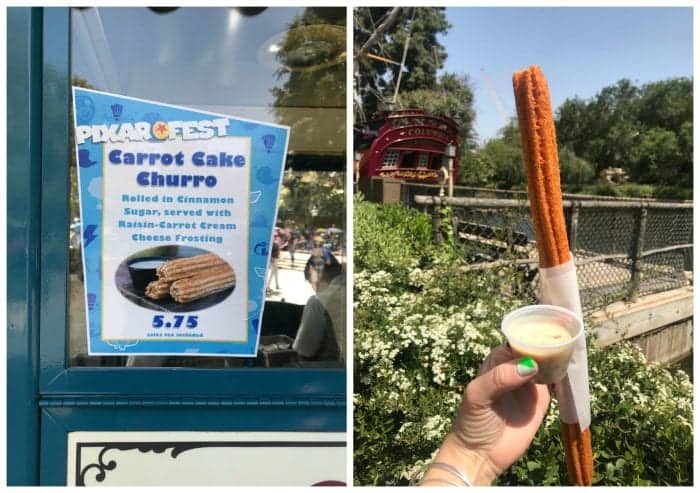 Another favorite of mine is the new Carrot Cake Churro located at the New Orleans Square Churro Cart. Loved the flavor and the dip was a great addition. Don't miss this one!!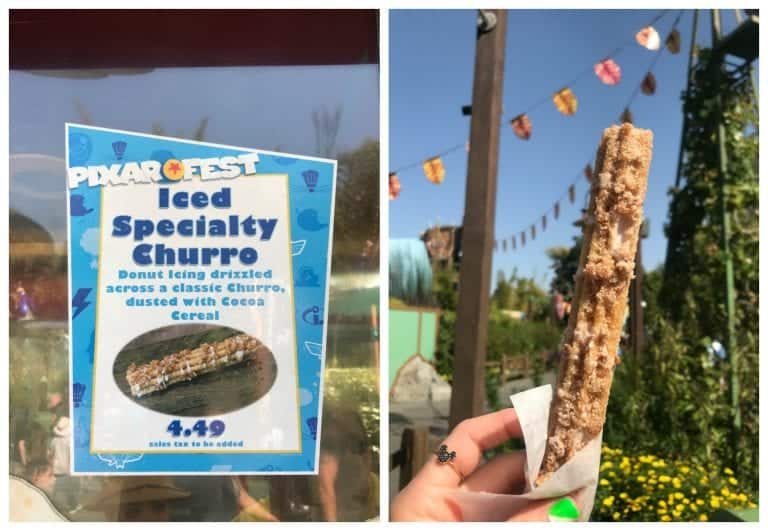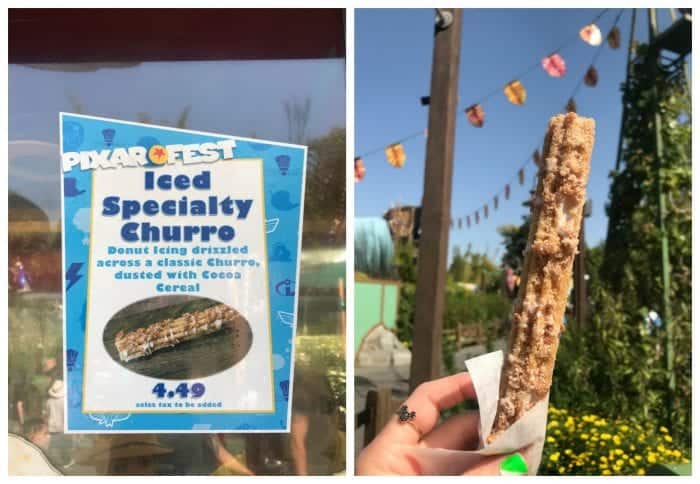 Over at Disney California Adventure Park's Bugs Land, you can find this doughnut icing drizzled churro dusted with cocoa cereal. It was actually really fun!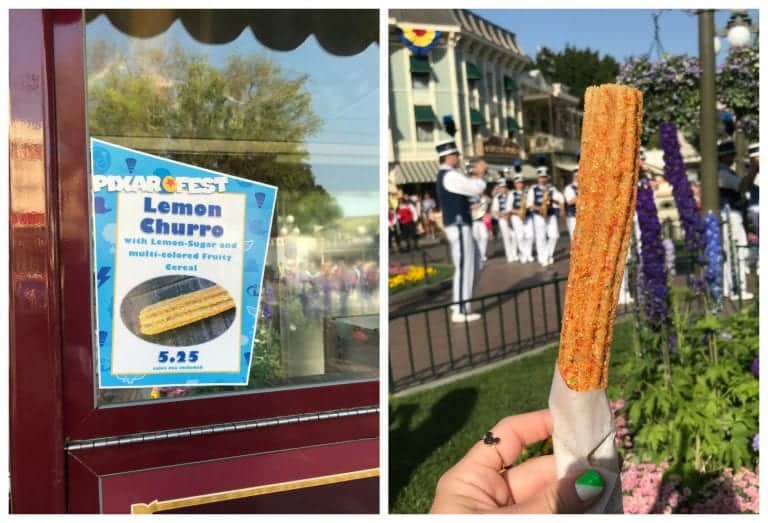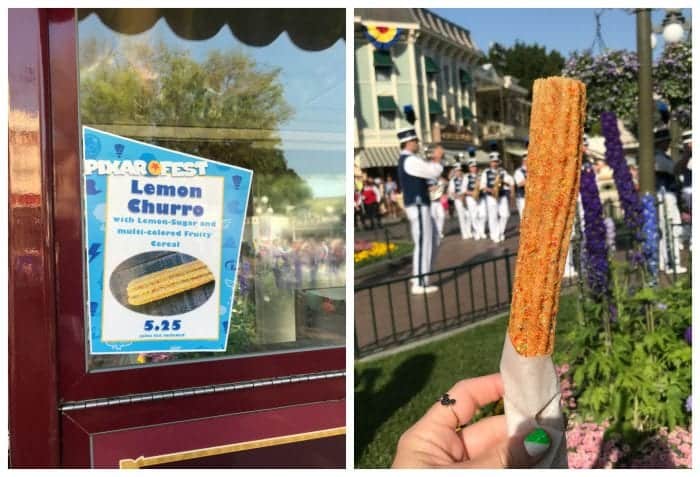 The Churro Cart right at the front of Main Street U.S.A. you can find this Lemon Churro aka Fruity Pebble Churro. Not my favorite of the new churros, but still good!
Alien Pizza Planet!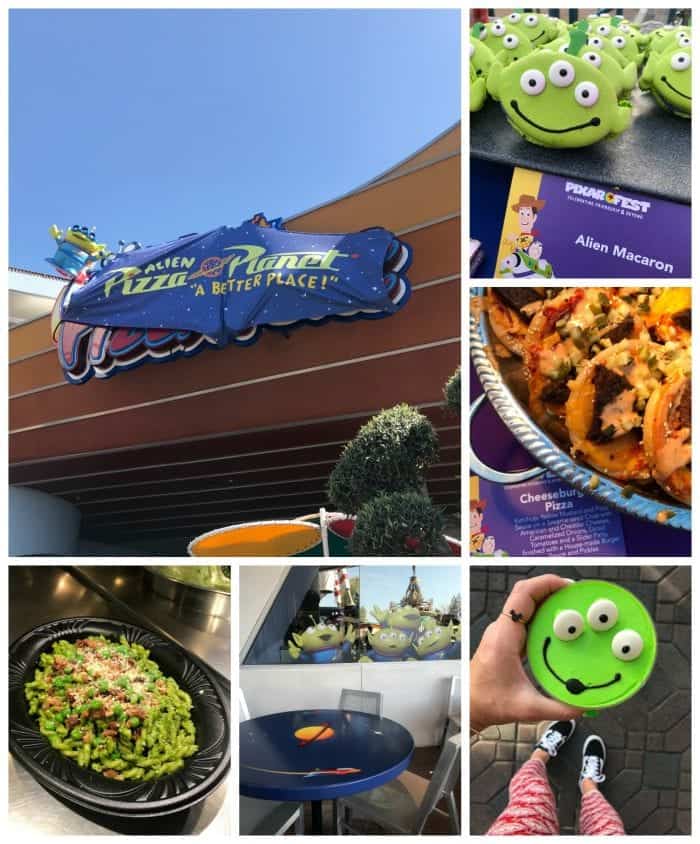 The new Alien Pizza Planet has been taken over by the Toy Story Aliens and I couldn't be more excited about it. For Pixar Fest, you can find the new Cheeseburger Pizza, Alien Macaron, Alien Blackberry Lime Parfait and new Pesto Pasta! Lots to enjoy here. For sure don't miss the Alien Macaron. It's got a light lemon, berry center and so fun.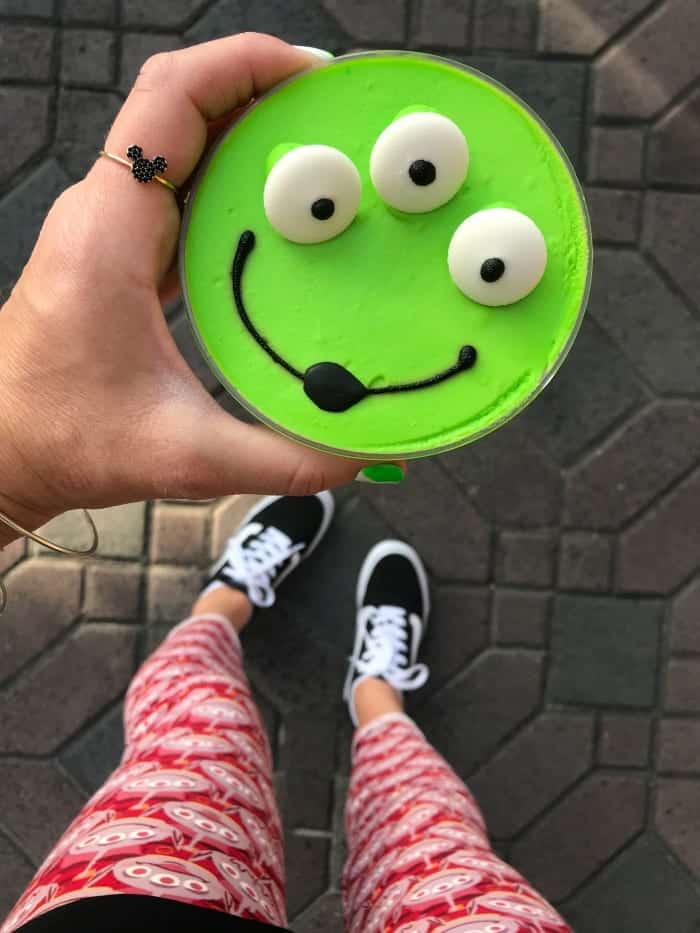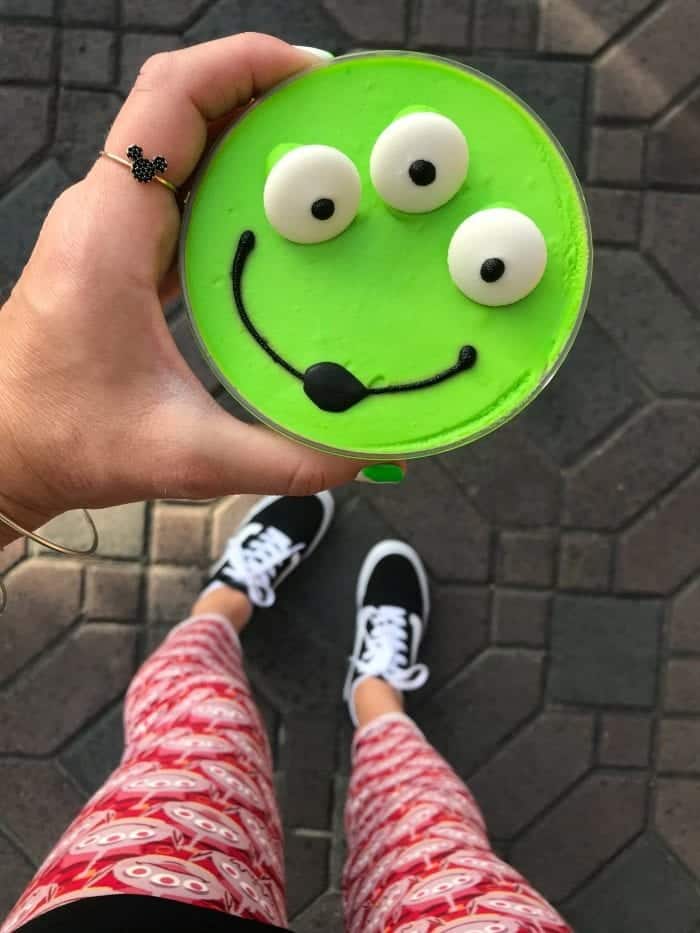 Here's that cutie Alien Blackberry Lime Parfait. Adorable!!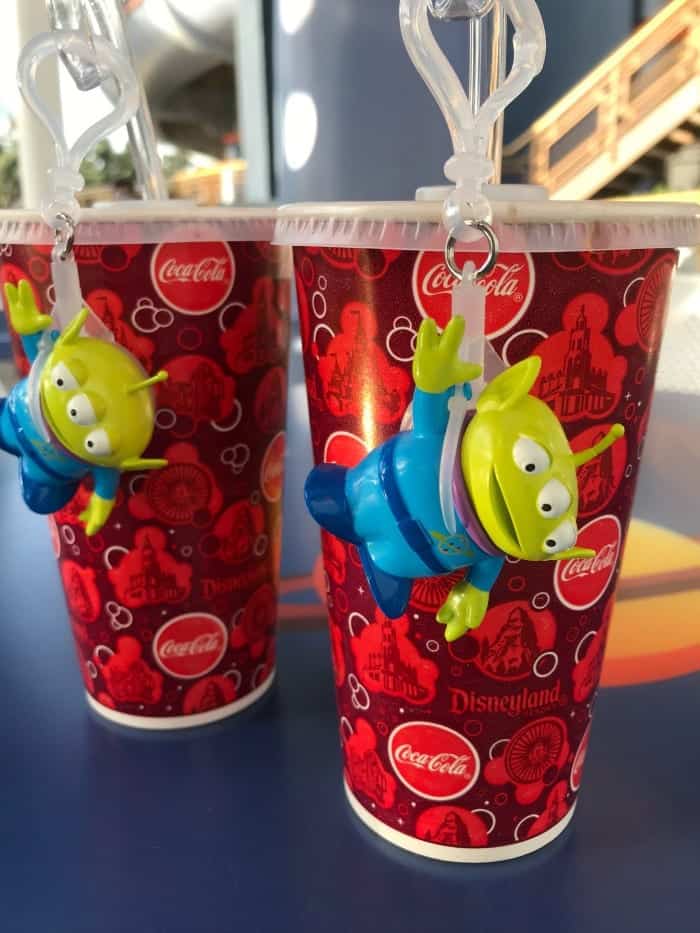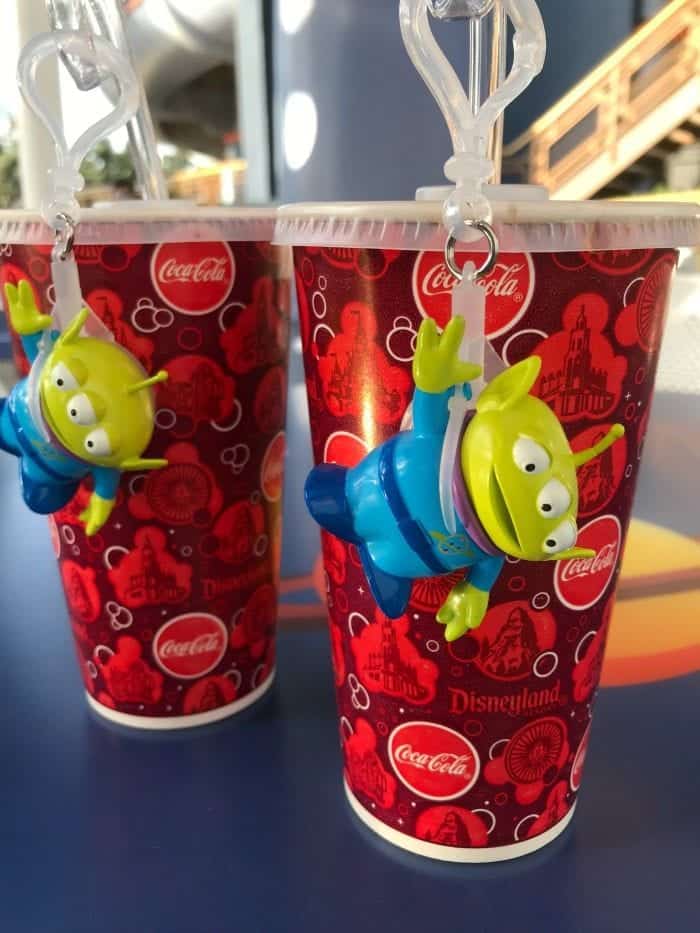 Also available at Alien Pizza Planet are these Alien Claw Straw Clips. Couldn't resist bringing one home 🙂
More Fun Food!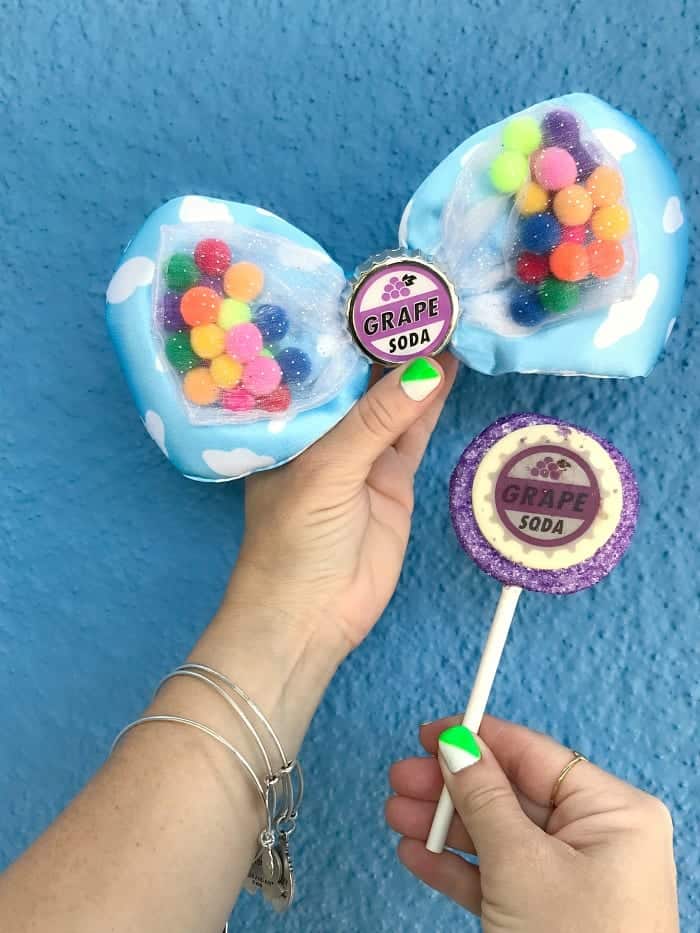 The new "Up" Bow that attaches to the Interchangable Ears was a MUST for me. So excited to wear them on my next trip. The Grape Soda Cake Pop can be found at the bakeries around both Parks. The inside is literally Grape Soda Cake.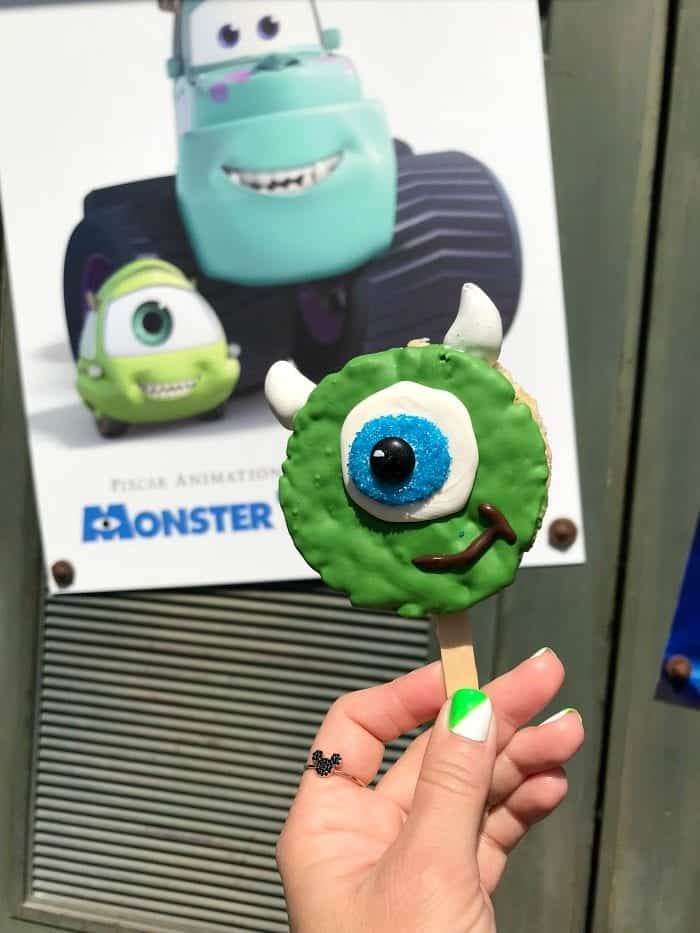 This Mike Wazowski Krispie Treat is another MUST! He's so adorable and you can never go wrong with this Krispie treat. Find him also at the bakeries around the Parks.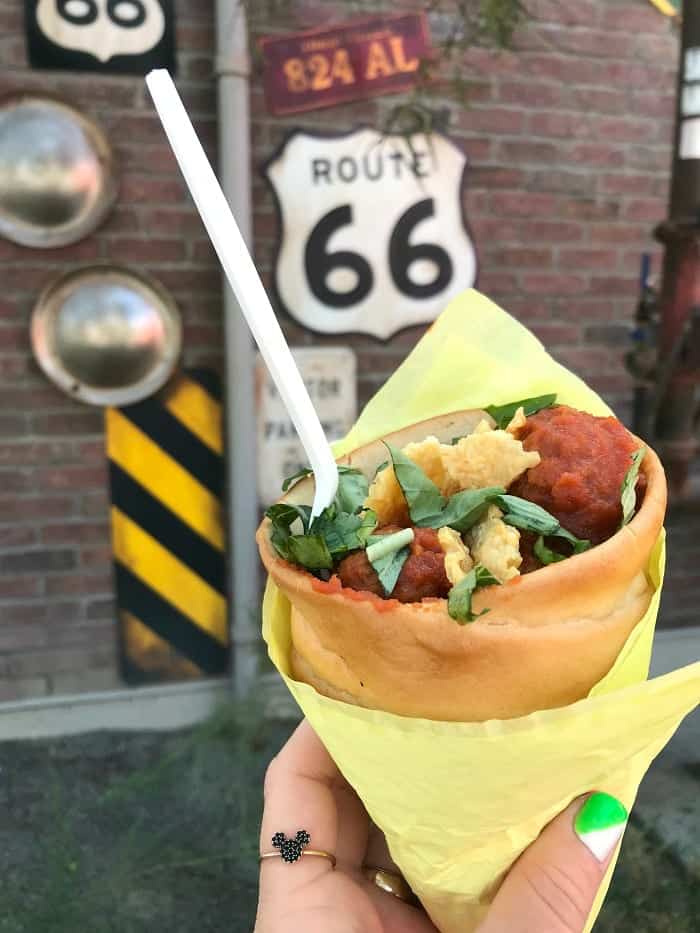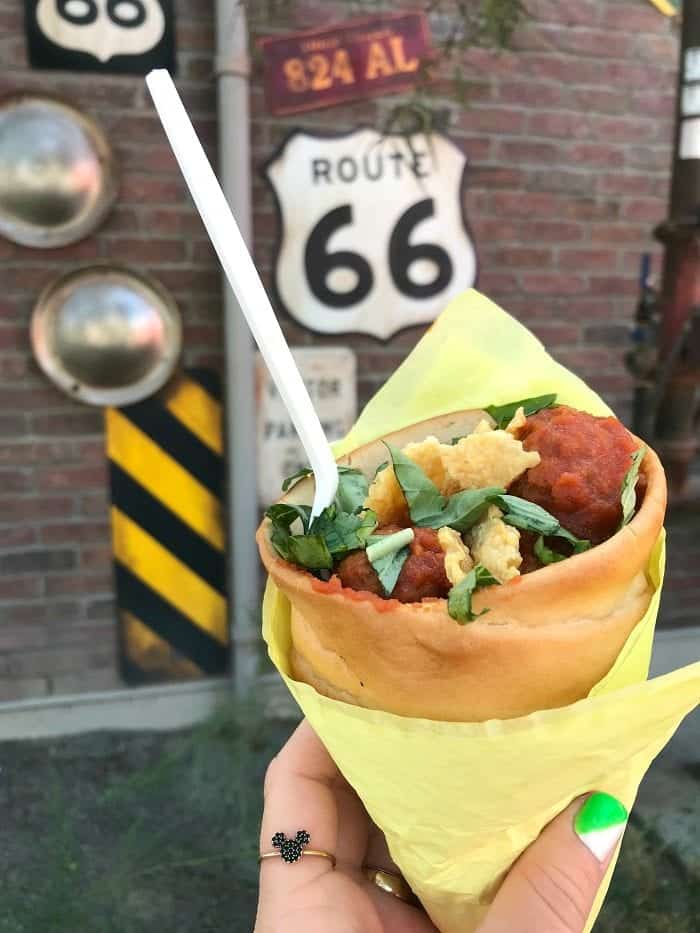 Over in Cars Land at Cozy Cone Motel, you do NOT want to miss the Habanero Meatball Cone! The turkey meatballs are perfectly flavorful in a spicy red sauce. You can find some pasta noodles at the bottom of the cone too 🙂 Really enjoyed this one for lunch.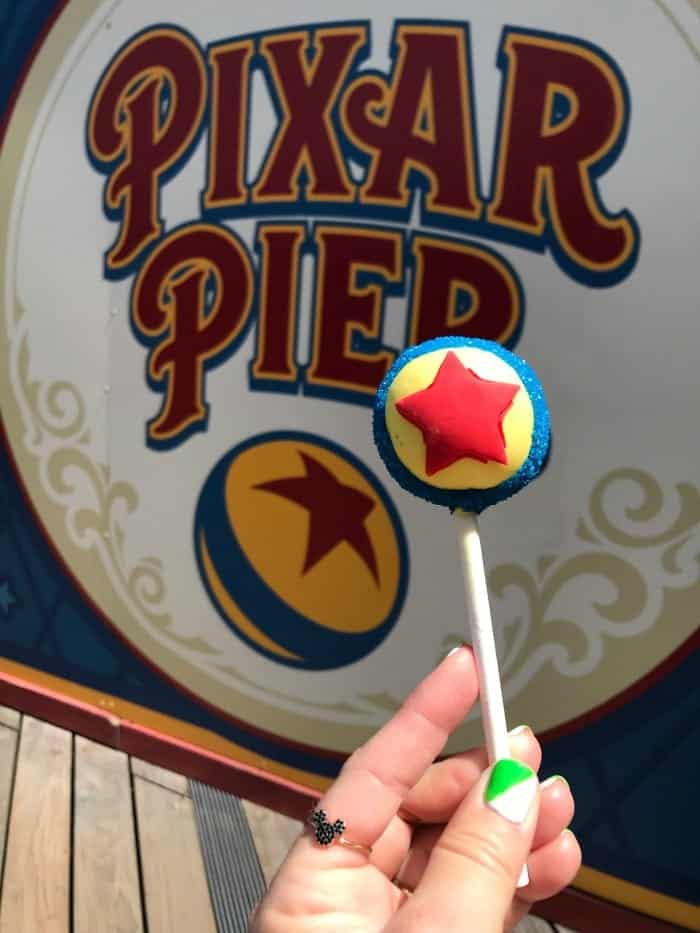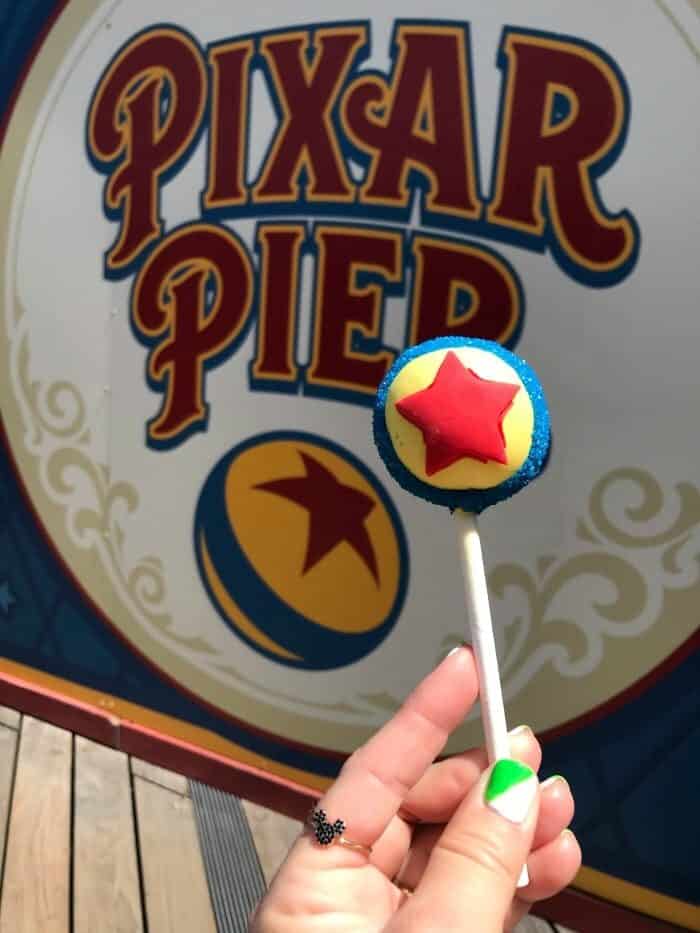 The Pixar Ball Cake Pop is a MUST. It's too cute to pass up.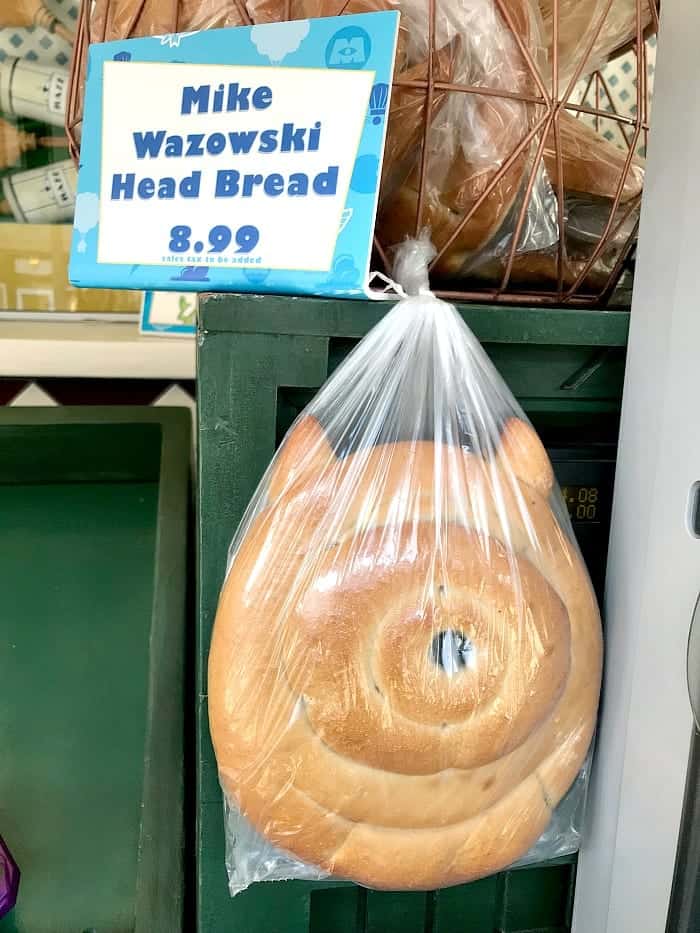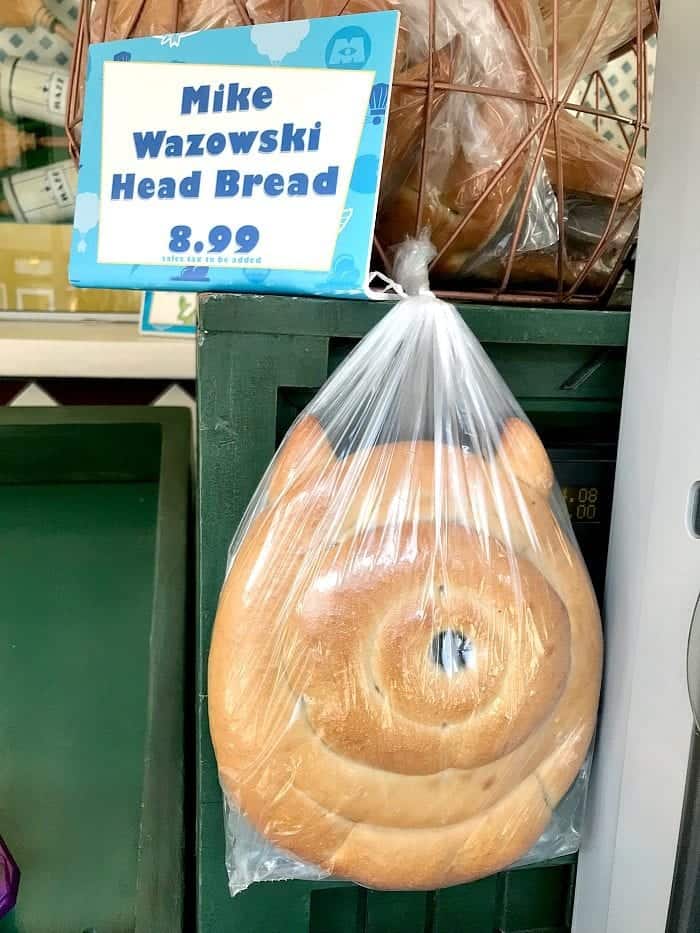 In Hollywood Land, you can find this adorable Mike Wazowski Bread at the kiosk where they sell drinks and quick bites. Fun souvenir to bring home!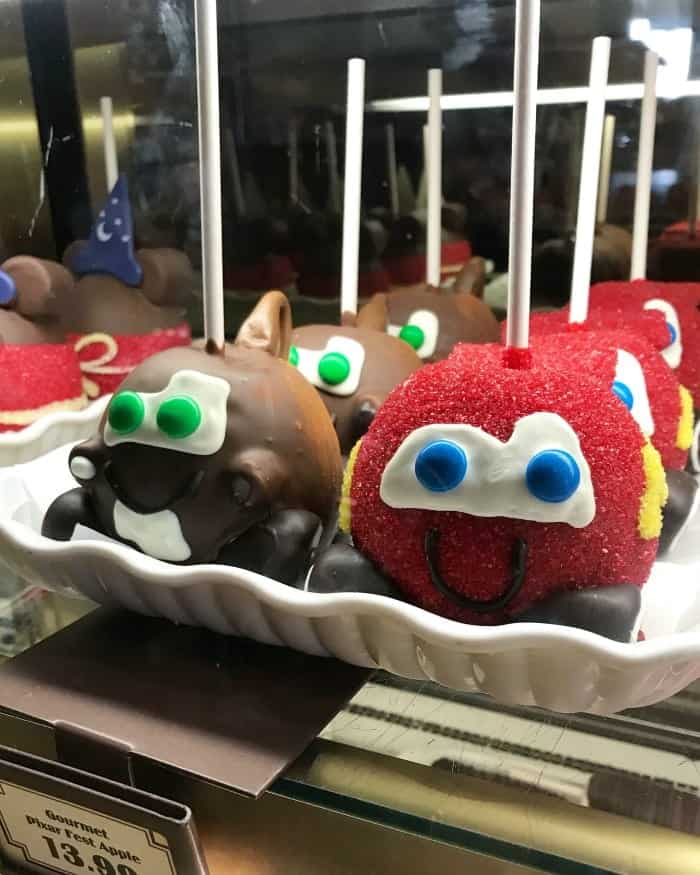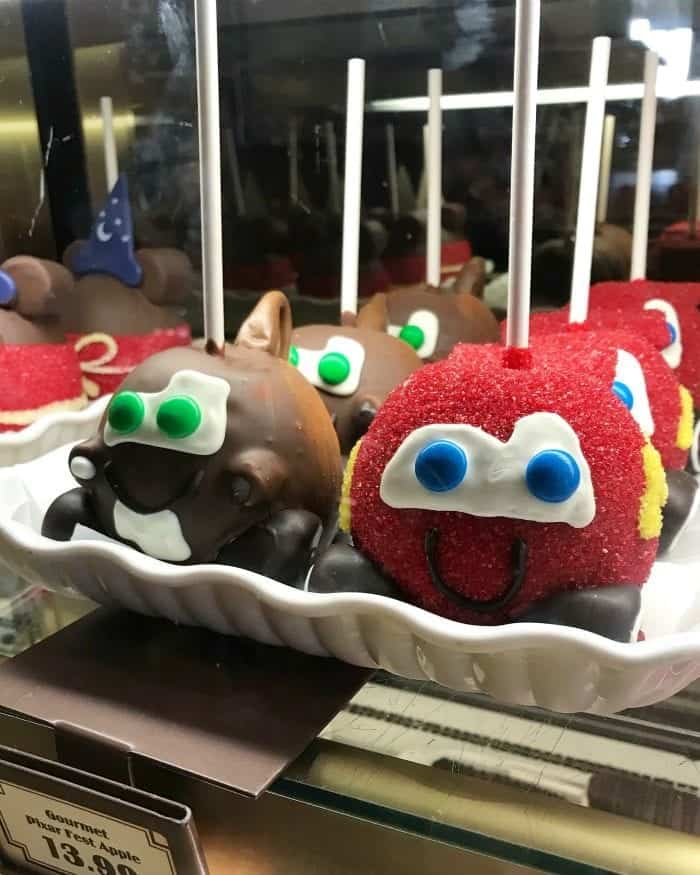 Found these CAR-rific Gourmet Apples at Disney California Adventure's Trolley Treats! Lightening McQueen and Mater have never looked so precious, ha!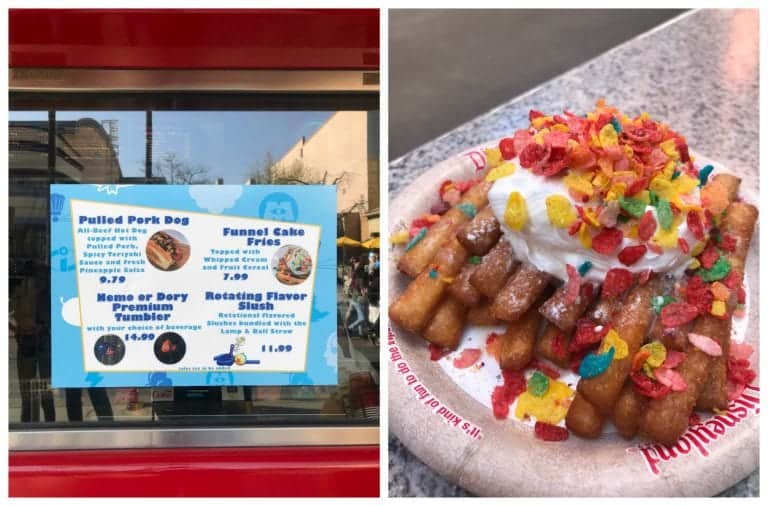 Another FAVORITE from my weekend was the Fruity Pebble Funnel Cake Fries from Award Weiners! Fun and loved the crispy fruity cereal on top.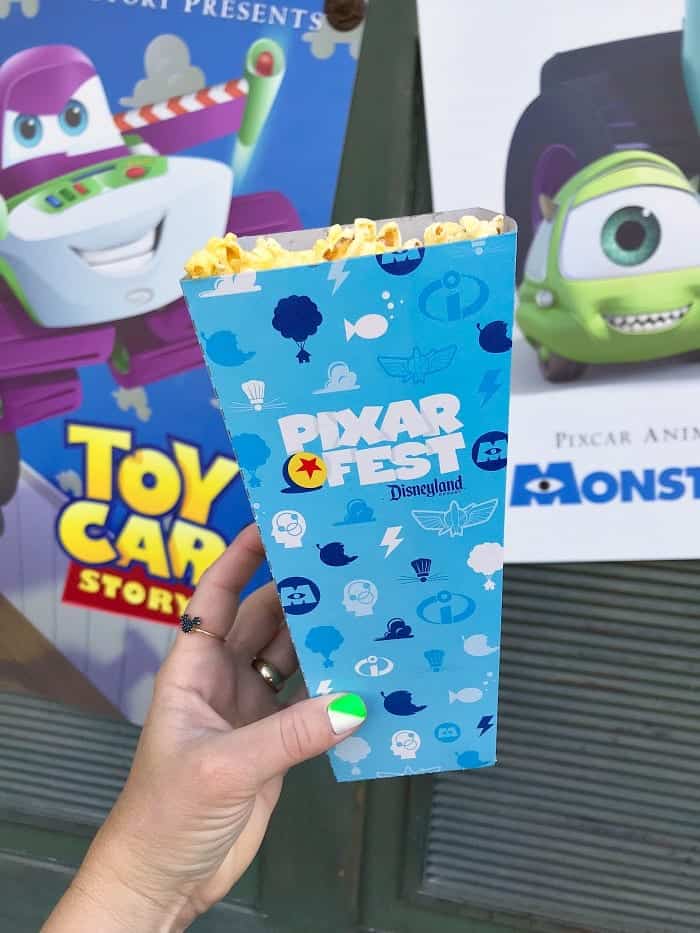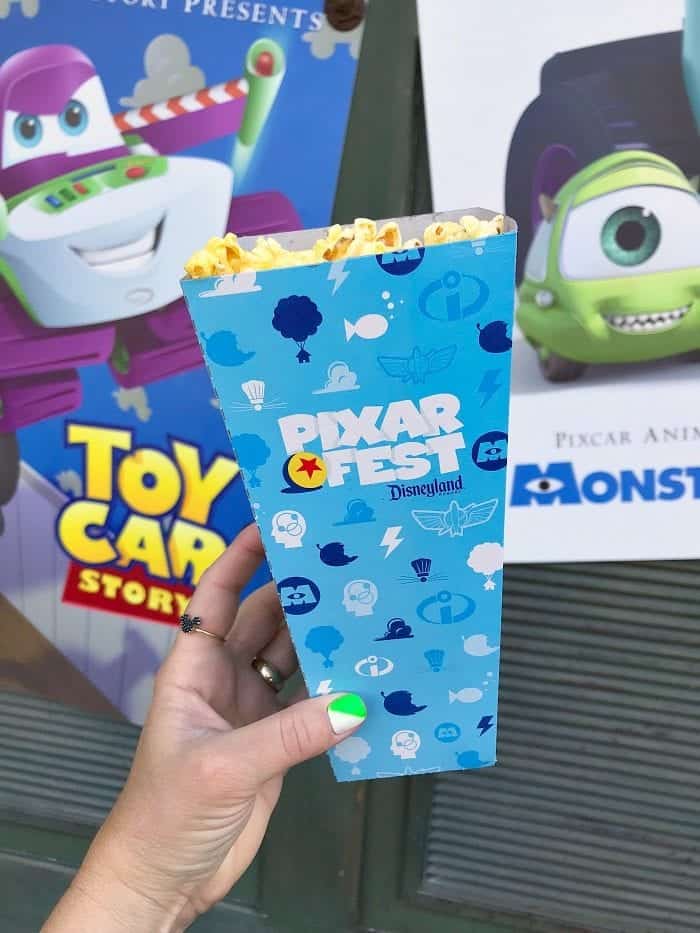 Couldn't resist the Pixar Fest box of popcorn. Always a good choice for a savory snack!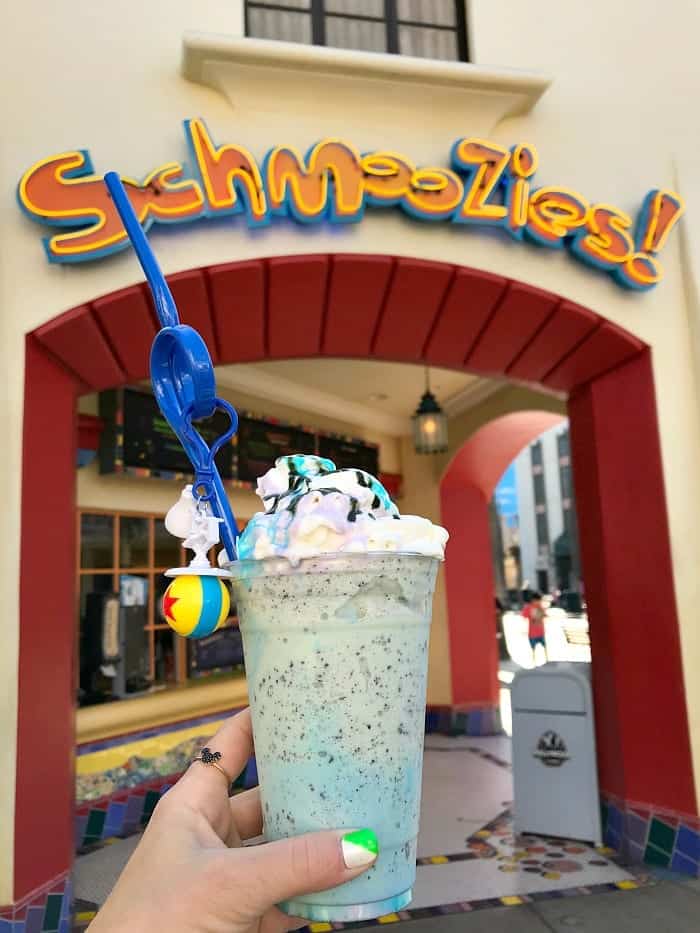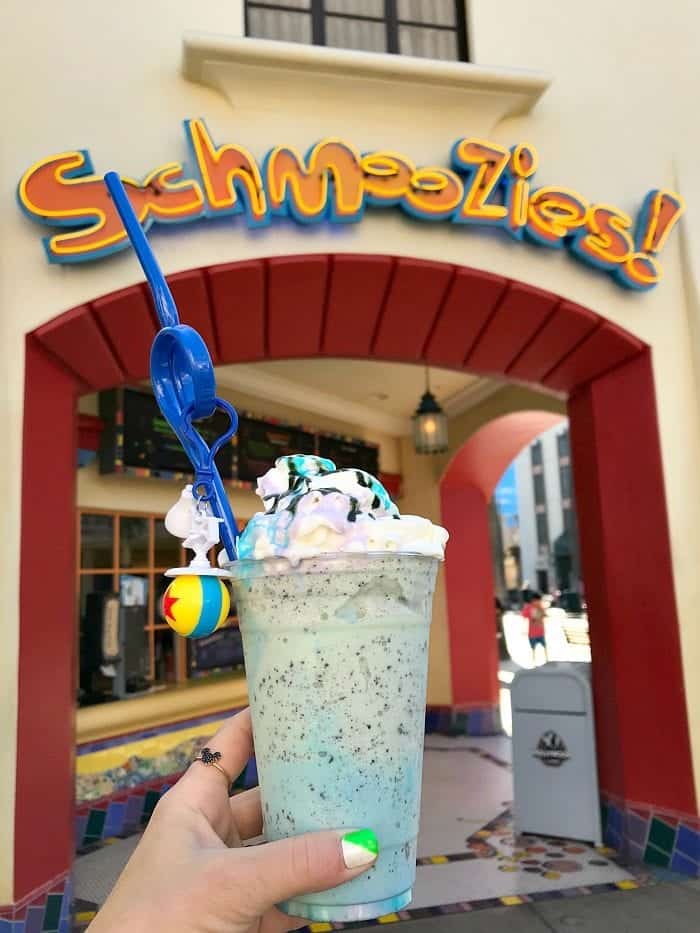 Schmoozies has some really fun options. This Mint Chip "Sulley" Shake is adorable plus you can add the Luxo Lamp Straw! Love!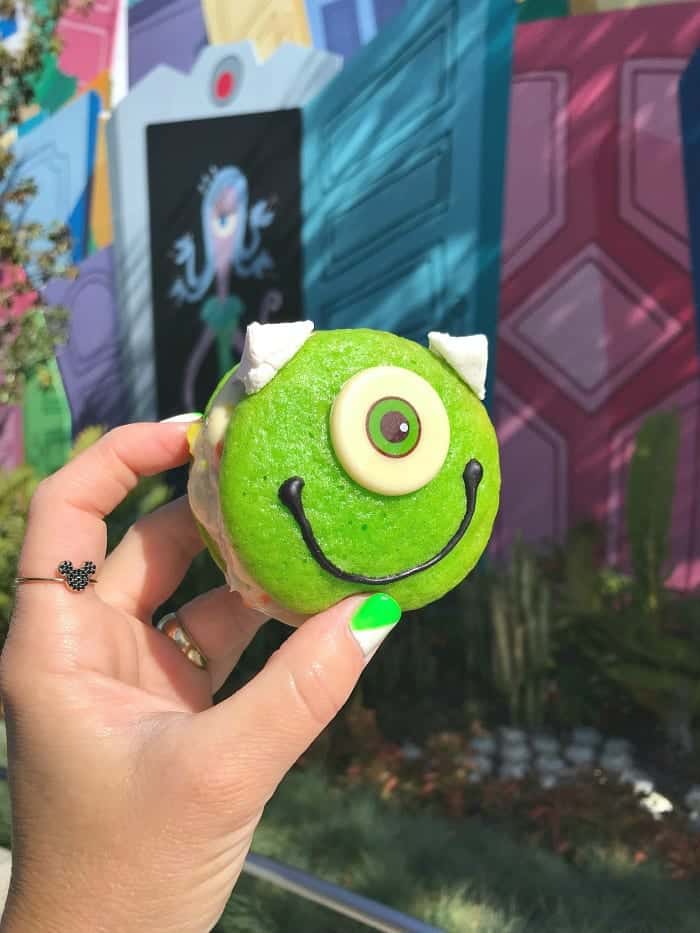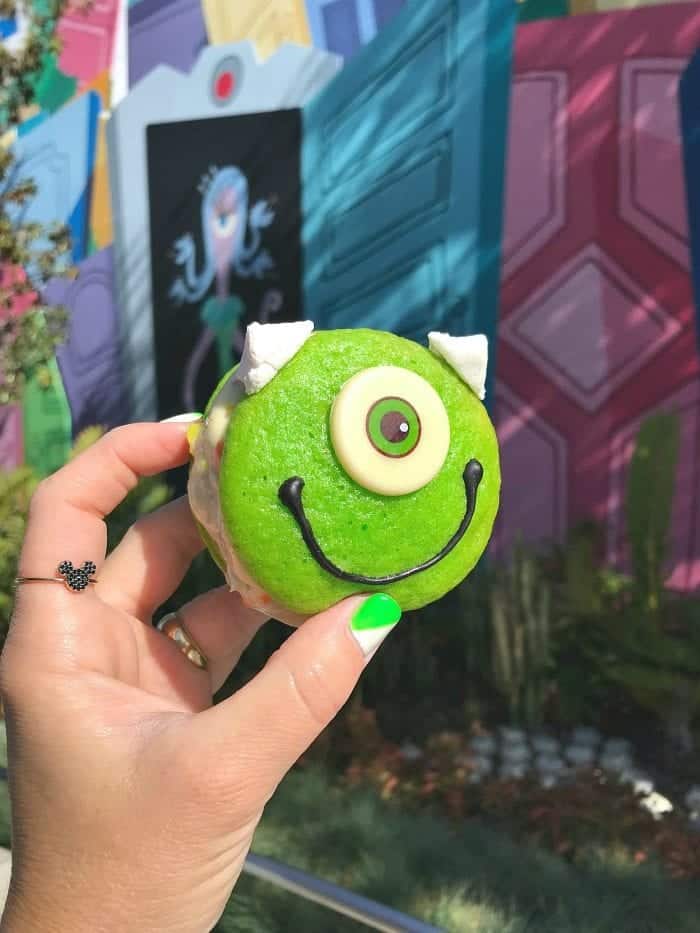 Also available at Schmoozies is the adorable Mike Wazowski Whoppie Pie with Birthday Cake Ice Cream.
Don't Miss This Either!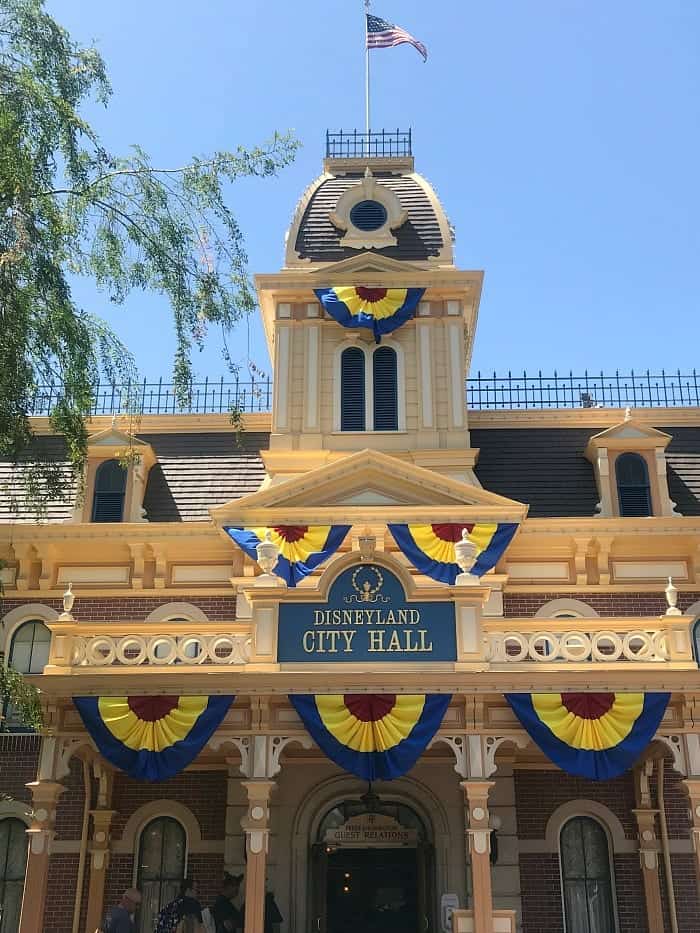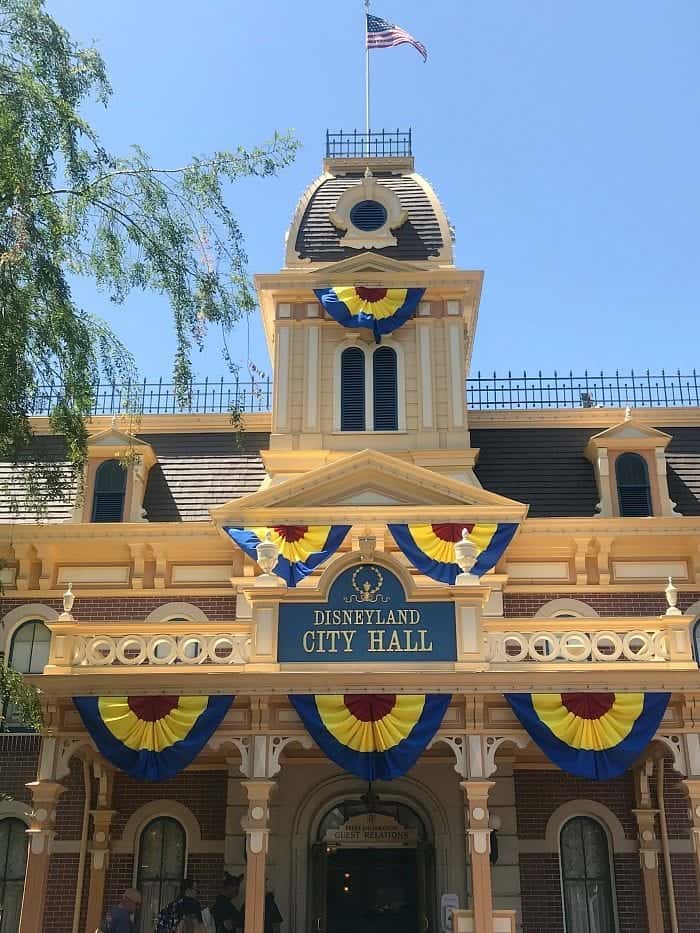 Find festive Pixar Fest Banners and decor throughout both Parks, be sure to take in the beauty all around!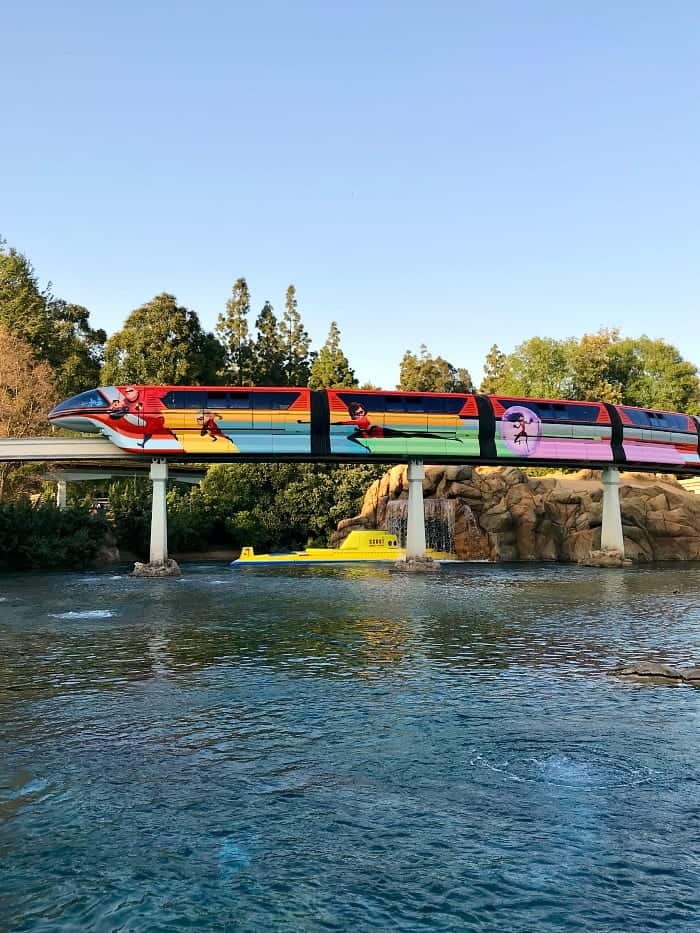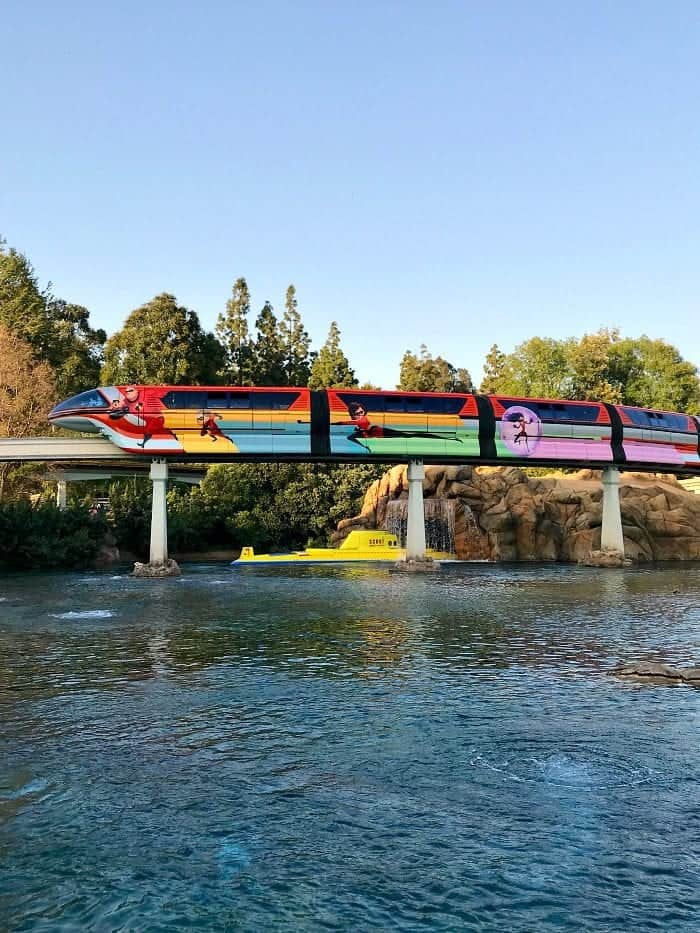 The new scenes on the Monorails are a must see. You'll see the Incredibles and Nemo. Be sure to watch them as they go through the Parks!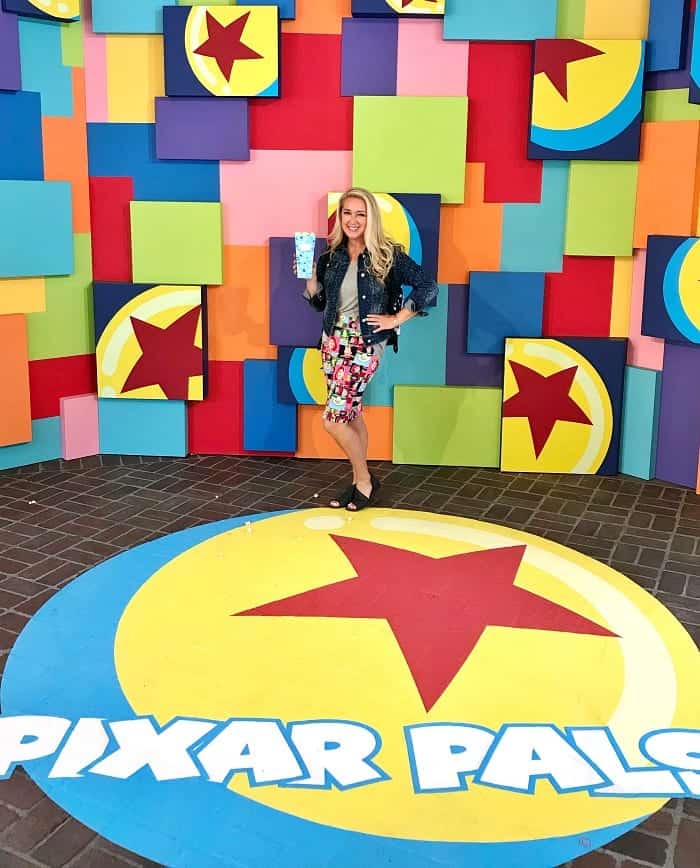 Over in Disney California Adventure, near Paradise Garden Grill you can meet Pixar Pals in this bright space. When they are not there, you can take pictures with the background. Fun to check out for sure.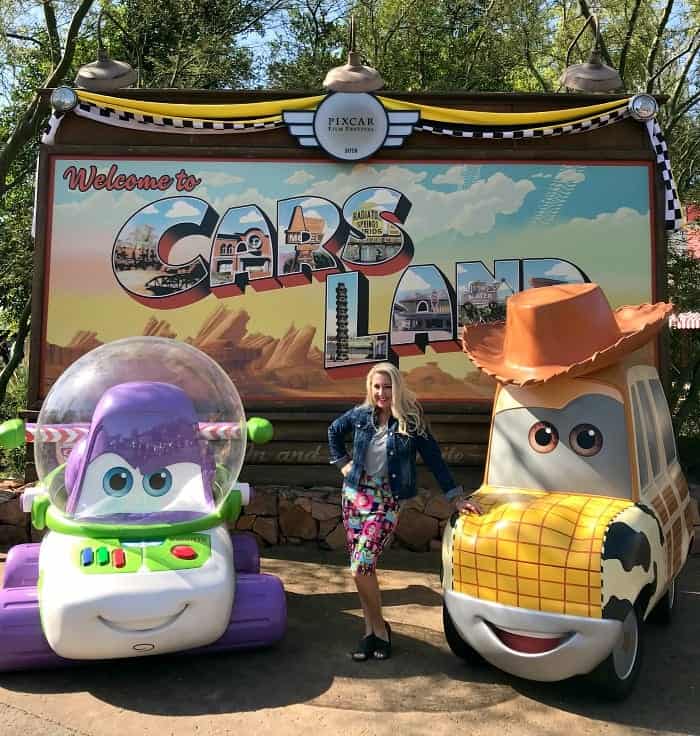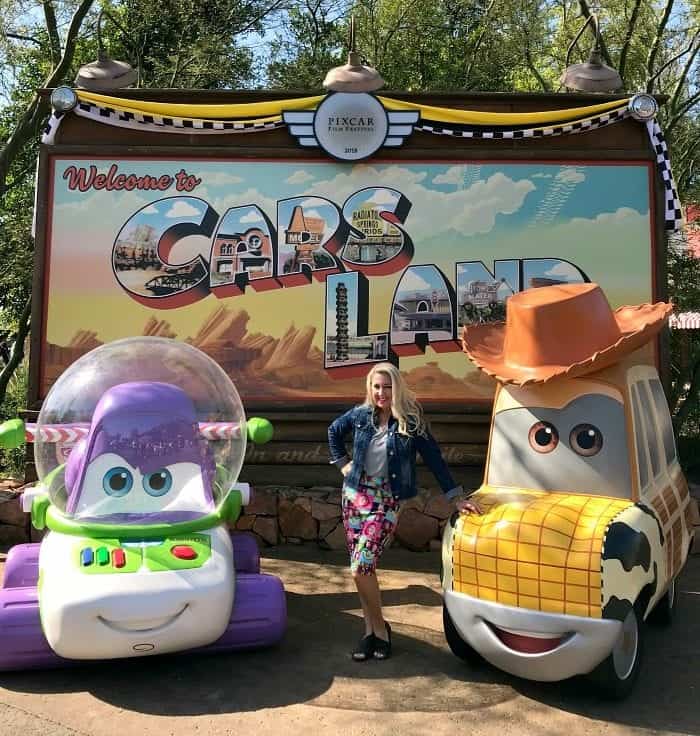 Over in Cars Land you can find Buzz and Woody Cars to take photos with. They could not be more adorable. Couldn't resist a picture with these cuties.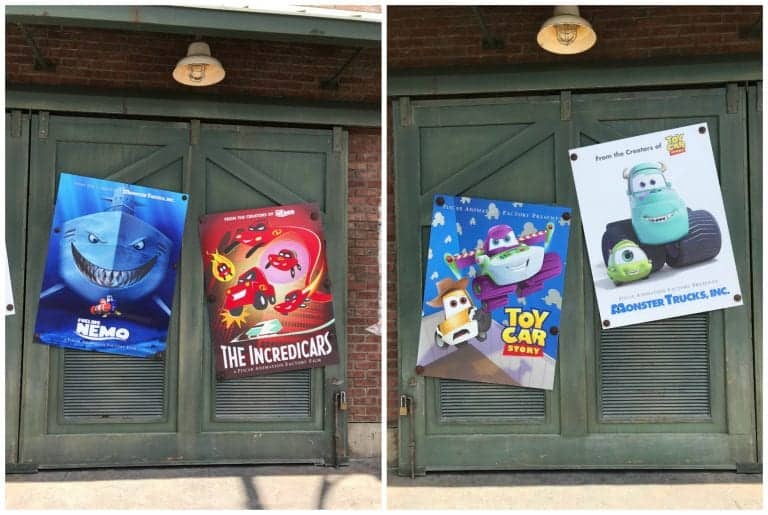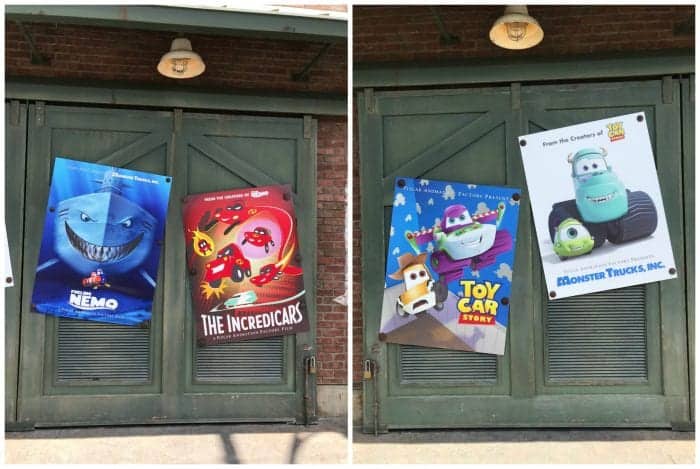 Loved the new posters posted in Cars Land. Makes a great photo spot for sure!
Top 10 Do Not Miss!
Do NOT miss the Pixar Cake from Plaza Inn. One of the best layered cakes I've had. Loved the light lemon berry flavor and subtle cream cheese flavored light frosting.
Do NOT miss the Cocoa Churro from the Frontierland Churro Cart. It was one of the best Disneyland Churros I've had.
Do NOT miss the Alien Macaron from Alien Pizza Planet. You owe it to yourself to enjoy that one. It's famous, ha!
Do NOT miss the Rose Gold Macaron from Jolly Holiday Bakery Cafe. So pretty, so good.
Do NOT miss the Habanero Meatball Cone from Cozy Cone Motel in Cars Land. Just the right spice and great flavor.
Do NOT miss the Pastrami Dog from Refreshment Corner. I think this one is a hidden gem. Super yum hot dog!!
Do NOT miss the Up Chocolate Hazelnut Pastry also from Jolly Holiday Bakery Cafe. It was flaky fantastic!
Do NOT miss the Fruity Pebble Funnel Cake Fries from Award Wieners at Disney California Adventure Park.
Do NOT miss the Pixar Play Parade and Paint The Night Parade. Both incredible.
Do NOT miss a photo with the Buzz and Woody Cars in Cars Land.
Enjoy Pixar Fest!
Pixar Fest runs now through September 3rd! Can't wait for Pixar Pier opening June 23rd!
Disclaimer. Disneyland Park invited me to the Media Event and provided park tickets. All thoughts, photos, and opinions are 100% my own.