Reviewing Disneyland's newest Quick Service Restaurant, The Tropical Hideaway. Disneyland Food is my favorite kind of food!
The Tropical Hideaway is located in Disneyland Park's Adventureland right between the Tiki Room and Jungle Cruise! It opened the very end of 2018 and has guests so excited! I got to visit the very end of December, can't wait to share our thoughts with you. Let's take a look!
The Tropical Hideaway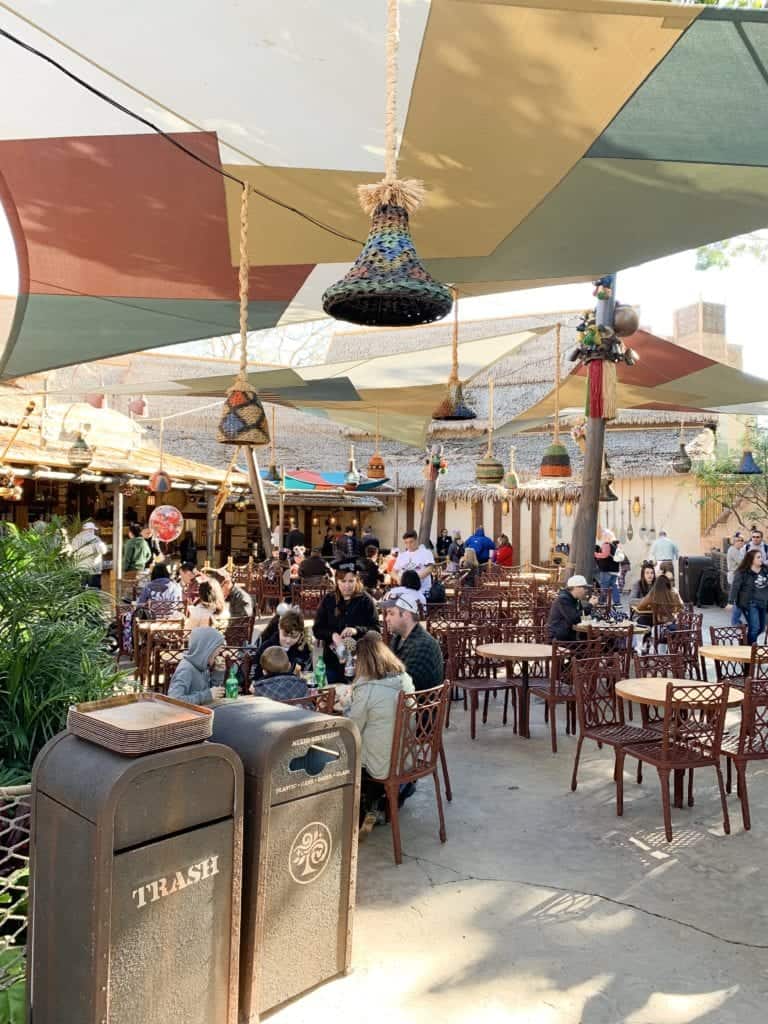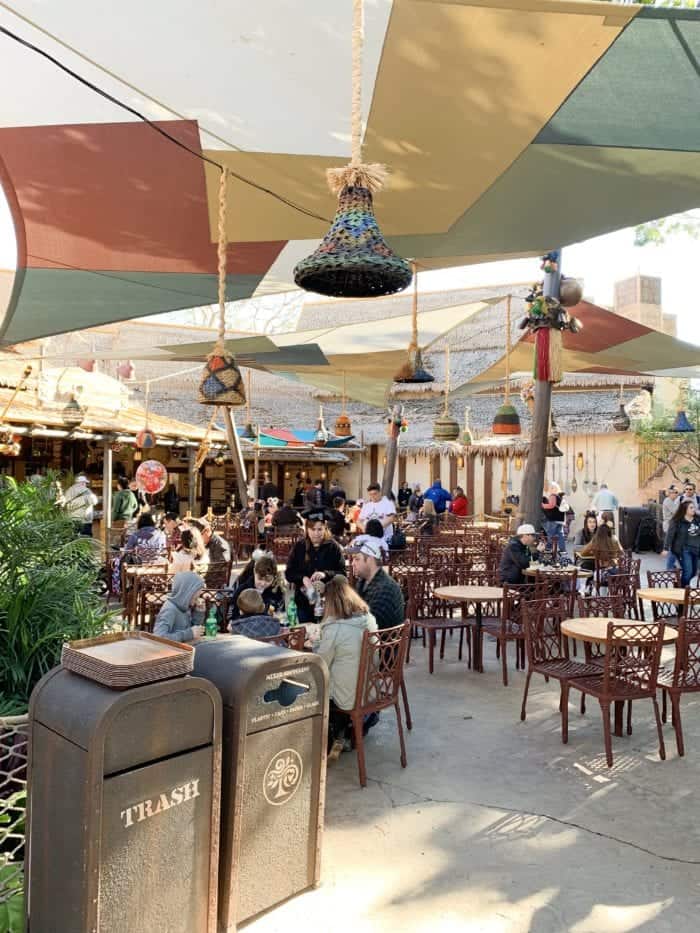 Right behind the front sign, you'll find this nice open seating area and quick service line to the left. You have a lovely view of the Jungle Cruise boats floating by. This is going to quickly become one of my favorite places to visit!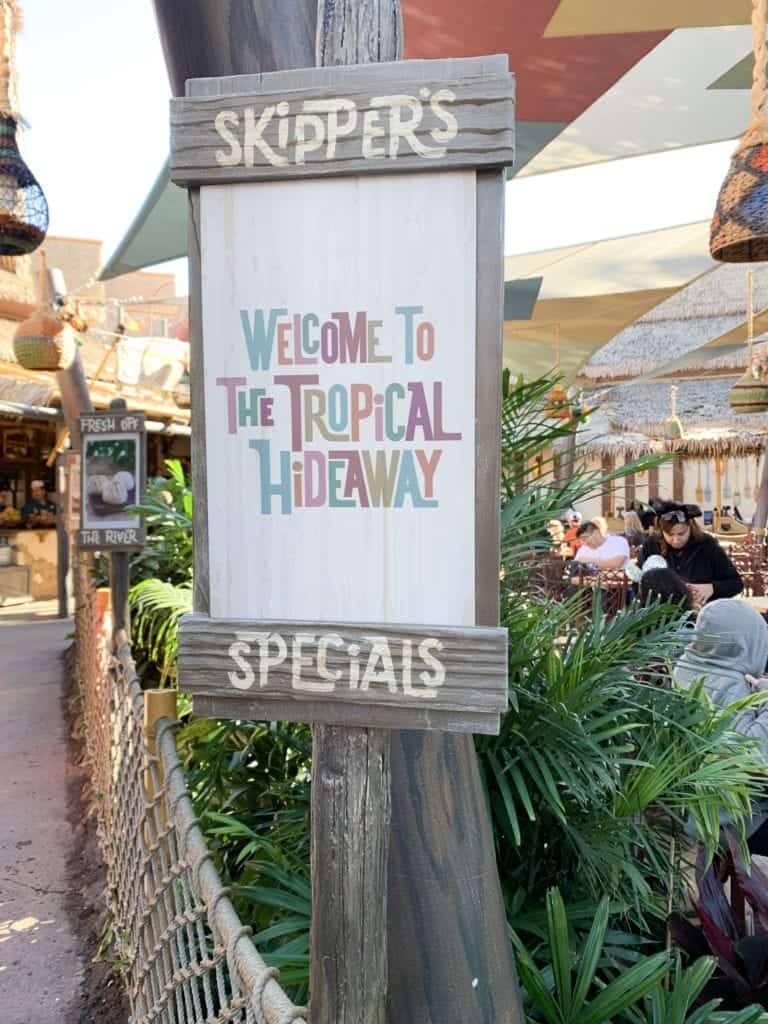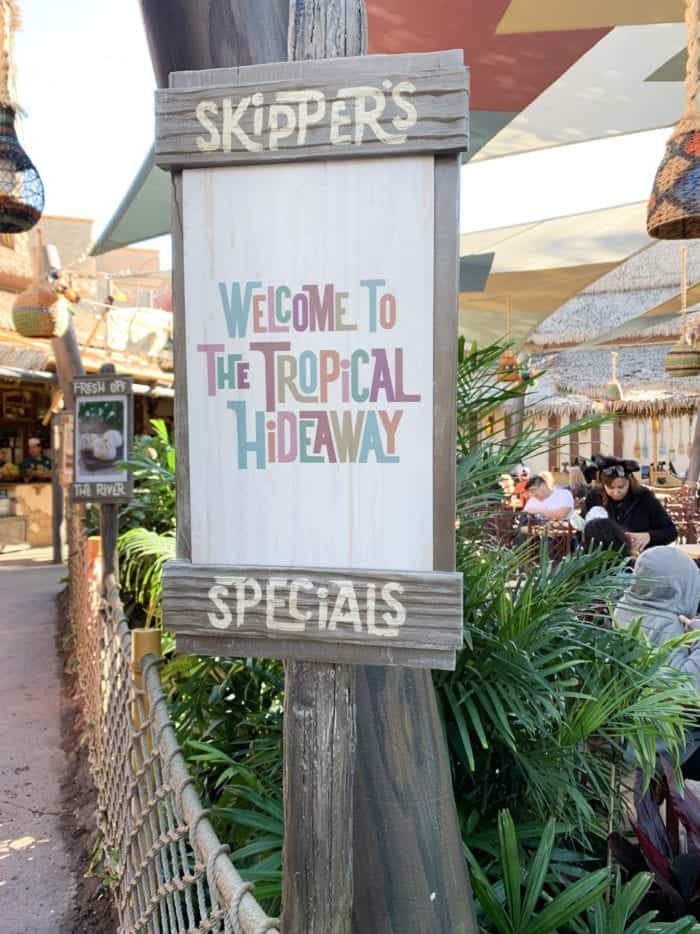 You'll find these charming little wooden signs that guide the way through the quick service line.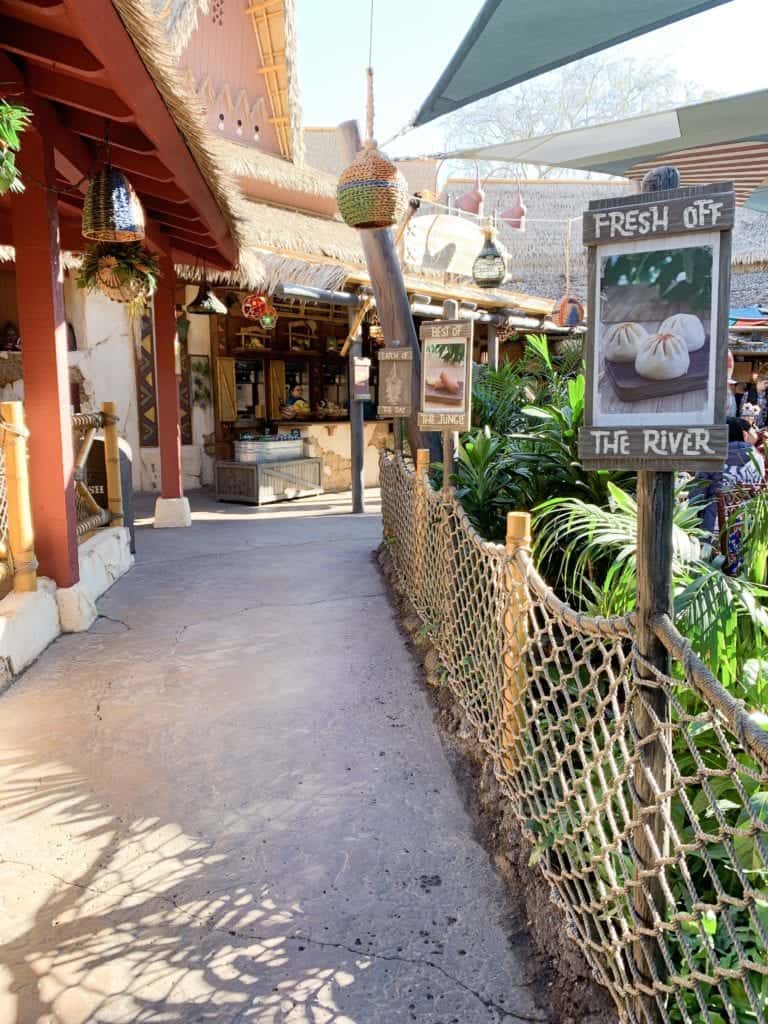 We got to the restaurant right about 10am and they were already serving guests. We had no line as you can see here.
Dole Whip Station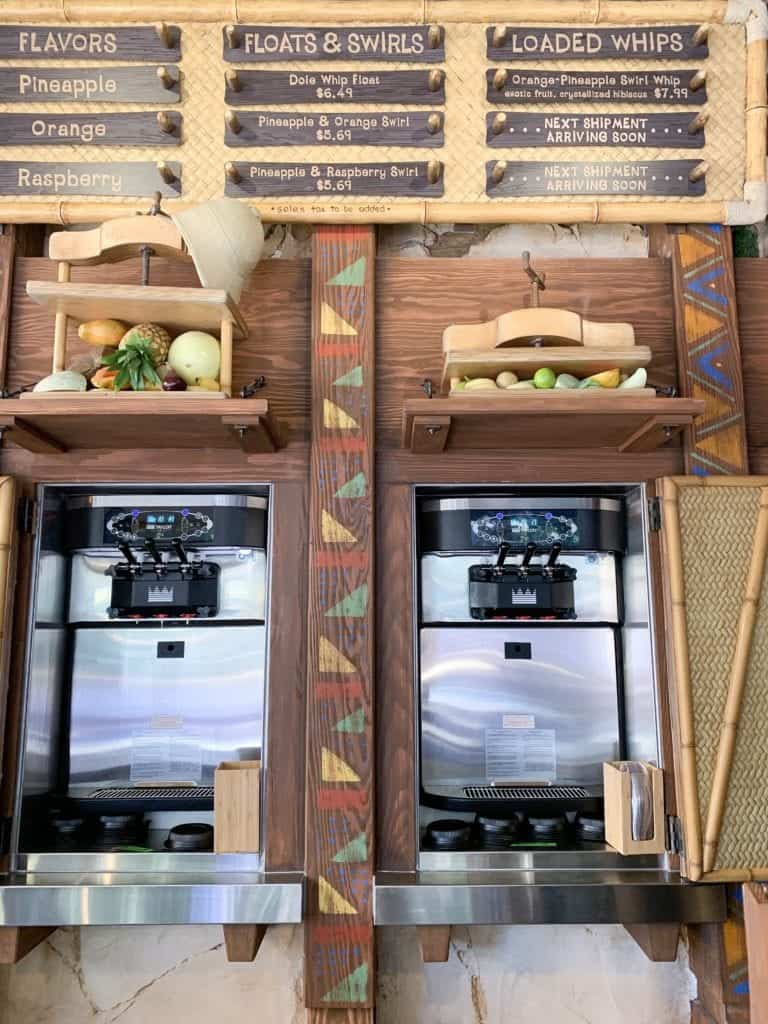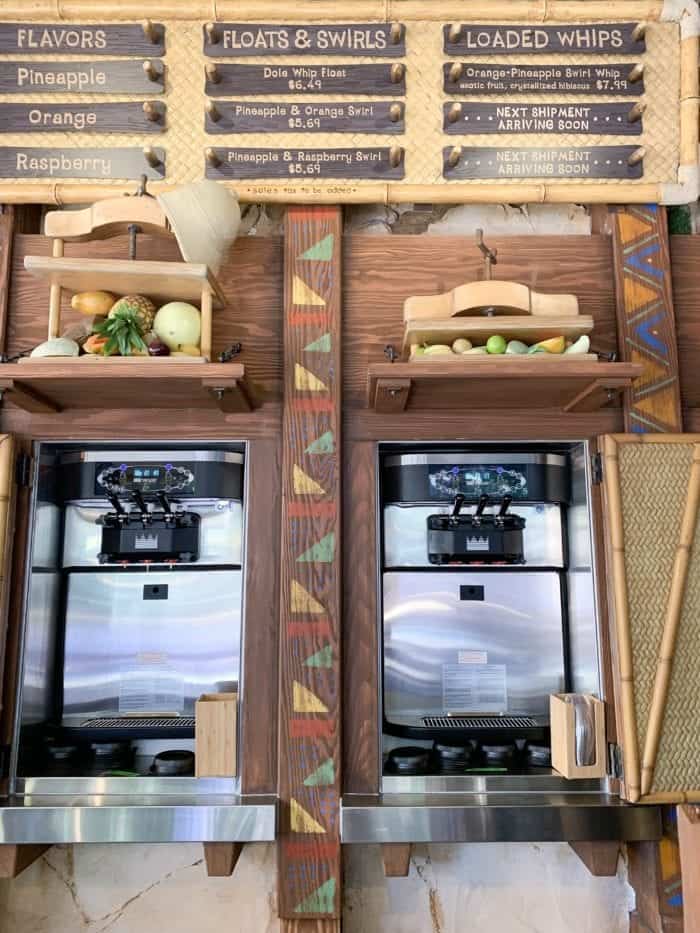 The first thing you'll get to is the Dole Whip/Float section where you can choose from some new flavors were aren't used to at Disneyland. We now have Raspberry and Orange to choose from along with Pineapple that we've always loved. The Loaded Whip is quite the sight! See my next photo below 🙂
Loaded Whip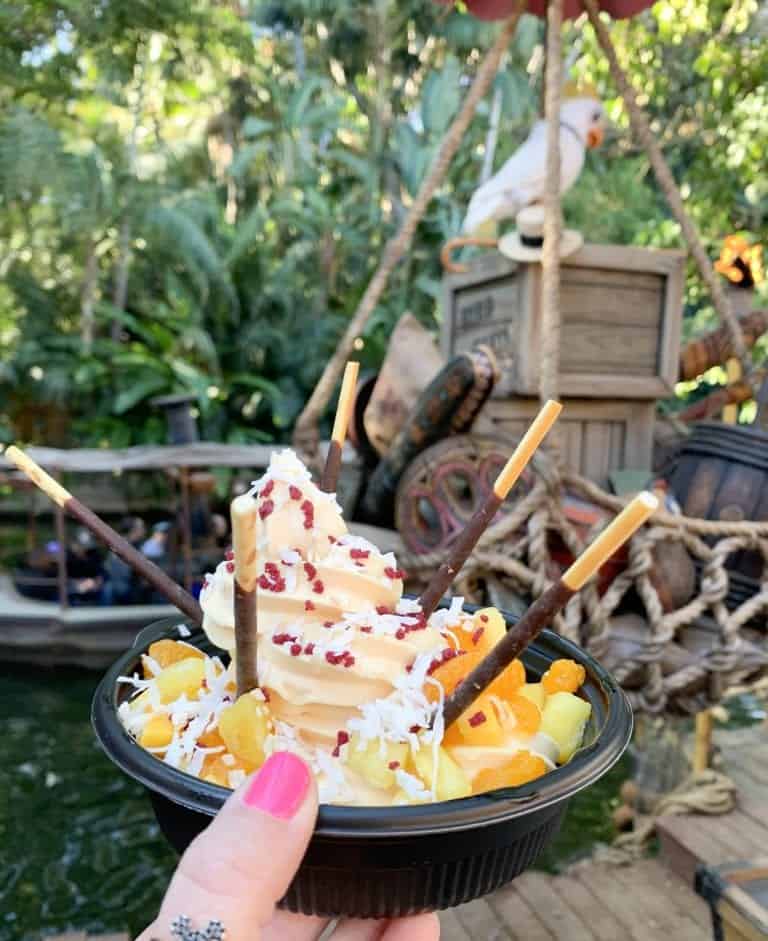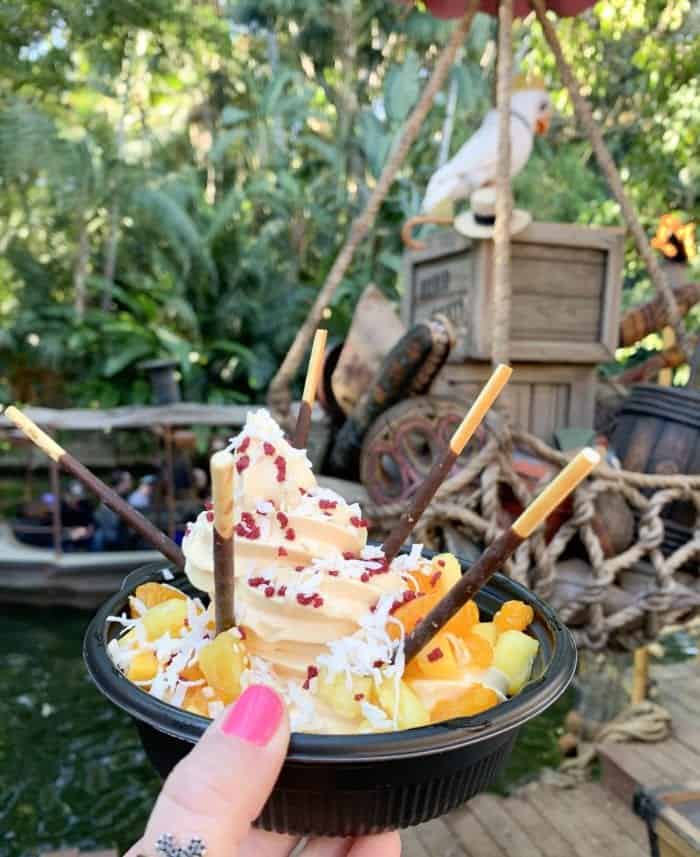 Here you have Orange and Pineapple Swirl Whip with exotic fruit, and crystalized hibiscus. It is DELICIOUS. It's plenty big to share with a couple people. When you order this, you also get the "gong" hit by the Cast Members.
The Tropical Hideaway Secret Menu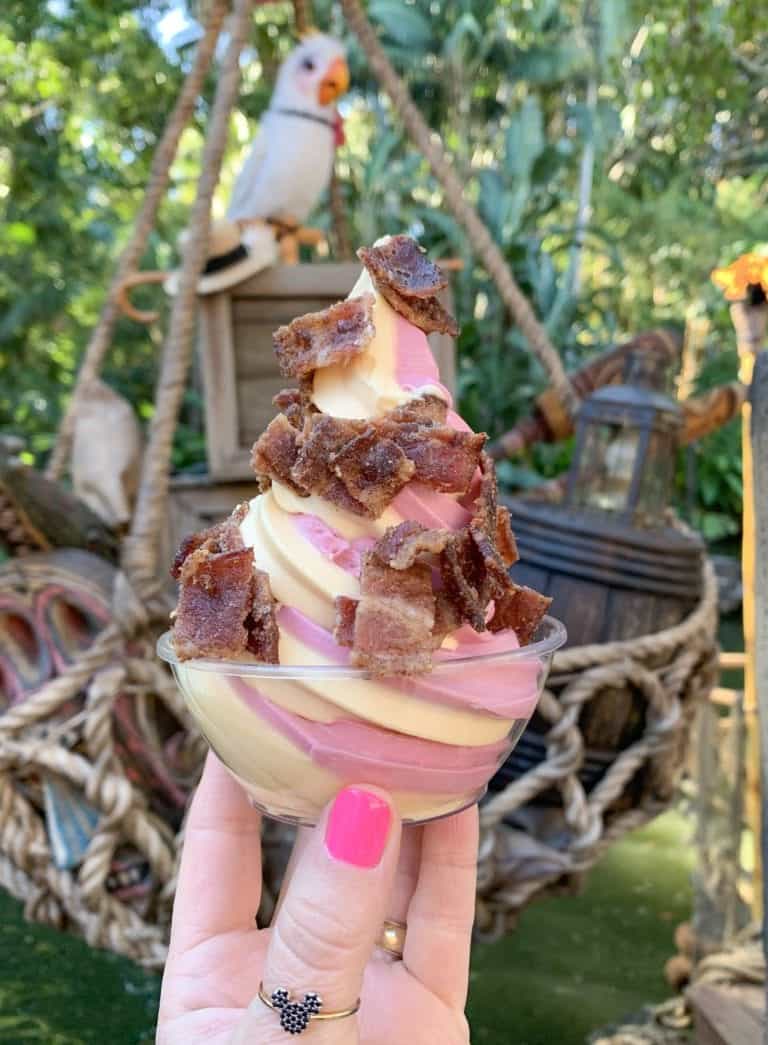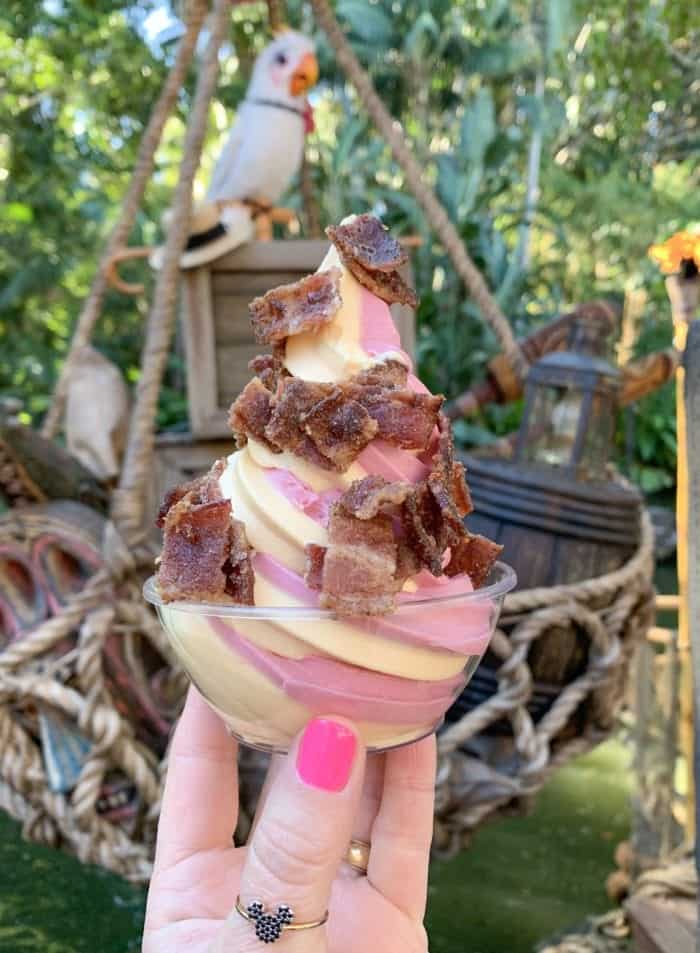 Pineapple and Orange Dole Whip….With Bacon
If you are crazy like myself, you can order this bad boy from the "secret menu." Yep, you can add bacon to any of your Dole Whips! My husband was not a fan, but I have to say I kind of liked it! the bacon has a fantastic sweet glaze that made me wish I could take some home, ha! Give it a try and see what you think!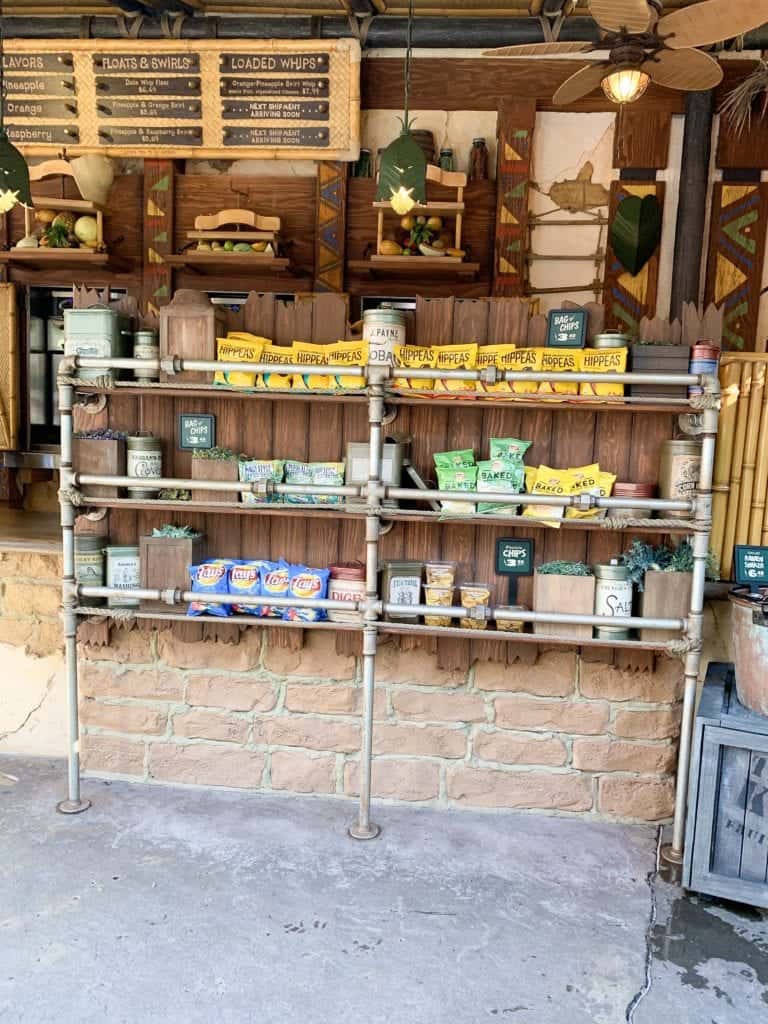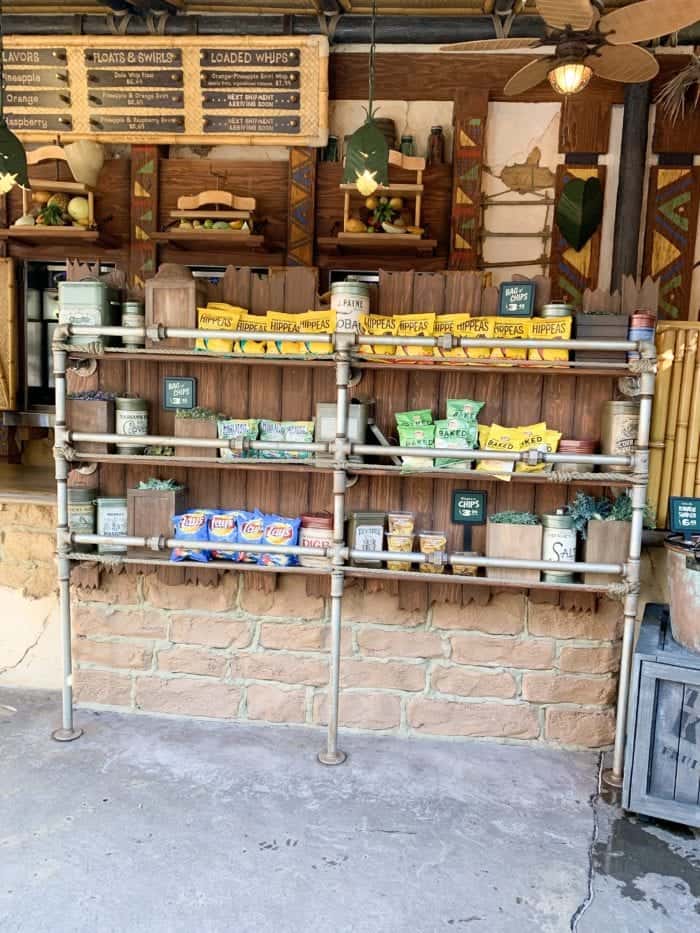 As you continue walking through the line, you have some other snack options to grab such as bags of chips and fruit.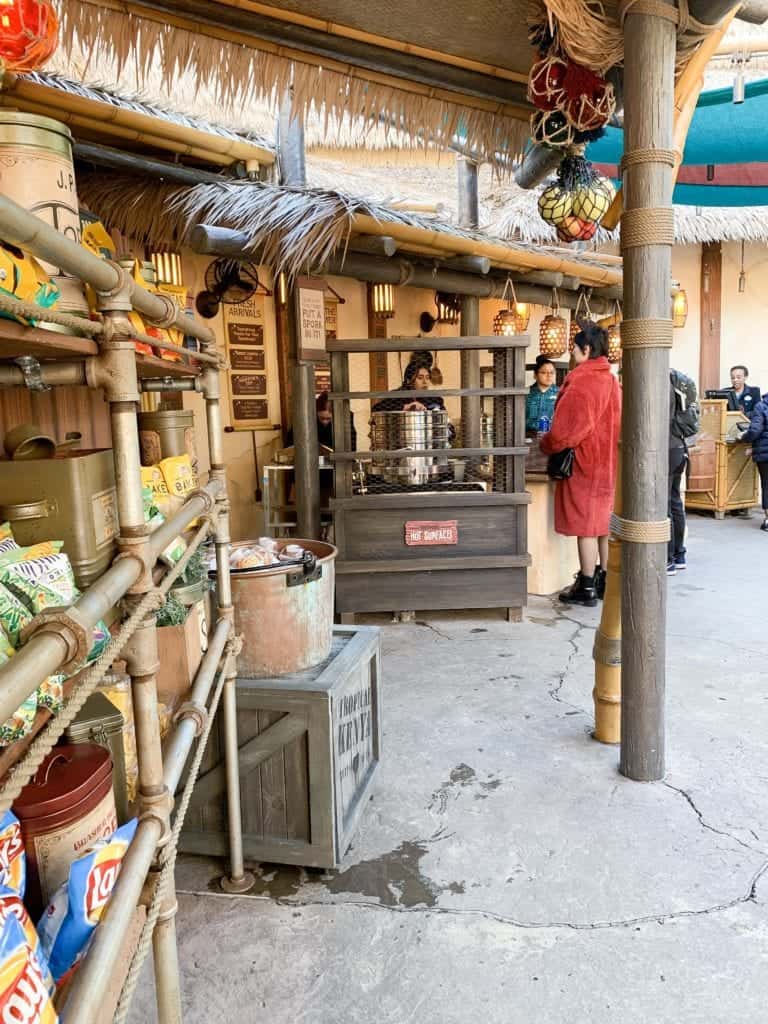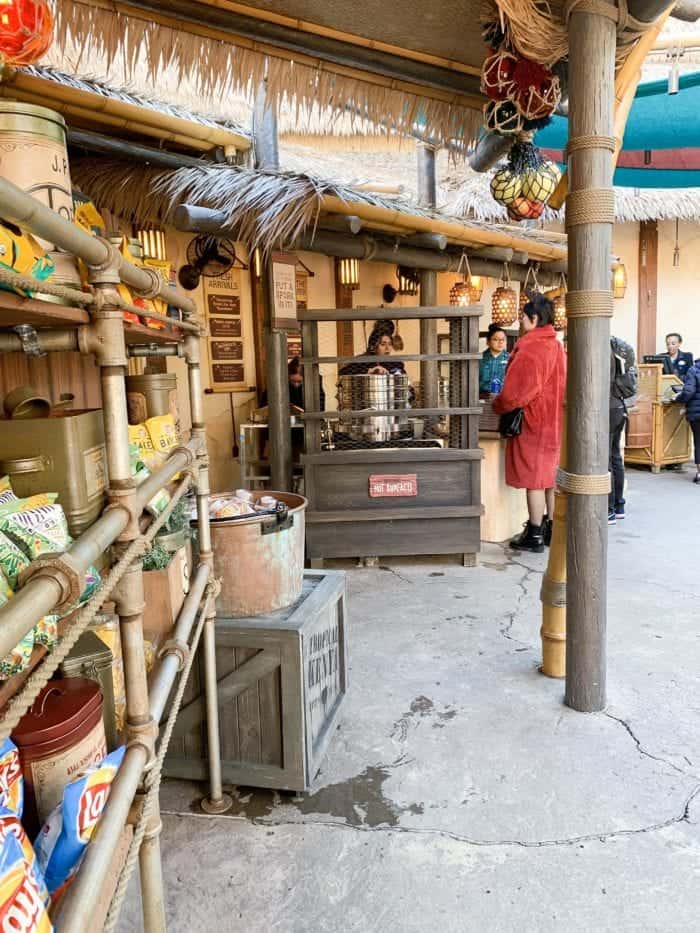 You can see the line is nice and open. Guests can stop at a few spots to grab bites to eat.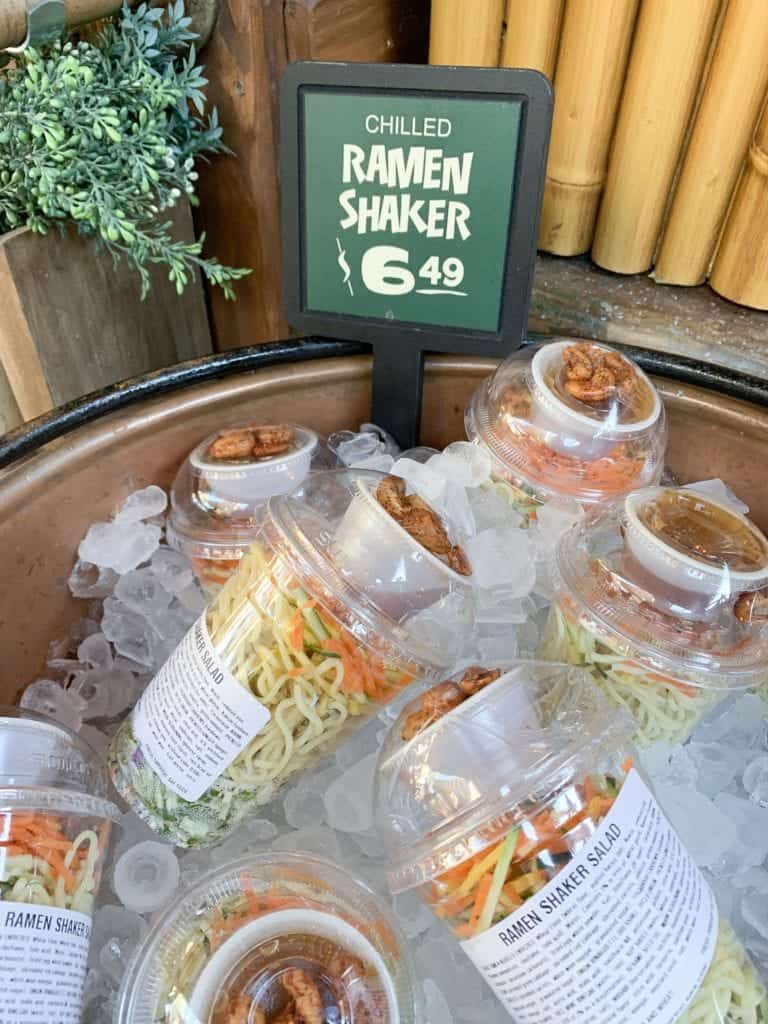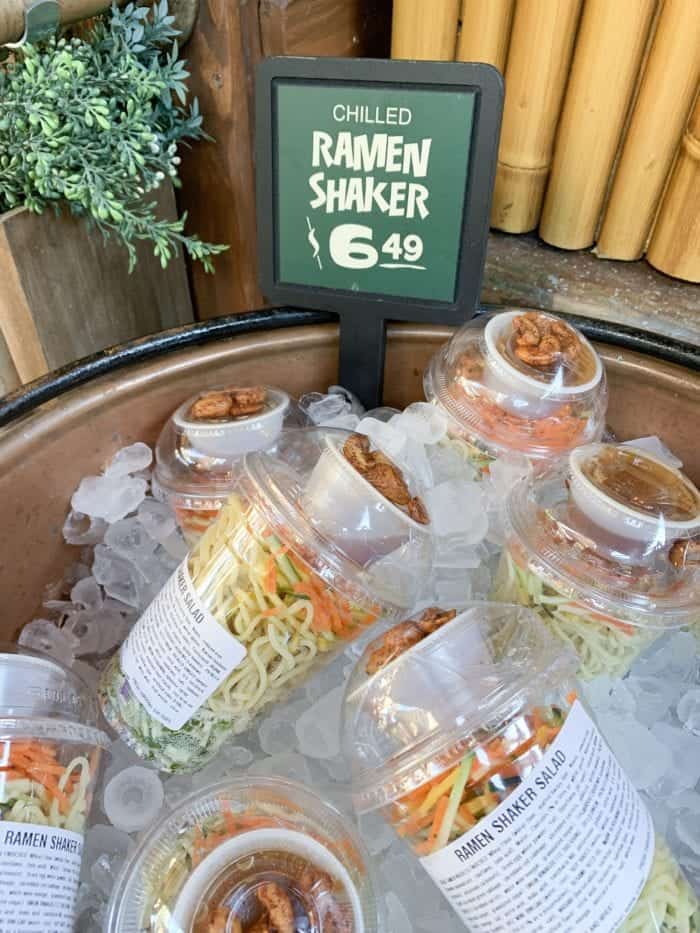 Near the bags of chips, there is a cold bucket with the Ramen Shaker Salads to pick up.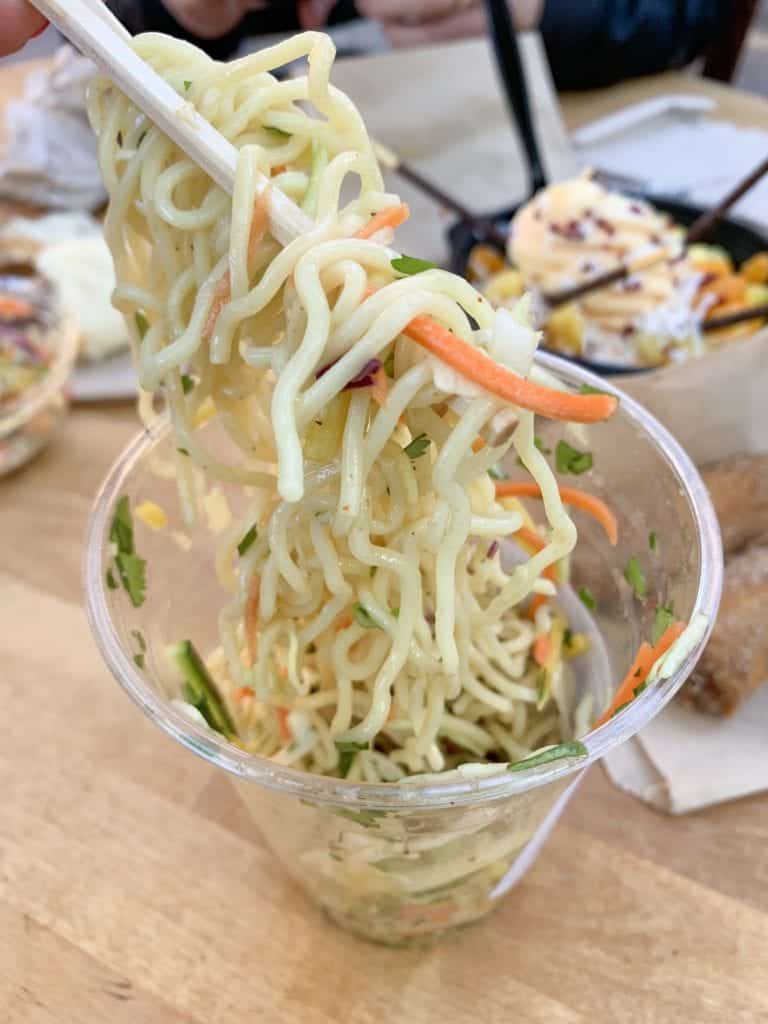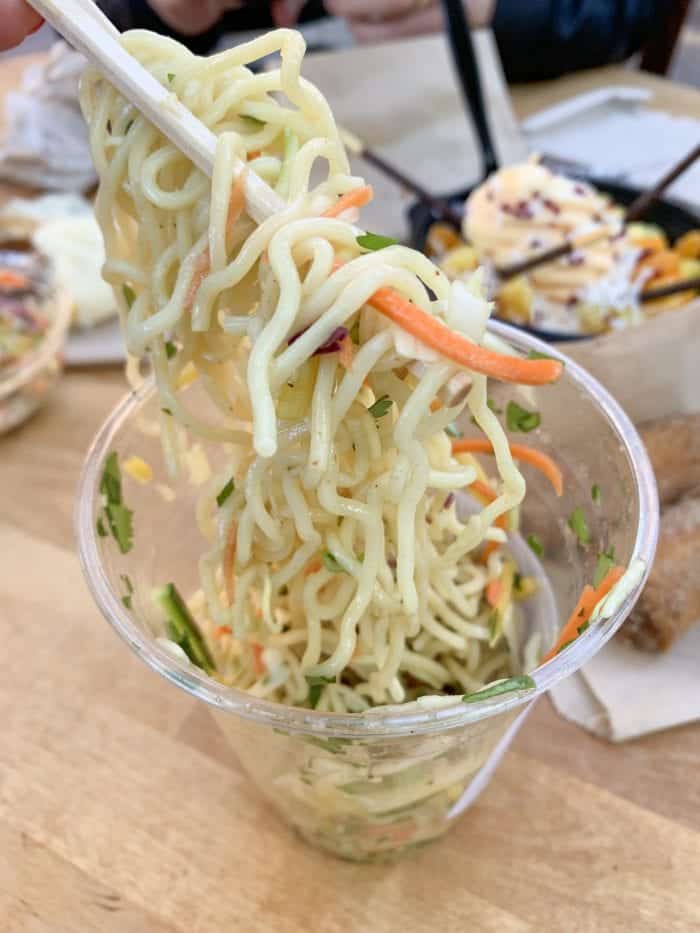 You pour your dressing over top, put the lid back on and shake it up! I actually really enjoyed this. It's super light and served cold. TIP: We added a good tablespoon of the spicy red sauce that came with the Bao's we ordered and enjoyed it even more.
Bao Section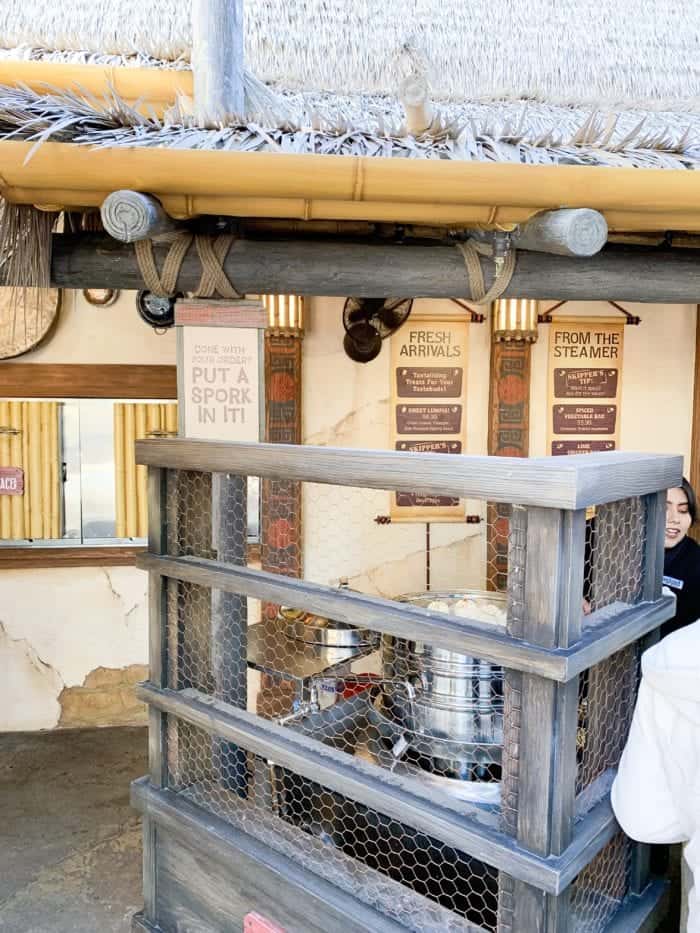 The end of the line is where you have your choice of 3 Bao options. The Spiced Vegetable Bao, the Lime Chicken Bao, and the Bulgogi Beef Bao. See my notes below about what we thought about each Bao.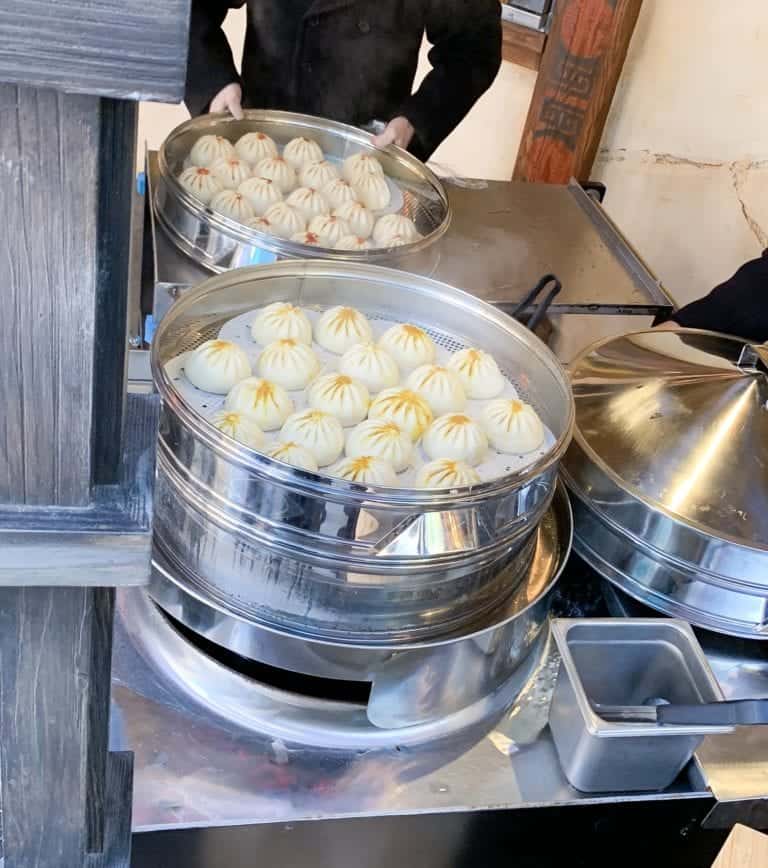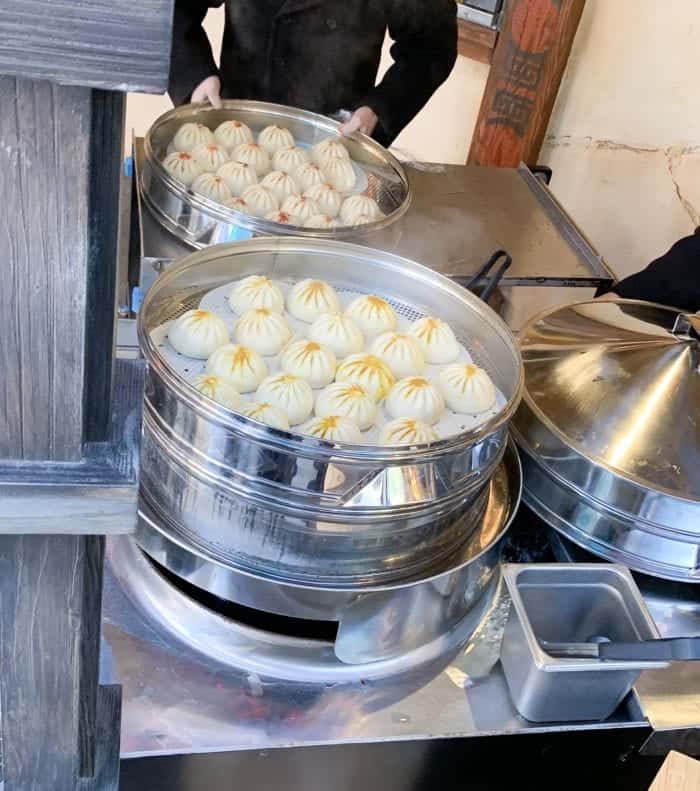 They're all held in large steamers and you tell the CM which ones you'd like.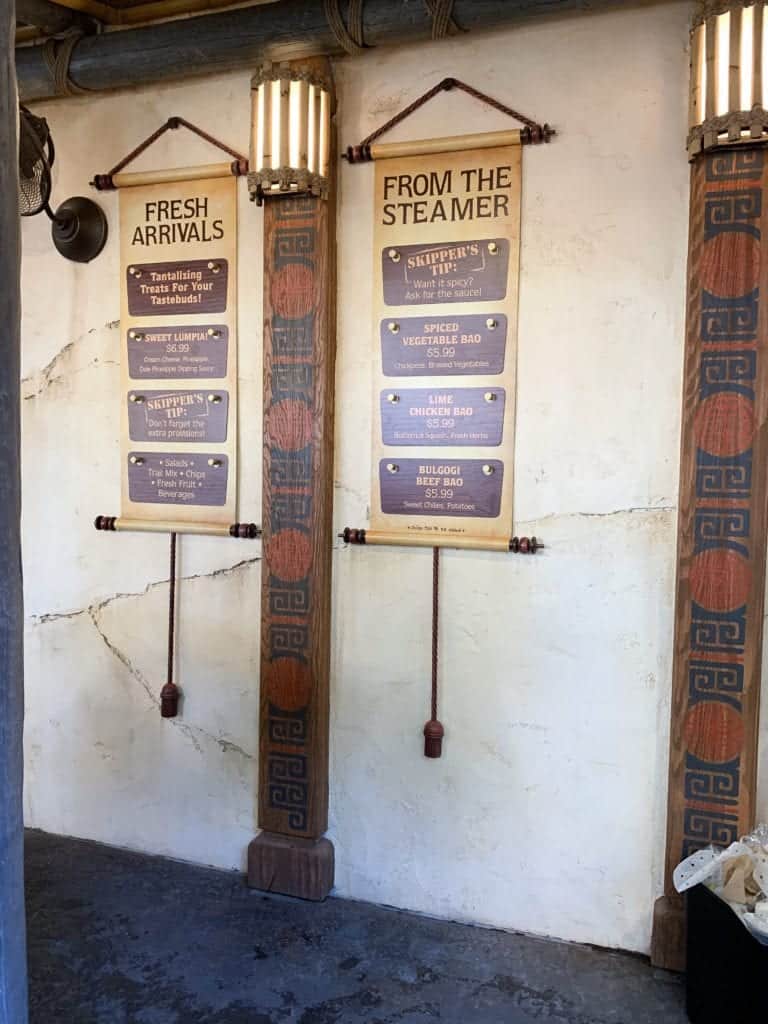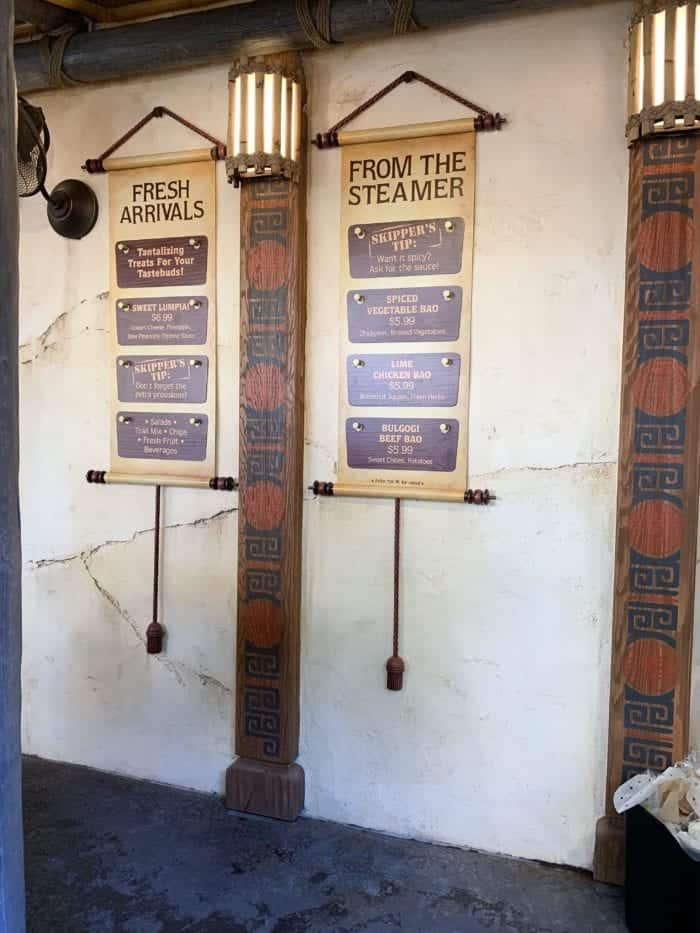 Here's a closer look at the menu board.
Quick Checkout Area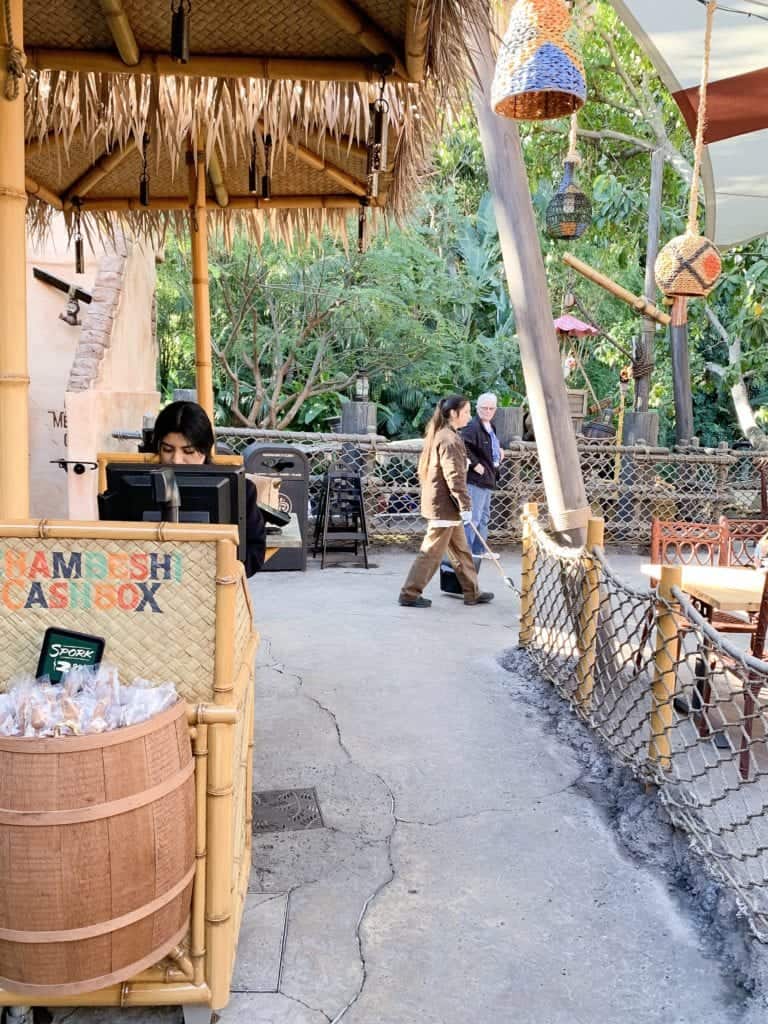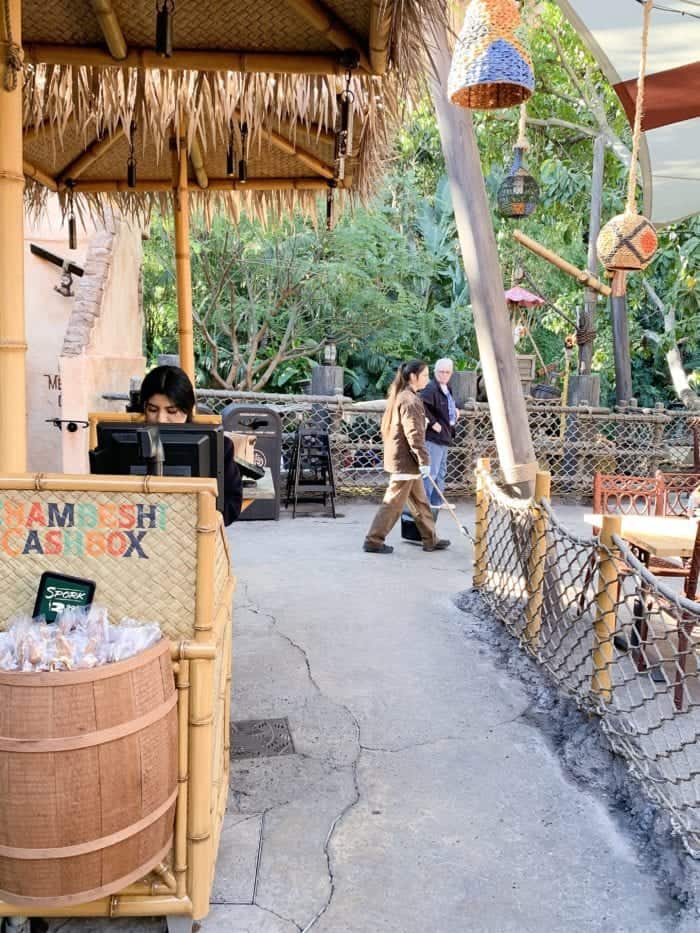 Once you have your food items on your tray, you take it to one of the checkout registers.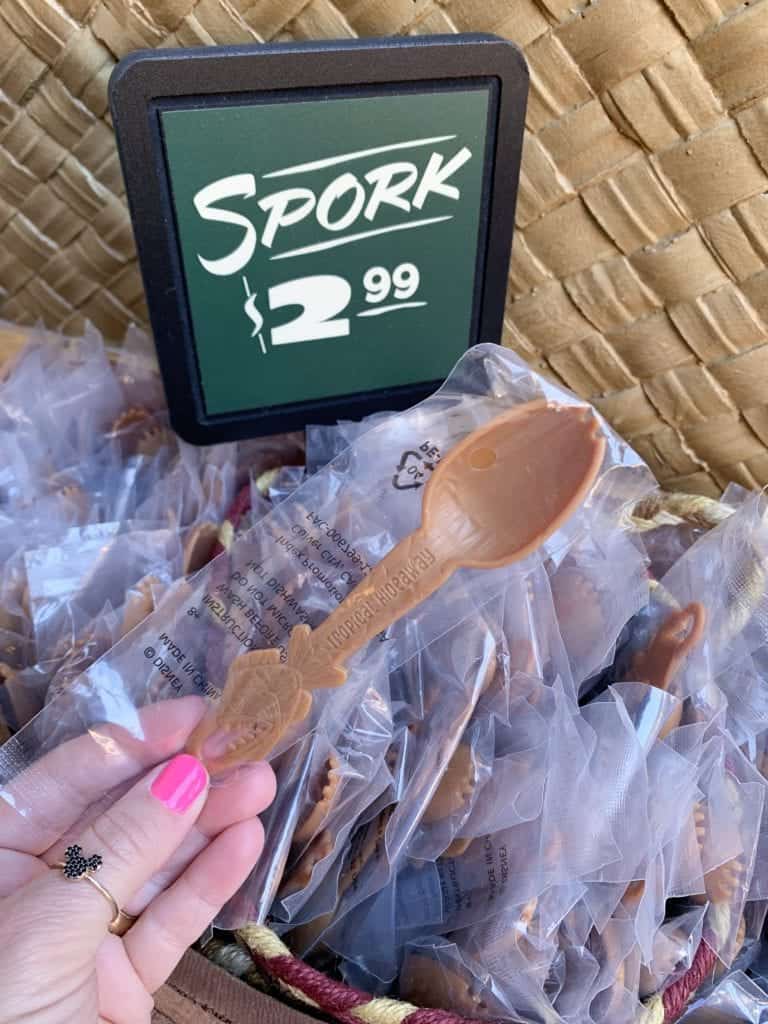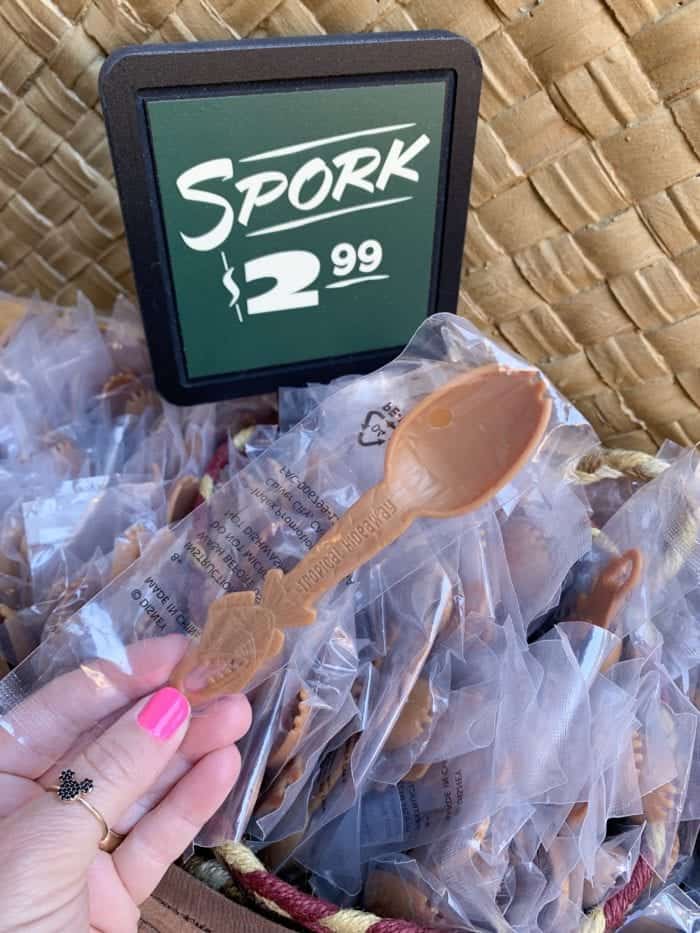 Located by each of the registers are these plastic "sporks" available for purchase.
Rosita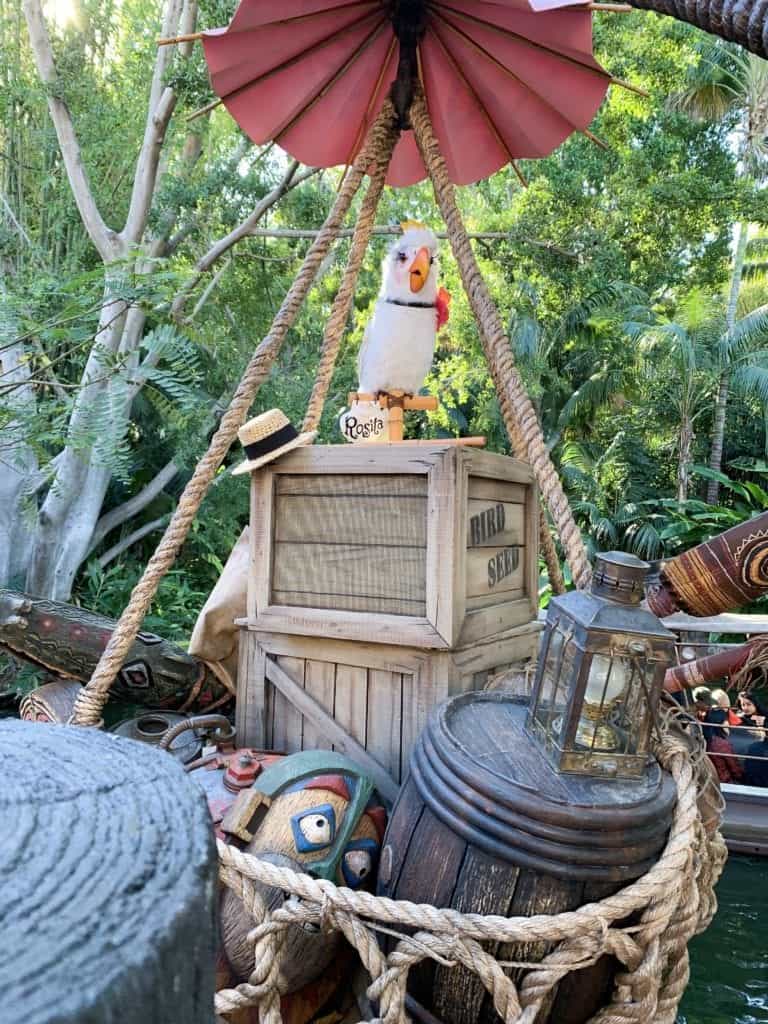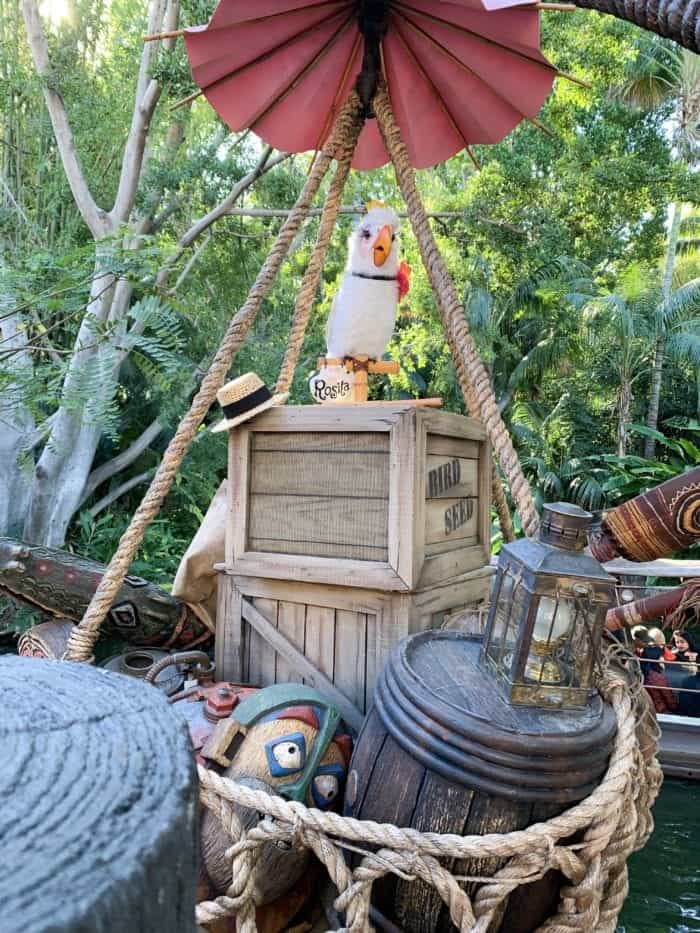 Right past the registers, you can go visit Rosita, the cutest little Parrot! She moves and talks every now and then. This is also a great spot to watch the Jungle Cruise Boats go by.
The Tropical Hideaway Seating Area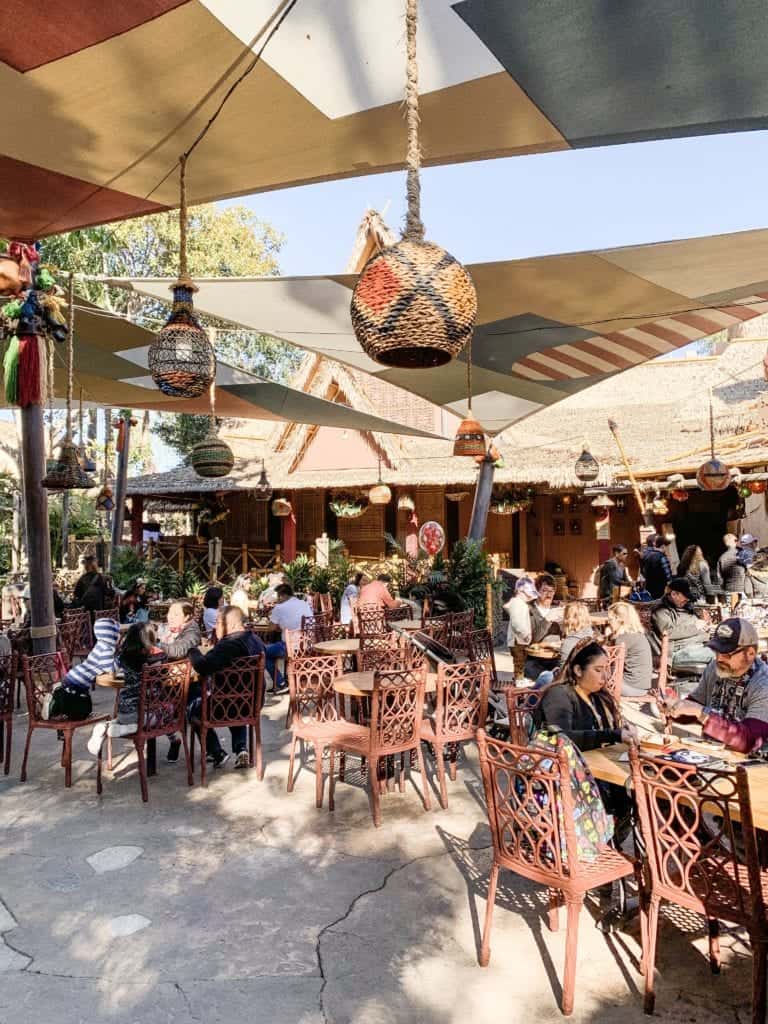 Here's another look at the open seating near Rosita looking towards the service line.
The Food!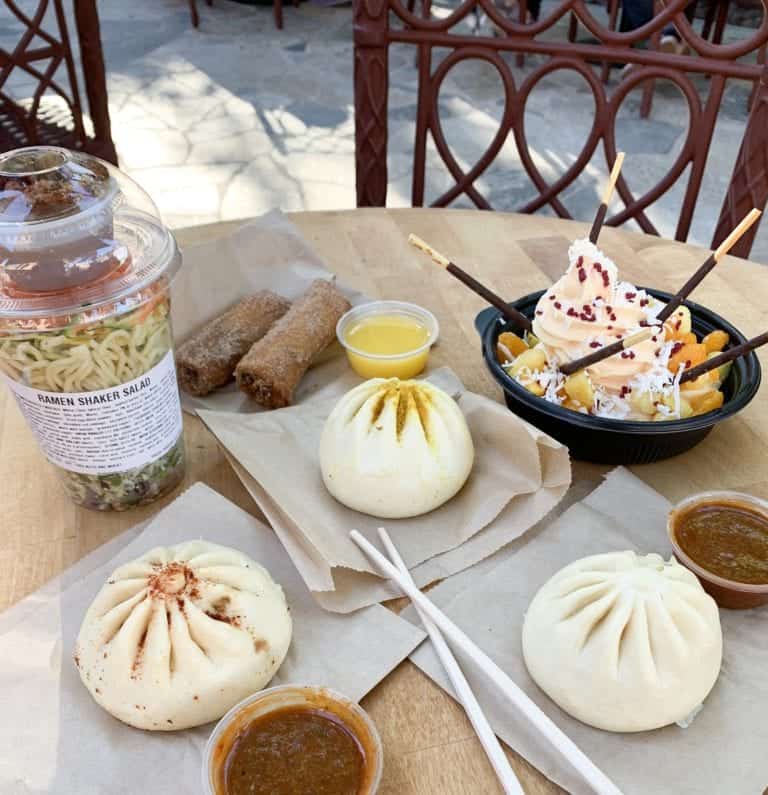 We ordered just about one of everything to sample. How fun is this spread?!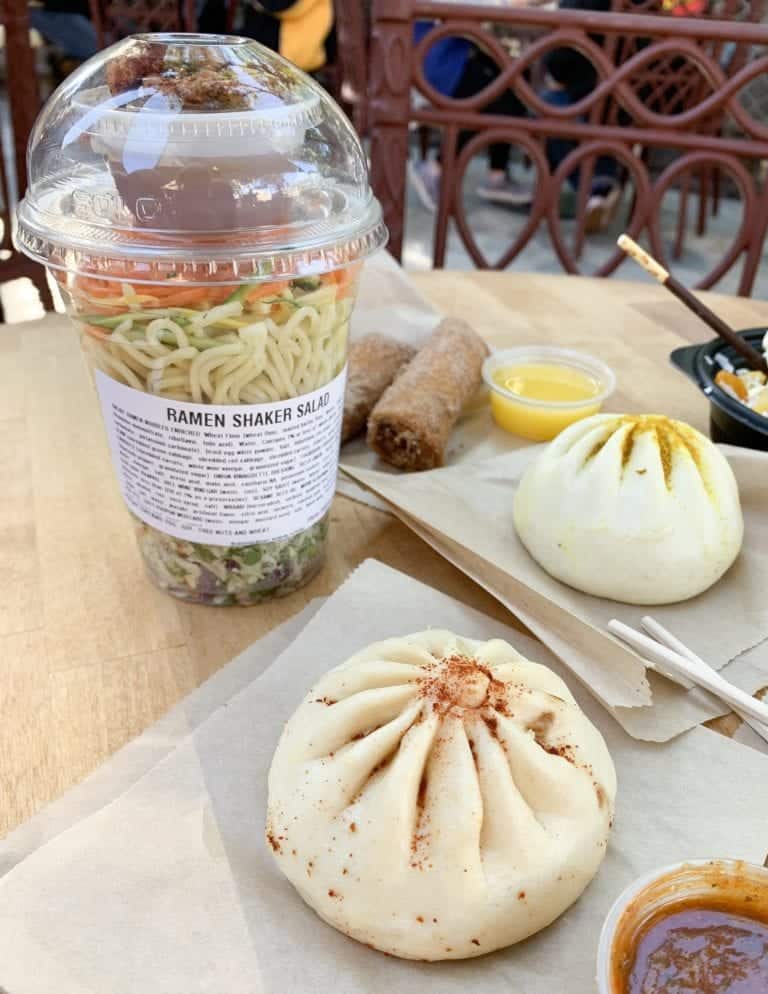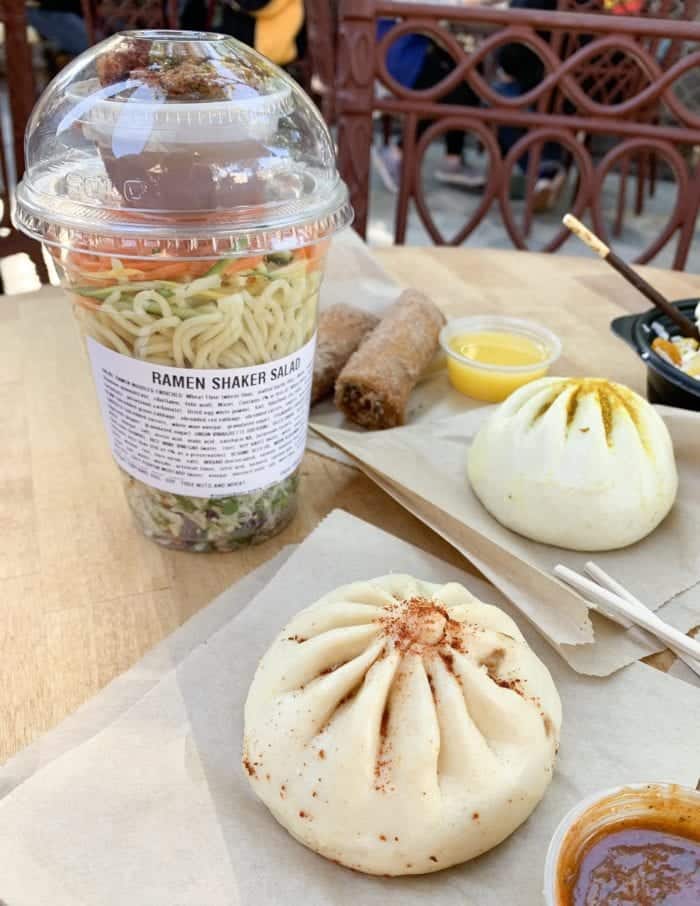 The Ramen Shaker Salad was good. Not mind blowing, but a good option if you're looking for a light bite to eat. The dressing isn't overpowering and we preferred adding a good tablespoon of the red sauce to the salad. Gave it a little spice.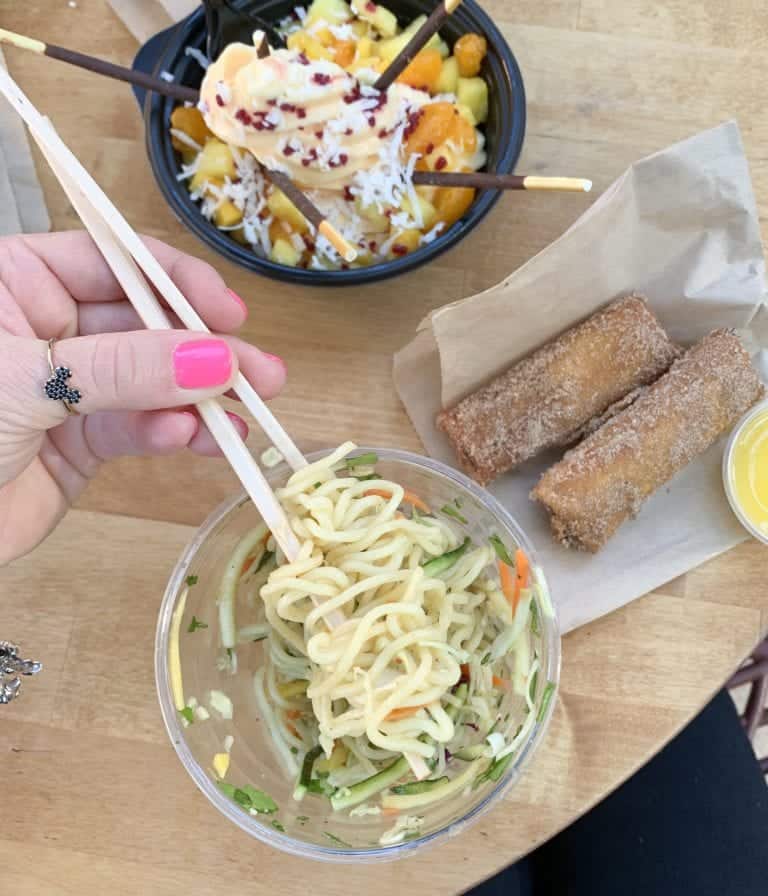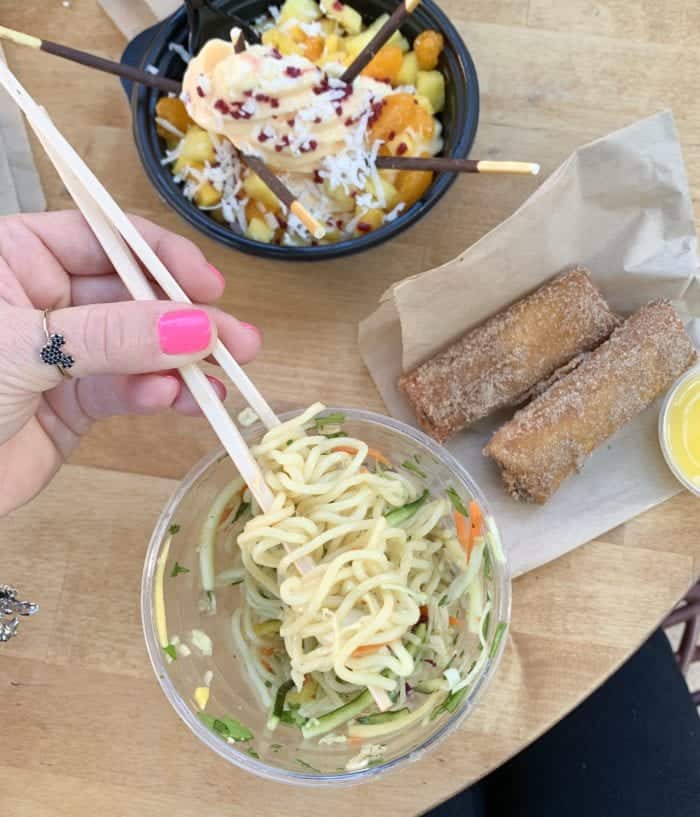 I used chopsticks for my ramen, but you can also grab a fork if you prefer.
Lime Chicken Bao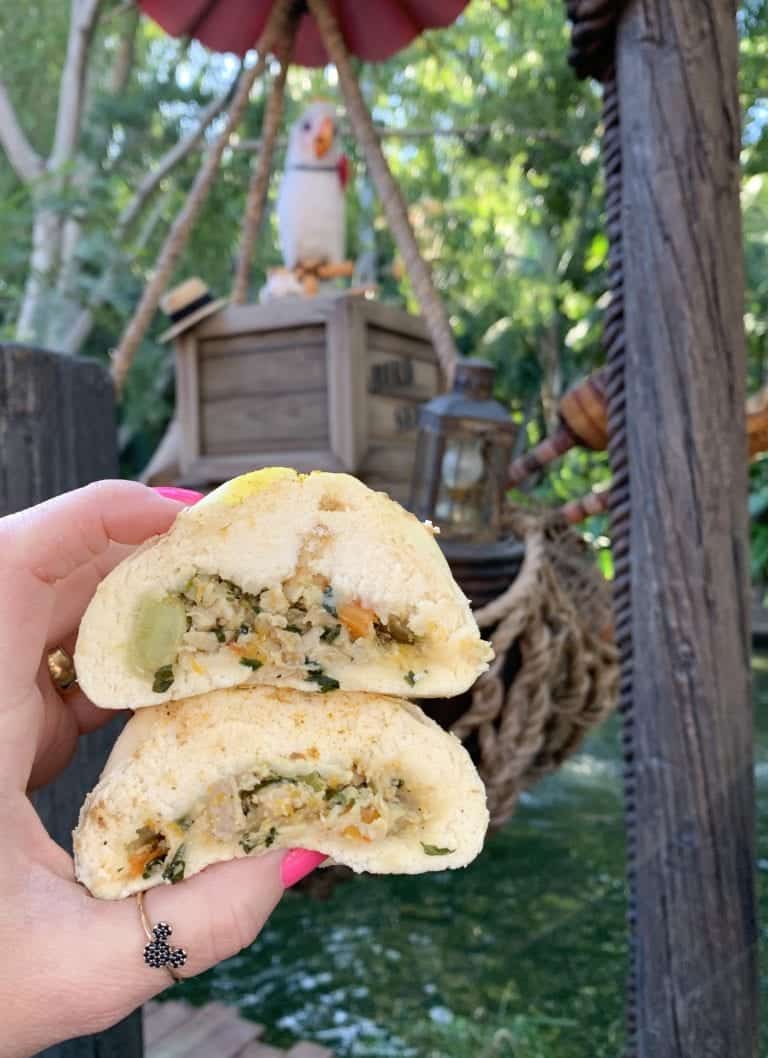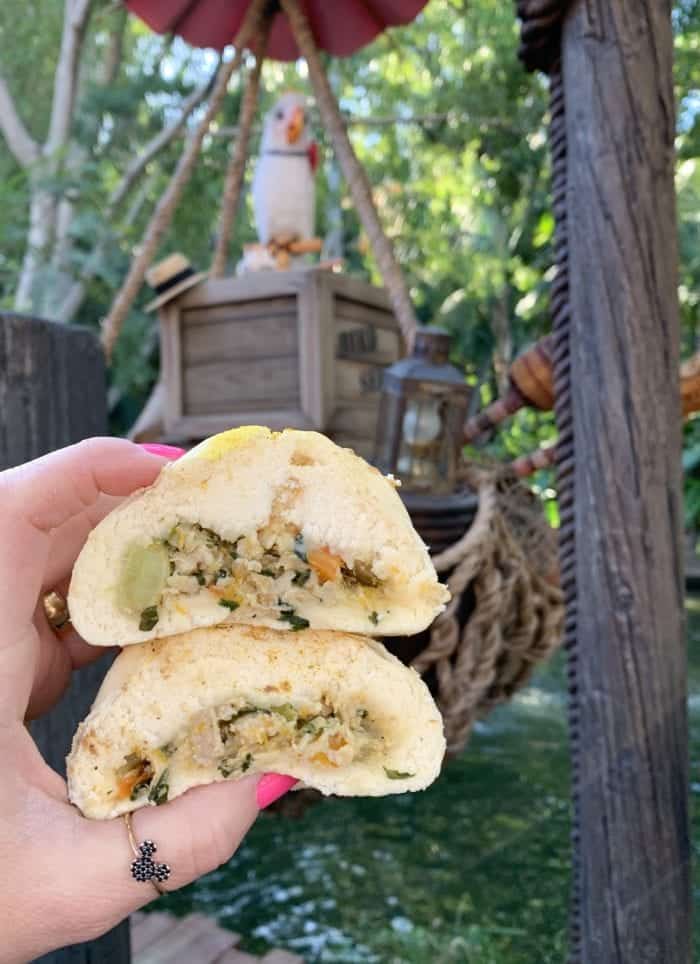 The Lime Chicken Bao was good. It has butternut squash and fresh Herbs inside. Really good with the spicy red dipping sauce.
Spiced Vegetable Bao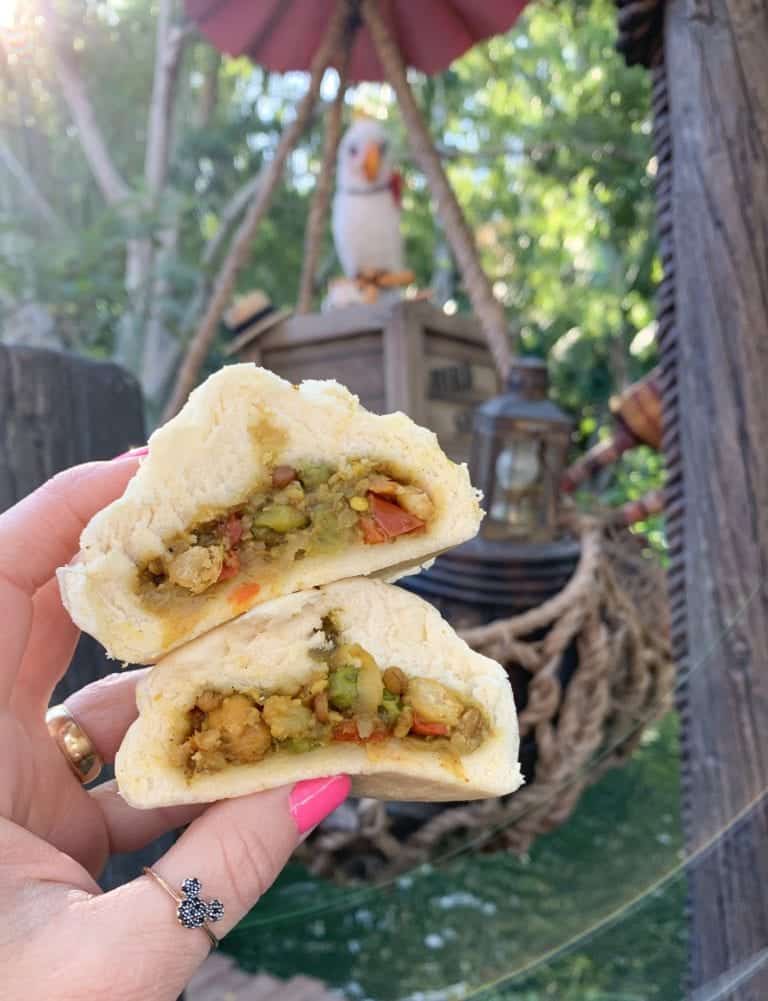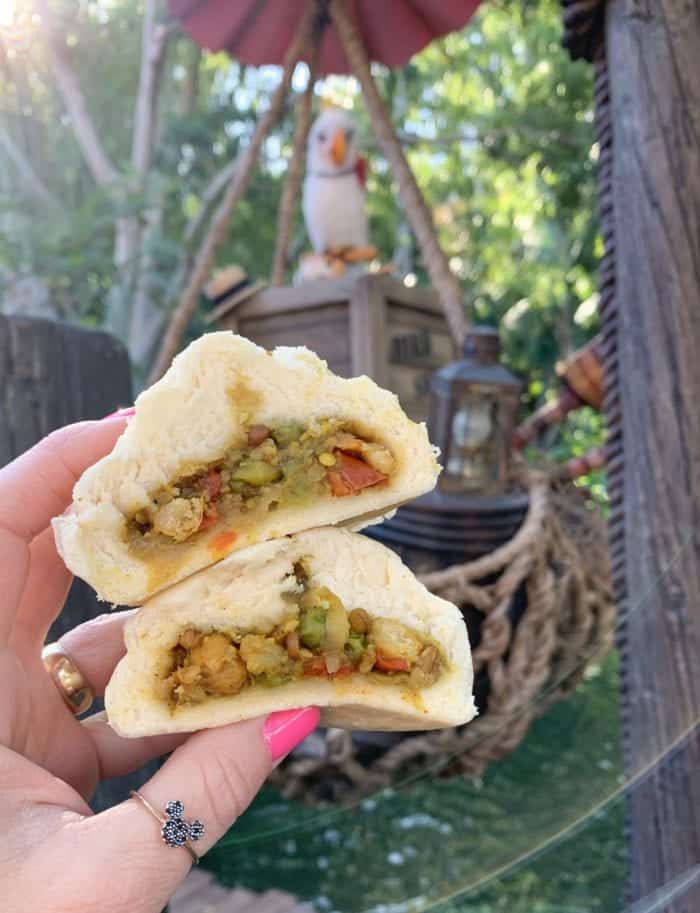 The Spiced Vegetable Bao was my least favorite of the 3, but with the spicy red dipping sauce it was good. It has Chickpeas and braised vegetables inside. A great option if you are looking for a vegetarian option.
Bulgogi Beef Bao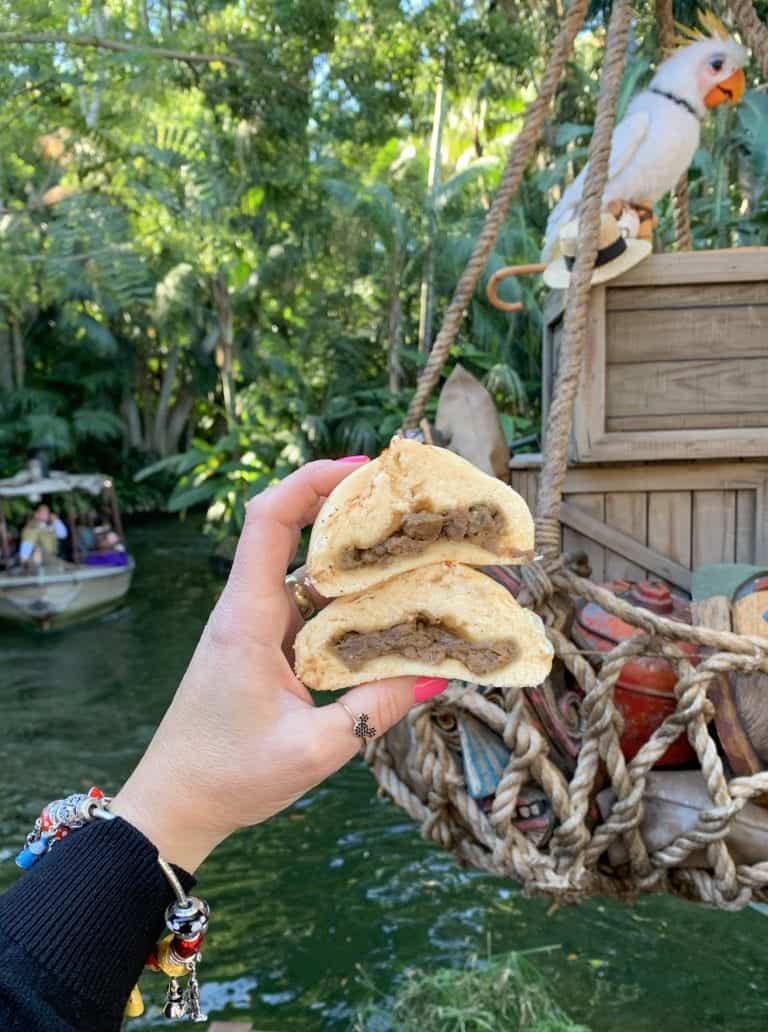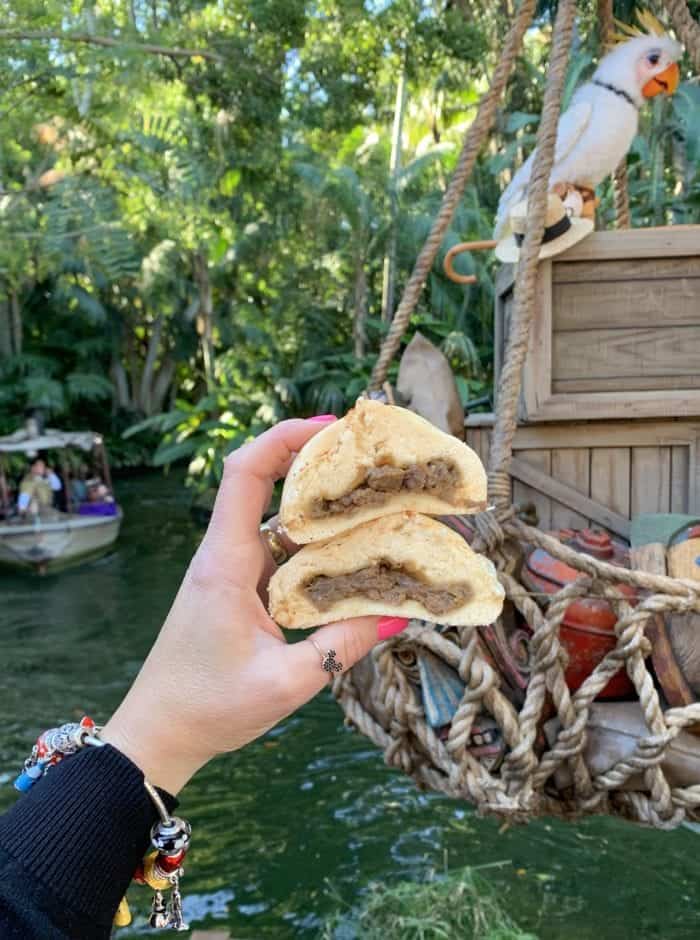 The Bulgogi Beef Bao was my favorite of the 3 Bao's. It's got sweet Chilies and potatoes inside with the beef. Again, I liked this one with the spicy red dipping sauce, but this one was even good without.
Sweet Lumpia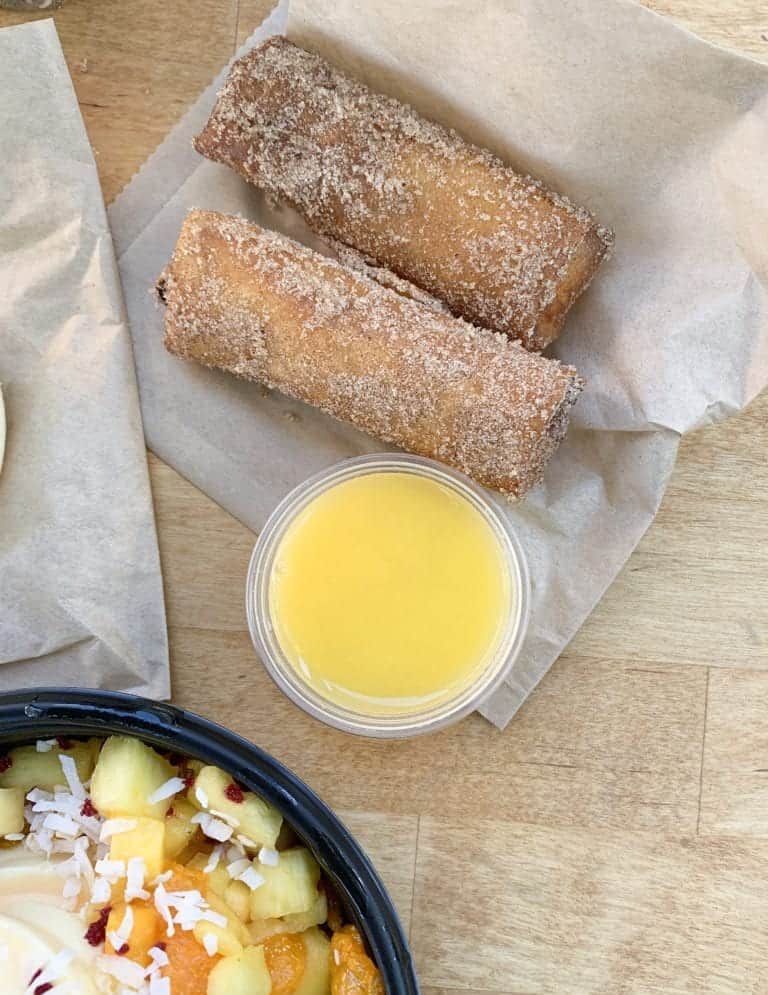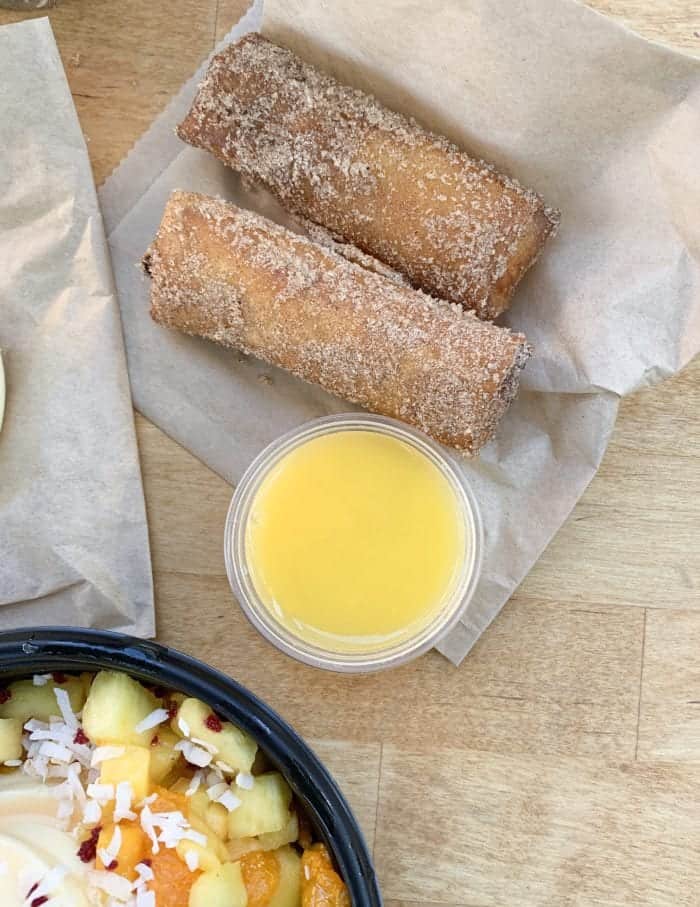 Another option for dessert is this Sweet Lumpia. Inside is cream cheese, Pineapple and DOLE® Pineapple Dipping Sauce. This was good! Didn't blow my mind, but I enjoyed the few bites I tried.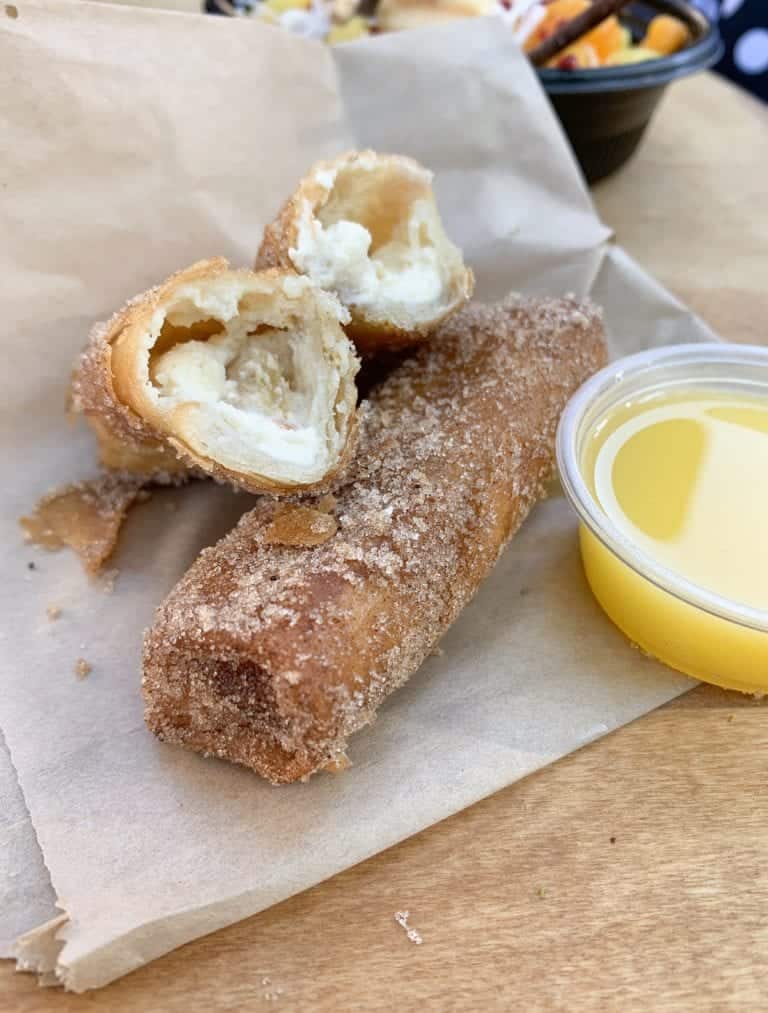 Here's a peek inside. I liked the crispy cinnamon sugar on the outside.
Overall Thoughts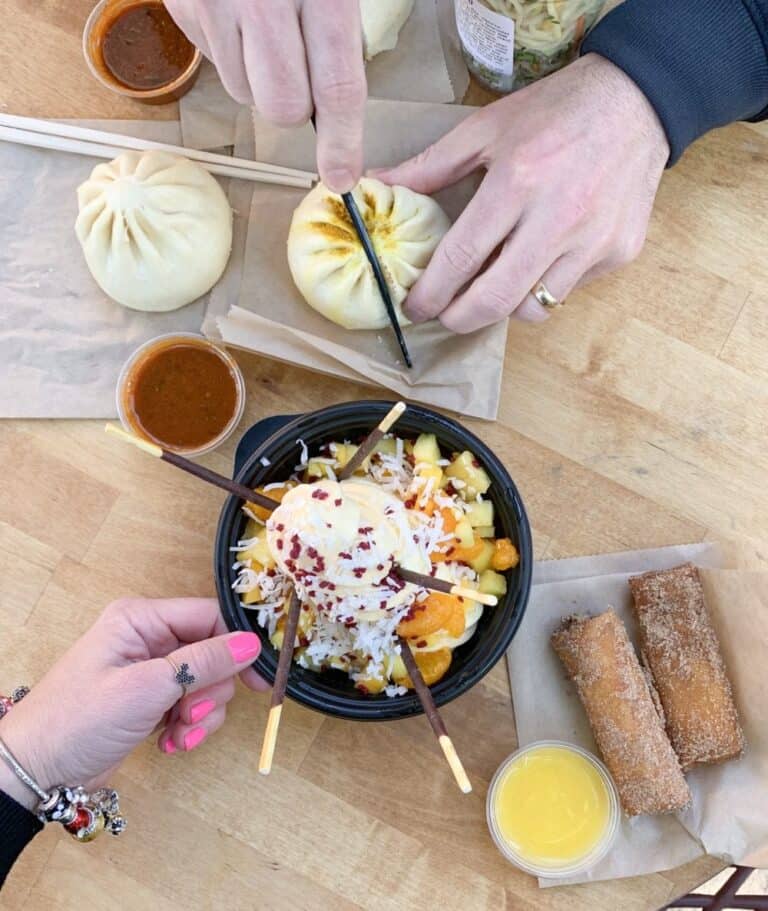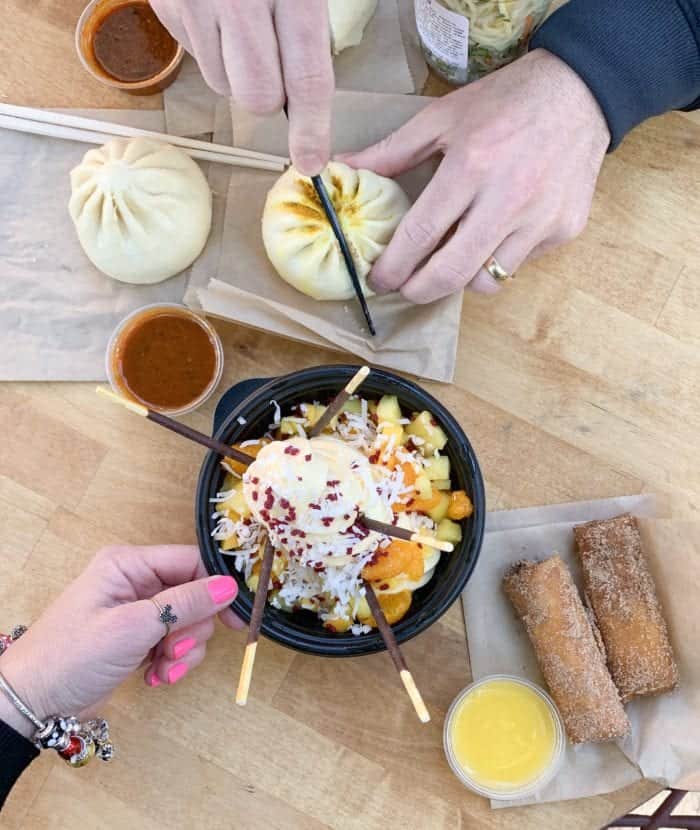 The Tropical Hideaway is FANTASTIC! I honestly enjoyed everything on the menu. The atmosphere is relaxing, feels totally tropical and is nice and tucked away in the corner. I highly recommend enjoying The Tropical Hideaway during your next visit.
My Favorites:
The Bulgogi Beef Bao
The Ramen Shaker Salad (with red sauce from Bao added)
Loaded Whip for dessert
Be sure to follow Disney Hungry on Instagram for the BEST EATS at Disneyland Resort! For more Disneyland Resort Restaurant Reviews go HERE.
Pin The Tropical Hideaway Review!