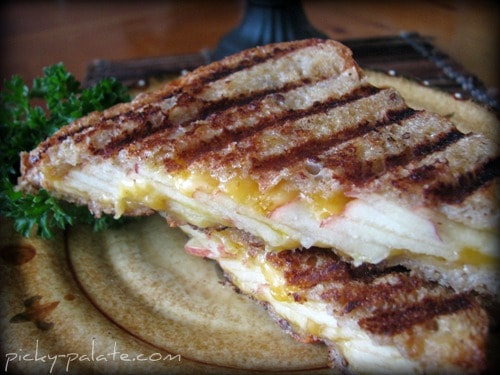 Good Thursday! How exciting we've got a nice long weekend coming up. You better believe the boys and I will be hitting up Disney!
Last week for lunch, I decided to put apple slices in my grilled cheese. I couldn't imagine it tasting good, but I've always heard about the whole apple/cheddar combo being really tasty. To my surprise, it's fantastic! You don't believe me? Take 5 minutes and make one for yourself!
Plus, there's apples inside, so it's still considered healthy cooking right?!! I'll say yes 🙂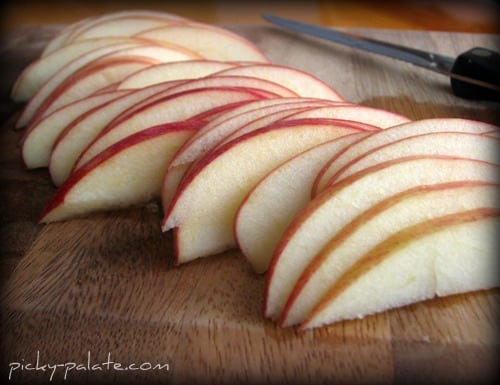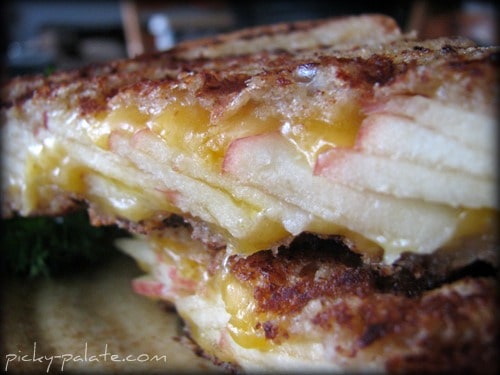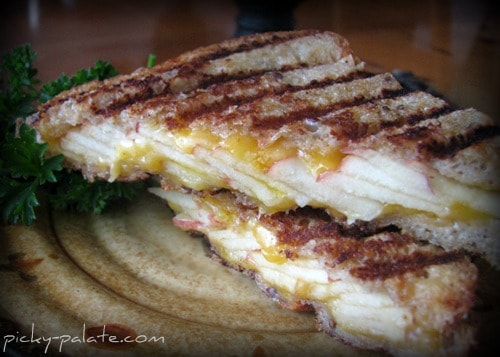 Toasted Whole Grain Apple Cheddar Panini
2 slices Whole Grain Wheat Bread, lightly buttered on 1 side each (Love the Alpine Valley Loaf from Costco)
1/2 Gala apple, sliced almost paper thin, see pic of apples above
1/4 Cup shredded cheddar cheese, Tillamook works wonders here 🙂
Side of Dijon Mustard for dipping
1. Heat a small skillet or grill pan to get the panini look over medium heat. Place buttered side of bread #1 down in hot skillet. Layer bread with half the cheese, the apples then the remaining cheese. Top with bread #2, buttered side up. Grill for 1- 1 1/2 minutes per side pressing on sandwich (to get grill marks) until golden brown on each side. Remove, slice, dip in Dijon and EAT!
1 serving 🙂
__________________________________________
Have a terrific LONG Weekend, come back soon for more "healthy" cookin' over at Picky P!