Disney California Adventure Park's Pixar Pier is the BEST! Sharing Your Guide To Everything Pixar Pier!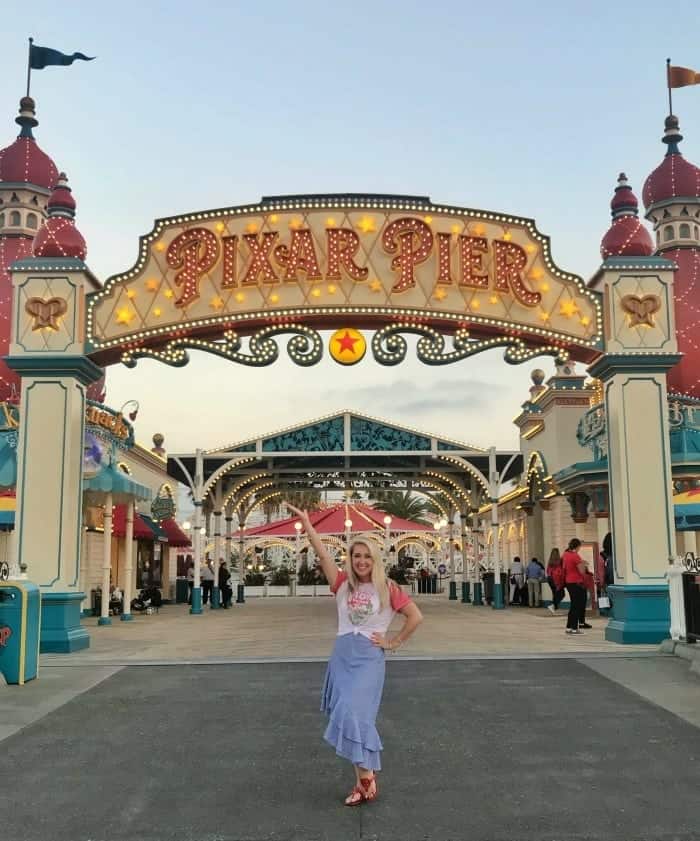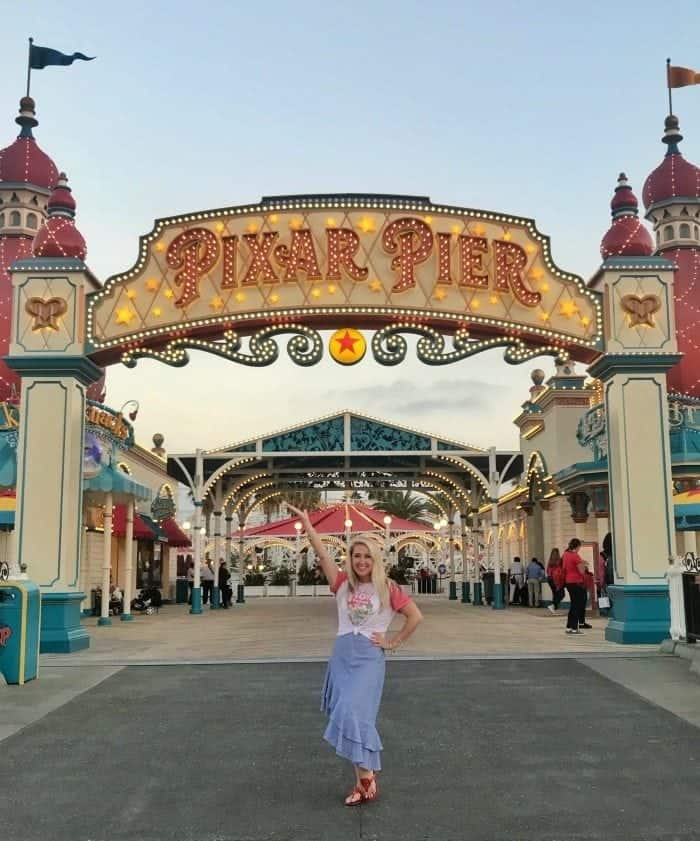 Pixar Pier
Can't say enough about Pixar Pier! Just got back from one of the best weekends I've had at Disneyland Resort yet. I attended the Media Event for the opening of Pixar Pier, so I was able to see and do everything a couple days before it opened to the public. So excited to share everything with you! There's lots to cover, my apologies in advance for the VERY long post 🙂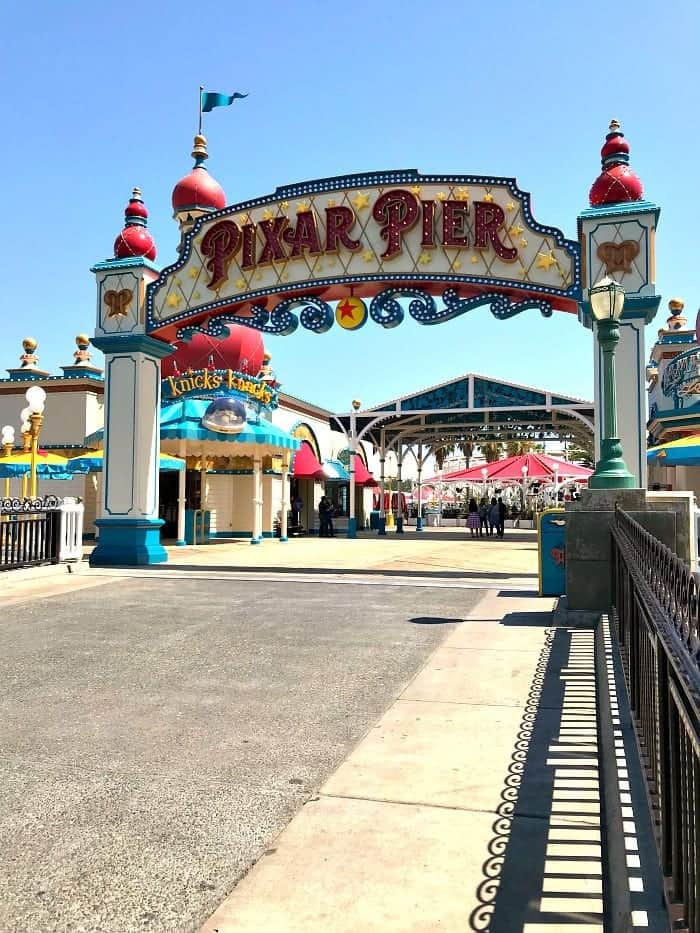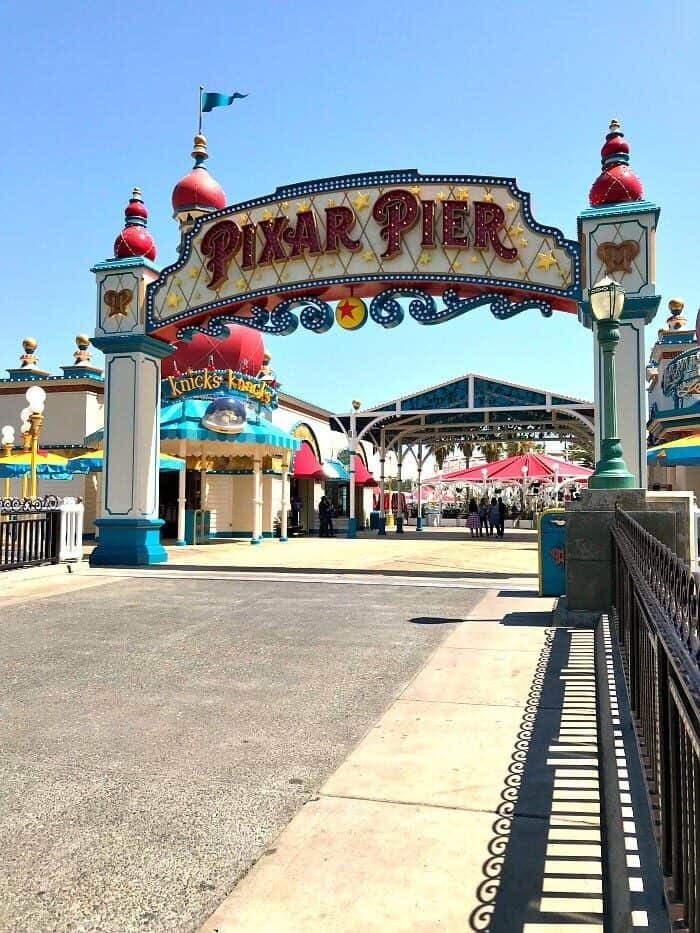 New Pixar Pier Sign
The new Pixar Pier Sign is whimsical, lights up in twinkling lights in the evening and makes you excited to see what's happening throughout the Pier.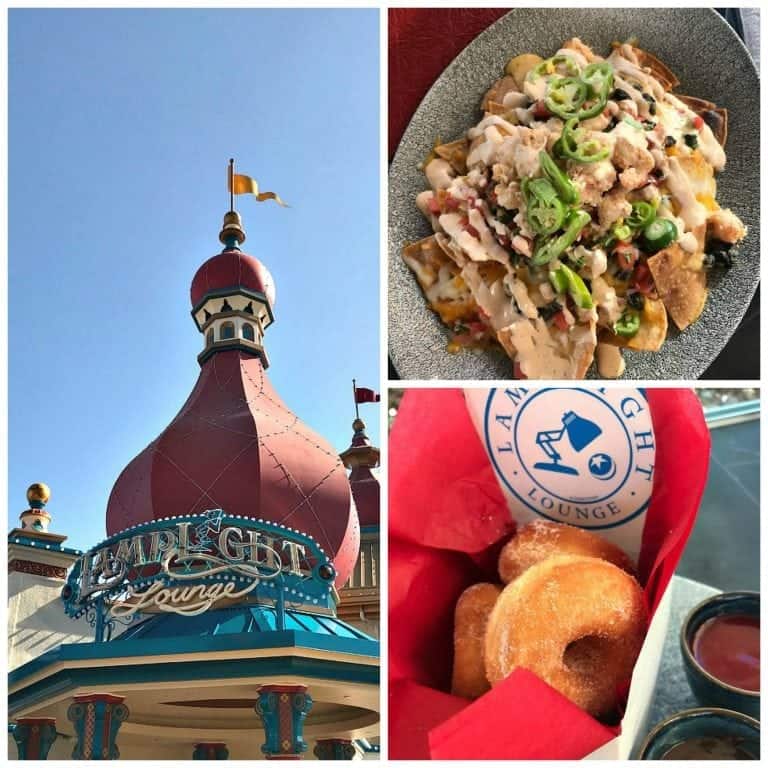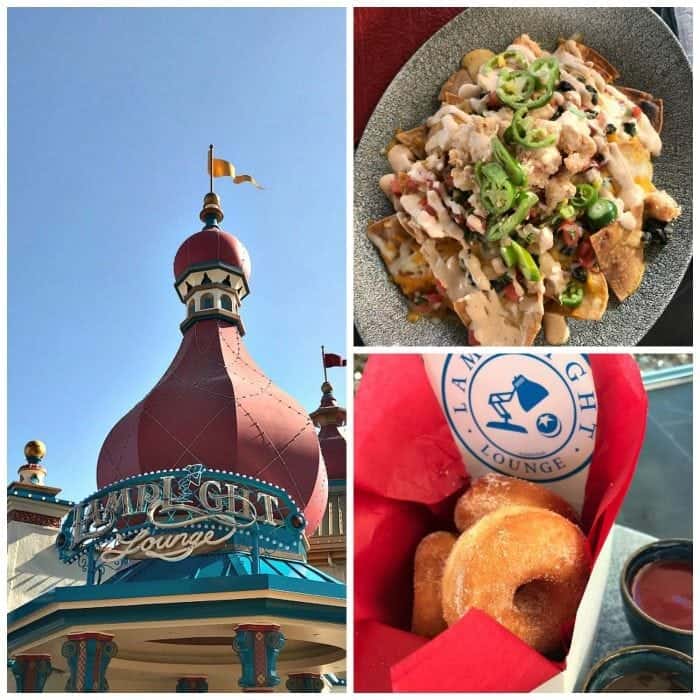 Lamplight Lounge
As you walk through the Pixar Pier sign to your right you'll find Lamplight Lounge! It is one of my new favorite Disney Restaurants. Find my full review of the restaurant HERE. The Lobster Nachos have stayed on the menu and you can't miss the Warm Sugared Doughnuts for dessert.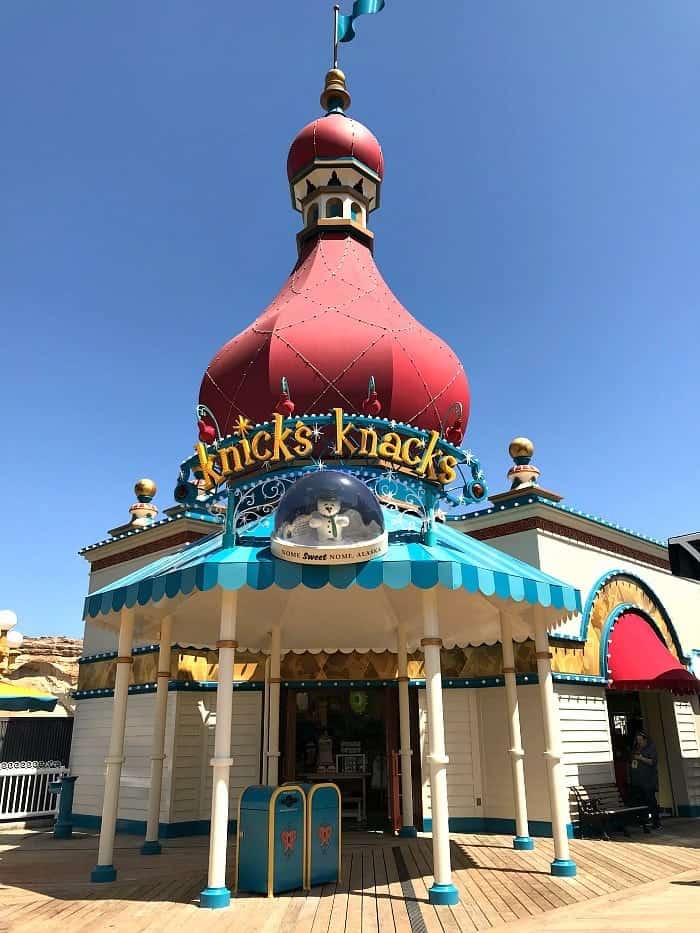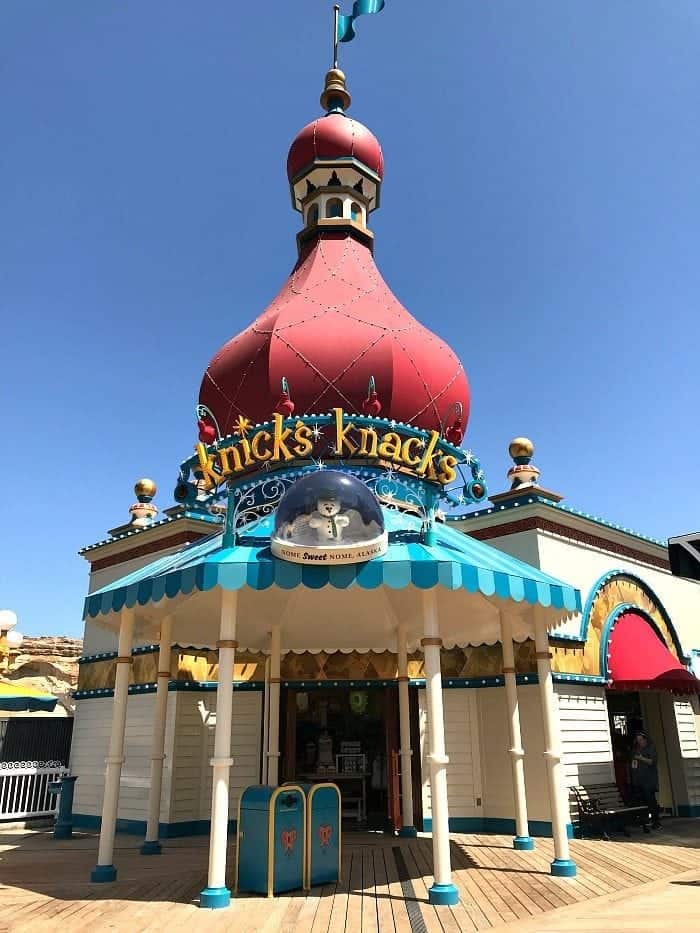 Knick's Knacks
As you walk under the sign, to the left you'll find Knick's Knack's. Inside is all kinds of amazing Pixar merchandise. You are sure to find something you'll love.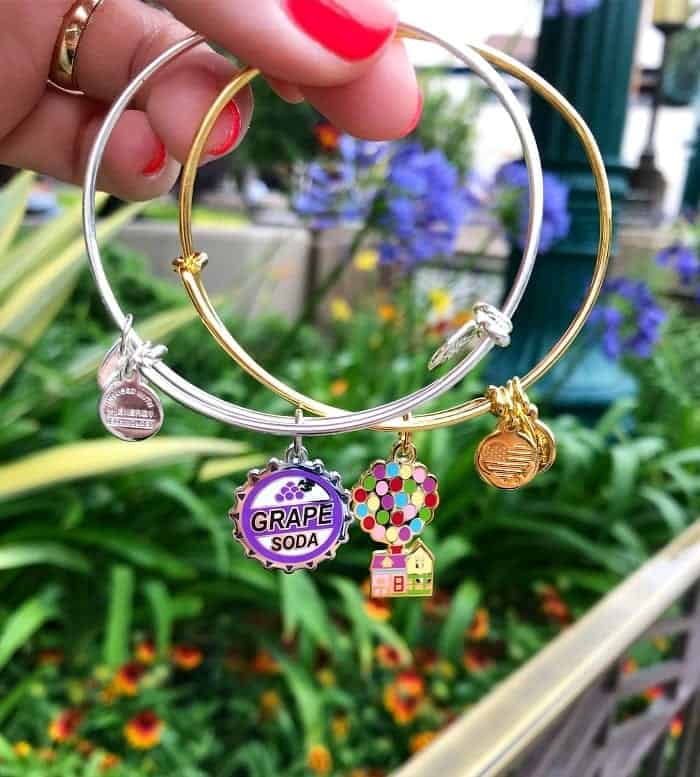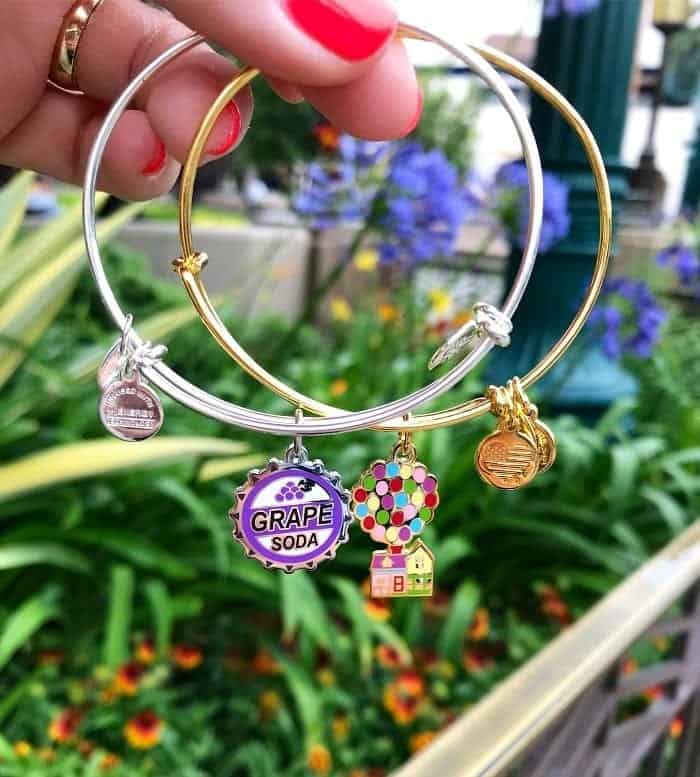 One of my favorite souvenirs I took home was the new Up movie inspired Alex and Ani bracelets. Find them at Knick's Knacks and Elisa and Co over in Hollywood Land. Also available at Disneyland Park's Emporium where they sell jewelry.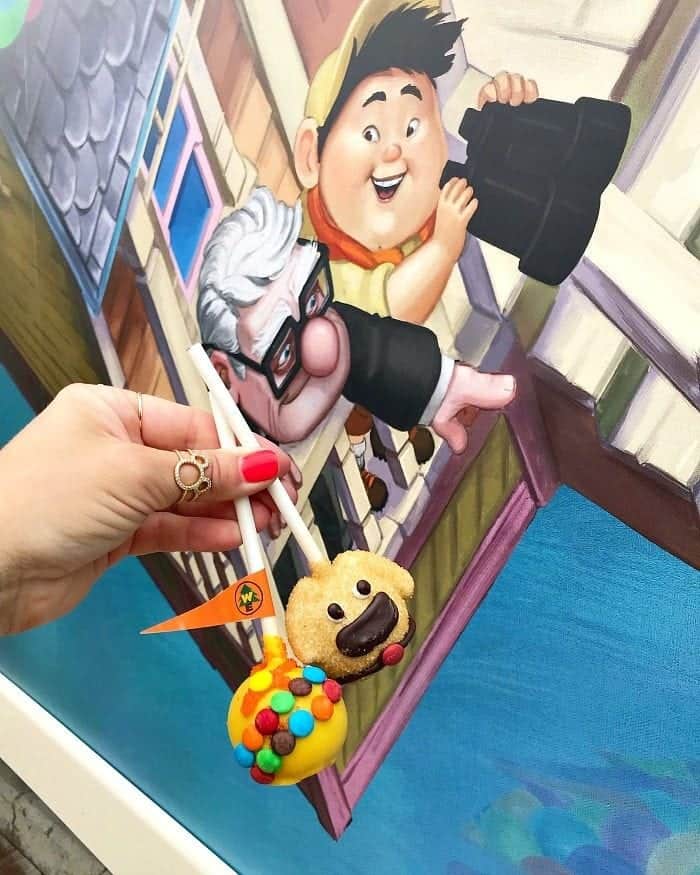 Up Cake Pops
Dug and Russell Cake Pops are brand new for the opening of Pixar Pier, found at Disneyland Park's Candy Palace on Main Street, U.S.A. They are the cutest!!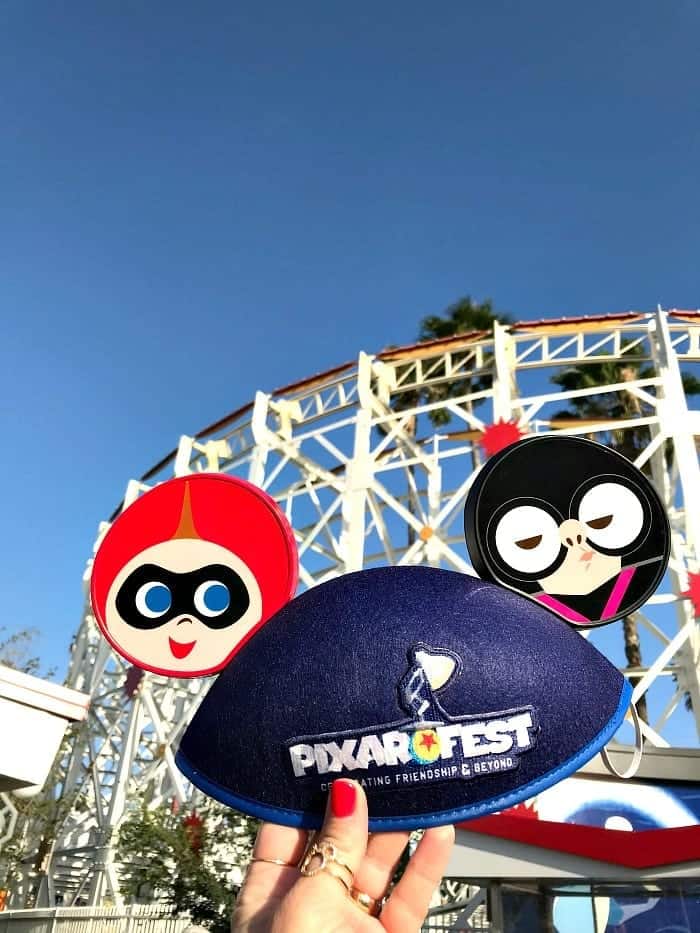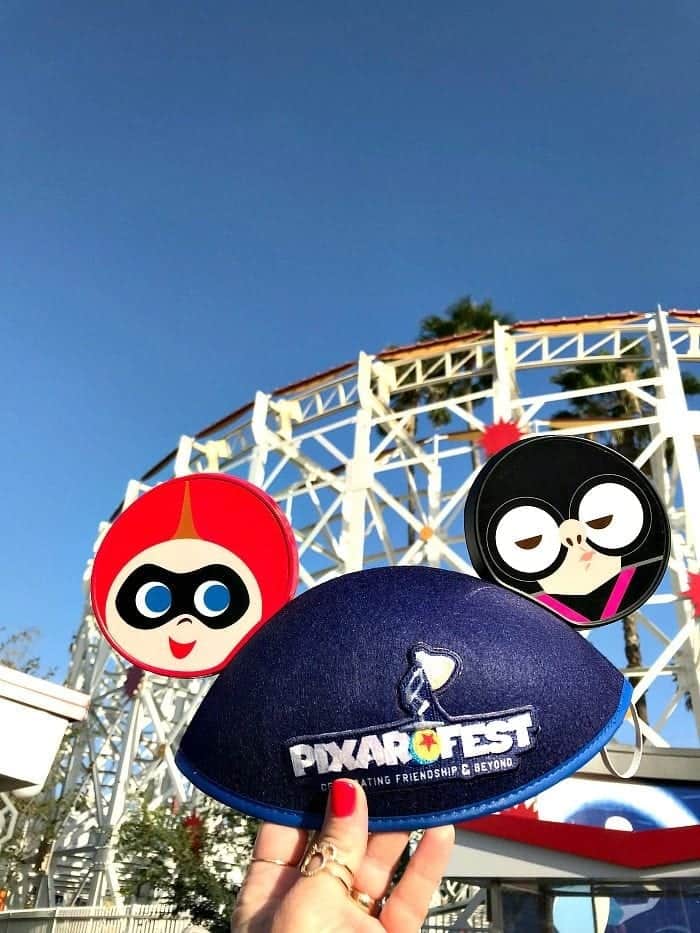 Incredibles Pixar Fest Hat was also available at Knick's Knacks for opening weekend. Super cute 🙂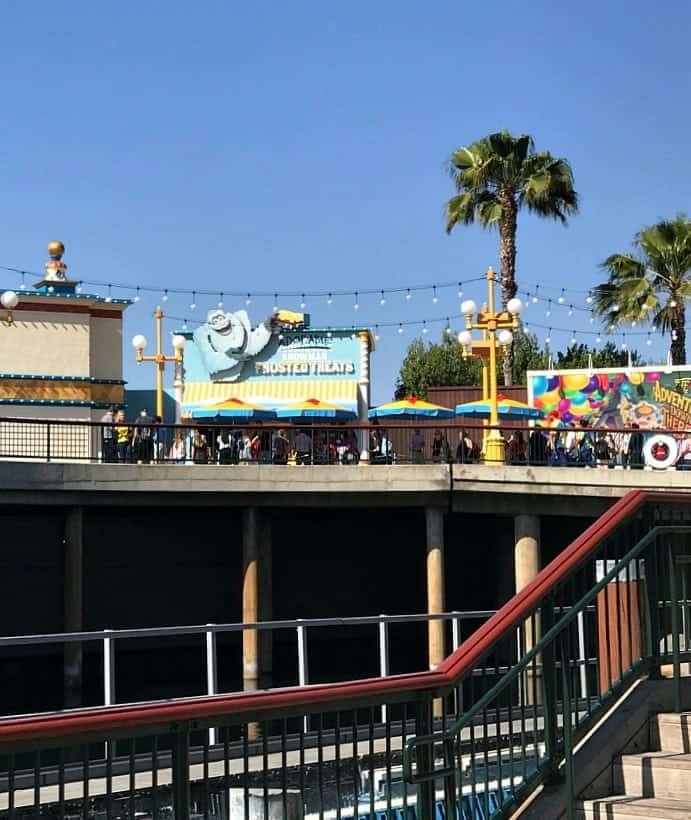 Adorable Snowman Frosted Treats
As you pass Knick's Knacks, you'll pass by Adorable Snowman Frosted Treats. This is a MUST! Especially for these hot Disney summer days. Delicious lemon soft serve treats.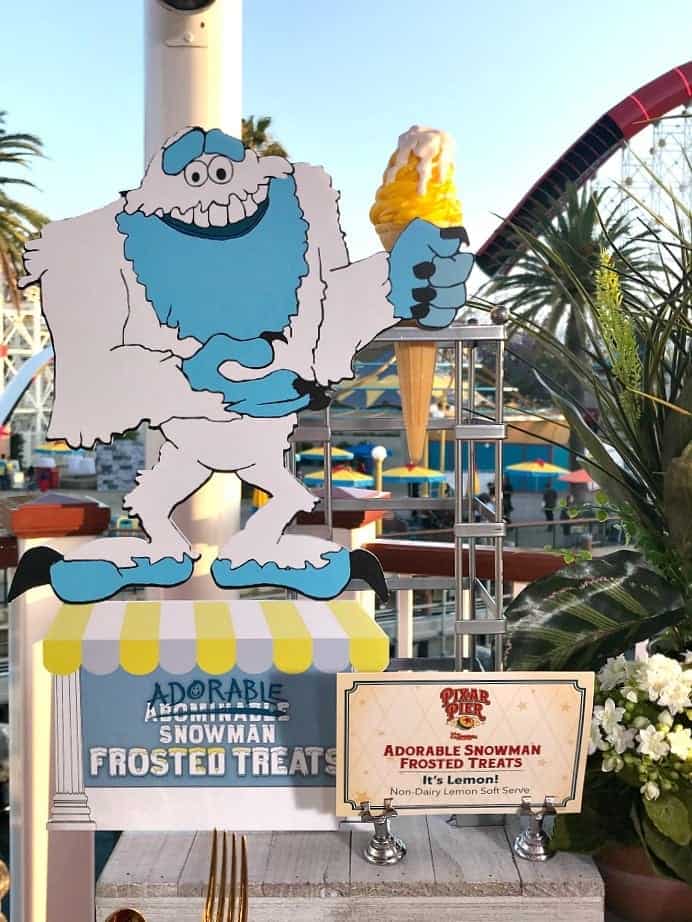 You can get the lemon swirl soft serve cone and add white chocolate drizzle to the top if you'd like. I prefer the lemon-vanilla swirl option.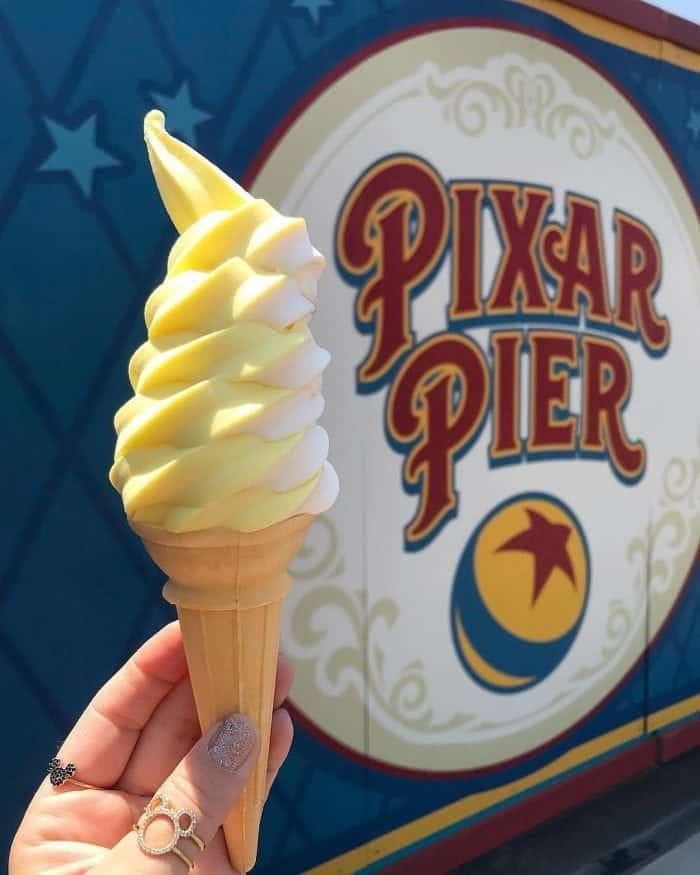 Here's the Lemon-Vanilla Swirl I love.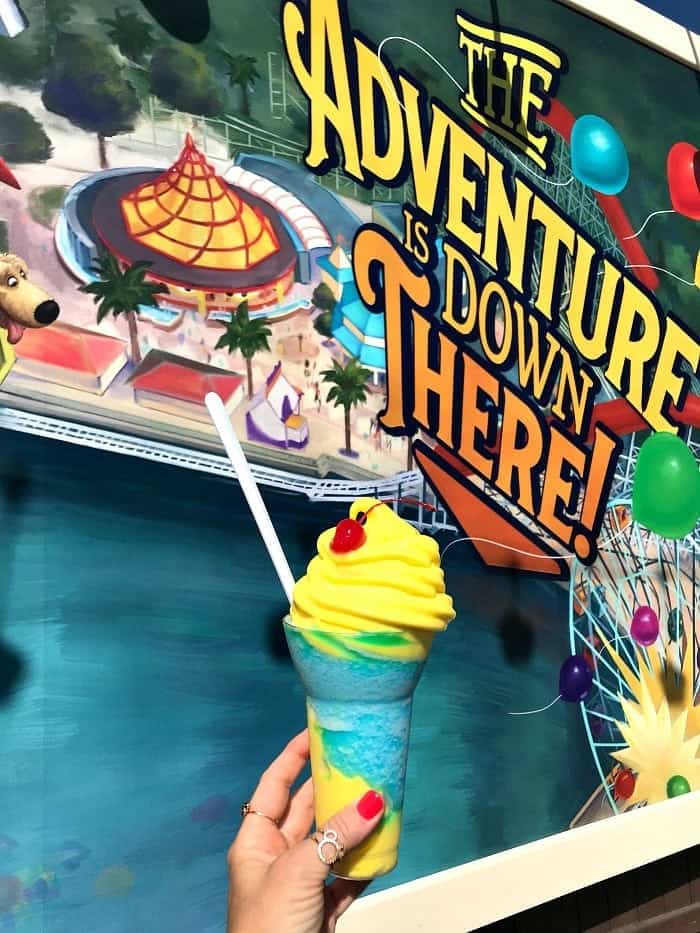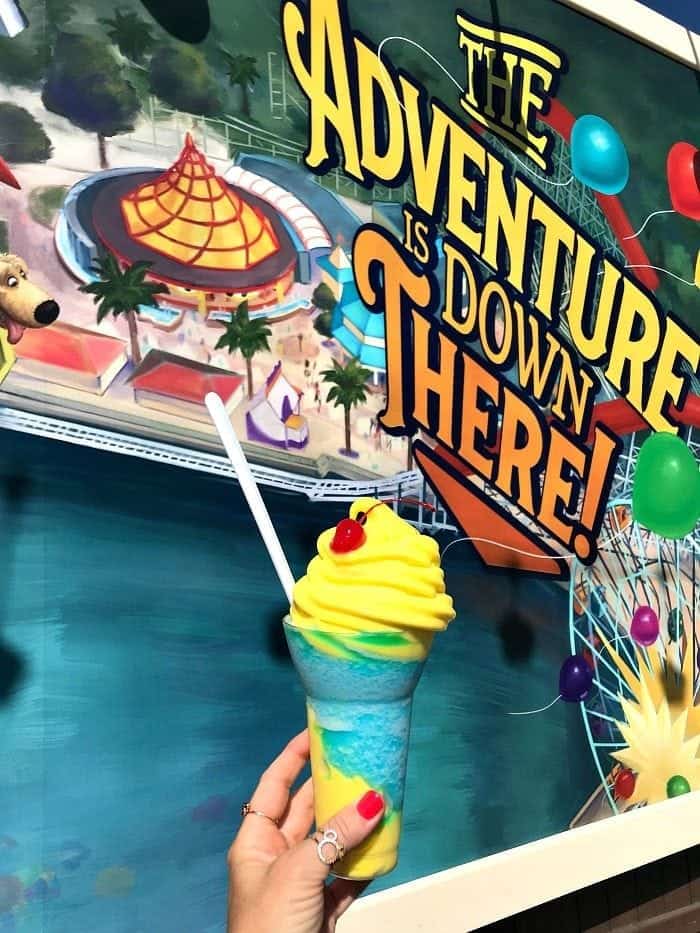 This is the Parfait option which is most popular. It's a blue raspberry icee/slush along with the lemon soft serve. Epic. You have to try it 🙂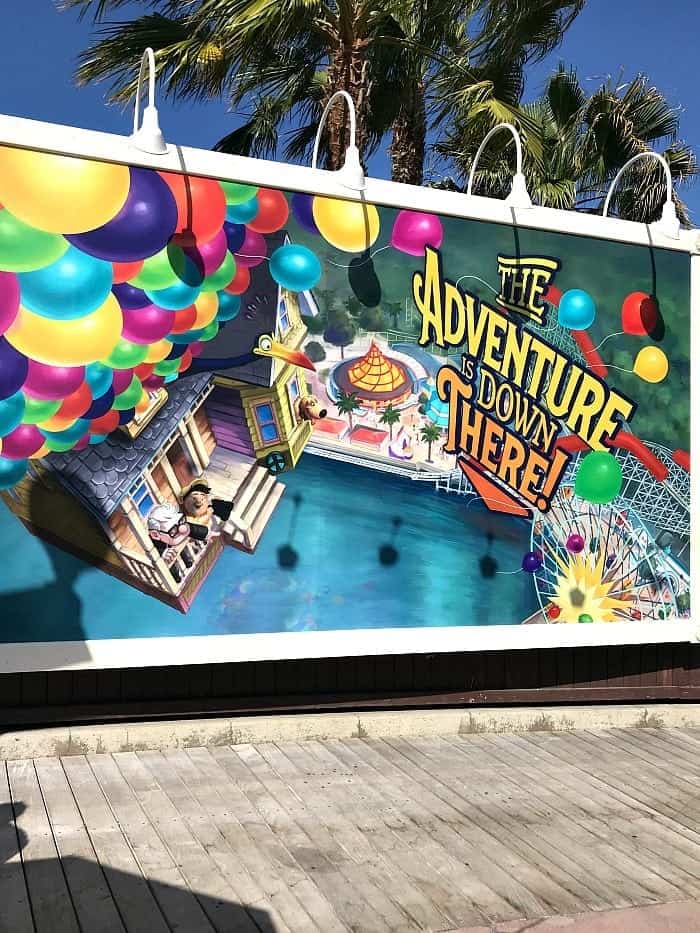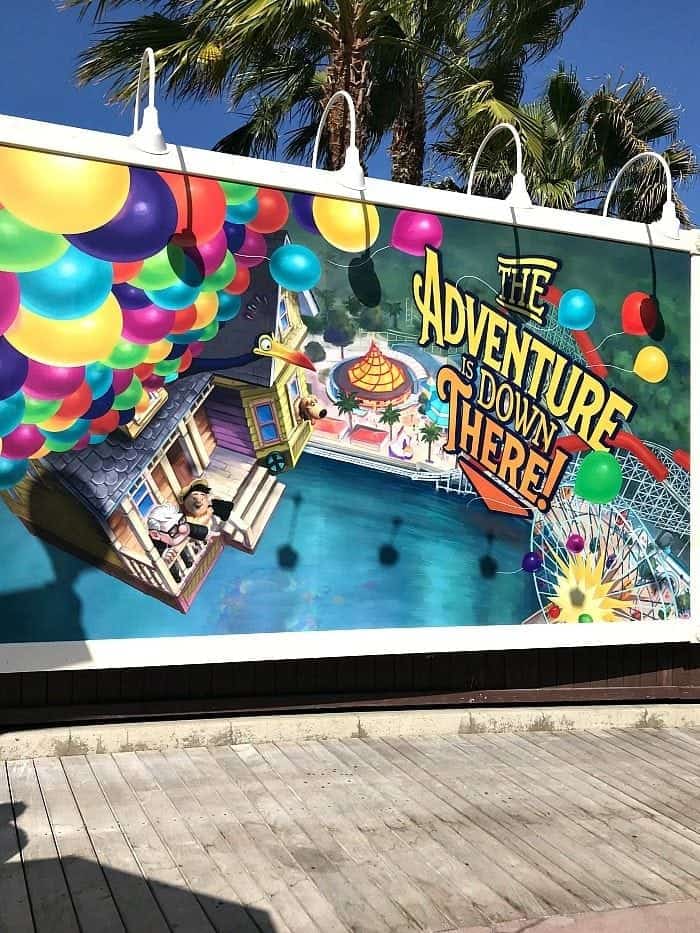 New Billboards
As you pass Adorable Snowman Frosted Treats, you'll see some of the most amazing new Billboards/murals with some of your favorite Pixar movies featured. First up is Up! They're colorful and make an awesome spot for photos.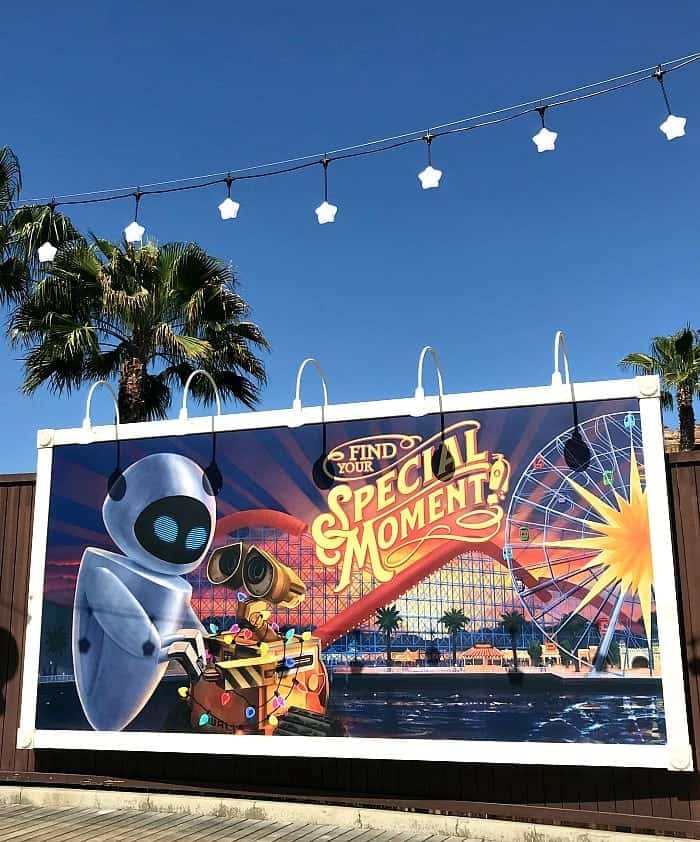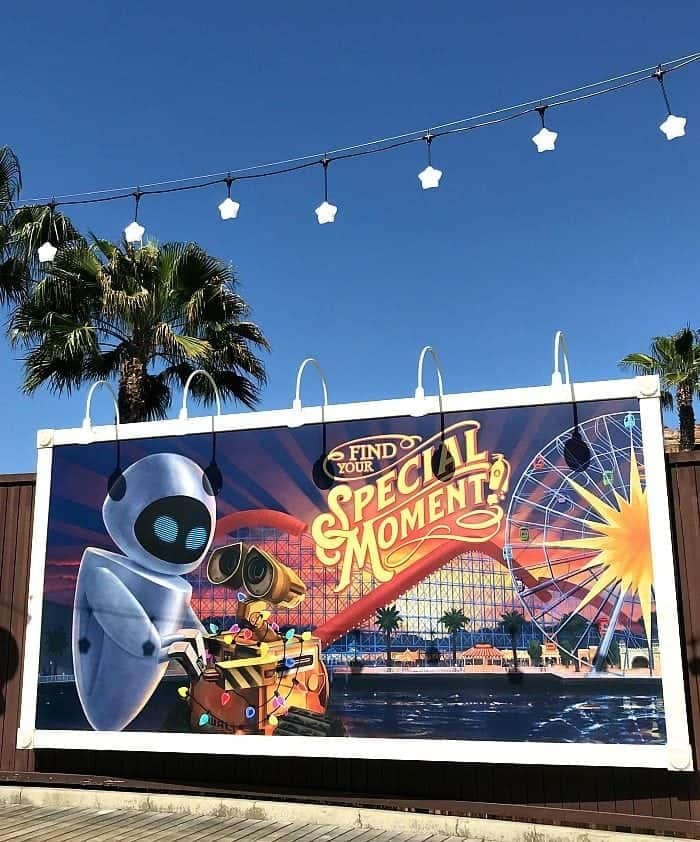 Up next is Wall-E and Eva. Just so so cute. Wait until you see these in person.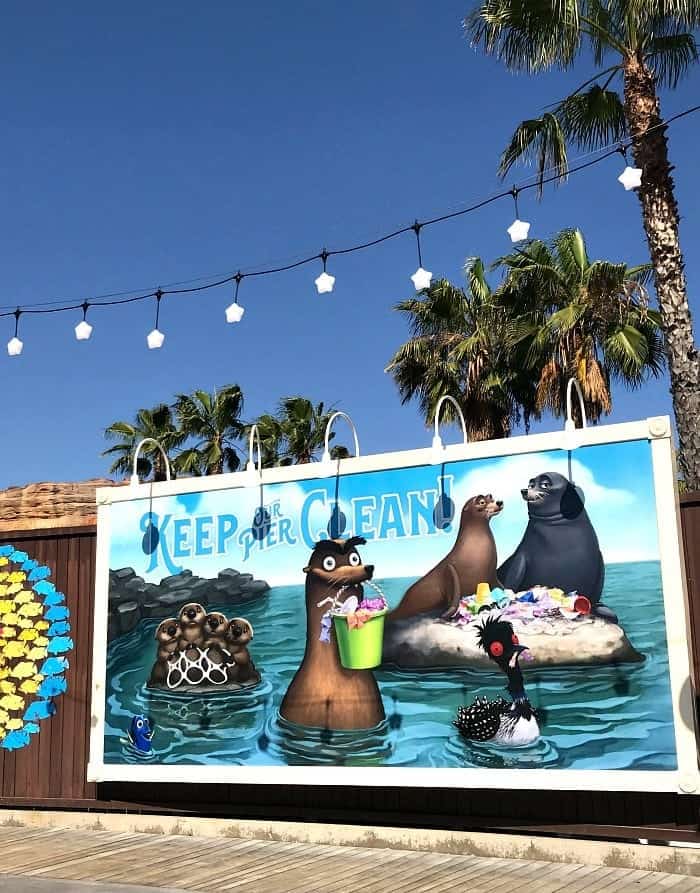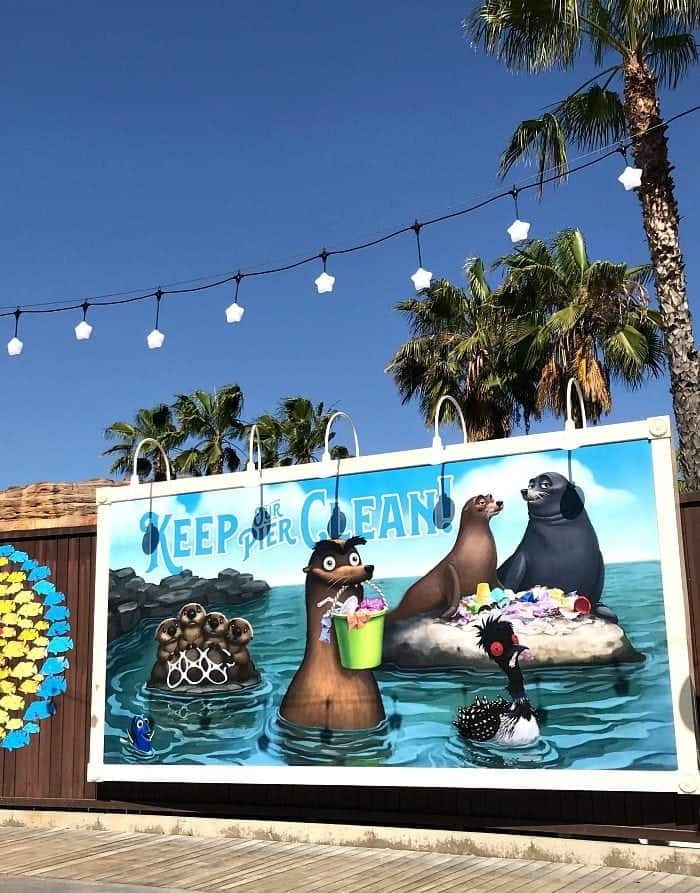 Next you have this cute scene from Finding Dory.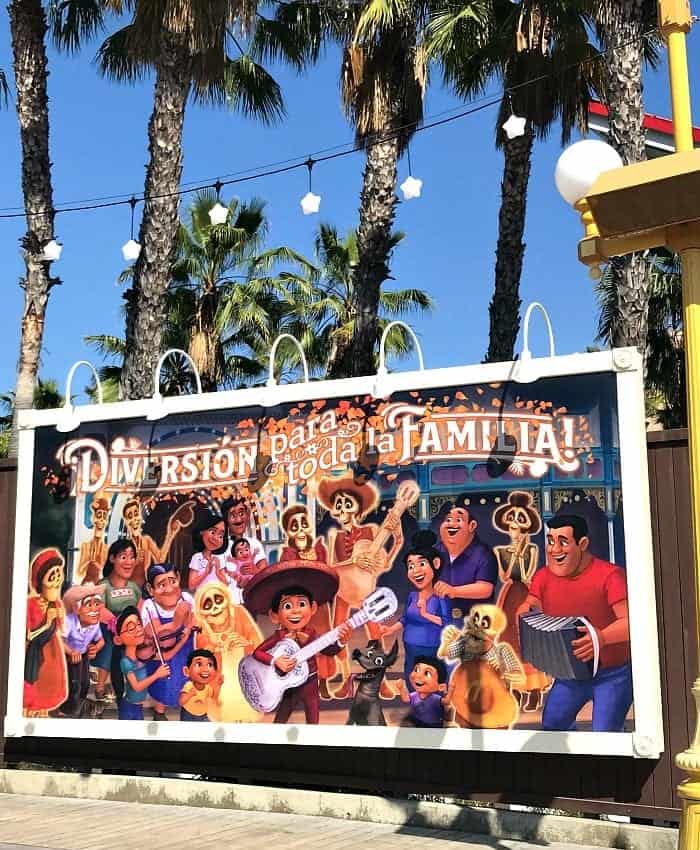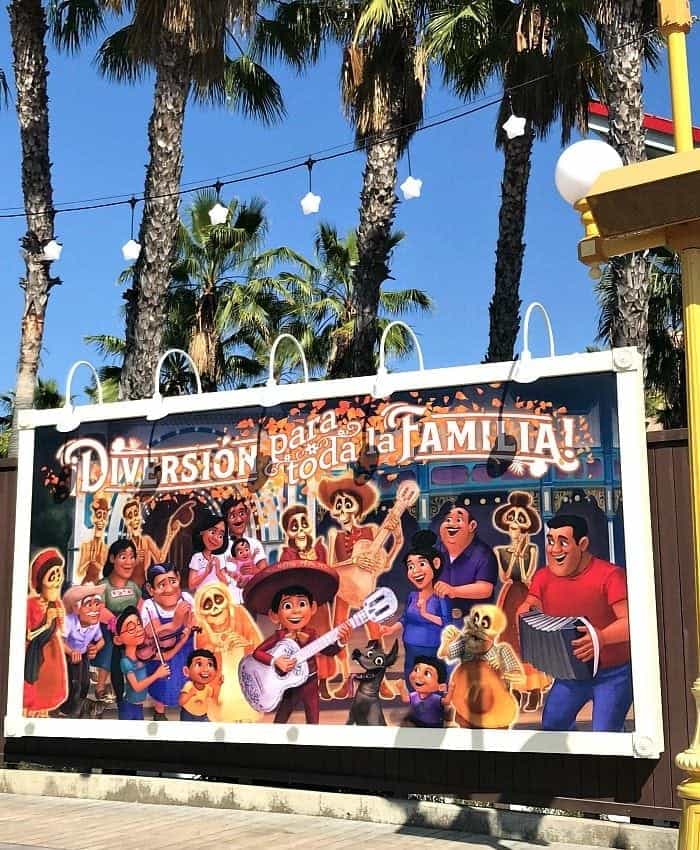 Last but not least is this Coco scene!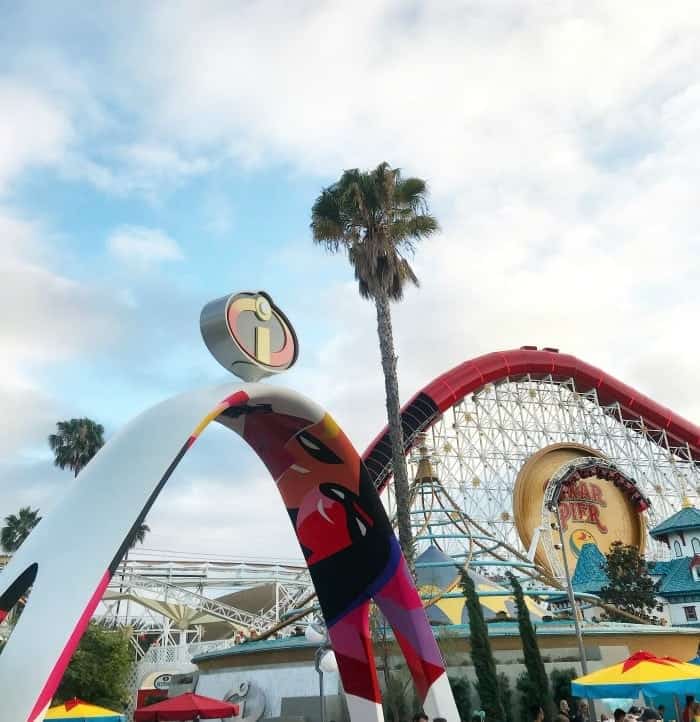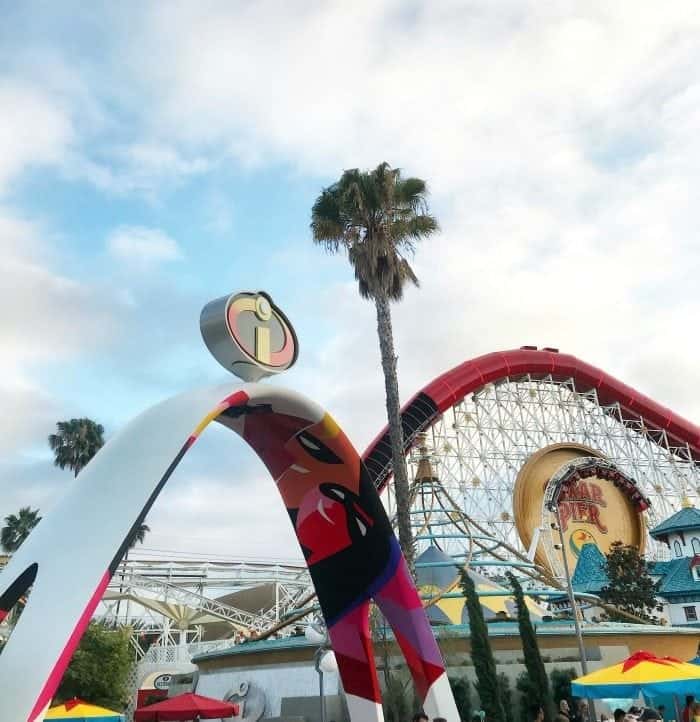 Incredicoaster
As you keep walking down the pier, Incredicoaster is up next! The giant new arch is bright, colorful and makes a great spot for photos as well.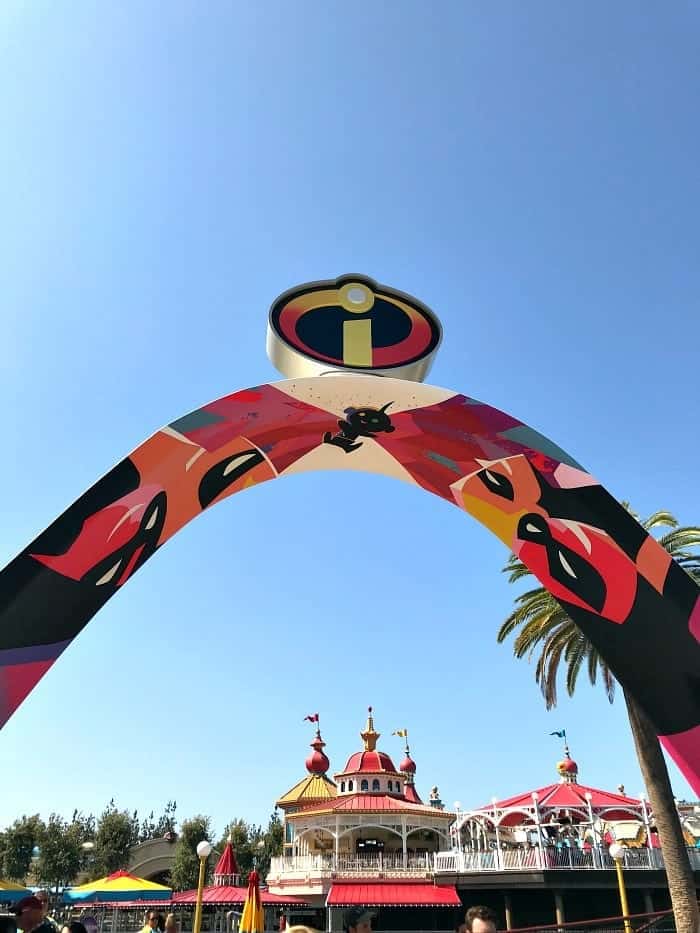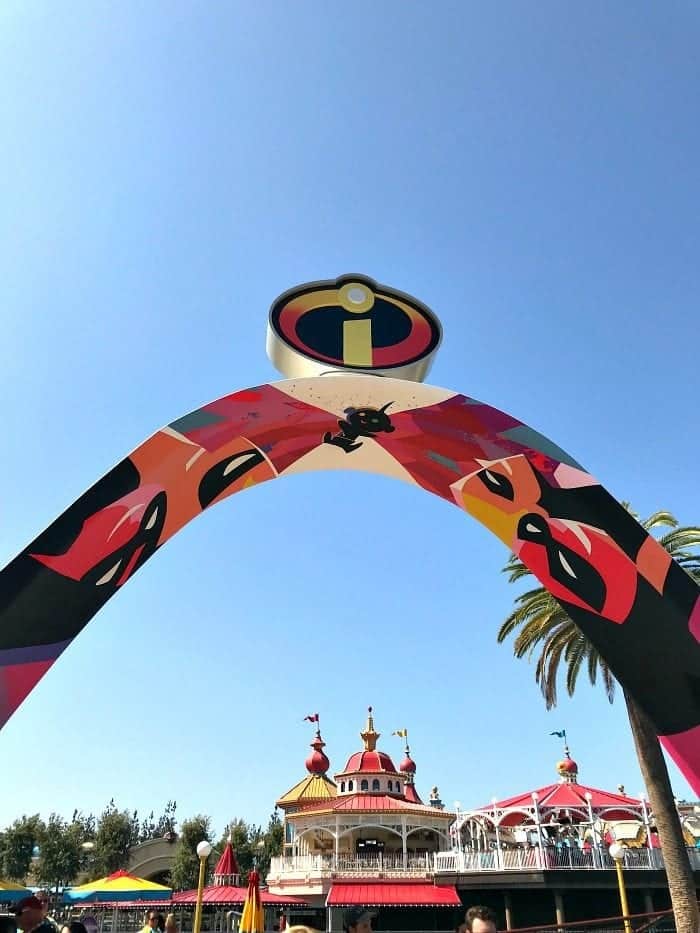 This is the view when you walk under the arch and look towards Lamplight Lounge. These views!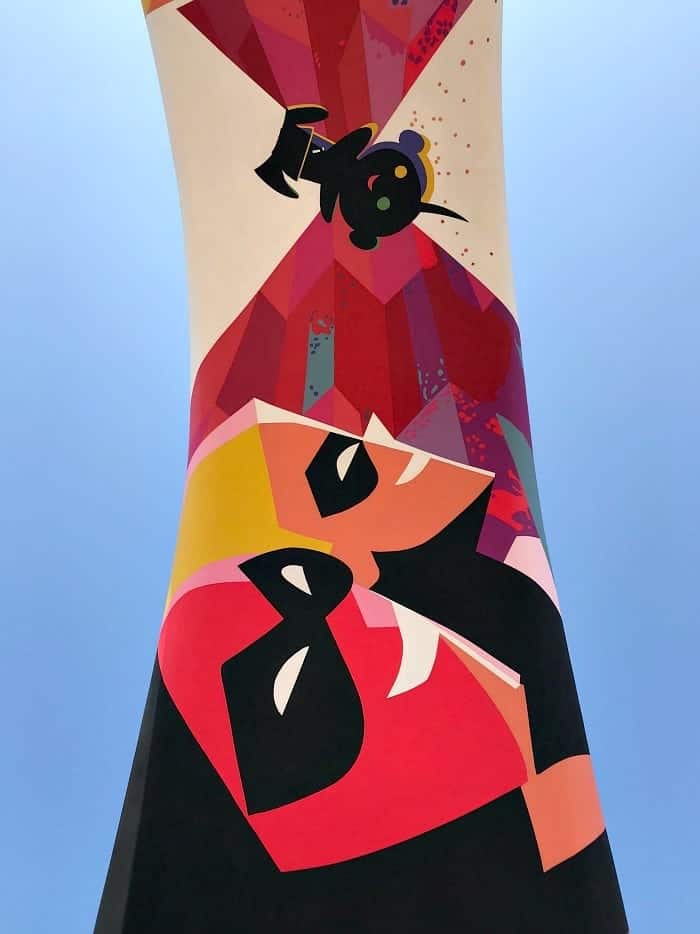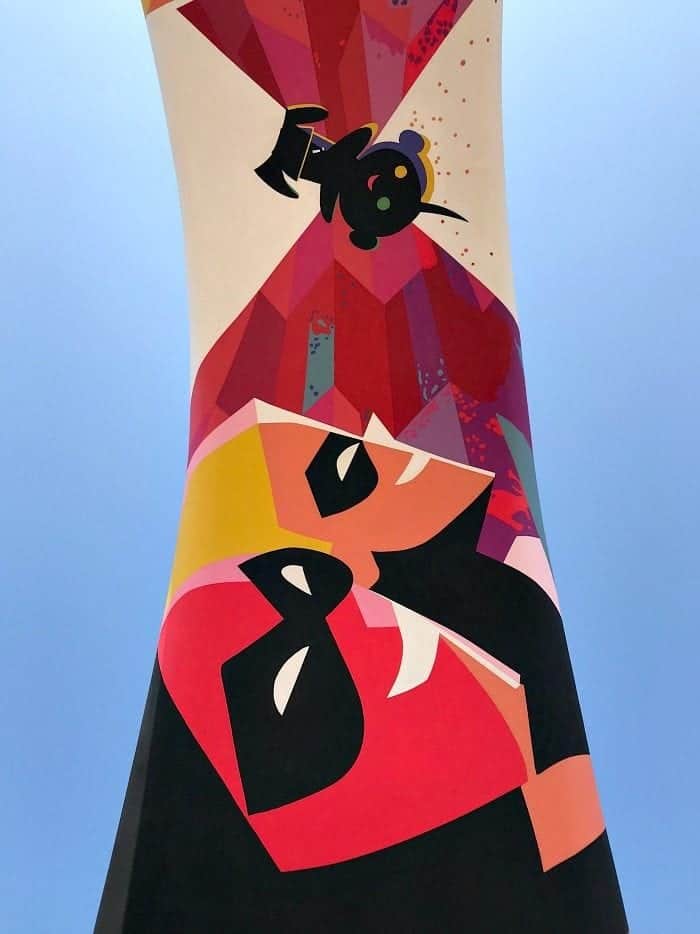 The view of the arch if you are standing directly underneath it 🙂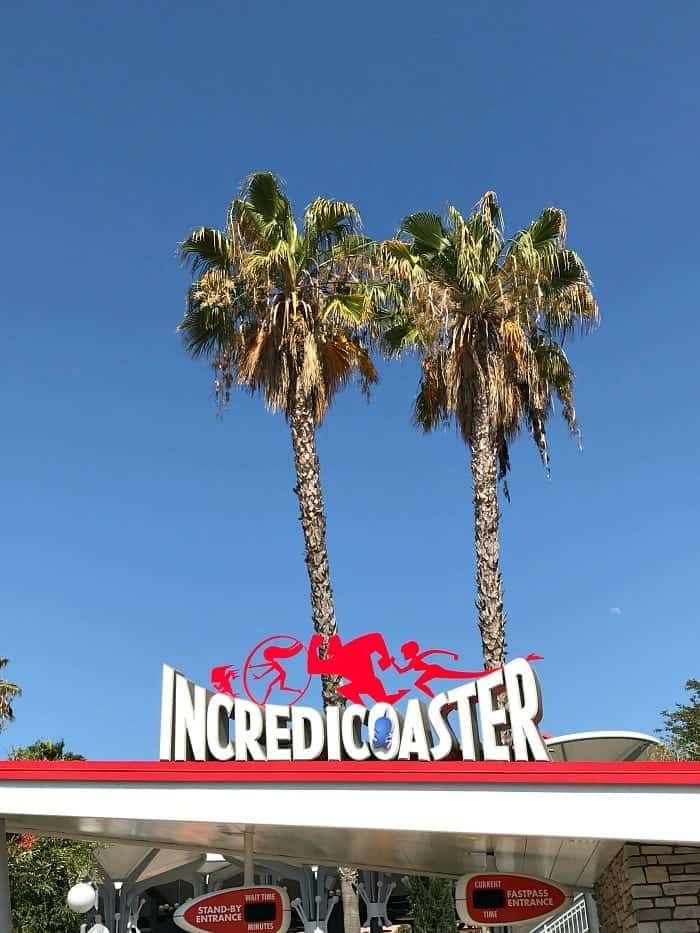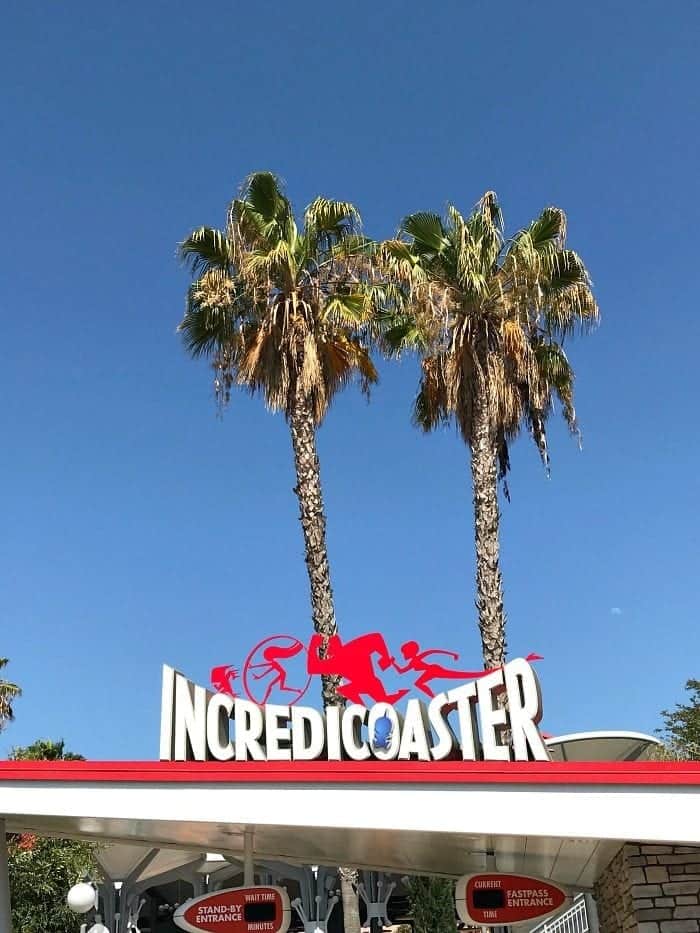 Ok, let's talk Incredicoaster. I am so excited about the new additions. Plan for long lines, and I can't recommend MaxPass enough. For $10 per ticket, you can organize your FASTPASSES right from your smart phone without even going to the ride. It is my favorite thing ever when riding rides. Be sure to look into it.
One big tip I have for you, is be sure to ride the coaster during the day and again at night. You'll get a totally different experience. I have to say the night ride is my favorite.
Another thing to know, is when you see Mr. Incredible with a cookie and Jack-Jack towards the end of the ride through the tunnel as you are headed down, be sure to smell the cookie smell. I missed it my first time when I wasn't expecting it. It's fabulous!
Be sure to check your photo as you leave the ride too.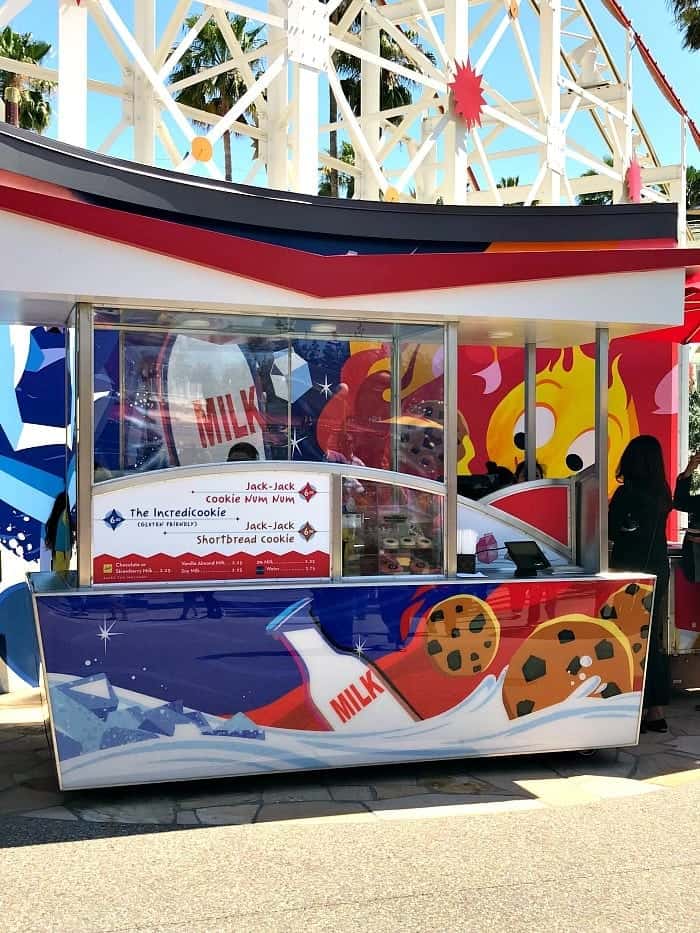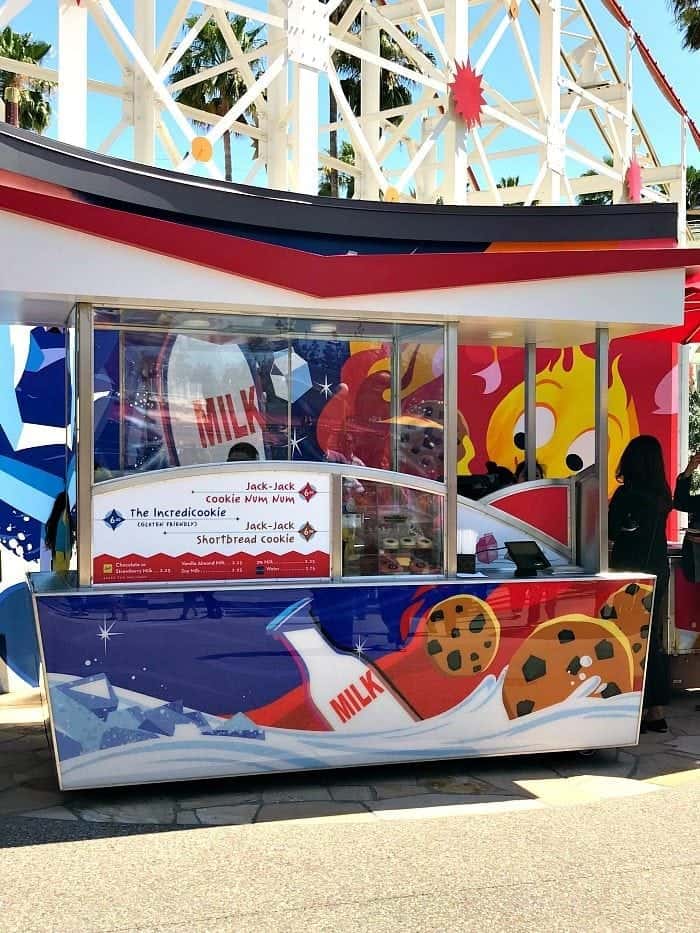 Jack-Jack Cookie Num Num's
Right as you exit the Incredicoaster you can find Jack-Jack's Cookies Stand! This is such a fun addition to the Pier. My favorite is Jack-Jack Cookie Num Num 🙂 See photos below.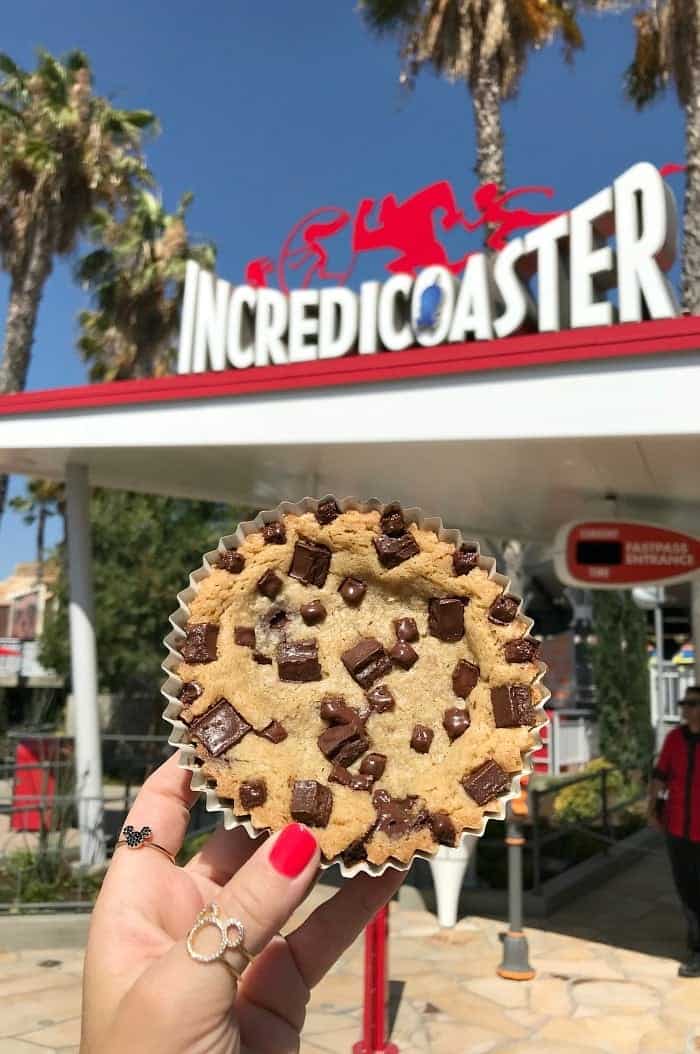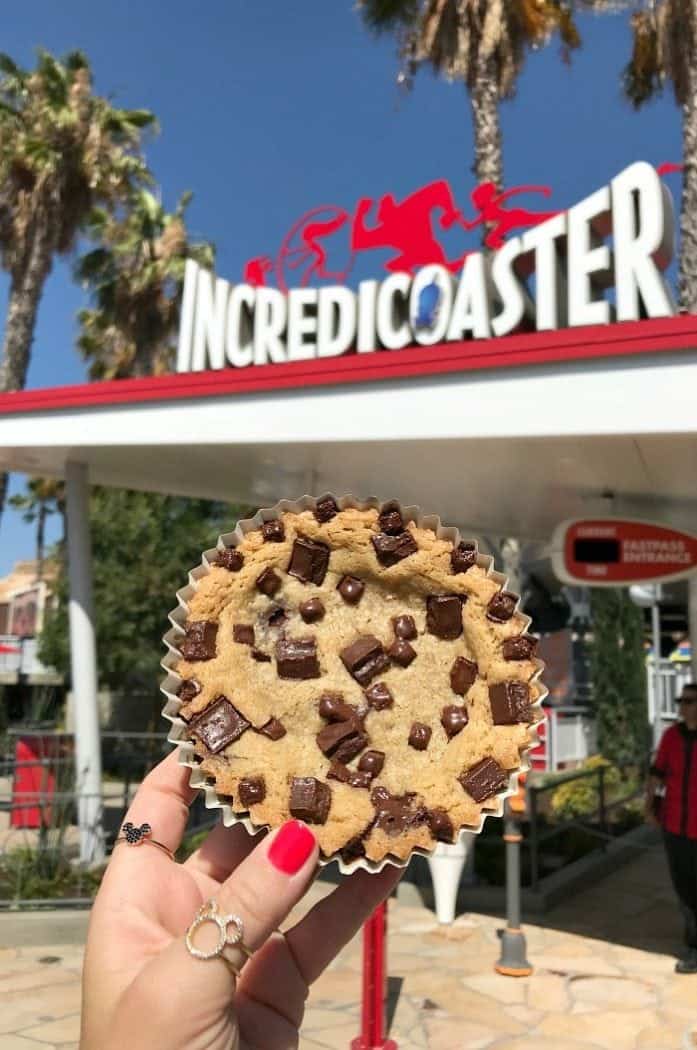 This giant cookie is served warm and is big enough to share. I had a couple over the weekend, you'll love this one. Give it a try.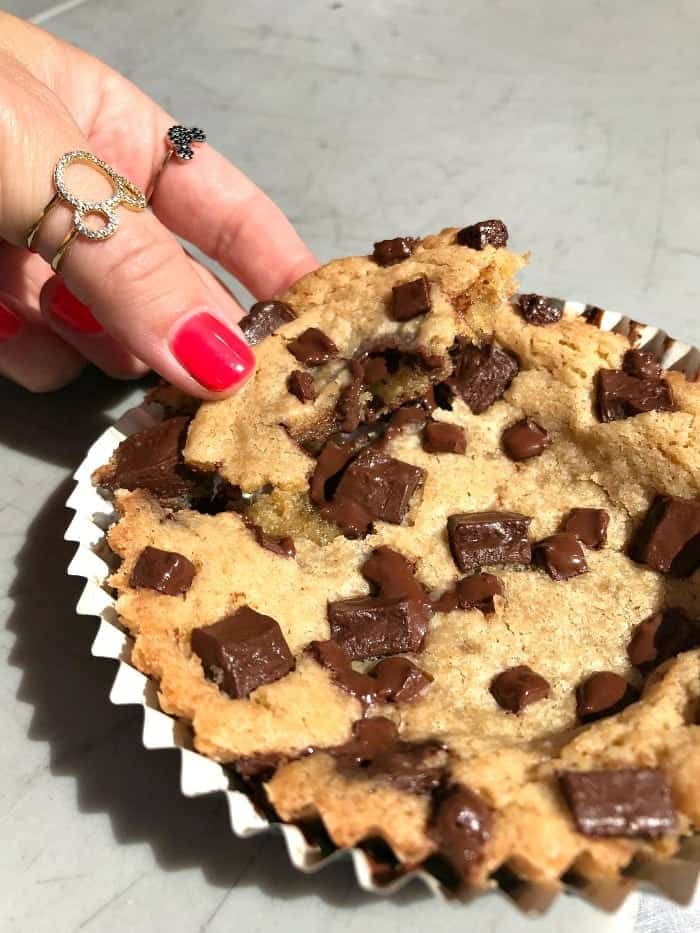 Warm gooey chocolate chip cookie. Yes please.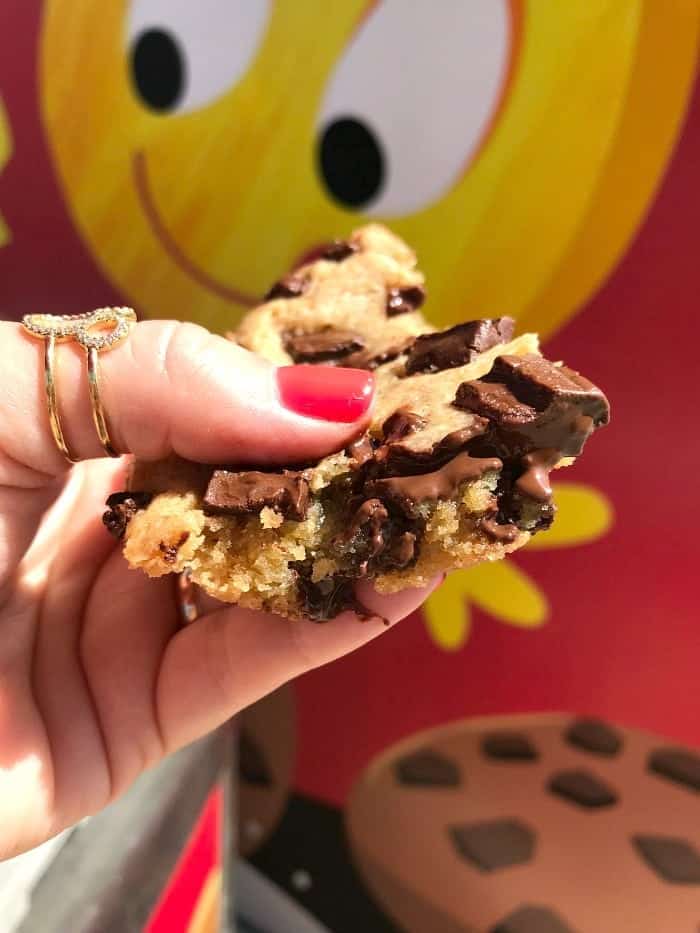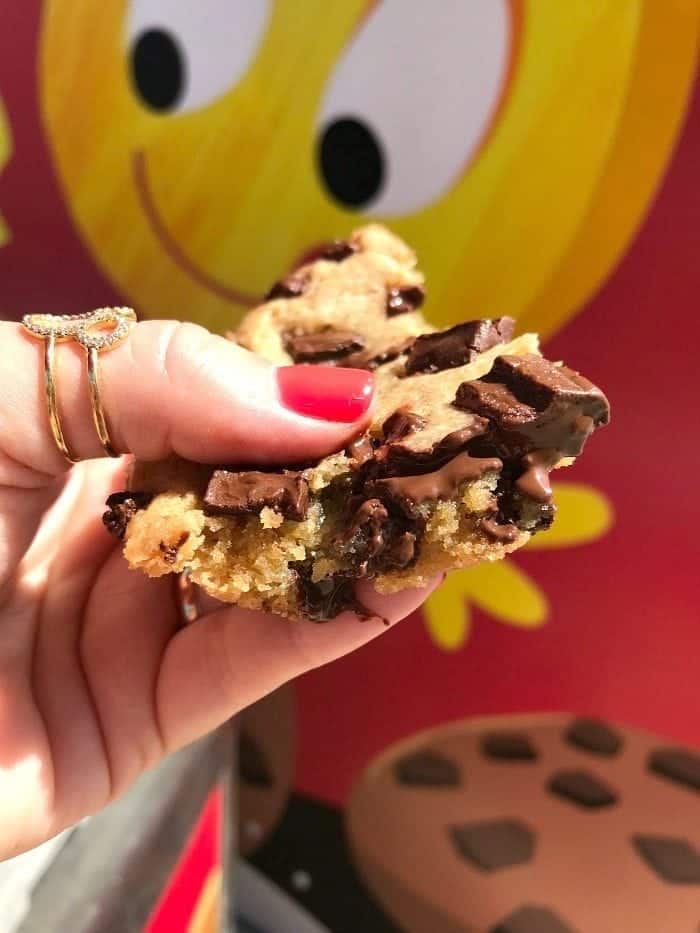 See?! Man, now I want another, lol!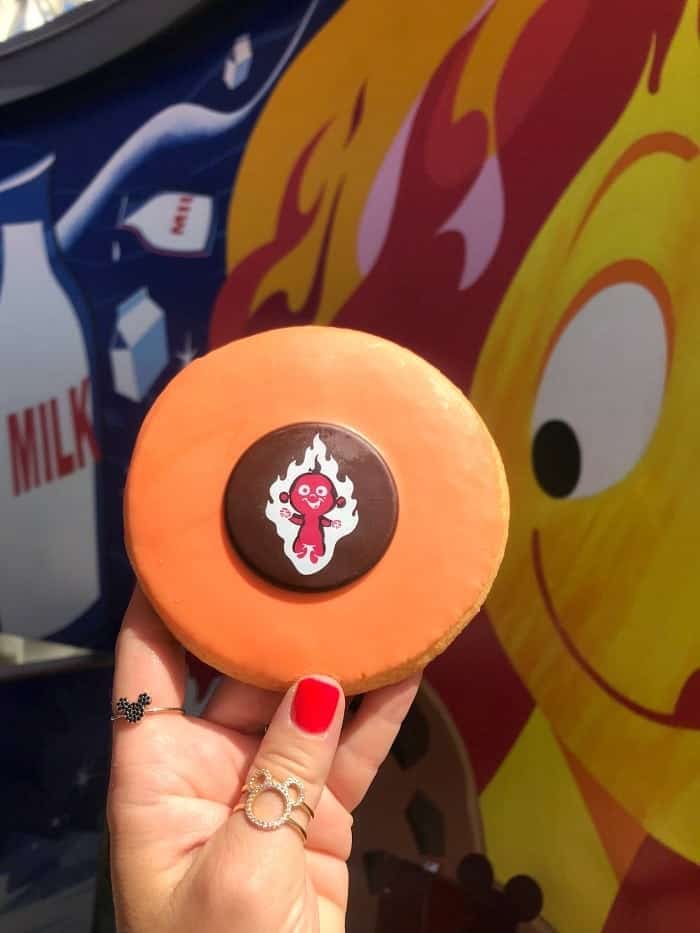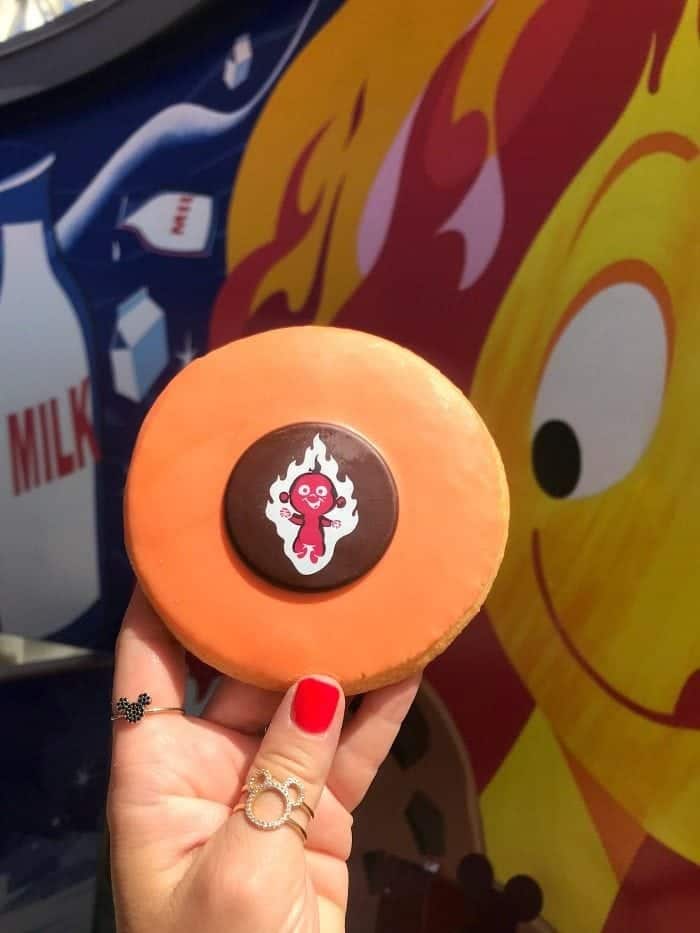 This is the Jack-Jack Shortbread Cookie. This one was just ok for me. Good, but I'd take the chocolate chip one first.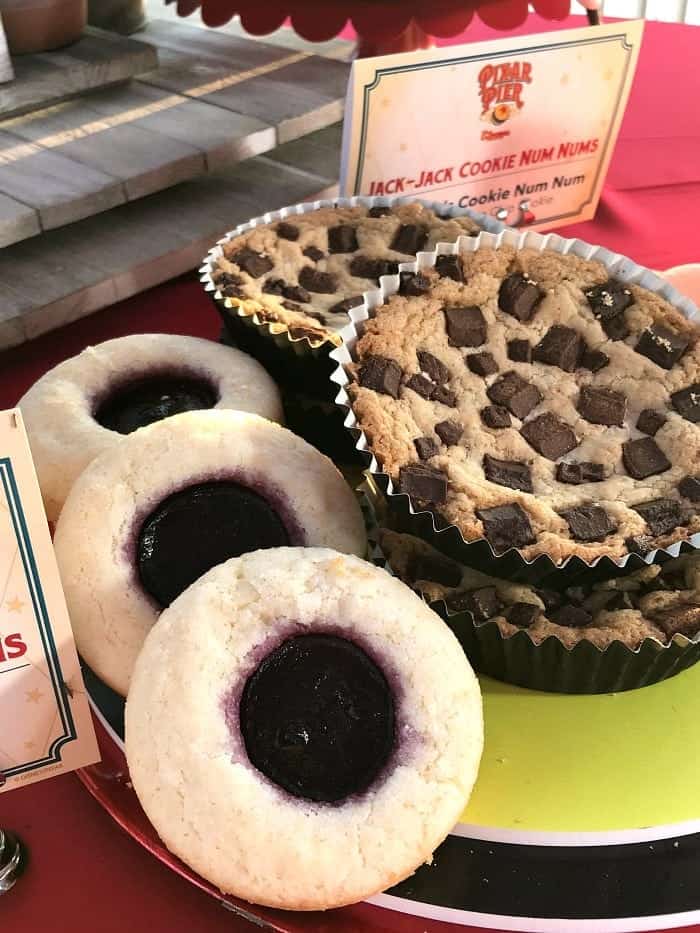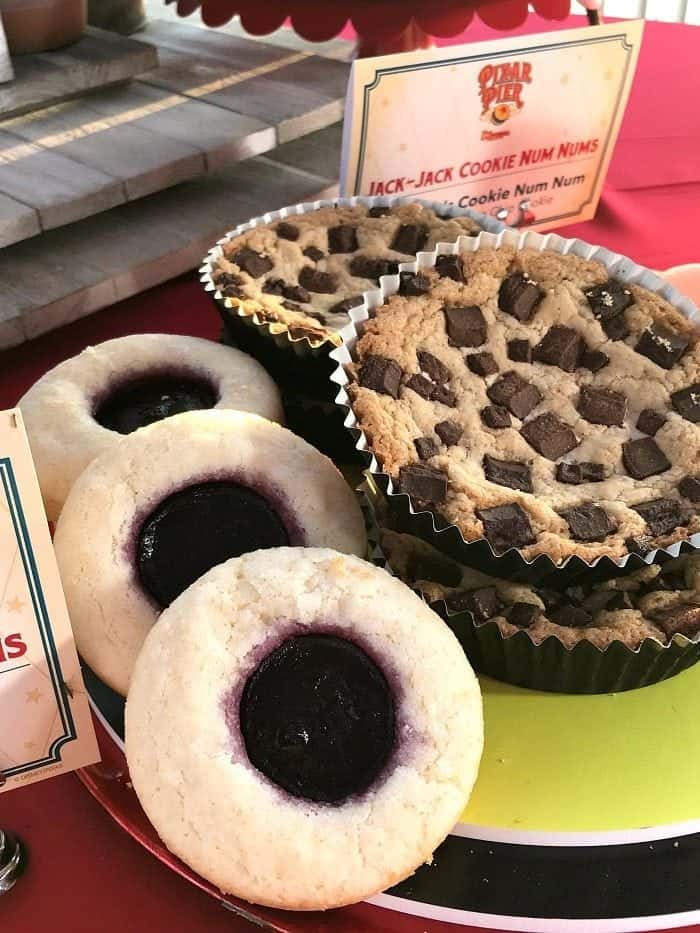 This is the Incredicookie. It's also gluten-free. I didn't try this one, but heard it was good 🙂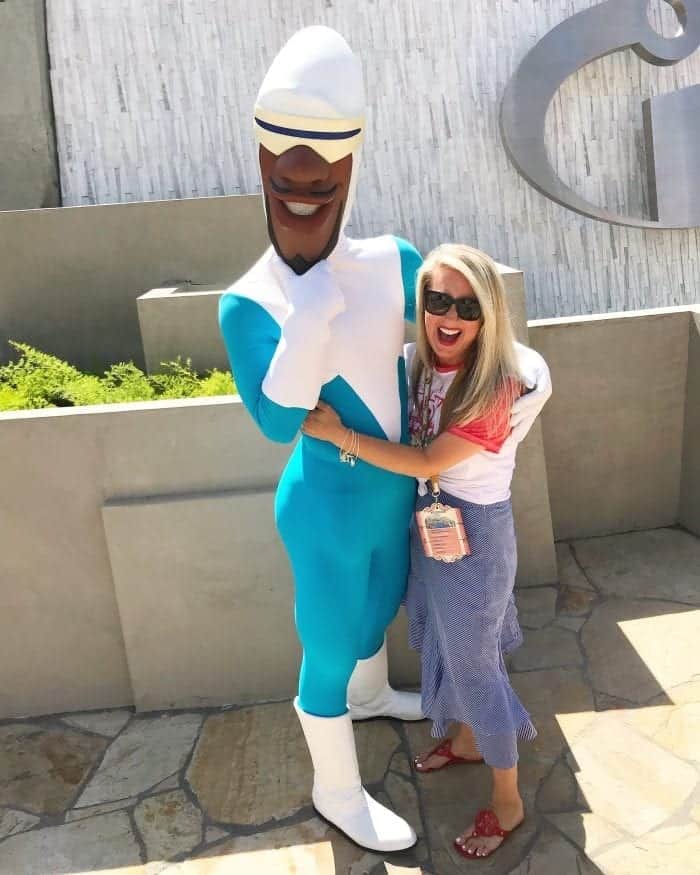 Incredibles Characters
In this same area you can meet some of your favorite Incredibles characters. I got to meet Frozone 🙂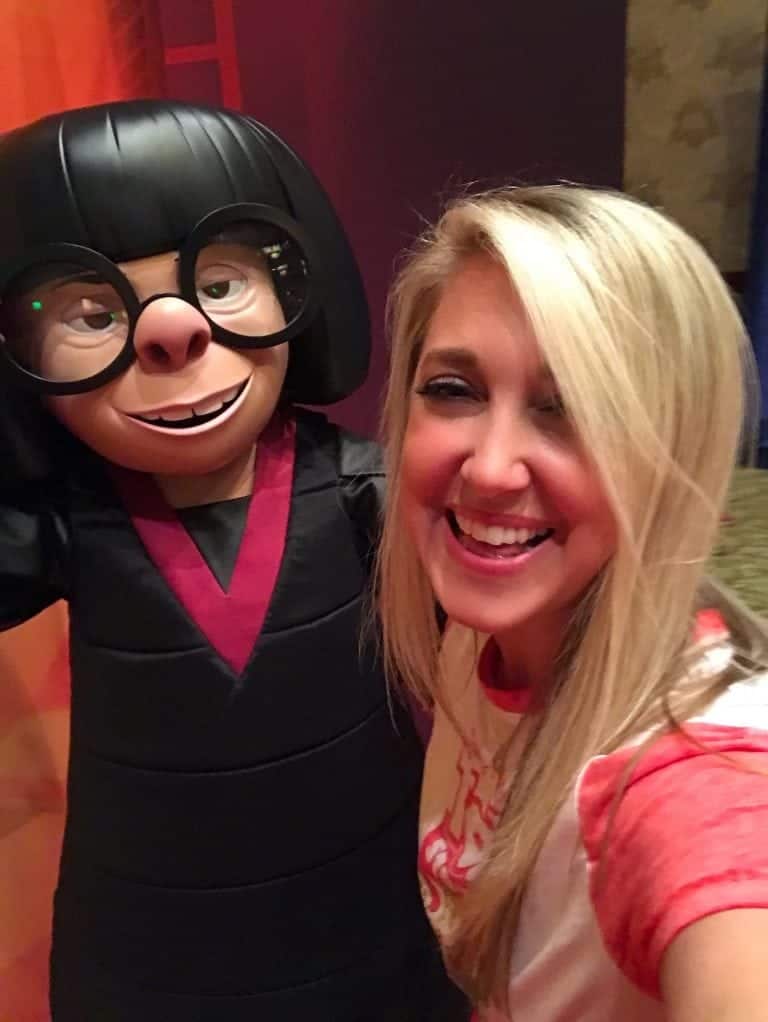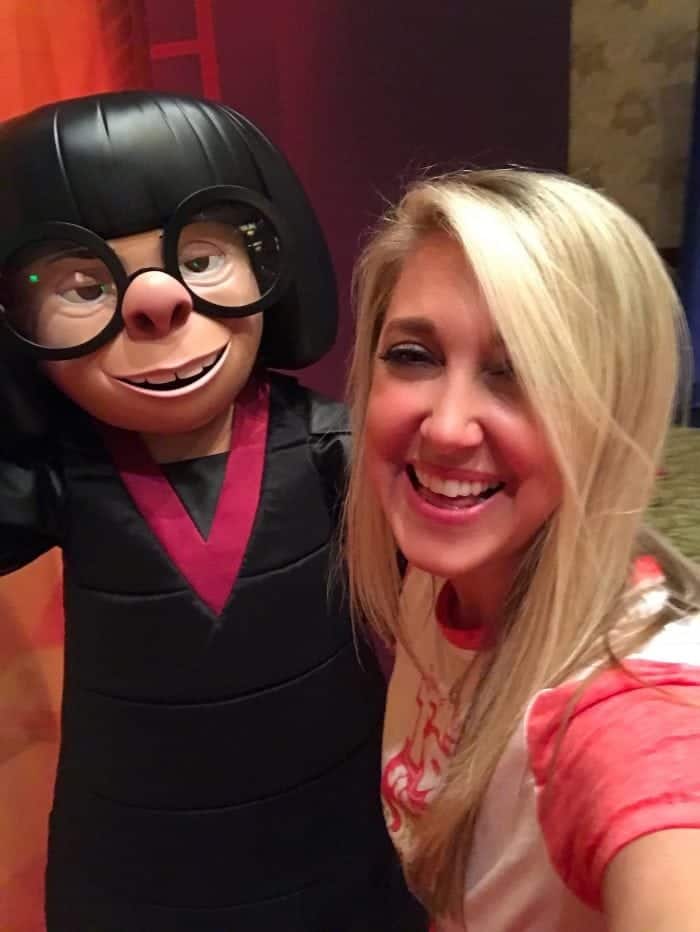 Edna the fabulous too!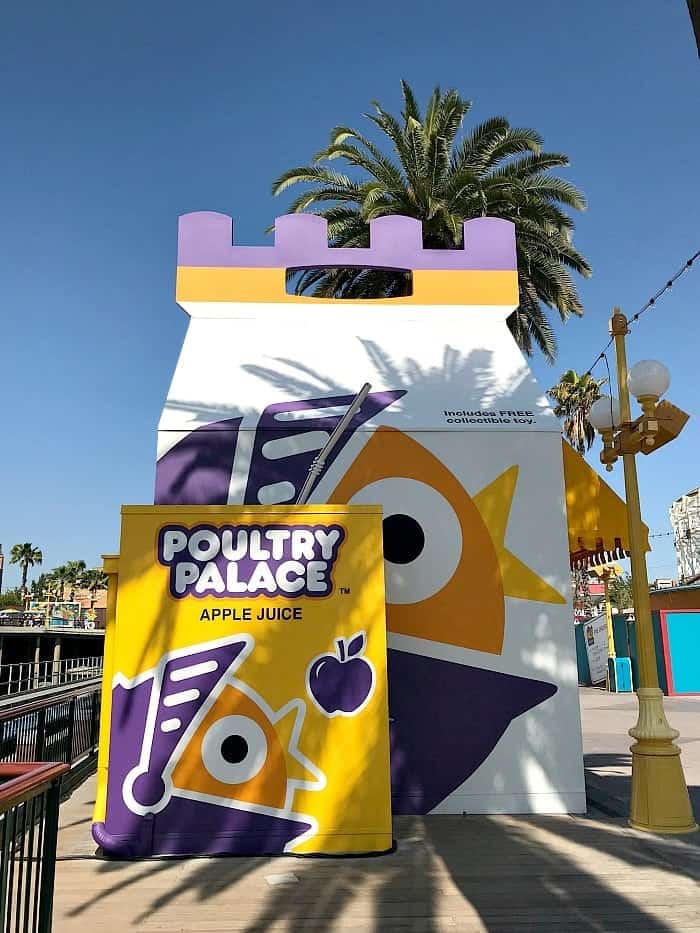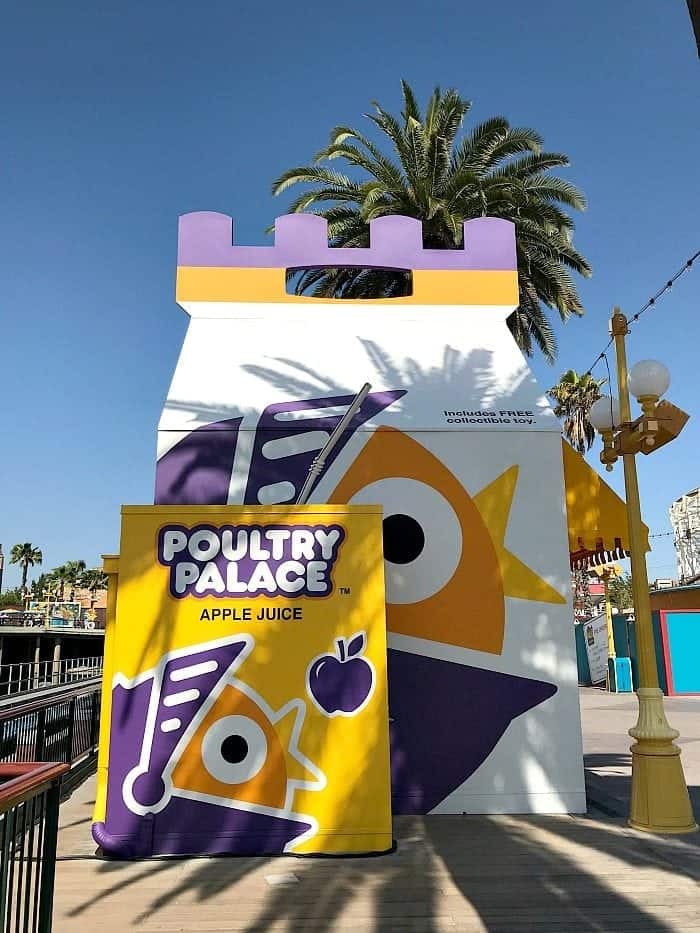 Poultry Palace
Poultry Palace is next on your way through the Pier. You'll find flavorful chicken drumsticks, corn on the cob, cole slaw and drinks here.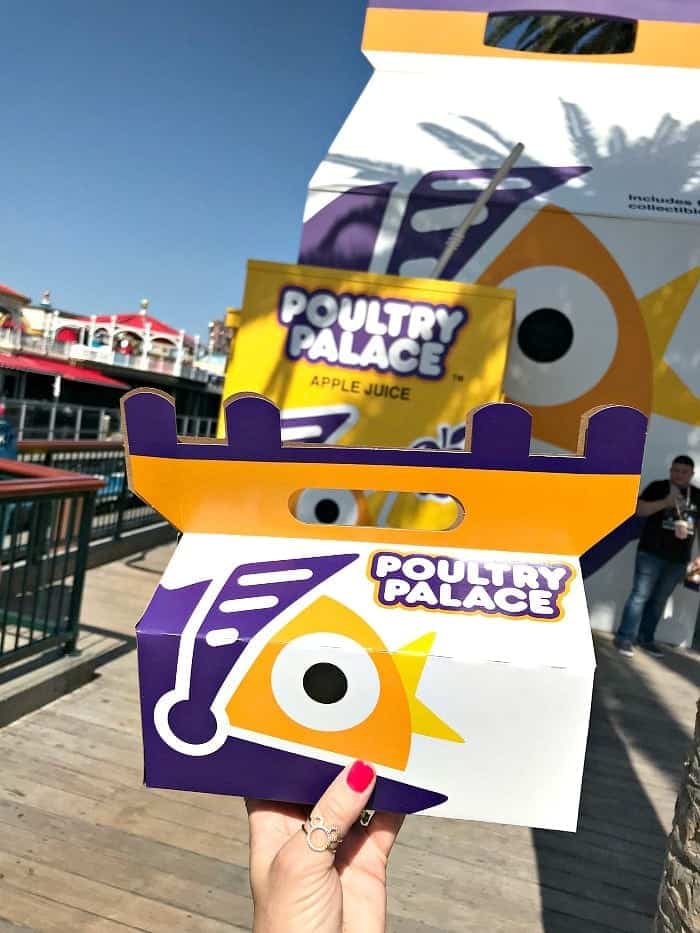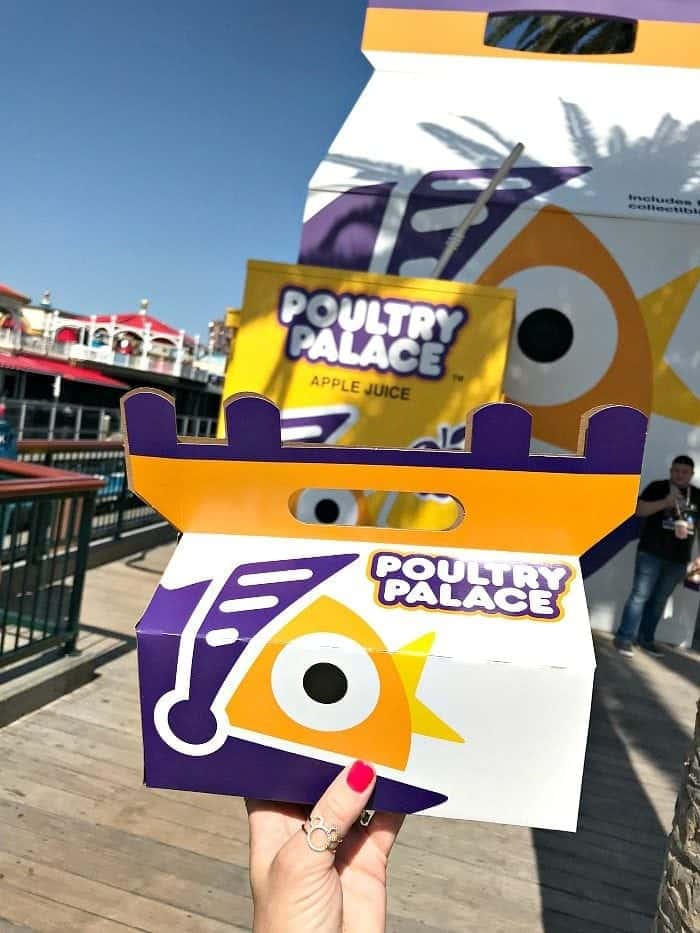 Your meal is served in this adorable little box.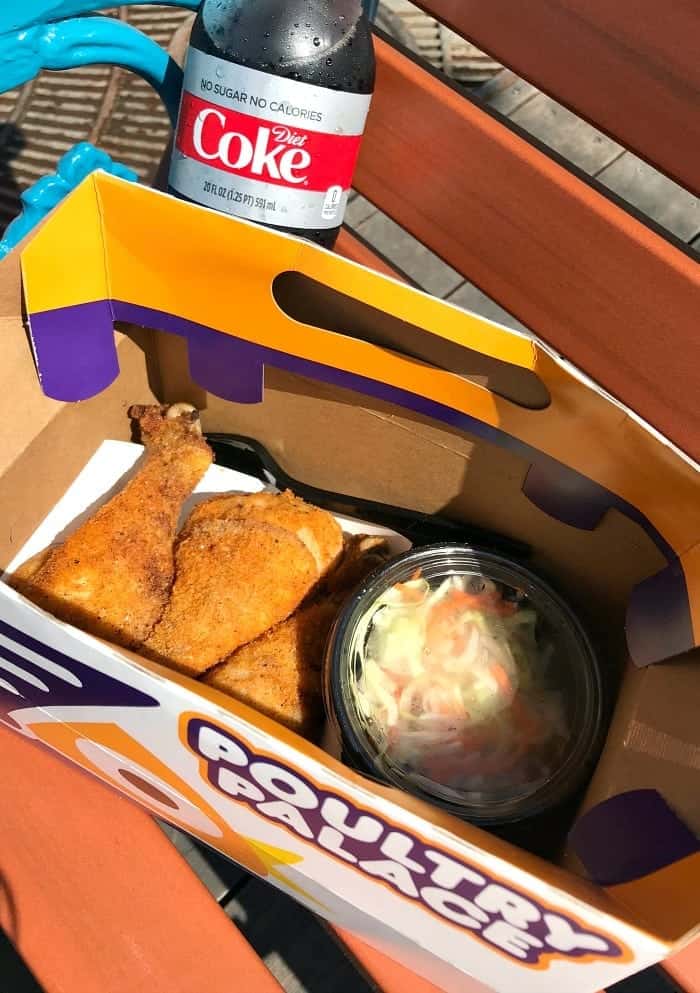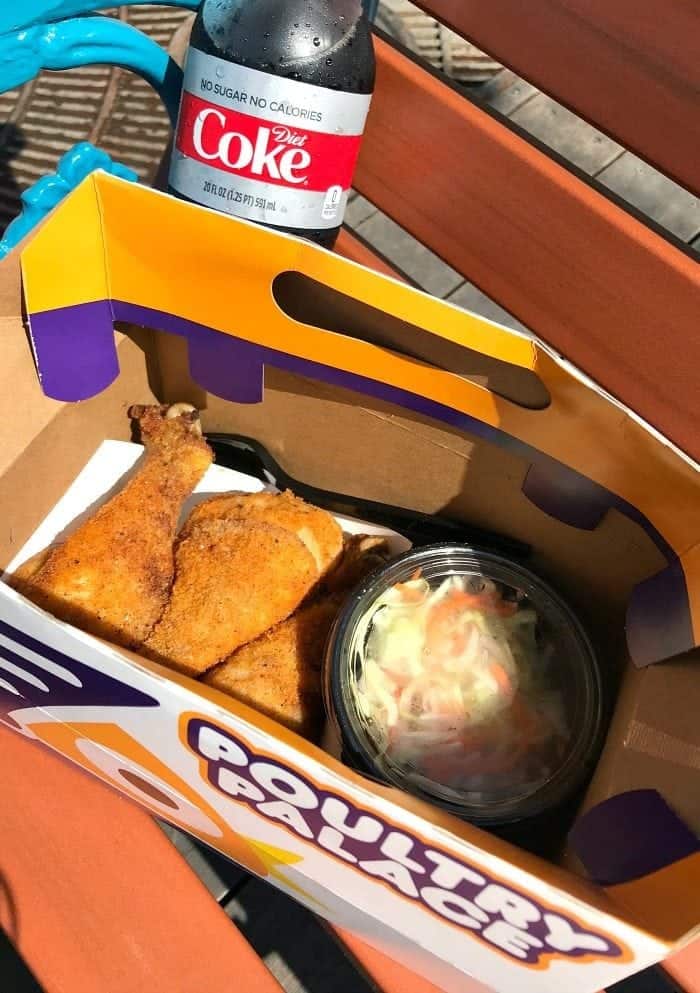 I tried the Chicken Drumsticks and Coleslaw meal. I really liked it. Nicely seasoned juicy chicken and a very lightly dressed coleslaw. Not mayonnaise based dressing, more of a vinaigrette.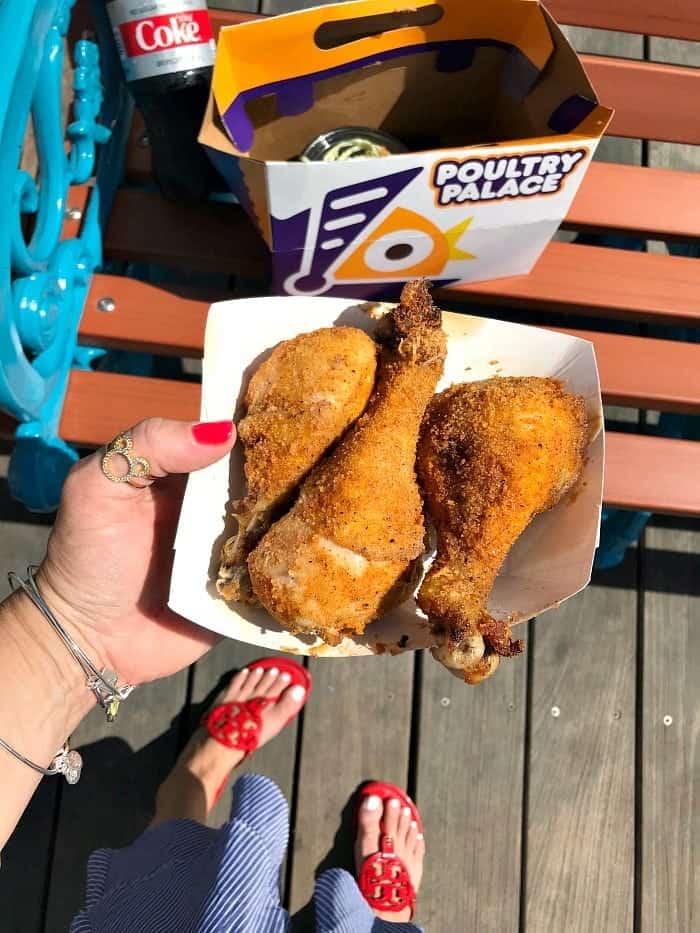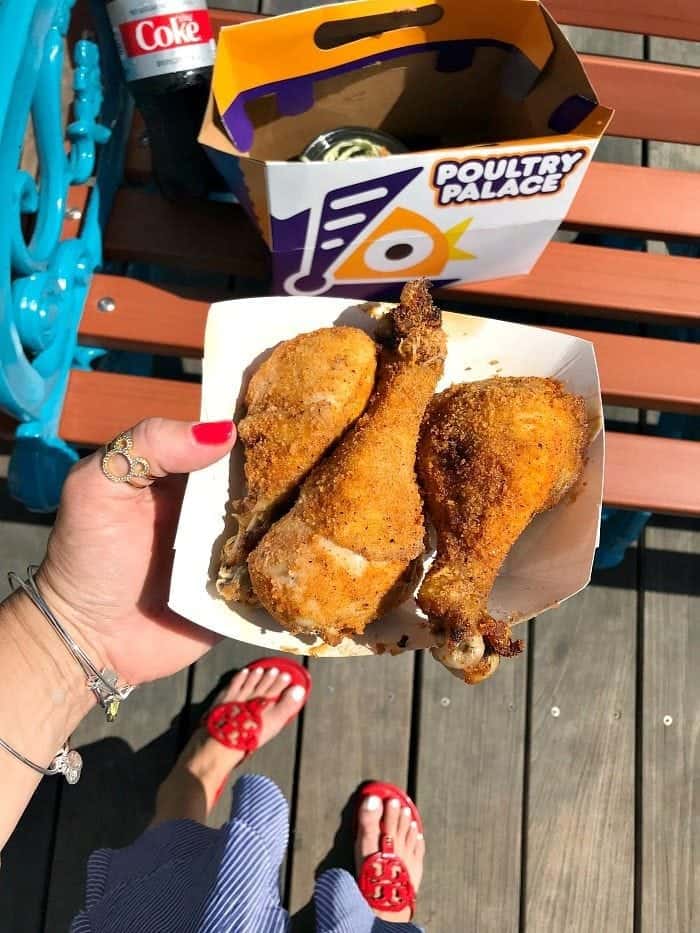 Here's a little better look at the chicken drumsticks. Finger lickin' good 🙂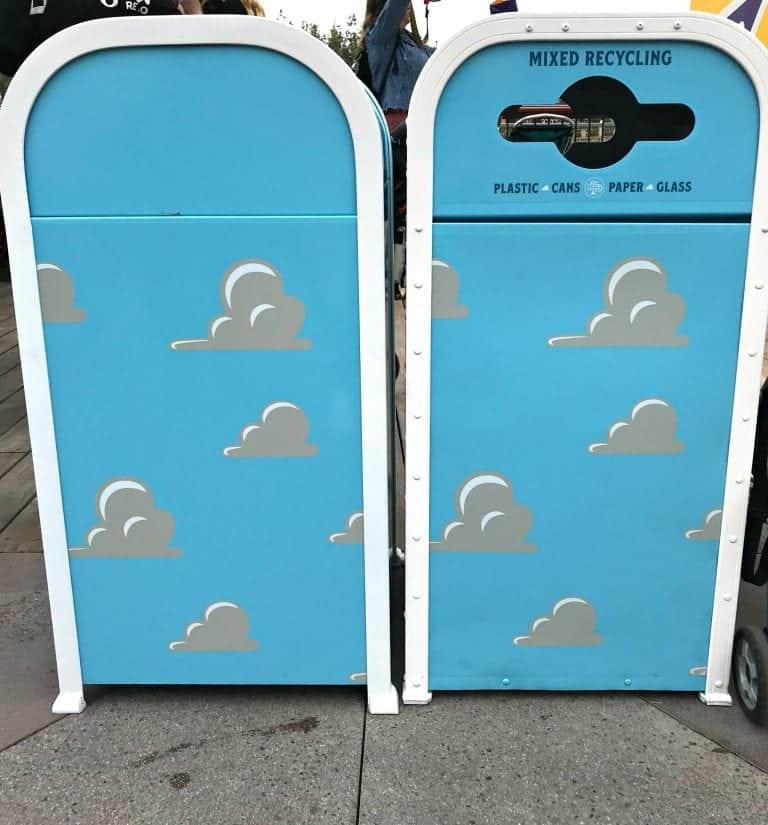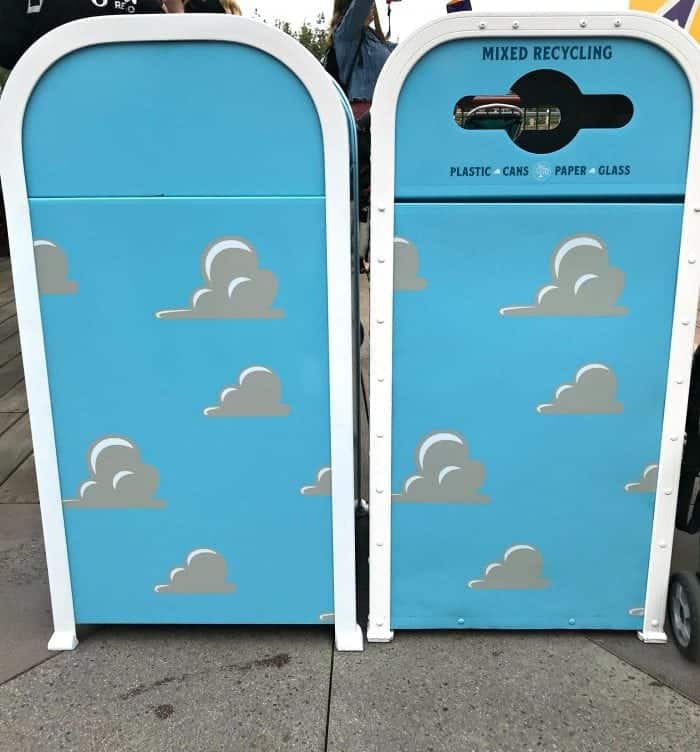 You'll notice that the garbage cans are even perfectly adorable.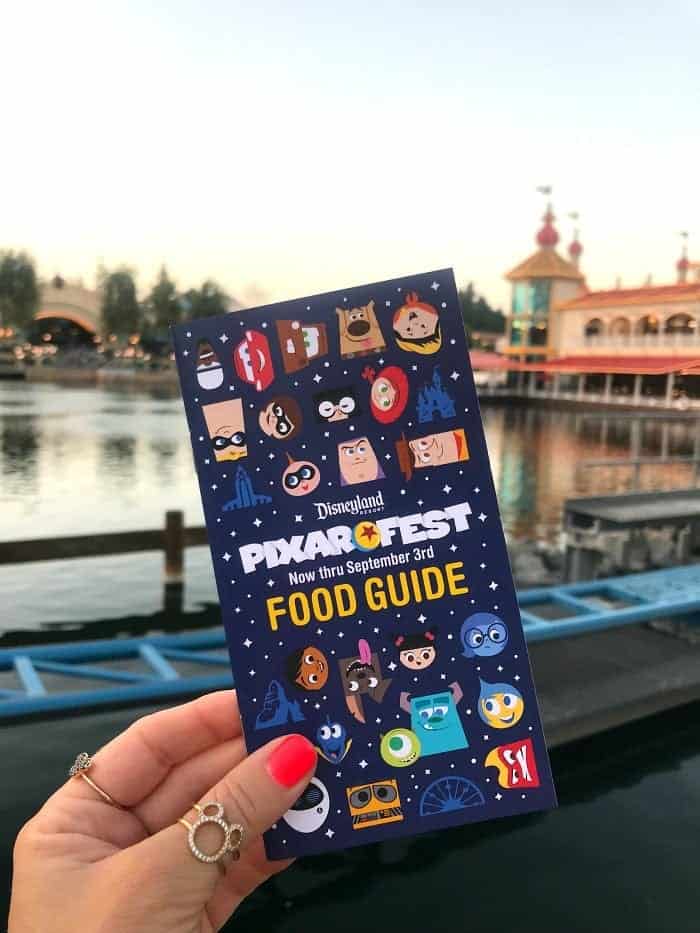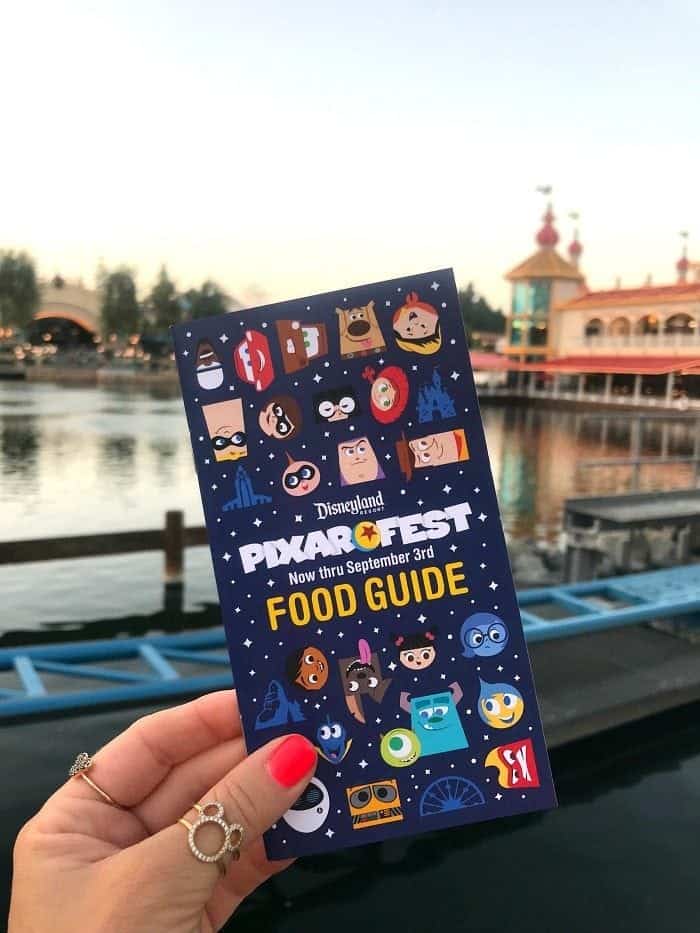 Free Food Guide
At the gift shop as you exit Toy Story Midway Mania, you can pick up this Pixar Fest Food Guide for free. It tells you everything available for Pixar Fest and where to find it! This is a great guide to have.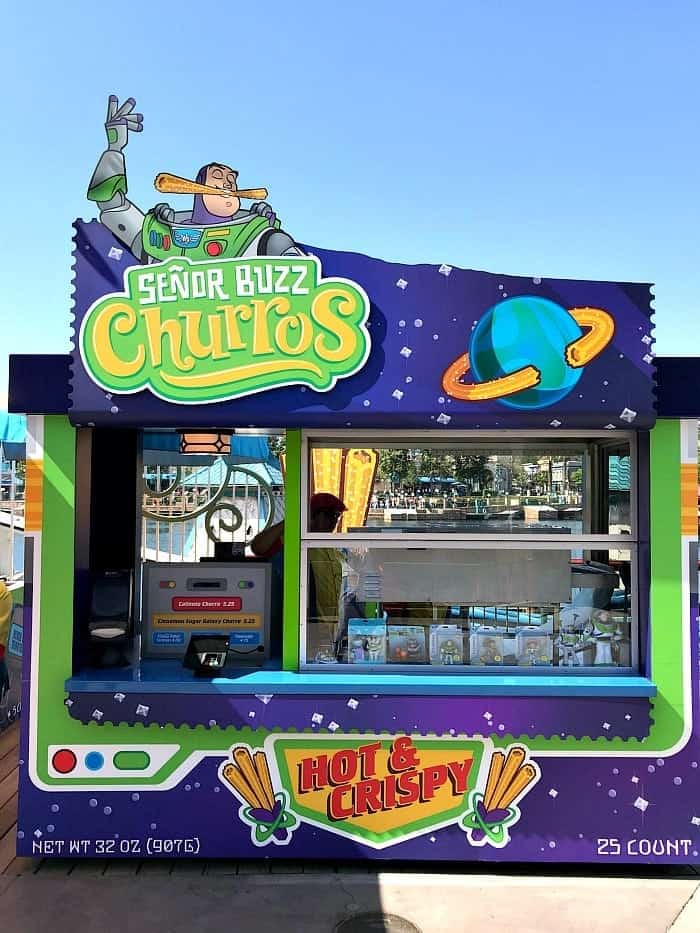 Senior Buzz Churros
Senior Buzz Churros is about the cutest little kiosk I've seen. It's located right across from Toy Story Midway Mania. Here you'll find the Caliente Churro and the Cinnamon Sugar Galaxy Churro.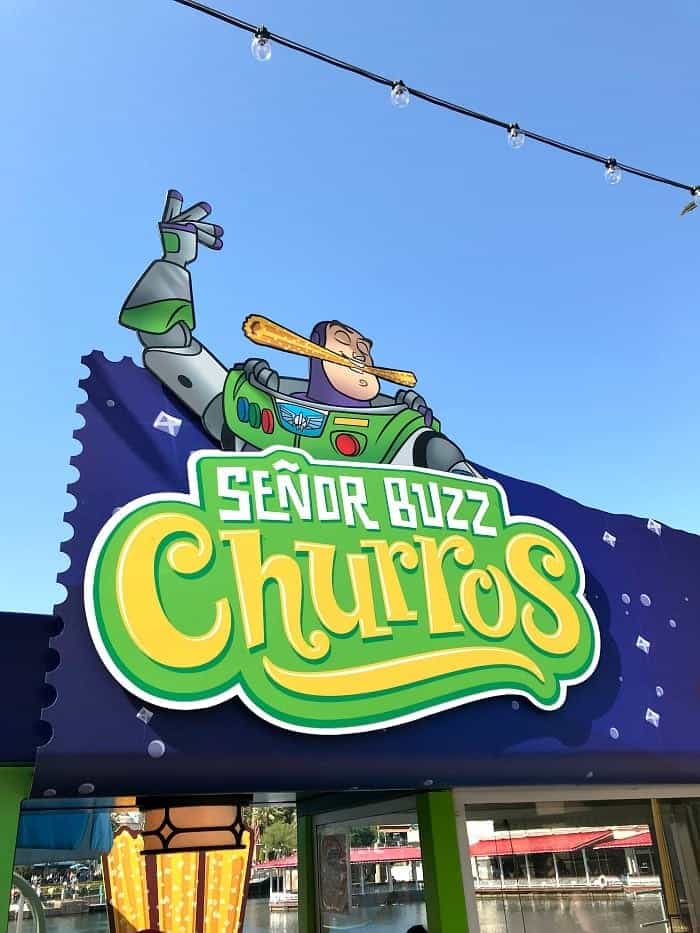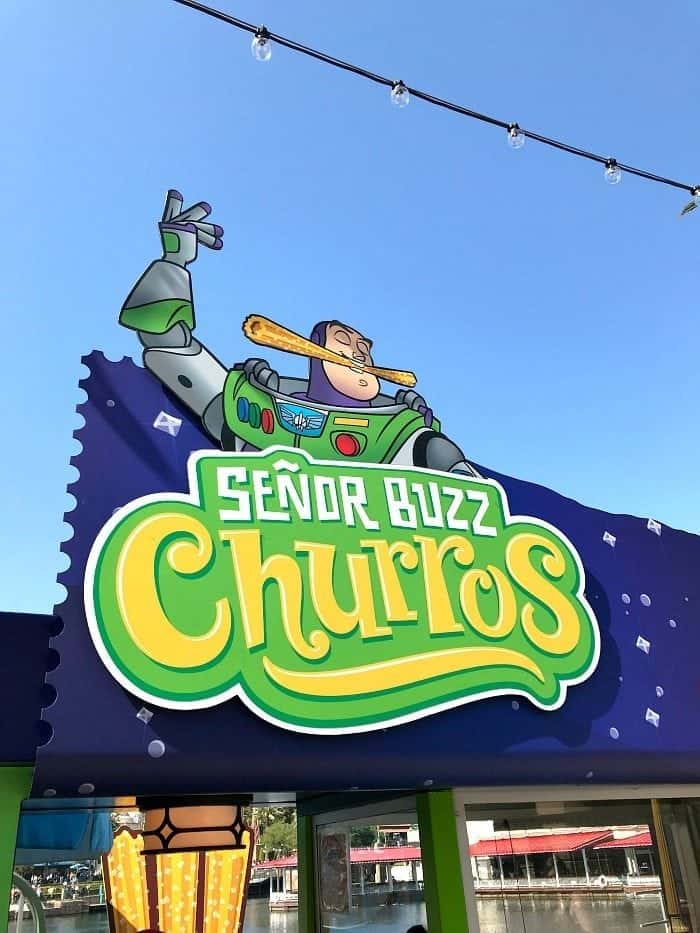 A closer look at the cute signage.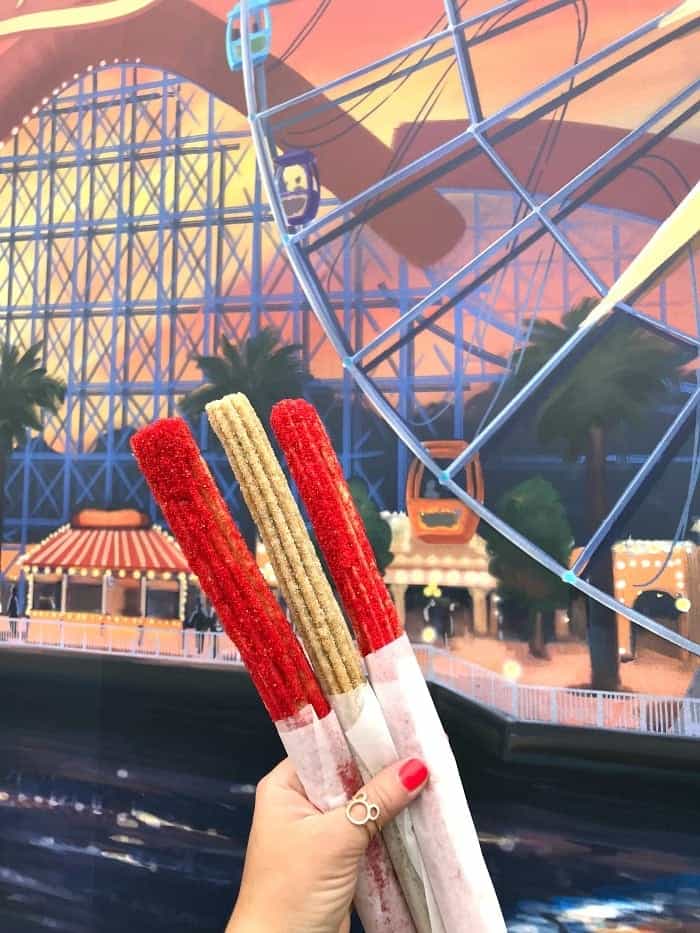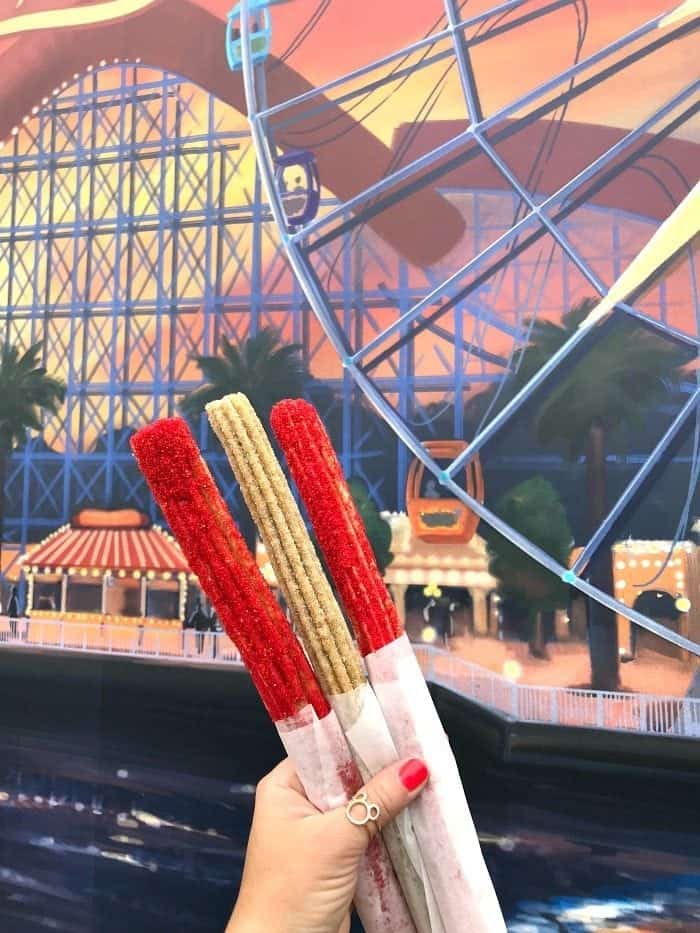 Here's what the churros look like. The Caliente Churro is Red Hot Candy flavored. I REALLY enjoyed it. Not really spicy, just has that cinnamon Red Hot Flavor. The Cinnamon Sugar Galaxy Churro tastes just like a regular cinnamon sugar churro.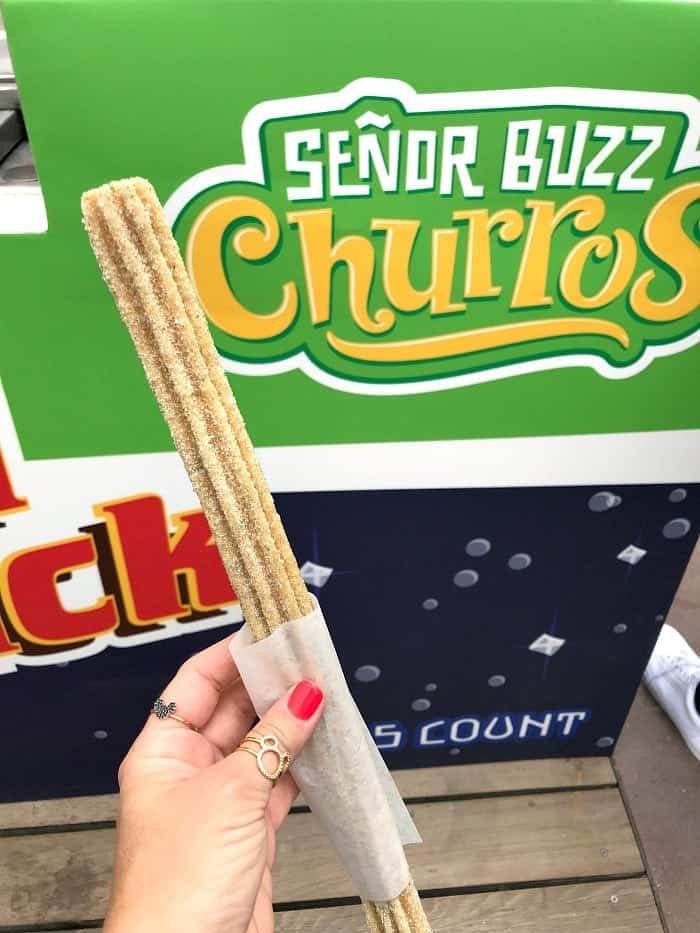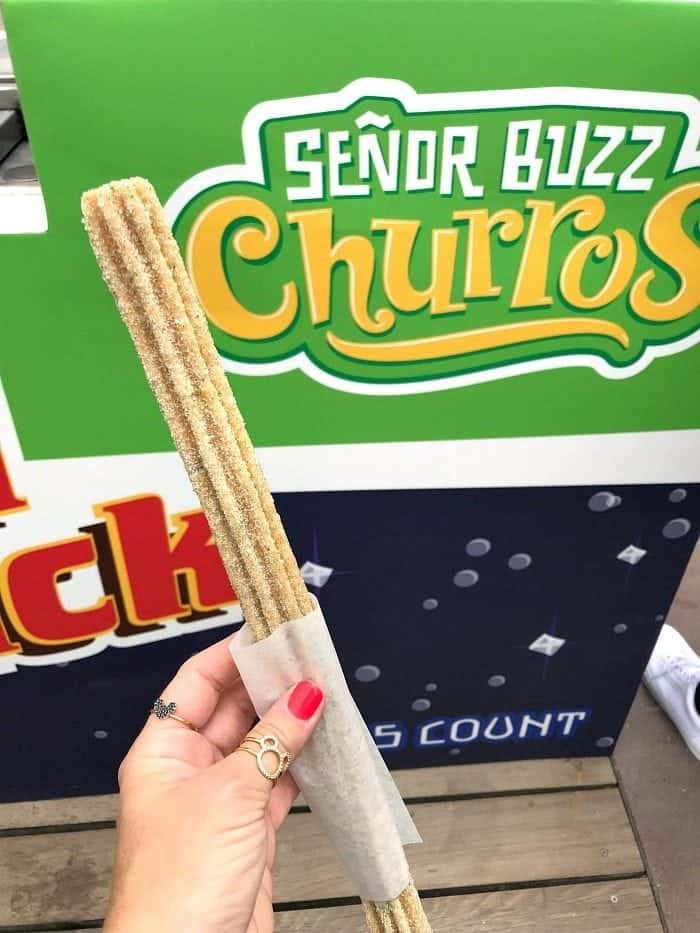 A closer look at the Cinnamon Sugar Galaxy Churro. Has some added sparkly sugar.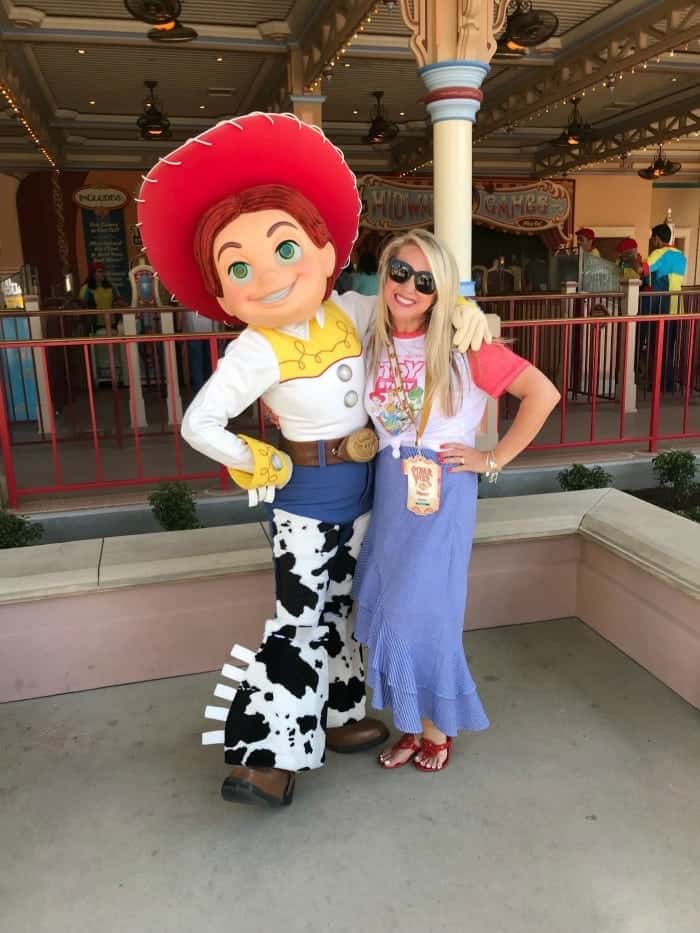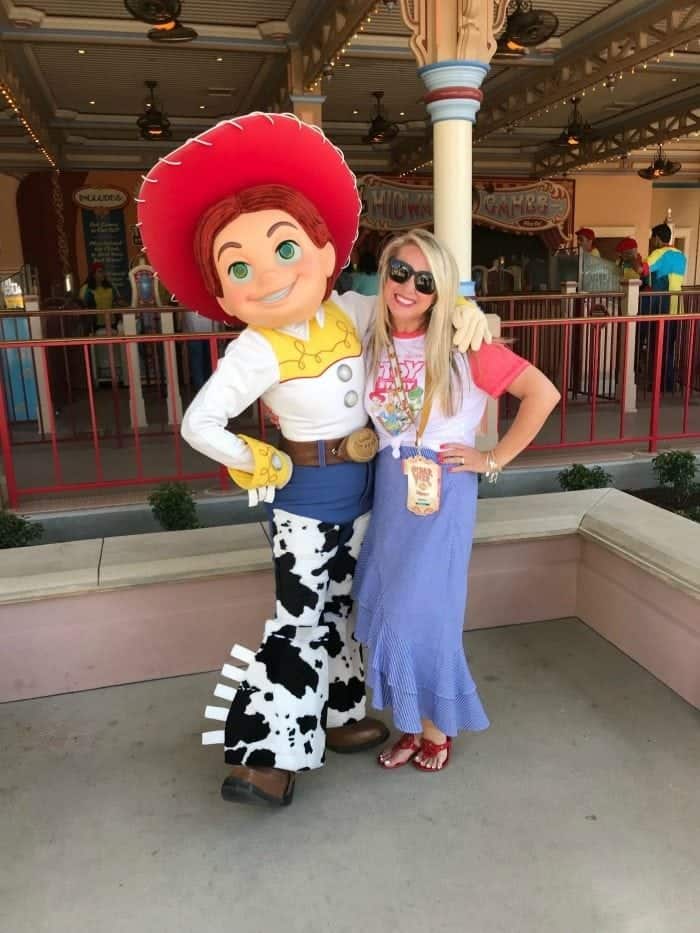 Toy Story Characters
The Toy Story Gang is out and about around the Pier too! I got to meet cutie pie Jessie!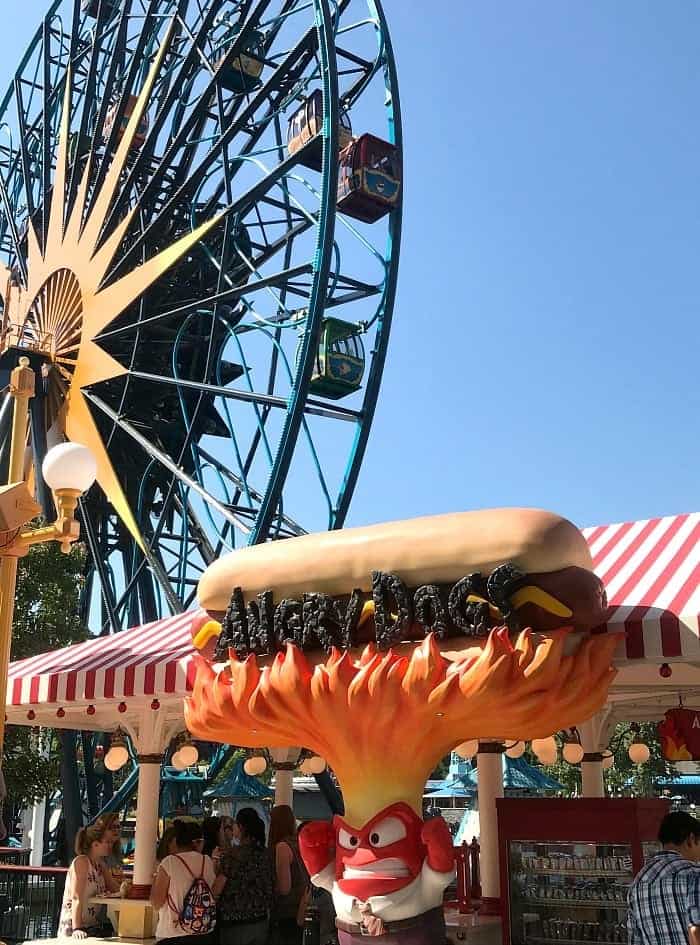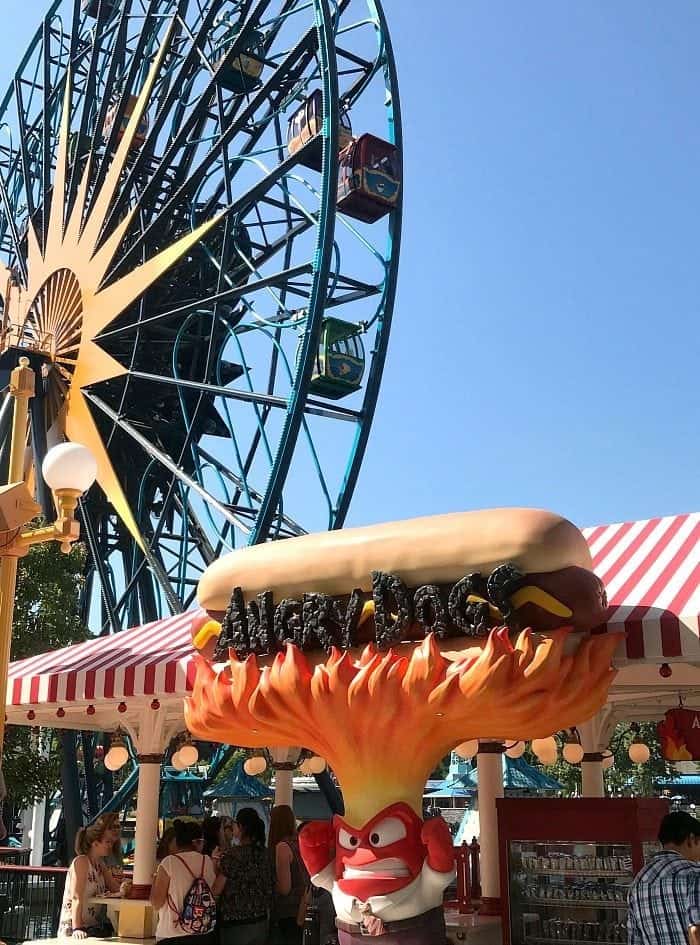 Angry Dogs
Angry Dogs is the last of the new Food options at the Pier. It's located right next to the new Pixar Pal-A-Round, previously called Mickey's Fun Wheel. How adorable is the Angry Dogs sign? Love this.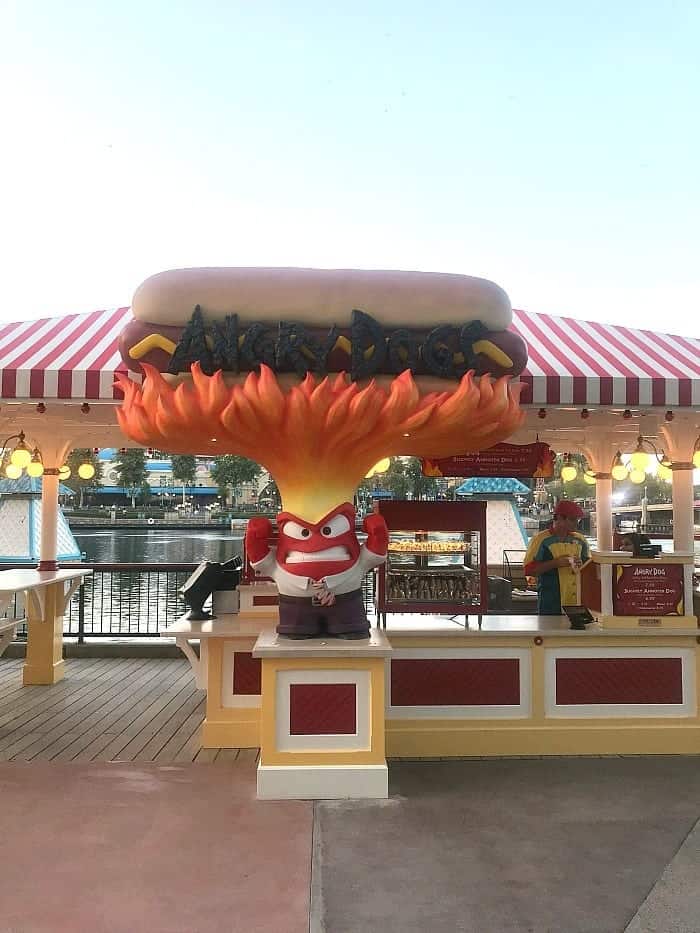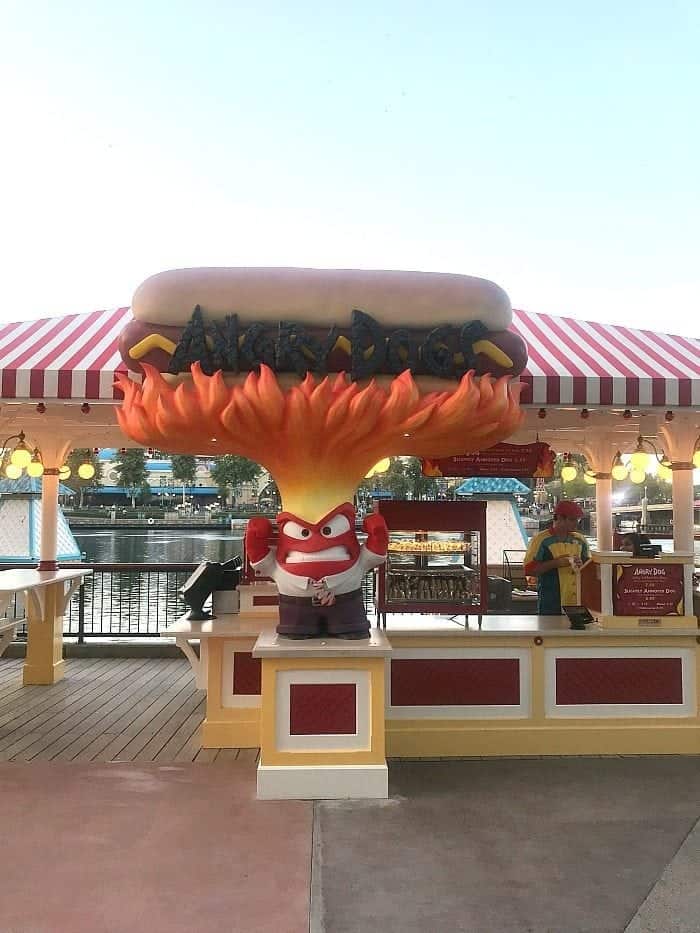 Another look 🙂 To the left of the register is where you'll dress your dog with some spicy ketchup and mustard options.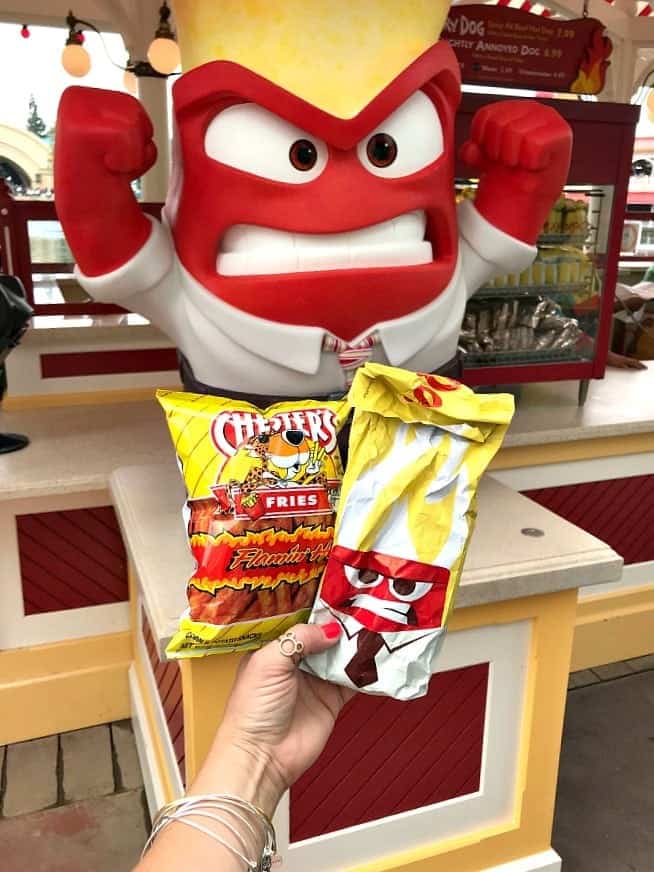 The Angry Dog is a spicy hot dog served with Flamin Hot Fries. This was my favorite of the two dogs.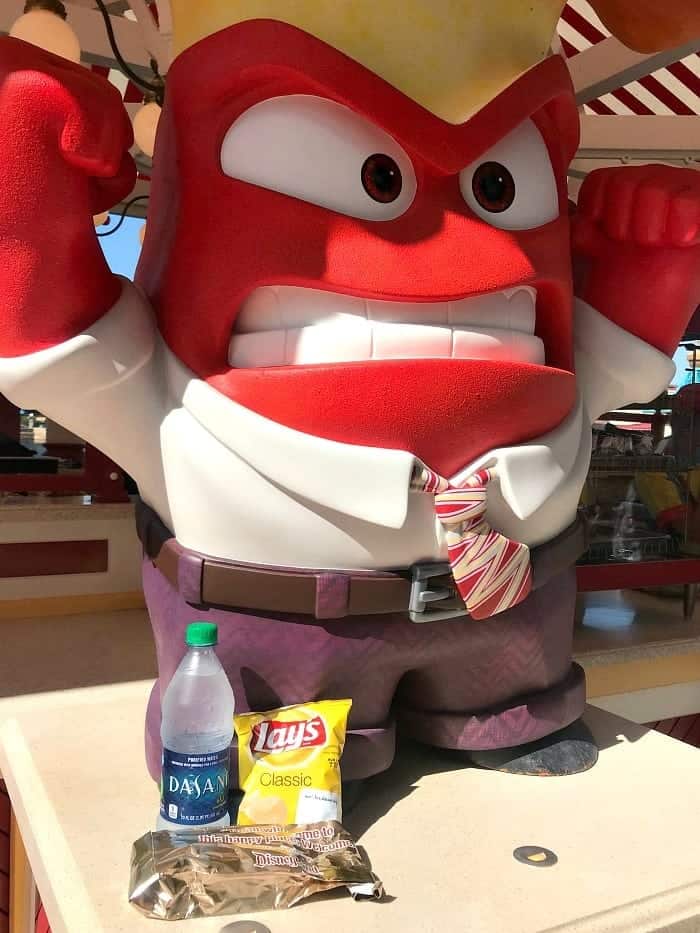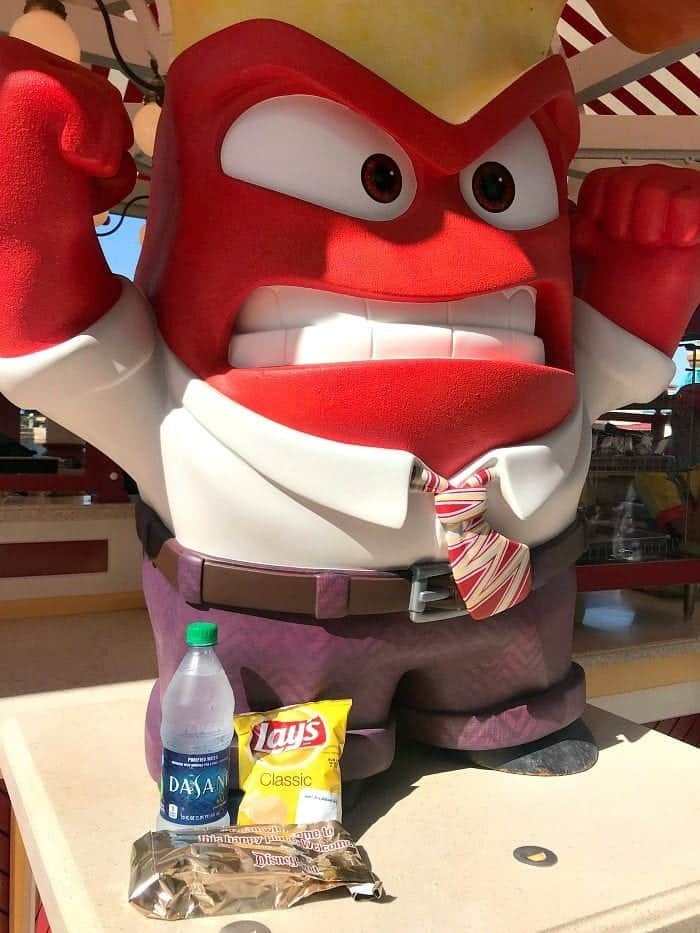 The Not-So-Angry Dog is a basic hot dog served with potato chips.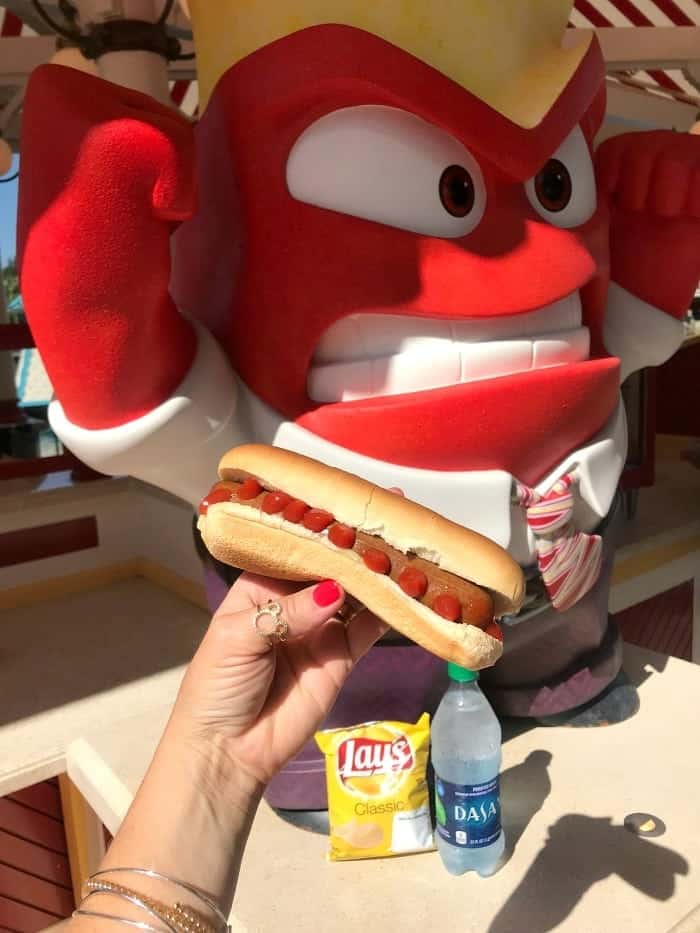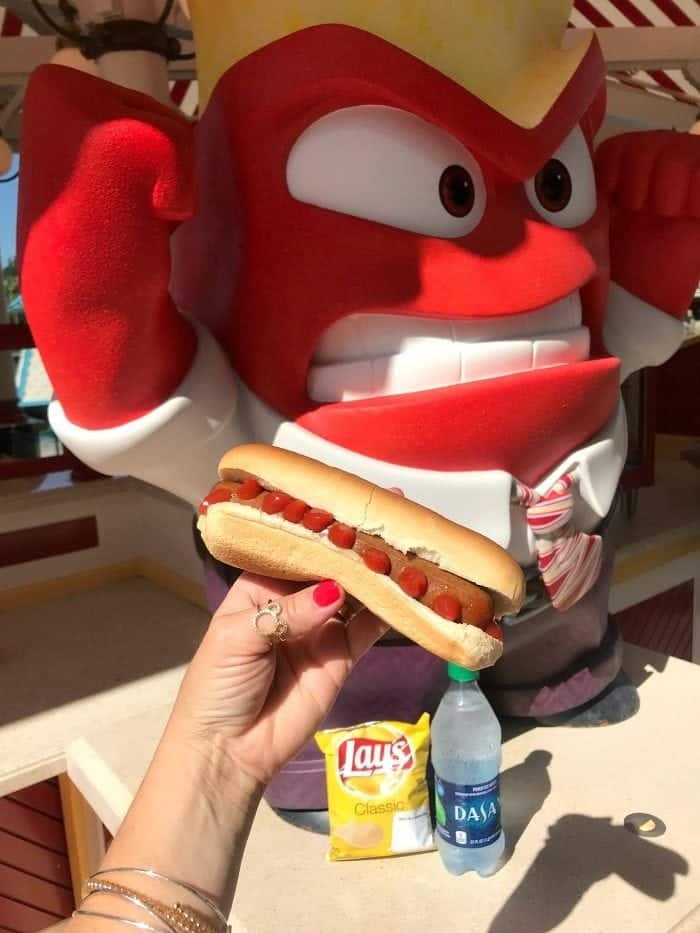 I added some Siracha Ketchup to mine.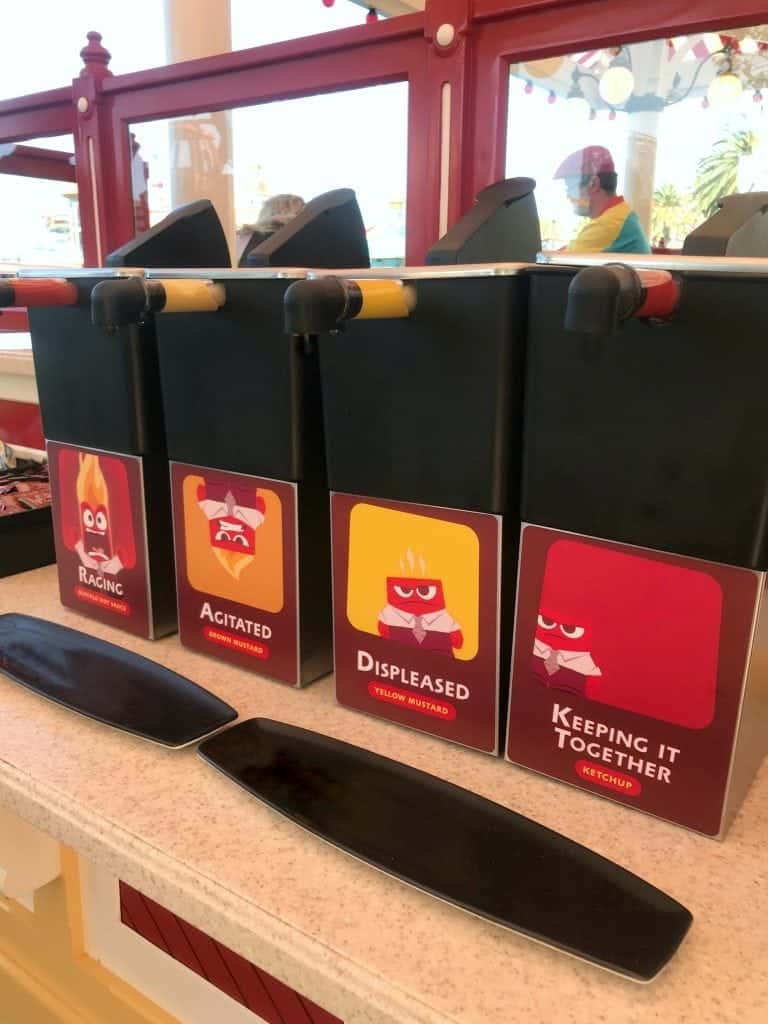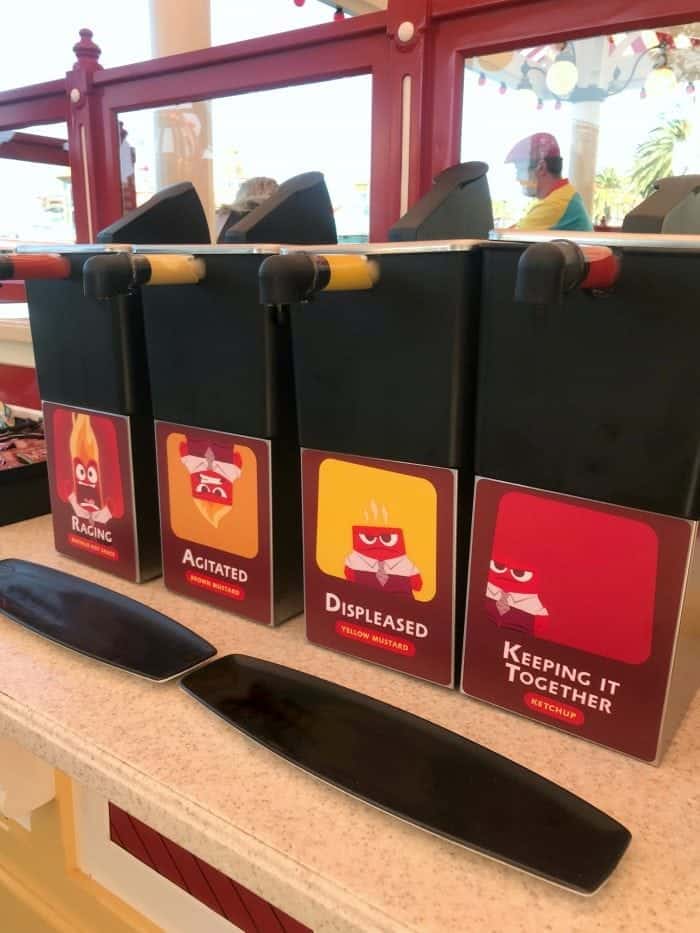 Here's the ketchup/mustard options.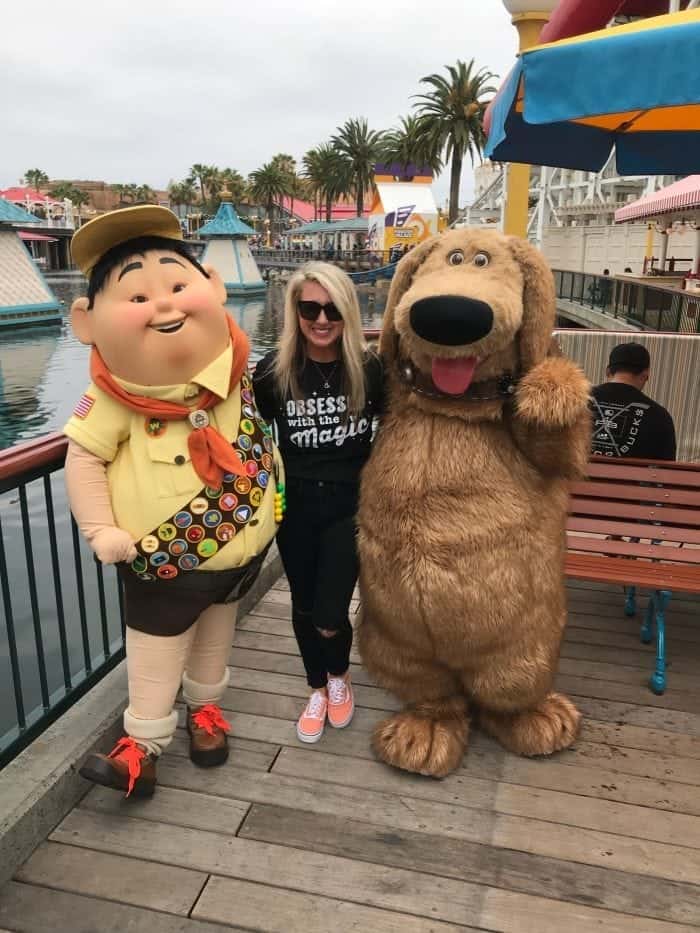 Up Characters
You'll also find some of the Up Characters greeting guests! Loves these two cuties Russell and Dug!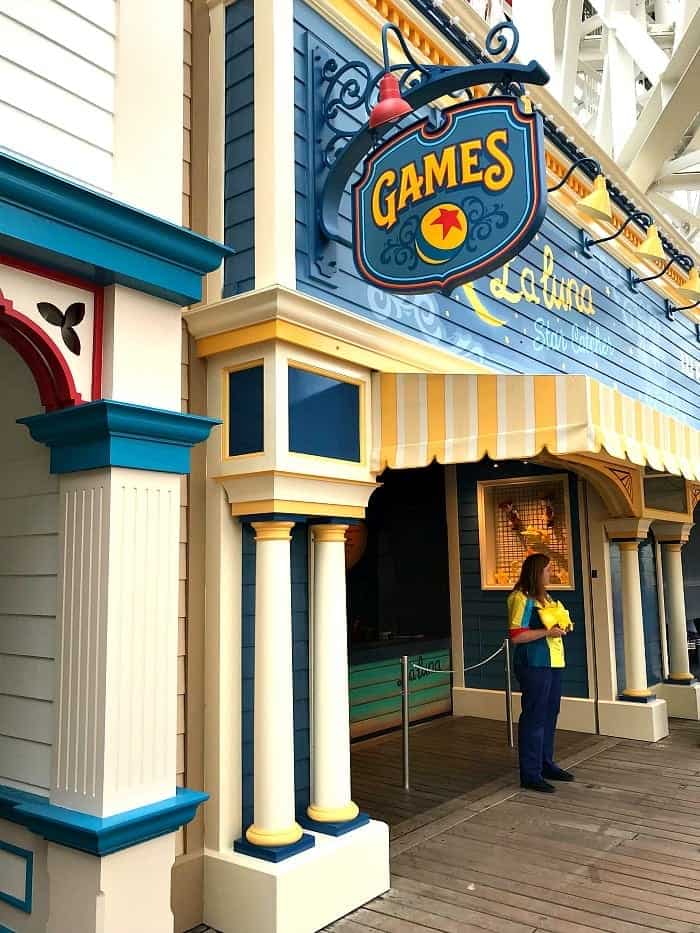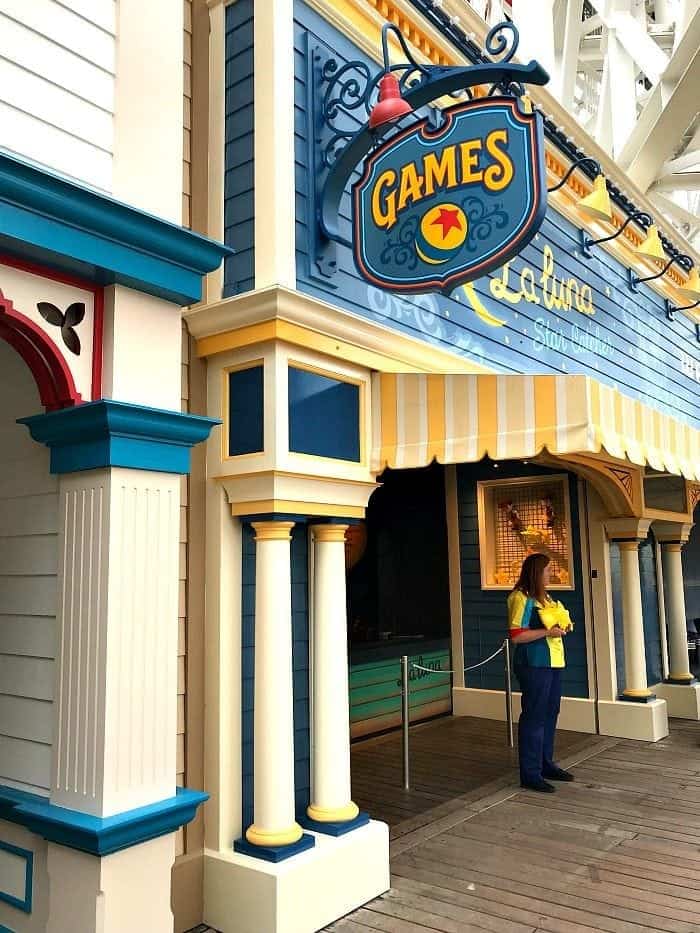 New Game Area
The game area was also re-done. New signage, game decor and prizes. I was told you can still use your previous rechargeable game cards.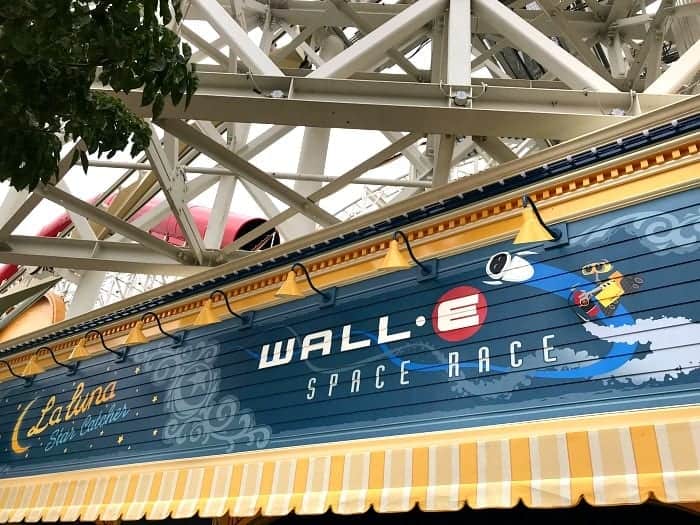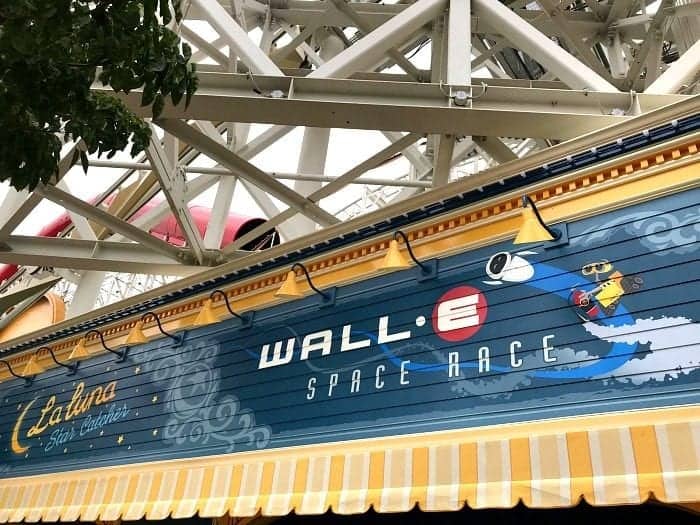 New signage.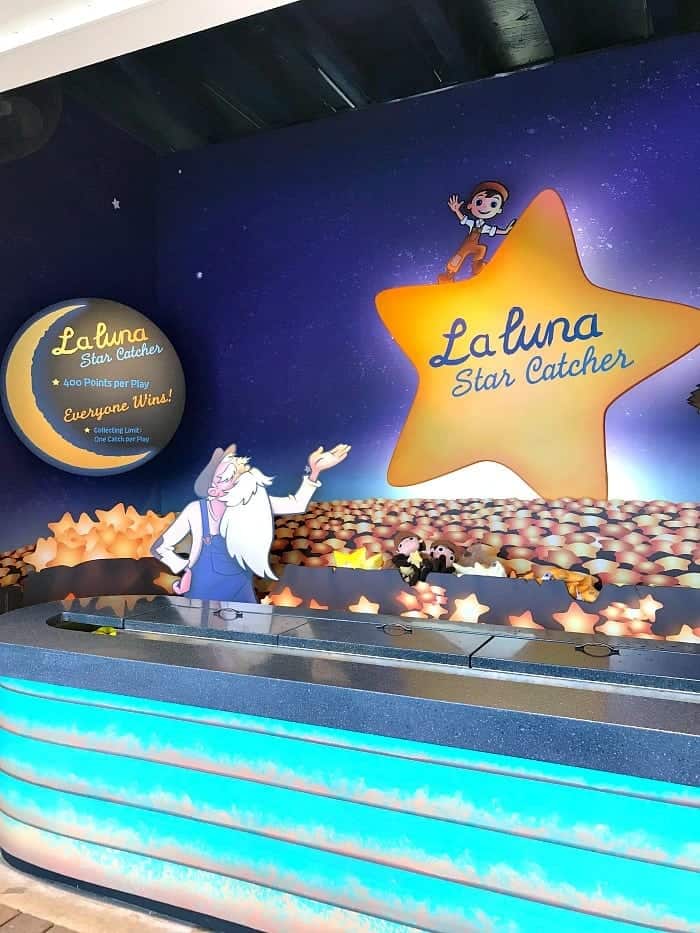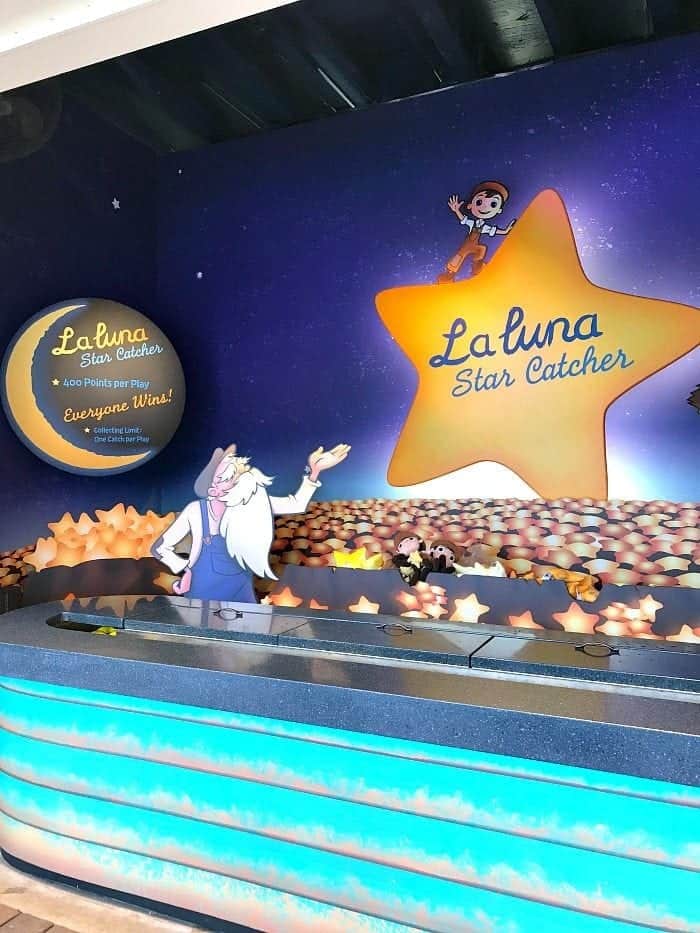 So cute. Love the new bright colors.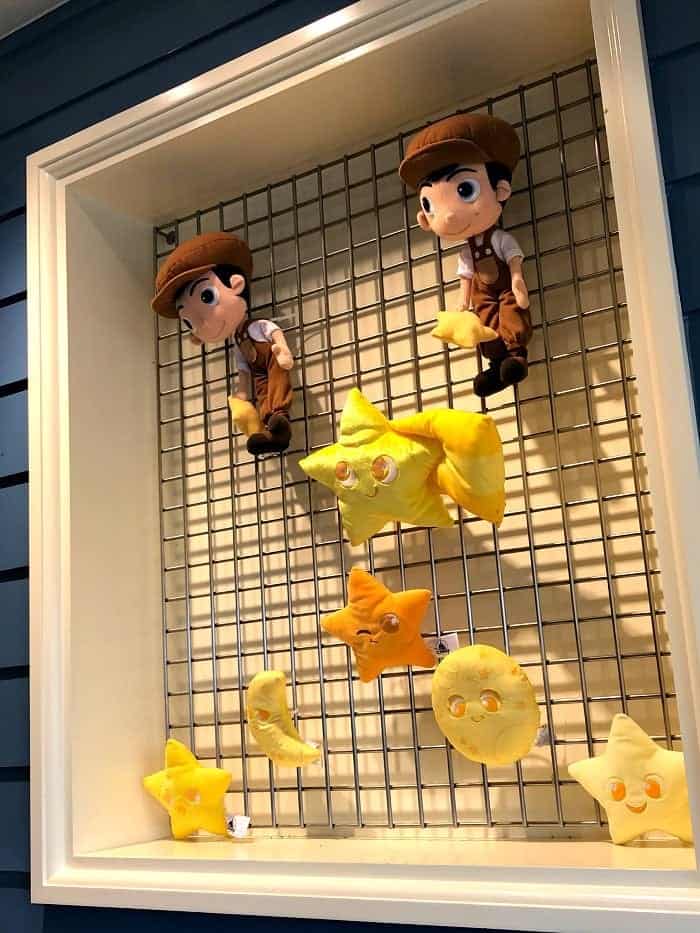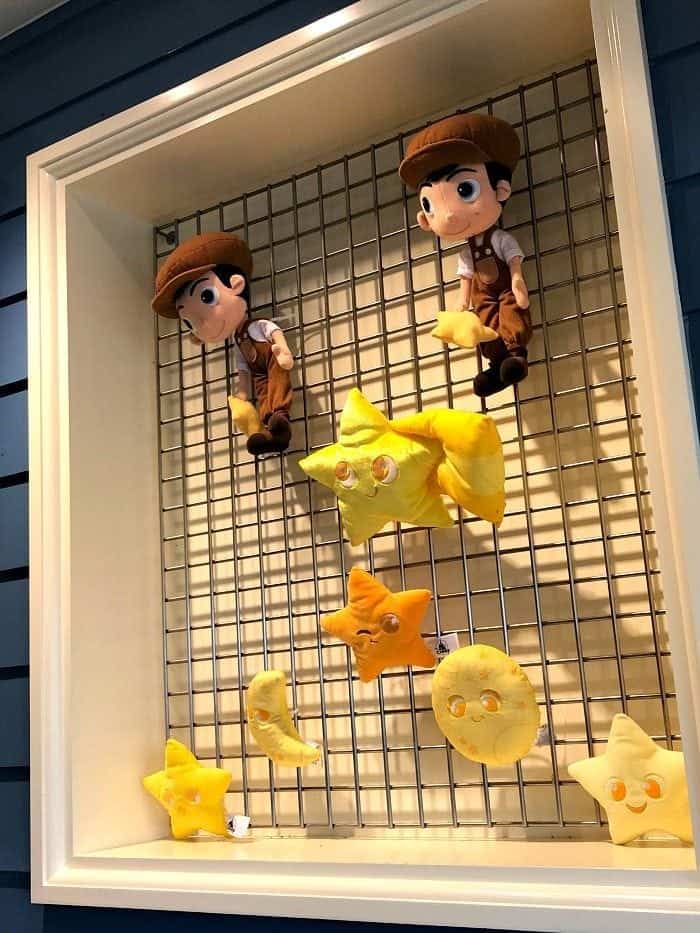 New sweet prizes.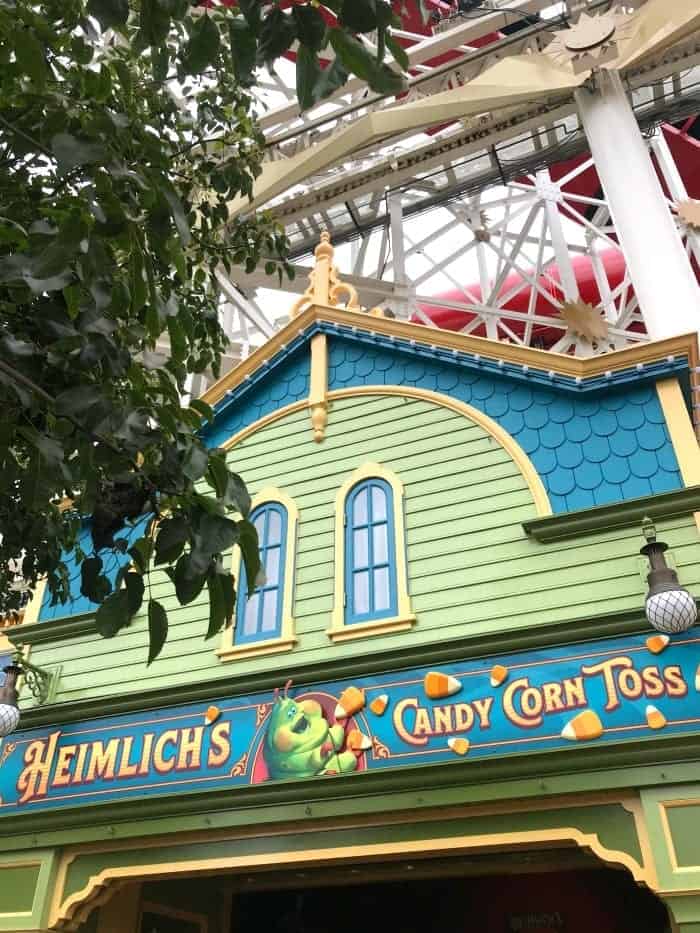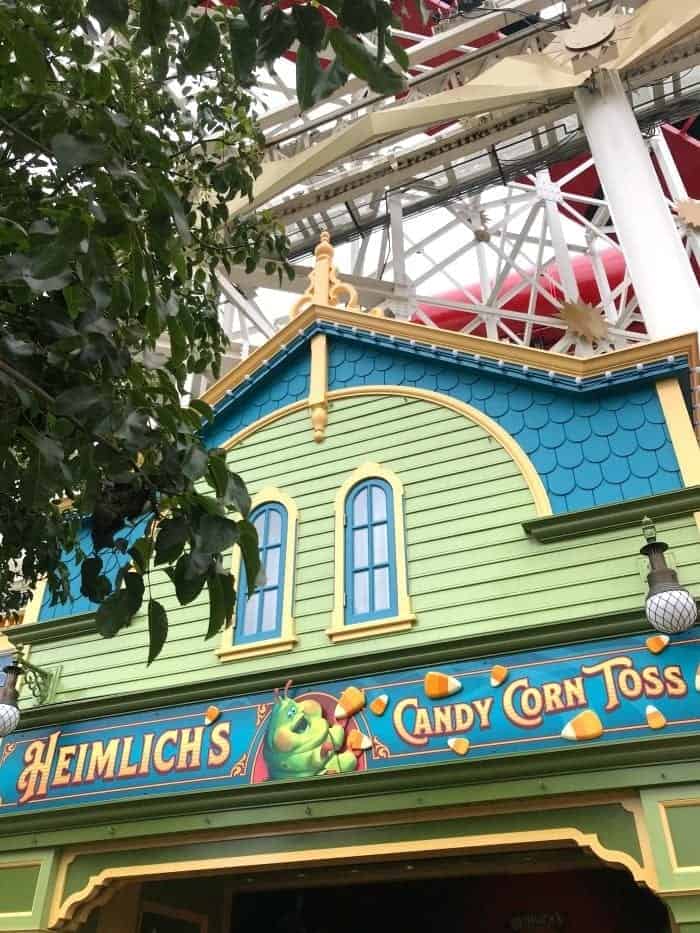 Heimlich's!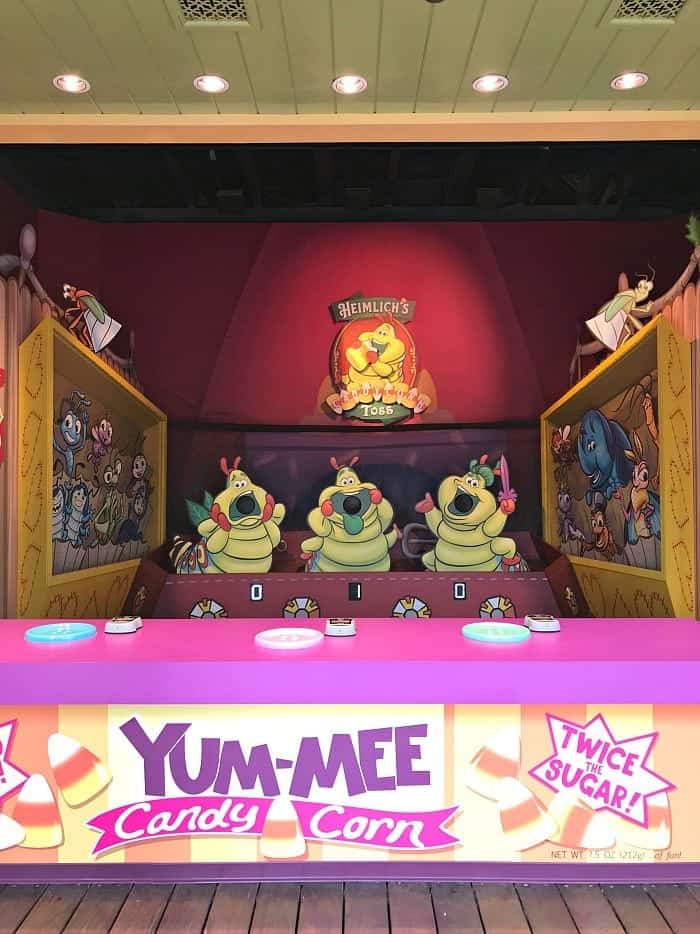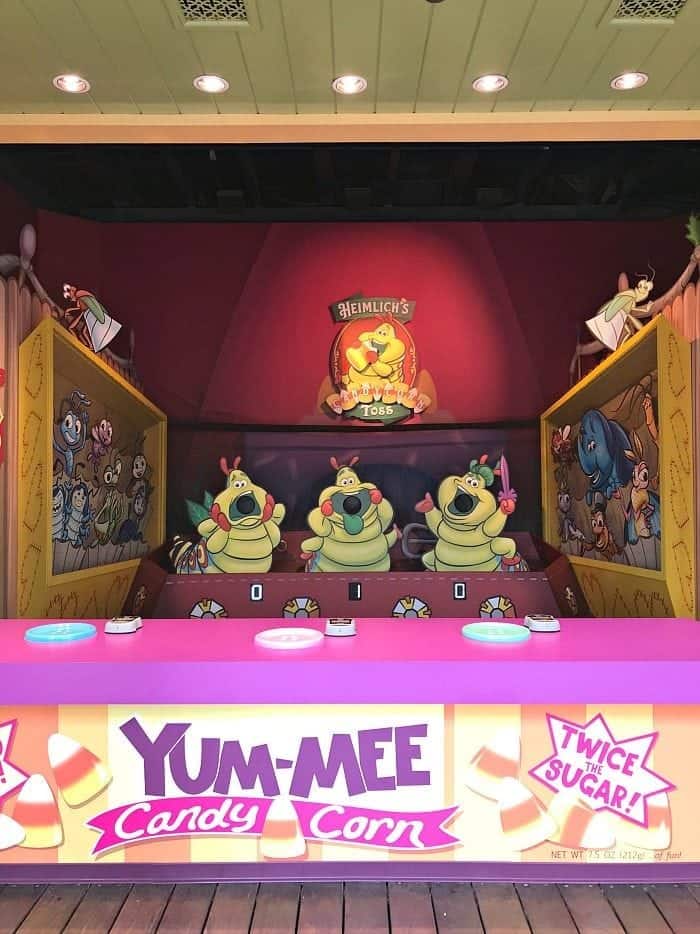 I know my boys are going to love this new area when we go later this year. Can't wait to play.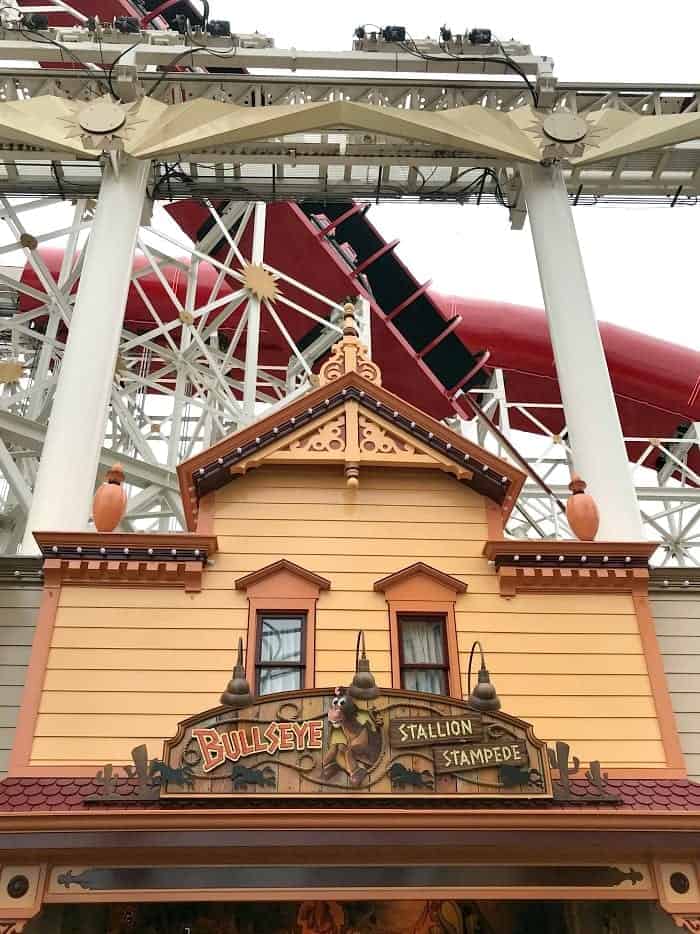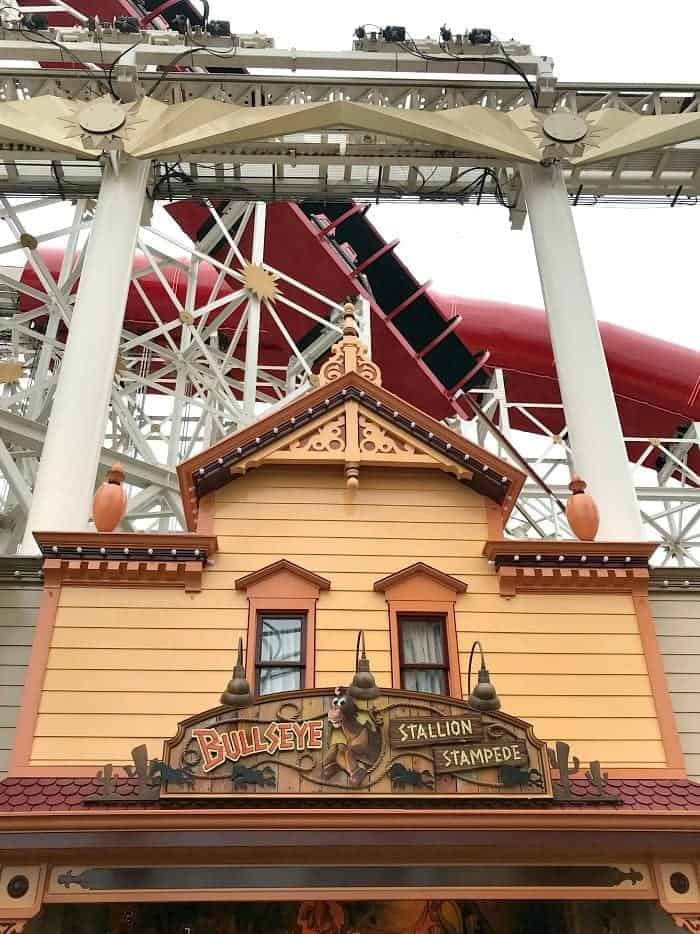 Bullseye!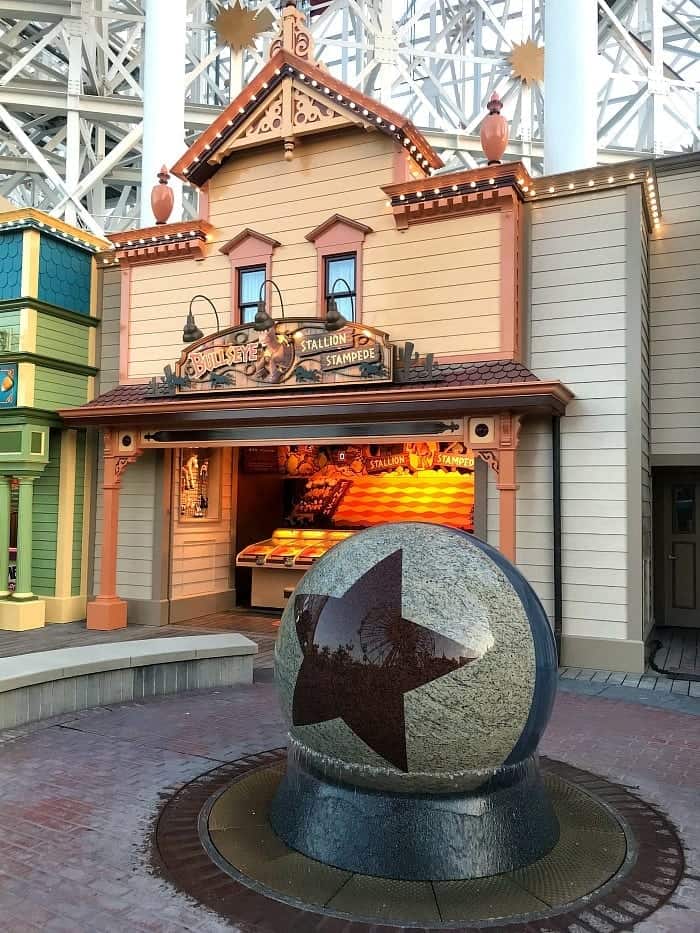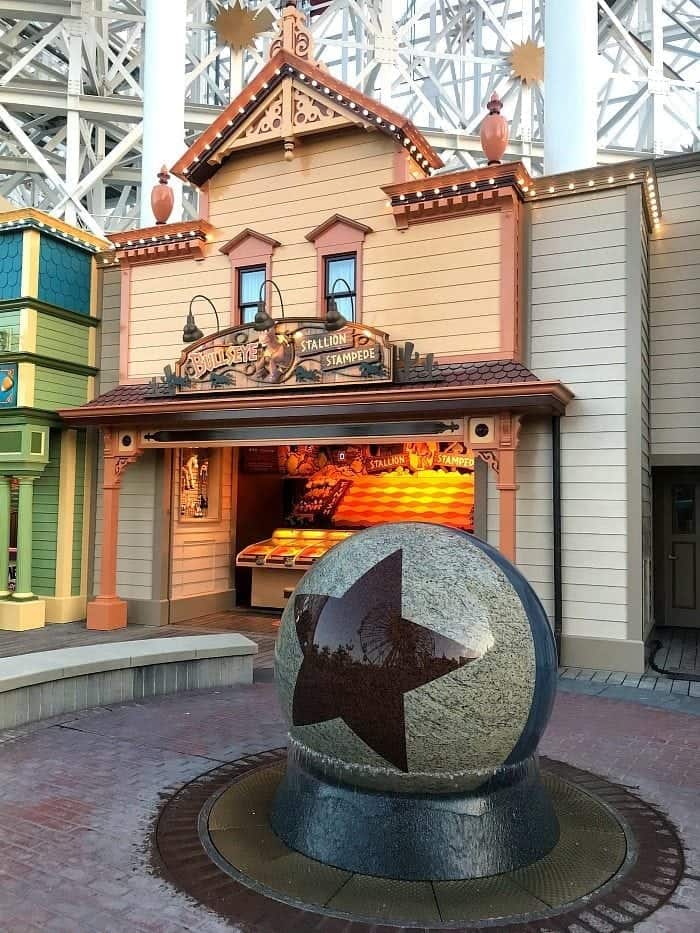 New Pixar Water Ball
The new Pixar Ball Water feature. Lots of lots of kids surrounding this one!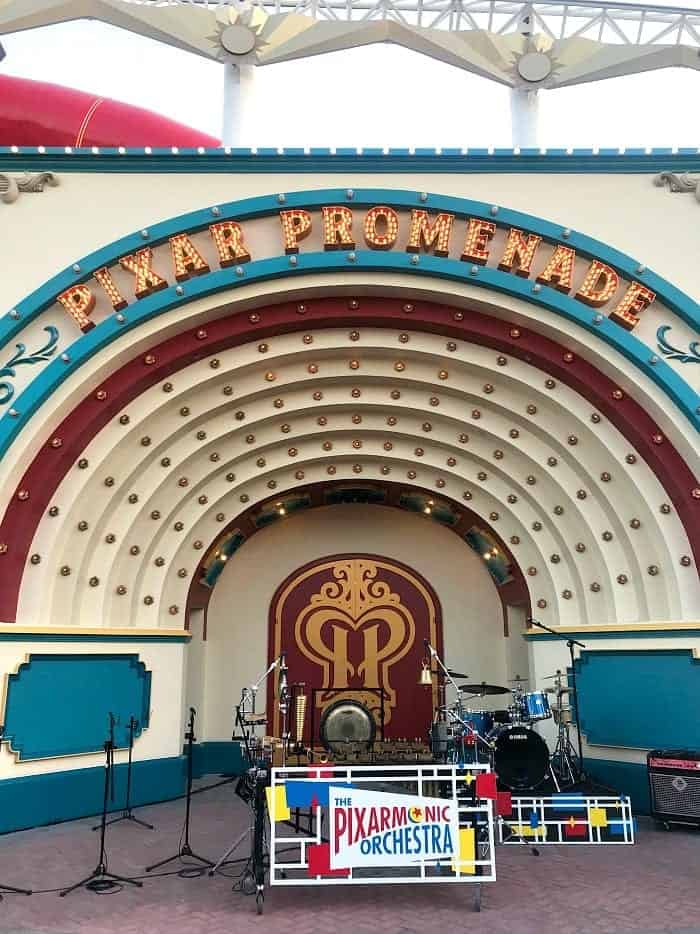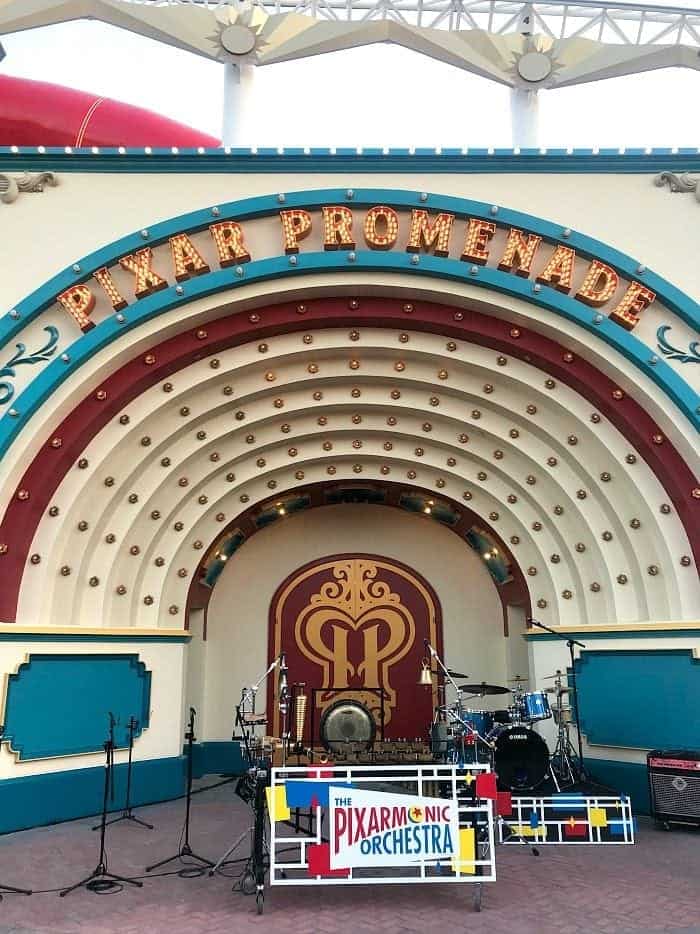 Pixar Promenade
Love this new Pixar Promenade area. The band comes out and plays fun music and characters dance with the guests! Really cute to watch.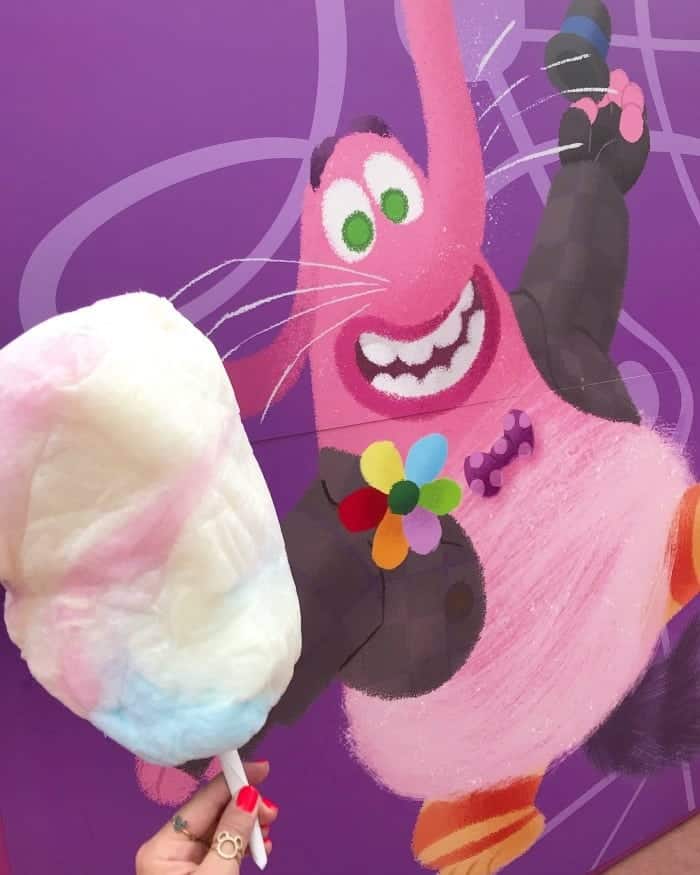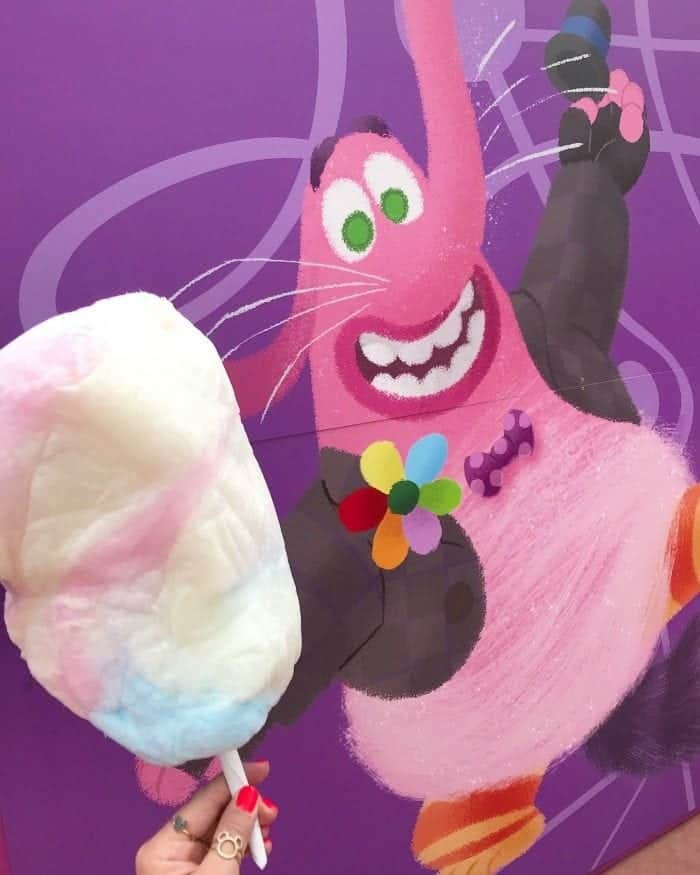 While Bing Bong's Confectionery is finishing up, you can find Bing Bong on the wall, which makes the perfect little back-drop for photos. Can't wait for this one to open later this year! Oh and this is the Rainbow Cotton Candy available at the carts where they sell ice cream and snacks.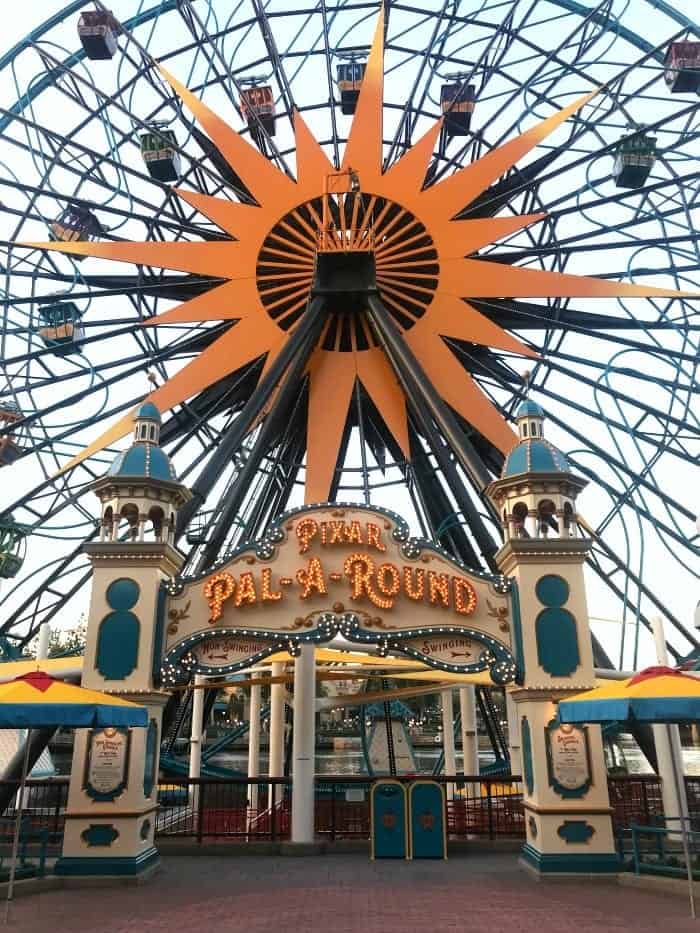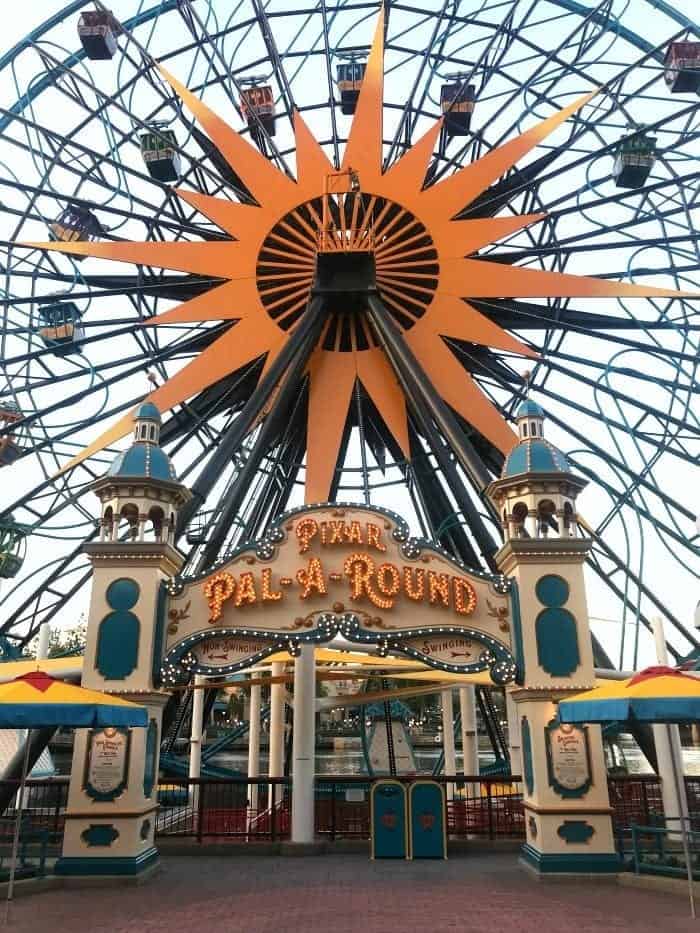 Pixar Pal-A-Round
At the end of the Pier you have the newly named Pixar Pal-A-Round! It got a nice paint job and new Pixar themed Gondolas. Super cute. I still have to keep my eyes closed if I go on the swinging gondolas, lol!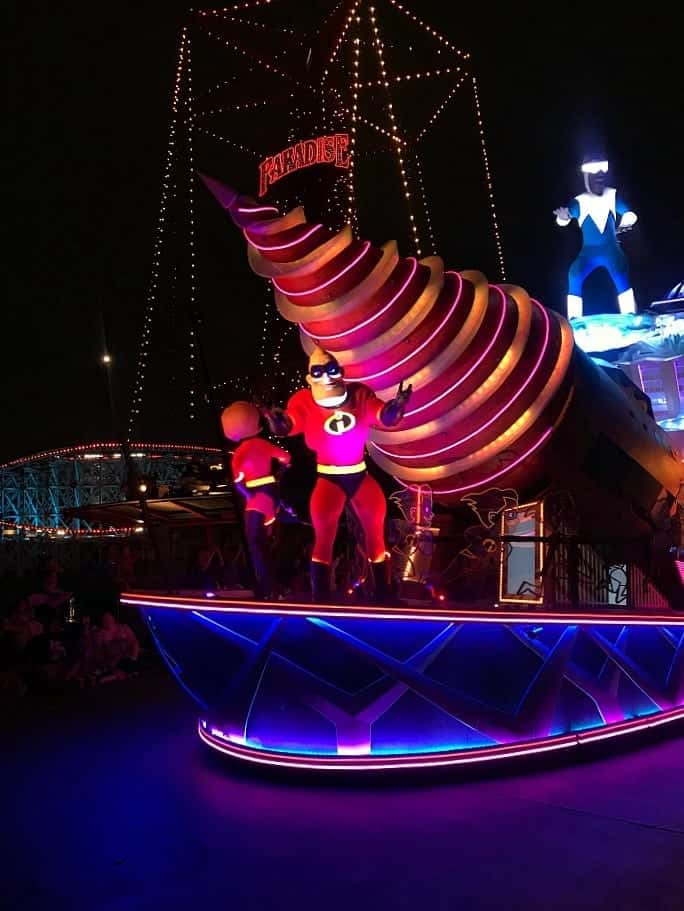 Paint The Night Parade
Don't miss the Paint the Night Parade that happens at Disney California Adventure! The Incredibles Float was added for the opening of Pixar Pier. It's "Incredible!" One of my favorite parades.
Hope you've enjoyed my walk through the Pixar Pier! I am so excited to take my family back in a couple months to enjoy the magic. Please let me know if you have any questions, happy to help!
Pin To Your Favorite Disney Board!