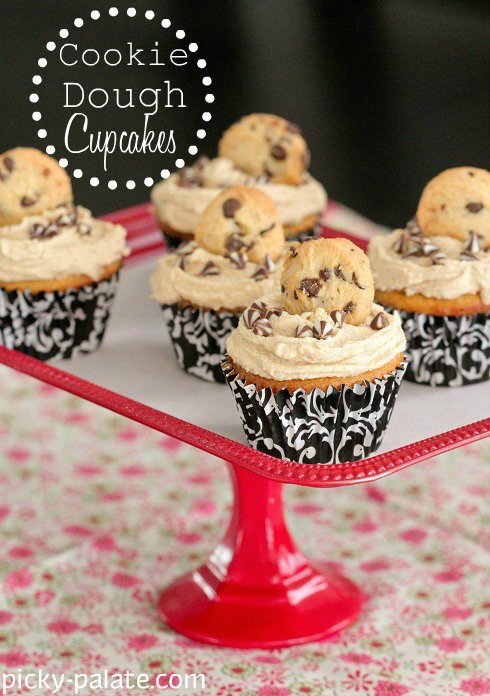 Recipe updated May 31st 2012 Please see recipe 🙂
Ok, these cupcakes are kinda to die for. I developed a soft sweet white chocolate cupcake with a egg free cookie dough frosting that is perfect with a mini chocolate chip cookie on top.
Grab the kids and treat yourself to one of my new favorite cupcakes. I absolutely LOVE these liners by Reynolds. I find them at my grocery store, but just in case, here's a link for ya!
Hope you enjoy!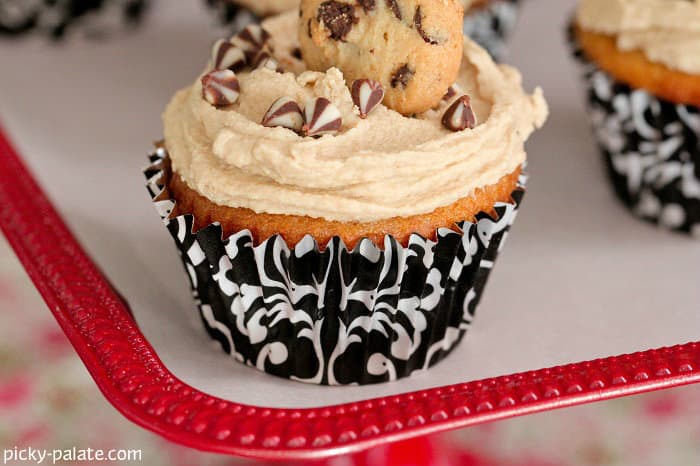 Forgive my lack of step by step photos for this recipe. Lucky for you, it's practically a one bowl cupcake, so no worries!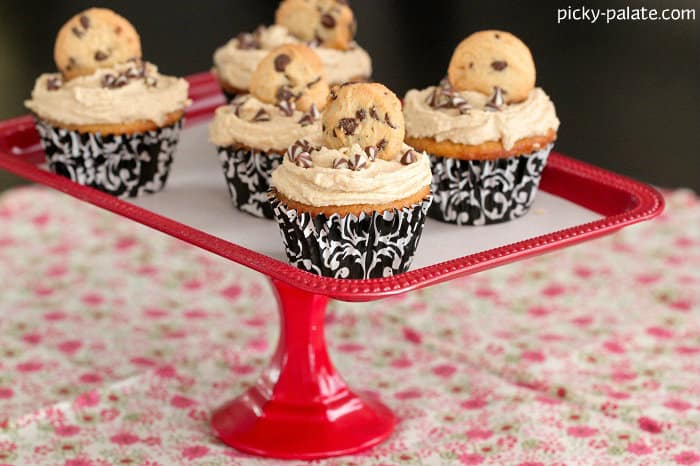 Be sure to pick up some mini chocolate chip cookies and mini chocolate chips from your grocery store to garnish your cupcakes. I used these adorable swirl chips that my father-in-law sent me from a Sprouts in Mesa, AZ, however you can use any mini chocolate chip 🙂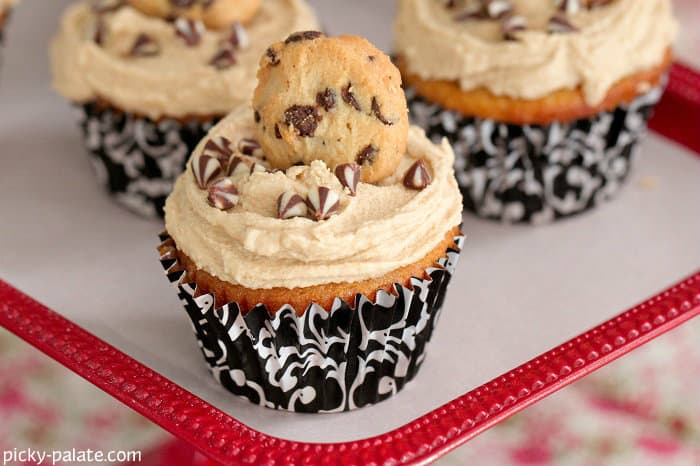 [ziplist]
White Chocolate Cupcakes with Cookie Dough Frosting
Update as of May 31st 2012. Since I got a handful of emails saying the cupcake did not work for some I re-did the recipe and it worked just fine again for me. I also tried reducing the sugar to 1/2 cup and that worked fine as well. Please make sure you do NOT use an electric mixer. Just stir by hand and only until just combined. Be sure to only fill your cupcake liners 3/4 full and be sure to cook until golden. If you don't bake long enough centers will fall.

1 cup all purpose flour
1/2 teaspoon kosher salt
1/2 teaspoon baking soda
1 cup granulated sugar (you can reduce to 1/2 cup sugar as well see note above)
1 cup white chocolate chips
2 eggs
1/2 cup sour cream
1/2 cup vegetable oil
1 teaspoon vanilla extract
Frosting
8 tablespoons (1 stick) softened unsalted butter
1/2 cup granulated sugar
1/2 cup packed light brown sugar
1/4 teaspoon kosher salt
1/4 teaspoon vanilla
1 cup all purpose flour
1-2 tablespoons milk if needed to thin out dough
mini chocolate chips
mini chocolate chip cookies for garnish
1. Preheat oven to 350 degrees F. and line 12 cupcake cups with paper liners.
2. In a large bowl, add the flour, salt, baking soda and sugar. Stir to combine.
3. Place white chips into a medium ramekin and microwave until melted and smooth, about 60 seconds.
4. Add eggs, sour cream, oil, vanilla and melted chocolate to dry ingredients, stirring until combined. Fill liners 3/4 full with cupcake batter and bake for 15-18 minutes or until baked through. Let cool completely.
5. To prepare frosting, place butter, sugars into a stand mixer, beat for 3 minutes, until light and fluffy. Add vanilla, flour and salt to mixer. Beat until well combined. Add milk to thin out frosting if desired. Frost over cool cupcakes, sprinkle with mini chips and a mini chocolate chip cookie.
Makes 12 cupcakes
___________________________________
Have a great day! Come back soon 🙂