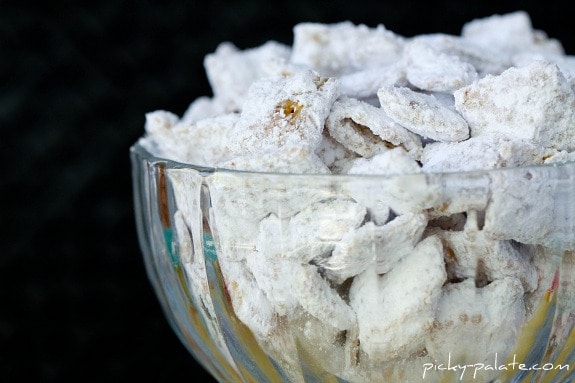 Happy Monday! Hope everyone had a great Father's Day weekend 🙂 We took the boys to see Toy Story 3 Saturday evening and I was a mess, did you guys see it? Talk about a tear jerker! I haven't cried like that in a movie in a long time. How embarrassing. We LOVED it, can't wait to buy it on video 🙂
So, I've got a great kid friendly snack for you today. We all love our traditional "puppy chow" or "muddy mix" so I've created a Peanut Butter and Jelly version that you guys are going to LOVE! I'm talking white chocolate, peanut butter and jelly mixed up with honey nut chex cereal and powdered sugar….yum.
Easy, perfect for summer and great for getting the kids in the kitchen to make a midday snack 🙂 Hope you all enjoy!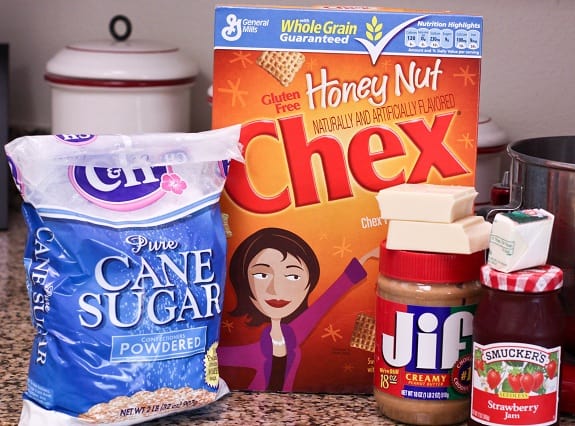 Here's the line up of ingredients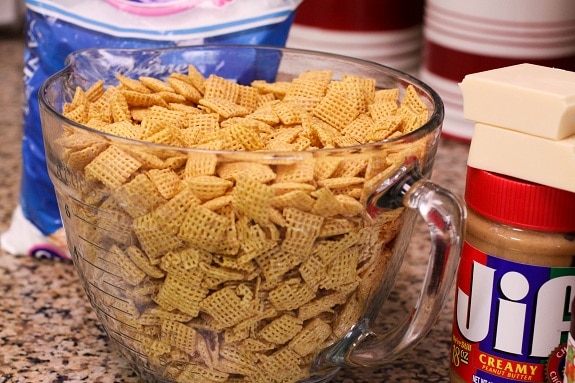 Oh man, I love this cereal, measure out 9 cups 🙂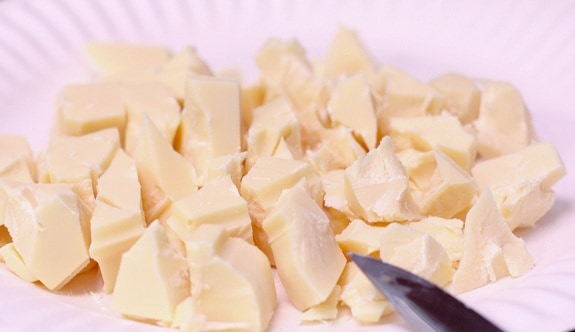 I used Sarris's White Chocolate Bloc and chopped it up, but you can also use white chocolate chips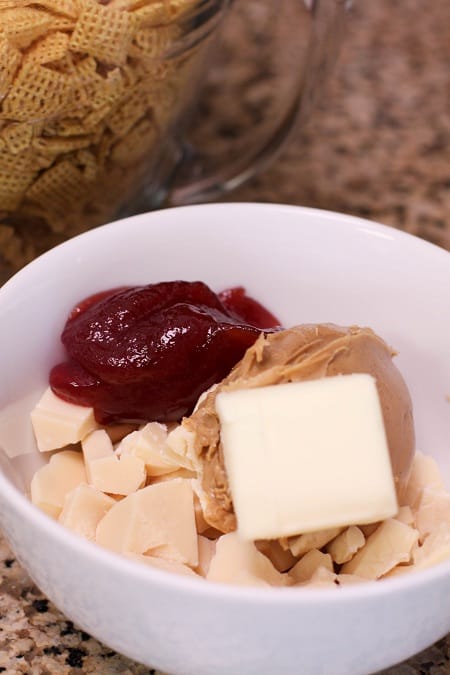 Add you chocolate, peanut butter, jelly and butter into a microwave safe bowl and heat until melted.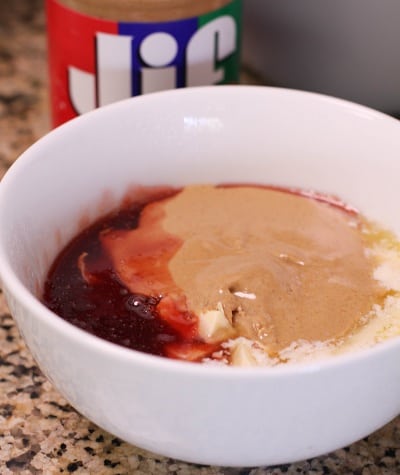 perfect, nice and melted. Now stir until well combined.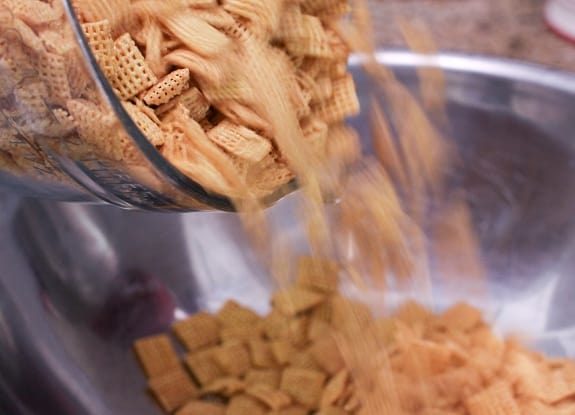 Pour your cereal into a giant mixing bowl…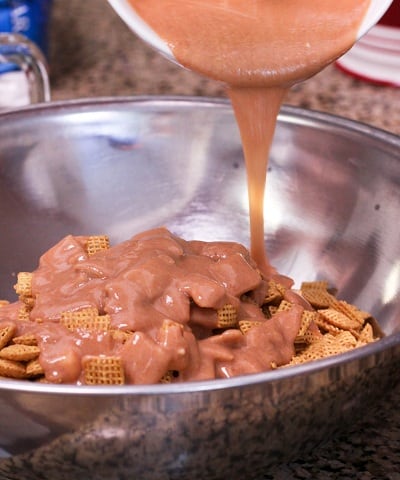 Pour in your melted chocolate mixture…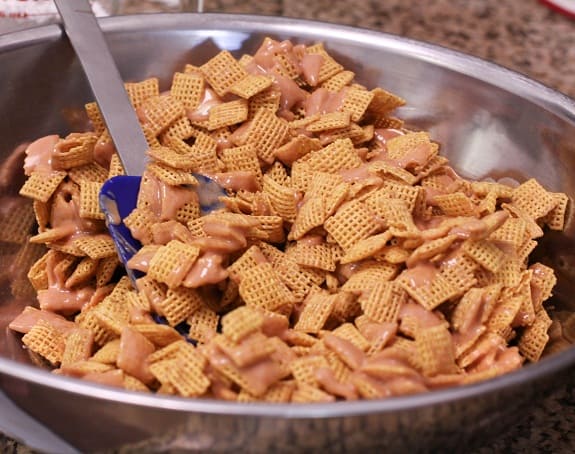 Give it a big stir 🙂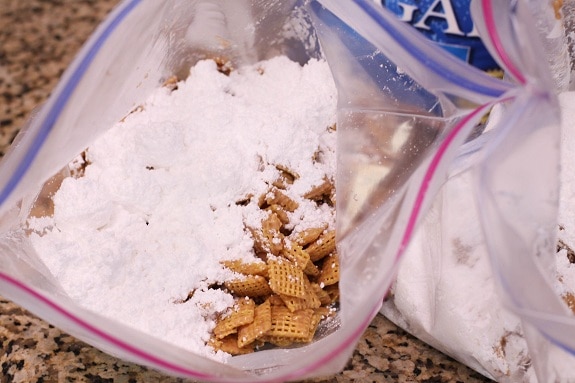 Time to shake it up!!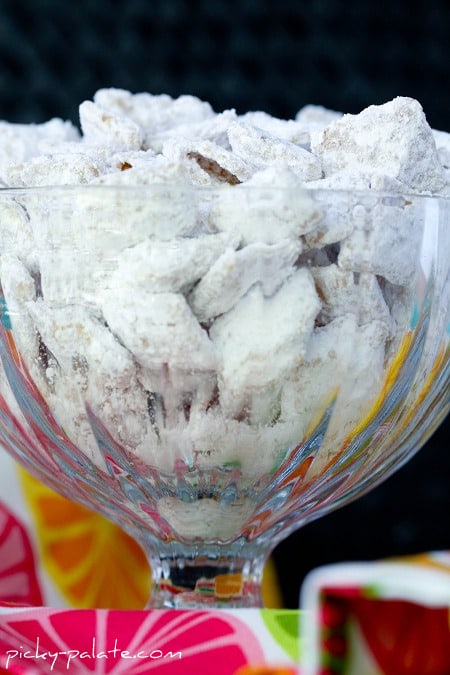 Yes! Now munch!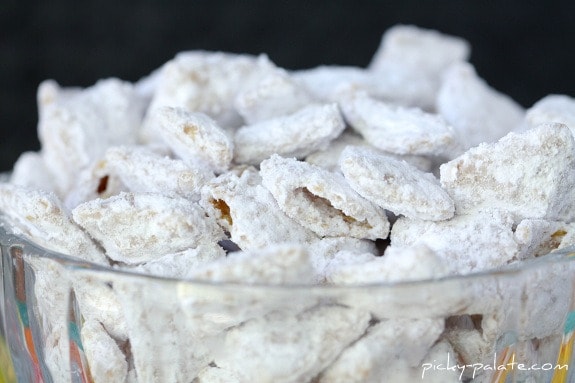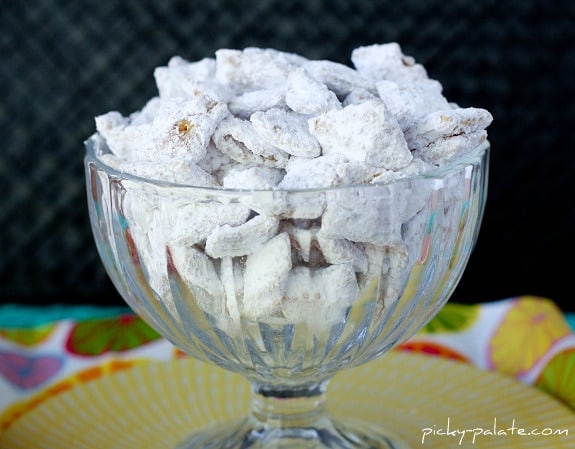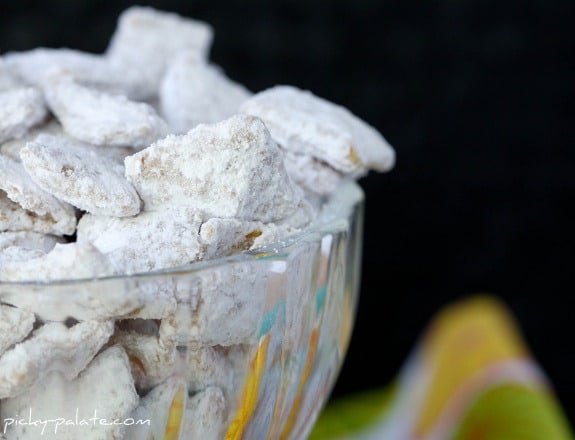 [ziplist]
White Chocolate PB&J Muddy Mix
9 Cups Honey Nut Chex (or any chex variety you like)
3/4 Cup chopped white chocolate or white chocolate chips
1/2 Cup creamy peanut butter
1/4 Cup strawberry jam
2 Tablespoons butter
2 Cups powdered sugar
1. Place chex cereal in a large mixing bowl. Place chocolate, peanut butter, jam and butter into a microwavable safe bowl and microwave for 1 minute or until melted. Stir then pour into bowl of cereal. Mix well then divide mixture into 2 large ziplock bags. Pour in 1 Cup powdered sugar into each ziplock. Close bags and shake until cereal is coated. Pour into a large bowl and serve.
Serves A LOT!
________________________________________
Have a great new week, see you soon!